Honestly, I don't cook that much and I don't know a lot about cookware. But of course, I love food and I love to eat, and barbecue is among my favorites. In this article, we will dig deep about BBQ smokers, the equipment used in preparing barbecue. BBQ smoker is an outdoor cooking device that has the capacity to maintain low cooking temperatures for a long period of time. It creates smoke and holds it for the meat to absorb the smoke. This process provides the meat a smoky flavor and makes it tender.

Types of BBQ Smokers
BBQ smokers are classified according to fuel type and structure.
Fuel Type
Wood and charcoal smokers: This traditional type of smoker provides the meat a more authentic flavor. Charcoal can be used in both simple and high-end smokers.
Electric smoker: This smoker is the most convenient type; however, this does not make your meat flavorful. There are computer-controlled smokers that enable users to just set up the device to cook the meat on its own.
Pellet smoker: This is powered electronically, but this uses wood pellets to produce smoke and heat. This type is as convenient as the electric smoker; however, it can give you the same authentic flavor of the meat that is cooked in a wood or charcoal smoker.
Propane smoker: This is the easiest to manipulate. It heats faster than electric smokers.
Structure
Vertical Water Smoker: Being the least expensive among the many types of smokers, this is the most popular in the market. Vertical smoker has three basic compartments. The bottommost compartment is the heat source, which could be a charcoal, gas burner, or an electrical source. Then, the water pan is located in the middle compartment. This functions by regulating and storing the heat of the smoker, at the same time deflecting the direct heat. Moreover, the water pan retains the moisture of the meat. The top compartment is the smoking chamber.
Horizontal Offset Smoker: This is a two-compartment smoker. The main part is the cooking chamber that has a long grated metal box or barrel with a smokestack and a lift door. The other part is the firebox that has an access door on the side and top and a flexible vent. Smoke and heat produced in the firebox enter into the cooking chamber and into the smokestack through a little hole.
Box Smoker: Also called vault, cabinet, or block smoker, this device is actually a box with a cooking chamber on top and a heat source below. Similar to the vertical water smoker, heat can be easily preserved because the heat source compartment is located at the bottom.
Drum Smoker: Commonly known as Ugly Drum Smoker (UDS), this is also popular because it is less costly. This is made from a metal drum. You can even consider a simple oil drum BBQ smoker as a DIY project. It has also two parts: a cooking rack on top and a firebox at the bottom. Because this lacks water pan, the direct smoke and energy from the charcoal will cook the meat.
Smoker Oven: As opposed to other types of smokers that are used outdoor, smoker oven is typically used indoor. This device is equipped with temperature probes and computer controls. This box is highly insulated with an electric heating source at the bottom.
Kamado Grill: This is a ceramic, charcoal-powered grill that is highly suitable for low and slow cooking. Its ceramic shell is well insulated and it has an airflow design.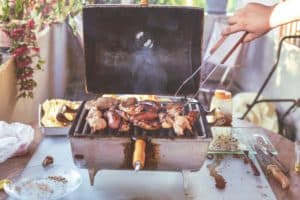 Average Costs of Barbecue Smokers
With the various choices of barbecue smokers that are available in the market, the first thing that you need to consider when purchasing one is the price or cost. Depending upon the size and quality, the prices of barbecue smokers range from $8 to $2000 overall. A simple backyard smoker can cost between $40 and $400, while high-end BBQ smokers could range from $400 to $2000. Please find below the costs of some of the commonly used smokers:
2″x4.2″x2.5″ stainless steel Cameron Cookware barbecue smoke box – $15
Weber 7541 Gas Grill Smoke -$90-$100
Electric Brinkmann Smoke'N Grill – $40-$60
Weber Smokey Mountain Cooker – $220-$350
Large Big Green Egg – $700-$900
The Good One Open Range Patio Smoker 30-P – $1,500
Moreover, when calculating the overall cost of a smoker, it is also best to include the fuel cost. Consider whether the smoker is powered by gas, electricity, or charcoal.
As mentioned earlier, you can definitely make your own BBQ smoker out of trash can or metal drums. You just have to search for instructions online on how to build it. The estimated cost of materials for a DIY drum BBQ smoker is around $50 to $300.