I love creating free content full of tips for my readers, you. I don't accept paid sponsorships, my opinion is my own, but if you find my recommendations helpful and you end up buying something you like through one of my links, I could earn a commission at no extra cost to you.
Learn more
Have you thought about tuning your smoker? Did you know that there are tuning accessories that will make your smoker a high-performer and turn you into a true smoke-master?
If you haven't been using baffle plates, you're missing out on some great BBQ experiences.
Use an offset smoker with a firebox and add a steel baffle plate to get extra juicy and flavorful meats.
All the smoke from your firebox will flow into the cooking chamber, so you can smoke the meat indirectly and make the most of your flavored woods.
Baffle plates are a highly recommended accessory for offset smokers. If you want to be a true smoker, invest in a quality offset smoker and baffle plate!
Of course, it depends on what type of smoker you own, but you can get the Oklahoma Joe's Longhorn smoker which already comes with a baffle plate!
I've written this article with information all about offset smokers, but in this article here, I want to focus on some of the best baffle plates and how to use them.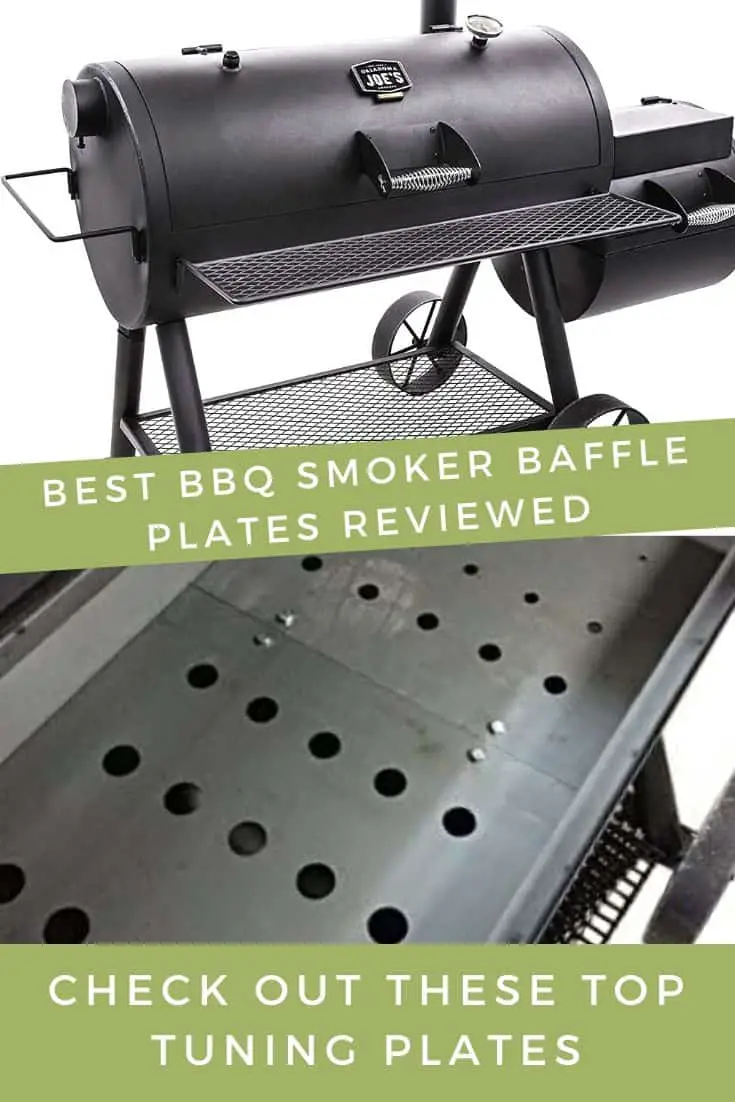 Let's look at the best baffle plates real quick, then I'll look at each of these individually, and also give you some tips on what to look for when buying baffle plates.
Baffle plates buyer's guide
The thing about baffle plates is that each type of grill has a different kind. The flavorizer bars in pellet grills are not suitable for charcoal smokers, for example.
But, there are still some things to consider when buying a heat diffuser plate:
Compatibility
Before buying, you always have to check the type of baffle plates. Are they compatible with your grill/smoker?
Charcoal and drum smokers might have round baffle plates to match the design of your cooker. Pellet grills have long narrow plates, and the ceramic Kamado grill will have round ceramic plates.
Installation is usually quite easy as long as the measurements match the old baffle you are replacing or if it fits in case you're getting it for the first time.
Dimensions
Next, you need to take measurements and make sure the plates you choose are the right size to fit inside your smoker or grill.
Sometimes if the dimensions aren't quite perfect, you can make minor adjustments like bending the sides or edges but it's best to avoid adjustments and get a perfect fit.
Material
It's best to go for a material like stainless steel.
Stainless steel is quite heavy-duty which means that it doesn't warp very easily, especially if it's thick. When exposed to high heat, the plate must not warp, or else it defies the purpose.
Also, stainless steel won't rust quite as fast but still, it's best to keep it away from water and you should clean it after cooking to remove the grease.
The ceramic grills have ceramic stone baffle plates usually and this material is very fragile and prone to cracks so you need to be careful when handling it.
Airhole design
Usually, most baffle plates have small holes that are fairly close together. This type of design with holes provides optimal airflow.
But, some more modern and innovative baffle plates, have longer tear-shaped or flame designs which actually end up improving the airflow even more.
These are great at keeping your cooking temperature even.
Best smoker baffle plates reviewed
You see not all baffle plates are the same, it really depends on what you need and the kind of smoker you have.
Let's dive a bit deeper into my top favorite baffle plates to see which one might be the right one for you.
Best baffle plate for kettle and charcoal smokers: LavaLock FireDial Heat Management System
type: for charcoal round grills and smokers (Ugly Drum Smoker)
dimensions: 21.5 x 21.5 x 0.06 inches
material: stainless steel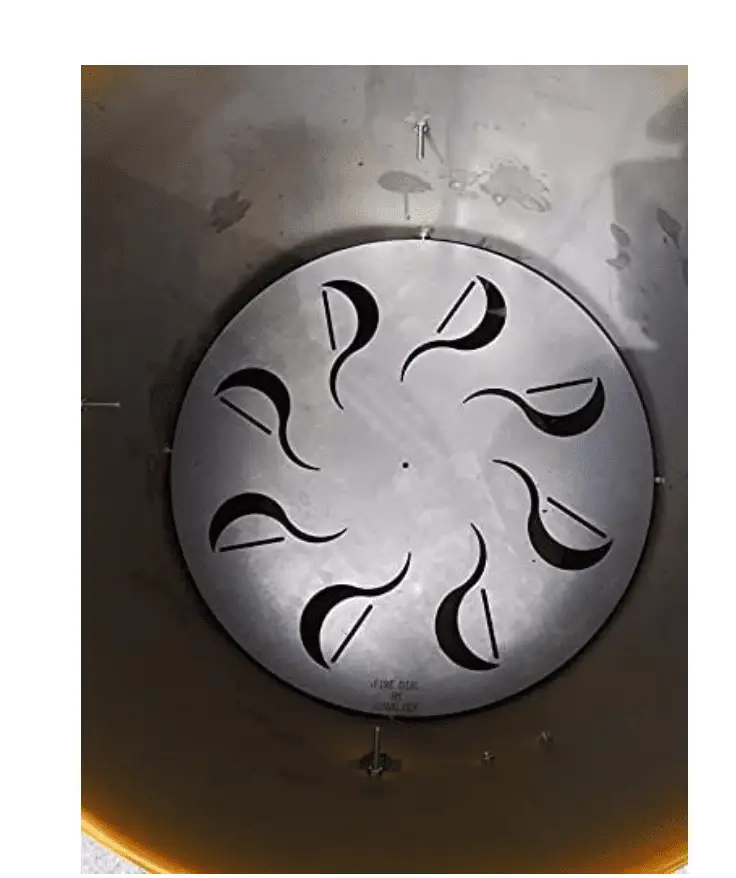 Tuning your UDS and barrel charcoal smoker for optimal performance is really cheap and easy with the all-in-one round Lavalock baffle plate.
What makes this baffle plate stand out from similar products like the Gateway Drum Smokers Stainless Steel Heat Deflector is that this has unique lasered breathing holes which aren't round.
Therefore, they are perfectly calculated for optimal airflow. 
In fact, the flame-shaped air holes restrict the airflow and also help to mix it and this results in perfectly smoked food that's never burnt. Using this baffle plate helps to stabilize and balance the temperature in the smoker.
I'm sure you know that precise draft control is the key to successful smoking and this product helps you tune your drum smoker for the best results.
The best feature of this one-piece heat deflector plate is that it's adjustable depending on the temperature you're smoking at.
Since you're cooking with charcoal you know that sometimes the heat can get out of control but with this baffle plate, you can ensure an even smoke for restaurant-grade smoke meat.
Just note, the factory settings tuned these baffle plates to run at approximately 225-250 F on most drums but you can customize them.
All you have to do is bend the tabs up and this increases the flow – yes, it's that simple! This means you can make the baffle plate run hotter too.
Thus, the advantage is that you don't need to drill holes and use too many tools to install this baffle plate. The LavaLock heat deflector sits right on top of the charcoal basket. I recommend mounting it about 3 inches above the basket to protect it.
It's made of heavy-duty stainless steel which doesn't warp under high heat. Therefore, it's one of the best durable baffle plates for drum smokers like the UDS.
But, it will get very greasy since all the fats drip down on it, so you need to do some light scrubbing to prep it after each use but it's a durable product, and cleaning stainless steel is actually simple.
Overall, this is a great heat deflector because it comes in various sizes and helps to stabilize the cooking temperature thanks to its innovative air hole design.
Check all available sizes here
Best baffle plates for gas grills: Unicook Heavy Duty Adjustable Porcelain Steel Grill Heat Plate
type: for gas grills
dimensions: extends from 11.75″ up to 21″
material: stainless steel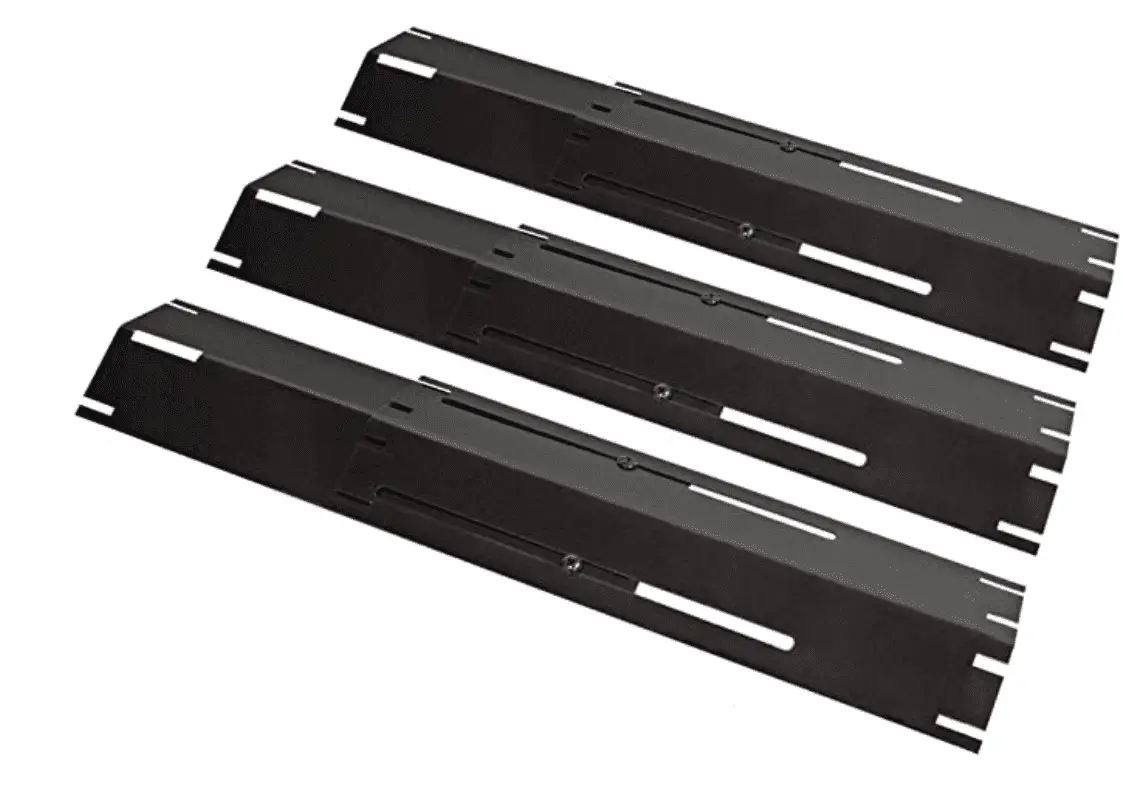 Have your gas grill flavorizers stopped working or warped? There's no need to spend money on a new grill when you can get the Unicook Porcelain steel bars for a very low price.
This extendable heat tent and flavorizer set works on most gas grill models. It can extend to a length between 11.75″ to 21″ and has a width of 1″ which makes it compatible with most grills.
This product is designed to prevent flare-ups while smoking as a result of temperature fluctuations and grease drippings. It also protects the burners by preventing direct exposure to flames and heat.
Also, if you struggle with managing the heat, you can use these baffle shields to distribute the heat evenly.
But this product is very versatile too because it can replace heat tends on the side to side or front to back burners and considering how cheap this set is, it might be worth it to upgrade your smoker.
Many people complain that the Flame Tamers on grills like the Kenmore Elite tend to go rusty pretty quickly and then those parts are expensive to replace.
That's where this product comes in handy because it's affordable and works really well as a flame tamer and temperature controller.
It offers amazing heat distribution and doesn't rust like the more expensive products in the same category. For example, the BBQration Flame Tamer is only a few dollars more expensive but it does get rusty faster.
With this one, there's just one minor issue, some customers claim that the coating burns off and leaves an unpleasant smell while cooking but after a couple of uses it stops so it shouldn't be a deal-breaker.
The Unicook kit includes stainless steel M5 bolts plus wing nuts so you can install the plates very easily without specialty tools.
The flavorizer bars are made of 1.2 mm thick porcelain steel and this is a good thickness to go for because it makes the bars last longer and also prevents warping and degradation after repeated use.
One can dream, right? Check out the 10 Best High End Gas Grills here and plan your investment
Best baffle plate for pellet grills: Stanbroil Heavy Duty Steel Heat Baffle Diffuser
type: for pellet grills and smokers
dimensions: 13″ L x 11″ W x 5″ H
material: heavy-duty steel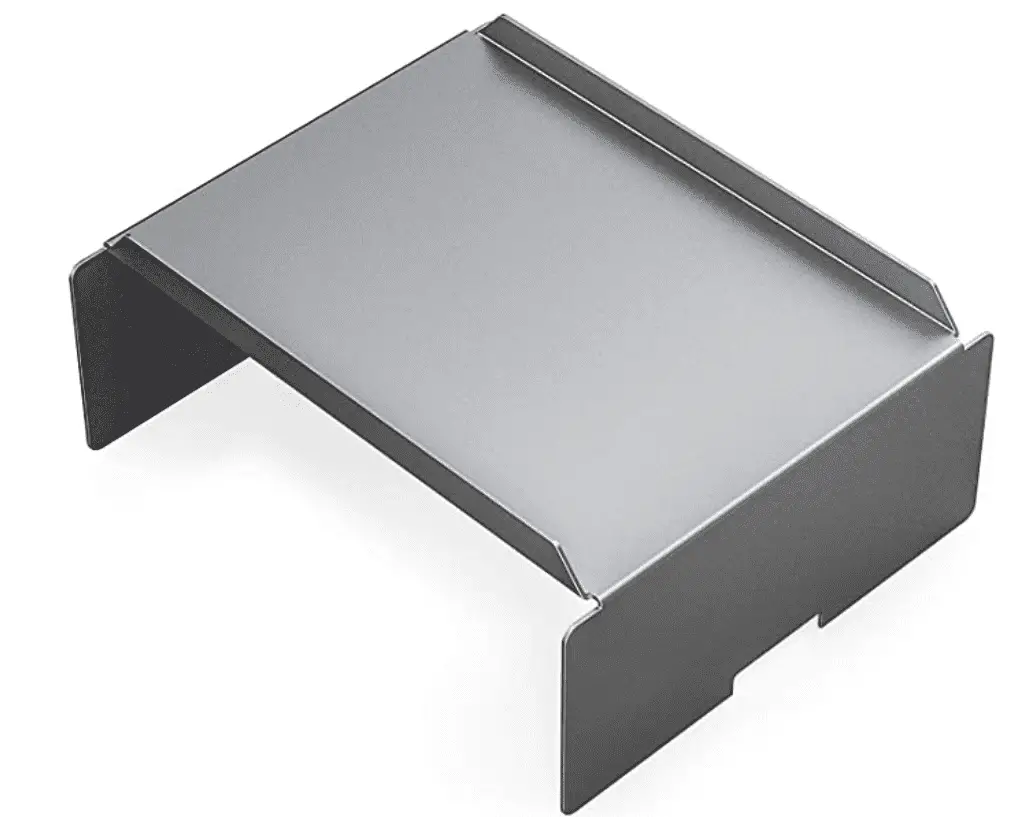 Did you buy a pellet smoker only to realize that it doesn't come with a baffle plate? Don't worry, it won't cost a lot to get a really good one that helps diffuse heat evenly.
Traeger pellet grills are among the best on the market, but the baffle diffuser might need replacing every now and then.
Sure, you can spend a lot of money ordering from Traeger, or you can choose this budget-friendly replacement from Stanbroil.
But, don't worry, this baffle works on most other pellet grills too, like Camp Chef and Z Grill, not just the Traeger. If you have a Pit Boss, you can also use it but you'll have to hammer down the legs to make it fit perfectly.
I've compared Pitt Boss with Traeger grills here so you can make the best choice
The Stanbroil diffuser plates are some of the best-built and compared to Cookingstar's version which costs the same amount of money, this one lasts longer and doesn't warp under high heat.
That's because it's made of thick heavy-duty steel which can withstand high temperatures.
Steel is prone to a bit of rust, especially if you leave the plate outdoors and unprotected. So, you can expect some rusting over time, but nothing major.
In fact, this product keeps getting 5-star reviews because it holds up so well over time and doesn't warp or rust like cheaper plates.
As long as you get the measurements right, this baffle plate should fit exactly so there's no installation required – simply take out the old one and put this in its place.
You'll notice that this Stanbroil heat diffuser does a good job at distributing the heat evenly and you'll notice that the pellets don't burn as fast.
Thus, you save a bit of fuel and the food is cooked to perfection without burnt parts.
The main reason people really like using this baffle plate is that it eliminates the hot spots that form in the middle of the smoker grate, especially with Pit Boss cookers (here's my top 5 favorite).
Therefore, it keeps a steady temperature throughout the smoking and grilling process so you have to do less babysitting while cooking.
Best pellet smoker drip tray baffle: Davy Crockett & Trek Grease
type: for pellet grills and smokers (Davy Crockett)
dimensions: 16 x 11 x 0.5 inches
material: stainless steel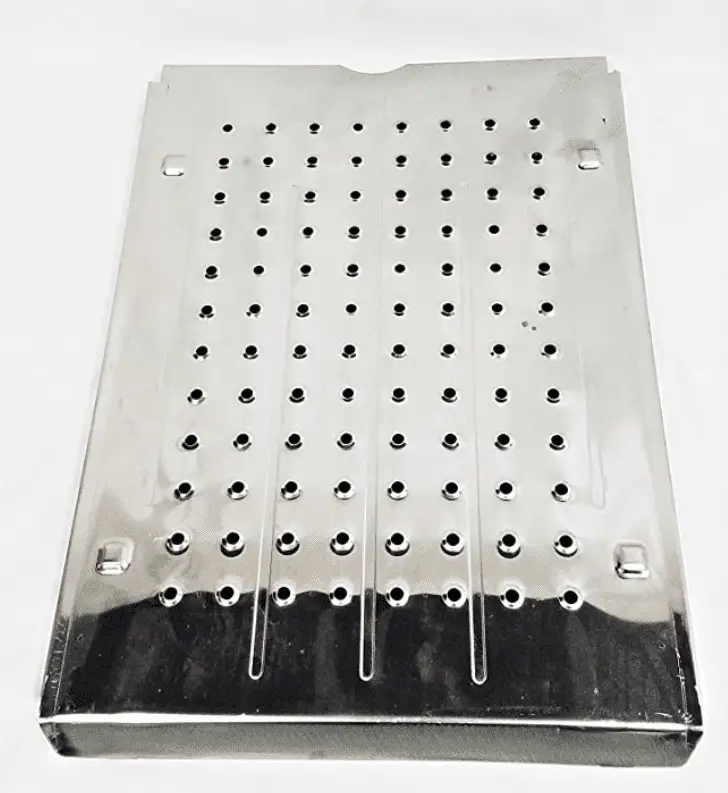 If your Davy Crockett needs a baffle plate, I recommend this 2-piece set. Now, it's not necessary to get a two-piece, it just depends on how you cook.
The two-piece baffle set is great for high heat and quick BBQ cooking when making foods like sausages and burgers. The one-piece, on the other hand, is great for smoking meat when you slowly cooking for a long time.
This two-piece baffle plate set is easy to use because the plates have small holes in them. Then, you move the top tray a bit and so the holes close.
You can experiment with moving the plates on top of each other until you get the hang of maneuvering them. Once you do, you'll minimize the number of flare-ups.
A common problem people face when smoking or grilling is when hot grease drips onto the baffle and then it clogs the holes and makes a smoky mess. Well, don't forget that you're supposed to use a solid shield between the grates and the firebox.
But, if grease drips onto the second plate, be careful because it can catch fire and cause a smokey mess. It's best to use just one of the plates for long and slow smoke sessions.
Not only do these plates ensure you don't get flare-ups, but they also distribute the heat evenly for perfect smoked food.
Another benefit of using this product is that your grill gets hotter quicker. So, the grill & smoker becomes more fuel-efficient and you end up cooking faster.
Also, these stainless steel baffle plates are very high quality, even compared to the ones that come with many smokers and grills. This is heavy-duty steel, not a flimsy alloy. It's even better than the poorly made OEM parts.
Overall, this product is well-made and the holes are small but large enough to promote even airflow. Thus, it's a good value purchase and an easy way to improve your Trek and Davy Crockett's performance.
Best baffle plate for ceramic Kamado grills: MixRBBQ Half-Moon Ceramic Heat Deflector Plates
type: for ceramic Kamado grills
dimensions: half-moon shape 15 inches
material: ceramic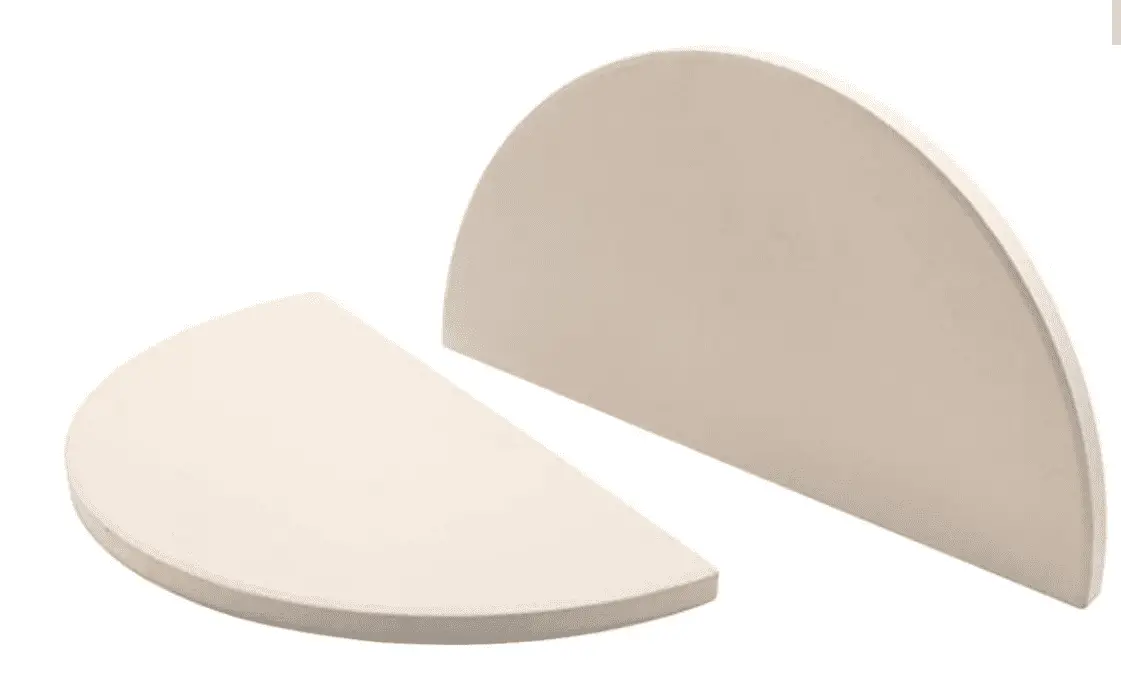 Do you feel like the air circulation in your Kamado Joe is hard to control?
Nobody wants charred food, so if you like to be in charge and bake foods like pizza or smoke low and slow, you need to try using a ceramic baffle plate.
This one by MixRBBQ, is a large circle made up of two half-moon ceramic pieces. Now, you want to be careful when using and moving these baffle plates because they are quite fragile and prone to breaking, especially when hot.
But, with a bit of care, you can easily store and use them when you want to smoke meat, make pizza or cook bread. It significantly reduces burns and charring.
This is great news if you are just starting out with smoking and have trouble reaching the perfect temperature for roast chicken, succulent ribs, or hickory brisket!
The advantage of using these ceramic plates with the grill and smoker is that they offer superior heat distribution, circulation, and retention so the food is well-cooked and there are no hot spots and flare-ups.
It's like cooking with hot stone which offers much more even cooking than just charcoal.
When you use these baffle plates, you're getting a convection-style cooking experience so it means that it's similar to using a convection oven. You can use these plates with both the Divide and the Conquer Flexible Cooking System.
The good news is that these ceramic stone plates are easy to clean off when cooled. Thus, you'll have a much easier time cleaning them compared to steel plates.
But, it's very important to use a drip tray on top of the stones because you don't want the ceramic material to absorb all that grease and fat… that can be impossible to wipe off and absorb into the plate.
I want to warn you though that ceramic stone is sensitive and prone to breaking. Don't buy the cheaper knockoffs which can crack after the first use.
As long as you use these plates with a drip tray, you will find that you're getting amazing results and the heat will stabilize in the smoker or grill so you get fewer flare-ups.
Here's something else to ponder: Will adding fire bricks to my smoker help it to maintain a consistent temperature?
Best reverse flow smoker with baffle plate: Oklahoma Joe's Longhorn
type: reverse flow charcoal smoker
cooking surface: 1,060 total Square inches
material: steel
grates: 4 porcelain coated steel
Sure, there are great baffle plates out there.
But, if you want to have a new smoker with baffle plates already incorporated, consider buying the Oklahoma Joe's Longhorn: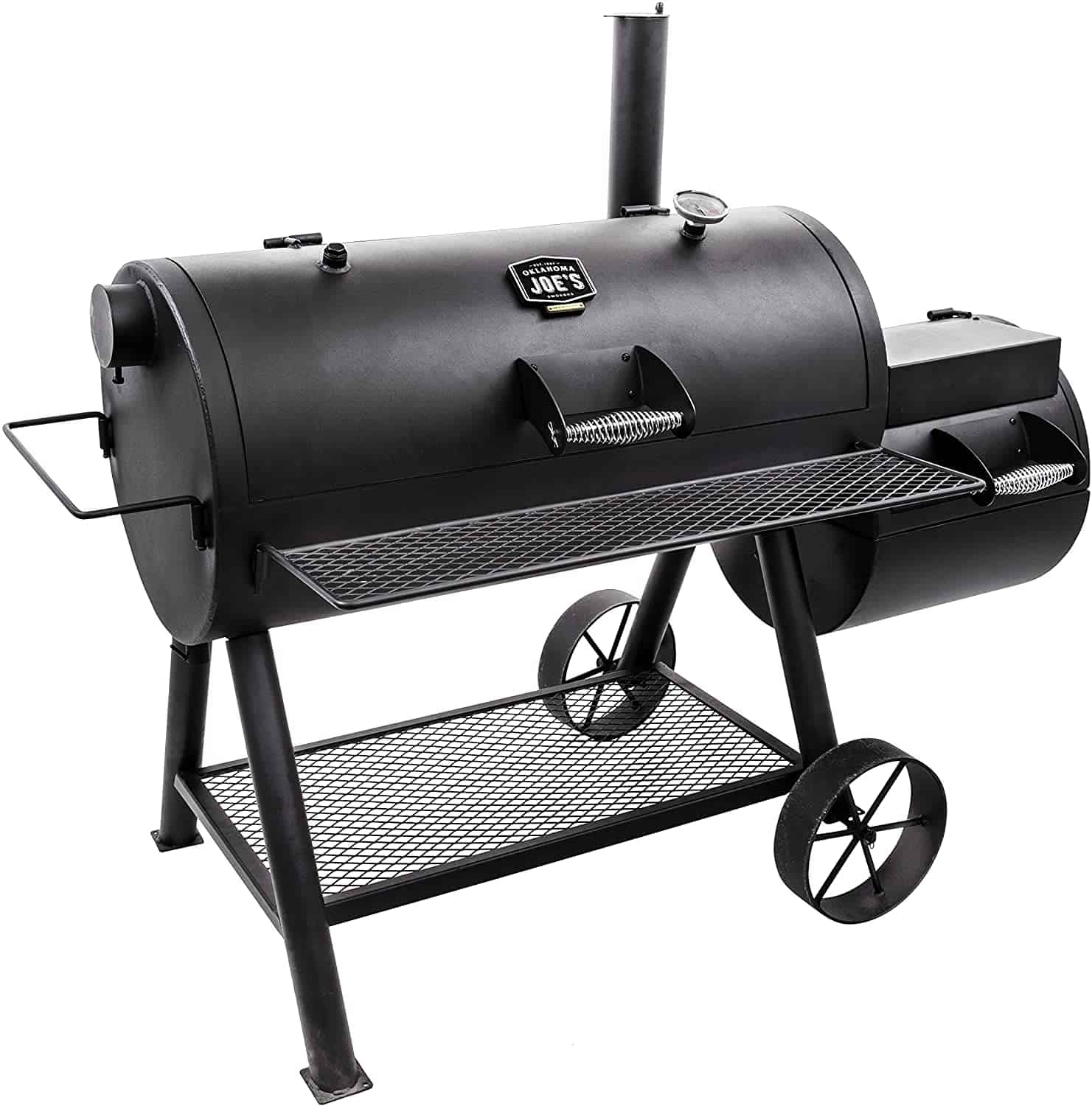 This is a top-rated offset smoker (I've gushed about it before at length here) and comes equipped with four baffle plates.
Here are the benefits:
It has four baffle plates that regulate the smoke coming out of the smoker. This means that your clothes won't smell like smoke after using the grill.
Also since you have more than one baffle plate, it's much easier to regulate the temperature and it offers extra protection for your food.
It also reduces the amount of smoke so there's no excess and the meat has the correct amount of smoke for that yummy smokey BBQ flavor with no charred burnt aftertaste.
Also, the steel baffle plates are excellent at regulating the heat continuously. As a result, you don't have to deal with burnt food ever again.
The baffles are removable so you can smoke without them too if you really need to although I don't see why you'd want to risk it.
But, combine the 4 baffle plates with the optional smokestack and you can have a fully customized smoke session. This is great news for pros and true smoky meat lovers.
The quality steel material makes the plates long-lasting and durable for many years.
Having the baffle plates pre-installed not only saves time and energy but it ensures they are correctly installed and designed for optimal heat distribution. So, you're ready to start smoking your favorite foods in minutes.
Finally, I want to mention that this smoker has a huge cooking surface and with this large cooking area, you can smoke big batches of food for as many guests as you like.
Check the latest prices and availability here
What is a baffle plate?
A baffle plate is an accessory for your smoker or grill, also known as a convection plate or a tuning plate.
Usually, the thickness of this plate is a quarter of an inch, and it is placed in the cooking chamber of your smoker.
The primary role of the baffle plate is to act as a deflector shield, which reflects the heat from the cooker back into the cooking chamber; thus, reusing the heat.
In simple terms, the baffle will absorb heat, lower the cooking temperature, and then it diffuses it back to all parts of the chamber.
One of the technological features of baffle plates is called "reverse flow." In short, the baffle plate diffuses heat evenly to allow for precise smoking.
You're probably wondering why you need a baffle plate if you have an offset smoker already? Well, offset smokers are designed to allow all the heat in at one end of the cooking chamber, which is a benefit.
However, not all smokers are the same, and when you're doing a slow smoke and slow cook, you need to have even temperatures from one end of the smoker to the other.
Here's when having a baffle plate comes in handy!
What does a baffle plate do?
All baffle plates are designed to help you cook and smoke better by diffusing heat evenly to ensure an even smoke. So, a baffle plate offers you three significant benefits: control, efficiency, and balance.
The baffle plates will distribute the heat from the cooker evenly across the smoker because they are designed with a series of different shaped drilled holes through which the heat circulates.
Plates direct the heat away from one side of your smoker chamber, which allows you to smoke low and slowly, giving your meat that intense smoky flavor.
Baffle plates and offset smokers
There are two types of offset smokers:
The traditional smokers have a chimney set that is placed far away from the firebox.
The second type is the reverse flow offset smoker like the one we wrote about here, which has its chimney right by the firebox.
The hottest part of the smoker is near the firebox.
To minimize the uneven cooking and burning of food, smokers fix the problem with baffle plates, with the help of reverse flow.
Baffle plates work well because of reverse flow technology, which means that the heat in the smoker is used twice.
What does reverse flow from baffle plates do?
Here's what reverse flow actually means for the cooking process:
The drafts of heat from the firebox go into the cooking cylinder and get drawn down under a baffle flue all the way to the end.
From there, it reverses the flow (hence the name), and it drafts back to the top of the hot baffle flue. Think of it as a circular air recycling process.
To benefit from the best results from your smoker/grill, always make sure to set up the baffle and air damper to get the right amount of heat and smoke flowing into the cooking chamber.
The secret to perfect smoking is all about the right mix of air and smoke. Also, it's essential to have that gap at the end of the baffle plate near the firebox. It contributes to even heat distribution.
You don't want to restrict the airflow too much, or you'll end up with too much white smoke that will give your food a bad taste.
The baffle plate is a protective measure. If you don't have one, you'll need to keep checking on the meat, turning it, and rotating it regularly to avoid burning it.
The plate will help you cook evenly, and the flavors will develop and penetrate your food slowly, giving off that "just right" smokey taste without you having to constantly turn and check the food.
This means you can actually enjoy the smoking process and interact with your friends and family while the food smokes safely.
What are baffle plates made of?
Most baffle plates are long stainless-steel metal boards with different-sized holes (for example, 5/8″) drilled into them that allow for heat and smoke transfer.
Almost all baffle plates are manufactured out of carbon steel or stainless steel, as it's the best material for smokers. Steel is the best heat conducting alloy.
Steel is actually not considered a metal; it is made out of metal, iron, and combined with non-metal carbon. It also does not melt at high temperatures.
Baffle plates for wood stoves can be made of cast iron, steel, or fiberboard, but those materials are not ideal for a smoker.
Some smokers use aluminum plates. But, be careful because aluminum is not as good of a heat conductor as steel.
Steel is much more durable than other alloys and metals, so you want to get steel baffle plates in your smoker that are sure to last you a lifetime.
How thick should my baffle plate be?
The thickness of most steel baffle plates is either ¼" or 3/16″ depending on if you prefer thicker or thinner plates. Remember that a thinner plate will radiate and disperse heat much quicker.
But even if you choose a thicker plate, it does not take very long for the plate to get hot, and once it reaches a high temperature, it's easy to maintain, and the temperature (heat) is more even on a thicker plate.
The thinner plate is recommended for those with smaller and lighter smokers who don't want to carry or move a hefty smoker around.
For beginner smokers, it's recommended that you get ¼" steel baffle plates that are easy to use, and you'll be able to maintain the temperature of the cooker.
Where to find baffle plates?
The quickest way to find good baffle plates is to try an Amazon search. You'll find plenty of forums and blog posts out there dedicated to making your own baffle plates at home.
However, it's recommended that you buy a high-quality baffle plate for around 100 dollars and save yourself the hassle of DIYs.
One of the most common issues DIYers encounter is a malfunctioning baffle plate.
When your plates are not computer calculated, they may not be precise, and the temperature in the smoker might fluctuate by as much as 100 degrees Fahrenheit.
Usually, you'll get much hotter temperatures on the right side of the smoker or the firebox side. This fluctuating temperature will make your food burn and taste bad!
Did you know that many companies charge upwards of 80 dollars for "how to build a reverse flow smoker plan"?
It's only a plan, an instruction sheet with diagrams and images.
But you have to buy all the materials, tools and put in some hard work. It's easiest to purchase good-quality baffle plates and start grilling right away!
Final thoughts
It's up to you whether you choose to upgrade your existing smoker by adding some steel baffle plates or you invest in a high-quality smoker that comes readily equipped with baffle plates.
Make sure to choose durable materials and the thickness of the plate that will work best with your cooking device. And finally, have some fun smoking with the help of new baffle plates!
Check out 22 more must-have BBQ smoker accessories to become a true pitmaster
Joost Nusselder, the founder of Lakeside Smokers is a content marketer, dad and loves trying out new food with BBQ Smoking (& Japanese food!) at the heart of his passion, and together with his team he's been creating in-depth blog articles since 2016 to help loyal readers with recipes and cooking tips.