I love creating free content full of tips for my readers, you. I don't accept paid sponsorships, my opinion is my own, but if you find my recommendations helpful and you end up buying something you like through one of my links, I could earn a commission at no extra cost to you.
Learn more
Have you thought about tuning your smoker? Did you know that there are tuning accessories that will make your smoker a high-performer and turn you into a true smoke-master?
If you haven't been using baffle plates, you're missing out on some great BBQ experiences.
Use an offset smoker with a firebox and add a steel baffle plate to get extra juicy and flavorful meats.
All the smoke from your firebox will flow into the cooking chamber, so you can smoke the meat indirectly and make the most of your flavored woods.
Baffle plates are a highly recommended accessory for offset smokers. If you want to be a true smoker, invest in a quality offset smoker and baffle plate!
I've written this article with information all about offset smokers, but in this article here, I want to focus on some of the best baffle plates and how to use them.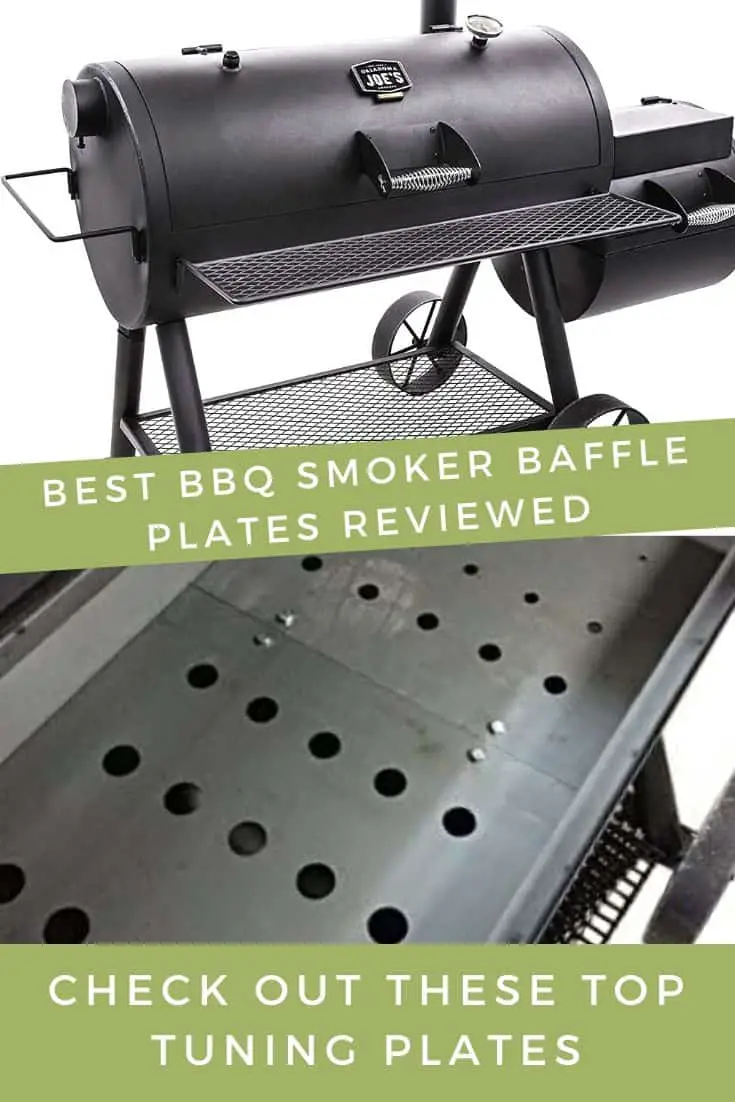 Let's look at the best baffle plates real quick, then I'll look at each of these individually, and also give you some tips on what to look for when buying baffle plates.
Best Baffle Plates
Baffle plate buying guide
A baffle plate is an accessory for your smoker or grill, also known as a convection plate or a tuning plate.
Usually, the thickness of this plate is a quarter of an inch, and it is placed in the cooking chamber of your smoker.
The primary role of the baffle plate is to act as a deflector shield, which reflects the heat from the cooker back into the cooking chamber; thus, reusing the heat.
In simple terms, the baffle will absorb heat, lower the cooking temperature, and then it diffuses it back to all parts of the chamber.
One of the technological features of baffle plates is called "reverse flow." In short, the baffle plate diffuses heat evenly to allow for precise smoking.
You're probably wondering why you need a baffle plate if you have an offset smoker already? Well, offset smokers are designed to allow all the heat in at one end of the cooking chamber, which is a benefit.
However, not all smokers are the same, and when you're doing a slow smoke and slow cook, you need to have even temperatures from one end of the smoker to the other.
Here's when having a baffle plate comes in handy!
What does a baffle plate do?
All baffle plates are designed to help you cook and smoke better by diffusing heat evenly to ensure an even smoke. So, a baffle plate offers you three significant benefits: control, efficiency, and balance.
The baffle plates will distribute the heat from the cooker evenly across the smoker because they are designed with a series of different shaped drilled holes through which the heat circulates.
Plates direct the heat away from one side of your smoker chamber, which allows you to smoke low and slowly, giving your meat that intense smoky flavor.
Baffle plates and offset smokers
There are two types of offset smokers:
The traditional smokers have a chimney set that is placed far away from the firebox.
The second type is the reverse flow offset smoker like the one we wrote about here, which has its chimney right by the firebox.
The hottest part of the smoker is near the firebox.
To minimize the uneven cooking and burning of food, smokers fix the problem with baffle plates, with the help of reverse flow.
Baffle plates work well because of reverse flow technology, which means that the heat in the smoker is used twice.
What does reverse flow from baffle plates do?
Here's what reverse flow actually means for the cooking process:
The drafts of heat from the firebox go into the cooking cylinder and get drawn down under a baffle flue all the way to the end.
From there, it reverses the flow (hence the name), and it drafts back to the top of the hot baffle flue. Think of it as a circular air recycling process.
To benefit from the best results from your smoker/grill, always make sure to set up the baffle and air damper to get the right amount of heat and smoke flowing into the cooking chamber.
The secret to perfect smoking is all about the right mix of air and smoke. Also, it's essential to have that gap at the end of the baffle plate near the firebox. It contributes to even heat distribution.
You don't want to restrict the airflow too much, or you'll end up with too much white smoke that will give your food a bad taste.
The baffle plate is a protective measure. If you don't have one, you'll need to keep checking on the meat, turning it, and rotating it regularly to avoid burning it.
The plate will help you cook evenly, and the flavors will develop and penetrate your food slowly, giving off that "just right" smokey taste without you having to constantly turn and check the food.
This means you can actually enjoy the smoking process and interact with your friends and family while the food smokes safely.
What are baffle plates made of?
Most baffle plates are long stainless-steel metal boards with different-sized holes (for example, 5/8″) drilled into them that allow for heat and smoke transfer.
Almost all baffle plates are manufactured out of carbon steel or stainless steel, as it's the best material for smokers. Steel is the best heat conducting alloy.
Steel is actually not considered a metal; it is made out of metal, iron, and combined with a non-metal carbon. It also does not melt at high temperatures.
Baffle plates for wood stoves can be made of cast iron, steel, or fiberboard, but those materials are not ideal for a smoker.
Some smokers use aluminum plates. But, be careful because aluminum is not as good of a heat conductor as steel.
Steel is much more durable than other alloys and metals, so you want to get steel baffle plates in your smoker that are sure to last you a lifetime.
How thick should my baffle plate be?
The thickness of most steel baffle plates is either ¼" or 3/16″ depending on if you prefer thicker or thinner plates. Remember that a thinner plate will radiate and disperse heat much quicker.
But even if you choose a thicker plate, it does not take very long for the plate to get hot, and once it reaches a high temperature, it's easy to maintain, and the temperature (heat) is more even on a thicker plate.
The thinner plate is recommended for those with smaller and lighter smokers who don't want to carry or move a hefty smoker around.
For beginner smokers, it's recommended that you get ¼" steel baffle plates that are easy to use, and you'll be able to maintain the temperature of the cooker.
Where to find baffle plates?
The quickest way to find good baffle plates is to try an Amazon search. You'll find plenty of forums and blog posts out there dedicated to making your own baffle plates at home.
However, it's recommended that you buy a high-quality baffle plate for around 100 dollars and save yourself the hassle of DIYs.
One of the most common issues DIYers encounter is a malfunctioning baffle plate.
When your plates are not computer calculated, they may not be precise, and the temperature in the smoker might fluctuate by as much as 100 degrees Fahrenheit.
Usually, you'll get much hotter temperatures on the right side of the smoker or the firebox side. This fluctuating temperature will make your food burn and taste bad!
Did you know that many companies charge upwards of 80 dollars for "how to build a reverse flow smoker plan"?
It's only a plan, an instruction sheet with diagrams and images.
But you have to buy all the materials, tools and put in some hard work. It's easiest to purchase good quality baffle plates and start grilling right away!
Best smoker baffle plates reviewed
Best Budget-Friendly Baffle Plates:

BBQ funland SH4011 (3-Pack) Stainless Steel Heat Plate Shield Tent Diffuser
These inexpensive heat deflector tuning plates are compatible with many of the top grill models, including Charbroil and Costco. At under $20, you can improve the BBQ experience and make tastier, perfect meat every time.
This is a stainless steel tent shield plate deflector and it helps tame flames, which prevents food from burning. It comes in a 3-pack and the dimensions are 15.6 x 4.8 x 2.85 inches.
Here are some of the main features:
Compatible with Charbroil, Costco Kirkland, Thermos, and Centro
Very cheap
Made of stainless steel
It's a great flame tamer
Works very well
Easy to install, and the plates can be modified to fit
Helps maintain a constant temperature as you cook
Oklahoma Joe Longhorn Baffle Plate: Lavalock Heat Deflector Tuning
This famous baffle plate brand is known for its affordable and durable plates. This product is highly recommended by smokers.
All of their baffle plates are computer designed with precise airflow rate calculations.
The use of Lavalock baffle plates:
Prevents any burnt food placed close to the firebox.
It allows for more natural temperature control. The plate balances the temperature on both the left and right sides of the smoker.
Helps you achieve a lower fuel consumption than smoking without baffle plates.
Will help you cook at precise temperatures, evenly.
Made from thick steel, which creates what is known as a "heat sink effect."
To maintain, you only need to oil the plates, and they can last you a lifetime.
Easy to install, you only have to screw in a few bolts and place the baffle plate into the smoker, and you're ready to go.
The baffle plate weighs 22 pounds; therefore, it's still moveable and lightweight.
The product is manufactured in the United States with a focus on quality.
With Oklahoma Joe baffle plates, the manufacturer recommends that you leave an approximate gap or space of 1cm at the side of the firebox. This will maintain a consistent temperature with +/- 10 degrees Fahrenheit on each side.
It's best to add a stainless-steel water pan and use it with your baffle plates. This way, you can capture all the juices and fats to use for a delicious stock or broth anytime.
This way, you aren't wasting anything when smoking.
These baffle plates are designed by a brand called Lavalock. They use reverse flow technology and are intended to be grease and watertight pan or skillet.
You place your cooking racks on top of this griddle.
The baffle also uses reverse flow technology, which means that the heat is used twice. The reverse flow baffle plate has the role of searing fat.
Best of all, the griddle is made of welded metal.
It sizzles and sears your food while maintaining the flavor, juiciness, and moisture and as your meat is cooking, most of the fat comes out, leaving you with the tastiest smoked food.
Davy Crockett Grease Drip Tray Baffle: GMG Open Flame Technology
Ideal for direct-flame or indirect smoking
Lightweight, only 3.9 pounds
This product will collect the juices and grease during your cook
Check the latest prices and availability here
Best broadly compatible Heat Plate Shields: BBQration Flame Tamer
For approximately $25, you can improve your smoker by installing a BBQration 5-Pack Extends. They are compatible with most grills as they extend from 11.75″ up to 21″.
What these adjustable stainless-steel heat plates (for gas grill models) do is they drain the extra drippings and grease.
This is how you install one on your gas grill that has rotted out the previous one:
The flavorizer bars are supposed to get vaporized, but when they don't, these shields have a unique angle. It allows the greasy drippings to get funneled down into the smoker's grease management system.
This ensures that you don't get any flare-ups that may burn your food. As well, the heat plates also protect the burner tubes of your smoker.
Heat Diffuser Kit for Traeger Pellet Smoker Grill: Cookingstar Stainless Steel BCA012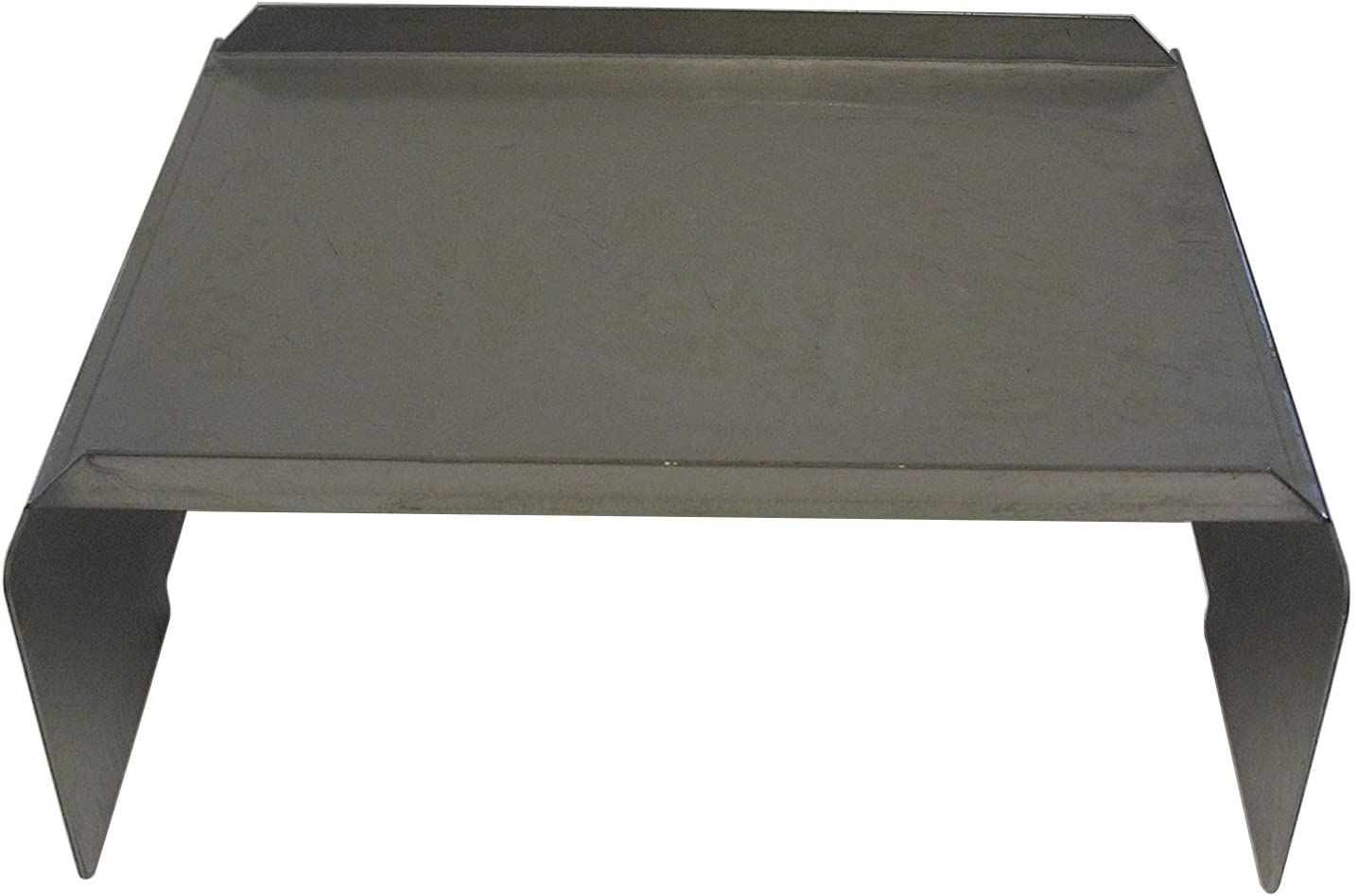 This is a heat diffusing baffle plate from the brand Cookingstar.
It has a 4.3 out of 5-star rating on Amazon. It is a light plate, weighing only 3.85 pounds that goes on top of the cooking chamber. It captures the heat and diffuses it evenly on the whole surface area.
With all the information on baffle plates and why they matter when you are smoking, you can now make informed decisions on what to buy to gain all the benefits.
Best reverse flow smoker with baffle plate: Oklahoma Joe's Longhorn
Sure, there are great baffle plates out there. But, if you want to have a new smoker with baffle plates already incorporated, consider buying the Oklahoma Joe's Longhorn: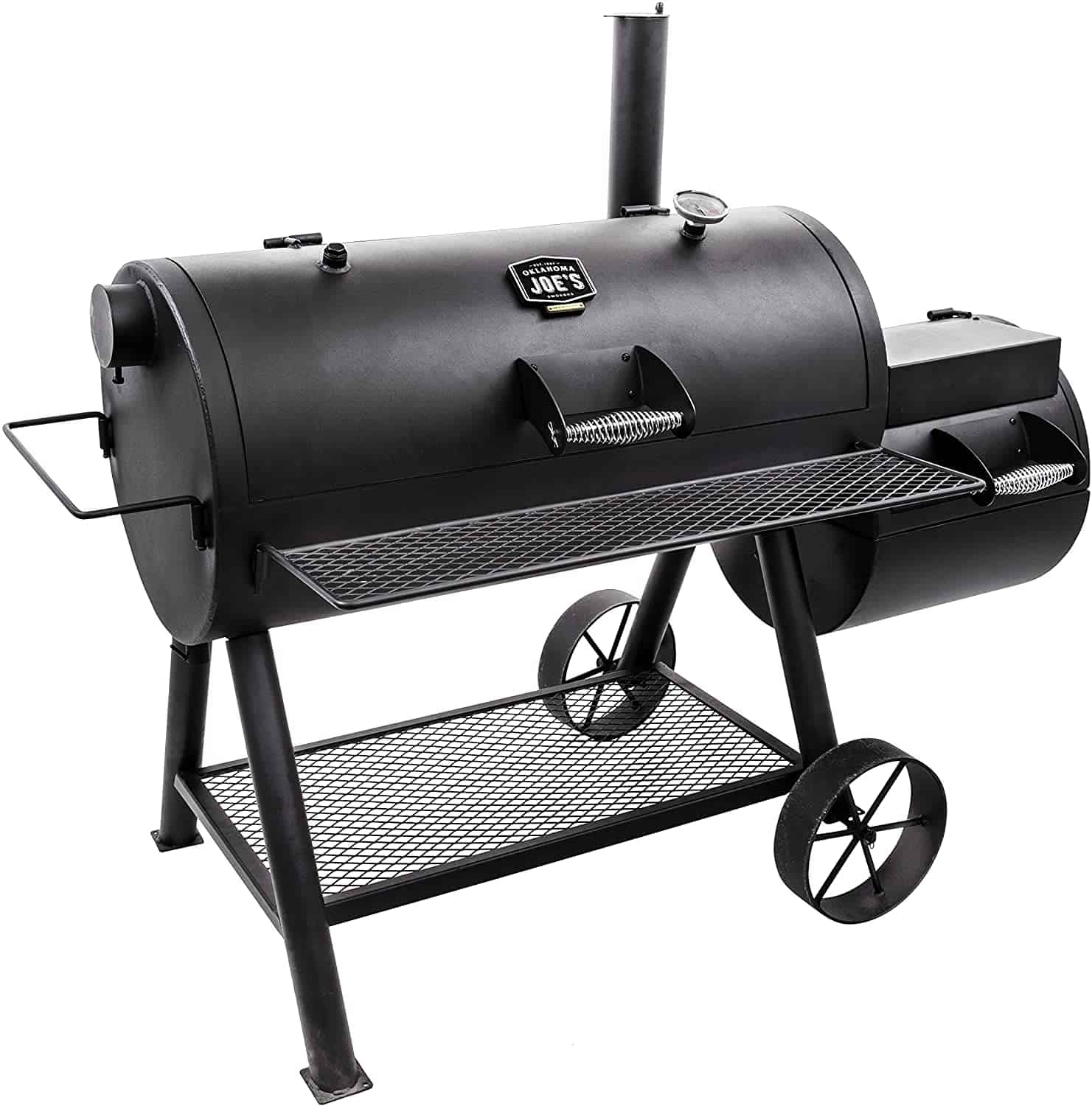 This is a top-rated offset smoker and comes equipped with four baffle plates. Here are the benefits:
Four baffle plates which regulate the smoke coming out of the smoker. This means that your clothes won't smell like smoke after using the grill.
The more baffle plates mean more protection for your food. No extra smoke comes out, only as much as needed.
The baffle plates are excellent at regulating the heat continuously. As a result, you don't have to deal with burnt food ever again.
The quality steel material makes the plates long-lasting and durable for many years.
There is a large cooking area so you can smoke big batches of food for as many guests as you like.
Final thoughts
It's up to you whether you choose to upgrade your existing smoker by adding some steel baffle plates or you invest in a high-quality smoker that comes readily equipped with baffle plates. Make sure to choose durable materials and the thickness of the plate that will work best with your cooking device. And finally, have some fun smoking with the help of new baffle plates!
Joost Nusselder, the founder of Lakeside Smokers is a content marketer, dad and loves trying out new food with BBQ Smoking (& Japanese food!) at the heart of his passion, and together with his team he's been creating in-depth blog articles since 2016 to help loyal readers with recipes and cooking tips.