I love creating free content full of tips for my readers, you. I don't accept paid sponsorships, my opinion is my own, but if you find my recommendations helpful and you end up buying something you like through one of my links, I could earn a commission at no extra cost to you.
Learn more
You have an electric smoker and lots of smoked meat ideas, but how do you put them into practice?
Sure, you may know all about delicious ribs, smoked sausage, or Texas-style smoked briskets. But, do you know how to smoke each meat cut, how long to cook them and how to make the most of your electric smoker?
A cookbook comes in very handy when you're using electric smokers. Not only are they full of tasty recipes, but they also offer all kinds of useful tips that you can implement when you smoke foods.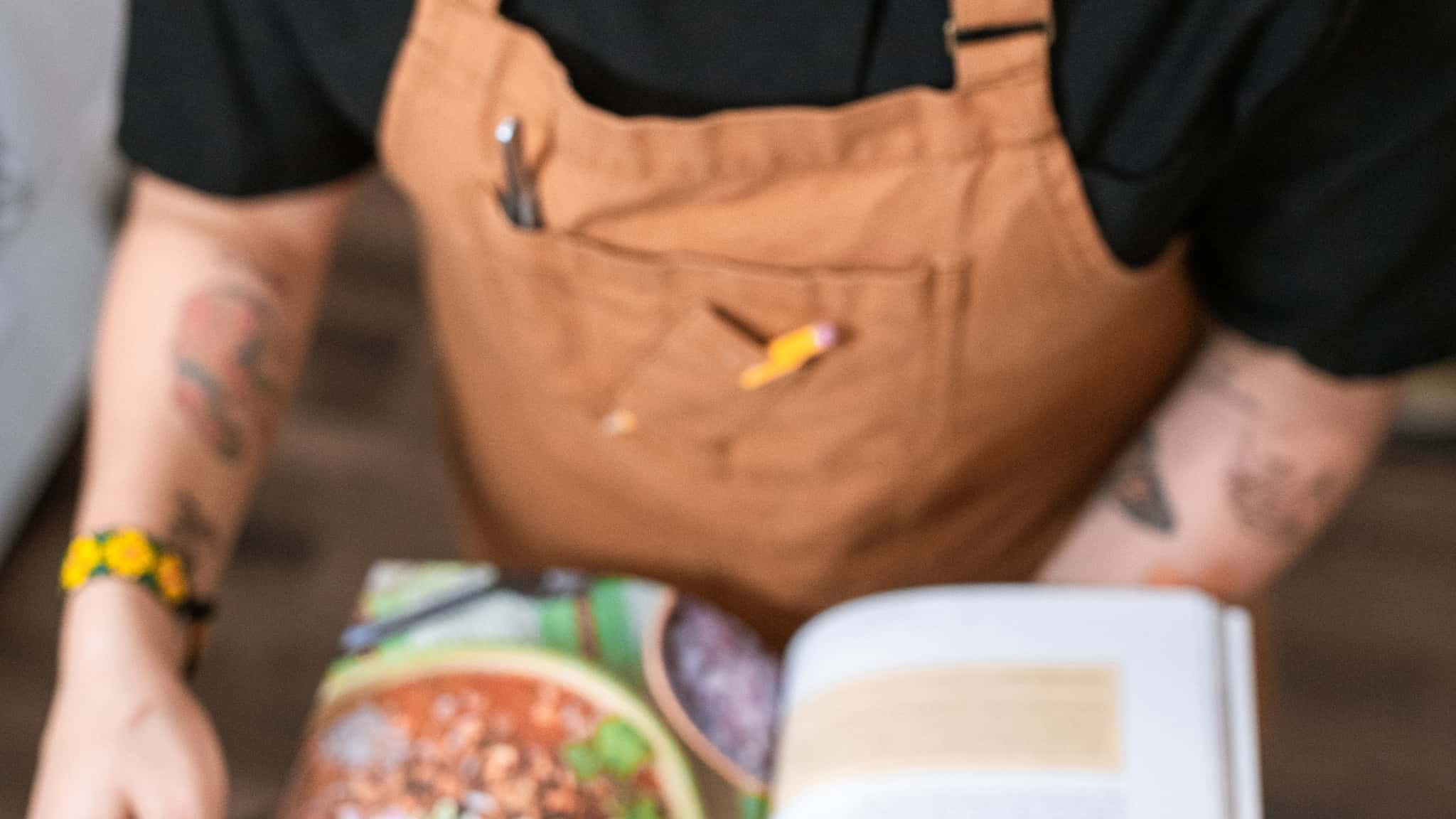 Cookbooks teach you to take smoking to the next level, help you learn how an electric smoker works, and offer the best tips to smoke all food types, not just meat.
The best overall guide to cooking delicious recipes with your electric smoker is Gary Mercer's Electric Smoker Cookbook because it's a comprehensive how-to guide for all skill levels and contains lots of traditional and authentic smoked meat recipes.
I'm reviewing the best cookbooks to help you use your electric smoker more efficiently and make tasty foods that are sure to impress.
These contain new recipes, helpful smoking tips, and ways to improve your smoking experience. Plus, I've got something for all skill levels!
Keep reading to see the full reviews down below.
What to look for when buying cookbooks
Electric smoker cookbooks aren't the most popular type of books about smoking, but there's still plenty out there.
But how do you know which one is worth your money? Surely many recipes are similar, but the truth is, famous pitmasters and authors have plenty of innovative and unique smoker recipes.
The best way to ensure you get a useful cookbook is to check out official reviews and customer feedback on sites like Amazon. It will tell you if people find the recipes good and if the book is actually any good.
Here are some practical questions to think about before making a purchase:
First, consider the number of recipes: how many recipes are there in the cookbook?
Next, check for variety: are they all basic or classic recipes you might already know? Are there many unique and new recipes?
Who is the author? Is he or she a well-known pitmaster or a food blogger? Can you trust his or her advice and perspective
Does the book cover different types of foods like meat, vegetables, cheese, seafood, fruit, and nuts? Or is it solely limited to meat cuts?
Is there more information besides the recipes? Think about cooking methods, temperature, tools, how to use the smoker, etc.
Does the cookbook contain images and photos of the foods? A visual aid is always best because you can get a sense of what your dish will look like.
How is the text written? Is the language easy to understand? Are there simple step-by-step instructions? Note that complex instructions are hard to follow.
Format: is it an eBook, paperback, or hardback book? You might find eBooks more convenient because they're not heavy and easily accessible on your tablet, kindle, or phone. A paperback or hardcover book is better if you like to have physical copies in your cookbook collection. They're also durable, and you can lend them to others.
Looking for more expert smoker advice? Here are 8 things we can learn from these Top Pitmasters
Best electric smoker cookbooks reviewed
Now that you've considered all this information, it's time to check the detailed reviews of my picks.
Best overall comprehensive guide: Gary Mercer Electric Smoker Cookbook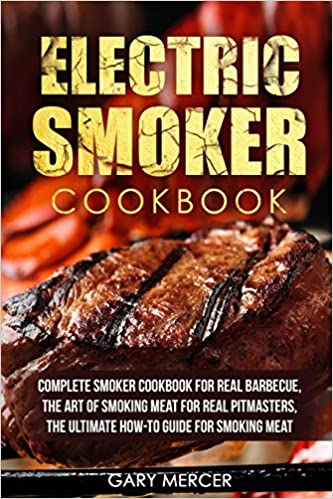 As far as comprehensive how-to guides, Gary Mercer's electric smoker cookbook covers it all for novices and pitmasters alike.
It's the best overall guide to smoking with electric devices because it is easy to understand, full of tips, and all the recipes are well-detailed and have accompanying photographs.
The cookbook is full of helpful illustrations, colorful images, and simple, clear language. The recipes are focused on delicious smoked meats, including lamb, beef, pork, and plenty of poultry too.
I really like the cookbook because it has a nice mix of simple recipes for beginners, but it also has some unique and more complex ones if you're looking for new ways to smoke.
Gary Mercer is an experienced pro pitmaster, and his books are focused on providing valuable information about authentic BBQ and smoked meats.
One thing to note is that this book is focused on smoking meat, so it's not as helpful if you want to smoke veggies, fruit, cheese, nuts, or something else.
However, any meat lover will appreciate all the tasty recipes and Gary's tips.
The book will transform you from constantly worrying about the cooking process to relaxing and mastering slow and low cooking.
Check prices and availability here
Best for unique recipes: The Complete Electric Smoker Cookbook by Bill West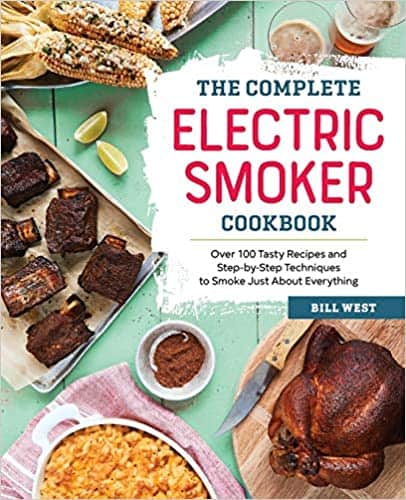 If you're already a pitmaster, then you probably want more recipes to try. The same old smoked ribs dish just doesn't do it anymore.
That's why a cookbook full of unique and rare recipes is a must-have for long-time smokers.
With over 100 recipes, Bill's cookbook offers detailed explanations on how to use your electric smoker to make delicious foods.
What's really outstanding is that the book is specifically written for those of you with electric smokers, so there's no need to search through other random recipes.
This book is geared towards those smokers who like to make complex recipes using lots of tasty ingredients. If you like detailed and sometimes complex recipes, then you'll like this cookbook.
The explanations are quite easy to understand, although the book lacks photos. If you're more of a visual learner, you might find the instructions a bit hard to understand without accompanying images.
Bill West is a well-known smoker, and he has written many BBQ-related books for beginners and pros, so his advice is well-trusted and sought after.
This cookbook stands out because it includes various recipes, not just for meat but for lots of great vegetable side dishes such as smoked corn on the cob.
So, if you've tried it all and want new, innovative recipes, check out the cookbook on Amazon
For more tips, read What is the Best Barbecue Smoker Electric Fan / Temperature Controller?
Amazon bestseller: Project Smoke from Classic to Adventurous by Steven Raichlen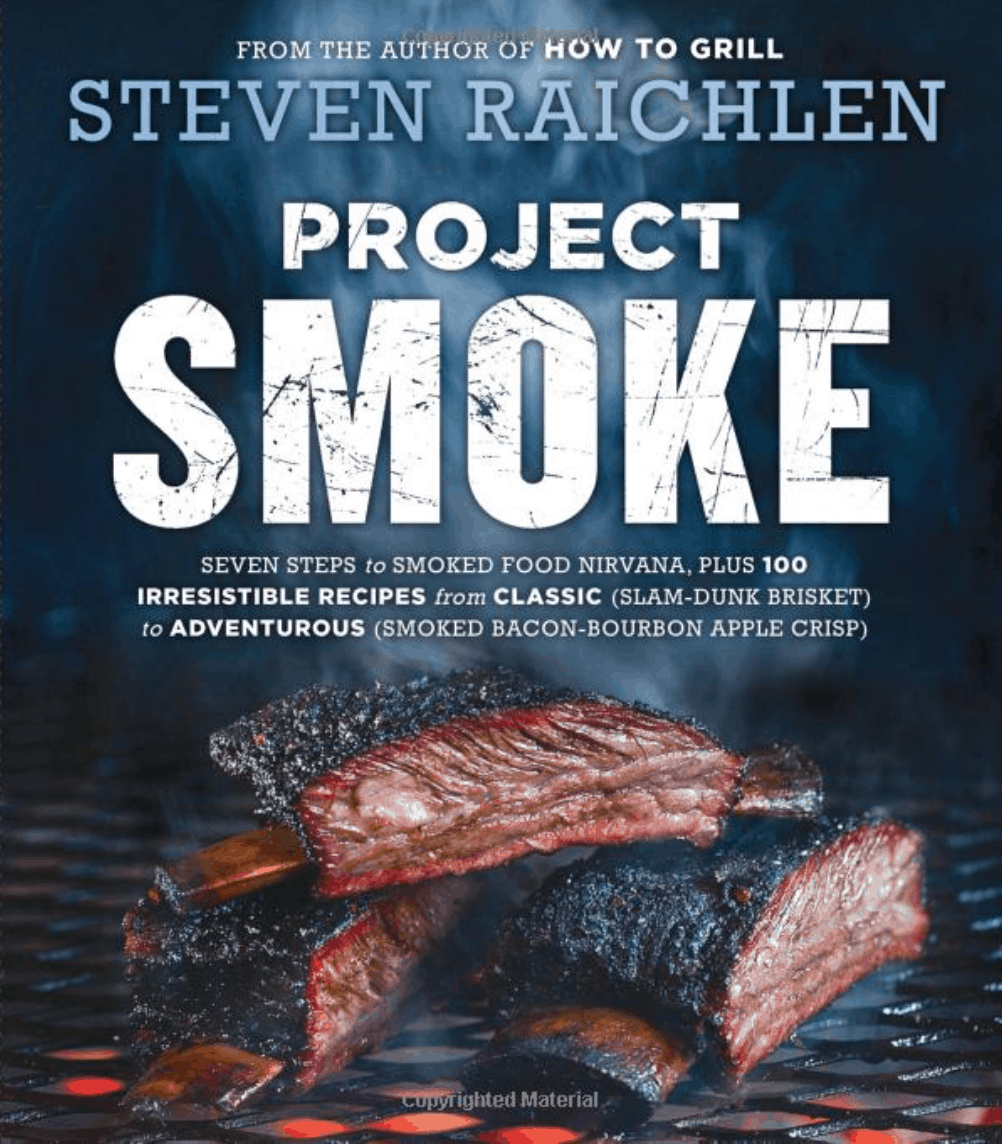 Amazon's bestselling smoking cookbook is this one with over 100 fun recipes you can make with any smoker, including your electric smoker.
If you're looking for innovative and tasty recipes, this cookbook has it all. It's suitable for novices and pros alike because the recipes vary in difficulty. There's surely something yummy for everyone, no matter the skill level.
The beginners can appreciate all the tips on setting up your smoker and how to cook all the foods. The pitmasters can marvel at how many unique recipes there are.
Steven Raichlen is definitely a name in the smoking world. Watch him make gourmet goodies like smoked oysters in the shell like these with chipotle barbecue sauce.
In Project Smoke, Steven shares more than just his best recipes.
He also gives practical information about using the smoker, the tools, and the accessories to make the most of the smoking experience.
Additionally, he teaches you how to master hot-smoking, cold-smoking, and rotisserie smoking, plus much more.
The cookbook covers it all from classic recipes like smoked brisket to more adventurous dishes like seafood and even smoked cocktails (sounds amazing, right?).
Therefore, you'll never run out of ideas for your next party or family meal. As you master the art of low and slow, you'll encounter the kinds of recipes you've never thought of in this cookbook.
If you want to pick up the ultimate smoker's bible, check the price on Amazon
Best for beginners: Smoke It Like a Pit Master with Your Electric Smoker by Wendy O'Neal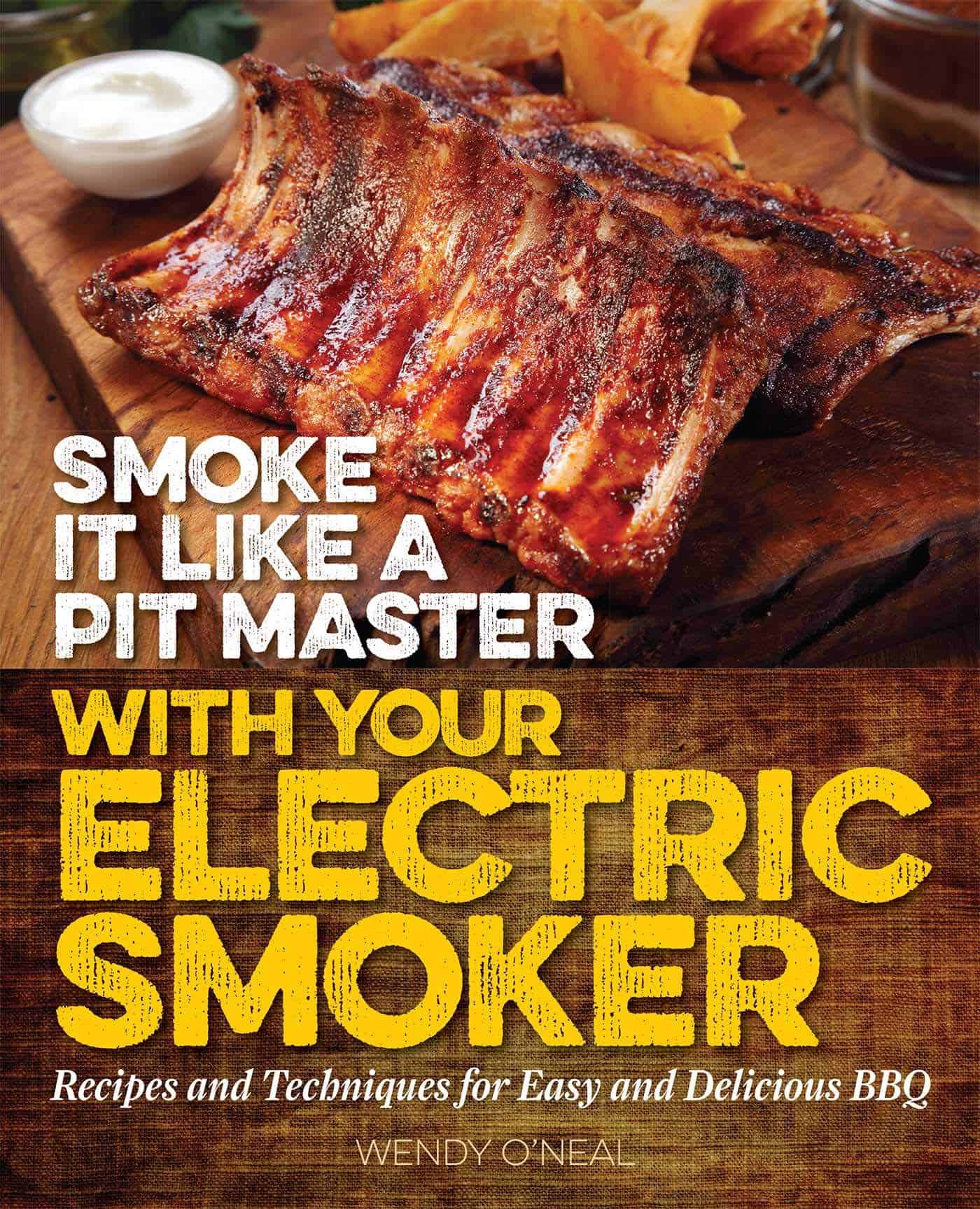 Beginners and pros alike, get ready to start smoking a variety of delicious recipes right now!
Wendy O'Neal is one of the top BBQ and meat smoking bloggers in the USA. She is known for her detailed yet easy-to-follow recipes that are perfect for all skill levels.
Here she explains how to make her favorite basic BBQ rub:
Her book is geared towards people (especially women) looking to make tasty dishes for the entire family.
Even though it's the best cookbook for beginners because it has clear, simple explanations, it's also full of interesting information that the pros can find helpful.
In terms of recipes, the book is not limited to meat only and includes recipes for smoked vegetables, cheeses, nuts, fruits, and seafood.
Therefore, you can never get tired of making the same food over and over again, and even the kids are sure to love these recipes.
What makes this cookbook unique is that it has a beautiful layout that includes photos and simply written instructions that everyone can follow.
Wendy bases her tips and tricks on her own Masterbuilt electric smoker, but you can make the recipes with an electric smoker.
Wendy has invented lots of new recipes, so you're sure to find unique ones you've never seen before in her cookbook. Additionally, the cookbook offers details about the perfect wood pairings, temperature guides, and useful finishing techniques.
Therefore, it's a good guide for complete beginners but still adds value to seasoned pitmasters looking for more than the ordinary recipe.
Still looking for a smoker? Check Best BBQ Smokers for Beginners | Top 7 Smokers + Buying Tips
Best for Masterbuilt owners: The Complete Masterbuilt Electric Smoker Cookbook by Roger Joney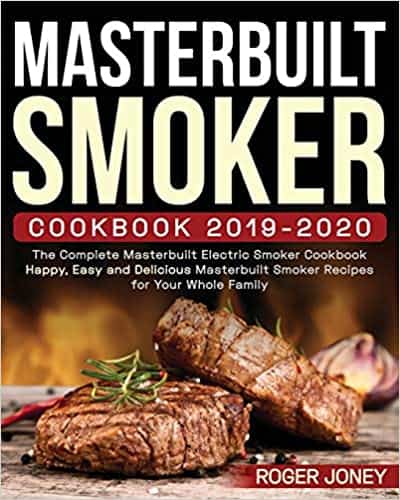 Masterbuilt electric smokers are some of the best in the world, so it's no surprise that Masterbuilt released an accompanying cookbook. It includes their best recipes guaranteed to make you love your electric smoker.
While this cookbook is marketed towards Masterbuilt smokers, I'm sure you can find great and easy recipes you can cook with other smokers too. It teaches how to make comforting smoked recipes.
It's quite a versatile cookbook with recipes you can make with electric and non-electric smokers too. But what makes it super handy is that all the instructions are beginner-friendly and written in easy step-by-step language.
Each recipe is explained in a way that all skill levels can understand and follow along. So, if you want to learn to make something like smoked pastrami, then this book is extremely useful.
One critique I have is that there are only 25 recipes, they are quite basic, and there are no photos.
If you want to master using your electric smoker though, then this cookbook helps you perfect each basic smoking recipe.
This cookbook is released annually, so each year, you can find new recipes and improve upon the ones you already know.
If you want to get more use out of your Masterbuilt smoker, check it out on Amazon
Also read: Best indoor electric & analog smokers reviewed featuring Masterbuilt
What can you cook in an electric smoker?
As the recipes in these electric smoker cookbooks will demonstrate, pretty much anything and everything.
Here are some popular foods you can smoke with your electric device. You can find recipes for these delicious foods in my cookbook recommendations:
Bacon
Brisket
Smoked cocktails
Shrimp
Seafood
Cheesecake
Sticky pork
Chinese-style pork
Ribs
Chicken wing
Corn on the cob
Smoked mac and cheese
Smoked cheese
Rotisserie chicken
Smoked ham
Sausage
Prime rib
Lobster tails
Tofu
All kinds of vegetables
Fruit like pineapples
Turkey
Salmon
Baked beans
Fajitas
Potatoes
And that's just a very small number of foods you can cook with your electric smoker. The cookbooks will reveal many more exciting recipes that are beginner-friendly too!
Conclusion
The next time you're browsing for new cookbooks, make sure to pick one up that's written for electric smokers.
Of course, there are tons of excellent recipe books about smoking in general but electric smokers are a bit different from the pellet or gas ones.
Thus, what might work well in your pellet smoker might seem flavorless in your electric smoker.
Therefore, I recommend looking for recipes that are full of tips on how to get that delicious flavor in your electric devices.
Whether you're cooking for the family or you have a restaurant, the smokey flavor isn't as easy to get as you'd think. But, a good cookbook will help you level up and make tasty foods every time!
Cookbooks make great gifts of course, just like these 7 best BBQ smoker gifts ideas for the smoker enthousiast
Joost Nusselder, the founder of Lakeside Smokers is a content marketer, dad and loves trying out new food with BBQ Smoking (& Japanese food!) at the heart of his passion, and together with his team he's been creating in-depth blog articles since 2016 to help loyal readers with recipes and cooking tips.