I love creating free content full of tips for my readers, you. I don't accept paid sponsorships, my opinion is my own, but if you find my recommendations helpful and you end up buying something you like through one of my links, I could earn a commission at no extra cost to you.
Learn more
When you roast the meat slowly over low heat, you are able to make the meat tender, juicy, and delicious.
You will need the right rotisserie grill for the job though, and my absolute favorite for at home is this Hamilton countertop oven from Amazon.
It fits almost every kitchen and you can still make delicious rotisserie chicken dishes as well as other dishes.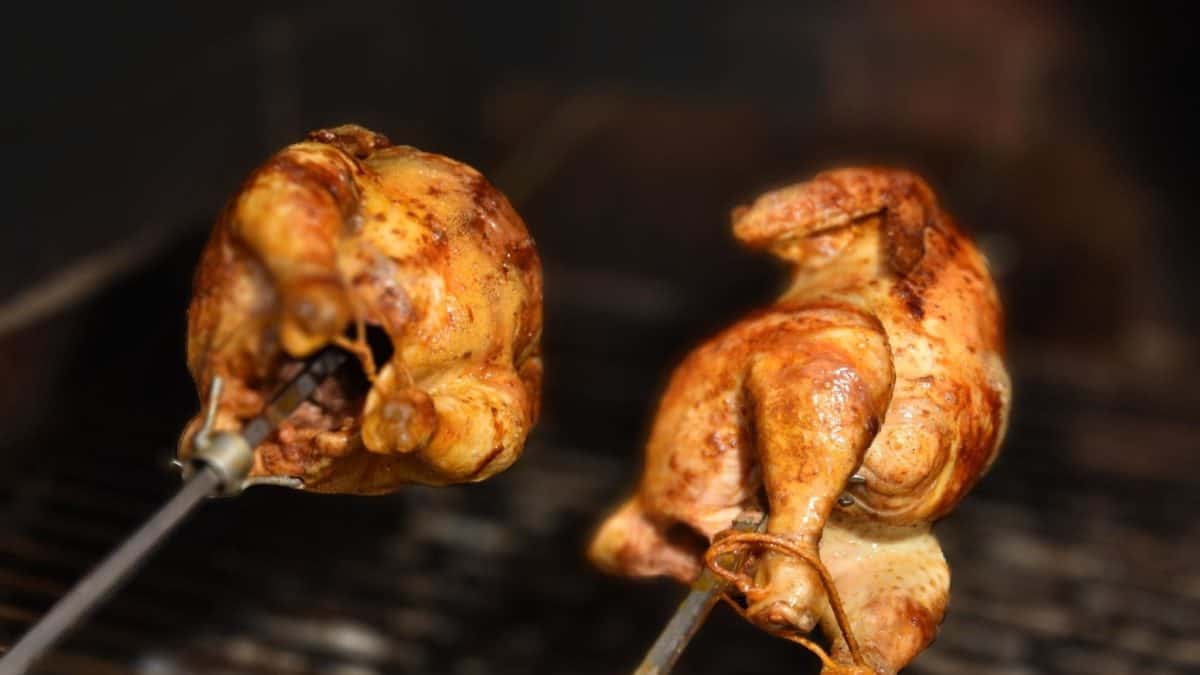 Just watch the Virginia Stew make a nice roasted chicken with it:
We do have some other options and some larger more professional options to consider as well.
Here's the top list in a quick table, read on for more information on rotisseries and more in-depth reviews of each of these.
Different types of rotisserie grills
One thing you should note about rotisserie grills is that they can fit on countertops, and they also come in different shapes and sizes.
Most of the grills come with extra accessories, as well as cookbooks to assist the user in preparing delicious meals.
Before getting your grill, you need to consider how you will use the grill.
Also, think about the size of the meat or chicken you want to cook, as this will assist you to ensure that you have a grill of the correct capacity and size.
In addition, you will also need to determine the size of the area where you shall place the grill, and how frequently you shall be using the grill.
Of course, some grills can be used indoors but many are outdoor grills. 
Rotisserie grills are very convenient machines, which assist you in preparing amazingly tasty meals.
Therefore, don't be surprised if you ever find yourself using a rotisserie grill more than once every week.
These grills are very easy to use, and you don't need any special cooking background or training to use one.
Here are the 4 major types of rotisserie grills.
Does my grill need a rotisserie burner?
The role of the rotisserie burner is to baste your meat and catch the juicy flavors. Most gas and pellet grills come with a built-in rotisserie burner.
These can be located in the back – rear burners or on the sides of the device – side burners.
However, it's not necessary to have one, you can make great food without a burner. 
Small rotisserie grills
These rotisserie grills are ideal for anyone who has a small kitchen, and the good thing is that they are not costly, and are easy to store.
If you won't be using the grill occasionally, then a small rotisserie grill is a perfect size.
In addition, it can be an amazing house warming gift for a new homeowner, or anyone moving into a condo apartment.
Standard rotisserie grills
A standard rotisserie grill has an average width of 15 inches. You can use it to cook chicken and meat of small sizes, as well as vegetables.
These grills are not designed for countertop use, and they are used regularly.
Standard rotisserie grills usually come with extra accessories to assist you in cooking different types of foods.
Vertical rotisserie ovens
Although vertical rotisserie grills are not so common, they are still convenient, and will also assist you in preparing your meals in a healthy manner.
One advantage of vertical rotisserie ovens is that they can drain all the unhealthy fats from the meat into a compartment or container. This means you'll be eating healthier food. 
The most exciting thing is that these fat compartments can be cleaned very easily.
Another interesting thing about vertical rotisserie grills is that they cook meat 360 degrees round, without having to rotate the meat.
Commercial-grade rotisserie grills
The term commercial-grade shouldn't worry you, as you don't need to be a professional to qualify to use a commercial-grade rotisserie oven.
These grills are bigger in size and will allow you to cook bigger or multiple pieces of meat at a go, and their size will fit well on a kitchen countertop.
But, since they are commercial-grade, they are most often used in small fast-food restaurants. 
Additional accessories
Every rotisserie grill comes with extra accessories, and the most common accessories include skewers, forks, cleaning brushes, and marinade injectors.
Are rotisserie grills worth it?
If you are a fan of easy cooking, then yes, a rotisserie grill is worth it. Once you have a proper rotisserie grill setup, you'll realize it's actually the easiest way to cook on your barbecue.
Just put the meat on the spit and wait for the appetizing aromas to emerge. That's when you know the food is ready to eat. 
There's no doubt, the meat cooked on a rotisserie is delicious and flavorful. 
What can I grill on a rotisserie?
A rotisserie is truly versatile because you can make all kinds of foods. Here are the most popular foods you can cook on a rotisserie:
a whole chicken (you are probably already thinking about the smell of fresh rotisserie chicken)
roast beef (boneless)
prime rib
whole turkey
lamb
pork loins
shish kebabs or other skewers
fruit like pineapple
vegetables
cornish hens
duck
The Most Important Things to Consider When Buying A Rotisserie Grill
Price
As that old saying goes—you will always get what you pay for—no matter the product you want to buy.
When you visit your local store, you will realize that rotisserie grills come at different prices, beginning from hundreds to even thousands, depending on the model, size, as well as the material used to make the grill.
Therefore, it is essential to make sure that you have an idea of how much you want to spend on your grill.
Also, in addition to comparing the prices, also make sure that you compare the features on different grills.
Fuel
Fuel is another important factor that you should consider. Do you want propane, charcoal, natural gas, or electricity?
If you choose a natural gas grill, ensure that you have a gas line connected to your home to hook the grill.
Most grills come with an option for natural gas or propane—but you can't use propane on a natural gas grill and vice versa.
Material
Yes, if you didn't know, the material used to make the grill also matters a lot. Mostly, sheet metal, stainless steel, or cast iron is used for the main body of the grill.
Out of the three, stainless steel is the best material, and most people prefer grill made with stainless steel, even though it's a bit expensive.
A stainless still rotisserie lasts for a long time, thus it's a good investment. 
Other than the body, you will also need to consider the frame. Ensure that you get a grill with a stainless steel frame, as it will last longer.
Size
After putting the above features into consideration, you will also need to determine the size of the grill that you are searching for.
When it comes to the size, you will have to consider the number of people you want to cook for, as well as the food that you will be cooking.
In addition to that, you will also need to factor in the space where you shall place or install the grill.
Features
The features are the largest determinant when selecting the best rotisserie grill.
What you need to note about features is that they will cost you money—especially with rotisserie grills, but the price will be worth it all.
However, just ensure that you buy a grill with the features that you need.
Best rotisserie grills reviewed
Best Rotisserie oven: Hamilton Beach 31104D Countertop
The Hamilton Beach 31104D Countertop Oven with Convection & Rotisserie is the perfect choice for you if you are searching for a rotisserie that can do more than spinning food on a spit.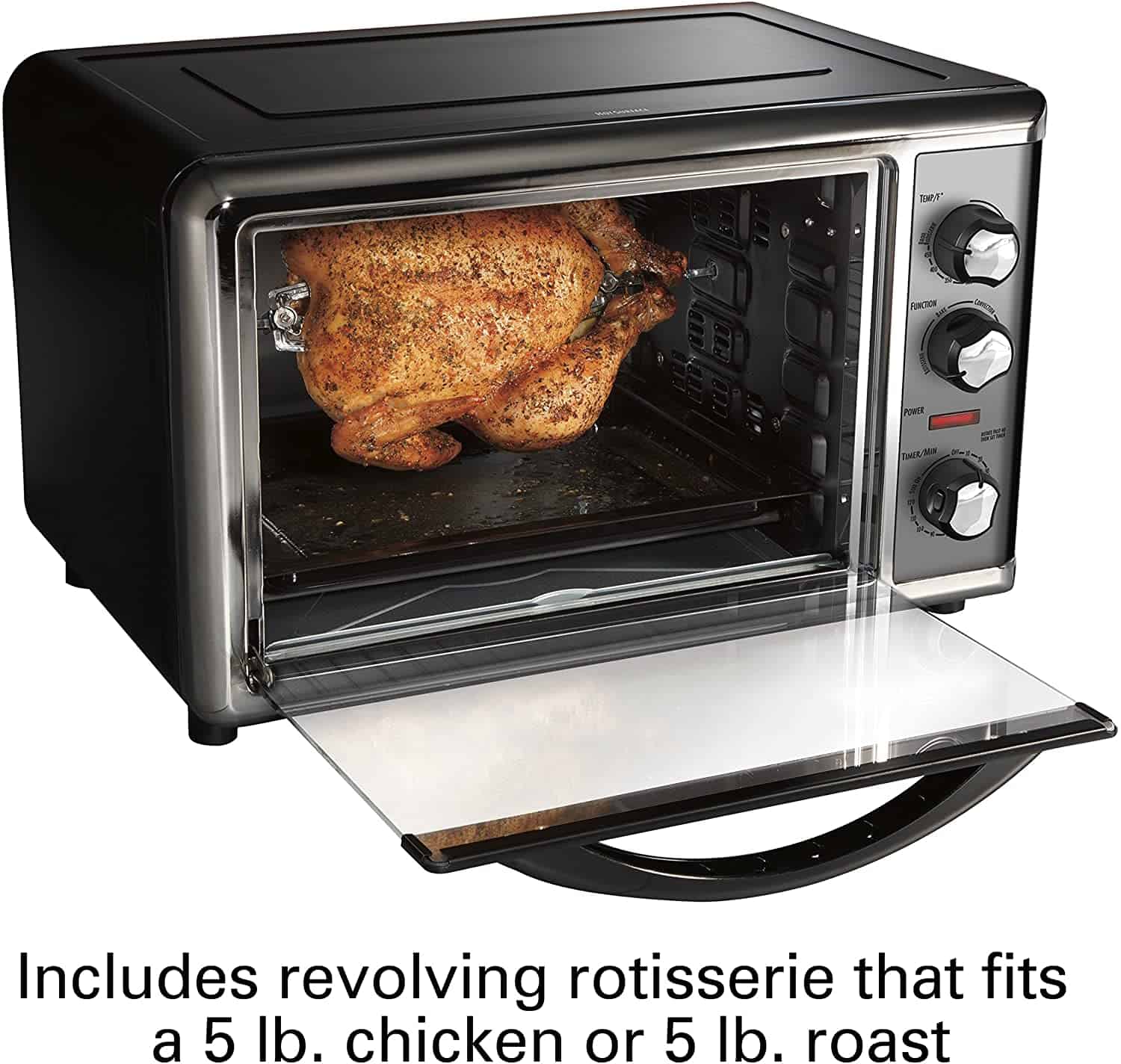 This oven can hold up to 5 lbs. of chicken, and you can also remove the spit and use it as convection or traditional toaster with two racks.
The Hamilton Beach 31104D Countertop Oven with Convection & Rotisserie can fit two 12-inch pizzas, two cake pans, and two 9 x 13 casseroles.
Another notable thing about this oven is that it comes with both broil and bake settings, as well as a two-hour timer.
This oven is small enough to fit on your kitchen countertop, yet also large enough to allow you to prepare any meal, party, or snack.
The most interesting thing about this oven is that it has a full-size oven performance in an energy-efficient and compact form.
That's because it is designed with both practicality and kitchen style in mind.
It comes with a wide interior, as well as two adjustable cooking racks, which provide enough space for cooking several foods at once.
Notable features:
Maximum versatility as it comes with a rotisserie
Extra-large capacity – the oven can fit two 12-inch pizzas, two 9 X 13 – inch Casseroles, or two cake pans
Revolving rotisserie – meat self-baste as it turns Fits a 5 lb. Chicken
Overall Dimensions: 1311" H x 2062" W x 1654" D
Bake convection setting bakes faster and more evenly than a traditional oven
This is your ultimate countertop oven—it comes with everything you need to get baking, broiling and roasting it includes a removable drip tray, rotisserie skewer and lifter, 2 oven racks, 2 baking pans, and a broiler rack.
Check out the latest prices and availability here
Is a rotisserie oven worth it?
If you want flavorful food without roasting outdoors on an open fire, you'll really enjoy a rotisserie oven.
In a convection oven, roasting means cooking via dry heat through a process called convection. You'll realize this oven is useful for rotisserie whole chickens and other cuts of meats.
The meat has a great taste and a crispy brown skin. 
Best Rotisserie air fryer: GoWISE USA Electric Air Fryer Oven
Are you searching for an air fryer, but you don't want to spend all your money on an expensive appliance?
We have the right tool for you—the GoWISE USA 12.7-Quart 15-in-1 Electric Air Fryer Oven.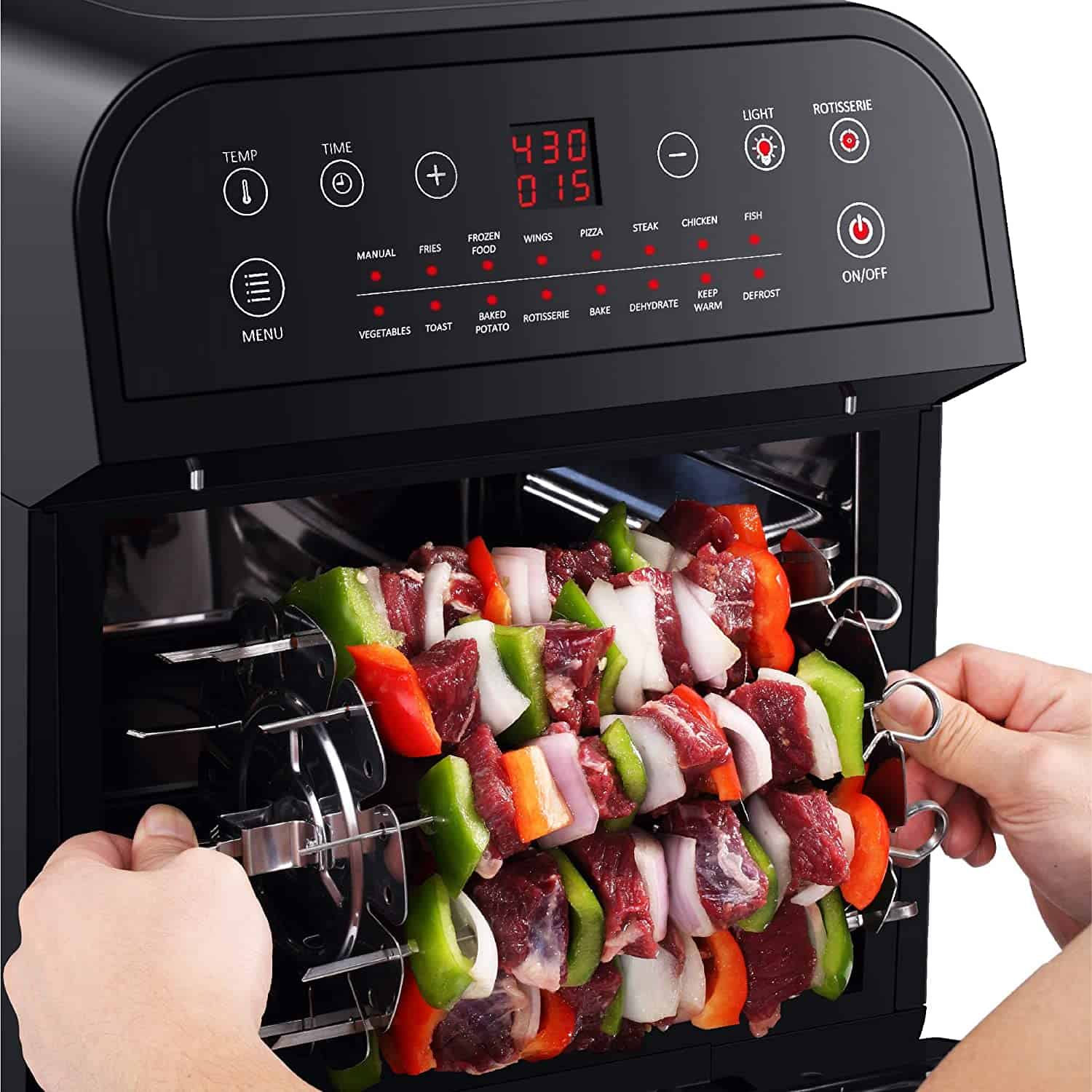 This is one of the best air fryers you will ever come across in today's market—and there is much more to it. This is a rotisserie, an oven, a dehydrator, a grill, and many more.
Furthermore, the GoWISE USA 12.7-Quart 15-in-1 Electric Air Fryer Oven comes with a number of different accessories, which will ensure that you get the best and most out if this oven.
Notable feature:
Compact size – the GoWISE USA 12.7-Quart 15-in-1 Electric Air Fryer Oven will save you lots of valuable space in your kitchen. It comes with 12.7quarts of cooking space, thus making it one of the largest in today's market. In addition, it has a compact size that is enough to fit on your kitchen countertop. It has 3 rack levels, which allows you to prepare family-sized meals, and also to control how your food cooks.
Built-in rotisserie – with the GoWISE USA 12.7-Quart 15-in-1 Electric Air Fryer Oven, you will be able to prepare whole roasts, tenderloins, racks of Kababs, and even a whole chicken. Get crispy, tender meats, perfectly blackened fish, and expertly roasted vegetables with the ovens built-in rotisserie.
Comes with 10 additional accessories – the Get crispy, tender meats, perfectly blackened fish, and expertly roasted vegetables with has everything you need to make your meals with ease. Some of these accessories include a rotisserie tong, rotisserie rod, oven rack, drip pan, skewer rotisserie, rotisserie cage, rotisserie steak cage, shallow mesh basket, and two mesh trays.
Easy to use – the GoWISE USA 12.7-Quart 15-in-1 Electric Air Fryer Oven comes with an easy to read and simple to use control display, with 15 presets. These will take away all the guesswork out of temperatures and cooking times. In addition to this, the oven has a stainless steel interior and removable nonstick drip pan which makes cleaning the much easier.
50 free recipes – the GoWISE USA 12.7-Quart 15-in-1 Electric Air Fryer Oven comes with a recipe book that will allow you to enjoy much more which this oven has in store for you.
Air fryer rotisseries are an excellent option if you are health conscious and looking to consume fewer fats and calories. 
Best Rotisserie smoker: Earth Oven
The Earth Oven Smoker and Grill is your ultimate smoking and grilling partner—whether you want to smoke or grill in your backyard, at a catering party, or at a competition.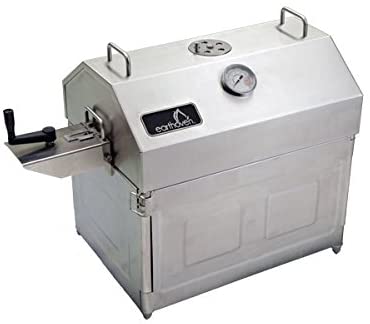 This smoker comes with a stainless steel rotisserie that allows you to automatically rotate your BBQ masterpieces in the heat and smoke instead of turning them manually.
The stainless steel rotisserie makes you cooking enjoyable as you use less effort, thus saving you valuable time and money.
Also read: the best pit boss models reviewed
The Earth Oven comes with set of rods and forks, which gives you a large smoking surface and you use the grilling racks as well.
The removable stainless steel rotisserie and flat racks can be used as an option. Moreover, the stainless steel work shelves and belt guard give the grill a fine finishing touch of craftsmanship.
All in all, if you are searching for versatility and value, then the ABS Pit Boss Smoker and Grill is the perfect choice for you.
Notable features:
Rotisserie Model allows for consistent heat throughout the smoking process
Insulator/Heat Shield in Firebox
Full-length firebox for consistent heat in the Rotisserie
Large, easy read high-temperature gauge
Also read: the best BBQ Smoker with a rotisserie from commercial to professional
Best Gas Rotisserie BBQ: Napoleon Prestige 500
If you want to build your own customized outdoor kitchen with a smoker, consider adding the Napoleon Grills Prestige 500 with Infrared Rear Burner Natural Gas Grill.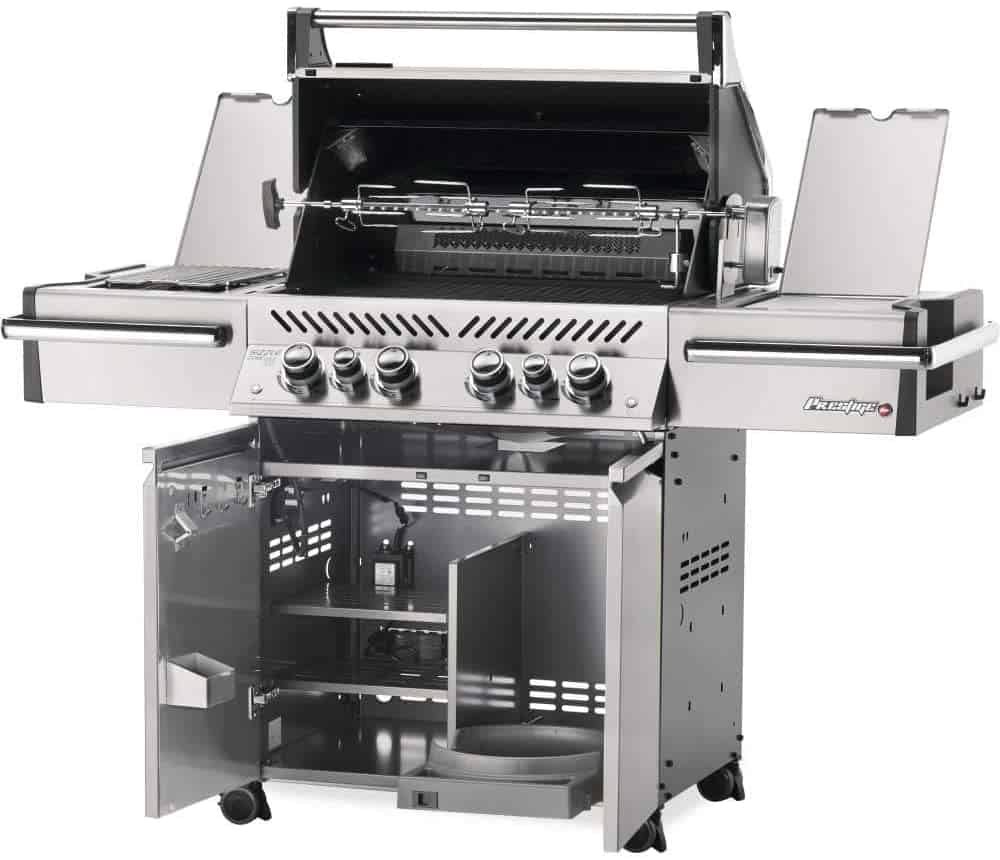 The Napoleon Grills Prestige 500 comes with stainless steel construction, which gives the grill a unique style and durability.
One notable thing about the Prestige 500 is the reversible cast iron cooking grids cradle, which provides even heating as well perfect sear marks each time you grill.
It has a Jetfire ignition system that guarantees you lighting each time and multiple burners that allow you to grill in any way you want.
The versatility in grilling is not limited to indirect or direct cooking—you can use the integrated infrared rear burner for your perfect rotisserie meals.
You can also add the flavor and fun of charcoal with an optional charcoal tray for smoking and grilling.
Notable features:
66,000 BTU's
5 stainless steel tube burners
760 in a total cooking area
Stainless Steel wave cooking grids
Uses natural gas
Best Rotisserie toaster oven: BLACK+DECKER TO4314SSD WCR- 076
The BLACK+DECKER TO4314SSD WCR-076 Rotisserie Toaster Oven will allow you to prepare different meals, from chicken to pizza.
The grill's rotisserie function allows you to enjoy even cooking, thus giving you juicy results for your meats.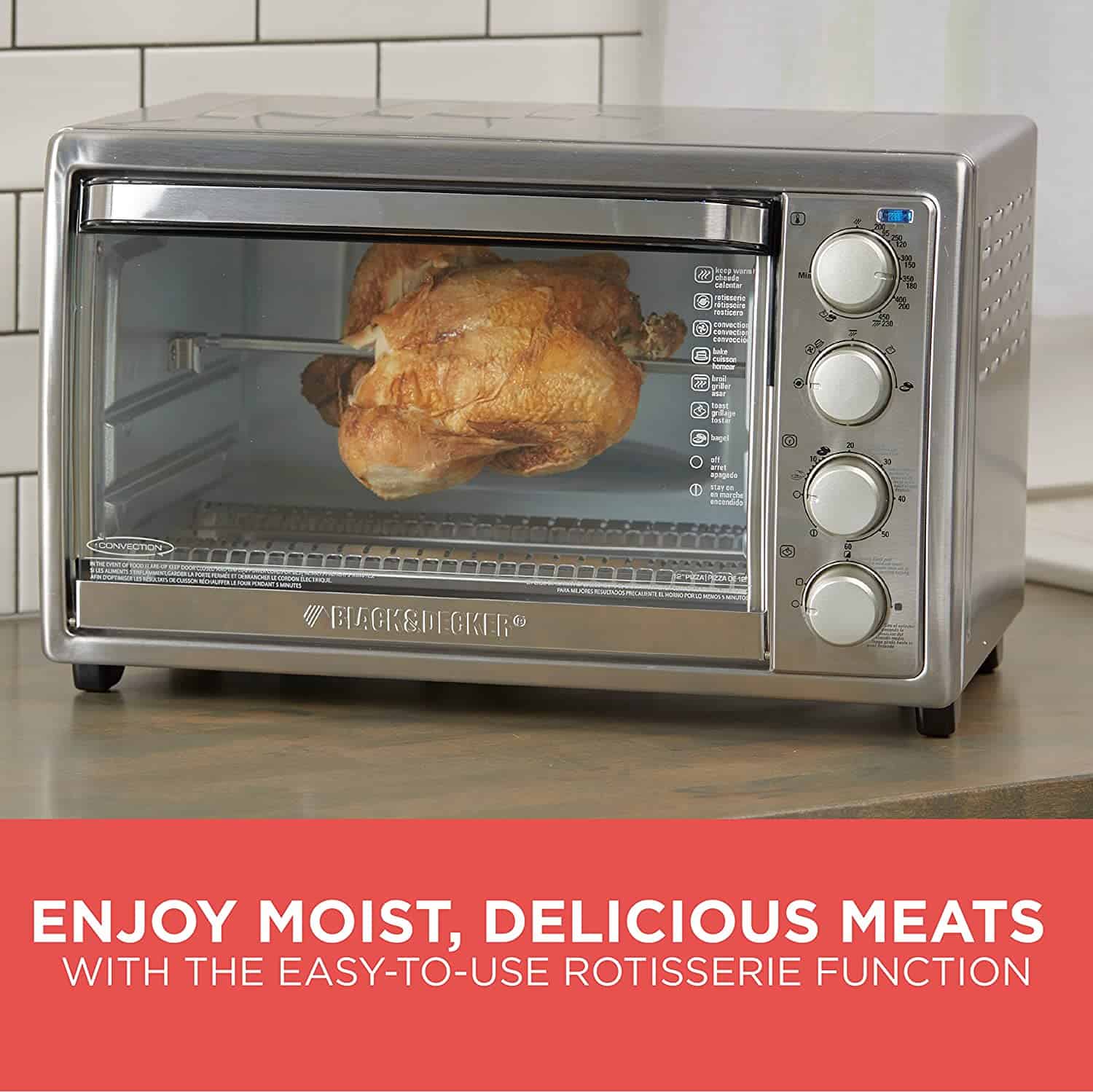 Its convection technology allows optimized heat circulation, thus providing even and fast baking for all your side dishes and meals.
You can select the five cooking functions that allow optimal results each time. These options include bake, broil, rotisserie, keep warm, and toast.
Furthermore, the grill is easy to clean, thanks to the removable crumb tray as well as the dishwasher safe parts.
Notable features:
Convection Heating – The powerful convection fan circulates warm air throughout the oven for fast, even baking
Rotisserie Function – The toaster oven will rotate meat while cooking with fast and even convection heat, so as to ensure even cooking temperature. 
Five Functions – Bake, broil, toast, keep warm, and rotisserie for all your cooking needs, right on the countertop
Fits 12" Pizza or 6 Slices of Bread
Dedicated Toast Timer – Allows for predictable shade selection with every use; 60-Minute Timer – Gives you control over cooking, and features stay-on functionality for longer cooking tasks. The oven will shut off when the timer expires
Check out the latest prices here
Best electric Rotisserie: Ronco ST5000PLGEN
The Ronco ST5000PLGEN rotisserie oven is the best electric rotisserie grill you will find on the market. So, what makes the Ronco ST5000PLGEN stand out from the rest of the competition?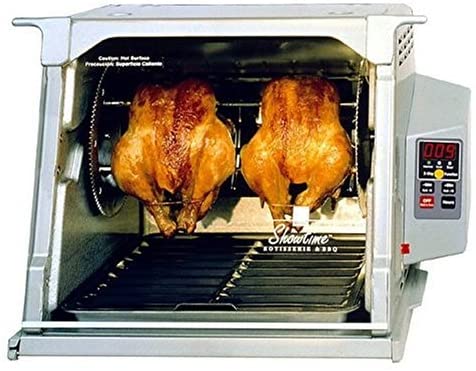 Did you know that in fact, this grill uses 1/3 of energy compared to other ovens? Secondly, it's very easy to maintain this grill—you only need to wipe it with a damp sponge after using it.
Its non-stick drip tray and removable glass door are dishwasher safe.
Its exterior handles don't heat, which allows for safe and easy access to your cooked meals.
Lastly, it's very easy to store this grill because of its compact size. Thus, you can take it out only when needed and keep it in storage.
The Ronco ST5000PLGEN rotisserie grill is designed to deliver 2 results—juicy and soft inside, fragrant and crispy outside.
With these three cooking modes, you can easily sear and rotisserie chicken, depending on your preference. 
Once the chicken is cooked, allow the meat to be saturated with juice if you want succulent meat.
Do this by setting the grill to the no-heat rotation setting, and then letting it stay in that setting for around 20 minutes so that it is infused with flavor.
Notable features:
Removable heat shield helps brown your meat to absolute perfection
Exterior handle stays cool and allows you to easily access your finished meals
World-class rotisserie oven designed to start cooking immediately and quickly, using 1/3 less energy than your conventional oven
Elegant, easy to clean, non-stick surface wipes clean with a damp cloth in seconds
Non-stick dishwasher safe pan makes cleaning up a snap
A removable glass door that is dishwasher safe and easy to clean.
13" tall – fits directly under standard cabinets
Rotisserie universal kit – GrillPro 60090
The GrillPro 60090 Universal Heavy Duty Rotisserie Kit comes with universal and EOM brackets, which support Broil Mate, Broil King, GrillPro, and Sterling grills.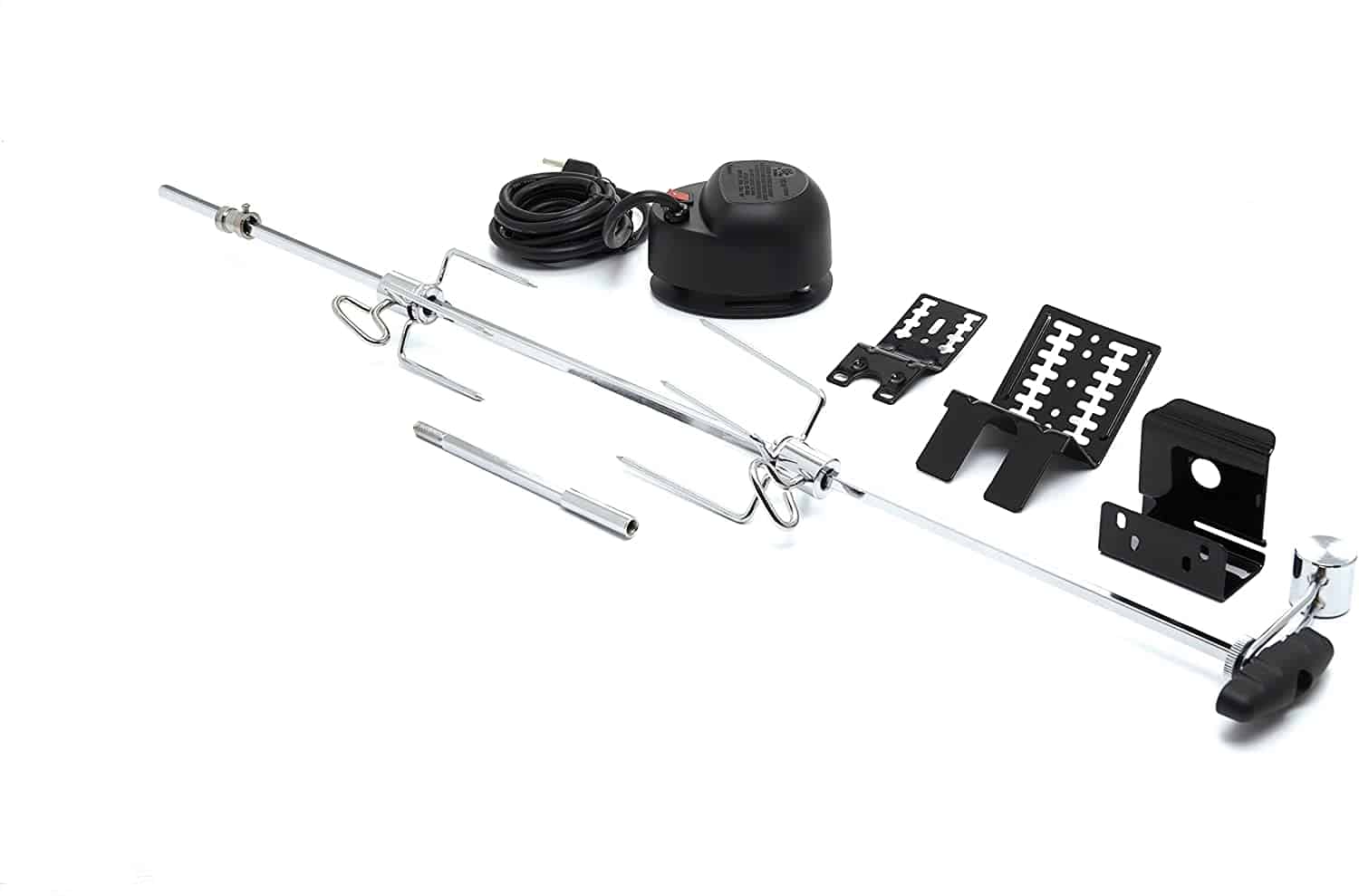 The kit comes with a counter-balance kit, spit rod, as well as heavy-duty forks for the purpose of giving you everything you need.
This is an amazing universal gas grill rotisserie that can function on almost any other grill.
The GrillPro 60090 Universal Heavy Duty Rotisserie Kit is a well-designed rotisserie kit, which is quiet, sturdy, and easy to install and use. This is a wonderful grilling tool that will prove valuable to own.
Notable features:
Grillpro universal rotisserie kit is a hassle-free way to cook large roasts, chicken, and turkeys
The deluxe motor features on/off switch
The rotisserie comes with universal and OEM brackets for Broil King, Broil-Mate, Sterling, and GrillPro grills
Includes spit rod, counter balance kit, and heavy-duty forks
The 31-inch chrome-plated spit rod comes with a 6-inch extension
Rotisserie universal kit – OneGrill Heavy Duty Stainless Steel Rotisserie Kit
The OneGrill Heavy Duty Stainless Steel Universal Complete Grill Rotisserie Kit has been designed for grill enthusiast who always demands 304 stainless steel durability.

This rotisserie kit comes with a stainless steel weather-resistant housing, a unique internal gear reduction that allows quiet operation.
As well it has an anti-backlash gear that gives the kit a smooth operation for unbalanced loads.
The heavy-duty spit, forks, brackets, and counterbalance systems are all constructed of high quality 304 stainless steel for long life under daily use conditions.
Notable features:
Strong 13-watt gear reduction rotisserie motor with integral backlash prevention geartrain overshadows weak 4 and 9-watt motors seen on virtually all other brands of rotisserie systems.
Heavy-duty solid, single-piece 1/2" hexagon rust-resistant stainless rotisserie spit rod for heavier load usage.
Heavy gauge 4 prongs 304 stainless steel rotisserie spit fork set included for versatile operation for a variety of load shapes & sizes. Forks feature a solid machined hub & crush fastened tines for unsurpassed security and no welds to break. Easy thumb screw adjustment allows for simple fastening & adjustment before, during, & after the cook.
Includes a unique fully adjustable 304 stainless steel counterbalance system. This is included for the purpose of customized adjustment during rotisserie operation of unbalanced loads.
Universal 304 stainless 3pc. Bracket set designed to fit most gas, charcoal, and custom grills. Bracket schematics displayed for fitment details.
Beste Ring Rotisserie: Onlyfire charcoal kettle kit 
If you're looking to turn your charcoal kettle grill into a rotisserie, all you need to do is add a rotisserie ring kit.
It is an extension that turns any charcoal grill into a rotisserie. This way you don't need to spend money on a brand new grill with a rotisserie feature. 
This universal ring kit fits many of the most popular models of charcoal grills. For instance, it is compatible with kettle grills such as
Weber
Char-Broil
Masterbuilt
Napoleon
and more
Just make sure the dimension of the ring matches the dimension of your grill. 
This full kit includes:
one kettle ring
one spit rod
1 electric motor
1 handle
one  counterbalance
1 bracket + screws
2 meat forks
instructions
Notable Features
The main body is made of out steel, therefore it will last you for many years.
It has a powerful electric motor that ensures steady and consistent rotation.
The ring is easy to attach and remove. Therefore, it is easy to wash and clean.
This kettle grill ring makes it easy to rotisserie all kinds of meat, including chicken, pork, beef, lamb, turkey, fruit like pineapple, or veggies.
Check the latest prices and availability here
Can you add a rotisserie to any BBQ?
There are many types or rotisserie attachments available that work for almost all types of grills. However, you can't add a rotisserie extension or attachment to your grill without some research.
All in all, you want the attachment and the grill to be compatible. 
Here's what it means to add a rotisserie to your grill.
First, you need to get a rod or spit. This is what you place your meat on.
Next, you need two multi-pronged forks that are screwed at either end to prevent falling. 
Moreover, you need a motor that turns the rods consistently for the whole duration of the roast
Don't forget about counterweights which help deal with uneven distribution of weight. 
Sometimes people choose to rotisserie meat over an open flame. But, as I mentioned before, the cooking happens over indirect heat. That's why most rotisserie attachments are made for indirect cooking. 
Bottom Line
There you go! These are some of the best rotisserie grills that you will find out there in the market.
Overall, before getting your grill, just make sure that you check out the features, particularly the specifications. To summarize, you can choose electric, gas, pellet, or charcoal kettle grills with a rotisserie feature.
If you don't want to invest in new equipment, you can buy a rotisserie attachment on Amazon instead and get great results.
After all, what's more satisfying than a good rotisserie meal cooked with easy?
Read more: is eating rotisserie chicken healthy and good for you?
Joost Nusselder, the founder of Lakeside Smokers is a content marketer, dad and loves trying out new food with BBQ Smoking (& Japanese food!) at the heart of his passion, and together with his team he's been creating in-depth blog articles since 2016 to help loyal readers with recipes and cooking tips.