I love creating free content full of tips for my readers, you. I don't accept paid sponsorships, my opinion is my own, but if you find my recommendations helpful and you end up buying something you like through one of my links, I could earn a commission at no extra cost to you.
Learn more
If you have actually never ever smoked pork before, you may find the job a little complicated.
There are many different sorts of wood to select from for your smoker and countless internet resources and also advice offered to both emerging and knowledgeable chefs.
Making a well-smoked pork shoulder, loin, or ribs might take a while to master. It's a refined art that requires patience and time.
That stated, picking the best smoking wood is the key to success.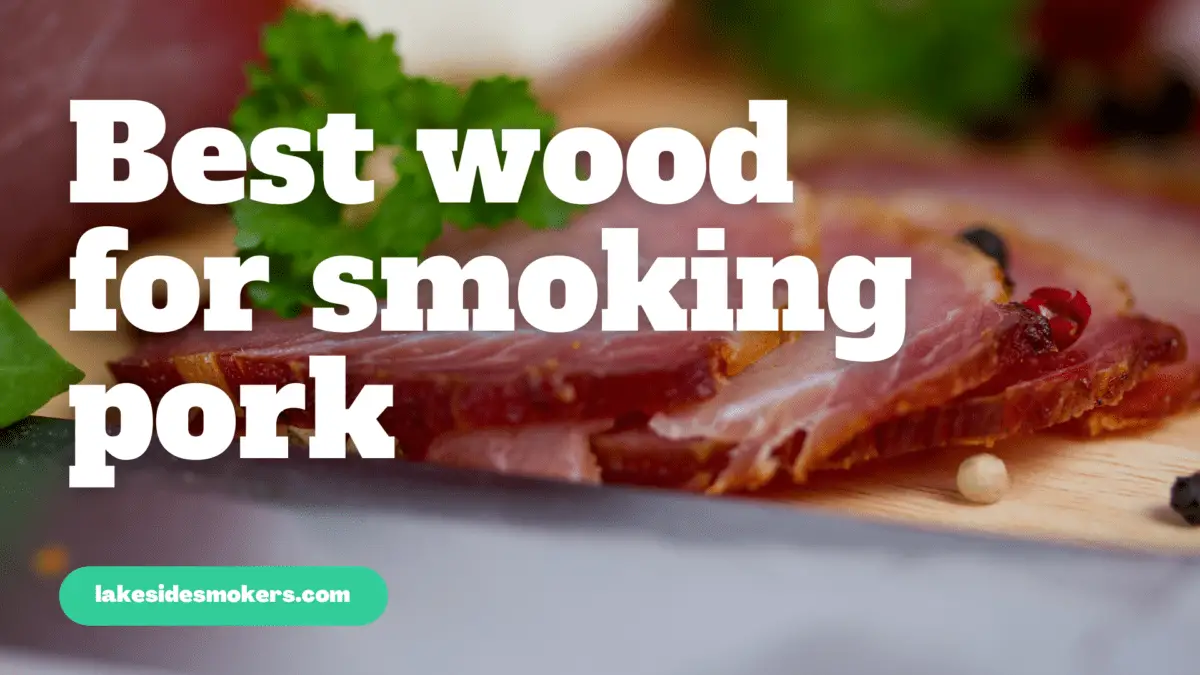 That's why we're taking you with the pork-smoking procedure, describing the choices for your chip tray and highlighting our personal faves.
The fruit woods such as apple, cherry, and peach or nut woods like pecan give the pork a delicious sweet smoky flavor. For a true Southern-style smokiness, the best wood is no doubt hickory which makes pork taste bacony and earthy.
There are some other great options too and I will share them all as well as which type of wood is best for which meat cut.
In this post we'll cover:
Best wood for smoking pork
Smoked pork is a delicacy that excites both BBQ enthusiasts and novices alike.
The best way to have consistently decent results is to select the suitable wood for smoking pork.
Pork is forgiving meat when smoked and not as sensitive to cooking temperatures. Pork is suited for beginners who want to learn how to smoke.
In addition to its high flavor, the pork can stand up well to different types of wood smoke.
You can also mix different wood to create unique flavor combinations you can flaunt in front of your friends and family at any backyard party.
Let's explore the top woods for smoking pork.
Apple: best overall & best for smoked pork loin
intensity: mild
flavors: subtle, fruity, sweet
Apple is the top option if you're smoking any kind of pork because it is fruitwood that produces sweet and delicious notes.
The fruity flavor complements the rich flavor of well-smoked pork loin or pork ribs.
Apple wood is an excellent smoke wood because it creates a mellow sweet smoke that gets rid of that strong meaty taste of the pork.
Applewood is deliciously flavored, but it can likewise be used for the widest selection of dish choices to create a variety of pork dishes and smoke all cuts.
If you're looking into smoking a pork shoulder that you're intending to turn into appetizers and sandwiches you can use subtle smoke like apple because it won't be too strong when combined with seasonings and marinades.
Whatever cut of pork you're utilizing for your meal, applewood, and also crab apple wood, will not do you wrong. The flavor is light but subtly sweet and fruity.
Although this wood is light, it still includes enough smoke flavor to permeate the pork and also give it a subtle smoky scent.
However, some people might say that the smokiness is not strong enough. But if you want an easy-to-use smoke wood, it doesn't disappoint.
You can get that preferred taste of barbeque smoke without making it really strong.
If you wish to tone down the intense smokiness of solid hardwood like mesquite, apple is an excellent blending wood.
Apple is the sweet and refreshing alternative to the strong earthy aromas of the other intense woods and also smells terrific.
Burning Oklahoma Joe's apple wood chunks in your smoker tray will impart a delicate sweet smoke to your best pork cuts.
Learn about the difference between pork shoulder and pork butt here
Hickory: best for pulled pork & pork butt
intensity: medium to strong
flavors: earthy, bacon-like, slightly musky, and sweet
Hickory wood is among one of the most preferred woods for smoking meat of all time. It has a uniquely bold, bacon-like flavor.
The hickory flavor profile is also very earthy, rich, and lightly musky compared to milder fruitwoods.
Hickory is a medium-strength wood with a bold smoky taste which is just what you need for fatty meat like pork.
This wood has the power to supply the traditional bbq smokiness associated with southern smoking recipes most of us love.
Due to the fact that pork butt is a huge fatty chunk of meat, it takes on the smoky and earthy taste well.
Since you're going to smoke pulled pork for many hours, a good strong wood like hickory ensures the meat will be very tasty and flavorful.
Pulled pork is one of the most delicious cuts (usually shoulder) and when smoked low and slow, it pulls apart into thin juicy strips. It's usually consumed with a good quality BBQ sauce.
Since you're going to eat it with bbq sauce, you need to use a flavorful smoking wood that's strong enough to impart lots of smoky flavor. Hickory wood chips are the best for this purpose.
The hickory wood gives all pork cuts, not just pulled pork a tasty traditional Southern-style BBQ flavor. Hickory has a strong bacon-like flavor with an earthy taste.
Because pork butt pairs well with sweeter or fruitier flavors too, you can blend hickory with your favorite fruity wood.
Blend hickory wood chips at a 50:50 ratio for the best mix of both smokiness and also sweet fruitiness.
As hickory on its own doesn't add sweet, nutty, or fruitier flavors, it's extremely versatile for all the pork cuts you might be thinking of smoking.
Made heaps of pulled pork? Here's how to properly reheat pulled pork for the best flavor
So, don't feel limited to pulled pork or pork butt – use it for baby back ribs too. The mix of earthy bacony smoke and bbq sauce is a culinary delight.
Hickory will couple perfectly with any rub or sauce you use, whether it's a spicy barbecue rub, a sweet and salty seasoning mix, or liquid marinade.
Usually, hickory can leave an overwhelming smokiness on the meat if smoked for a very long time, yet normally this doesn't become a problem for pork butt. It is only an issue for poultry, fish, and light meats.
For the best-smoked pork, you can blend hickory wood with a light peach or apple wood to make it sweeter and a bit milder.
The Fire & Flavor Premium All Natural Smoking Wood Chips give your pork meat a delicious earthy and bacony taste.
Oak: a classic smoky option for pulled pork shoulder
intensity: medium to strong
flavors: earthy, bold, savory, traditionally smoky taste
Oak, specifically white, red, and post oak are excellent woods for smoking pork.
There are many pulled pork recipes with oak smoking wood. Alternatively, oak wood is used to smoke pork ribs. You can, of course, use oak to smoke any pork cut.
The oak wood is excellent for those who like a clean smoky flavor with that specific earthy taste associated with Texas smoking.
Oak is generally used to smoke red meat and also wild game due to the fact that it imparts the meat with a rich natural and also tasty wood smoke. It's not as strong as mesquite but much smokier than fruity woods.
Do not hesitate to mix oak with other smoking woods if you want a more distinct flavor. It goes well with hickory wood which integrates the natural oak smoke with a bacon-like taste.
If you intend to combine earthy smoke with pleasant and fruity aromas, mix oak with apple or cherry wood chips.
In Texas, post oak is utilized as the main fuel source as well as chips to give smoky aromas to the pork. This oak variety is a bit sweeter and more pleasant tasting.
Overall, if you intend to play it safe, and also do not feel like experimenting, oak wood is fantastic for smoking due to the fact that it has such a traditional bbq smokiness and doesn't overpower the meat.
Camerons Products Wood Smoker Oak Chips give the pork a powerful smoky taste without any bitter aftertaste.
Pecan: great for pork ribs
intensity: mild to medium
flavors: nutty and sweet
Pecan wood is one more great choice for all cuts of pork. Just like the apple and maple, it has a milder taste than mesquite and hickory.
Pecan actually has an amazing sweet and nutty flavor that makes any smoked pork cut taste amazing.
Yet, if you wish to actually obtain one of the most out of the pecan wood, I advise combining it with something more citrusy like orange or cherry wood.
If you're smoking baby back ribs, the sweet and nutty taste combined with a refreshing tangy smoke will make the bbq unforgettable.
Pecan wood is terrific for pork ribs and also chops and also a wonderful method to add a great smoky flavor to anything bacon-wrapped.
For those of you who aren't huge fans of the more powerful smoky woods like oak and hickory, pecan wood is a wonderful option. It's definitely the best medium alternative to intense smoke flavors.
Pecan wood has a very unique savory, sweet, and nut-like aroma. If you're smoking ham, the pecan is a good pairing for a sweet honey or maple sauce marinade.
For BBQ restaurant-style smoked ribs, try Western Premium BBQ Products Pecan BBQ Smoking Chips
Really want it restaurant-style? These are the 10 best BBQ restaurants in New Hampshire
Maple: sweet flavors for ribs and ham
intensity: mild to medium
flavors: sweet and sugary
When you ask a pitmaster about good smoking woods for pork, maple will likely be one of the top choices.
It's especially suitable for smoking pork ribs and ham. Smoked maple ham is always one of the top bbq choices.

This wood has a wonderfully sweet, smooth, and pleasant taste. Its smoke doesn't overpower pork and also is well balanced. However, it's more of a mild to medium smoking wood.
Maple wood chips can be utilized if you favor naturally sweet smoke woods. The pork meat takes on a tasty sweet smoky flavor from this wood. Although maple is subtle, it is extremely tasteable.
Sugar maple is favored by most pitmasters since it produces a clear, tasty smoke. When it comes to smoke profile, this wood is more like a fruitwood due to its intense sweetness.
But sugar maple is very mild so you can taste more sweetness as opposed to smoke.
The maple wood is also an excellent blending wood and a great mix for hickory, pecan, and oak.
Mix the maple with apple for a deliciously wonderful preference, maple with oak wood for an earthier taste, or maple with alder for a neutral smokey aroma.
The unique flavor of maple wood smoke goes extremely well with pork since it helps reduce the fat and infuses the meat with exceptional flavor.
The lighter sweet smoky tastes make a perfect complement to the natural spiciness of pork. In most circumstances, smoking maple is also a good choice for cooking baby back ribs or pork butt.
If you're using a dry rub with lots of strong spices, the light but sweet maple is perfect.
Try the coarse Maple Camerons Smoking Wood Chips for a long flavorful smoke.
Cherry
intensity: mild
flavors: sweet, fruity, slightly floral
Cherry wood is a popular pick for smokers because it gives the perfect flavor to all kinds of meat, especially pork.
As is, cherry wood has a sweet and fruity flavor but it's a bit tangier than apple. It also has floral notes which work well for fatty pork meat.
It has the same smokiness as other fruit woods but it also adds a dark red color to the outer layer of the meat.
If you like a more complex smoky taste, you can blend the cherry wood chips with some oak wood for an earthier and also muskier taste.
Cherry additionally works well if you blend it with hickory, maple, and pecan.
Beware, cherry wood smoke will create dark skin on light-tinted meats like poultry but for pork loin and ribs, it gives that nice, dark, smoked appearance.
If you desire the flavor of cherry wood without the dark color you can blend it with applewood to diminish the darkening effect.
Cherry is most likely one of the most versatile smoking woods. Given that it has a moderate smoke profile, you won't really feel overloaded by the subtle wonderful smoke flavors.
Oklahoma Joe's Cherry Wood Smoker Chips can be used both dry and soaked for a mellow fruity smokiness.
Peach: best for ham
intensity: mild
flavors: fruity, sweet, and a bit floral
Peach is another sweet fruit wood with a mild smoke flavor. The peachwood's taste resembles pear as it has a lightly fruity as well as gently sweet taste.
Compared to orange wood, it's less tangy but compared to apple or cherry, it's more floral and fruitier when used on pork.
Peach is a mild wood but it has a tasty sweetness with a hint of tartness. Some even say it's not as acidic as orange but it also has a hint of that citrusy flavor.
Seasoned peachwood is exceptional for smoking pork, especially ham. Because ham isn't as fatty as other meat cuts, the peachy sweetness really penetrates the meat and makes it sweeter.
I'd say the ham tastes very gourmet compared to something like hickory-smoked ham which has such a pronounced smoky taste. Peachwood is so much more delicate and mellow.
It is subtle but capable of infusing a noticeable smoke for dark meats like pork. You will taste a distinguishable sweetness on your tongue and a pleasant non-bitter aftertaste.
If citrus wood brings fruit flavor to pork, the use of peach wood provides a different kind of citrus taste. It's more floral and slightly tangy.
With peach, you can smoke thin cuts of pork and enjoy the result with a nice glass of wine. Peach can also create a light red color on pork which is sensational for presentation.
Peachwood may also be paired with other fruit woods to create more complex flavor profiles.
For those big pork meat cuts, you can blend the peach with one more wood, like hickory, for that classic Southern-style flavor.
You can use 75% peach and also 25% hickory just to provide it with that extra little bit of wood smoke taste.
For those who like bold flavors, the mild peach might not be strong enough, so you might want to combine stronger woods for the smoke.
Western Premium BBQ Products Peach BBQ Smoking Chips have a delicate fruity taste and burn a clean smoke.
Orange
intensity: mild to medium
flavors: light, citrusy, fruity, tangy, and slightly sweet
Orangewood is one of the best citrus woods for smoking meat, especially pork. Unlike the mild fruit woods, orange is a mild to medium citrus wood with a tangy and sweet smoke profile.
Orangewood is an intriguing option for smoking pork since it imparts a distinct flavor and scent to the meat.
The orange tree's wood, like the fruit, has a natural citrus flavor that imparts the aromas deep into the meat as you smoke various pork cuts over it.
This citrus punch, which comes with a mild, smokey flavor, may give your smoked pork a whole new depth.
It has a bit of fruity tanginess but nothing of the bitter or musky flavor of smoke woods.
Smoking pig roasts, loins, and hams over orange wood can be exceptionally tasty.
By combining the correct quantity of orange wood with a more classic choice like hickory, you may create a distinct, complex flavor profile.
So, don't be afraid to blend this citrus wood with other sweet woods like apple or an intense wood like mesquite for a completely new smoky pork taste.
The DiamondKingSmoker wood chunks are great for smoking with a charcoal grill but you can also put a couple of chunks into other smokers for a unique sweet and citrusy taste.
Can you mix different kinds of wood for smoking?
You may combine two types of wood together to create complex flavors. It might be the best of two worlds and give you a unique smoke flavor profile.
You can include maple for its sweetness, apple for its fruity flavor, and mesquite for its hot-burning high-quality smoke.
Alternatively, you can mix a sweet and fruity cherry with the earthy, savory, and bacony hickory.
The classic combination of hickory and maple wood for smoking pork won't let you down.
How long to smoke pork
It largely depends on which pork cut you smoke. Some cuts can take significantly longer than others.
Here's a reference list for smoking pork:
Spareribs must be smoked for 5 to 7 hours at 225-250° F
Pork butt/picnic/shoulder is best smoked for 1 hour/15 minutes per pound at a temperature of 195-200° F
Pork loin must be smoked for 1.5 hours at 225-250° F
Pork chops must be smoked 45 min to 1 hour at 225-250° F
For the juiciest pulled pork smoke it for 15 to 20 hours and until the meat reaches an internal temperature of 195-201° F
Which woods to avoid when smoking
You can use a lot of your favorite woods when smoking pork but the ones you should avoid are very neutral and bland woods like alder. This wood gives a mild smoky taste but nothing to wow you.
Avoid using softwoods at all costs because these are not safe for your health. These contain resins as well as hazardous saps that not only make the food taste bitter but can also contain all types of toxins.
Many varieties of softwood trees, especially conifers, have contaminants and also chemicals that can transfer from the wood right into the food or surrounding air.
If you ingest food with a lot of sap or terpenes you can fall ill. Keep this general rule in mind: consuming wood smoke from conifers and other softwoods can make you ill.
A number of trees to stay clear of include cedar, fir, hemlock, cypress, and also spruce.
You ought to likewise never ever use lumber scraps, neither painted, dealt with, nor stained wood.
Conclusion
Try testing different types of wood combinations to get an amazing depth of flavor.
It comes down to personal preference but it depends on whether you like milder flavors like that of fruitwoods or sweet maple. Perhaps you like strong smoky aromas so hickory is one of the best woods.
Whichever wood you choose for smoking pork, all of the woods on the list are incredibly versatile and you're sure to end up with the best meat flavor.
Next, find out which Woods are Best for Smoking Bison (+ Top Tips for the Tastiest Result)
Joost Nusselder, the founder of Lakeside Smokers is a content marketer, dad and loves trying out new food with BBQ Smoking (& Japanese food!) at the heart of his passion, and together with his team he's been creating in-depth blog articles since 2016 to help loyal readers with recipes and cooking tips.