I love creating free content full of tips for my readers, you. I don't accept paid sponsorships, my opinion is my own, but if you find my recommendations helpful and you end up buying something you like through one of my links, I could earn a commission at no extra cost to you.
Learn more
So you decided to buy yourself a BBQ smoker but as soon as you headed to your preferred store (either online or local) you were taken aback with the immense amount of brands and options out there.
Suddenly, new questions arise:
Will you use wood, charcoal, gas or electricity?
Do you need your smoker to be small and portable or large and still easy to move?
Do you also want it to be able to grill or simply smoke your meat?
And we haven't even covered the designs, special features and other useful controls that are bound to make the experience more satisfying for you.
Before we dive into the best BBQ Smokers you can get, we need to discuss the things you should be on the lookout for. This will help you assess which one's the best for you and what makes each one a great choice for each particular situation.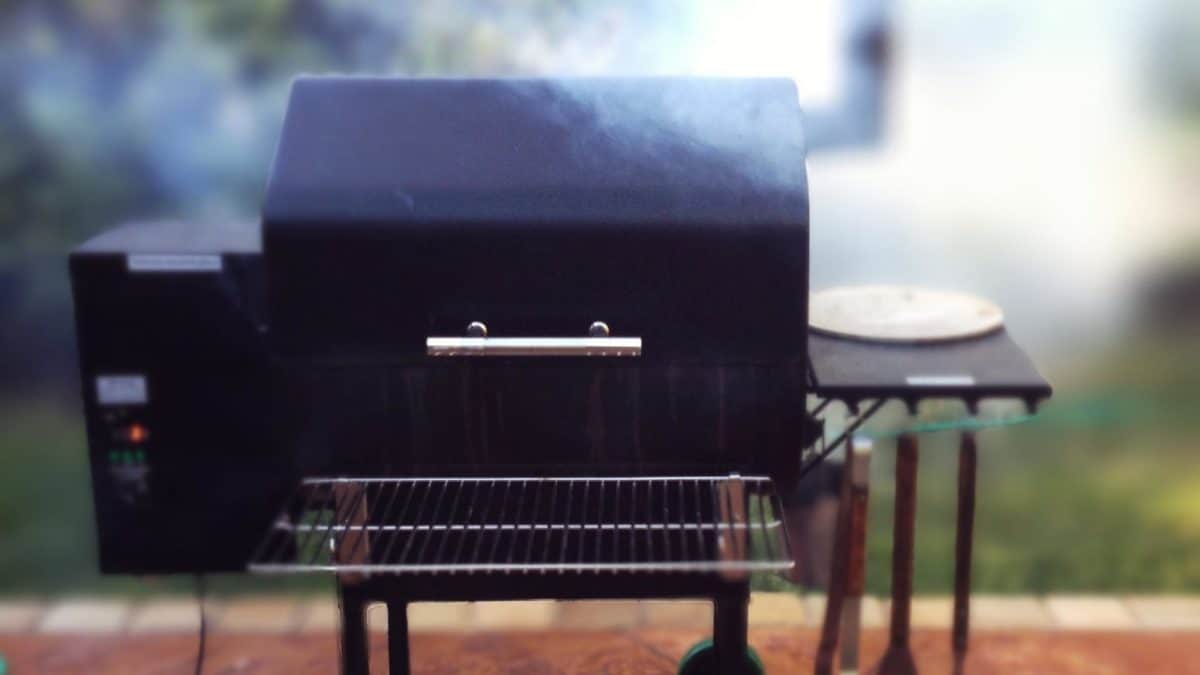 In this post we'll cover:
BBQ Smoker Buying Guide
Cost and budget
As with most other items, smokers can vary in cost from as little as $50 to up to $10,000 or even more. If you're just getting started or won't be using it as much, it's better to start by using a small vertical smoker fueled by water, since they're the least expensive.
How much are you willing to spend for your smoker? Always keep in mind that expensive does not mean high-quality. Some good quality smokers and grills are affordable. You just have to look for the right brand and model.
While not commonly talked about, a lot of purchasing decisions in people's lives are narrowed down to their financial capacity and willingness to spend on material things – smoker grills fall on the same reasoning just like everything else.
Marketing tricks sometimes nudge the buyer to put in more money than they usually want to spend, but it makes no difference when determination takes over.
Average Costs of Barbecue Smokers
With the various choices of barbecue smokers that are available in the market, the first thing that you need to consider when purchasing one is the price or cost.
Depending upon the size and quality, the prices of barbecue smokers range from $8 to $2000 overall. A simple backyard smoker can cost between $40 and $400, while high-end BBQ smokers could range from $400 to $2000.
Please find below the costs of some of the commonly used smokers:
2″x4.2″x2.5″ stainless steel Cameron Cookware barbecue smoke box – $15
Weber 7541 Gas Grill Smoker -$90-$100
Weber Smokey Mountain Cooker – $220-$350
Large Big Green Egg – $700-$900
Char Broil Deluxe – $300
Kamado-style ceramic cookers and pellet smokers has a starting cost of at least $1,000 on the market.
Meanwhile, you can get the super durable heavy duty offset smoker that will last a lifetime if you take good care of it for $2,500.
Moreover, when calculating the overall cost of a smoker, it is also best to include the fuel cost. Consider whether the smoker is powered by gas, electricity, or charcoal. I'll talk about those costs under the section "Fuel Types".
As long as you've setup a budget for the kind of smoker grill that you want to get, then you shouldn't have any trouble choosing.
Construction
You have to make sure that the smoker grill that you'll purchase is made of high-quality materials, especially if you plan on leaving it outside, otherwise it will not do the job as efficiently as you hoped it would.
A food smoker that's made of thin metal sheets and has poor welding work will keep losing heat during windy, damp, or cold conditions.
You need around 225 – 275 degrees Kelvin of heat to cook your food effectively and a poor quality smoker may not be able to keep up with this requirement.
Check the warranty to see if it has been designed to last for more than a year. This will tell you if it's a good product or not.
In my case, I continue to stand by the Weber Smokey Mountain Cooker since it has proven to be an amazing smoker and with the Weber brand backing it, I couldn't have made a better choice.
Fuel Type
BBQ Smokers can use many different materials as fuel. These include electricity, charcoal, wood pellets, propane and hardwood, each of them have their particular pros and cons, that we will discuss below:
Electric smokers are extremely easy to use which makes them convenient. However, most of them fail to convey that authentic smoky flavor. Their main advantage is that the computer-controlled electric ones let you set it and forget, so the smoker stops as soon as your food is ready. No worries with it.
Charcoal and wood smokers are the traditional ones and tend to give you that authentic smoky flavor when cooking. Some of the cheapest smokers use charcoal, but the most expensive ones tend to do so as well.
Pellet BBQ smokers give you the best of both worlds since they're powered by electricity that lets them provide heat and smoke but the pellets give it that authentic smoky flavor.
Lastly, propane smokers tend to heat up faster and much easier than electric smokers while still being easy to use.
Features
What you get out of your BBQ smoker and the price range needed to cover it aren't necessarily related, so you can get a great smoker with little expenditure and effort. The most important thing to consider in this sense is whether you want to be very involved in the process or not.
Barbecuing and especially smoking are considered noble traditions where people sit by the fire and wait while they make great meals. Do you want to follow that tradition and be an active part of the process or do you want to just set everything and forget about it until it's done? If you choose the latter, make sure you get electronic ones with computer control features so they automate part of the process for you.
Size
To select which smoker size would work best for you, you need to consider who you'll be smoking meats and other foods for. The smaller units can smoke enough food for up to twenty people while the larger ones can make enough food to keep a party going all night.
So if you only plan to smoke foods for your family on weekends and leisure days, a smaller smoker should be more than enough. If, on the other hand, you want to smoke for a large gathering, then you'll need much more space. The good thing is that most BBQ smokers will show how much food can be prepared.
Always think about the size and capacity of the smoker that you need. How big or how small the unit should be, how much meat it can accommodate, or on what occasions you want to use it.
Do you have the Space Required to Accommodate your Smoker Grill?
You should get those small drum-type or upright water smokers if you have limited space in your house or flat as these things have a relatively small footprint.
Be sure to check the space that you've saved in your house or apartment for your grill as it will take up quite a few square feet of real estate.
Take a tape measure with you just to make sure that you have the correct size of the smoker grill that you'll be purchasing; however, if you have a lawn or your real estate property is big enough, then there's no need to worry about it.
How many People do you Plan to Cook For?
I will go out on a limb here and assume that you normally cook for 2 – 4 people in your house on average, but there will be days when you'll cook for a lot more people than your immediate family members.
Special occasions like Christmas, July 4th Independence Day or Thanksgiving will fill your house with guests and if that's the case, then it's better to be prepared than shortsighted.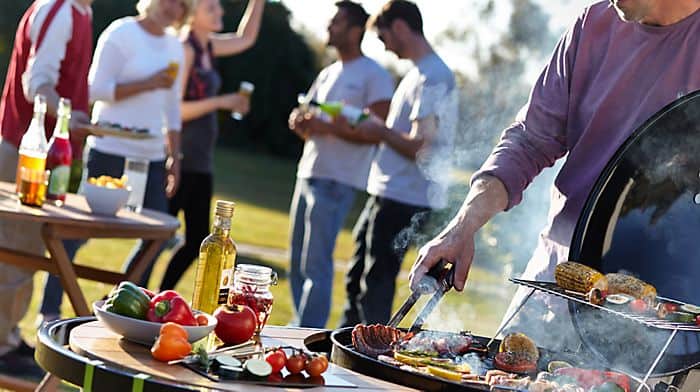 Do you Value Portability?
The tailgating culture that has become a nationwide trend made bbq grill manufacturers to develop portable smokers for people to take with them in lake cabins, campgrounds and parking lots.
Big smoker grill names like Big Green Egg, Coleman and Weber have emphasized mass production on smaller cookers in their product line-ups.
Naturally typical considerations for a smoker grill with mobility are weight and fuel used. Buy one that's easy to take with you in your car and can easily be setup once you've arrived at your destination.
If you value portability then you might want to consider either:
A small grill like a bullet smoker
A larger grill made for portability like this Coleman in our post about camping and grilling
Versatility
Many units out there can not only smoke but also grill, so if you want to be able to do both, these are the ones to look out for. The most common ones to offer this versatility are the charcoal units. However, many other units at lower prices might also offer this feature, just remember that this will require a fantastic design, so not every unit that promises it, can deliver.
What specific features are you looking for? Do you need a movable smoker? A portable one? Do you want one with ash pan or one that you can operate easily?
Brands
Last but not least, remember that you might recognize the brand names but that doesn't mean they're the one for you. When looking into BBQ smokers, do some research on the companies that produce them.
Generic smokers tend to offer no future support nor service so you'll end up stuck with a useless unit if it ends up failing. When you find one that catches your eye, make sure you browse the internet for reviews from both users and experts to get the best choice available.
Why does the BBQ smoker brand matter?
You've probably never heard about the names or logos stamped on the BBQ smokers you will find while browsing but it's always important to do your research into the company that produces them.
This is especially important if you care about future service or support. Many generic brands will leave you high and dry if something malfunctions and you will end up with a device that wasted your money and is now only occupying space in your home so it goes straight to the trash.
By paying attention to the brand, you can better understand the quality of the product you're acquiring. Does your smoker include a warranty? Is it for a long period of time? Will you have to pay for any additional maintenance?
To answer these questions, look into expert reviews and the most useful source of information nowadays: customer reviews and recommendations. Remember to take them into account before acquiring since they can give you an honest insight without the expense.
Now that we know what to look for when buying a new BBQ smoker, it's time to look into the different types of BBQ smokers that are available out in the market.
BBQ Smoker fuel types
As you know by now, you have plenty of options when it comes to BBQ smokers. In this section, I will give you some quick tips on how to choose the right BBQ smoker for you.
Every type of smoker can make great barbecue but it takes the right skills to make this happen. This guide refers to several types of smokers where the source of heat is not only charcoal, but also propane, electric or pellet. Each of them is different – it has its own upsides and downsides I can't tell you which one of them is the best as it all actually depends on the situation. Learn the key upsides and downsides of each of them and make your own decision on which of them fits your situation the best.
First, you need to know what type of smoker fits your needs. There are four types of smoker grill that you can choose from.
Let's look at some estimative prices for each type of smoker:
The truth is, it takes a little bit of trial and error to become a true pitmaster, regardless of the type of smoker you get. However, some smokers are easier to use than others. I want to break down the main types of smokers you can buy and provide a bit of information about each. Just because electrics are the easiest to use, it doesn't mean you can't start off with another kind of smoker. You can learn to use a charcoal grill to smoke after a few tries too, so it might be best if you want that authentic smokey wood barbecue flavor. Let's look at the various types of smokers:
Pellet Smoker
A pellet smoker has a rod that quickly ignites when you turn it on and starts putting in wood pellets. Its smoking process is pretty much automated, so you do not have to spend a lot of time on monitoring its internal temperature.
Convenience, speed and great results of smoking are the three most important aspects of this type of smoker. A great alternative to charcoal smokers when you don't have time or simply don't feel like controlling the entire process of smoking.
A pellet smoker is exactly what it sounds like: a smoker that uses tiny wood pellets as its fuel source. I would call this a medium-easy smoker to use as a beginner. It's not as tricky as the charcoal but more challenging than the electric. Since the smoker runs on high-energy pellets, you need to refill the pellets if you smoke for many hours. The advantage of this smoker is the flavor. The flavored wood pellets give your meat a deep smoky taste. Once you taste pellet-cooked foods, it's hard to forget the delicious aroma. It's no wonder this type of smoker is quickly growing in popularity across America. Just like propane smokers, the pellet one lights up and reaches the desired temperature quickly. So, you can set the preheat temperature and start smoking in minutes. Most models have digital temperature buttons so that you can control the heat from there. Thus, this type of smoker is an excellent compromise between a charcoal and electric smoker. Is it the best for beginners? Not really, but if you want to get an intense flavor, you can learn to use it in a matter of days. However, there is one big disadvantage to buying pellet smokers, and that's the hefty price tag. Most reputable models are more expensive than other types of smokers. Also, you'll have to plug it into an electrical outlet, so you can't smoke on the patio without a plug. But, if you have the budget for a pellet smoker like some of these reviewed here, it is an excellent investment, and it's quite simple to operate as long as you don't mind keeping an eye on the pellets. The smoker uses up quite a lot of pellets, but it gives amazing flavors.
Pros:
Incredibly convenient and simple to use, even for beginners
It reaches the adequate temperature very fast, pretty much about a dozen minutes since getting started
You don't need to worry about the amount of fuel, air flow control or temperature, everything is taken care of by a system that adds more pellets in the furnace when needed.
Cons:
First and foremost, very high prices for a decent model
Pellet gives a slightly different flavor from charcoal, not everyone likes it
People came to love this type of smoker for its convenience, ease of use and great results. There is no denying that the ability to prepare great barbecue without much effort is something very encouraging to buy this type of smoker.
It is also advertised under the name pellet grill but in reality it is a dedicated smoker that isn't very good at grilling.
Propane or Gas Smoker
A gas smoker, on the other hand, is the perfect choice if you do not want to attend to your meat as it is being smoked. It is convenient and can give your meat the classic BBQ taste.
Consider propane and gas smokers as your second best choice for beginner smokers. Unlike charcoal smokers, where it's hard to control the temperature, the gas smokers are relatively easy to set up and maintain the ideal temperature. In fact, propane smokers are one of the most beloved smokers for those who like to smoke occasionally and beginners alike. Most non-experts prefer this type of unit for its ease of use. The whole process is simple: turn on the smoker, add wood chips, set the temperature, and put the meat on the grates. You don't have to keep checking because the temperature doesn't fluctuate much. Therefore, there usually aren't any flareups, and the meat is cooked to perfection. The end result is a delicious smoky flavor with no ashes. Another advantage of propane smokers is that they are easy to move around and compact, so they don't take up too much space. This is ideal if you have a small patio or backyard and don't want a chunky cooker. In terms of flavor, the propane smoker lies somewhere between the electric and the pellet or offset on the spectrum. Most propane smokers are affordable and long-lasting. However, consider the fuel source as the only disadvantage. Propane tanks are easy to find and buy, but they are quite costly compared to how much use you get out of one tank. Also, the tank can run out mid-smoking, so you need to have a backup nearby.
Charcoal Smoker
Unlike the gas and electric smoker, there is a steeper learning curve for handling and setting the temperature of a charcoal smoker. However, the charcoal smoker is more affordable and can give your meat intense smokiness.
This type of smoker is associated with time-consuming smoking process that requires a lot of attention. Contrary to a popular belief, it is something that every smoking enthusiast loves, starting with getting the charcoal burning, to temperature control, air flow, amount of fuel, and all the way to great results that come from your hard work and large amount of time spent.
The charcoal smoker is the top smoker for true BBQ lovers. This type of smoker runs on charcoal as the fuel source. Most charcoal smokers have a traditional round, cylindrical, or barrel-like design. But, most double up as grills. One of the most popular charcoal smokers is the egg-shaped kamado-style unit, such as the Big Green Egg, a grill and smoker hybrid. The main advantage of charcoal smokers is that they provide that classic smokey wood flavor people love. No other fuel source can give meat such an intense smokey flavor. To create smoky aromas, you add wood chunks or wood chips to the smoker. The chips have various flavors, from mild and fruity like applewood to strong and bacon-y like hickory.
Learn more about the different woods to smoke with in this overview here.
Another advantage of charcoal smokers is that they are versatile. You can use them as grills to quickly cook some steak or as smokers to cook low and slow brisket. Also, you can cook more than just meat. So, you can smoke seafood, fish, cheese, nuts, vegetables, and even tofu. The biggest challenge with using a charcoal smoker is to get the right temperature and then maintain this temperature throughout the long cooking process. Even the pros struggle with flares and the smoker getting too hot. Therefore, as a beginner smoker, you'll struggle to operate this kind of smoker, and you might end up burning the food. Because you need to stay near the smoker at all times to control the temperature, I don't recommend charcoal smokers as your first-ever unit.
Pros:
Charcoal gives food the best flavor
Smoking meat with charcoal gives better results when it comes to creating smoke ring bbq and bark
It requires a lot of attention and time which in a way is a lot of fun to many
Cons:
Sadly, they require the most time out of all types of smokers
Before you start cooking, you need to take into account the time to get the charcoal burning and then just as much to achieve the right temperature.
Without a doubt, a charcoal smoker is the best option if you want to learn everything related to smoking A to Z. Contrary to a popular belief, it is not that time-consuming, good models allow for very easy temperature control.
Electric Smoker
Last but not least is the electric smoker. As the name suggests, it is powered by electricity. If you are after ease-of-use, this is the best smoker for you. All you have to do is plug it, choose the right temperature, and wait for your meal to cook.
Just as convenient and fast as pellet smokers, but much cheaper. They are perfect when you're thinking about really long smoking as you don't have to worry about refueling and maintaining a fixed temperature.
The electric smoker is king when it comes to beginner-friendly smokers. It's by far the easiest to use, and the best part is that you don't need to monitor the food as it cooks. Although not as popular as traditional pellet and charcoal smokers, electrics are a great option for the household. Since the electric smoker is a relatively new invention, it usually comes with all kinds of interesting upgrades and features such as WiFi and Bluetooth control. Therefore, you can set the temperature digitally, add wood chips, water, the food, and then control the smoker from your smartphone or remote control. It's definitely a fail-proof and convenient way to smoke, especially for beginners. By far, the best advantage of an electric smoker is that you set the temperature and leave it because it doesn't fluctuate at all. Therefore you can smoke at a consistent temperature for the preset time. This means more precise smoking and better food because there's less trial and error. Electric smokers come in all sizes, and some are even suitable for indoor smoking because they run solely on electricity. Thus, they are also cheap to operate. The only disadvantage of electric smokers is that they lack the depth of smoky flavor compared to the other smoker varieties. Sure, the food tastes smoky, but it's not quite like the charcoal smoked stuff.
Also read: Best electric smoker cookbooks | Recipe inspiration for all skill levels
Pros:
Convenience, speed and precision
You don't have to think about controlling temperature or fuel
They are versatile and capable of effective cold smoking ( if you buy the right accessories )
Cons:
Sadly, their biggest downside is being prone to malfunctions, electric elements are known for their problems. If any problem arises, in most cases it renders the smoker useless until repaired, which tends to cost a lot
Problems arise much more often and sooner especially if you buy a cheap electric smoker
The food flavor will never be as great as from a charcoal or even pellet smoker
A good choice for someone who doesn't like BBQ at all or is super lazy. A great choice for those who think of smoking things other than meat. Cold smoking gives plenty of opportunities, fish, cheese or sausages.
You actually won't learn anything about real smoking with that kind of smoker, to me its biggest advantage is mostly the cold smoking ability.
Do you only want smoking? Or grilling as well
Personally, I only recommend a combo grill in a situation where you have a very limited budget or you simply want to try your hand at smoking for the first time and you don't know if you'll like it. In such situation, a great solution is a kettle grill, like something from Weber. It is very cheap compared to typical smokers and works great both for smoking and for grilling. A dedicated smoker has a completely different type of structure, it is more airtight, designed only with smoking in mind. It comes with all the necessary features that make temperature control easier and increase the convenience of smoking. The same goes for a dedicated grill, its structure is completely different as well. That's why, whenever possible, I recommend buying a dedicated smoker for smoking and a separate dedicated grill for grilling.
Also check out my post on BBQ smoker baffle plates – how to use them and where to buy them
Which Smoker Personality type are you?
Everybody starts somewhere in life and it's no different for those who want to try to become a smoker grill enthusiast
It's right around fall and a few weeks before winter that retailers are anxious to reduce their inventories of grilling hardware. If you'll visit the local home depot in your area, then you should be able to find cheap grills that are still in pristine condition. In some cases, they give out discounts that go as high as 75% off of the price tag.
Before you go to the home depot though, you must first decide which smoker grill you want to own, because there are various kinds of these things and there are thousands of manufacturers that sell them.
Choosing the perfect smoker grill largely depends on several factors such as what your experience with bbq smokers is, your budget, goals and the number of people you cook for occasionally. I'd like to call these factors as your smoker personality.
Before we go any further allow me to highlight the 7 smoker personalities to you; so you could find where your personality ranks.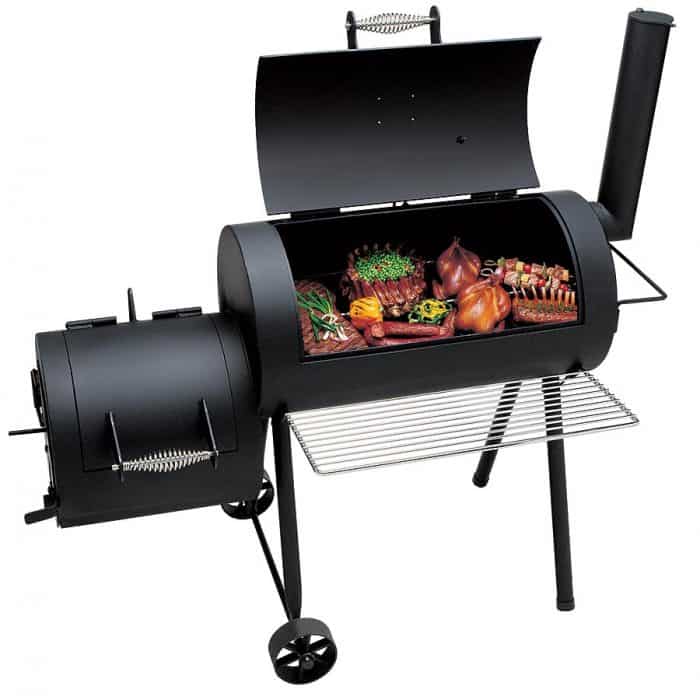 Which barbecue smoker is right for me?
Beginner: The smoker you want is something that's small in size, preferably has fewer switches and buttons so you could operate it easily. A good example of this include an upright barrel smoker, a ceramic cooker, a water smoker, a kettle-style charcoal grill or other similar grills with tall lids. To get yourself started in smoking and still look the part with an affordable grill, we suggest the Pit Barrel Cooker.
Grilling enthusiast but wants to try smoking: You're a grilling junkie, but you also have a thing for smoking. The smoker grills that will suit your taste are an offset smoker with a firebox and grate, a wood-burning grill, a ceramic cooker, front-loading charcoal grill or kettle grill. We would recommend this Char-Broil Offset Smoker for the grilling enthousiast, as it gives you the ability to grill and add smoke as you please.
Convenience- and results-oriented smoker: You're cool with barbecued and smoked foods, but prefer the convenience of a push-button gas grill. The pellet grills or electric gas smokers are for you. The Traeger Tailgater Pellet Smoker might be for you.
Process-oriented smoker: You're not just a grilling enthusiast, but are in love with every minute detail of smoking like how the whole thing works. You can choose the offset smoker or the water smoker to satisfy your insatiable desire to observe the whole smoking process. You might want to consider a front loading water smoker, so you can check in on the process as it develops.
Smoked food addict: You've been addicted to smoked and barbecued foods for a long time, and you wouldn't have it any other way. The water smoker or offset smoker would be good for you, like the ones we discussed in the previous section, but you can also build your own smokehouse to showcase your smoking skills.
Commercial barbecue junkie: For you the prospect of competing for the best griller is the highest you could earn. You love to please the crowd with your cooking and you hope to start a food truck company, a restaurant or a catering business someday. What you need in order to realize your dreams is a carousel-style commercial smoker or an offset smoker for big rigs. It doesn't have to be that expensive.
Apartment or condo-bound smoker: Since you live in a cramped urban environment, you have little to no space to do outdoor smoking or grilling. To solve this problem, just buy a handheld smoker or a stovetop smoker. You should get yourself a stainless steel one from a top brand.
Don't be confused. A charcoal grill is not the same as a smoker, but charcoal also is the best fuel for any smoker.
Charcoal is a lot easier to work with than natural gas or propane grills. All you have to do is follow the step-by-step setup from the manual on propping up your charcoal grill, add the coals or wood chips and chunks and you're ready to go!
Remember, in order for your cooking to be good, you'll need a charcoal grill that has a tight-fitting lid.
It must also have lower and upper vents which controls the heat and a huge clearance between the grill grate and the lid in case you're going to smoke large pieces of meat like beef shoulder clod or turkey.
What different types of bbq smokers are there?
Now that you've determined what kind of smoking enthousiast you are, let's look at the different types of bbq smokers you could get, and what their strengths and weaknesses are.
The Upright barrel smoker
There's also a new smoker that's gaining in popularity and it's called, the drum smoker or upright barrel smoker as some would call it, because it looks like those oil drums you see in oil refineries.
The upper lid has been removed to make room for the grate and underneath it is a charcoal basket which sits at the bottom.
Since it's larger than standard size smoker grills, you have the option to cook food with it vertically by using hooks from rebar rods as oppose to standard smoking methods.
By adding wood chips to the charcoal fuel you generate smoke form it. The heat is both radiant and convective, so food smokes faster in an upright barrel smoker. For $300 you can have your own upright barrel smoker at home.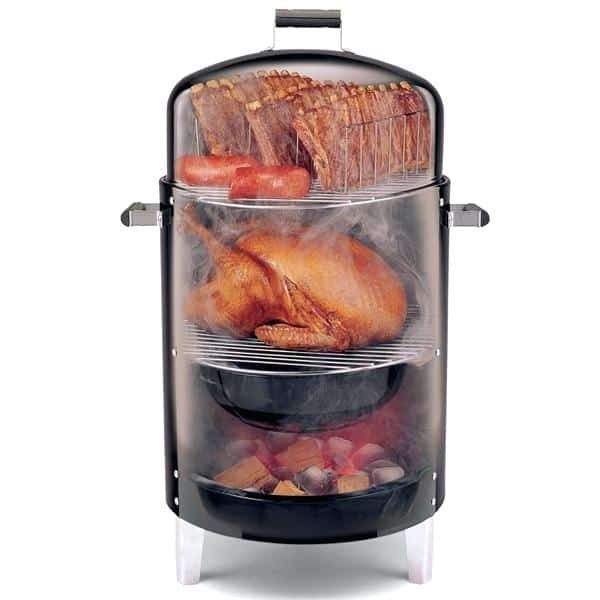 The water smoker
Another type of smoker grill that brings amazing performance, lightweight and affordable is the water smoker.
The water smoker has quite a complex design in order to get that right taste to your grilled foods.
At the bottom of it lies the charcoal, wood chunks, and chips is placed to create the needed heat, then the smoke chamber sits above it and finally the water pan is placed above.
The water pan helps stabilize heat and moisture in the cook chamber, but be careful not to fill it up to the brim because too much moisture will make your food taste differently than what you had expected.
The last parts to be added are the grill grates and lid. The ideal temperature range from 225 to 275º Kelvin and you can manage the heat by using the upper and lower vents.
There are also large water smoker models that can handle racks of pork ribs; however, you can just buy a rib rack to accomplish the same thing.
The Offset smoker
The old steam-driven locomotive-looking smoker (offset barrel smoker) will tell your whole neighborhood what you're up to, because it's visible from 300 yards away.
Just about in any barbecue competition circuit, you will see these macho-looking, hardcore smokers get the spotlight as they ace every category in the competition.
Today you can buy new models with sealed quality assurance passed which will redefine the word "cool" in the smoker grill industry.
The offset barrel smoker was first seen in states like Oklahoma and Texas. They were built from leftover oil pipes and you use charcoal or wood to serve as fuel.
This smoker grill is easily recognizable anywhere as they have distinctive profile features such as the barrel-shaped cooking chamber that has a horizontal lid, a firebox alongside of it but is lowered to take advantage of the heat, and a vented chimney on the top.
You could be shedding several hundred or even a few thousand dollars for these bad boys depending on what size and type you want to buy, and they're heavy too!
Offest smokers are another pitmaster favorite. They are versatile and capable of smoking and grilling, but they are heavy-duty, so they'll last you for many years. This type of smoker is called offset because of the way the hot air circulates inside the unit. Thus, the food cooks via indirect heat. The firebox is located at the side of the cooking chamber, hence the name "offset." As a result of this unique design, the smoke moves from the firebox to the chamber. Thus, the smoke is constant, and the meat cooks as a result of indirect heat. To use an offset smoker, you need to familiarize yourself with the various vents and dampers that trap and let the air out. So, when the temperature inside the cooking chamber gets too hot, you need to let some heat out. Thus, it's not as easy to use an electric or propane smoker. You still need to have some knowledge of temperature control, and you'll have to monitor the food while it smokes. But, if you're all about smoking large batches of meat, then the offset smoker is the best option because these have a large cooking area. As well, the flavor is fantastic because you add wood which infuses the meat with smoky aromas. However, chances are, if you want easy smoked meats, there's no need for complex cooking units. Until you learn to operate the dampers and vents, you'll have some difficulty with offset smokers.
Kamado style or ceramic smoker
The Japanese are also very good in designing smoker grills as their traditional Japanese cook stove also known as the Kamado-style smokers (ceramic cookers) are famous in America and other countries.
In Japanese Kamado means "place for the cauldron" and this smoker grill was made famous by the Big Green Egg store in American.
These distinctive-looking cookers have taken the barbecue world by storm. You can use charcoal, wood chunks or chips for fuel with this smoker grill and they are placed on the bottom part of the smoker.
Hot air rises to the cooking rack which will heat up any food you want to smoke and if you want to control the heat inside the smoker, then just use the large vents located at the bottom and top of the lid.
These ceramic smokers are very fuel efficient and heat retentive which can help you cook several foods with just one pound of fuel.
They come in various shapes and sizes, but there's one thing common about them – they're quite expensive. But there are cheaper models available now also.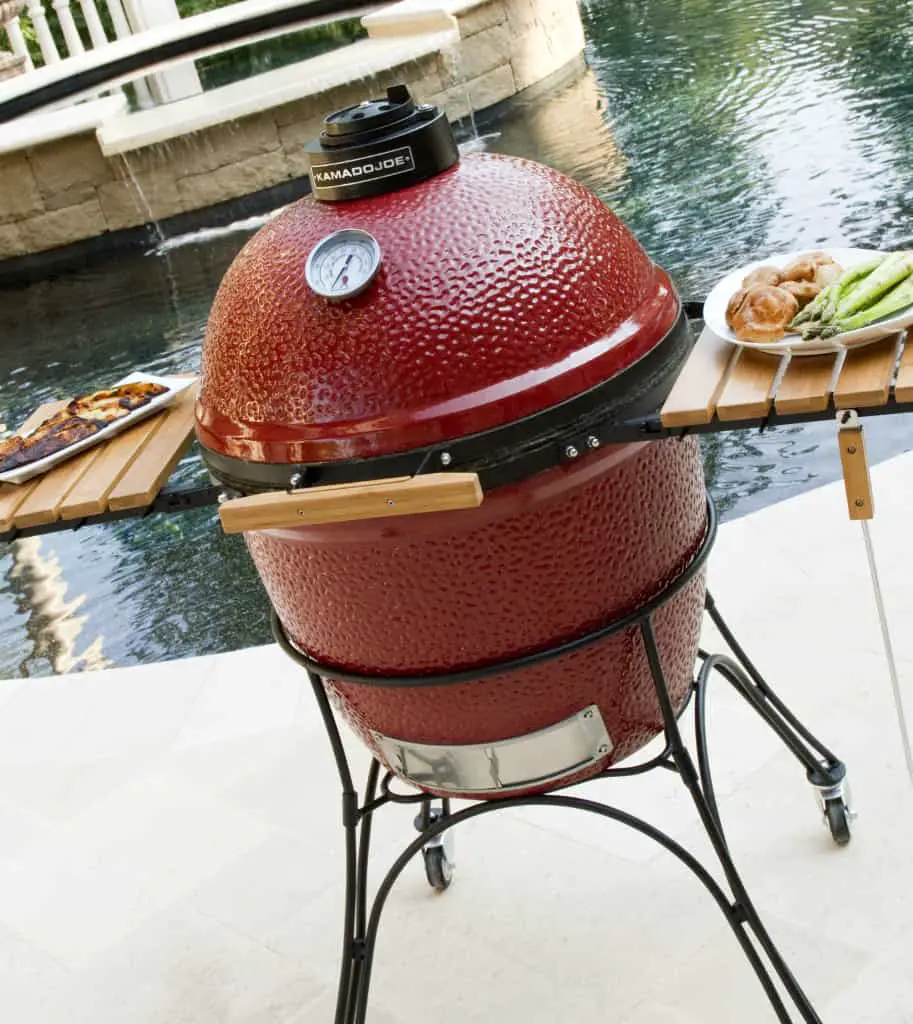 This very affordable Char-Griller E06614 Akorn Jr. Kamado Kooker Charcoal Grill is definitely the one to get you started in this type of grilling without spending huge amounts of money.
What accessories do you need for your smoker?
Once you get a smoker, you'll realize you need some unique accessories as well. Now, there's no need to go overboard and grab everything but some of these tools are helpful.
Probe smoker thermometer
Most smokers are equipped with a built-in thermometer that shows you the temperature. This is extremely useful and handy. However, there is one problem: the thermometers are not always accurate, so you can end up ruining your meat. A true pitmaster knows that a separate probe thermometer is key to successful smoking. The fact is that you have to cook the food until it is fully cooked. Different foods have various cooking times, and the internal temperature must be exact. Therefore, you need an external temperature probe to poke into the food to check the internal temperature.
Check out my handy guide to various meats and how long to cook them.
Wood chips
If you want authentic BBQ flavor, then you must use wood chunks of wood chips. Most electric and propane smokers have wood chip trays, so you can add your favorite wood chip flavors. The whole point of slow smoking is to infuse the food with a smokey aroma, so having wood chips is an essential part of smoking. Dark meats pair well with strong woods like hickory, mesquite, and alder. Poultry and seafood taste amazing with fruit woods like apple and cherry chips. There are so many more wood chip varieties too, just check.
Heat-resistant gloves
Even though you're smoking on low heat, the truth is you can easily burn your hands. Always use heat-proof gloves to handle trays, food, and touch the smoker. I recommend getting a good pair of gloves to prevent burns or injury. The gloves I recommend have non-slip fingers, so you don't drop the food as you handle it. They're also easy to clean and very durable.
Knives and trimmers
Don't underestimate the utility of a good pair of meat knives. Most meats require some trimming and cutting, so you need to have a pair of smoker-friendly blades. With these, you can cut up the food to make it fit into the smoker. For example, a brisket-slicing knife can be very useful because it helps you remove fat and make the meat more tender. Long-blade knives are also good at cutting other meat cuts and even fish.
Check out these best knives for smoking meat as well
Final Thoughts
You got the general idea from this article, but finding the best BBQ smoker for you is harder than choosing any other grill since the particular smoker for you will vary depending on cost and time-consumption.
However, since smokers are available in so many shapes and sizes, and even feature different fuel types, if you take your time you will find the one that's best suited for you.
If you have any doubts, focus on the best support you can find and go through customer reviews
Also read: what BBQ smoker should I buy?
Joost Nusselder, the founder of Lakeside Smokers is a content marketer, dad and loves trying out new food with BBQ Smoking (& Japanese food!) at the heart of his passion, and together with his team he's been creating in-depth blog articles since 2016 to help loyal readers with recipes and cooking tips.