I love creating free content full of tips for my readers, you. I don't accept paid sponsorships, my opinion is my own, but if you find my recommendations helpful and you end up buying something you like through one of my links, I could earn a commission at no extra cost to you.
Learn more
Sometimes just having a decent barbecue grill for indoor use or one that you can carry in your pick up truck or rover becomes dull due to its limitations.
There will be instances in your life where you'll be on the go most of the time and this is especially true for people who travel by land crossing the 50 states of America for the ultimate sightseeing adventure!
In this post, I'll take a look at a few trailer smokers and talk you through the advantages and disadvantages of all of these brands.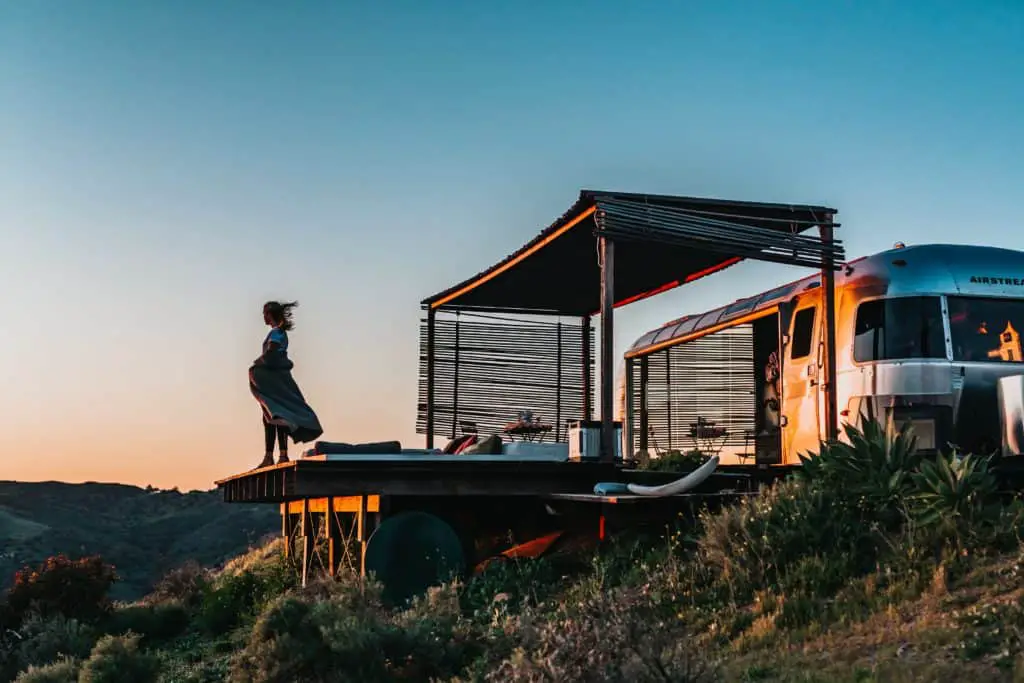 If you're on a rover and moving across the United States from the West Coast to the East Coast or vice versa, chances are you're not traveling solo. Having several mouths to feed and if those mouths love to chomp on meat – lots of meat – then bringing along a small or mid-size range BBQ smoker just won't do.
What you'll need is a barbecue grill that's built for celebrating feasts! A large BBQ smoker with a trailer to drag along your rover, hit the road and go anywhere you want in a 6.1 million square miles of land area.
Now, the only trailer that's affordable that we've found is the one from customer smoker builders. It's not an established brand yet and that's why they can deliver the quality at good prices.
In this post we'll cover:
What is a Trailer Smoker?
A trailer smoker is a specially-built barbecue grill that is designed to be towed around by a four-wheeled vehicle. It is at least twice as large as the largest indoor grill you can find and it is significantly heavy that it needs to be mounted on vehicle wheels (actually the entire BBQ smoker is built with the trailer as a single machine).
The trailer smoker is most suited for outdoor use and people who live on their trailers due to a life choice or financial constraints are the ones who often use it. It's big, it's bulky and can handle a lot of grilling and smoking.
Big Feast Anytime Anywhere
Whether you live in Texas or Minnesota, America has lots of roads to tread on as well as huge and long highways. You can even cross into Canada if you want to extend your trip across North America to enjoy the amazing sights as you go.
Assuming that you're either bringing your family with you on this long road trip or maybe your college friends, or just your neighborhood buddies, then you should number at least 3 or maybe more. More hands to help with basically everything you need for the trip would not only make your trip enjoyable, but also efficient.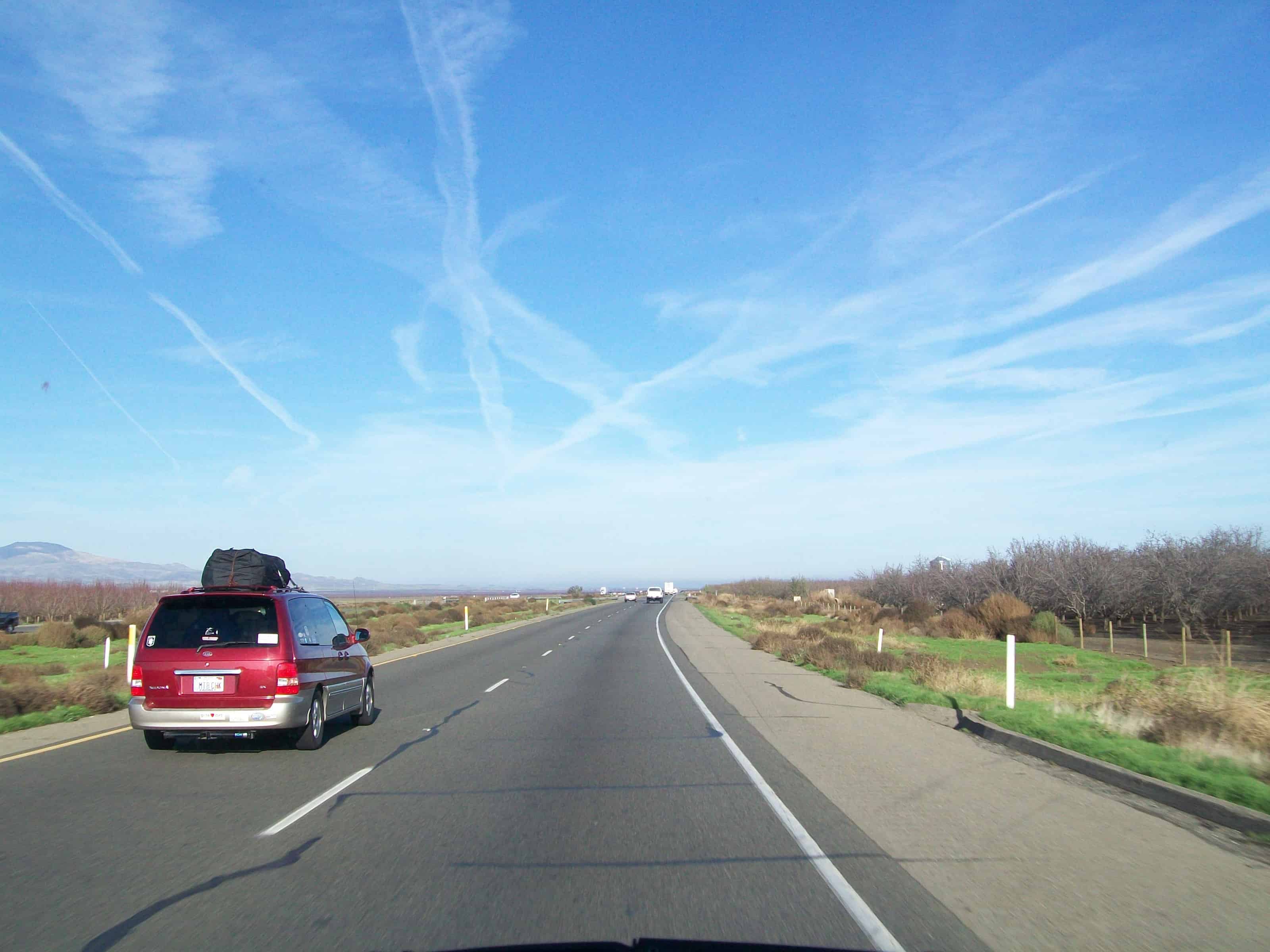 Typically, you and the people around you are either driving, on their smartphones and tablets, or grabbing something to bite from the fridge. Leftovers from your previous meal would be the first thing that those hungry hands will reach for, but if there aren't any left, then just stop the rover and fire up the trailer smoker to smoke some food.
Top of the Line Trailer Smokers
Americans are obsessed with grilling! This is the reason why the barbecue grill industry is going strong despite the economy. I suppose you can't put a price tag on tradition, right?
It's kind of like Thanksgiving and Black Friday. Even back in the 2008 US economic recession people still had food on their table for Thanksgiving and were even duking it out in retail stores just to get that prized item with huge discounts.
But it's actually surprising to find a trailer smoker in the Czech Republic as I thought Europeans were not as fun as Americans are when it comes to grilling. This particular trailer smoker that they've featured on their site even has flashy colors on it, which makes it very attractive.
If you need a supersized trailer smoker for your highway adventures or whatever other purposes you may have, then pick any of the best trailer smokers listed below.
Also read: the best rotisserie grills for your home
1.) Lang Smokers
The original creator of the reverse flow, off set-fire-box design Lang Smokers has had many copycats these days. But anyone who knows enough about barbecue grilling knows how to differentiate between a clone and an original design.
Lang Smokers create their trailer smokers from solid 0.25 inches thick steel plate which makes them tough and durable. This has the advantage for the grill to maintain the required temperature once attained throughout the length of the cooking chamber.
Their products include:
Lang 36 Series which can hold more than 72 lbs. of food at one time
Lang 48 Series with a cooking space of 6.30 ft2
Lang 60 Series with a cooking space of 9.93 ft2
Lang 84 Series with a cooking space of 13.79 ft2
Lang 108 Series with a cooking space of 23.62 ft2
Now, the Lang smokers are pretty expensive, but custom smokers makes some great custom built bbq smoker trailers like this one to take with you on your trip.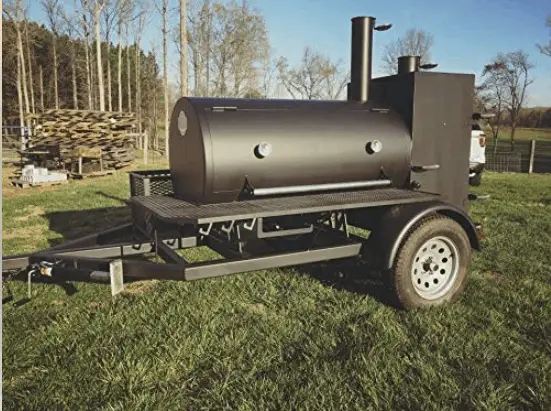 2.) Myron Mixon
This company that specializes in various trailer smoker designs does business differently from its competitors, because all of their grills are custom-made. They are at the top of the barbecue grill industry, because they give their customers exactly what they want.
Depending on the customer's request they'll design a typical trailer smoker with amenities such as grills, coolers, burners, storage, log baskets and sinks. Their trailer smokers also come with other accessories like drawers, cocktail center, propane tank drawer, and ice maker to make it very functional and practical.
Myron Mixon's grills come with a hefty price tag from somewhere between $15,000 – $20,000 or more, but this also depends entirely on the customer's budget. Basically the bigger the customer's budget is, the more amenities and accessories their trailer smoker will get.
Myron Mixon's trailer smokers come in small, medium and large sizes.
If you're into trailer smokers, you might want to check out our section about smokers with rotisseries.
3.) Oklahoma Joe's
The Grandad series dual-fuel charbroil grill range with cast iron grates and outside burner are quite famous among grilling enthusiasts and smokers. What's great about their design is that they give you the option to add one or more racks that extends the cooking surface significantly!
Built with a 3/8-inch thick stainless steel they are, as much as any other trailer smoker, built to last. Each of the trailer-mounted smokers uses a top-feed 'baffling' system that completely separates the firebox from the cooking area.
The advantage of such a design is that it prevents grease from slipping through the area where the firebox is located eliminating any chance at all of flash fire, which can disrupt the cooking process or worse, cause an explosion in the propane tank.
If you live in Oklahoma, then you may be familiar with their two best products, which are:
The Great Grandad Series
Has a great wide 72 ft2 of cooking surface
A convenient 36 in2 of oven space for smoking
Mounted on 3,500 lbs. dual tandem axle trailer for mobility
Durable design as the entire smoker is built from 3/8-inch thick stainless steel
Full length cutting board
A large 48 inches by 24 inches storage box
Aluminum tread plate with propane rack
The Grandad Series
A more conservative 54 ft2 of cooking surface, but efficient nonetheless
Its oven space is similar to the Great Gandad which is 36 in2
Also mounted on 3,500 lbs. dual tandem axle trailer for mobility
Design for toughness
Full length cutting board
Also has a large 48 inches by 24 inches storage box
Aluminum tread plate with propane rack
The Caterer Series
Has a huge size of 30 ft x 8 ft
It features the double doors with slide-out trays
Good oven size of 24 inches x 36 inches and it comes with meat hooks, hanging racks and 3 slide-out trays
Separate oven controls to avoid confusion and simultaneous cooking convenience
Full roof with 4 foot fold out flap
Propane Rack
Storage box
It has a 15-inch tires on the trailer
Mounted on a 3,500 lbs. axle with 2-inch ball
The Hog Series
The hog pretty much has the same specs as the caterer with the only notable difference is that the caterer has a more elaborate design compared to the simplistic hog trailer smoker. What I'm trying to say is that the caterer is visually impressive than the hog, but both have the same exact features and even the same price tag.
4.) Stumps Trailer Mounted Smokers
Stump's Smokers is perhaps the most awarded company for creating a truly innovative and efficient trailer smoker. They are the first company to design a unique and patented design called The Gravity Feed System™, which is absolutely amazing!
While on the outside their trailer smokers look similar to other brands, the inside is a completely radical mechanism that allows you to "cook or smoke and forget" the food you're grilling – literally.
It is because of how the gravity feed system works and it starts with the vertical shaft where you'll put the charcoal briquettes that extends all the way down to the firebox and below that is the firewood drawer. There is a half-an-inch steel grate that separates the charcoal briquettes from the wood fuel.
This ingenious design allows for the briquettes to burn for hours and as the burning ashes from the charcoal briquettes fall down they, in turn, burn the wood fuel. This extends the fuel burn for 16 hours or more which means that you can leave your food in the grill or oven and not have to come back every 20 minutes or so to check whether it has been cooked or needs more fuel.
The firebox also has a ball valve where you can adjust the opening in order to let air in or close it to stop airflow.
Stump's famous trailer smokers are:
Stump's 3×4 (Reverse Flow) Offset Cooker
Stump's 3×5 Cooker(Standard Edition)
Stump's 3×5 Cooker(Premium Edition)
Stump's Stretch Trailer (Standard Package)
European Built Trailer Mounted Smokers
It's not just the Americans who love to chomp down on grilled and smoked meat, but Europeans and everyone else who has no religious or personal beliefs that would hinder them to eat meat otherwise.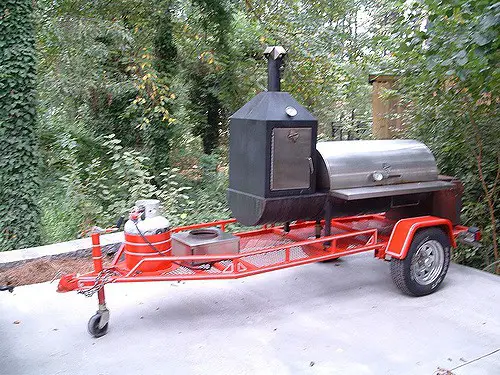 Suffice it to say that Europeans have settled in on the idea of enjoying American-style grilling and smoking or otherwise known as "barbecuing" food. To such a degree that they have even created their own trailer smoker companies! Here are some of the best names in Europe when it comes to trailer smokers.
Cimarron
The Yoder Smokers Cimarron is a premium BBQ pit designed to attract attention and feed a large crowd. The quality of its design and the tender juicy meat that comes out of its grill grates and ovens are not the only things that make it great, but its luxurious design as well which appeals to anyone's aesthetic preferences.
It is built with 6mm fully welded steel ensures that the ideal temperature is maintained inside the grill, which is a critical factor in making great barbecues. The Cimarron comes with a double-door configuration plus some additional design features such as premium and stainless steel fittings, tongue storage, a fully insulated firebox and many more.
Que Fresco
Que Fresco is the only manufacturer of trailer mounted smokers in the UK which means they have a monopoly in the barbecue grill market in that country as well. But this isn't some conspiracy theory or something as you may be irked by the word "monopoly" it just simply means that they do not have a competition.
Be that as it may, they have taken the American tradition of grilling and smoking food to the land of princes, princesses, and royal elites and to offer a different kind of cuisine from the commonly known European dishes.
Que Fresco is a family-run business and was only recently established back in 2013. Their commercial trailer smoker, although having a typical trailer smoker design, will set the barbecue trend in the UK for sure.
BBQ Mates
Last on our list is a BBQ trailer smoker company in Lithuania and they have the entire European grill market for themselves as well (assuming they won't do cross-border sales in UK or Que Fresco doing sales in EU).
They have the most nostalgic trailer smoker designs around and it takes the form of a 19th-century locomotive, which almost feels like a child's toy at first glance, but they also have modern types trailer smokers to choose from. On closer inspection, though they are as good as any of the trailer smokers that we've mentioned here.
Read more: the benefits of eating rotisserie chicken
Joost Nusselder, the founder of Lakeside Smokers is a content marketer, dad and loves trying out new food with BBQ Smoking (& Japanese food!) at the heart of his passion, and together with his team he's been creating in-depth blog articles since 2016 to help loyal readers with recipes and cooking tips.