I love creating free content full of tips for my readers, you. I don't accept paid sponsorships, my opinion is my own, but if you find my recommendations helpful and you end up buying something you like through one of my links, I could earn a commission at no extra cost to you.
Learn more
Pellet grills are outdoor grills that use hardwood pellets as their fuel. They are becoming the latest trend in home grilling.
But no matter how trendy these grills may be, for most people, the bottom line will be the flavor.
If you're wondering if pellet smokers give good smoke flavor, there's some back and forth on the matter.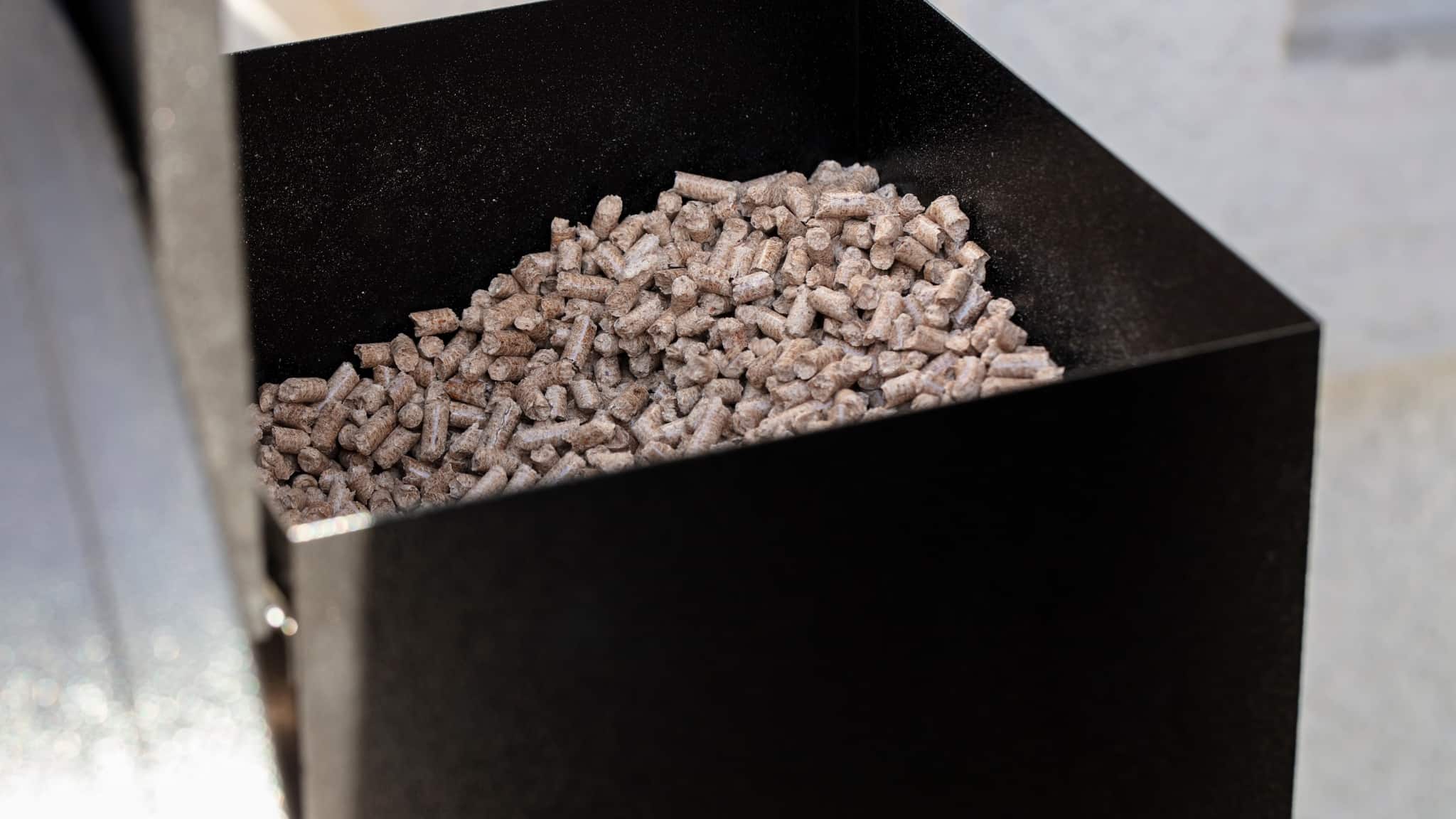 Pellet grills produce a lighter flavor profile than most other types of smokers so for flavor, you're better off choosing an offset smoker. But the ease of use is why lots of people choose a pellet grill. You can enhance the smokiness by using the right pellets and cooking method.
Read on to find out more about if and when to use pellet smokers (vs electric smokers) for your next project.
Here's all you need to know about Pellet Smoking!
I'll talk about what to look out for when buying a pellet smoker as well as the top 4 brands that are manufacturing the best ones right now.
This is a text overlay image of the original work Nottinghamshire County Council by Oregon Department of Forestry's photostream on Flickr under cc.
Summer is around the corner, it means this is the right time to dust off your old grill and enjoy cooking under the sky. Summers delights are renowned for a cool breeze, burnished sun, tranquilizing garden, and delicious barbeques.
Barbeques were invented on an island of Hispaniola with ancient indigenous tribes. They used this unique method of cooking meat over greenwood and prevent it from burning too. This method of style food originally started for meat but made aromatic flavors in various food items.
Grilling is a common method that involves cooking on dry heat, usually; this heat is applied to the food or below the food. This traditional method involves exposure of direct, radiant heat and it's mostly used for purpose of cooking meat and vegetables quickly.
With time there are new inventions and changes in the conventional way of cooking. Nowadays there are various appliances that have proved a beneficial and effective source for cooking food.
BBQ Smoker with the pellet is one such example of the latest technology cooking food appliance, and you won't need a chimney charcoal starter for these!
Now I like to smoke meat in advance for large parties and then maybe do some grilling when the party is actually underway, so my top choice for a pellet smoker is definitely this Camp Chef SmokePro DLX Pellet Smoker and Grill combo. Let's take a quick look at your top choices:
Here's some more background information and I'll get right into the top 4 pellet smokers for your situation.
Pellet smokers innovations and digital panels
Pellet grills or pellet smokers are outdoor cookers or stoves that are a mixture of charcoal smokers, gas grills, and kitchen ovens. Long ago these were fuelled by woods or charcoal for ignition of heat.
But nowadays with the advent of technology equipment are based on the electronic panel. Digital electronic panels provide you with ease of setting your grill with just one touch. Pellet grills have been initiated 30 years ago but now they have been back with the resurgence.
There is little modification as they can work as a grill or a smoker. Pellet grills are popular and mostly used in the market. It is one of the finest methods for BBQ pellets and satisfies your cooking needs.
There are dozens of flavors and blends available in the market; you can choose one as per your choice.
Also read: making smoked nova salmon at home is easy using this recipe
How do pellet smokers work?
Wood Pellets are small ¼ inch piece composed of hardwood and have an appearance of a pill. Due to their small size, they are clean and quick to burn which later converted into fine ash.
Wood flavors come in a variety of ways like oak, cherry, apple, hickory and many more.
As per studies, the wood pellet grills are the hottest trends in the cooking industry. Smoking meat requires your attention and monitoring at the right temperature while cooking or smoking time.
It is better than charcoal and offers a primal flavor of wood smoke just with turning of a knob. Pellet grills work on standard electric current. The digital controls are the basic component that controls the flow of smoke and heat at a given time by modifying the flow of pellets.
All you need to plug the grill and set the temperature, an auger delivers pellet to pass through a hopper to a cylindrical fire pot covering the igniter rod. The rod becomes hot for several minutes and ignites the pellets.
Heat and smoke from the pellets are diffused continuously with the help of blower fan as well as metal plates located under the grill gate. You can both smoke and grill over wood pellet fire.
Features of BBQ Smoke Pellet grill
The digital panel managed the internal temperature and flow of pellet.
The motor evokes the auger that feeds pellets to the Firebox.
A hot in the firebox burns the pellets and fan provokes them burning
A role of fan inside is to maintain appropriate pressure and prevent burning in the hopper.
When all these criteria met, the air flow invokes the wood burning fire and circulates the smoke throughout the grill.
Pellets are inexpensive, they are renewable resources and produce lesser ash comparing to charcoal smokers. Pellets come in a variety of hardwood flavors.
The cookers consume about 1.5 to 2.5 pound of pellets per hour if used n 225 degree Celsius. 10 pounds of pellets produces just ½ cup of ash all the rest is transformed into energy and combustion gases.
Wood Pellets Grill vs. Gas vs. Charcoal Grills
Due to various models and choice available in the market, a consumer is always confused about which one to buy best. The purchasing of a grill unit can be overwhelming.
There are a vast variety of options available and can be heated by types of materials like propane, natural gas, charcoal, infrared, wood, and even electric ones. Some grills are good for searing a steak while others are fine for baking.
Wood pellet grills are better comparing to charcoal and gas. As they have many advantages like ease of use, appropriate consistency, versatility and above all is the taste.
You will not get all these with charcoal and gas grills. There is no comparison of hardwood flavors that are available in variants, also their Pellets grills simple controls, masters, your cooking techniques like a pro.
You don't have to stand around the flipping food or need a labour-intensive start-up, all you need is to welcome flavor and convenience.
Pellets deliver nice sear by exposing food to the flame while in charcoal and gas you will not get this convenience.
There may be chances that you or someone you know is planning to buy a new smoker this year but not sure about it. We can help you in shortening your time and make an informed decision by knowing about the best pellet smokers for your needs.
Beyond models and shapes, there are many things to look while buying smoker grills. When buying Pellet Grill Smoker you should keep following points into consideration:
Pellet Delivery System
The Combustion system
The grills and construction
Digital controls – the technology behind perfect smoking
Easy to Clean Features
Guarantee
Also check out our full article on pellet vs gas grills with a real in-depth comparison of the pros and cons
Best pellet grills for smoke flavor
Best cheap budget pellet smoker: Green Mountain Davy Crockett
Small and easy to carry and use. Ideal for camping trips and roadtrips and wifi enabled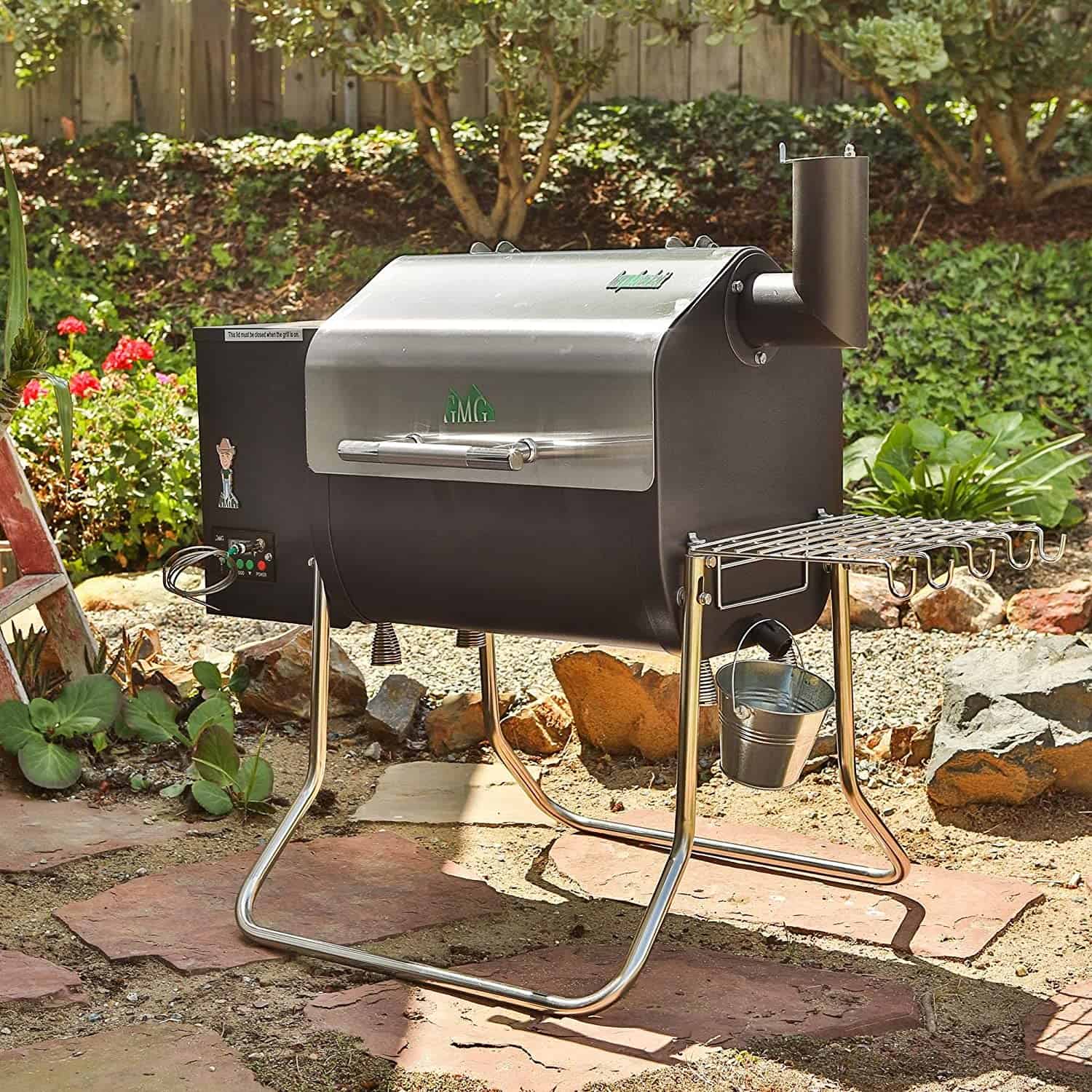 If you are not so big family and decided to own a grill, then this is best for you. It is ideal for small families, campers and RVer's. The Green Mountain comes in size of 12″ X 18″ cooking surface that is relatively compact and weighs about 60 pounds.
It is easy to carry and use. With the technology of electrical outlet by packaging, grills let you ignite the grill even with a cigarette lighter in your car or with help of a generator.
It generates heat and smoke with wood pellets placed in the hopper. There is no need for fuel and the steam presented leaves the food moist and the smoke provides flavors to it.
They have a capacity of providing accurate heating between 200 Degree and 550 F. Also, it does a decent job of smoker and grill along with various high tech features.
It is WiFi enabled for remotely controlling temperature while you do other things. You can set time and temperature accurately with Wifi. WiFi enable devices to eliminate the need of frequent monitoring food for right cooking.
It is portable and budget friend grill makes an amazing choice for many consumers.
Overall best pellet smoker: Camp Chef SmokePro DLX
Grill and smoker combination and the ideal size for backyard parties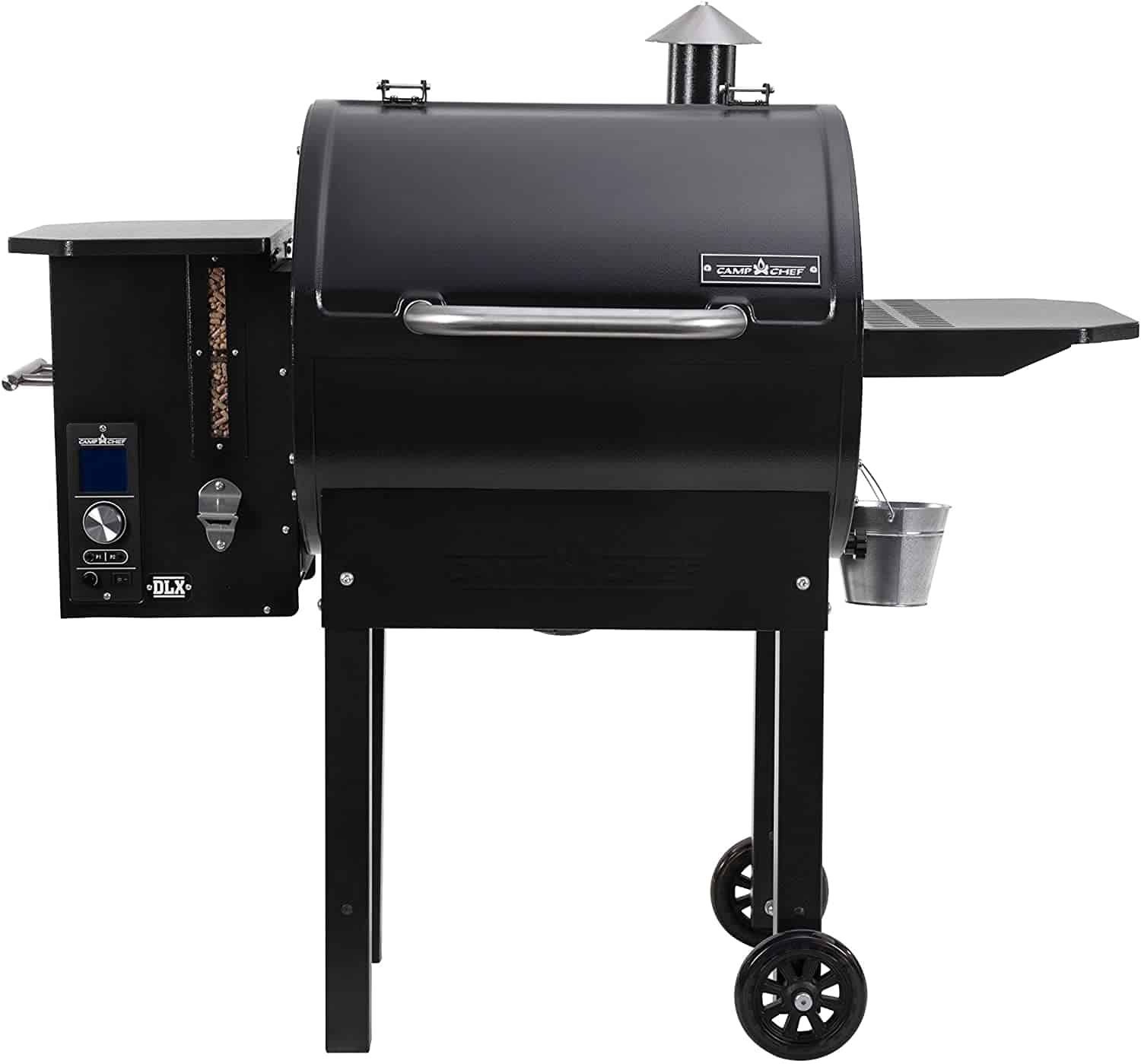 Take your backyard grilling to a height of delicious smoked meals. With Camp Chef Smokers DLX that is a combination of grill and smoker. What can be better when you get multiple purposes in a single device.
You can get smoked and grilled meats, bake, braise and sear food with this amazing backyard cooker. It is easily adjustable on most decks and does not require a spacious amount of your backyard.
It is economical and eligible for a user who loves to cook in a backyard for parties, get together or simply hang out with friends. The compact space gives you apartment decks and gives you multiple options for cooking.
It includes grilling, smoking, searing, baking and braising. The digital temperature control allows you to cook precisely every time whether it be a smoked vegetable recipe like these or delicious meat. It includes:
Ash Cleanout System
Hardwood Pellets
Cooking Surface
Stainless Steel Meat Probe Included
Utility Rack
Full cooking heat from 160 F to 500 F
Silver vain Finish
Convenient port for the meat probe
Roller wheels for portability
Grease Management system
Digital temperature control with the selection system
The unit is durable and can withstand various weather conditions. Smart Smoke Technology provides maintains right temperature range for most smoke possible.
Cook from smoked meats to grilled dishes with this powerful hi-tech device. Set it and forget it for perfect meats every time.
Check out some more reviews here
Best professional pellet smoker: CookShack PG500 Fast Eddy's Grill
Powerful smoker at high temperatures or slow cooking of meat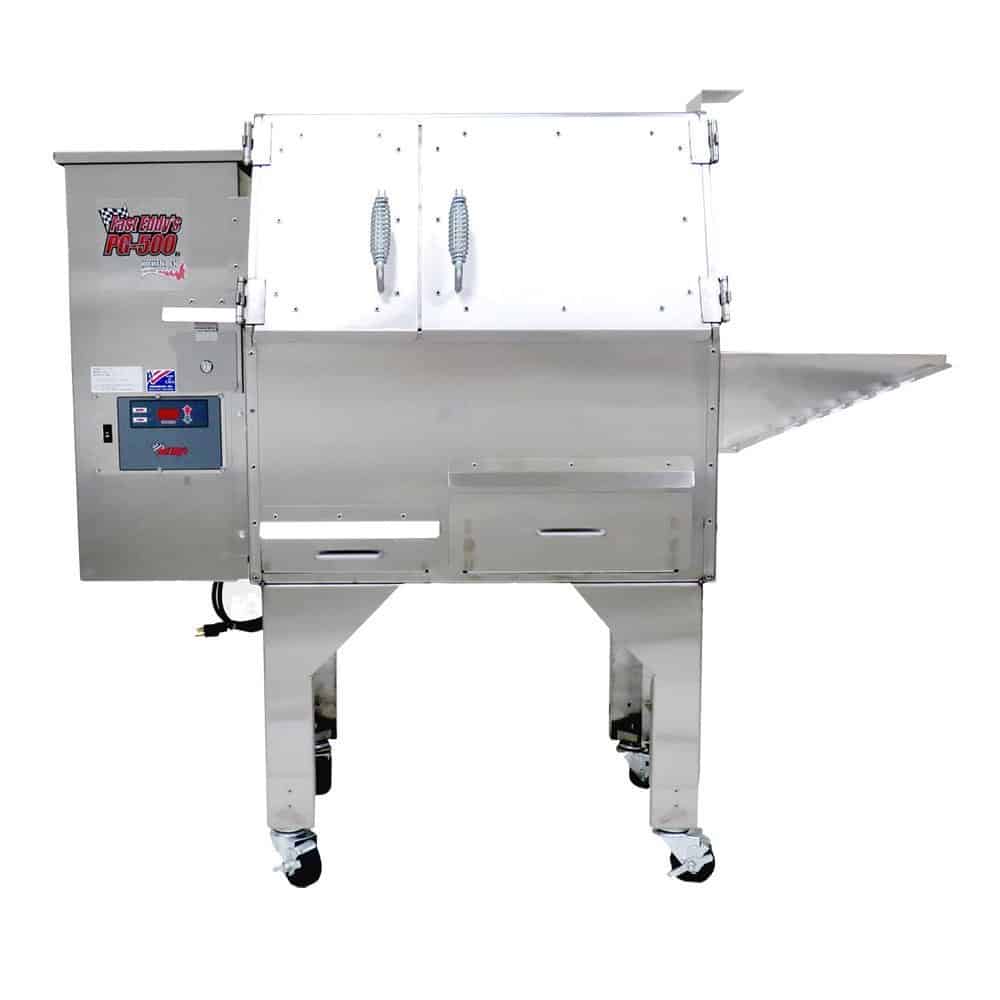 Are you in search of pellet cooker that works as powerful smoker and griller too? The Fast Eddy's Cook Shack PG500 Pellet Grill can perform this task efficiently.
Searing at high temperature to slow Barbecue, this unit can do wonder. It is made in the USA and comes with a stainless steel grill that is easy to use and clean.
This is reasonably priced quality construction pellet grill. It has a small but very powerful direct grilling area for the cooking the best type of meat.
Don't go on its structure, its direct grilling space you can cook at a very high temperature. It is large capacity pellet grill that focuses on a smoker.
There is a large upper rack that allows cooking chamber and front open doors ideal for making lip-smacking low-temperature barbecue smoking. The controller gives accuracy and allows you to monitor food temperature.
As it contains doors that are tightly closed allows excellent airflow inside proving it efficient smoker that can be relied upon.
Comparing about pellet hopper, it is larger than other products. It is affordable compared to other high tech pellet grills. It can achieve 180 to 600-degree temperature range as per your food.
It has removable bottom ash catcher surprisingly they produce very little ask after a long smoke as you can read in the reviews here.
Best digital temperature control: Traeger Pro series 22 Grill and Smoker
Well known brand with great construction and easy digital controls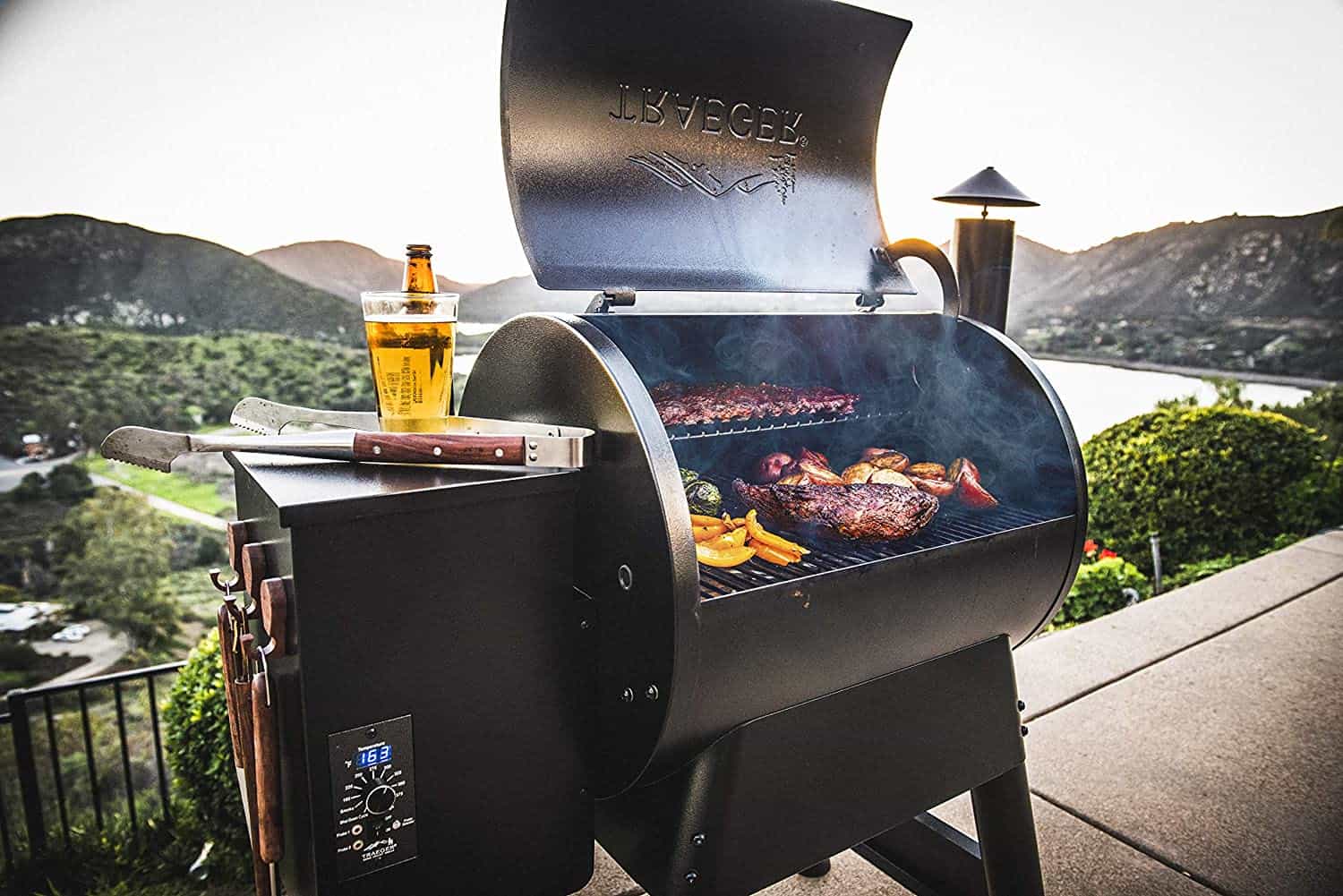 Traeger brand is well known for its high-quality hardwood pellets that deliver persistent great barbeque every time. The Lil Tex Elite is the smallest unit innovated by the company.
It comes with 418 Square inches of cooking space, it means almost 4 whole chickens can be places on its grilling space. With this device, you definitely have enough space for grilling family meals.
It is the most effective unit that works for the smoke, grill, braise, roast, and bake. The sturdy construction with several features makes this griller opt for an easier life. With the control feeding mechanism, you don't have to move pellets manually into the auger.
The digital control panel justifies the temperature within +/- 20 degrees and provides low smoke or searing. It is assembled in a smart way that the ignition either turn off and on just at a push of a button.
The constant years of practicing and improving techniques would make Traeger one of the best outdoor cooking equipment. The grill delivers clean and efficient fuel consumption.
It is easy to clean up and good for grease management. With this device, you can set and forget for various styles of cooking for appropriate results. The unit runs on wood pellets that come in various flavors.
They are a comparatively better option from Gas or Charcoal. Traeger achieved the wood-fired taste and versatile barbecue cooking. The size is compact and could easily fit in small space.
Do not leave or cook in cold temperature or you would end up struggling with your cooking.
Also, read more on the Traeger pellet grill models and compare them with pit boss and camp chef
Do pellet smokers produce enough smoke?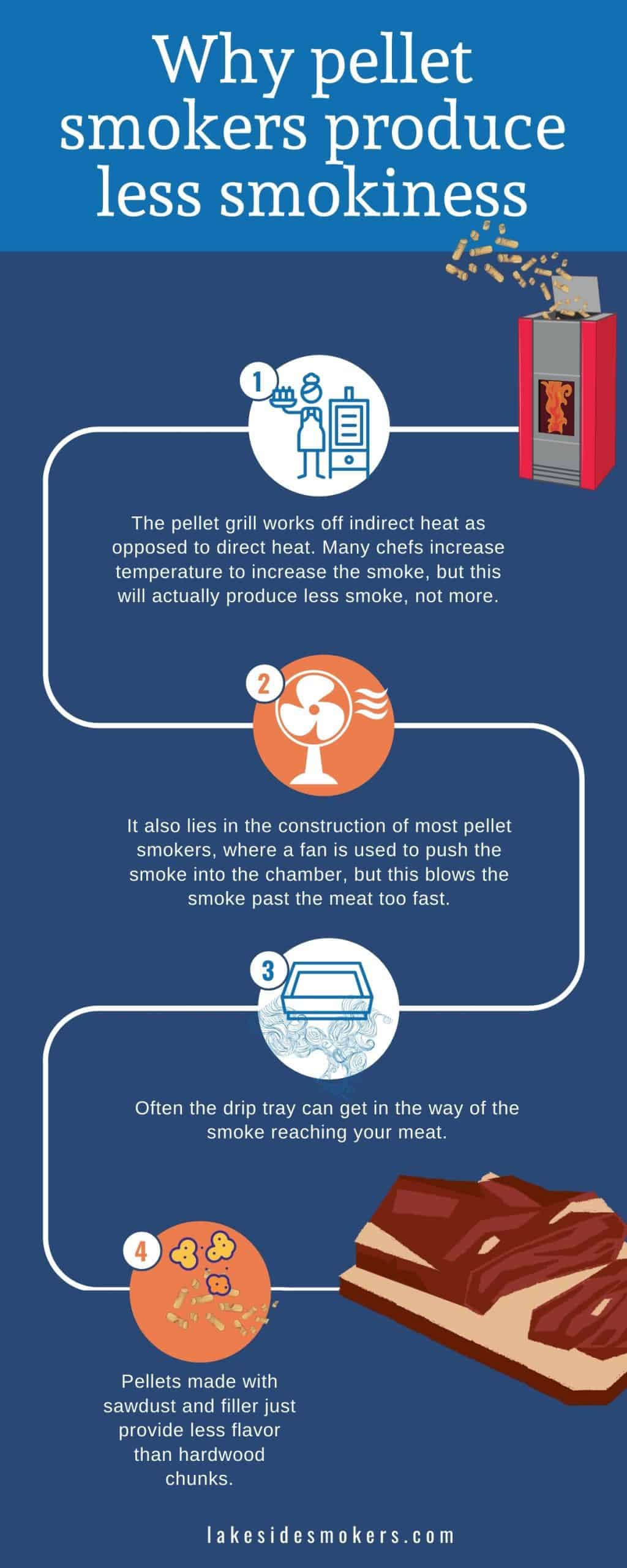 The main reason why a pellet grill does not give as much of a smoky flavor as other types of grills, such as offset grills, is because it doesn't produce as much smoke.
This is due to the grill working off indirect heat as opposed to the direct heat other grills provide. Many chefs increase the temperature of the grill to increase the smoke. The funny thing is, with a pellet grill, increasing the temperature will actually produce less smoke, not more.
It also lies in the construction of most pellet smokers, where a fan is used to push the smoke into the chamber, but this blows the smoke past the meat too fast.
Often the drip tray can get in the way of the smoke reaching your meat.
Another reason is that the pellets just produce a less smoky flavor than hardwood because they contain sawdust and wood scraps which are then stuck together with a filler like cornstarch. Most smokers will agree that it's not the same as complete natural wood chunks.
The type of pellets do matter and I'll get into that but the pellet smoker you choose does matter as well because some overcome some of the construction drawbacks of these types of smokers.
Which pellet grill smoker produces the most smoke?
Pellet grills offer a lot of flexibility and ease of use so I decided to look a lot into this if you can overcome most of the drawbacks. And the best smokiness I've found coming from a pellet smoker is from the Traeger line of grills, this Ironwood 885 to be precise: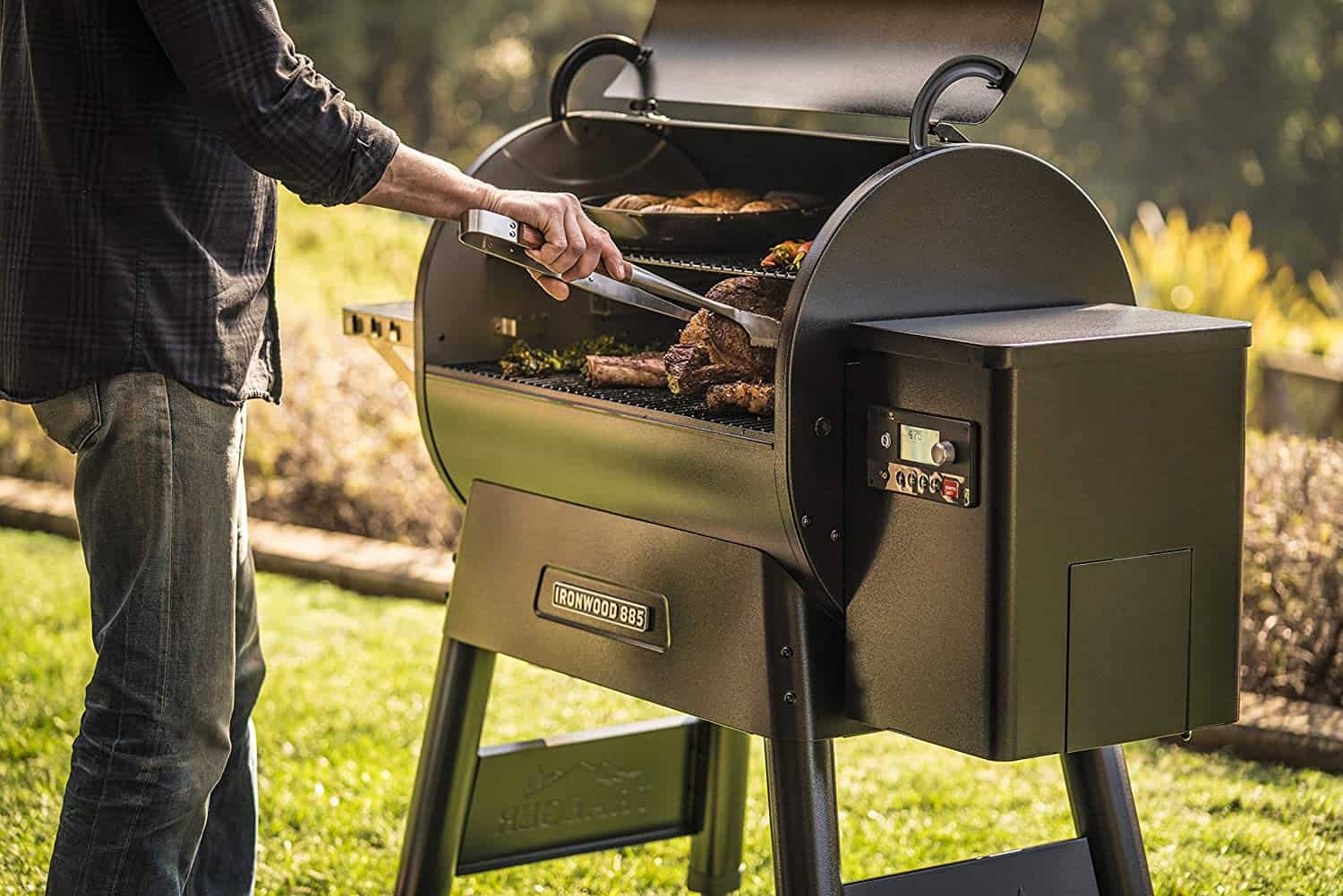 The reason being that this particular model has a super smoke mode, a patented design by Traeger that overcomes the absence of smoke of pellet grills that work at very precise temperatures, which cause the pellets to burn to cleanly. Super smoke mode isn't available on all Traeger models but it is on these 5:
Ironwood 650
Ironwood 885
Timberline 850
Timberline 1300
Silverton 810
I've got a full review of the top Traeger models right here if you want to take a closer look. Plus you can even get more smoke, or a smokier flavor from any type of pellet grill while cooking. I'll provide some answers to that question later in the article. But first, let's take a look at how a pellet grill works.
How does a pellet grill work?
A pellet grill is kind of like an electronic version of an offset smoker. Like an offset smoker, both have fireboxes that are connected to where the grilling takes place. However, the pellet grill relies solely on wood pellets to give food a smoky taste whereas an offset can use charcoal as well. It also has an LCD display that can be used to control the temperature. This feature makes it a more convenient choice than an offset smoker as it requires less babysitting. However, even though it may be easier to use, many people will tell you it lacks that smokey taste that you can only get from an offset.
Offset smoker vs. pellet grill: pros and cons
When comparing pellet grills to offset smokers, here are some points for and against.
Price: Offset smokers are generally cheaper than pellet grills.
Fuel efficiency: Pellet grills are more fuel-efficient.
Ease of se: Pellet grills' set and forget technology means grilling is low maintenance.
Even cook: A pellet grill maintains temperature throughout the grill making for a more even cook.
Durability: Offset grills tend to be more durable.
Space and versatility: When using an offset, you can cook food over the fire in the firebox or over the charcoal to get a big grill area. You can also grill or smoke food. While some pellet grills will grill food, for the most part, you will be limited to smoking.
Beginner-friendly: Pellet grills are beginner-friendly while offsets take some skill to use. Requires electricity: Pellet grills require electricity so you have to use them near an energy source. Offset grills work anywhere so you can take them with you on camping trips, to the park, etc.
Taste: It is difficult to get a great smoky flavor from a pellet grill.
When you compare the two, it's obvious they both have their shares of pros and cons. If it comes down to taste, you may be better off with an offset. But if you'd rather go for convenience, a pellet grill will be more your speed.
Offset smoker vs. pellet grill: what people are saying
The pellet grill vs. offset smoker debate is a topic of much discussion. For instance, if you look at this thread on BBQ Brethren, you will find it's an issue cooks feel strongly about. Many of the hardcore grillers and smokers on this forum have both an offset and a pellet smoker in their possession and use them for various applications. Here's what one man had to say:
There is a definite difference in smoke intensity between the two. Obviously, the wood smoker places more smoke on the food being cooked. I use the wood smoker for cooks between 5 and 8 hours. I cook chicken, ribs, etc. within that time period. I use the pellet smoker for very long cooks like brisket and pork butt. The major reason that I do this is because I can leave the pellet smoker unattended for 18 to 24 hours except for one refill of pellets until the meat is ready to remove. With the wood smoker, I have to check fuel and air flow every hour in order to keep the temperature where I like to cook the meat.
How to get a smoky flavor from a pellet smoker
While it's difficult to get a deep smoky flavor from a pellet smoker, it's not impossible. In order to get a stronger profile, it is best to grill at lower temperatures for longer amounts of time. For best results, start your grill at around 180 – 190 degrees for the first few hours. Lower temperatures are ideal because they create more smoke. Once enough smoke is created, increase the heat as necessary to make sure you get the right cook.
The type of pellets matter
The type of pellets you use will also come into play in creating a strong flavor profile. You want a brand that makes a high-quality pellet so it will infuse your meat with a great smokey flavor. Here are some brands that are recommended.
What are the best pellets for smoke flavor?
Just like any type of wood used to smoke, pellets come in a variety of flavors. You may be able to find exotic flavors depending on the brand you use, but here are some basics.
Hickory: Hickory has a strong, bacon-like flavor that can overpower some meats. It is best for flavorful meats like pork or ribs.
Maple: Maple has a mild, sweet flavor. It works well with poultry and white meats. It can also provide a nice flavor to vegetables and cheeses.
Pecan: Pecan has a nutty flavor that's stronger than most fruitwoods. It's great for poultry but it will go well with almost any meat.
Mesquite: Mesquite has a strong earthy flavor that holds up well on darker meats. It burns very hotly.
Apple: Apple has a mild, sweet, fruity flavor. It is great for smoking poultry, seafood, pork, and other types of white meat.
Because pellets are small and fit into the storage container in the grill, it's easy to blend flavors to get the taste you desire. While choosing the pellets that are right for you will be a matter of taste preference, they will also affect how smokey the taste is. Hardwoods not only have a stronger flavor, but they also burn slower and longer, to produce more smoke that will make meat more flavorful. They may be your best choice if you're trying to get a smokey taste from your meat.
Products that can enhance the smoke flavor
In addition to using the right wood and cook methods, there are also products you can buy that enhance smoke flavor. For instance, Mojobricks are small cubes that can be added to grills to provide a deep smokey taste. These are all-natural compressed hardwood squares that contain no chemicals or binders. The Amazen Tube Smoker is also recommended. You can put this tube directly on the grill and it will produce extra smoke giving your meat that rich taste you are looking for.
Find that one & more pellet & wood chip smoker boxes & tubes reviewed here!
A pellet smoker may not provide the smokiest taste, but its ability to burn clean and cook at a fixed temperature makes it a low maintenance option. And when you consider that the right cook methods, woods, and added products can help you achieve a richer flavor, it may be a worthwhile investment. Will you be using a pellet smoker for your meat cooking adventures?
Summing Up
Whether it be meat, barbecue, hamburgers, pizza or baking all can be achieved with multi-purpose pellet grill. The BBQ pellet grill is a convenient source of a gas grill that add aroma and flavors to food.
There are various manufacturers in the market, but choose the trusted one before investing a good amount for pellet grills. The digital temperature control gives you no babysitting.
You can set the temperature and go while the food cooks. Wood pellets are easily available in the market; if you buy in bulk you get a cheaper price.
On a high average a pellet grill can consume as much as 2 pounds of pellet per hour. BBQ Smoke Pellet grills can cost average from $500 to $9,000 USD.
How about a recipe idea? Check out these Pellet Smoker Baby Back Ribs | Scrumptious Recipe & Pellet Choices.
Joost Nusselder, the founder of Lakeside Smokers is a content marketer, dad and loves trying out new food with BBQ Smoking (& Japanese food!) at the heart of his passion, and together with his team he's been creating in-depth blog articles since 2016 to help loyal readers with recipes and cooking tips.