I love creating free content full of tips for my readers, you. I don't accept paid sponsorships, my opinion is my own, but if you find my recommendations helpful and you end up buying something you like through one of my links, I could earn a commission at no extra cost to you.
Learn more
No outdoor patio or backyard is complete without a smoker. Just imagine all the great dishes you can cook on a grill.
Wood pellet grills are an excellent investment for your home since they are multifunctional. 
These grills can function as smokers, as well as standard grills, and this makes them an exciting accessory to have at your home. You'll be able to serve up steaks, seafood, smoked meats, sausages, hamburgers, veggies and so much more!
Let's look at what makes the Pit Boss brand unique and review some of their top models.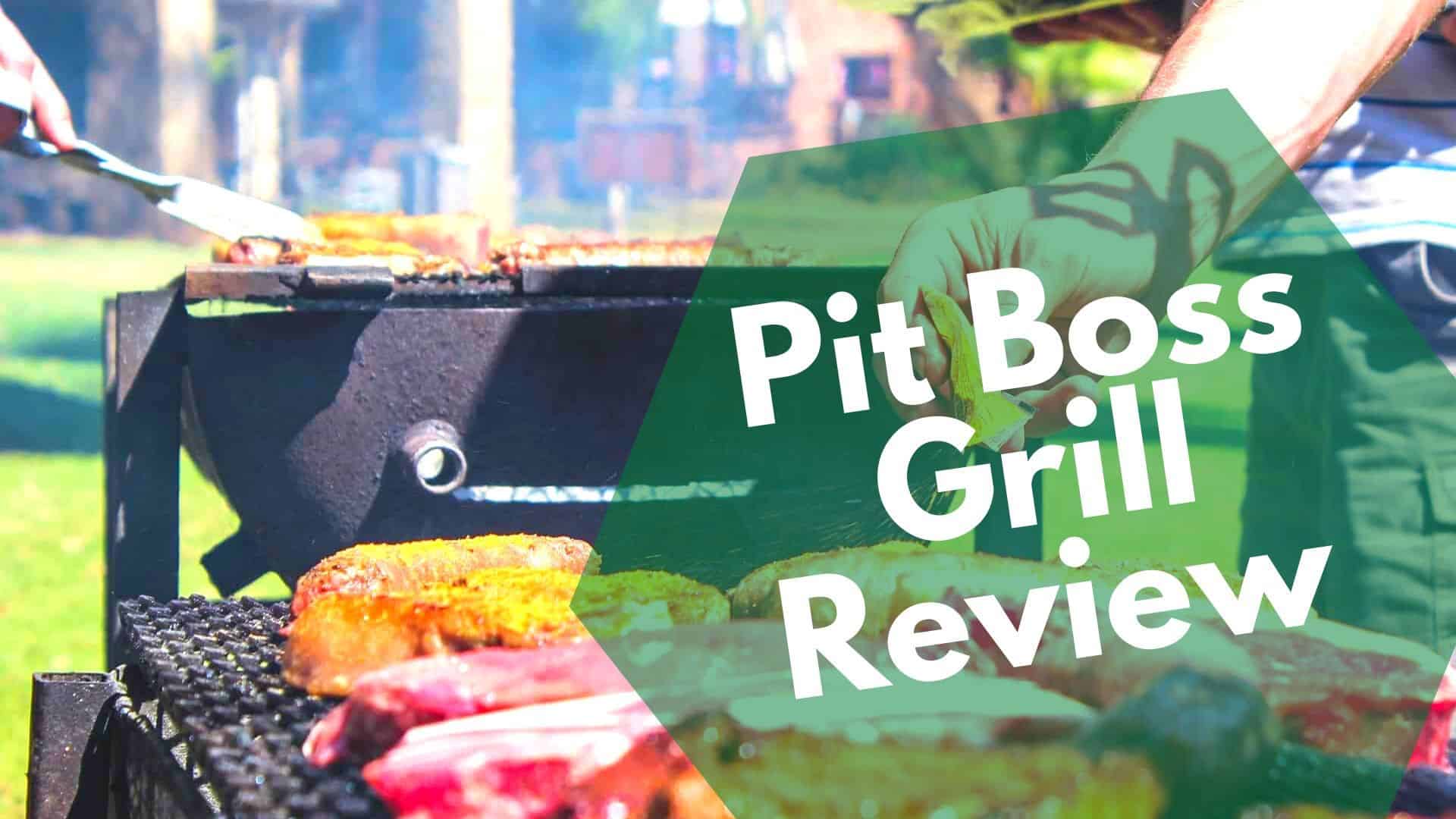 Depending on the type of grill that you buy, you can prepare smoked dishes such as sausages and brisket while making hot dogs, burgers, and other dishes on this grill at the same time.
This way you can cater to all and everybody can eat their favorite dish!
Wood pellet grills are great for preparing family dinners in the summer season, for parties, as well as for special occasions and celebrations.
When buying a wood pellet grill, most people don't take into consideration the benefits they will get out of the grill or even how long their wood pellet grill will last.
However, if you are a smart shopper, then you must research how to select the best grill from the top manufacturers.
Pit Boss is one of the top wood pellet grill manufacturers and has been around since 1999. 
My favorite model is this Pit Boss 72700 S Wood Pellet Grill for its size and upgraded cart extension.
Check it out in their promo video:
To assist you with choosing a wood pellet grill, we have created a comparison chart of the top Pit Boss models. This will show you how Pit Boss models differ from each other, so you can choose one that suits your needs.
Let's look at the top models you can get from Pit Boss:
Also check out my post on the best bbq smoker attachment for a smoker tube on your existing BBQ
What makes Pit Boss grills stand out from other brands?
Wood pellet grills have the appearance of standard BBQ grills. However, some come with a separate firebox that allows you to make smoked meats, and will also allow you to prepare smoked veggies as well as other ingredients.
Most wood pellet grills, including Pit Boss, have good reviews from shoppers. However, it is essential to look at the amazing features of these grills and see what makes them different from each other. 
The Pit Boss brand
Pit Boss is a trusted brand by consumers. Pit Boss is a subsidiary brand of Dansons Inc, who are the manufacturers of the well-known Louisiana Pellet Smokers.
When it comes to mastering backyard grilling, the rookies highly recommend Pit Boss for their quality products and affordable prices.
With a pellet smoker from this brand, you are getting lots of value for your money. 
Pit Boss is a well known American brand. Their headquarters are located in Phoenix, Arizona. 
Is Pit Boss owned by Traeger?
No, as mentioned above, Pit Boss is owned by Dansons Inc. Traeger Grills is owned by Traeger. The Traeger headquarters are located in Salt Lake City Utah.
Are Pit Boss and Louisiana grills the same thing?
The Pit Boss and Louisiana Grills are owned and manufactured by the same parent company Dansons Inc. However, the Pit Boss and Louisiana Grills are different models. The Louisiana grills are the high-end, or premium version of the Pit Boss. 
So, Does Louisiana Grills make Pit Boss? 
No. The Louisiana Grills and Pit Boss are two different brands owned by the same parent company. 
Price range of the Pit Boss grills
Price is a key consideration for every customer since we are all on the lookout for a grill that fits our budget.
Although standard charcoal grills and propane grills cost around $100 or less, you will have to spend a little bit more to find a grill that has both smoker and grill functionalities.
Some of the top Pit Boss grills will cost you no less than $1,000.
When you compare these grills with other brands and look at the prices, you will realize that Pit Boss grills are the best choice for you.
Most Pit Boss models don't cost more than $1,000, and the most common models have an average cost of $500 – $700. If you are on a tight budget, then you shouldn't consider investing in a Pit Boss grill.
Before you go ahead to buy any wood pellet grill, it's important to consider checking the prices of Pit Boss grills to see if their models fit your budget.
Construction
When it comes to choosing a wood pellet grill, you need to understand that the construction is as important as the price—in fact, it's even more important.
Regardless of the money that you need to spend buying a wood pellet grill, you need to buy a grill that will last for several years, not just one or two years.
How long do Pit Boss grills last?
Each grill comes with a 5-year standard warranty for all parts and components. But the rookies will tell you they've had their wood pellet grills for years!
The grills will last you a decade at least if you store them properly and clean them as instructed. 
Should you leave your Pit Boss outside?
Note that if you leave your grill outside, you should cover it properly to avoid water damage. Maintaining and caring for your grill will keep it in tip-top shape for longer. 
When it comes to design and construction, not many models can match the Pit Boss. Most of the grills come with amazing features like cast-iron grates, with a non-toxic coating that prevents your food from sticking to the grates.
In addition, the fireboxes come with similar materials. Although the other wood pellet grills come with similar elements, most of them look flimsy, and most of them will not meet your smoking and grilling demands.
Where are Pit Boss grills manufactured? Are they made in China?
The grills are manufactured in Canada and China, depending on the model. However, customers are generally pleased with the superior quality of these wood pellet smokers.
Why not make something other than meat? Here's a smoked nova salmon recipe
Temperature range
Most of wood pellet grills have the same temperature range—including Pit Boss and Traeger.
These two grills have a minimum temperature of 100 degrees F and a maximum temperature of $500 degrees F range. However, other models have a lower temperature range.
What is the smoke setting on Pit Boss smokers?
Smokers come with a factory preset temperature of 160-190 degrees on smoke mode. This temperature is ideal for smoking most meats. 
The smoke setting or P setting is 225 degrees Fahrenheit. Note that P settings are for smoking, not cooking.
Do Pit Boss grills have WIFI?
Models such as the Pit Boss 700 FB do not have WIFI connectivity. Only the latest models have an integrated WIFI system.
Their platinum series grills are the most upgraded models. They come with WIFI, Bluetooth, and can be connected to the Pit Boss APP.
How to use the Pit Boss APP
There is a SMOKE iT Controller that you can connect to the Pit Boss app, here's how to do it. 
Step 1. Turn on the Bluetooth function on your iPhone.
Step 2. Open up the Pit Boss App (download it on the Apple App Store).
Step 3. Click on the Grill Icon.
Make sure the grill icon blinks. 
Step 4: Enter your 'zone name' and click 'Save Zone'. 
Step 5: Select your 'zone' and your 'grill model'.
Be careful to choose your exact grill model or it won't work. 
Step 6: Name your grill and hit 'Connect'. 
Choose a name that is easy to remember, like the model number, for example. 
Step 7: Select the 'Grill' icon.
Now you can control your grill from your iPhone!
Cooking space
Pit Boss wood pellet grills have a remarkable cooking space, which makes them the best choice for preparing your entire family's favorite foods.
You can also use wood pellet grills to prepare food in case you have a big party or are hosting guests.
In addition to this, they also have an amazing amount of space in their firebox. The interior space is also large enough to fit food for several people.
Also, some other Pit Boss grills come with less cooking space, which makes ideal for people with small families—and these grills will save you a considerable amount of fuel and money.
Hopper size
The hopper, also known as a wood pellet hopper is a large container or canister, which holds wood pellets on the grill. As your grill heats up, the wood pellets normally burn, thus creating smoke.
The more the pellets your hopper can hold, the more the smoke you will get without making any refill.
Most of the Pit Boss wood pellet grills come with a hopper that can hold around 10 or 12 pounds of wood pellets.
However, other models can hold more wood pellets. Pit Boss grills have an ash collection system, which collects ash from the wood pellets.
The advantages of owning a pellet grill
You may be wondering why people are so fond of pellet grills like the Pit Boss models. These grills work in a similar way to convection ovens.
Convection cooking surrounds your meats and veggies with the hot air and smoke, ensuring the food is cooked thoroughly.
Since the grills are smokers, they will infuse your food with the wood aroma of your pellets. So not only will your food taste smoky and rich, it will keep its moisture and juiciness. 
Let's look at the different models of Pit Boss wood pellet grills
Pit Boss 72700S Pellet Grill with Upgraded Cart
The Pit Boss 72700S Pellet Grill is the top model wood pellet grill that you will find out there in the market, and it comes equipped with an upgraded cart.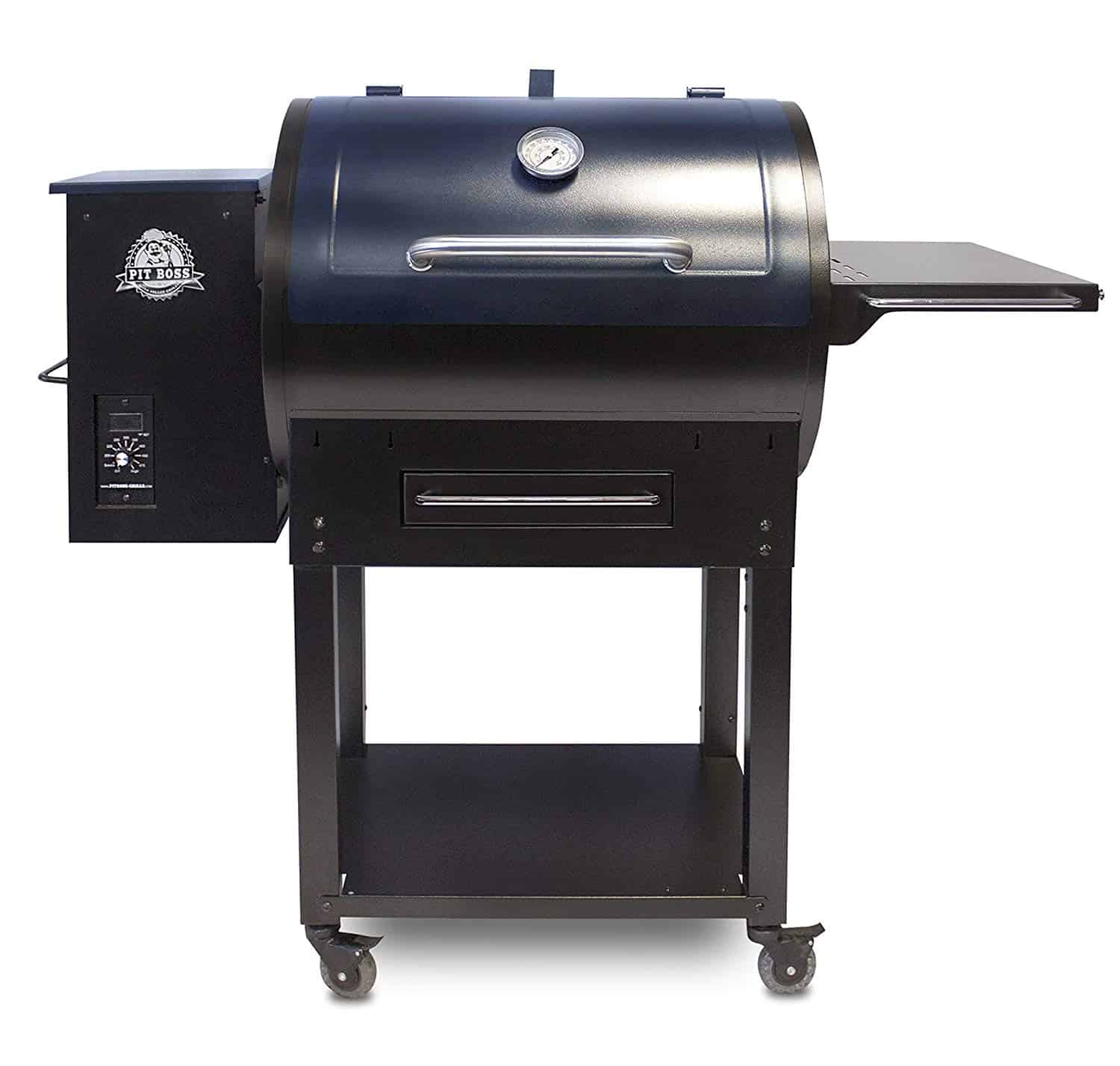 This cart is now better and more dependable compared to the previous carts. It comes with rugged wheels for moving or pushing this grill across different types of floors and small spaces for storage. 
Even though the Pit Boss 72700S Pellet Grill comes with a standard temperature knob, it also has a digital screen, which assists you in monitoring the temperature that you've selected.
The Pit Boss 72700S Pellet Grill has cast-iron grates, which are coated with porcelain, and they sit directly above the heat, thus allowing for even cooking.
These grates can also be positioned a bit further from the heating source when you want to warm your food. This Pit Boss grill model will give you a cooking space of around 700 square inches.
Notable features:
Porcelain-coated cast iron grids
Fueled by 100% natural wood pellets
700 sq. In. Total cooking surface
Digitally controlled burn system
Upgraded cart with locking caster wheels
Check out the latest prices and availability here on Amazon
Pit Boss 700SC Wood Pellet Grill
This is another amazing wood pellet grill from Pit Boss that will give you good value for your money.
The Pit Boss 700SC grill comes with a 700 square-inch cooking surface, and it also features and additional cabinet at its bottom, which allows you to store extra ingredients and supplies, as well as your cooking equipment.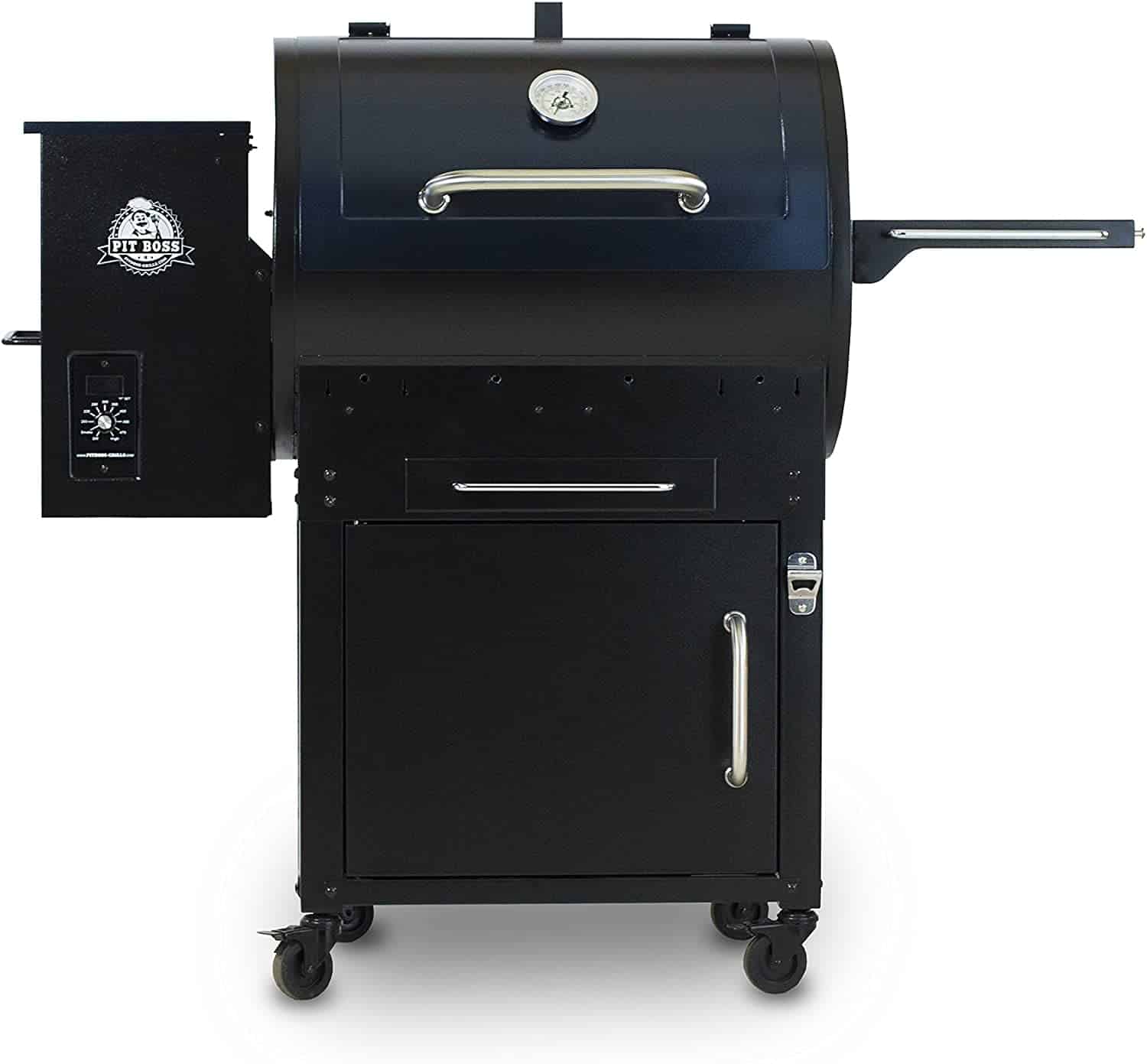 Another amazing feature added to this grill is a bottle opener, for popping out your beer bottles as you grill.
The Pit Boss 700SC has an in-built flame broiler, which makes it easier to prepare burgers that taste like the restaurant-grade burgers.
With the flame broiler, you can also cook delicious chicken and pork dishes. 
Its caster wheels make it easier to move the grill around, and they slide very well on different floors, so they are easy to maneuver. 
In addition to this, the wheels have a locking mechanism, which assists in keeping the grill stable as you grill your favorite meals.
Additional features:
700 sq. In. Total cooking surface
Digitally controlled burn system
Upgraded cart with cabinet enclosure and locking caster wheels
Flame broiler
Fueled by 100% natural wood pellets
This model is available here on Amazon
Pit Boss Grills 72820 Deluxe Wood Pellet Grill
This is another amazing grill from Pit Boss that comes equipped with all the features that you need to reduce your preparation time and work.
The Pit Boss Grills 72820 Deluxe wood pellet grill comes with a bottle opener for opening bottles, a side table for food preparation, which also serves as a serving tray whenever you want to serve the food you've been grilling.
It has a copper-coated lid, which keeps smoke confined inside the smoker, and this ensures that every meal comes out with the required amount of smoke flavor.
The Pit Boss Grills 72820 Deluxe is constructed with 16-gauge steel and comes equipped with a flame broiler. It also has an automatic cool-down feature which assists in cooling down the internal temperature when you turn off the grill.
Notable features:
Deluxe features include copper finished lids, a flame broiler, and a bottle opener
Dial-In digital control with led read-out
100% all-natural hardwood pellets
Automatic start and cool down
Heavy-Duty 16 gauge steel construction
Check the latest prices here on Amazon
Pit Boss 71820FB Pellet Grill with Flame Broiler
The Pit Boss 71820FB Pellet Grill comes with two large wheels on its bottom, which makes it easier to move around the grill, as you would move a wheelbarrow.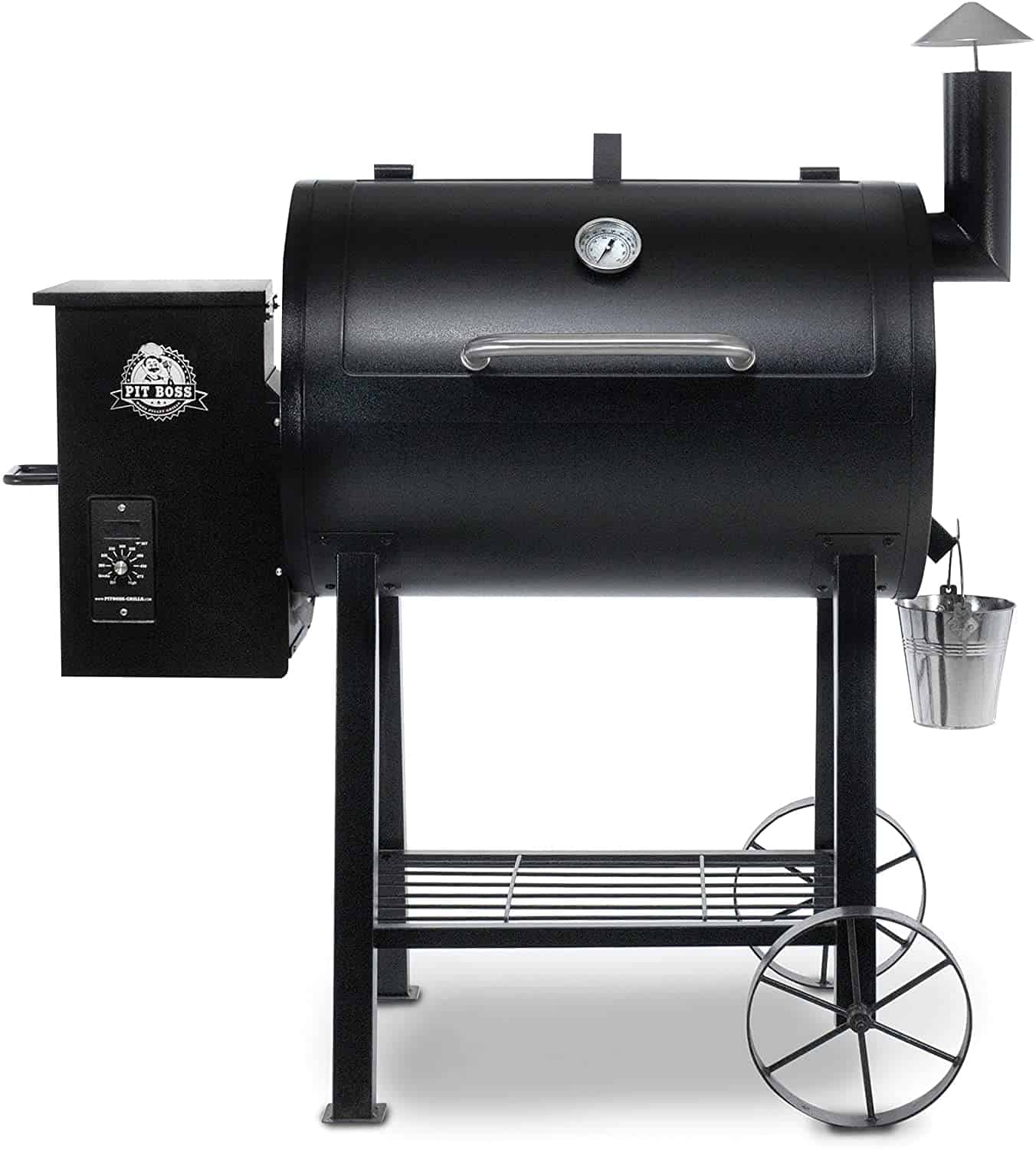 In addition to this, the grill also features two straight legs, which add more stability to grill and grates as you grill your favorite dishes.
Moreover, the Pit Boss 71820FB Pellet Grill comes with a built-in flame broiler. This allows you to move your dishes closer to the flame and get a great sear. The broiler helps to lock in all the natural juices of the meat and makes it flavorful. 
One amazing feature about the Pit Boss 71820FB Pellet Grill is its remarkable temperature range of 180 – 500 degrees F, which allows you to grill, smoke, bake and even sauté.
This wood pellet grill has a LED screen on its firebox, which allows you to monitor the temperature.
Notable features:
Flame broiler which allows open flame searing.
820 sq. In cooking surface with the porcelain-coated, cast-iron main grid
Dial-in temperature control with LED readout
180-500 Degree F. cooking temperature range
Check out this Pit Boss with flame broiler here
Pit Boss Grills 440 Deluxe Wood Pellet Grill
Pit Boss Grills 440 Deluxe wood pellet grill comes with a dial knob and digital control, which assists you in easily controlling the temperature on the grill depending on what you are cooking, as well as the temperature needed.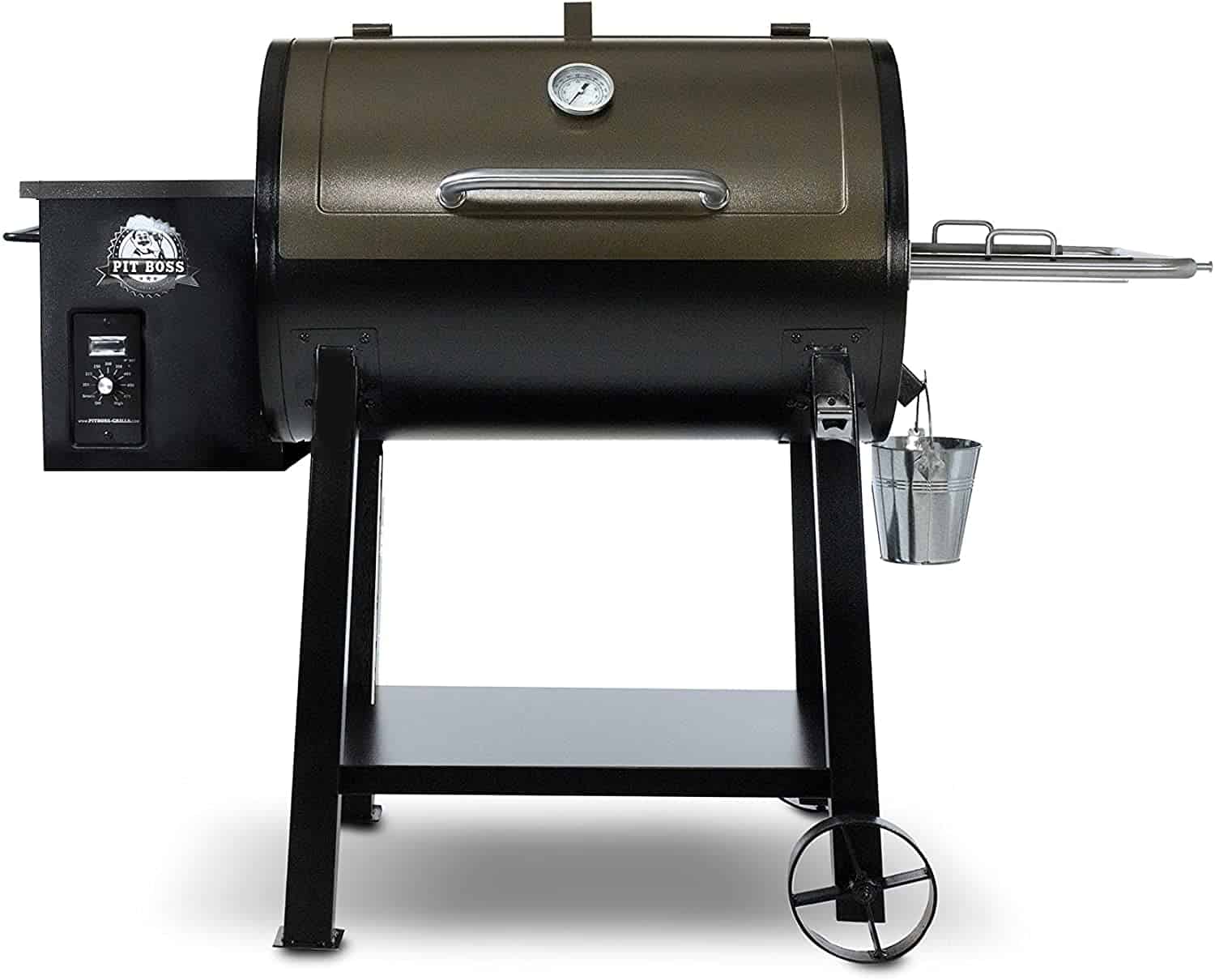 This grill comes with an amazing feature—and ash chute and attached bucket, which allows you to collect the ash from the burning wood, rather than letting it fall on the ground.
This means less clean up time and more grilling!
In addition to these two amazing features, you will also enjoy a large shelf on its bottom, which gives you additional room for storage.
The Pit Boss Grills 440 Deluxe has an automatic start button, which makes turning on the grill easier. In addition to this, it also has an automatic shutdown feature, which assists in cooling down the grill after its use.
Notable feature:
The Pit Boss Grills 440 Deluxe has deluxe features, which include two-tone black and copper finish, combination side shelf and serving tray, solid bottom shelf, and bottle opener
Dial-In digital control with led read-out for easier temperature control
100% all-natural hardwood pellets
Automatic start and cool down
Heavy-Duty 16 gauge steel construction
Cooking Area- 465 Square. Inch. Burger count Burger Capacity- 20
Check out this model here on Amazon
Tips for Meat Smoking
Consider the following tips when you are smoking meat on your wood pellet smoker:
Familiarize yourself with the meat
Make sure that you are familiar with your meat. This is very important as you can begin to study the nuances that convey the flavor as well as retaining the cut moisture.
There are some points you should consider when selecting smoking meat, which includes:
Meat composition (bone, the content of the cartilage in the cut, muscle, and fat), color of the meat (dark, white, or mix), and the texture of the meat (structure of the grain).
There are different ways to smoke meat cuts. It depends on the type of meat. The lean meat cuts such as a chicken breast usually dry out faster. Fattier meat cuts take longer to cook and retain more moisture.
Know the wood you are using
Wood is another crucial element. Not any type of wood is applicable in this process. When smoking your food, it is necessary to use a hardwood deemed safe for your food.
Pit Boss requires 100% food-grade hardwood for making your pellets. Here are some of the woods that you can use to smoke your meat: alder, maple, oak, hickory, mesquite, pecan, apple, and cherry.
You need to note that hardwoods usually develop different aromas. These aromas usually affect your food's flavor.
How much fuel should I use?
On average, the pellet grills consume about 2lb. of wood pellets per hour when cooking on low heat. If you are cooking for more than 2 hours, have a good supply of pellets on hand. 
Avoid flipping your meat
Smoking slow and low is usually an indirect method of cooking because the source of heat is often not an uninterrupted flame. Both sides of the meat should be evenly cooked just like an oven.
Flipping should be avoided completely because it opens up the smoker or grill. Also, choosing low temperatures to cook meat usually results in loss of heat, which leads to changes in the temperature.
There is no need to open your grill as you're cooking meats. 
Avoid adding salt to your rub
Rubs are very important for enhancing your meat flavor. You are need to coat some meats, while certain meats need a sprinkle rub. 
This usually depends on the meat cut that you are using. Salt should not be added to the rub but should be added to the preparation process.
You should apply the salt in advance and separately in a process referred to as dry brining. The addition of salt in advance is usually very essential for your meat.
It involves the melting of the meat on its surface through penetration.
Make sure to get rid of the membrane when smoking ribs
You need to remove the paper-thin membrane at the rib sides as this will help ensure your ribs are tender and your guests can eat them easily. Smoking will make the membrane extremely rubbery.
It is very simple to take off the membrane. It involves making a slit at the rib rack end, making sure that you hold a paper towel then pulling the membrane gently off the support.
Make sure to use a thermometer when cooking to avoid using a clock
Meat is not fully cooked until it reaches a specific internal temperature. For example, chicken is ready when the interior temperature is 165 degrees Fahrenheit. 
A lower temperature is very harmful to you as well as your guests.
Your meat should always reach a certain temperature when smoking.
Smoking times vary from recipes as a result of various factors. It involves the exterior temperature, smoker or grill, the quantity of meat being smoked, and the type of wood used.
These factors usually shorten or prolong your smoke. Make sure that you invest in a better digital thermometer that should be stuck in the middle part of the cut to take the temperature correctly.
Usage of a vertical smoker or Pit Boss Wood Pellet Grill
Many people avoid meat smoking due to the challenges faced when trying to maintain steady heat during the smoking process.
Smoking requires careful monitoring of the grill and temperature. But with pellet grills, it's easy to maintain a constant temperature.
Vertical smokers and Pit Boss Pellet Grills are very important in setting your meat cuts that take long hours to smoke.
Applying the above principles usually gives you a pleasant experience as well as wonderfully smoked food.
Pit Boss Grill accessories
Here are 2 important accessories you will need
ROMANTICIST 21pc BBQ Grill Accessories Set with Thermometer
Notable features:
The ROMANTICIST 21pc BBQ Grill Accessories Set with Thermometer comes with a complete set of tools that you need to smoke your meat. They include 4 skewers, knife, spatula, tongs, digital thermometer, 8 corn holders, basting brush, additional brush head, and grill bush.
Durable and super strong because the barbecue tools are constructed from professional stainless steel which is extremely heat resistant. 
Rubber handle equipped with a Non-slip Design – A robust handle is very important for your BBQ tools. All the tools are stored in a convenient and portable case.
The best BBQ gift for women and men for birthdays, weddings, anniversaries, etc.- The gifts may include unisex gifts for the adults, cooking gifts for mothers from their children, tailgating gift for camping lovers, and men gifts from the wife.
2 years warranty – Innovation and quality on each grill accessory are assured during the time of manufacture. You may contact ROMANTICIST in case you are not satisfied, and ask for a refund.
Grillaholics Grill Mat – Set of 2 Heavy Duty BBQ Grill Mats
Notable features:
Your deal grill mat – A thicker grill does not necessarily mean that it is good. Several thickness tests are usually completed before the mats are developed. The grill mat is usually thin to flavor intact as well as leave grill marks. It is also thick for the provision of heat resistance as well as durability. A lifetime replacement is guaranteed where only 2 mats are necessary. You should never have to purchase a new grill mat again.
Multipurpose – The cooking mats always function with any type of BBQ grills such as charcoal, electric, large green egg, propane, weber, smoker, and charbroiled. The mat is usually more beneficial than any basket or grill pan because it can be cut into different shapes and sizes for the fitness of any need.
No mess – BBQ is always on a clean grill grate. It helps in keeping your food safe from falling through the grates or sticking to the grill. The products are dishwasher safe and reusable which usually makes cleaning them a breeze.
Safe – The grill toppers are constructed with heat resistors. These toppers are manufactured without harmful chemicals such as silicone so they don't release chemicals into the grill. The grills can withstand high temperatures of about 500 degrees Fahrenheit which prevents it from burning. You should always make sure that you consider your family's safety by purchasing a trusted brand.
Best chef-approved – Famous chefs Chris Kimball and Rachael Ray recommend these grill accessories. It is the best value of BBQ grill accessories. Try yours out now before it sells out because it is risk-free. 
Is there an electric Pit Boss Smoker?
If you're not convinced by a pellet smoker, we've got good news. Let me introduce you to the Pit Boss 2 Series Digital Vertical Smoker and the Pit Boss 3 Series. These models are specially created for smoking, for those smokers who don't want to use pellets. 
You can smoke at temperatures ranging from 100 F to 350 F which is an amazing feature for an electric smoker. This way, you can get crispy skin on your poultry and that tasty bark on beef. So, whether you use your electric smoker or pellet grill, you can get similar results. 
Bottom Line
You need to understand that Pit Boss Pellet Grill is not usually the best for an advanced cooking grill. This is especially for those requiring more functionality in their grills or those who are need of feeding large crowds of people more often.
This is because of inadequate space, so, it cannot accommodate the needs of the people.
There are more efficient and larger grills with built-in flame broilers available on the market.
Also, be aware of the Pit Boss models that don't contain a built-in ashtray because they can produce lots of dust that requires clean up. As a result, you'll spend more time cleaning up. 
Try the Pit Boss
The Pit Boss is great for hobby smokers and grillers, amateurs, and those just looking for an easy way to do some smoking on their backyard patio. 
Note that Pit Boss usually provides the best price per square in the grill industry. It is the cheapest model on the market and provides the most value.
It is practical, versatile, and easy to use. Use natural hardwood pellets, available in severe flavors to infuse your foods with great taste. 
Read more: looking for a good electric indoor smoker? Check this one out
Joost Nusselder, the founder of Lakeside Smokers is a content marketer, dad and loves trying out new food with BBQ Smoking (& Japanese food!) at the heart of his passion, and together with his team he's been creating in-depth blog articles since 2016 to help loyal readers with recipes and cooking tips.