I love creating free content full of tips for my readers, you. I don't accept paid sponsorships, my opinion is my own, but if you find my recommendations helpful and you end up buying something you like through one of my links, I could earn a commission at no extra cost to you.
Learn more
Tents are a portable shelter, usually made of canvas or other material. They are used by campers, hikers, and other people when they don't want to sleep on the ground. But what exactly is a tent?
A tent is a portable shelter, usually made of canvas or other material. It is used by campers, hikers, and other people when they don't want to sleep on the ground.
So let's look at each of these qualities in more detail.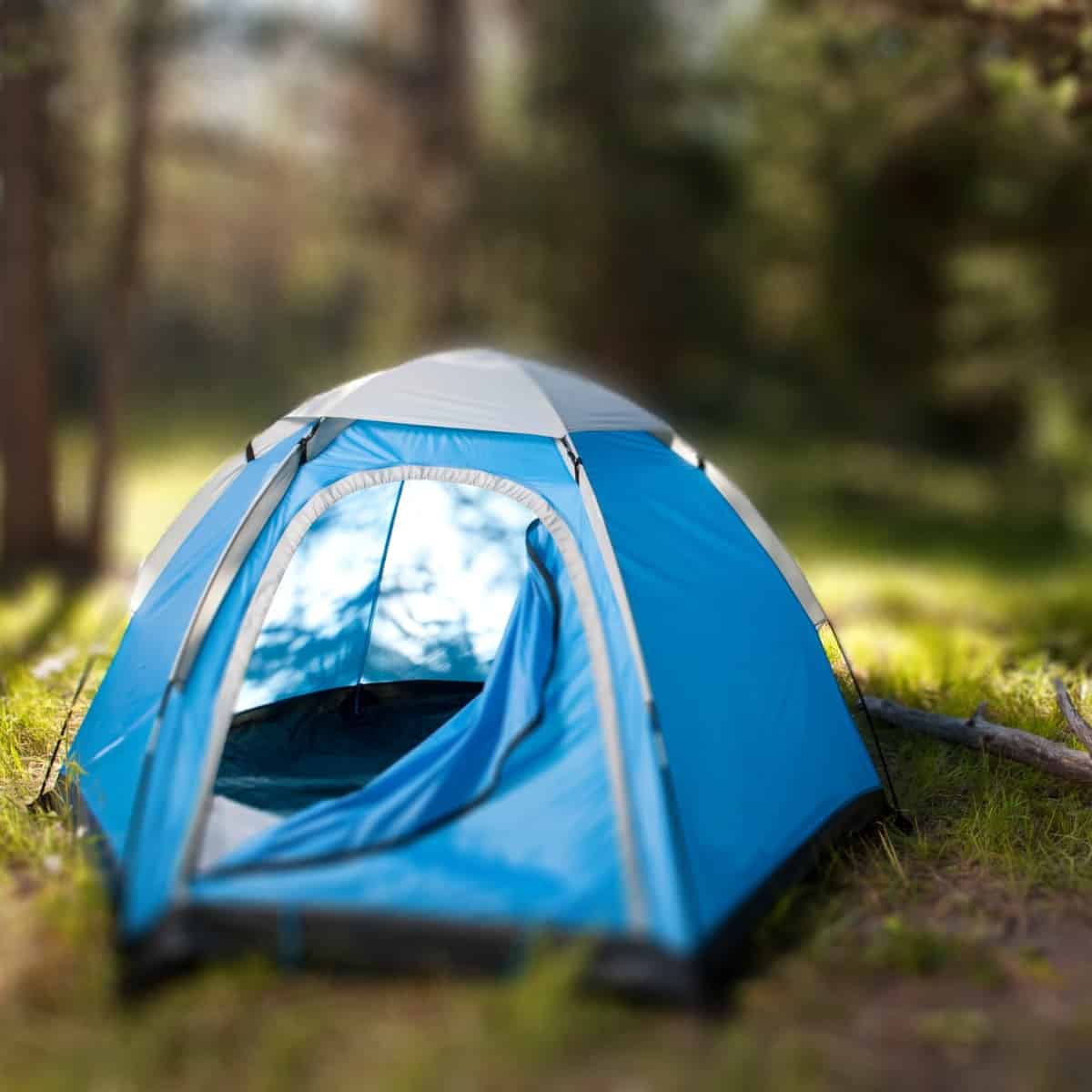 In this post we'll cover:
The History of Tents
Ancient Times
Teepees and tipis have been around since the ancient times, estimated to be around 10,000 to 4,000 years BC!
Tents were also used in the Iron Age, and even mentioned in the Bible.
The Romans used leather tents, which have been replicated by modern re-enactors.
Various styles of tents have been developed over time, from traditional nomadic tents like yurts.
Military Use
Tents were mainly used to provide portable shelter for a small number of men in the field.
During WWI, larger tents were used to provide shelter for support activities and supplies.
The major technological advancement was the use of linen or hemp canvas for the canopy instead of leather.
Modern Times
Nowadays, tents come in all shapes and sizes, from small backpacking tents to large family tents.
Tents are used for a variety of purposes, from camping to festivals to outdoor events.
They are also used for emergency shelter in times of natural disasters.
Uses of Tents
Traditional Uses
Nomads, campers, soldiers, and disaster victims have been using tents as a form of habitation for centuries
They're also great for festivals, weddings, backyard parties, corporate events, excavation covers, and industrial shelters
Native Americans, Mongolian, Turkic, and Tibetan Nomads, and the Bedouin have all used tents for centuries
Military Uses
Armies all over the world use tents for their quick setup and take down times
The U.S. Department of Defense has strict rules on tent quality and tent specifications
Tents are used for barracks, DFAC buildings, field headquarters, MWR facilities, and security checkpoints
The U.S. military is currently using the TEMPER Tent and the deployable rapid assembly shelter (DRASH)
Recreational Uses
Camping is a popular recreational activity that often involves the use of tents
Tents are great for their portability and low environmental impact
They're perfect for wilderness or backcountry camping
Humanitarian Uses
Tents are often used in humanitarian emergencies, such as war, earthquakes, and fire
Canvas tents are the primary choice for these emergencies due to their breathability
Tents are also used as permanent or semi-permanent homes for displaced people living in refugee camps or shanty towns
They're also used by homeless people in the U.S.
Tents are also often used as sites and symbols of protest
Things to Consider When Choosing a Tent
Fabric
Cotton is great for keeping the rain out, but it gets heavy when wet.
Nylon and polyester are lightweight and waterproof, but they can degrade over time.
Silicone impregnation or polyurethane coating are often used to make fabric waterproof.
Seams need to be sealed or taped to maintain waterproofness.
Rain Resistance
Rain resistance is measured in millimetres (mm).
A fabric with a hydrostatic head rating of 1000 mm or less is shower resistant.
Summer camping tents should have a rating of 1500 mm.
Year-round tents should have at least 2000 mm.
Expedition tents should have a rating of 3000 mm or more.
Capacity
Manufacturers indicate capacity by phrases like "3 berth" or "2 person".
These numbers don't always take into account personal belongings or people of above average height.
It's often more comfortable to have one or two fewer people than the manufacturer's suggestion.
Insect Protection
Vent and door openings should be covered with fine-mesh netting to keep insects out.
DIY Tents
Tents can be improvised using waterproof fabric, string, and sticks.
Types of Traditional Tents
Polish-Lithuanian Commonwealth
Check out this fancy tent from the 18th century! It's got windows and Muslim motifs, so you know it's extra luxe.
Sami People
Take a gander at this Sami family in front of their goahti. It was taken around 1900 in northern Scandinavia, so you know it's legit.
Bell Tent
This conical tent design has been around since 600AD, so it's got some serious staying power.
Berliner
This emergency Alpine bivouac is perfect for when you're in a pinch.
Dome Tent
This tent is perfect for when you want to feel like you're in a bubble.
Forester
This wilderness camping tent has standing room at the peak, so you can stretch your legs out.
Gazebo
This soft shelter has a roof, but no walls, so you can still get some fresh air.
Geteld
This conical tent was used by the Anglo-Saxon in the 9th-13th centuries, so you know it's been around for a while.
Gotthard
This Swiss tent is perfect for high altitudes, so you can get the best view.
Kohte
This conical tent design was based on the tents of the Sámi people and was popular in the early 20th century.
Ridge Tent or Wall Tent
This inverted V-frame design has been around since prehistory, so you know it's reliable.
Sarrasani
This large gathering tent is reminiscent of the Sarrasani, so you can feel like royalty.
Sibley
This conical tent was patented in 1856 and used by the US military before and during the American Civil War, so you know it's been battle-tested.
Tipi
This conical design was used by some indigenous peoples of North America, so you can feel connected to the land.
Tupiq
This conical design was used by the Inuit, so you can feel like you're in the Arctic.
Wigwam and Wikiup
This bowed conical and dome tent of North America is perfect for when you want to feel like a native.
Whymper
This ridge tent is great for mountaineering, so you can get the best view.
Yurt
This larger cousin of conical designs has vertical walls and a smaller pitch, so you can feel like you're in a palace.
Tent Types and Configurations
Single Skin
Single skin tents are the lightest and quickest to set up, with just one layer of waterproof fabric comprising the roof and walls.
To prevent condensation on the inside, some expedition tents use waterproof/breathable fabrics.
Single Skin with Flysheet
This type of tent has a waterproof flysheet or rain fly suspended over and clear of the roof of the tent.
It usually overlaps the tent roof slightly, but doesn't extend down the sides or ends.
Double Skin
Double skin tents have an outer waterproof layer that extends down to the ground all round.
The outer tent may be just a little larger than the inner tent, or it may be a lot bigger and provide a covered living area separate from the sleeping area(s).
The inner tent is not waterproof, but allows water vapour to pass through so that condensation occurs only on the exterior side.
A flysheet or rain fly is used to protect the actual tent from water.
Vestibules
Vestibules are floorless covered sections located outside a tent entrance, typically used for the storage of boots, packs, and other small equipment.
Vestibules come in all shapes and sizes, from extended areas to practically nothing.
Groundsheets
Groundsheets are used to provide a waterproof barrier between the ground and a sleeping bag.
With double skin tents, the inner tents normally have a sewn-in groundsheet, but a separate flat groundsheet may be provided for any living area.
With single skin tents, the groundsheet may be sewn in or separate.
Design Factors to Consider When Choosing a Tent
Price
Cheaper tents tend to be heavier, less durable and less waterproof.
More expensive tents are usually lighter, more durable and more waterproof.
Intended Use
Backpacking: Weight and size are the most important factors.
Touring: Ease of pitching/striking the tent is important.
Static: A comfortable camping experience is the target.
Seasonality
One-season tents are for summer use only and can only handle light showers.
Three-season tents are for spring/summer/autumn and can handle heavy rain or light snow.
Four-season tents are suitable for winter camping in all but the most extreme conditions.
Expedition tents are for mountain conditions and can handle heavy snow, strong winds, and heavy rain.
Size and Features
The number and age of people camping determines the size and features of the sleeping area(s).
Covered living space separate from the sleeping area(s) may be desirable for inclement weather.
An awning to provide shade may be necessary for sunny days.
Internal height is important and depends on the tent style.
Some tents are partitioned into separate sleeping areas or rooms.
Color
Colors like green, brown, tan or khaki are best for low visibility.
Bright colors like yellow-orange or red can be easily spotted in an emergency.
Types of Shelters
Flysheet
A flysheet is a single rectangular sheet of material, held up in the middle by poles or a rope between trees.
Guy ropes are attached to the poles and the lower edges to keep the structure in place.
It's a great way to get some shelter from the sun, rain, or dew.
Gazebo
A gazebo uses metal poles to support a roof, giving you more usable space than a flysheet.
It's often used as a shelter for a temporary shop at a fair or street market.
The sloping roof provides headroom even at the edges, making it a great choice for a shelter.
Beach Tent
A beach tent is a simplified form of dome tent, providing a sand-free place to store beach equipment.
The fabric is often treated to be opaque to UV light, giving you some protection from sunburn.
It's usually not big enough for an adult to lie down in, with a maximum height of around 3.9 ft.
Fisherman's Tent
A fisherman's tent is a modified dome tent, often with a projecting awning high enough to sit under.
It may or may not have a closable doorway, depending on the design.
It's a great way to get some shelter while you're out fishing.
Modern Tent Styles
Geodesic Tent
With modern materials, tent manufacturers have the freedom to get creative with their designs – enter the geodesic tent!
It's lightweight, easy to transport, and requires minimal guy ropes for setup.
Poles are usually colour-coded or linked by chain or cord, so you won't have to guess which pole goes where.
Perfect for campers who want to get up and go quickly!
Dome Tent
Dome tents are a great option for those who want a bit more space.
The walls are nearly vertical and the roof is gently sloping, giving you plenty of headroom.
They come in a range of sizes, from two-person models to larger eight-person tents.
They're lightweight and easy to transport, making them a great choice for campers on the go.
Frame Tent
Frame tents are double-skin tents with a living area and one or more inner tents.
The outer tent is draped over a free-standing steel frame and can be made of canvas or polyester.
The living area is usually at least as large as the sleeping area, with a window and extra air vents for use as a kitchen.
Perfect for those who want a bit more luxury in their camping experience.
Cabin Tent
Cabin tents are single-skin tents used mainly in the USA.
They have nylon walls, polyester roof, and a polyethylene floor, plus an awning at one or both ends.
They come in a range of sizes, from two-room models to four-room tents.
Great for summer camping, and perfect for those who want a bit more space.
Pop Up Tent
Pop up tents are the perfect choice for professional campers who want to spend the least amount of time pitching their tent.
They're lightweight and easy to transport, and can be set up in minutes.
Perfect for those who want to get up and go quickly!
Wall Tent
Wall tents are the largest and most accommodating canvas tents available.
They provide plenty of room space and headroom, and are great for hunters and backcountry campers.
They're perfect for those who spend a lot of time in their tents, or need extra space for cots, tables, stoves, etc.
Also known as outfitter tents.
Spike Tent
Spike tents are smaller and lighter than wall tents, making them easier to pack and haul.
They come in a range of sizes and styles, and are great for campers who are weight-conscious.
Also known as wigwam tents.
Range Tent
Range tents are similar to spike tents in shape and size, but usually don't have side walls.
They resemble a pyramid shape and can be set up with a bi-pole system or a single frame pole.
Perfect for campers who want a lightweight, easy-to-set-up tent.
Old-School Tents: A Blast from the Past
Pup Tent
This little guy was the perfect size for 1-3 people, and was made of canvas fabric with 8-18 guy ropes.
You had to be an expert to set it up correctly, so it took some training and experience.
Wooden or metal poles were used, and some models had a horizontal ridge pole joining the tops of the end poles to support the centre.
The U.S. Army issued pup tents as shelter halves, so two soldiers could pitch a tent and share it.
Ridge Tent
This one was a bit bigger and could sleep 5-8 people.
It had a rectangular floor, a single upright pole at each end, and two guys at each corner and in the centre of each side.
It was popular with hunters and outfitters, and some models had wood stoves for heating and cooking.
Square Centre-Pole Tent
This was the go-to for family camping in the first half of the 20th century.
It had a square floor, 9 poles, and 12 guy ropes, but an experienced family of four could set it up in 10-15 minutes.
The walls were vertical and the roof was pyramid-shaped, so there was plenty of headroom.
Sibley Tent (Bell Tent)
This one was circular, with a 10-15 ft floor, a single central pole, and walls about 3 ft high.
Guy ropes were connected every 2 ft around the top of the walls to keep the pole upright and the tent in shape.
Conclusion
Tents have been around for centuries, and they're still a great way to get outdoors and enjoy nature. So if you're looking for a unique way to camp, don't forget to bring a tent! Just make sure you know the basics of tent etiquette, like using stakes and poles. With a little bit of practice, you'll be a tent pro in no time!
Joost Nusselder, the founder of Lakeside Smokers is a content marketer, dad and loves trying out new food with BBQ Smoking (& Japanese food!) at the heart of his passion, and together with his team he's been creating in-depth blog articles since 2016 to help loyal readers with recipes and cooking tips.