I love creating free content full of tips for my readers, you. I don't accept paid sponsorships, my opinion is my own, but if you find my recommendations helpful and you end up buying something you like through one of my links, I could earn a commission at no extra cost to you.
Learn more
If you enjoy grilling you probably have some appreciation or outright love the delicious scent of smoke that lightly perfumes your BBQ meals. But if you have a gas or charcoal grill, you might not want to invest in a pellet smoker to get that classic smoky taste. 
You also probably understand how each Maple and Hickory chips can make your smoked meals taste differently.
For that reason, we recommend buying smoker boxes and smoker tubes. They're the perfect attachment for your grill. Plus, they're so affordable, you can hardly call it an investment. But, a smoker tube will make a world of difference when it comes to flavor.
Let's take a look at the top smoke tubes and how to use them.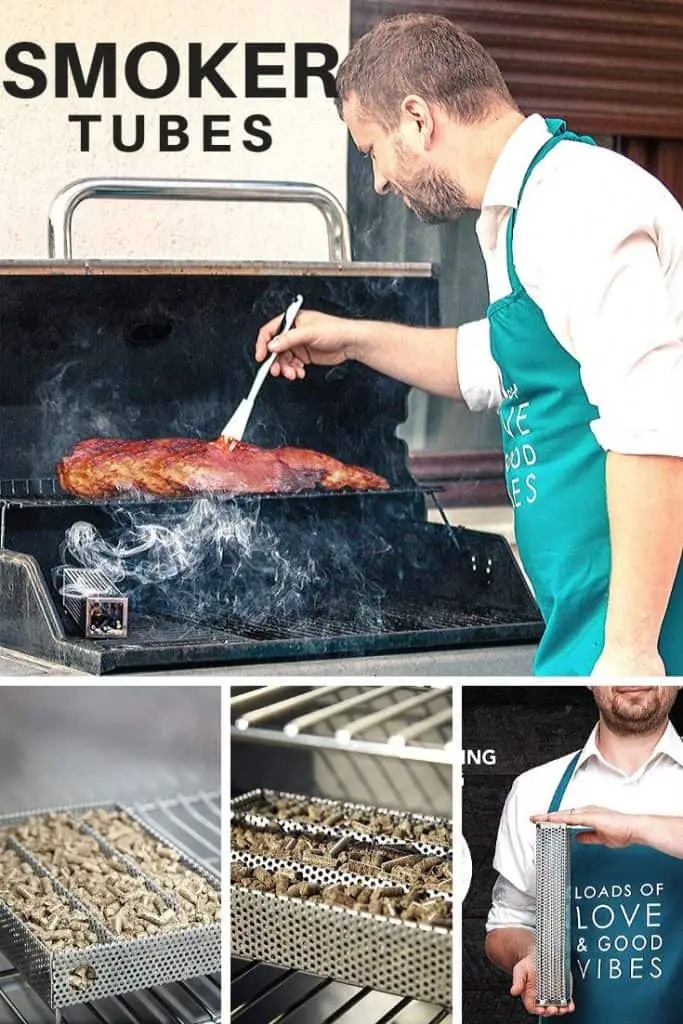 My favorite smoker attachment is currently this Skoo Pellet smoking tube since it's not only easy to use and of high quality, but it's also pretty affordable and the smoke lasts up to 5 hours, which is all the time I need when smoking on a grill.
On top of that, once it's lit you don't need an additional heat source.
Let's look at the top picks real quick because there are some that are a little larger, check out the products below:
BBQ grill smoker box buyer's guide
In theory, every smoker box from my list will work well and generate a lot of smoke. To achieve better results and maintain the best efficiency possible, however, you need to choose the right box for your specific grill.
There are three key things I always check before I buy a new smoker box:
Size & construction
Match the size of the smoker box to the size of your grill. Remember that a smoker box has to rest on the grates in the place where the food rests too.
It is pointless to buy the biggest box available, as you'll end up with very little cooking space!
Also, make sure that the construction of the smoker box matches the shape of your grill.
Material
Always get a smoker box that is made of high-quality materials. It needs to be resistant to high temperatures, and you want it to last through a few seasons.
I personally don't buy anything lower-grade than thin steel. The types of smoker boxes used by the pros are steel and cast-iron ones.
Easy to refill
A smoker box must be easy to empty and refill. The design should allow you to replenish your wood chips at any stage during the smoking process without losing too much heat, and affecting the quality of the end product.
Why do I need a smoker box or smoker tube?
Sometimes we don't have time to take out your smoker and light up an entire load of charcoal to start a long smoking session. Or, you already have a great barbecue and just don't want to invest the extra space and money in a complete smoker.
Maybe you just want to subtly flavor a meat cut and not give it the entire treatment.
Whatever might be your reason, smoker attachments are the solution. They add some extra smoky wood flavor to your next grilled masterpiece. Best of all, they cost a lot less than a completely new smoker, especially if you already have a grill.
The smoker box and tube attachment is the easiest and cheapest way to smoke your food without buying a new smoker. 
Paul's Q has a video on how to use a pellet smoke tube in his Youtube video:
Best Smoke tubes reviewed
Now let's get into the particular aspects of each attachment and their features.
Best pellet smoker tube: Skoo
An affordable smoking tube creates smoke that lasts up to 5 hours. Once lit, no other heat source is required. This smoker attachment is my favorite for a number of reasons. The main one, as I mentioned before is the fact that once you light it up, it doesn't require any other heat source.
On top of that, it can produce smoke for five hours which works perfectly for hot and cold smoking. This one works with pellets and they burn slower and last longer. So, you can smoke that large cut of meat until it's nice and juicy.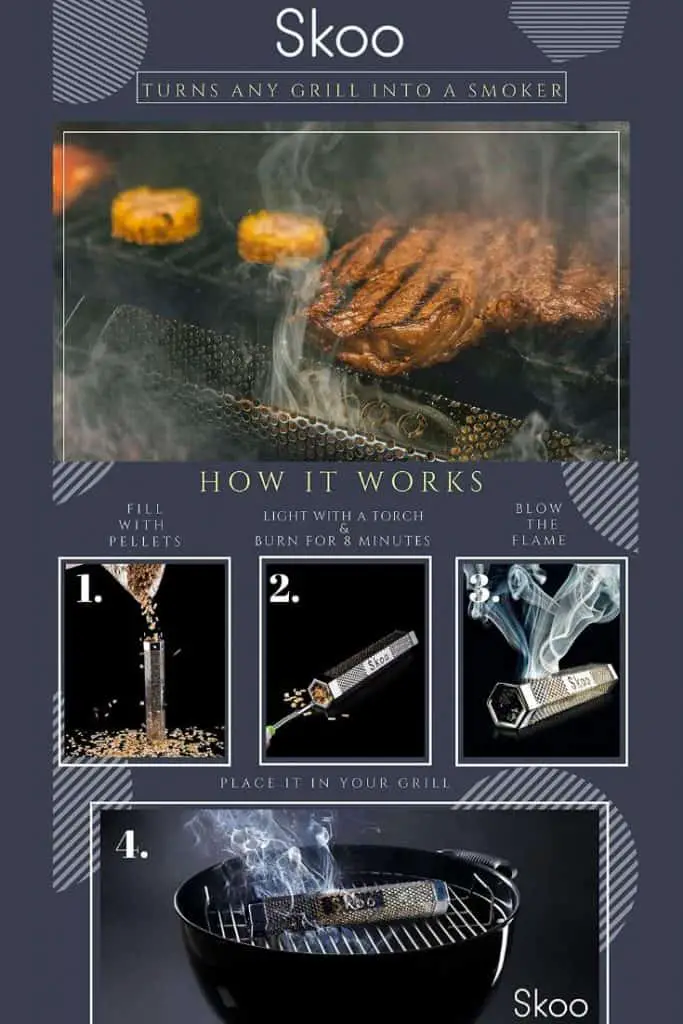 Another reason why this attachment is so great is that you can get clean smoke at 225° F or more. Also, you can also produce cold smoke under 100° F which works amazingly for fish, cheese, and nuts.
So it's a simple way to add an amazing smoked flavor to any meal.
I haven't had any issues with the build quality. I gifted (along with some other smoker things) one of these tubes to my relatives and they're very satisfied with the quality. 
Features
A good smoker aficionado makes sure his tools are clean as well and this attachment is small, light, and portable which makes it extremely easy to clean up after each use.
And the compact size means it's easy to transport from your home to any BBQ party or event.
Since it's made out of stainless steel, it's durable, lightweight, heat-resistant, and anti-corrosive.
It is safe for repeated use and will never break, bend or rust. Their marketing states it's built to last for unlimited uses and so far that has been true for me.
It's shaped like a hexagon rather than a circle that keeps in place so it doesn't roll around the grill or fall off.
It's 12" long so it holds a good amount of pellets and has 2 caps at the ends.
One end it's closed and the other it's open so you can easily fill and refill. The ash doesn't fall out so just add more pellets. 
How to use the Skoo Pellet Smoker Tube:
Hold it vertically and fill it up with your preferred wood pellets. Make sure you leave about an inch empty at the top of the tube.
Using a propane torch on the lowest setting, light the pellets through the open side for about 15 to 30 seconds until you see a small flame appear.
Wait for the pellets to burn well for about 5 to 10 minutes and then blow out the flame.
Place the smoker tube inside the grill and let it generate smoke for your meal, just make sure it has adequate ventilation.
The first time you use it, make sure you let the tube burn in the grill or smoker for at least 30 minutes at 275° F to make any residual manufacturing oils are gone.
It's also worth noting that this particular set doesn't include the pellets so you can get your own according to your preferences.
Check the latest prices here on Amazon
Also read: make your first meal a smoked meatloaf meal
Best large pellet smoker attachment: A-MAZE-N Maze pellet smoker
The smoking maze can produce smoke for up to 11 hours. It needs an additional heat source. It's similar to the other pellet smoke boxes and works very well. I recommend this particular smoker box because it's big enough for large grills. If you're cooking for a large family or a large group of guests, this fits enough pellets to last the whole session.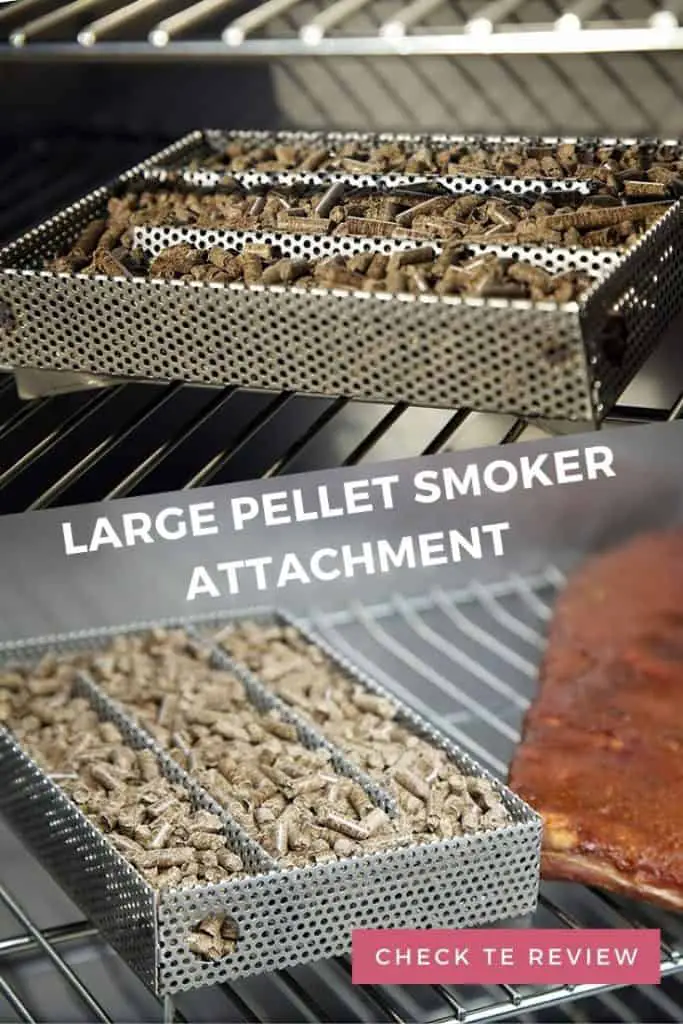 Features
This fantastic smoker attachment is also made of stainless steel but due to its shape, it can burn up to 12 hours.
You can use either BBQ wood pellets of sawdust, but this particular kit already comes with its own pellets.
It also doesn't have any additional binders, oils, or fillers so you can definitely start smoking your meals right away.
This is the perfect smoker accessory to take on a camping trip and pair it with your electric smoker (though it works in any smoker) due to its compact size.
On top of that, it includes a 2lb bag of Pitmaster's Choice pellets so you're all set.
However, the biggest advantage of this attachment is that it's perfect for cold smoking since it doesn't generate any heat with the smoke.
Final Verdict
Before I bought this for my Masterbuilt Electric Smoker that we've reviewed before, I had to keep adding in chips every 40 to 50 minutes.
With this attachment, I was able to smoke an entire pork shoulder with only 2 rows and it didn't even burn through.
When I decide to use this one, I place it on the bars at the very bottom of the smoker and cover it with the drip pan. Therefore, the drips don't fall on the attachment.
I've done multiple meat cuts and the smoke flavor has been extremely pleasing so far.
Some people might find this easier to use than the tube-shaped smokers.
Also, check out this review from the Cooking with Jack show:
How to use this attachment
You will simply need to fill the tray lines with your favorite pellets, light them with a torch through the whole you can see on the side.
Once it's lit, the others will follow in a domino effect as it goes around the pattern of the three lines in the tray.
Just make sure you follow the included instructions and you will always enjoy the results.
It really is that easy. Now get yourself some of these essential supplies and your good to go for your first smoker adventure.
You can buy this smoker attachment here
Best large wood smoker box: Cave Tools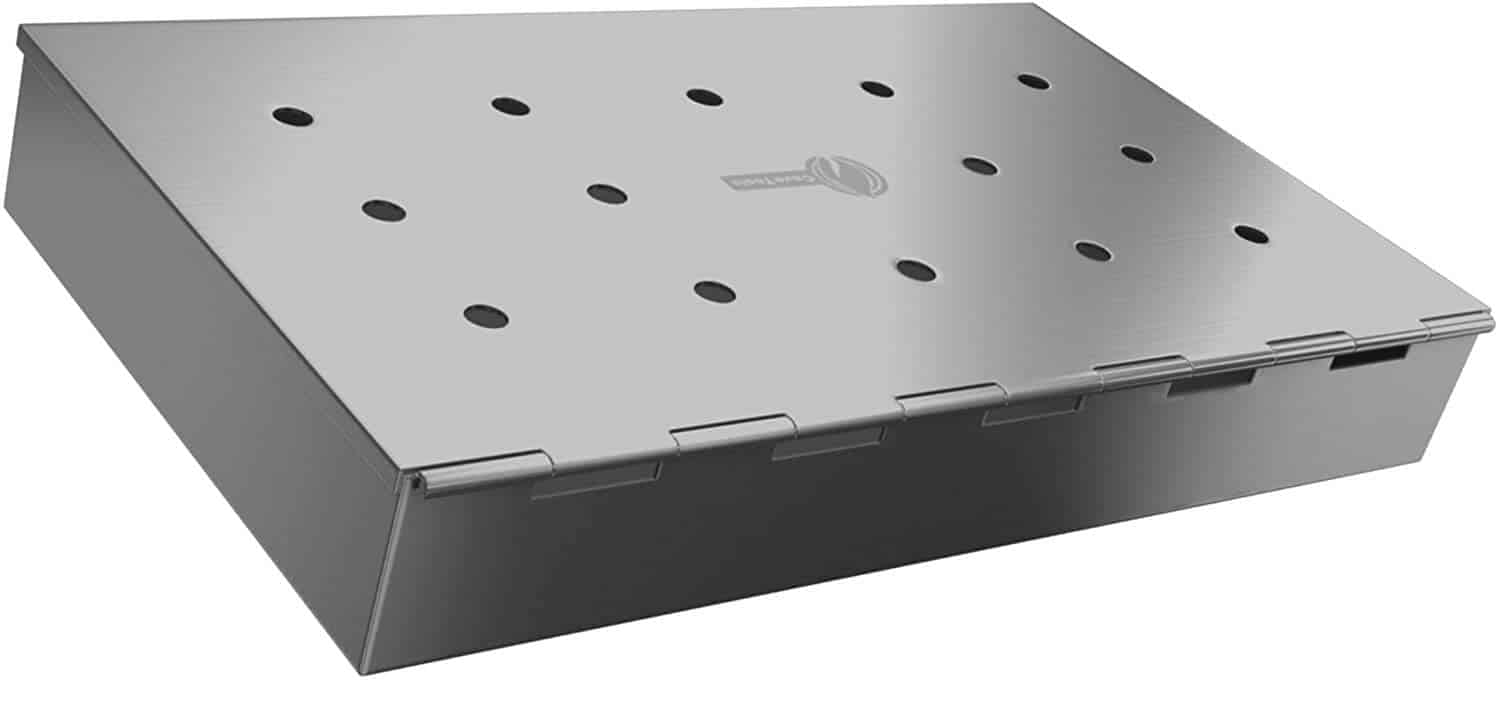 If you're looking for a smoker box that can hold a large number of wood chips without taking over your entire grill, then the Cave Tools Smoker Box for BBQ is an ideal choice.
This smoker box measures 9 x 5 inches, with a 3-cup wood chips capacity.
It can fit perfectly in between flavorizer bars and the grill grates of your gas grill.
This smoker box can also work with a charcoal grill. It features a hinged lid, which allows for the easy addition of more wood chips as you go.
This also makes it easy for you to change the chips if they burn accidentally or turn to ash.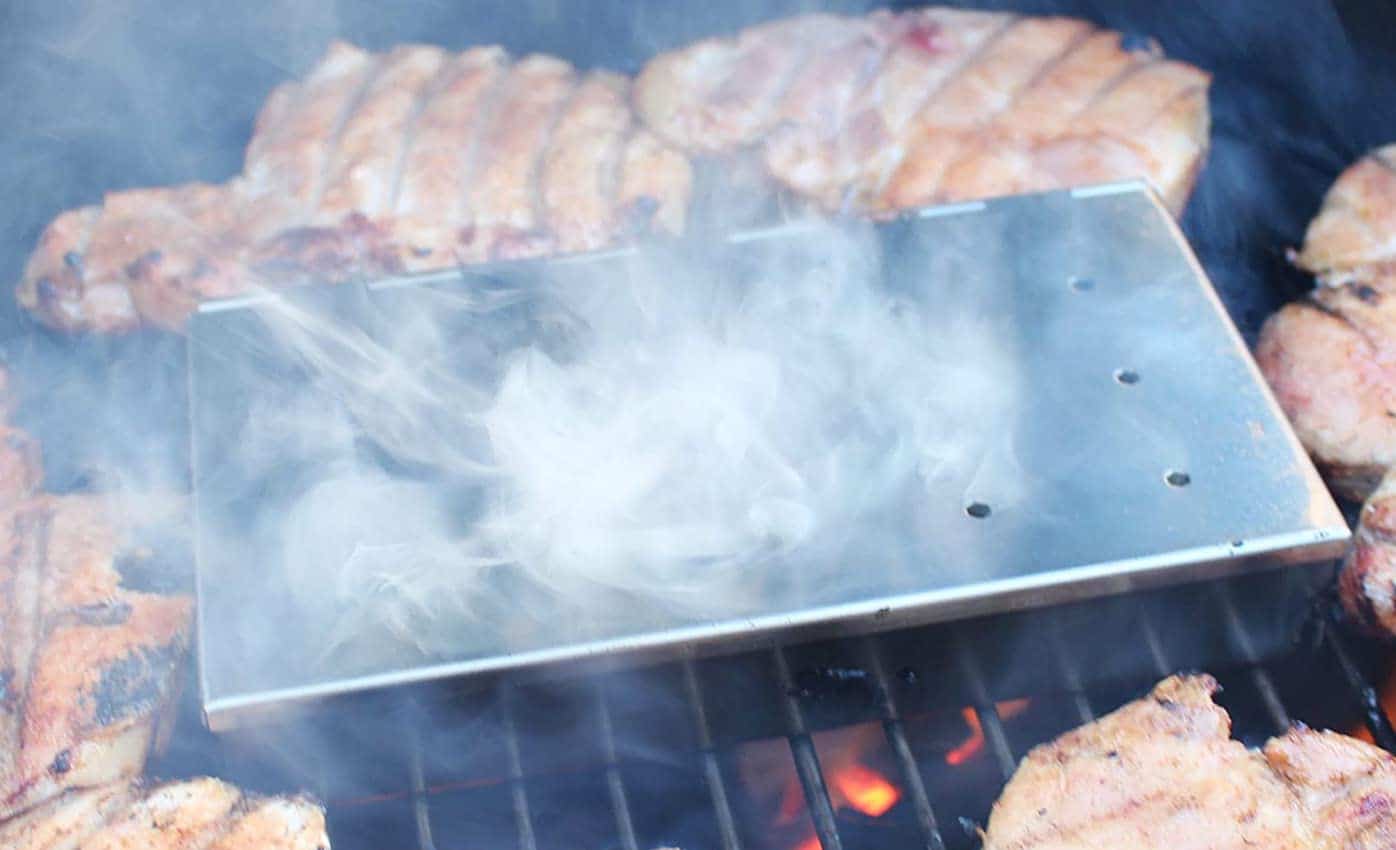 When you purchase this Cave Tools Smoker Box, you also get 25 complimentary professional BBQ recipes.
The catch is that it is more expensive than the Char-Broil product above (although not much).
Features
Size & construction: 9 x 5.1 x 1.3 inches; 1.5 pounds
Material: Thick stainless steel to reduce risk of warping
Easy to refill: Hinged lid makes it easy to refill
Best square pellet smoking tube: Carpathen
This Carpathen Tube smoker is a runner up in the smoker tube category which is why I decided to include it in this review.
It's a kit featuring smoking guides with recipes and tips. It also includes a meat temperature chart, a marinade, rubs, and BBQ sauces guide, a user guide, and a bag for storage, aside from the smoker itself.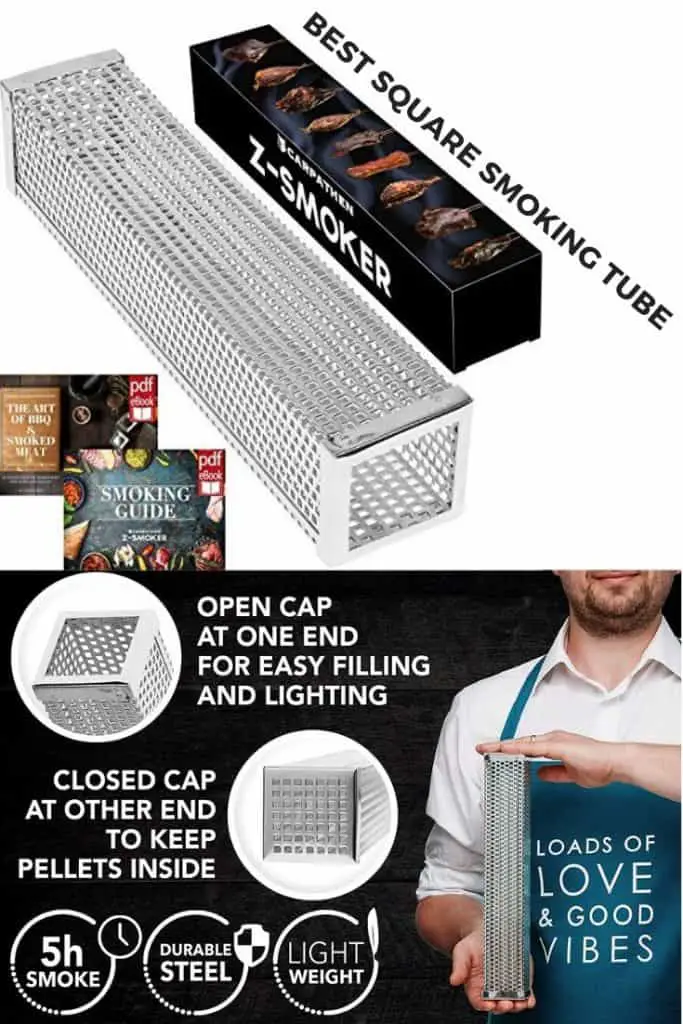 As they state, this smoke generator makes the process of smoking easy and accessible to anyone and everyone.
It's small in size but you will still get 5 hours of thin smoke to infuse your smoked meals with flavor.
Since it's an attachment, it can be used in any grill or smoker without major modifications.
These are especially useful for owners of electric or gas grills who are aware of how hard it can be to get a pronounced smoke flavor compared to charcoal smokers.
This is a high-quality stainless steel pellet tube smoker which means it's built to last.
However, they have a change and/or return policy with no questions asked. So you know you're backed by fantastic customer service that is ready to solve your problems.
Best smoke box for charcoal grill: Charcoal Companion Smoker Box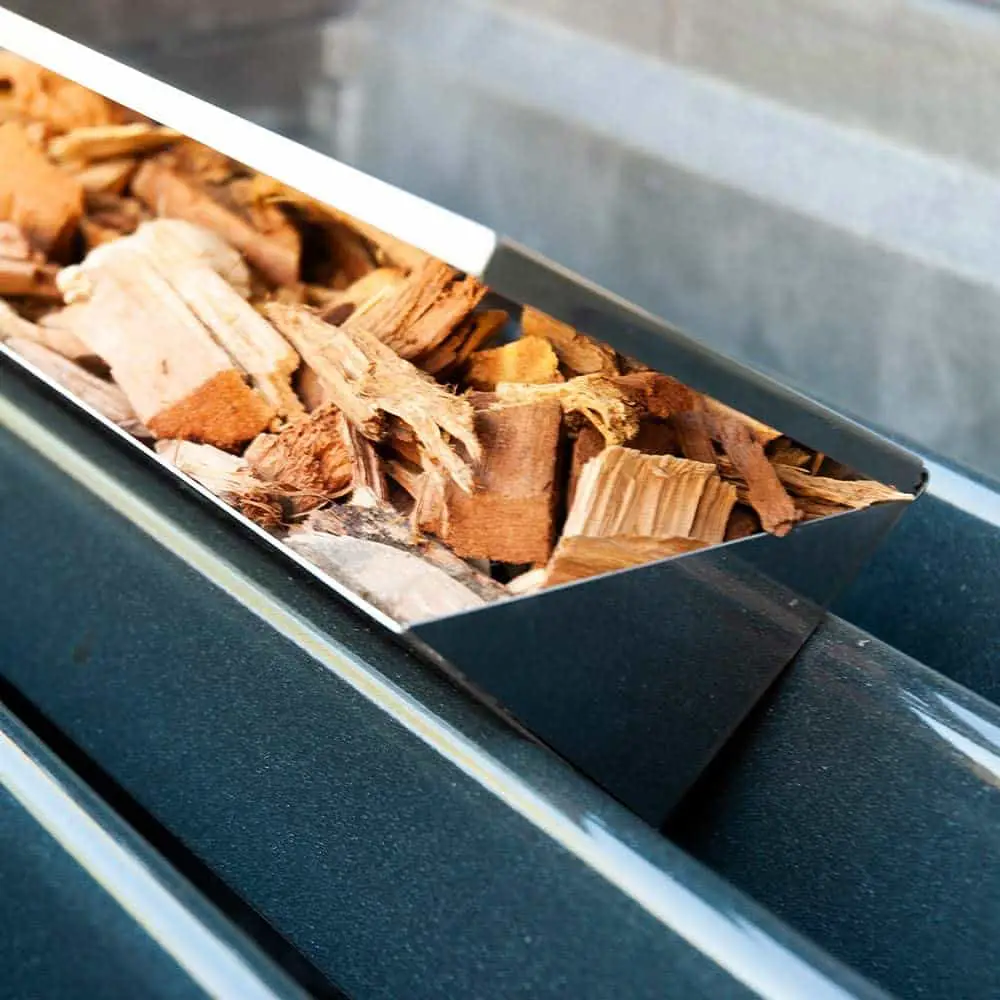 Don't let the brand name fool you! Charcoal Companion manufactures a large variety of grilling accessories and attachments, including some great smoke boxes for gas grills.
This particular model has a triangular shape which is perfect for most gas grill models. The v-shape of the box positions the smoke right under the grate so you get the most intense smoky flavor.
The downside to grilling on your gas grill is that you need to have a separate smoke box if you want to smoke your favorite foods.
But, this inexpensive attachment allows you to smoke using your favorite wood chips. The Charcoal Companion smoker box has a triangular V-shape and so it fits right between the flame deflector bars on your grill. 
Imagine that you can use different flavored woods each time you smoke by simply placing the smoke box on the grill. It gives you a lot of flexibility and many options.
If you're cooking fish, you can use cedar wood chips, and then if you want to switch to beef brisket, you can swap the chips for hickory!
Features
Here are the main features of this smoker box:
V-shape fits perfectly between the flame deflector bars on most gas grill models.
Made of sturdy stainless steel, so it's very heat resistant. You can grill at high temperatures without damaging the smoke box.
It has a hinged lid that offers easy access to the wood chips. 
The ashes don't fall out of the box, which makes for easy cleaning. 
The box measures 13 ¾" long
Budget smoker box for gas grills: Char-Broil Cast Iron Smoker Box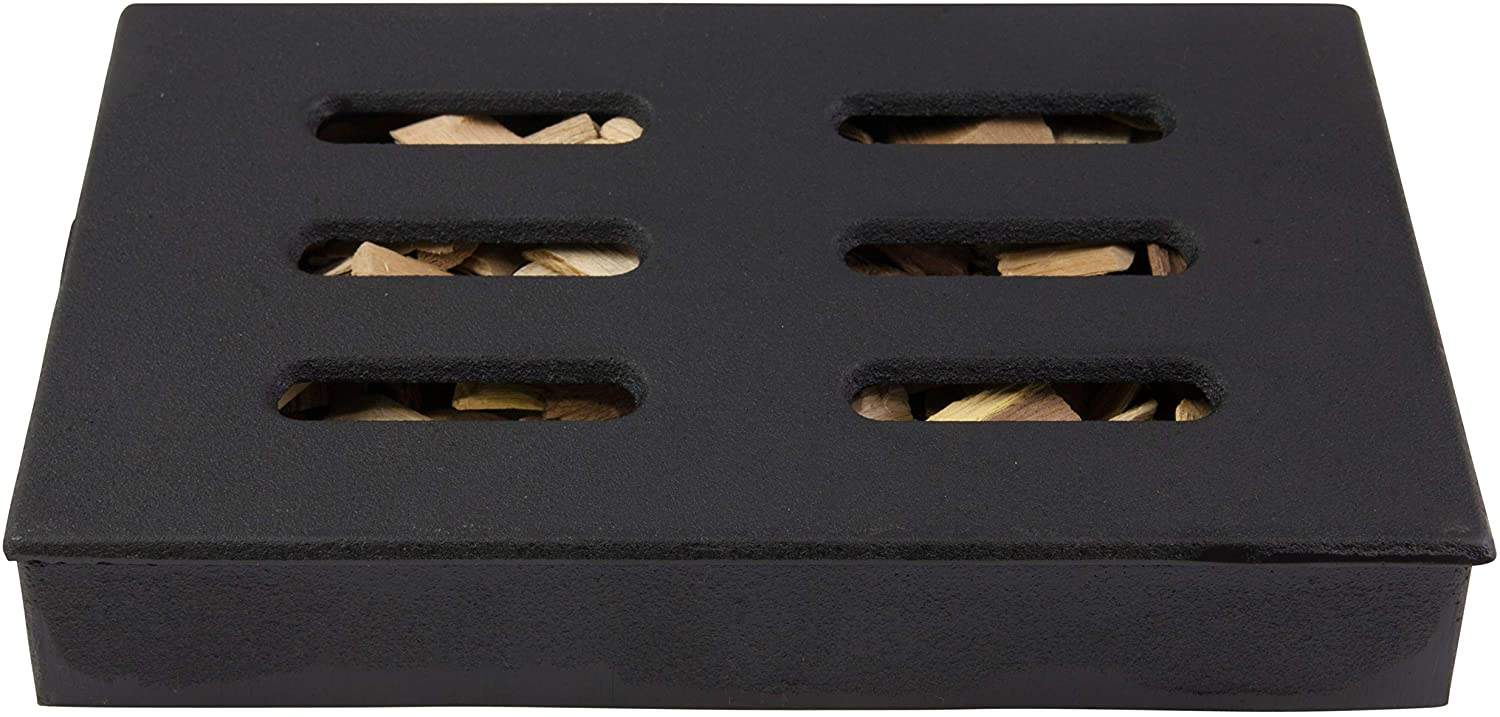 Char-Broil is a very reputable name in the grilling industry. They are known for making top-quality grilling and BBQ accessories.
Their Cast Iron Smoker Box is no exception and is my personal favorite smoker box. Not only is it high quality, functional, and durable, it's also super affordable.
The heavy-duty cast iron construction of this smoker box ensures that it will last for many seasons to come. It features holes on the bottom and sizeable slots on the top.
These create an even airflow so that the smoke that is produced surrounds your food for great flavor.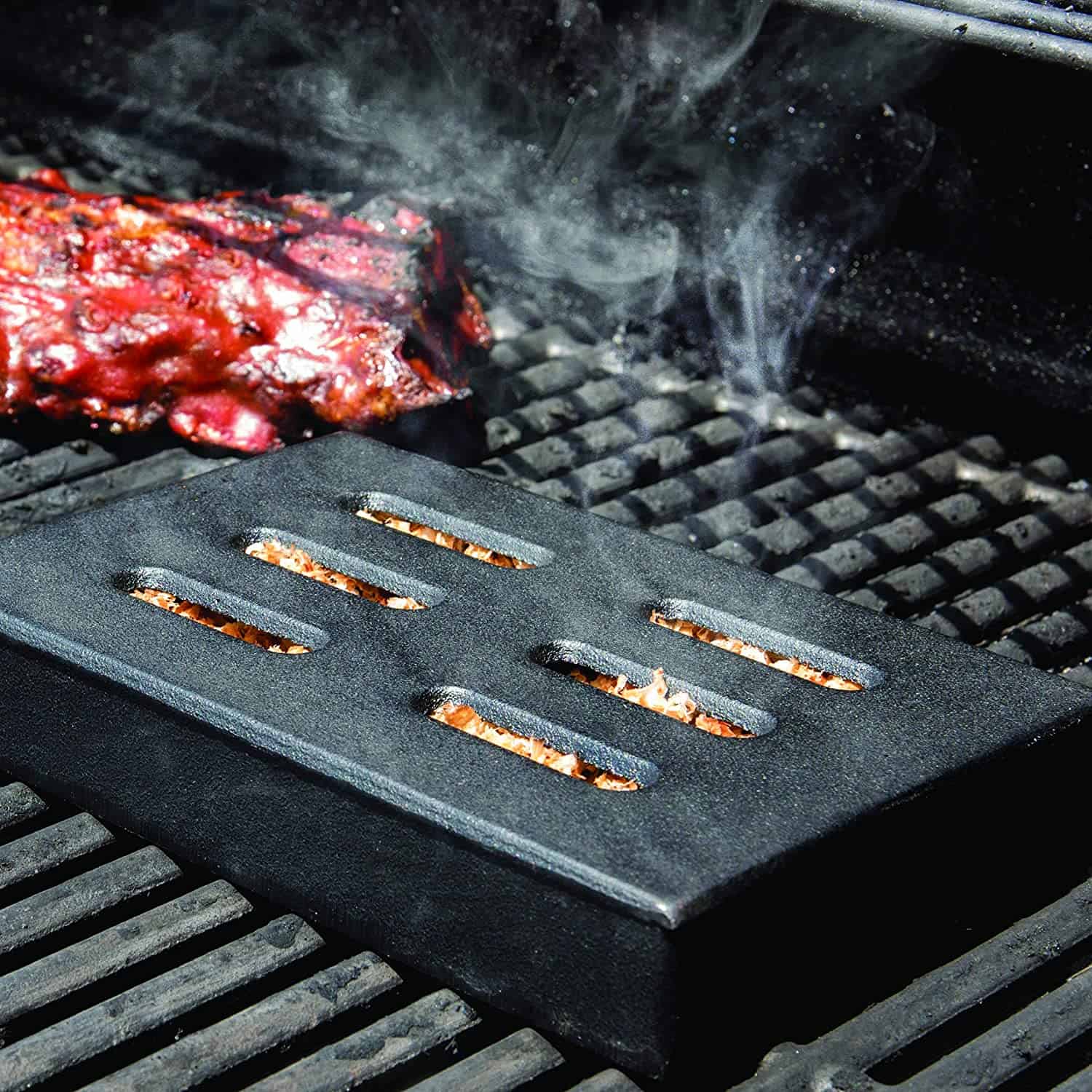 The smoker box has excellent heat retention capability and can work well with virtually any grill at any temperature range.
It can hold all types of wood chips (fresh or soaked in liquids), and it also prevents chips from catching fire. This means you'll enjoy the benefits of denser smoke without flames.
See it in action here smoking venison:
Features
Size & construction: 1.38 x 5.13 x 8.12 inches, fits most types of grills, and is well constructed
Material: Heavy-duty cast iron
Easy to refill: Simply lift the lid & add more chips when necessary
What are Smoker Attachments?
Smoker attachments can come in different shapes and sizes. They're usually made out of high-quality stainless steel.
They're the perfect way to get some extra smoke when using your grill. It's worth noting that they work on gas, electric, and charcoal grills like these so there are no limits to them.
They're basically hollow cylinders (in the case of the tubes) and have several small holes drilled into them which makes them look like a very thick tube burner on a gas grill.
The mazes resemble a grate with sides in order to hold the pellets in place.
You can use smoker attachments with pellets and wood chips. Best of all, these attachments are reusable and affordable so you can turn any grilling session from bland to wow by adding tons of flavor to your meat.
What is a smoker box and smoker tube?
A smoke box or smoke tube is the top smoker attachment on the market. It makes smoking possible for gas grills. 
The smoke box is a small metal container shapes like a box, hence the name. It is used on a gas grill to give the meat a smoky flavor. You have to fill it up with pellets or soaked wood chips and place it under the grill grates. 
Do I need a smoker tube?
The main reason for using a smoker box or tube is for the flavor. It doesn't help with the heat or the cooking process. Instead, it gives your food that extra tasty smoky flavor. You should know that when you burn wood chips or pellets in the smoker tube, it doesn't affect the cooking time or the cooking method. However, you really can't compare smoke-free grilled meat with wood or pellet smoked foods. 
What's better: smoker box or smoker tube?
Both of these attachments are very good for infusing your meat with a smoky flavor. They are also both easy to use. So, is one superior to the other? In my opinion, the smoker tube is better because the pellets don't burn as fast. The wood chips in the smoker box will burn at a faster rate whereas pellets burn slowly and consistently for many hours. They are perfect if you're smoking large cuts of meat. 
How to use the smoker box with a gas grill
If you have a gas grill, then you need to use the smoker box or tube. Did you know that gas grills are not made to accommodate wood and ash within the grill? Therefore, you cannot, or should not, put smoking wood chunks or chips directly in your grill or on the burners.
Instead, soak your wood chips for about 30 minutes before you place them in the smoker box. If you use them dry, they burn much faster and you'll have to keep adding more. Now, fill the box with the soaked chips and close the lid. Before you start to cook, place the smoker box between the cooking grate and the burners. 
Can smoker boxes only be used with gas grills?
No. Smoker boxes can be used in charcoal grills and even some electric grills. Wood chips generate smoke, giving the food a slightly different taste to smoking with charcoal.
Some electric smokers and propane smokers come with their own smoker boxes from the manufacturer, but there are loads of after-market options to choose from if you need one.
How to use a bbq smoker box: get the placement, temp & wood right
Smoker boxes allow you to cook a barbecue by smoking the food with real hardwood.
This method of cooking delivers a much richer taste on your dish compared to baking it or grilling it over charcoal.
Unfortunately, many people still have no idea how to use a BBQ smoker box.
In this article, I'll be sharing some of the best basic tips for using your smoker box for some great results.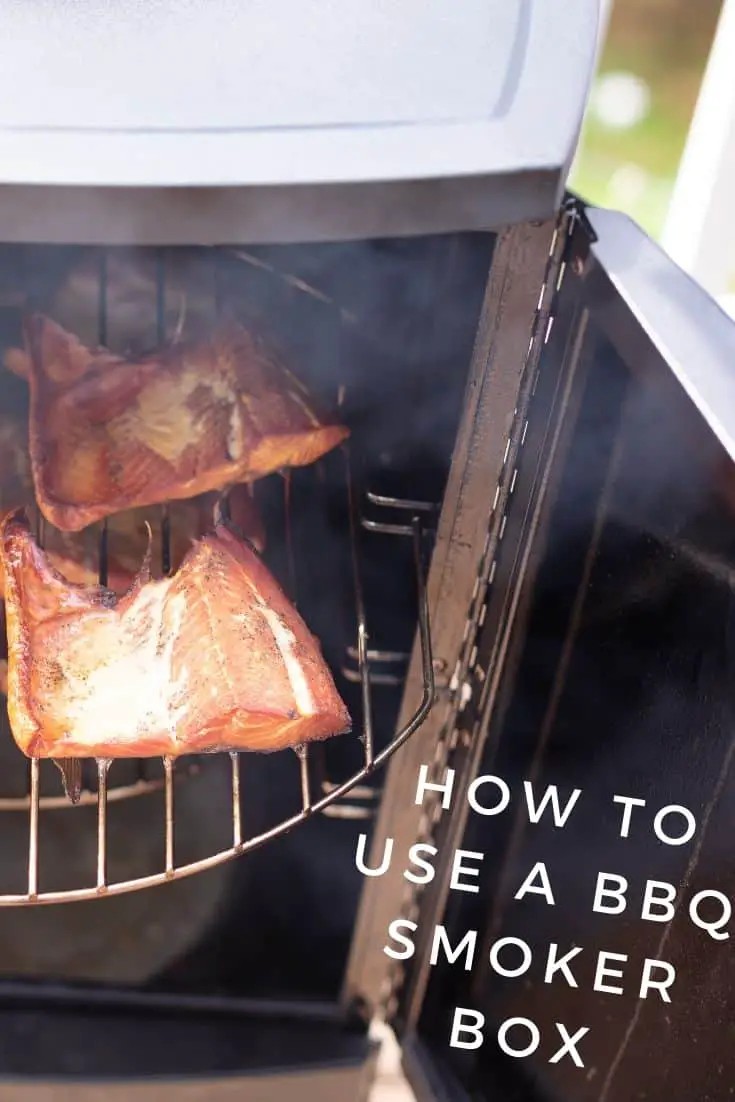 How to Use a BBQ Smoker Box
You don't have to be a barbecue expert to know how to use a bbq smoker box properly. Here is the step-by-step guideline you can follow:
Place your dry wood chips or chunks on the smoker box
Close the lid properly. If the woods are overloading the box, reduce some until you can close the lid properly.
Place the smoker box above the grill, inside the smoking compartment.
If you are using charcoal fuel, place the smoker box right above the charcoal, beneath the open grill grate.
Preheat your grill by turning it to a high temperature until the woods start smoking. It is usually around 10 minutes.
Turn the temperature back to medium heat.
Put in the food you want to smoke above the grill in the smoking compartment, side by side to your smoker box.
When the time is up, turn off the heat and open the smoking compartment.
Take out the food and let it rest for five minutes to settle it down.
Put out the fire in the wood inside the smoker box.
Different types of food would require different temperatures and duration to get smoked perfectly. Otherwise, your food might not taste as good as expected if you smoke it.
On the other hand, too high of a temperature might burn your food before it cooks evenly and absorbs all the tasty flavors from the smoke.
Even if you set the right temperature, your food will taste too intense and bitter if you leave it in the smoker for too long.
Chef Tips has some great…..well, tips on using a smoker box:
Smoking Temperature and Duration
To avoid failure with your bbq smoker box experiments, here is the guideline about how hot and how long you should smoke each type of foods:
Beef
Most beef cuts require about 6-8 hours to smoke. But, the brisket (if you smoke it like we do here) may need 10-20 hours. Processed beef or smaller cut steak can get smoked well only in less than two hours.
The ideal temperature is around 200 to 250 Fahrenheit, with finished temperature ranging between 165 to 190 Fahrenheit.
Poultry
Almost all poultry require to keep their finished temperature between 165 to 170 Fahrenheit, but the smoker temperatures might differ for each type.
Chicken and turkey require 275 to 350 Fahrenheit, with smoking duration ranges around 1-3 hours for the cuts and 2-5 hours for smoking the food as a whole. Quail, cornish, and ducks take less than those.
Seafood
Fish and other seafood require less heat than other types of protein. Around 200-225 Fahrenheit of smoker temperature would be enough if you can manage the finished temperature around 140-145 Fahrenheit.
As these foods are fragile, you should not smoke them any longer than 60 hours.
Vegetables
Some vegetables taste wonderful after getting smoked, such as cherry tomatoes, corn on the cob, bell pepper, eggplant, asparagus, and many more.
Each type of veggie has a different ideal temperature and duration. But in general, the numbers are ranging between 200-250 Fahrenheit in 1-2 hours.
About Soaking the Wood
It is rather controversial to soak or not to soak the woods before usage. Some people do that to prolong the burning duration, which is indeed effective.
Wood chips can last about 30 minutes longer if you soak them first before burning.
However, experts will not recommend doing such a thing. There are standards for making smoking woods dry to make the delivery smoke optimal.
When you burn wet woods, the heat will work to evaporate the water first before creating the aromatic and flavorful smoke. Hence, your food will be less tasty.
Furthermore, the water-soaked by the wood will bind impurities from the woods. As the water turns to steam and moves up to the food, these impurities will tag along.
As a result, your food will have other extra tastes that you don't expect.
Prolong the Burning
Rather than soaking your wood, there are a few tricks that you can do if you need to smoke longer than your woodcuts may last.
For example, you need to smoke a whole turkey for hours but all you have are wood chips.
The first trick is by layering the inner side of your smoker box with an aluminum foil sheet. Make sure to cover the bottom and all four sides.
Leave the top surface uncovered because you still need the holes on the lid to let the smoke come out.
This trick might work if you just need a little bit more time than the normal burning duration.
Another solution is by manually refilling your smoker box with more wood. This trick is advisable if you need a lot more extra time.
It might be not easy to do, because you have to open your smoker compartment and smoker box from time to time.
However, this is the most effective solution if you don't have bigger woodcuts.
Smoking your meat may take longer than baking it in your oven or simply grilling it above a stove.
But once you taste your smoked dish, you will realize that all the extra time spent was worth it.
What is A Smoker Box?
The smoker box refers to a rectangular tool to contain hardwood cuts for smoking.
It is made of either stainless steel or cast iron, including the lid, to avoid rusting and getting burnt.
You put this thing on the grill alongside the meat or anything you want to smoke. Some small holes both on the bottom and top sides of the box allow smoke to circulate.
Without a smoker box, wood can get exposed to too much heat. Unfortunately, the smoke will not be delicious nor aromatic if it burns too hot.
Moreover, higher temperature means a shorter cooking time. The smoker box protects your wood from overheating, allowing it to deliver tastiness and fragrance to the meat.
Smoking your meat without a smoker box can give you burnt meat with no extra delicacies.
What is wood for smoking?
Smoking woods are the cuts of woods you burn to produce smoke for barbecuing your food. They are different from charcoal. Instead, they are solid hardwood.
While charcoal only gives a burnt effect to the dish, hardwoods produce smoke that is rich in flavor and aroma.
Smoking your food with hardwoods will enhance the delicacies of your dish.
Smoking Woods Based on Their Shape and Size
Smoking woods are available in the market with various sizes and shapes to match with different types of smoking.
In general, the bigger the size, the longer it will take to burn, and the longer it will burn.
The largest woodcuts are logs. They are approximately 18 inches, which means they take the longest time to burn. This type of woodcut might be too big for home-usage. Wood logs are common for commercial use when people need to produce smoked meat in bulk.
Wood chunks are about 2-4 inches, about the size of a fist. They can burn for 2-4 hours.
Wood chips are around a quarter to one inch wide. They burn for about 20-40 minutes.
Both of the last two are the most common woodcuts to use for smoking because they have good quality and perfect burning duration.
People usually use wood chunks for smoking large and thick foods like meatloaf or turkey, because they may take hours to smoke thoroughly.
On the other hand, wood chips are best for smoking something that takes a shorter duration.
Besides those three, there is also something called wood sawdust.
It is a groundwood in the shape of powder.
Wood sawdust can be compressed into wood pellets and wood disks, but they will not work well on barbecue smoking boxes because they burn too quickly and are of low quality.
They are more suitable for electrical smokers.
Types of Smoking Woods
There are many types of hardwoods you can use for smoking. Each type of wood has unique flavors. Some are intense, some are medium, and some types deliver light flavors.
Similar to herbs and spices, some can make a nice pair with specific kinds of protein. You can also combine two or more types of wood to elevate the complexity.
For example, if you like the strong flavor, you can try using mesquite, pecan, or walnut.
However, over-smoking your food with these kinds of smoke might cause it to taste bitter and too intense.
You can either moderately smoke it or combine the woods with lighter-flavored wood to balance the intensity.
If you are new to BBQ smoking, you might want to use the woods in medium or mild flavor. In the medium category, there are plum, hickory, maple, and many other more.
Meanwhile, in the mild category, there are apple, alder, lemon, lilac, and many others.
Smoking woods also carry the taste of the plants. For example:
fruitwoods are mostly sweet, like cherry, apple, mulberry, and others.
Nut-woods also deliver some stench of nutty flavors like hazelnut and pecan.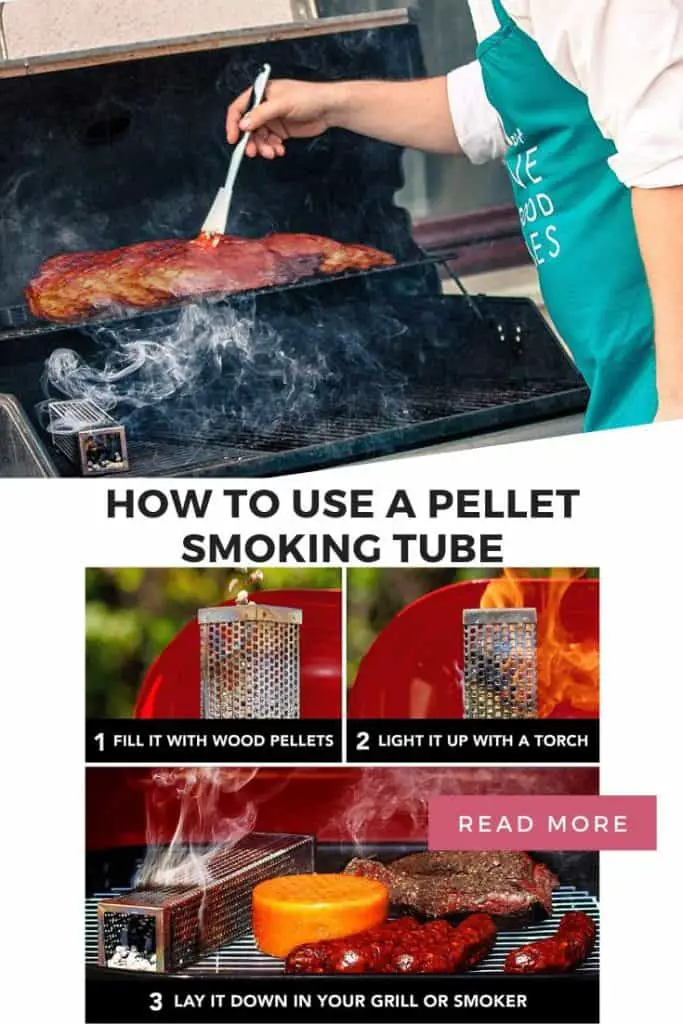 Unpackage the attachment and make sure you wash it with warm water and soap. Then rinse it well and let it dry completely before you use it.
If your smoker attachment has a lid or cover on one end, remove it and fill it all the way with your preferred assortment of wood pellets, chips, or shavings.
Before you turn on your grill, move the cooking grids and position the attachment on the sear plates. Then put the cooking grids back in place.
Light the barbecue and preheat the grill to the needed temperature.
These work best for cooking that last 30 minutes or more. Proceed to grill the food as you normally wood but try to keep the lid closed as long as possible for the best smoky flavor.
As I mentioned before, these attachments can work nicely on any grill so you can even take them on the go.
However, if you plan on smoking food that will take a bit longer you will need two attachments if you're using the tubes so once the chips are spent, the other ones start burning.
Take this into consideration when analyzing this review.
Is there a downside to using smoker boxes?
In terms of flavor, no. But, over time you need to replace your smoker box or tube because it can warp from constant exposure to high temperatures. Therefore, it's best to choose a smoker box made out of heavy-duty steel or very durable material. But honestly, most of these tools cost less than $30, so it's not expensive to replace them.
Conclusion
There's really no going wrong with a smoker box or tube because you can use it with your grill without investing in an expensive smoker. We all know a high-quality smoker can take you up to $2000. But, if you want to keep using your own BBQ and love the smoky flavor of wood chips and flavored pellets, then the smoker box is the best solution. 
Now, all you have to do is choose your wood flavors and get grilling!
Joost Nusselder, the founder of Lakeside Smokers is a content marketer, dad and loves trying out new food with BBQ Smoking (& Japanese food!) at the heart of his passion, and together with his team he's been creating in-depth blog articles since 2016 to help loyal readers with recipes and cooking tips.