I love creating free content full of tips for my readers, you. I don't accept paid sponsorships, my opinion is my own, but if you find my recommendations helpful and you end up buying something you like through one of my links, I could earn a commission at no extra cost to you.
Learn more
Grilling is a favorite method of meat preparation nowadays because it not only imparts a nice flavor on food but it's healthy for you as well.
That's why we've seen a rise in the demand for gas grills and smokers over the past few years.
The great thing about gas grills is that they require a lot less work when compared to wood pellet and charcoal grills. All you have to do is switch on the igniter and your grill should heat up in just a few minutes.
Stay tuned for our battle weber spirit vs genesis grill to find out more detail next!
When looking for a new grill, you are bound to run into the Weber brand, it's a brand that has several unique lines of gas grills in their offer.
In this article I'll try to compare Weber Spirit vs Genesis, which are the two most popular lines in their offer.
Of course both series are really well thought-out and made of very good quality materials, but each of them was marketed to a slightly different type of client.
Among the key differences are, in the following order, the price, then the size, the functionality and the finishing of the entire construction.
In order to properly understand all the differences between Spirit II and Genesis II, I invite you to read my in-depth comparison below.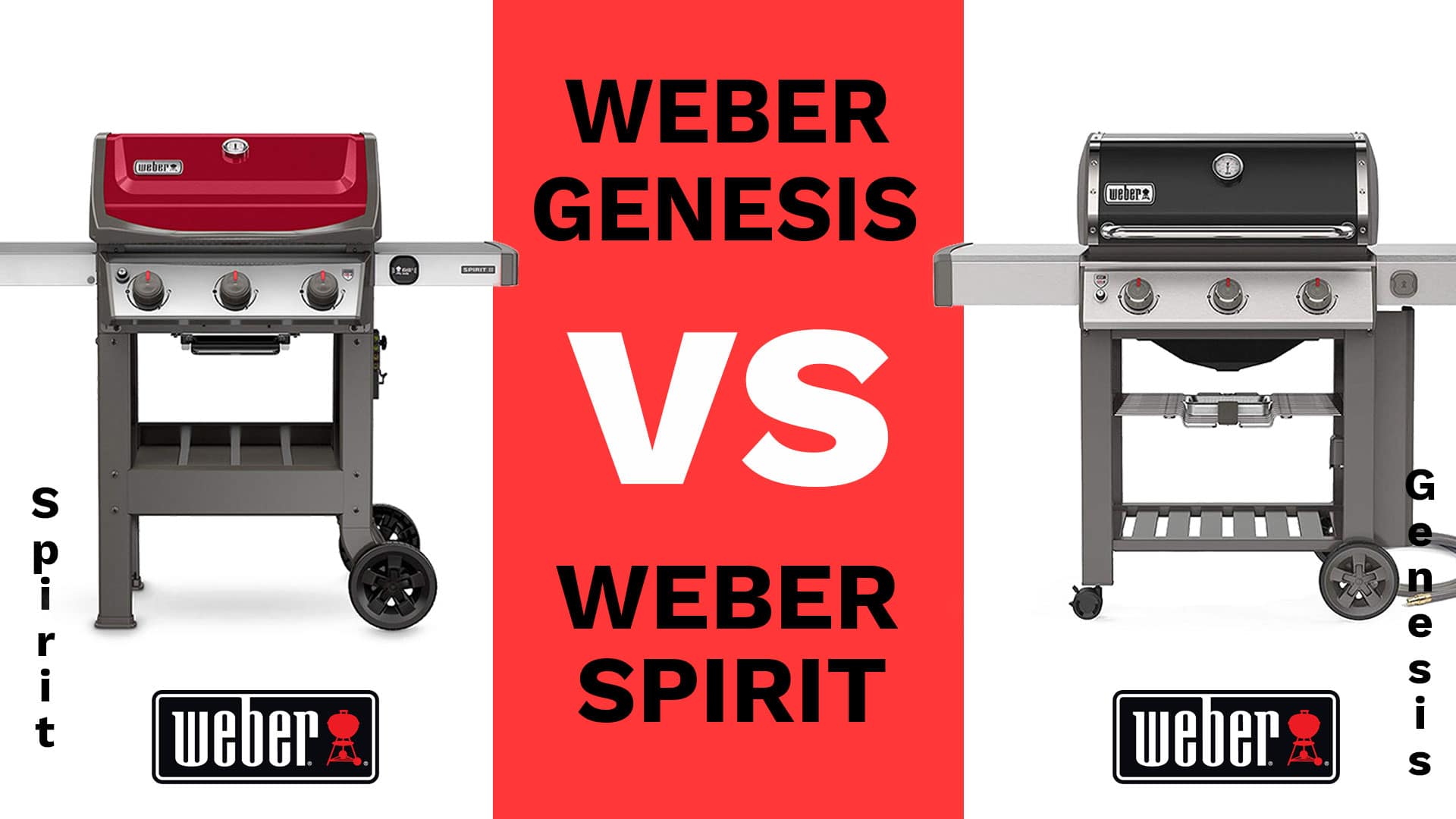 In this post we'll cover:
Weber Spirit vs Genesis overview
As I have already mentioned above, each of the series was created for a different type of client, it is mainly about the budget a potential buyer has available.
There is no doubt that both grills are phenomenal and work great at their tasks, making it possible to grill amazing food.
You need to know, though, that the Spirit II series was made for those who value quality, durability and efficiency at the lowest possible price – it is simply a series that maintains the best price to quality ratio.
The Genesis II series on the other hand is a suggestion for those who value not only quality and durability, but also a better attention to details, more room and most importantly, functionality provided by interesting solutions/gadgets.
Both series are compatible with iGrill 3 and come with the latest GS4 grilling system
They are covered by the same (10 year long) warranty
Of course the most important shared characteristic is the warranty, which is the best among all the manufacturers offering gas grills. It covers all the problems with the grill and defects that might appear withing that time frame.
Keep in mind, though, that warranties of this type don't cover changes to the grill that occurred due to normal use.
Key differences between Genesis and Spirit:
First and foremost, the Genesis II series offers many more configurations to choose from. You can choose out of several sizes, closed or open construction, or even the color.
A huge advantage is the ability to buy a grill from the Genesis series equipped with additional burners (sear and side burner).
The Spirit II series is obviously much cheaper, but on the other hand it is simpler and better for those who don't need all those "fancy" features and attention to the tiniest visual details.
As you can see, both series have a lot in common as well as their differences, which confirms what I said at the beginning. These are phenomenal grills that will work great when it comes to cooking, but they were made for two different types of customers.
However, it can be incredibly difficult to choose the best gas grill, especially high-end ones because there are so many different brands and manufacturers on the market. One of the most well-known of these manufacturers is "Weber."
Weber is a trusted brand that has been around for a long time and they offer two product lines for consumers to choose from, namely Genesis and Weber Spirit. In this article, we're going to make a comparison of these two product lines to give you a comprehensive idea of the options they offer.
Lastly, we're going to pick out a couple of the best products from each line. Then, we are going to compare them to help give you a better perspective on which one to choose. Hopefully, by the end of this review, you'll have decided on which grill is right for your needs and preferences based on the information presented.
Sturdiness and Build
Great Build: The Weber Spirit is built with good quality stainless steel. But, the grade of stainless steel that's used doesn't measure up when compared with the Genesis, which is much sturdier.
Sturdier Build: The Weber Genesis product line prides itself on quality construction and most consumers will appreciate the thoughtful design behind each item. You can tell a lot of work went into choosing the materials used in each component and it shows in the performance and appearance of each Weber Genesis product.
Performance
Built to Perform: The Weber Spirit grill is not only durable but it actually does a great job at grilling meat and other types of food. You can use it to grill any type of meat you like and it's available in 2-burner and 3-burner models.
High-End Features: The Weber Genesis line of gas grills was made for ease of use and they offer state of the art features that are aimed at making the user's life easier. The flavorizer and handy burners are just two of the notable features that you can expect to find on a Genesis gas grill.
Surface Area
The Weber Spirit range is available in a wide variety of different sizes. The choice is yours to pick a grill size that suits your needs. Perhaps you want something small and compact that you can pack away or travel with when you need to. Or maybe you're an avid entertainer that's looking for a large sized grill to help you cater to large gatherings.
Similar to the Weber Spirit, the Genesis range comes in all kinds of different sizes to suit different scenarios.
Heat Control
Heat control is an important component to consider when buying a grill because it will affect the taste and texture of your food, as well as your cooking experience.
The Weber Spirit grill is known for possessing superior temperature control using conventional heat control technology.
The Genesis line features advanced heat management technology which is more efficient when compared to the Weber Spirit range. For instance, some of the Genesis grills come with Bluetooth heat monitors and infinity ignition. They're designed to ensure complete temperature and heat control.
Weber has created quite a large assortment of products under both the Genesis and Spirit brands, but to make things easier for you we're going to review the top products from each range.
From the Weber Spirit range we've chosen the II E-310 Gas Grill, and from the Genesis line, we've chosen the E-210 Gas Grill. We're going to pit these two against each other and show you how they stack up against one another.
If you talk about Weber Spirit & Genesis, don't forget Igrill 3 Thermometer reviews link below
When comparing this series to the others in the Weber offer, one could go ahead and say that it is a version for beginners. If you compare the same grill, however, with other brands on the market, it turns out that it is something more than just a regular grill – of course that's a result of Weber's constant development compared to the rest of competitors.
The Spirit II series consists of two models to choose from, the first has two burners (Spirit II E-210), while the other has three (Spirit II E-310).
As you probably guess, they only differ in size and efficiency, other than that these are 100% the same constructions equipped with the same features.
When it comes to the configuration when placing an order, you can choose the power version (propane or natural gas) and change of the lid color.
The best choice in my view is the Spirit II E-310 model
It has three burners and a cooking surface that in my opinion will meet the expectations of most average families of a few people.
Of course it's smaller than the competitive models from the Genesis II series, but it needs to be justified by the much lower price.
The open construction is simple, but it contains all the essential elements such as folding side shelves, storage space under the grill, wheels for improved mobility or tool hooks.
You won't find any interesting gadgets here but there is an option to separately buy things like iGrill 3, which is a digital wireless thermometer.
Pros
Simple yet comfortable construction equipped with all the essential solutions.
A lot of space to cook and to work
Three strong burners
High quality grates
Weber Genesis II Overview
The Genesis II series can boast much more sophisticated offer and more advanced configuration compared to the two models in the Spirit II series.
First and foremost, you have many more sizes to choose from, including versions with a closed and open construction. The greatest upside is the ability to buy two extra burners separately (sear burner and side burner).
Currently (July 2020) the Genesis offer includes two burner configurations, the smallest three burner version and for those who need even more space there's a 4-burner version.
The construction itself is bigger than in Spirit II, for example the three burner Genesis II offers much more space than the three burner Spirit II model (about 20% more).
The best choice out of this series to me is Weber Genesis II E-435
That's the strongest, biggest and most versatile option in this series (also available in a stainless steel version).
A suggestion for experienced and much more demanding people.
Right from the first encounter, one can see a much better attention to details and finishings. The lid handle was made of steel, and the lid itself is slightly thicker and more massive than in Spirit II.
Waiting for you under the lid is a lot of room for cooking among the four main burners and the additional sear burner, which can achieve a very high temperature within a few seconds (a great tool for searing steaks or hamburgers).
When it comes to the shared characteristics, both series utilize the same cooking technology (GS4 grilling system) and compatibility with the wireless thermometer (iGrill 3).
There is also no shortage of solutions that improve the comfort of using the grill, such as tool hooks, wheels, spacious side shelves or a lot of storage space hidden behind the front doors.
Pros
Very large cooking area
Functional and spacious construction with a lot of working space
Very strong burners with a versatile sear and side burner
Style and attention to minor details
Weber Genesis vs Spirit – Head to Head Comparison
There is no point comparing individual models, instead I'll try to take a general look on both series in terms of what they have to offer.
Available configurations and grill sizes
In this regard the Genesis series without a doubt has an advantage thanks to offering a whole lot of configurations. Starting from the choice of size, the number of main burners, to the additional burners, type of construction (closed or open), lid color and all the way to (or starting from) the choice of type of power.
On the other hand, the Spirit II series offers only two yet simple models in different sizes (2 and 3 burners) with a choice of the lid color and type of gas.
The Spirit II series only offers 2 or 3 main burners, whereas Genesis II offers models equipped with three, four or even 6 main burners.
One could also add the two additional burners in case of Genesis if you go for a more expensive version.
Of course two burners isn't a whole lot but I know that this is enough for a couple or for someone who doesn't cook often. Personally I prefer at least three burners because I know that such configuration provides a lot of room for direct and indirect cooking.
Construction and quality of workmanship
In both cases you can expect high quality of workmanship, which translates to durability. In terms of finishings of elements, there is no difference here – when it comes to the production values, Weber has the same approach to all of its grills.
A significant difference, however, are the materials and this is where one can see an advantage of Genesis II, where some of the minor elements were made of better materials.
In both cases the durability will be similar (very good) but the difference lies in the appearance.
All you have to do is look at the plastic handle in the Spirit II series and the steel one in Genesis II (although you can always replace door handles and latches).
Plastic doesn't look better than steel, but is it inferior in terms of durability?
Features (additional burners etc)
Spirit is a very simple series where focus was put on quality and efficiency and not on gadgets which is what makes its price so attractive relative to what it has to offer.
Luckily it is possible to buy several interesting accessories separately in the future once you have a chance to spend a little more money on grilling equipment.
When it comes to the Genesis II series, there is an option to configure a model equipped with additional burners that will improve versatility and are worth their price.
On top of that, when buying a bigger model, you have more room for other interesting gadgets such as a smoker box, grill basket or griddle.
Remember, though, that things of this type cost a lot, and when you put all of the expenses together, it might amount to quite a fortune.
GS4 Grilling System and iGrill 3
In both cases the GS4 Grilling system was implemented and the grills were adapted to be compatible with a wireless thermometer. Remember that iGrill 3 (thermometer) is sold separately and it's not cheap.
It's a good thermometer, but in my view for this kind of money it is better to check out Smoke™ 2-Channel Alarm from Thermoworks.
There was no way it could be different here, as Spirit II was designed for those with a lower budget, so it obviously costs much less.
Genesis II is a suggestion for those more demanding and experienced who often cook on a grill and know well what they need. In such situation, the customer expects a much better offer, which obviously costs much more.
In an overall view, both series are 100% worth their price and I have no regrets buying them (I have both series).
For those who doubt the quality of workmanship or the difference in durability, I have good news. Weber has covered both models with the same 10 year long warranty.
Of course it covers malfunctions and not marks of wear caused by cooking a lot, but whole 10 years of warranty for technical problems and manufacturing defects is great news.
This shows the manufacturer's awareness of the grills being great, as confirmed by numerous customers.
It's a thermometer connected to an app that makes it possible to wirelessly monitor the temperature on the screen of your device (phone/tablet).
The app makes it possible to program the temperature and informs you when the meat is done.
On top of that, the app features different tips, standard temperatures for meat or even recipes.
Neat stuff, but is it worth that much money? See for yourself.
When knowing the exact meat temperature, you can be sure that the meat you serve will be 100% perfect. Think about how many times you have had a situation where the meat was left on the grill for too long or for not long enough due to you being distracted or not having a thermometer.
What is GS4 Grilling System
This term defines a technology responsible for functioning of a grill that includes four elements such as:
Infinity™ Ignition
Stainless Steel Burners
Flavorizer® Bars
Grease Management System
Detailed information on the topic can be found on the manufacturer's website where it is explained the best and you can learn what exactly all of this is about.
There is nothing left for me to do but admit that both series are great and I can recommend them to everyone.
Which particular model to choose is up to you.
I believe that the information included in this guide will help you make an informed choice as that's the only guarantee of being satisfied with your investment.
Each series has something else to offer, and everything still boils down to the key question in the end, "how much is it?".
Analyze your budget, then your needs and choose a grill that best suits your cooking style and your expectations.
I just want to remind you that Spirit II is a series for those with a lower budget, but with high quality of workmanship and efficiency maintained.
The Genesis II series, on the other hand, is an option for those who expect more space and interesting features as well as additional burners that will significantly enhance the opportunities and fun when cooking.
Weber Genesis II Features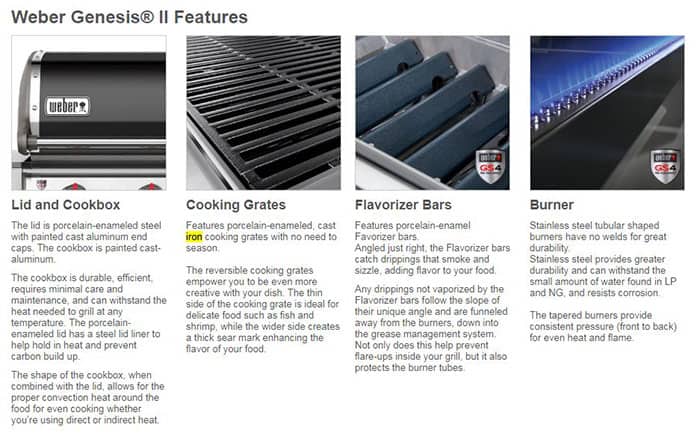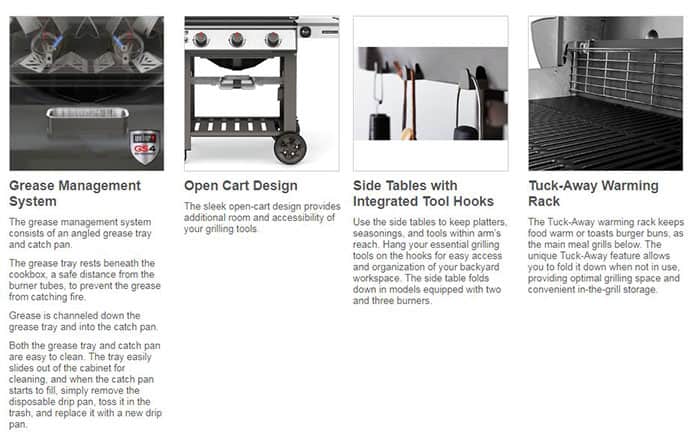 Weber Spirit Features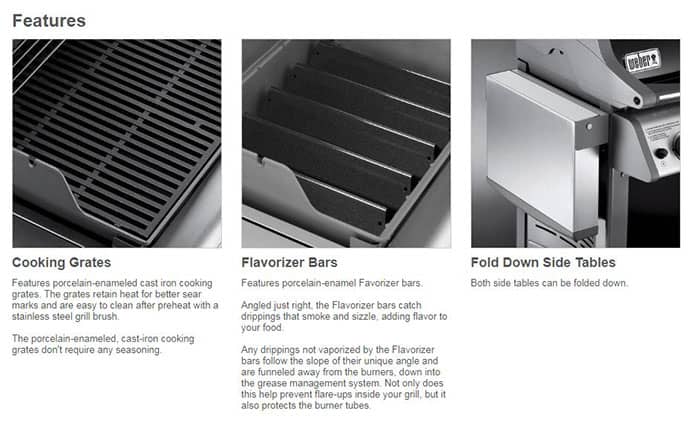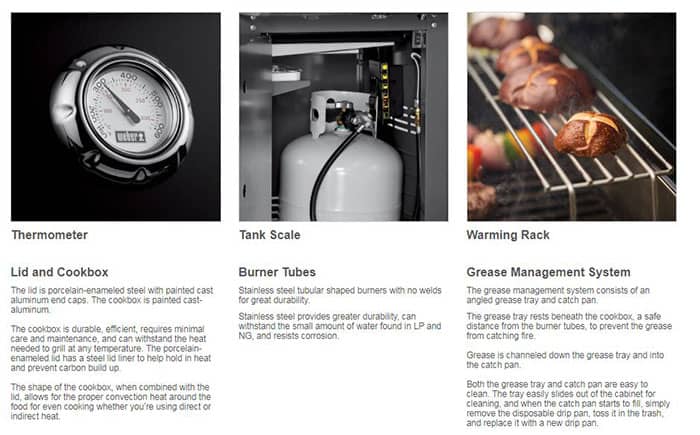 Weber Genesis vs Spirit Individual Reviews
The Weber Spirit II E 310 is a well-designed gas grill with all the features you need to prepare the perfect grill and it's available at a reasonable price, so it stands out for its value for money as well. It has a generously sized grilling area and easy-to-use controls.
Of course, the Weber brand has to maintain its reputation as a brand that cares about quality and durability which means all of their products are well-made from sturdy materials.
The Weber Spirit 310 doesn't disappoint in the space department, as it features a 424 square inch cooking surface that's large enough to fit a 20-pound turkey or several large red meat cuts. This grill also offers stainless steel side tables and a 105 square inch warming rack that you can use to keep food warm while you get ready for your party or prepare other meals. The available space on this grill makes it an entertainer's dream.
Users will appreciate the porcelain enameled flavorizer bars and the temperature control is made easy to use by the center-mounted thermometer and easy to read fuel gauge.
This grill is powered by twenty pounds of liquid propane but it doesn't come with a fuel tank so you'll have to purchase it separately. The fuel gauge is clear and easy to read so you'll never be left in the dark when it comes to your remaining fuel level.
You'll be glad to know that this grill uses an Electronic Crossover ignition system which means you only need to press one button and it'll fire up immediately. It's a powerful grill that offers 30,000 BTUs per hour.
Another great feature of the Weber Spirit 310 grill is the individual burner control that enables you to determine whether you'd like direct or indirect heat in the different heat zones. Although medium-sized, this grill has everything you need to host the perfect summer soiree.
Pros
Large size
Enough space to cook plenty of food at once
Easy to clean
Works great
Cons
This is a hefty unit and it's not easy to move around
Difficult to assemble
Prone to dents and scratches
Check prices and availability here
The Weber Spirit E 210 is a feature-packed grill that's perfect for use at home and on the go. It's powered by propane gas and features an easy-to-use control panel at the front.
This grill is the perfect option for space-challenged homeowners that want the performance of a high-end grill but without the extra bulk and weight. This grill even comes with foldable stainless steel side tables that make it easy to move it around or put it away when you want to.
Don't let this grill's small size fool you though, because it has a large cooking surface that allows you to cook all types of meat. You can even use it to make your Thanksgiving turkey and it'll save you time by cooking different types of food at once.
This is a well-made grill with cast iron cooking grates that are coated with easy to clean and durable porcelain enamel. This feature is also responsible for the grill's excellent heat retention qualities and it protects it from rust, peeling and fading over time.
Switching the Weber Spirit 210 on is as easy as activating the electronic cross over ignition system which literally takes seconds to ignite. Plus, you can rest assured that the cooking temperature will remain pretty even from then on thanks to the grill's even heat control.
You can easily control the temperature through the built-in thermometer and the fuel gauge is there to let you know how much fuel is left at all times.
The Weber Spirit 210 is a great BBQ grill for small families or even singles who like to grill but without dealing with the inconveniences of a charcoal grill. You'll find that it's easy to maintain and since it's portable you can put it in storage when not in use to save space. Otherwise, it looks great when placed on a balcony or patio because of its beautiful design.
Pros
Well made from sturdy materials
Comes with a gas gauge
Even heat distribution
Weber offers excellent customer support
Cons
This grill can be a bit difficult to install
You might want to ask someone experienced to connect the LP gas tank
Check prices and availability here
If you're an avid grill master then you know that Genesis grills are very popular in the US. The Weber Genesis E 330 lives up to the legendary status of its predecessors by offering several beneficial features.
For example, it comes with three stainless steel burners with easy to use control knobs on the front panel. It also features metal painted double cart doors that are available in colors like green, black, and copper. The double wall hood is made from enameled porcelain and the four side shelves extend to create more space. Both the shelves and hood are made from cast aluminum with tool hooks added to the shelves for maximum durability.
Both the cooking grates and flavorizer are easy to clean thanks to their porcelain enameled construction and the ignition is battery powered for quick start-up. All grills in the Weber Genesis 330 range feature "Precision Fuel Gauge" next to the LP tank to show you how much fuel you have left.
You can extend the working surface of this grill even more by using the stainless steel add-on cabinets which are located beneath the side table. The best part is that these add-on cabinets are adjustable which means they enable you to determine the height of the shelves.
Pros
Sturdy build
Offers high-temperature cooking through the sear burner
Excellent customer support from Weber
Cons
It has slow preheat times
Features low-grade stainless steel construction
The key to making the perfect barbeque is to maintain heat at an even keel without the temperatures getting too high or too low. That's what's possible with the Genesis II E-310. It offers consistent heat levels throughout the cooking process to ensure your meat comes out juicy, flavorful and succulent.
With the Weber Genesis II E 310, you can look forward to efficient and even cooking with three stainless steel primary burners that offer 37,500 BTUs of heat. This grill can go from 0 to 500 degrees Fahrenheit in just 8 minutes and it's able to maintain that temperature to ensure even cooking. Although it's more fuel efficient than other grills, the II E-310 doesn't offer rotisserie cooking and it lacks the versatility offered by some of its competitors.
Unfortunately, this grill doesn't come with a conversion kit of any kind and it's only powered by propane gas. But you can purchase the natural gas version if you prefer as it's a cheaper option, but you won't be able to convert it later on either.
Pros
Well-made construction using sturdy components
Efficient heat distribution and retention
Excellent customer support
Cons
Uses low-grade stainless steel
It has slow preheat times
Spirit vs Genesis: Which Product to Get
So we come to the last section for the two let come across together.
In the final analysis, there's no denying that the Weber Genesis line of gas grill is a superior product in many ways compared to the Spirit models. But, the Genesis range does come at a higher price point than many of its competitors.
At the end of the day, you get what you pay for and the Genesis line features grills that are made to perform and last you for decades.
But if you're looking for a value-added product, the Spirit models are a fantastic option. They feature solid construction and come with all the basic features that you'll need to prepare memorable dishes. Plus, they're nice and compact so they're perfect for anyone with limited space because they store easily.
The biggest difference between these two models is price and that's what will be the deciding factor for most consumers. Happy shopping!
Weber Spirit vs Spirit II
When it comes to investing in the best barbecue grills, you shouldn't waste your money on just about any grill out there. You need to make sure that it is something that can fulfill all your grilling needs and can withstand the daily wear and tear. But given the many different brands and models of barbecue grills in the market today, deciding which of these is the best one is not that easy.
In the world of grills, one of the brands that stands out is Weber. These products are manufactured by Weber-Stephen Products, a grill manufacturing company that's based in the United States. Founded by George Stephen, known for his invention of the Kettle grill in 1952, which he made by cutting a metal buoy in half and then creating a dome-shaped grill that comes with a rounded lid. 
The Weber brand is still one of the most recognized brands in charcoal and gas grills today. Two of their best models are the Weber Spirit I and Spirit II. These are some of the best grills to invest in. But which of these two models should you choose? What are the differences between them? Read this review to find out the answers to your questions.
Features
First, let's find out the different features that each model comes with.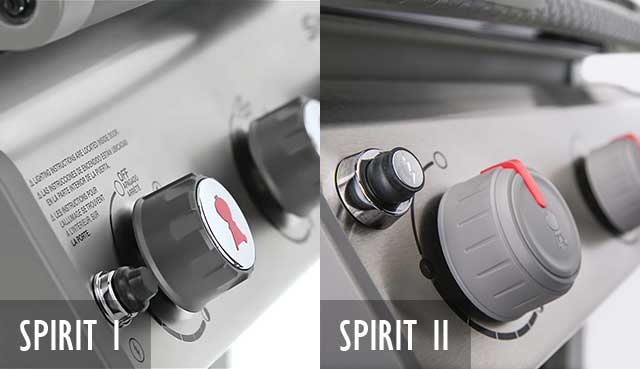 The knob of the Spirit II now comes with markings, similar to a kitchen stove. This allows the user to determine how to set the knob in order to achieve low, medium, and high heat.
While the Spirit I has a BTU of 32,000, the Spirit II features 30,000 BTUs, which means that this new model burns less gas when grilling.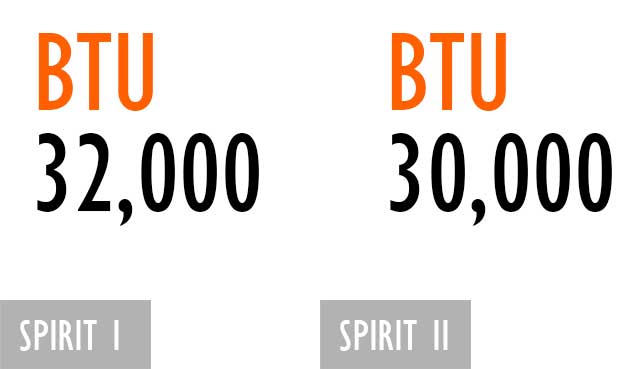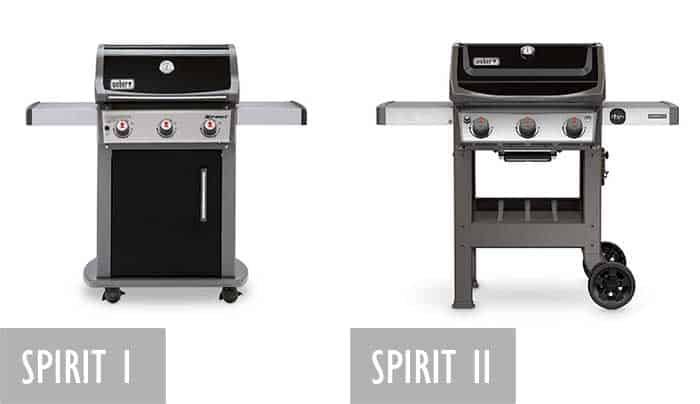 Both models have good design, but if you need the kind of grill that will stand out more in your backyard, then you should opt for the Spirit II. It's looking very stylish and you can choose from different colors instead of the usual black color.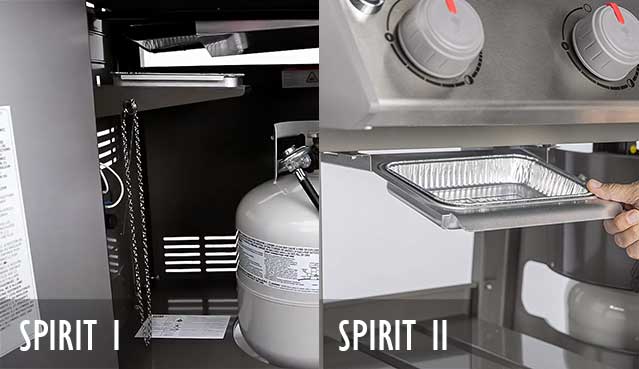 Looking at the Spirit II, it's clear that the drip pan has been fully revamped. In the Spirit I, the pan can be found in the storage area. However, in the new model, the drip pan slides out, which allows for more convenient grilling.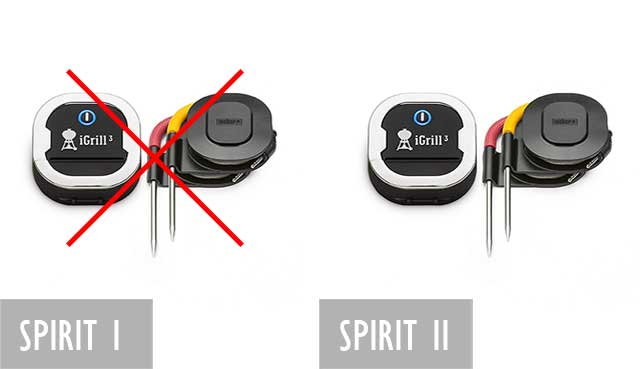 The iGrill feature was added in Weber's effort to incorporate the smart technology on their grills. With this feature, you simply have to insert a thermometer into the meat you are grilling and you'd be able to keep track of the temperature using your smartphone! This smart feature makes your grilling experience more convenient and fun!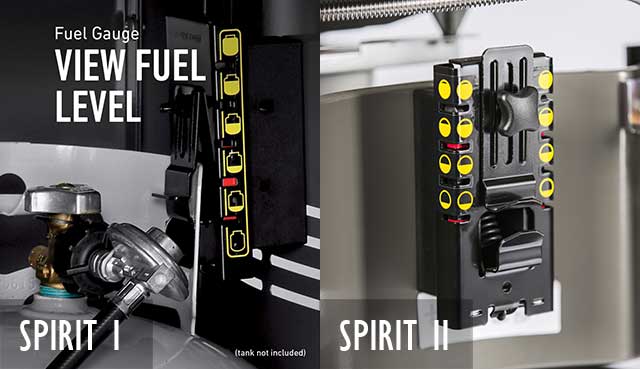 One of the added features of the Spirit II is the liquid propane scale. This feature helps the user to easily keep track of the propane levels, which is a very convenient feature.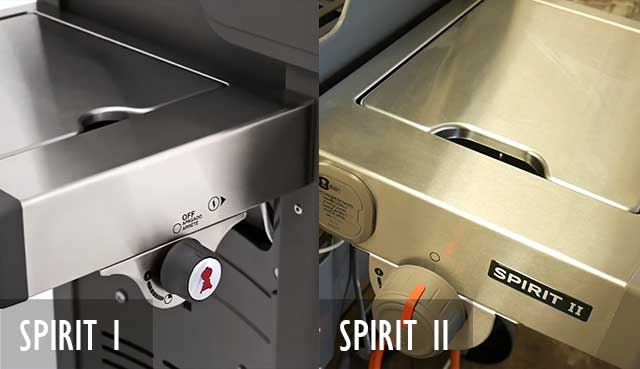 The side burner is not an option for the older model of Weber grills, but this feature is included in the newer models. Both the Spirit I and II have the side burner.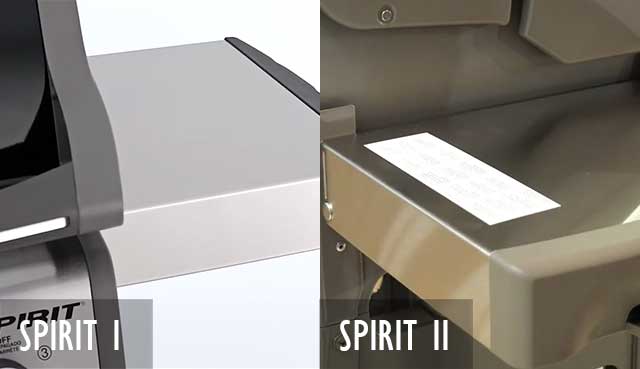 Both models are equipped with side tables that you can use to prep meals as you are grilling the meat. The tables also come with built-in hooks that you can use to hang utensils. However, the left side table of the Spirit II can be folded down.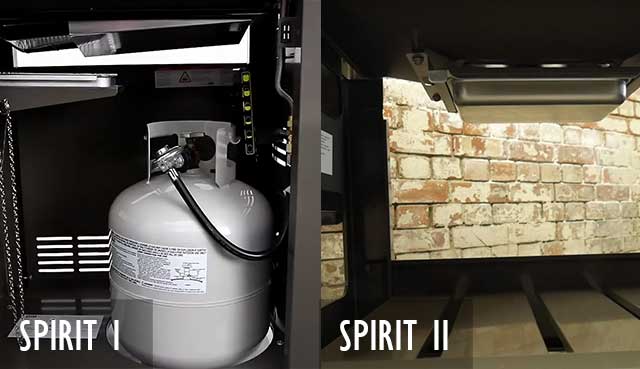 For storage, the Spirit I comes with a closed cart design that helps to enclose the propane tank, keeping it out of sight. This design gives the user more options for storage. As for the Spirit II, it features an open cart design, providing easy access to its tank.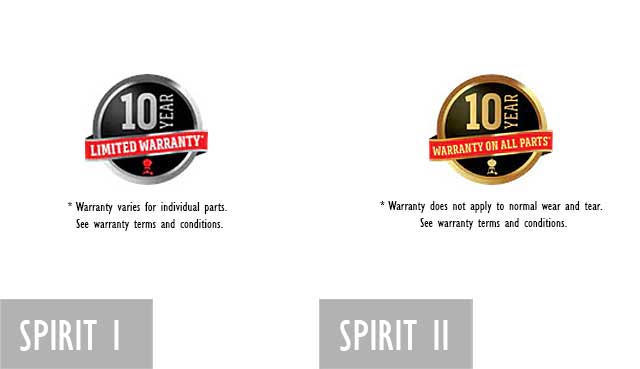 Unlike the Spirit I, the Weber Spirit II has a 10-year warranty, which covers the entire grill along with its parts.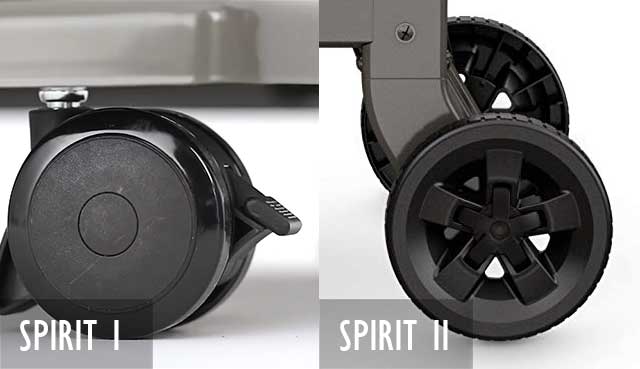 Unlike the Spirit I that comes with four wheels, the Spirit II only has two wheels that make it easy to transport the grill on grass or sand.
More Details
Indeed, Weber has established themselves as one of the leading makers of premium quality grills, which is why people would still choose these grills despites the fact that there are now plenty of newer brands in the market. They continue to dominate the market by providing products that can give customers the best value for their money.
However, some of their most loyal customers have noticed that the other features in the newer model are either a downgrade or mere add-ons. Although the open cabinet allows for easy access to the tank, this feature has removed some space for storage. Many would still prefer the closed cabinet version since it hides the tank and the added storage space makes grilling so much more convenient.
The Spirit II comes with the two oversized wheels that help in transporting the grill so much easier especially on uneven surfaces. However, some customers would still find the Spirit I better since it has four wheels, and makes moving from side to side and front to back so much more convenient. 
Many are amazed by the iGrill technology of the grill. It makes it easier for users to keep track of the meat's temperature without having to stay close to the grill. However, this has made the Weber grills even more expensive.
There are several other reasons to love about the new model, such as the lower BTUs, more color options, and other add-ons. But many have also noticed that the new one has somewhat poorer quality than the previous model.
Some of Weber's customers still prefer the Spirit I. Unfortunately, this model is now too difficult to find since the company has now replaced it with Spirit II. 
Which of the Two Models Should You Choose?
Although the Weber Spirit II sounds fancier, if you refer to the features, you might want to just stick with the original one, which is so much cheaper and functions just as great. But then again, it's rare to find vendors that still carry this model so if you cannot find one, you might as well opt for the Spirit II. It might cost more, but it's definitely worth the money.
Weber Genesis vs Genesis II
Weber has recently released in the market their latest products, the Genesis II and II LX series. These products are the updated version of the Genesis series. This latest lineup is truly impressive and has made Weber stand out from their fiercest competitors, especially in terms of versatility and quality.
If you're interested in this new line of product, then it's worth knowing the differences between these new models and their predecessors. There are actually a lot of differences and improvements but here are the most important.
Improvements That Come with Weber Genesis II Series
Weber is really serious about their goal of providing premium quality line of products, which is why they have made lots of improvements on the new Genesis series. 
Here are some of the most significant improvements.
Weber has decided to streamline their popular Genesis series on the Weber Genesis II series. Most of their customers believe that this decision has been long overdue. The new Genesis series are now equipped with either the cabinet design or open structure design and the griller can choose whatever suits him. Furthermore, the grill shrouds are much shorter now, which give each grill a wider profile but with a more luxurious look.
It's worth noting that the open cabinet design of the Weber grill is a radical choice. They seem to be exploring a full mounted design because some users prefer to hide the grease tray and other parts that tend to accumulate waste as they grill.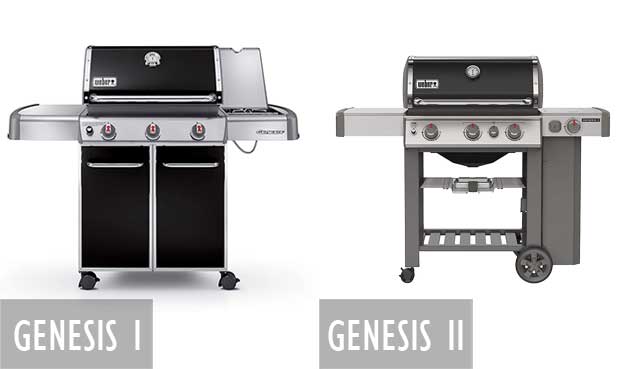 In addition, the tank's placement is now much easier than in the previous versions of the Genesis series, which is one of the most visible improvements that the company has made in terms of convenience and ease of use.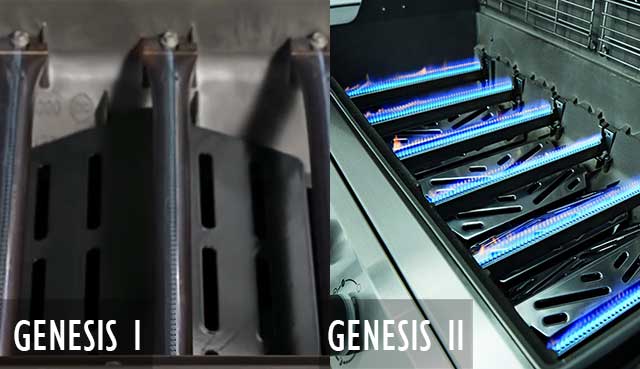 Every griller knows that the heart of the grill is the burner. As such, Weber has made some major improvements on the design of the burner of their Genesis II series. The new burners are now capable of providing even heat on the entire cooking surface, which makes each and every inch of the grate more effective and predictable. There's a uniquely tapered tube at the burner that applies consistent pressure and includes alignment from back to front, allowing for a more consistent flame and even heat.
The upgraded E2i electronic ignition system on the new series is so much more reliable than those of its predecessors. In fact, many customers pointed out that this new E2i system is by far, the most superior ignition system that the company has ever created.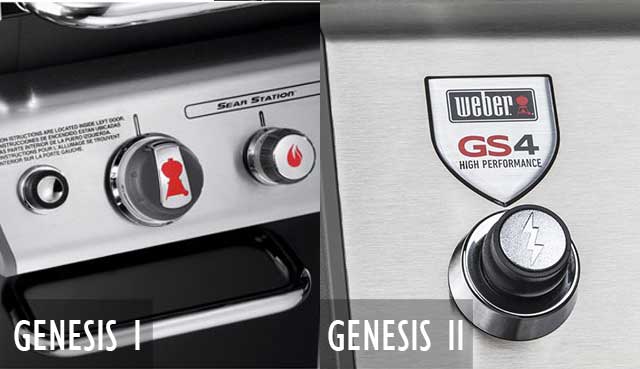 If you take a closer look at the grill, you will notice that there's a single-push igniter at the Genesis II series. There's also an igniter on each of the individual knobs that features an "easy-press" design. Furthermore, the LX series boasts an ambient light and heat option for each of the knobs, which is a truly wonderful feature that makes the LX series to stand out from its competitors!
Weber has also decided to revive the 2-burner edition of the Genesis II LX and Genesis II to the delight of their customers. This will now give grillers a choice instead of merely opting for the mediocre Spirit IIseries when grilling in small areas, like in the balcony. On the other hand, the Genesis series comes with grills that have four and six burners, which is suitable for those that are really serious about grilling.
Both the Genesis II LX and Genesis II series have excellent warranty coverage, which is what Weber is known for. The company offers an amazing 10-year warranty for their grills and the cooking grates that are made of porcelain enamel are covered for 5 years. However, the stainless steel burners come with 10-year warranty coverage. For Genesis please contact their support for more info(this model discontinues)
Which One Should You Choose?
It's clear to see that the Weber Genesis II is an upgraded version of the Genesis I, which is loved by customers due to its excellent functionality. Still, the Spirit I is lacking some features that make your grilling experience more enjoyable, which is why Weber has decided to come up with the Genesis II. So if you are to choose between the two, you might as well go for the Genesis II, which has more features than its predecessors.
What's more, this new model includes a smart technology known as the iGrill, which allows you to monitor your meat's temperature using your mobile phone! Sure, the Genesis II may cost a lot more than its predecessor, but it's definitely worth the money!
Joost Nusselder, the founder of Lakeside Smokers is a content marketer, dad and loves trying out new food with BBQ Smoking (& Japanese food!) at the heart of his passion, and together with his team he's been creating in-depth blog articles since 2016 to help loyal readers with recipes and cooking tips.