I love creating free content full of tips for my readers, you. I don't accept paid sponsorships, my opinion is my own, but if you find my recommendations helpful and you end up buying something you like through one of my links, I could earn a commission at no extra cost to you.
Learn more
So you decided to buy yourself a BBQ smoker but as soon as you headed to your preferred store (either online or local) you were taken aback with the immense amount of brands and options out there.
Suddenly, new questions arise:
Will you use wood, charcoal, gas or electricity?
Do you need your smoker to be small and portable or large and still easy to move?
Do you also want it to be able to grill or simply smoke your meat?
And we haven't even covered the designs, special features and other useful controls that are bound to make the experience more satisfying for you.
In this article, I'll guide you through the best BBQ smokers brands and when to choose which.
I ended up buying the Weber Smokey Mountain Cooker looking for a challenge so I saved up and went on to purchase it, and haven't looked back since. It allows me full control over the heat and ventilation while still being easy to use so I don't stress while smoking my meats. I have a medium-sized yard so this BBQ smoker was the clear choice for me. It doesn't take up much space while maintaining the quality and a great overall flavor.
Here's T-Roy Cooks on his BBQ channel on how to easily smoke and slow cook on the Weber:
However, if you don't have enough yard space or you would prefer something with simple controls and that you can even use indoors, you might prefer to look into an electric BBQ smoker, like the Masterbuilt 30-inch Digital Smoker. They're pretty awesome too since they have external controls that allow for hands-free smoking. You can set everything up and then forget about it until it's done. It doesn't get any easier than that.
I understand what you're going through, because when I first decided to buy one I had no idea what I had gotten myself into and had to do all this research on my own, looking all over the place because I couldn't find a single trustworthy source. So today I want to help make this adventure much easier for you by sharing the best BBQ smoker brands out there so you can make your own educated choice.
To sum things up before we dig in, I tested a few in order to give you the best recommendations I could and I have to say I picked these two as my favorites, since you can choose the one that best suits your needs. These are my two definitive choices in smokers that you should consider before moving on:
Brand
Benefits
Image
Weber and their
Weber Smokey Mountain Cooker
High-quality charcoal smokers with years of experience to back them up and 10 years of warranty.

(view more images)


 

Masterbuilt and their
Masterbuilt 30-inch Digital Smoker
Easy-to-use electric smokers that make the experience of smoking meats easier than ever. Perfect for beginners.

(view more images)
As I mentioned before, those two are my preferred brand choices. However, if you would like more information on brands before deciding which one is the best for you to invest in, continue reading. I will provide useful company reviews and information so you can decide which brand is better suited for you.
Before we start, what is a BBQ smoker?
A BBQ smoker is an appliance that can produce smoke and wrap it around the meat for long periods of time while also maintaining a low temperature. The meat then absorbs the smoke, acquiring a "smoky" flavor.
There are BBQ smokers to fit any budget, since their prices range from $50 up to $5,000 and higher. And like we mentioned before, deciding the best one for you will depend a lot on your particular needs for a BBQ smoker.
So whether you're just getting started and want to give it a try or you already have a simple one and want to move on to the more sophisticated ones, you can rest assured that there's a BBQ smoker tailored just for you (or that you can tailor with a few modifications).
Why does the BBQ smoker brand matter?
You've probably never heard about the names or logos stamped on the BBQ smokers you will find while browsing but it's always important to do your research into the company that produces them.
This is especially important if you care about future service or support. Many generic brands will leave you high and dry if something malfunctions and you will end up with a device that wasted your money and is now only occupying space in your home so it goes straight to the trash.
By paying attention to the brand, you can better understand the quality of the product you're acquiring. Does your smoker include a warranty? Is it for a long period of time? Will you have to pay for any additional maintenance?
To answer these questions, look into expert reviews and the most useful source of information nowadays: customer reviews and recommendations. Remember to take them into account before acquiring since they can give you an honest insight without the expense.
What are the best BBQ smoker brands out there?
To give you a quick summary, these are top five BBQ smoker brands, in our opinion. We took the time to test out their best smokers and this is what we got:
Choosing a specific brand just got a little bit harder, didn't it? As you can see, all these brands are amazing and they all feature products that are bound to make your experience a satisfying one.
However, to better tailor your needs I will now go into detail on each one of them and their best-selling smokers.
Weber
As we mentioned before, Weber is a well-regarded brand that guarantees a great build quality so you can be sure your smoker will last a long time.
As a matter of fact, the Weber brand is so sure of their quality that they offer a 10-year warranty with their products. Doesn't that make you feel at ease?
Their staple smoker is the Weber Smokey Mountain Cooker. It features a porcelain enameled exterior and a heat-resistant nylon handle for safety reasons.
It also features an aluminum vent and fuel door which helps protect this bad boy from rust. A big plus, in my opinion, is the porcelain coated water place since it tenderizes the meat as you smoke it.
(view more images)
It comes in three sizes for you to choose from: 14, 18 and 22 inches. We recommend the 18-inch model since it guarantees an easier overall experience for the price.
This model can maintain a more stable temperature as opposed to the 22 in one, which can get a bit too hot if you're not careful.
Dyna-Glo
With years of experience in the industry, Dyna-Glo smokers are built to last and that shows through their careful and well-thought design. These smokers are the best choice for charcoal enthusiasts.
Their best-known smokers are vertical since they believe that's the best shape to capture the maximum smoke flavor.
Additionally, they feature a double door design which helps reduce heat loss when you need to access fuel or the food you're smoking.
I know it can be very annoying to have the temperature go down simply because you needed to check on things, so this is a nice addition.
So it's no surprise that their Dyna-Glo Charcoal Offset Smoker is so popular. It features enough space to cook up to 150 lbs of meat in one go.
As you know, meat smoking is a time-consuming process, so being able to make as much as possible at the same time will definitely save you time in the cooking process.
Oklahoma Joe's
There's a good reason Oklahoma Joe's BBQ smokers were so coveted when they were first sold and continue to be today. These smokers are all about Texas-style barbecue.
And to prove they're just that good, Joe (their designer and manufacturer) continue to use them and even wins barbecue competitions with them.
If that doesn't say a lot about the quality of these smokers and the flavor they produce, I'm not sure what will.
Their offset smokers are some of the most sold on Amazon (link to search results for Oklahoma Joe offset smoker) and for a good reason.
Offset smokers are amazing because they give you heat control by removing the heat source from the meat itself. The best one is their Highland Offset Smoker.
These smokers are also a great choice for places with poor weather conditions, thanks to their heavy-duty construction. Overall, Oklahoma Joe's offers great smokers, that are built to last, affordable, and easy to control.
Masterbuilt
Remember Masterbuilt's belief? Any skill can be mastered. That's why their products aren't only high-quality (to make things easier for you), they also feature different fuel sources: electric, propane, charcoal or pellet.
We've got a whole separate article on the masterbuilt if you're interested to learn more.
And not only do they make these tools great, but they also share multiple videos on their website to help you master those skills.
With topics ranging from how to cold smoke to how to pre-season and make the most out of your smoker, you're bound to learn in no time.
That's why it's no surprise that one of their best-selling smokers is the Masterbuilt 30-inch Digital Smoker. It lets you focus on the flavor and takes all the work out of smoking meats.
Instead of having to adjust the temperature manually by moving hot coals, you can handle everything through the top controller.
It features a digital timer with auto-shutdown for safety, but it also keeps your meats from getting dry because they were in there too long.
Each rack is chrome plated and thanks to heavy insulation, it's also very energy efficient.
But what if it breaks down? We've got you covered. It features a replaceable heating element that is easy to swap out in the strange chance that it breaks down.
This is the best BBQ smoker for beginners, and with some of the best customer support out there, you'll be mastering smoking in no time. Want some more insight? See what some of the reviewers are saying.
Pit Barrel Cooker
Featuring a Hook-N-Hang Method, versatile grilling, durability and style, and portability, it's only natural for this veteran-owned business to be one of the best smoker brands out there.
With durable steel and porcelain enameled coating and enough accessories to cook up large amounts of food, it doesn't get any better than the Pit Barrel Cooker.
This smoker is so good that it won the Best Value Gold Medal Award from AmazingRibs.com and has even been endorsed by celebrity chefs.
If you want a high-quality smoker that is very hands-on, this is the best value for your money.
However, it's important to note that heat control can be a bit tricky, and to make sure it lasts for a couple of years, you will need to keep it in a safe, dry place when not in use.
But that's a small price to pay for the portability benefits of this smoker.
We've got some more thoughts on barrel smokers you can read right here.
Smoker Grill Buying Guide for Beginners
Everybody starts somewhere in life and it's no different for those who want to try to become a smoker grill enthusiast
It's right around fall and a few weeks before winter that retailers are anxious to reduce their inventories of grilling hardware. If you'll visit the local home depot in your area, then you should be able to find cheap grills that are still in pristine condition. In some cases, they give out discounts that go as high as 75% off of the price tag.
Before you go to the home depot though, you must first decide which smoker grill you want to own, because there are various kinds of these things and there are thousands of manufacturers that sell them.
Choosing the perfect smoker grill largely depends on several factors such as what your experience with bbq smokers is, your budget, goals and the number of people you cook for occasionally. I'd like to call these factors as your smoker personality.
Before we go any further allow me to highlight the 7 smoker personalities to you; so you could find where your personality ranks.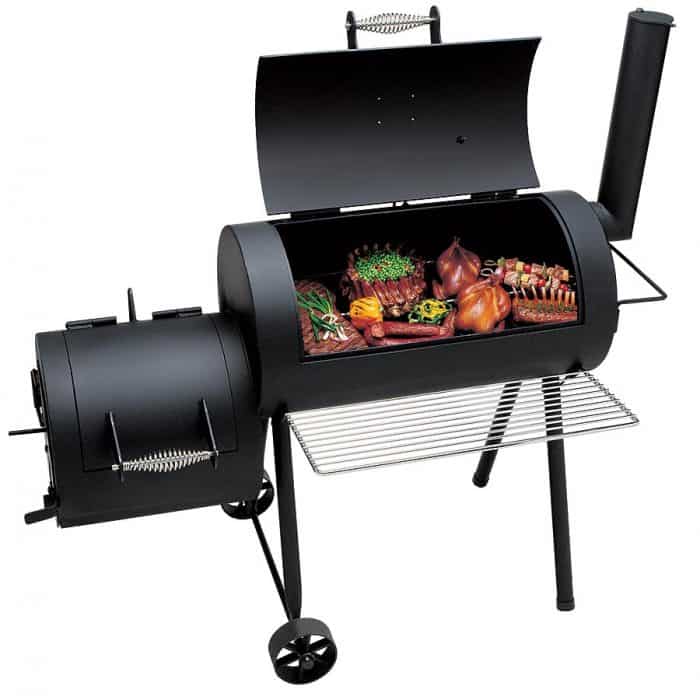 Which barbecue smoker is right for me?
Beginner: The smoker you want is something that's small in size, preferably has fewer switches and buttons so you could operate it easily. A good example of this include an upright barrel smoker, a ceramic cooker, a water smoker, a kettle-style charcoal grill or other similar grills with tall lids. To get yourself started in smoking and still look the part with an affordable grill, we suggest the Pit Barrel Cooker.
Grilling enthusiast but wants to try smoking: You're a grilling junkie, but you also have a thing for smoking. The smoker grills that will suit your taste are an offset smoker with a firebox and grate, a wood-burning grill, a ceramic cooker, front-loading charcoal grill or kettle grill. We would recommend this Char-Broil Offset Smoker for the grilling enthousiast, as it gives you the ability to grill and add smoke as you please.
Convenience- and results-oriented smoker: You're cool with barbecued and smoked foods, but prefer the convenience of a push-button gas grill. The pellet grills or electric gas smokers are for you. The Traeger Tailgater Pellet Smoker might be for you.
Process-oriented smoker: You're not just a grilling enthusiast, but are in love with every minute detail of smoking like how the whole thing works. You can choose the offset smoker or the water smoker to satisfy your insatiable desire to observe the whole smoking process. You might want to consider a front loading water smoker, so you can check in on the process as it develops.
Smoked food addict: You've been addicted to smoked and barbecued foods for a long time, and you wouldn't have it any other way. The water smoker or offset smoker would be good for you, like the ones we discussed in the previous section, but you can also build your own smokehouse to showcase your smoking skills.
Commercial barbecue junkie: For you the prospect of competing for the best griller is the highest you could earn. You love to please the crowd with your cooking and you hope to start a food truck company, a restaurant or a catering business someday. What you need in order to realize your dreams is a carousel-style commercial smoker or an offset smoker for big rigs. It doesn't have to be that expensive.
Apartment or condo-bound smoker: Since you live in a cramped urban environment, you have little to no space to do outdoor smoking or grilling. To solve this problem, just buy a handheld smoker or a stovetop smoker. You should get yourself a stainless steel one from a top brand.
Don't be confused. A charcoal grill is the same as a smoker grill, because charcoal is the best grill fuel for any smoker grill.
Charcoal is a lot easier to work with than natural gas or propane grills. All you have to do is follow the step-by-step setup from the manual on propping up your charcoal grill, add the coals or wood chips and chunks and you're ready to go!
Remember, in order for your cooking to be good, you'll need a charcoal grill that has a tight-fitting lid.
It must also have lower and upper vents which controls the heat and a huge clearance between the grill grate and the lid in case you're going to smoke large pieces of meat like beef shoulder clod or turkey.
The charcoal grill is the best grills in the smoker grill industry, because it's cheap and is probably the most durable among other grills.
What different types of bbq smokers are there?
Now that you've determined what kind of smoking enthousiast you are, let's look at the different types of bbq smokers you could get, and what their strengths and weaknesses are.
The Upright barrel smoker
There's also a new smoker that's gaining in popularity and it's called, the drum smoker or upright barrel smoker as some would call it, because it looks like those oil drums you see in oil refineries.
The upper lid has been removed to make room for the grate and underneath it is a charcoal basket which sits at the bottom.
Since it's larger than standard size smoker grills, you have the option to cook food with it vertically by using hooks from rebar rods as oppose to standard smoking methods.
By adding wood chips to the charcoal fuel you generate smoke form it. The heat is both radiant and convective, so food smokes faster in an upright barrel smoker. For $300 you can have your own upright barrel smoker at home.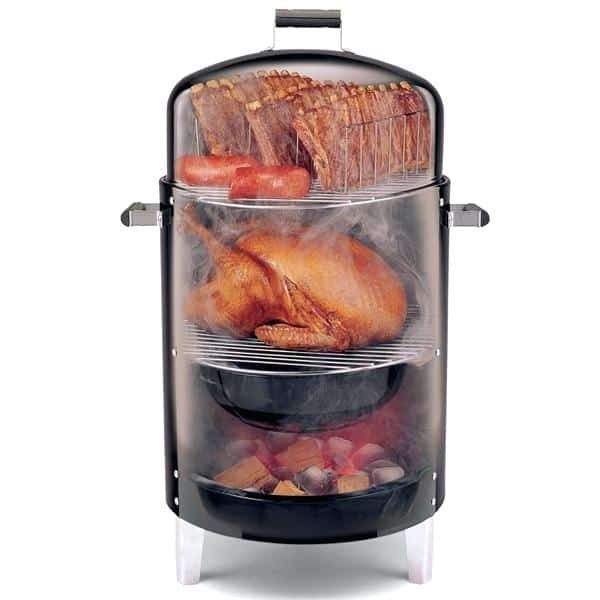 The water smoker
Another type of smoker grill that brings amazing performance, lightweight and affordable is the water smoker.
The water smoker has quite a complex design in order to get that right taste to your grilled foods.
At the bottom of it lies the charcoal, wood chunks, and chips is placed to create the needed heat, then the smoke chamber sits above it and finally the water pan is placed above.
The water pan helps stabilize heat and moisture in the cook chamber, but be careful not to fill it up to the brim because too much moisture will make your food taste differently than what you had expected.
The last parts to be added are the grill grates and lid. The ideal temperature range from 225 to 275º Kelvin and you can manage the heat by using the upper and lower vents.
There are also large water smoker models that can handle racks of pork ribs; however, you can just buy a rib rack to accomplish the same thing.
The Offset barrel smoker
The old steam-driven locomotive-looking smoker (offset barrel smoker) will tell your whole neighborhood what you're up to, because it's visible from 300 yards away.
Just about in any barbecue competition circuit, you will see these macho-looking, hardcore smokers get the spotlight as they ace every category in the competition.
Today you can buy new models with sealed quality assurance passed which will redefine the word "cool" in the smoker grill industry.
The offset barrel smoker was first seen in states like Oklahoma and Texas. They were built from leftover oil pipes and you use charcoal or wood to serve as fuel.
This smoker grill is easily recognizable anywhere as they have distinctive profile features such as the barrel-shaped cooking chamber that has a horizontal lid, a firebox alongside of it but is lowered to take advantage of the heat, and a vented chimney on the top.
You could be shedding several hundred or even a few thousand dollars for these bad boys depending on what size and type you want to buy, and they're heavy too!
Kamado style or ceramic smoker
The Japanese are also very good in designing smoker grills as their traditional Japanese cook stove also known as the Kamado-style smokers (ceramic cookers) are famous in America and other countries.
In Japanese Kamado means "place for the cauldron" and this smoker grill was made famous by the Big Green Egg store in American.
These distinctive-looking cookers have taken the barbecue world by storm. You can use charcoal, wood chunks or chips for fuel with this smoker grill and they are placed on the bottom part of the smoker.
Hot air rises to the cooking rack which will heat up any food you want to smoke and if you want to control the heat inside the smoker, then just use the large vents located at the bottom and top of the lid.
These ceramic smokers are very fuel efficient and heat retentive which can help you cook several foods with just one pound of fuel.
They come in various shapes and sizes, but there's one thing common about them – they're quite expensive. But there are cheaper models available now also.
This very affordable Char-Griller E06614 Akorn Jr. Kamado Kooker Charcoal Grill is definitely the one to get you started in this type of grilling without spending huge amounts of money.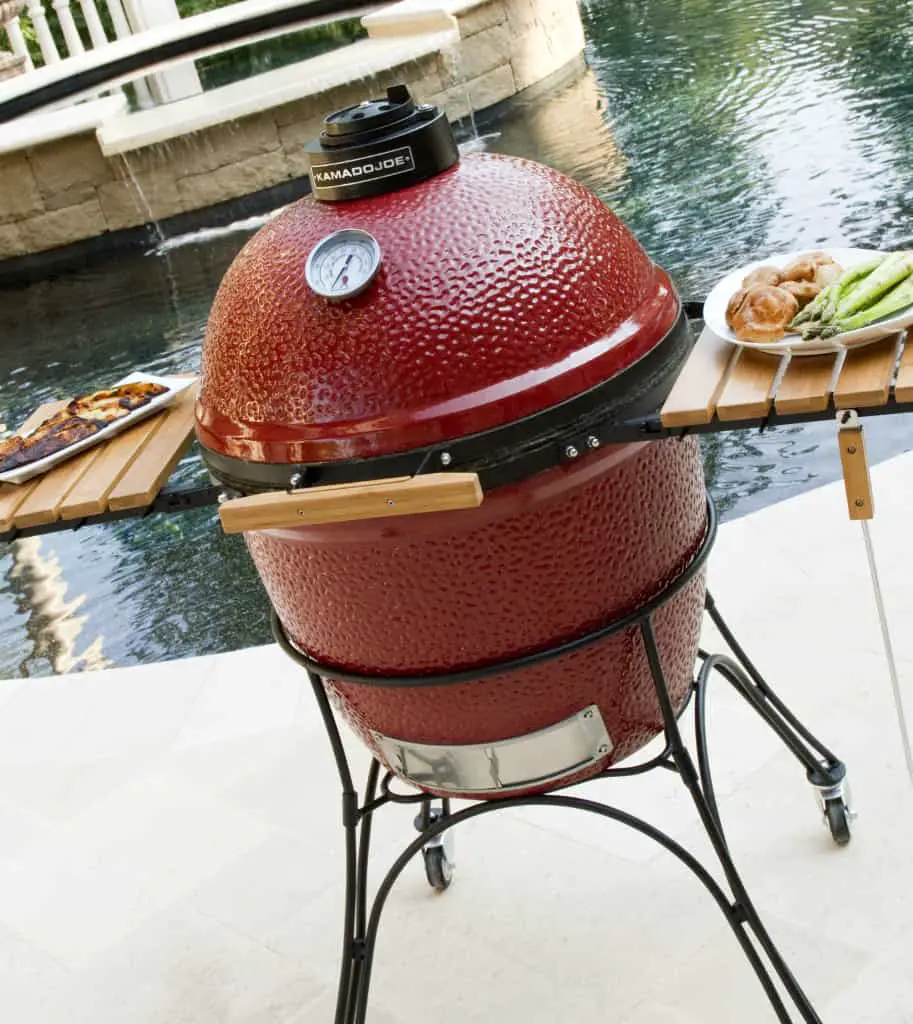 (view more images)
The Propane fueled smokers
For best price and convenience option, the propane-fueled smokers or commonly called, "box smokers" is the smoker grill that you should buy.
Almost everything in this smoker grill is push-button or just turn a dial on/off easy, except maybe when you'll have to put the sawdust, wood chips, or chunks on the metal pan below or place the food in the grill to cook it – that needs to be manually done.
You may notice the difference between the tastes of the smoked food you'll eat as the offset smoker is better than box smokers; however, the food is still delicious.
There's only a slight difference and unless you're an expert, then you won't be able to differentiate the flavors.
The Electric smoker
For those who do not enjoy splitting logs and building fires, you can get the electric smoker. Bisquettes are used as fuel.
These are actually sawdust or compressed sawdust disks or wood shavings which are flammable at certain temperatures.
The latest electric smoker models have phone apps that lets you control the settings remotely through your smartphone or tablet.
Due to the design of electric smokers it restricts airflow in the system to a certain degree and because of this you won't be able to get crispy meat slabs that you normally get from smoker grills.
But it can smoke meat to rare cook levels which makes a reddish-brown texture on the meat.
Pellet smokers
All of the smoker grills mentioned above are great, but the best of them all is the pellet grill or pellet smoker. Their versatility makes them almost always the favorite pick of consumers 90% of the time.
The pellet grill allows you to barbecue, bake, smoke, roast, braise, and even sear on some models when the heat diffuser plate is removed.
The fuel used for pellet grills are specially made cylindrical wood pellets that are placed in a side-mounted hopper.
There is a rotating corkscrew device connected between the hopper and the chamber below the grill grate which rotates while you smoke food.
This is the device that delivers the wood pellets to the grill grate and controls the temperature of smoking chamber.
Starting selling price for the professional pellet smoker is $2,000 and the models that have more features are more expensive.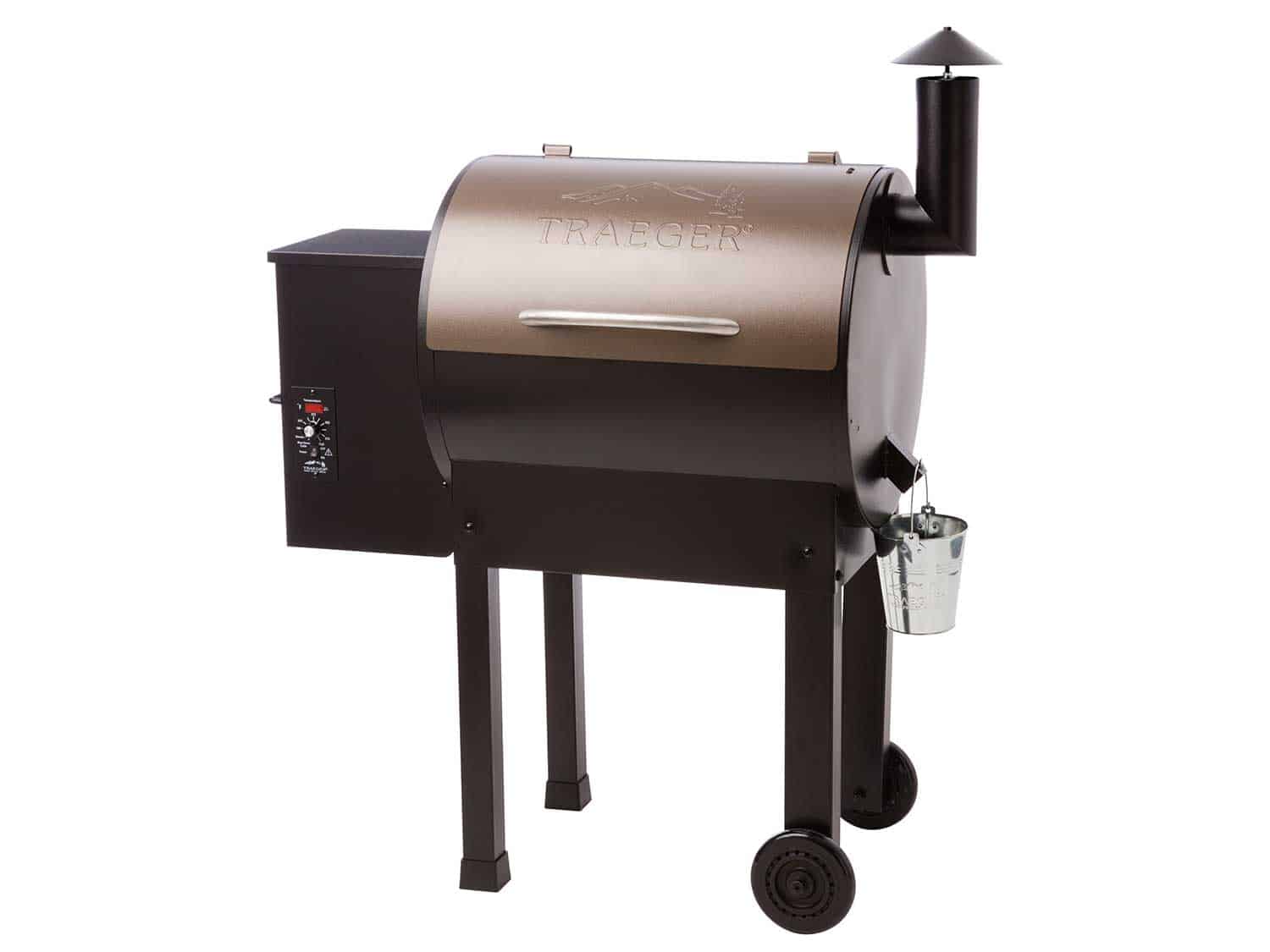 It's okay if you're unable to smoke outdoors no matter the reason, because there are indoor stovetop smokers that are great for shrimp, scallops, hot-smoked salmon, chicken pieces, and other small foods.
Nordic Ware 365 or Camerons Kettle Smoker are good examples of indoor smokers. Add hardwood sawdust or other smoking mixtures if you want to get the right amount of smoked flavor to your dishes.
These indoor smoker grills are less than $100 on any home depot you'll go and they're good for quick meals and for impressing your friends.
Choose a Smoker Grill Based on your Personality to Match.
If you own a charcoal grill with a tight-fitting lid, then you already have a smoker grill. All you have to do is set it up for indirect grilling; add fuel (charcoal, wood chunks or chips) and you should be able to cook any menu of your choice.
Using a smoking box or smoking pouch to add an attenuated smoke flavor to the food you cook; however, the vents in the grill's rear end will suck out the smoke flavor eventually.
You may have to prepare a lot of the ingredients to replace the dried out ones in the smoking pouch/box from time to time.
However, kettle grills have certain drawbacks when you want to achieve the perfect smoked taste for your food, that's because they are designed high-temperature grilling and it becomes difficult to maintain a steady heat at lower temperatures.
Also its small grill grate size restricts the amount of food you can cook at a time.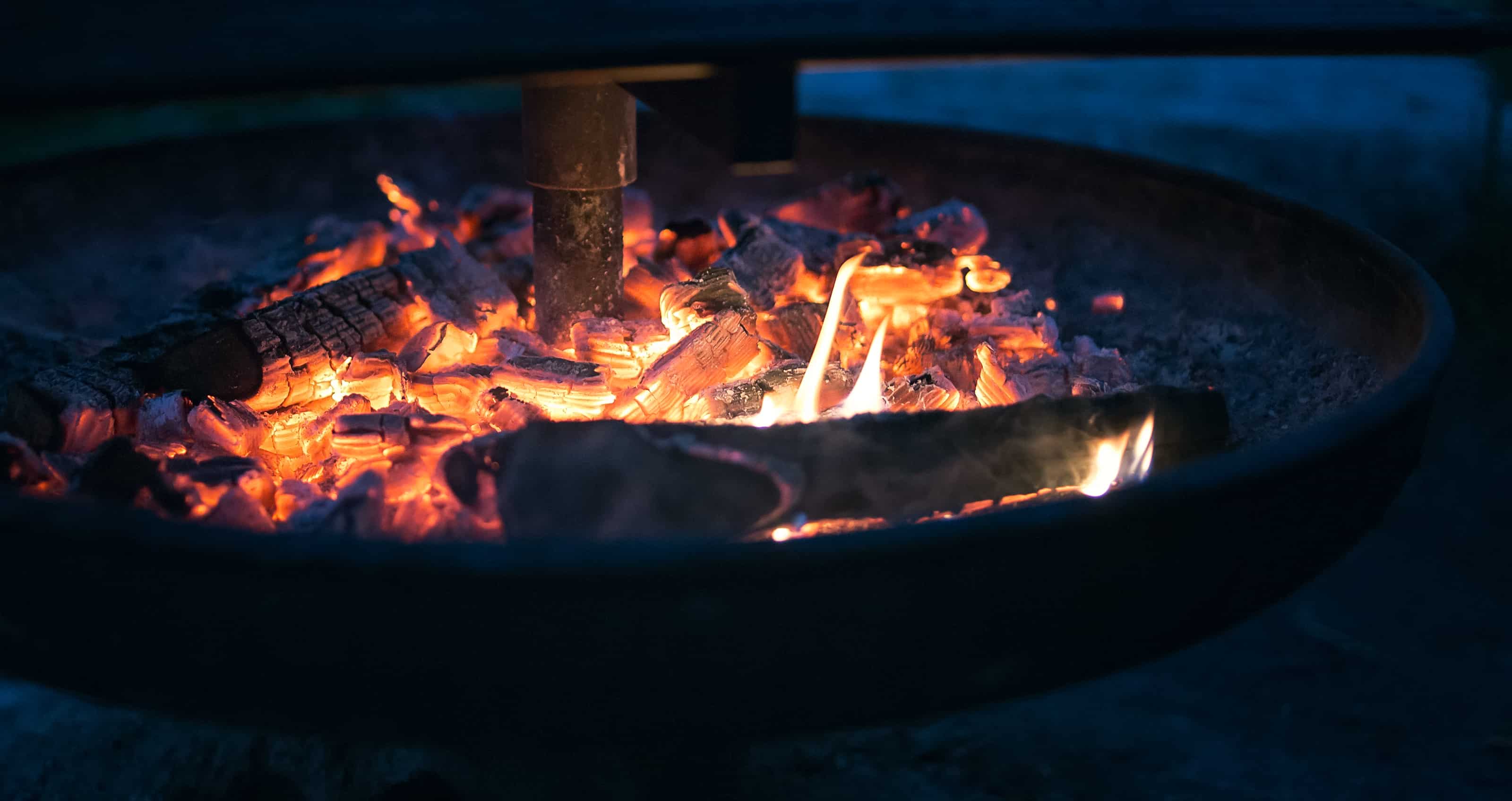 If you've read the first part of this blog post, then you must have already identified with the smoker grill that matches your personality.
In case you haven't read it yet, then I recommend that you check out that blog post first. Just click on the link above and you will be redirected to that page.
So, by now you should have that burning conviction that you're ready to take your smoker grill enthusiasm to the next level.
In order to help you sort out your options, I have prepared some questions for you to consider.
What is your Budget?
While not commonly talked about, a lot of purchasing decisions in people's lives are narrowed down to their financial capacity and willingness to spend on material things – smoker grills fall on the same reasoning just like everything else.
Marketing tricks sometimes nudge the buyer to put in more money than they usually want to spend, but it makes no difference when determination takes over.
They will trade the $300 very serviceable drum smoker for a stainless steel showpiece that costs over $10,000!
Kamado-style ceramic cookers and pellet smokers has a starting cost of at least $1,000 on the market.
Meanwhile, you can get the super durable heavy duty offset smoker that will last a lifetime if you take good care of it for $2,500.
As long as you've setup a budget for the kind of smoker grill that you want to get, then you shouldn't have any trouble choosing.
What Fuel will you Use?
If you're like me, then you may want to opt for an offset smoker or a wood burning charcoal grill. It belches steady heat that allows you to smoke pork shoulders, ribs, and briskets on entirely wood smoke.
Based on experience, I think I speak for a lot of grillers and it's a general consensus that food smoked or grilled over wood taste a lot better than if they're grilled or smoked on other types of fuel.
In case you find wood chopping or hauling wood tiresome and takes up too much of your time, then you can just purchase smoker grills that have automatic ignition system like the gas or electric cabinet-type smokers such as a this Masterbuilt electric smoker we also wrote about, or pellet grills, which are very affordable.
Do you have the Space Required to Accommodate your Smoker Grill?
You should get those small drum-type or upright water smokers if you have limited space in your house or flat as these things have a relatively small footprint.
Be sure to check the space that you've saved in your house or apartment for your grill as it will take up quite a few square feet of real estate.
Take a tape measure with you just to make sure that you have the correct size of the smoker grill that you'll be purchasing; however, if you have a lawn or your real estate property is big enough, then there's no need to worry about it.
How many People do you Plan to Cook For?
I will go out on a limb here and assume that you normally cook for 2 – 4 people in your house on average, but there will be days when you'll cook for a lot more people than your immediate family members.
Special occasions like Christmas, July 4th Independence Day or Thanksgiving will fill your house with guests and if that's the case, then it's better to be prepared than shortsighted.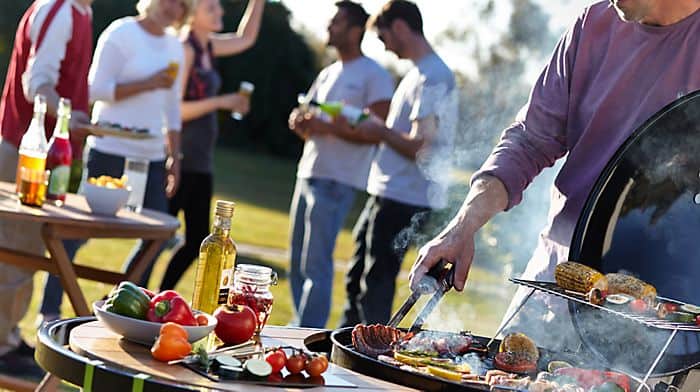 Any Food Preference?
If you don't plan to go crazy on your smoker grill chops and not experiment on smoking food with your electric bbq grill or gas smoker, then just stick to the smaller grills.
But if you plan on being a smoker grill super chef artist, then you're going to need those heavy duty master forge smoker!
You're going to smoke pork, beef, chicken, turkey and maybe whole tuna slices fresh from the fishing trawler or even several huge lobsters on your smoker grill.
So you're going to need a lot of heat from the smoker chamber set them high on at least 325 degree Celsius to thoroughly smoke large chunks of meat.
Do you Value Portability?
The tailgating culture that has become a nationwide trend made bbq grill manufacturers to develop portable smokers for people to take with them in lake cabins, campgrounds and parking lots.
Big smoker grill names like Big Green Egg, Coleman and Weber have emphasized mass production on smaller cookers in their product line-ups.
Naturally typical considerations for a smoker grill with mobility are weight and fuel used. Buy one that's easy to take with you in your car and can easily be setup once you've arrived at your destination.
If you value portability then you might want to consider either:
A small grill like this bullet smoker
A larger grill made for portability like this Coleman in our post about camping and grilling
Are you an Occasional or a Deeply Involved Griller/Smoker?
Light work requires only light materials, but if you're like me, who routinely smokes food on the charcoal grill at least once a week, then you're going to want to go for those high-quality smoker grills.
Pick those that are made from heavier gauge steel, because they are the type of smoker grill that's "weatherproof."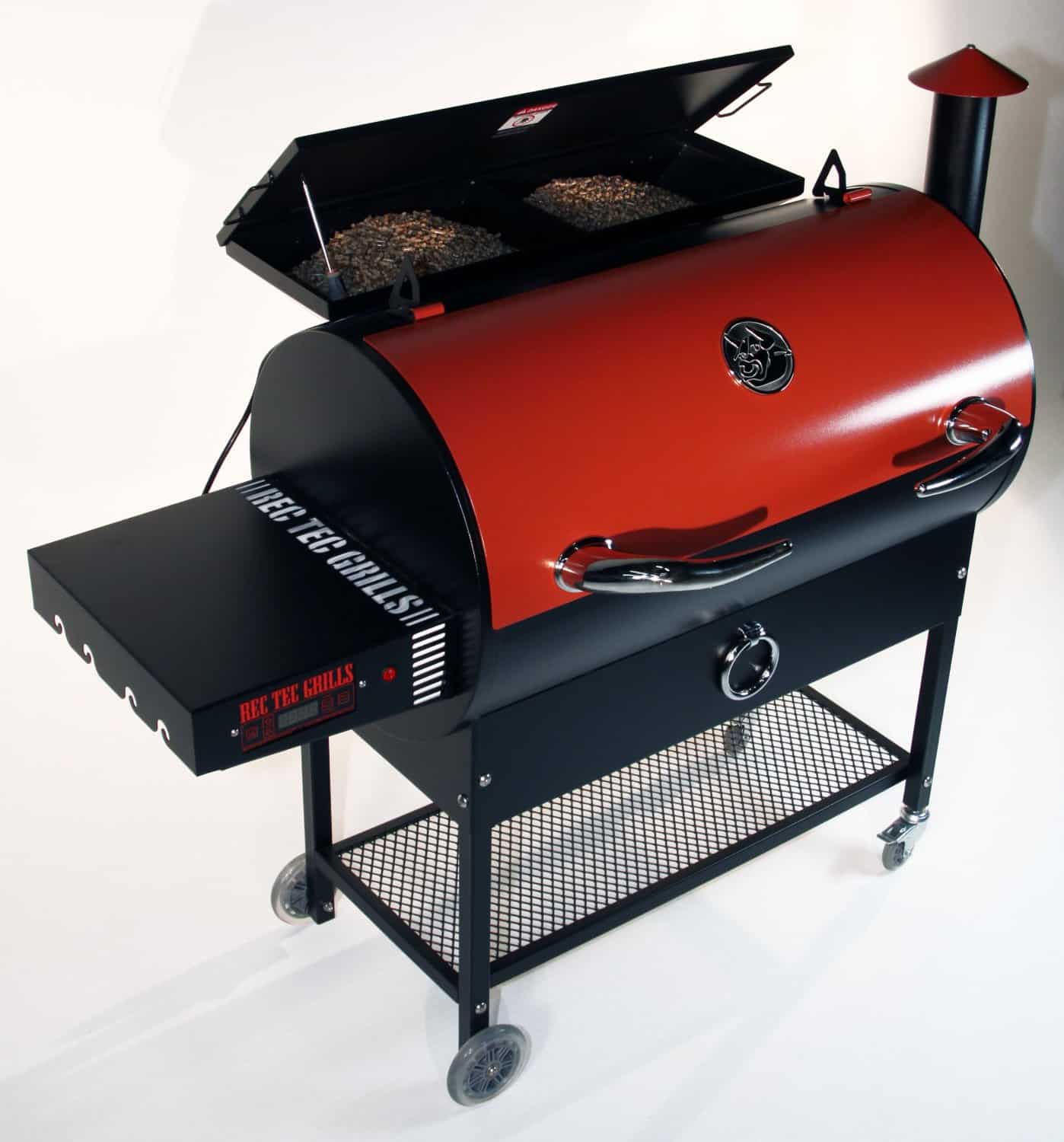 What about Construction?
You have to make sure that the smoker grill that you'll purchase is made of high quality materials like I mentioned above, otherwise it will not do the job as efficiently as you hoped it would.
A food smoker that's made of thin metal sheets and has poor welding work will keep losing heat during windy, damp, or cold conditions.
You need around 225 – 275 degrees Kelvin of heat to cook your food effectively and a poor quality smoker may not be able to keep up with this requirement.
Check the warranty to see if it has been designed to last for more than a year. This will tell you if it's a good product or not.
In my case, I continue to stand by the Weber Smokey Mountain Cooker since it has proven to be an amazing smoker and with the Weber brand backing it, I couldn't have made a better choice.
How Much Are BBQ Smokers?
Honestly, I don't cook that much and I don't know a lot about cookware. But of course, I love food and I love to eat, and barbecue is among my favorites.
In this article, we will dig deep about BBQ smokers, the equipment used in preparing barbecue. BBQ smoker is an outdoor cooking device that has the capacity to maintain low cooking temperatures for a long period of time.
It creates smoke and holds it for the meat to absorb the smoke. This process provides the meat a smoky flavor and makes it tender.
Types of BBQ Smokers
BBQ smokers are classified according to fuel type and structure.
Fuel Type
Wood and charcoal smokers: This traditional type of smoker provides the meat a more authentic flavor. Charcoal can be used in both simple and high-end smokers.
Electric smoker: This smoker is the most convenient type; however, this does not make your meat flavorful. There are computer-controlled smokers that enable users to just set up the device to cook the meat on its own.
Pellet smoker: This is powered electronically, but this uses wood pellets to produce smoke and heat. This type is as convenient as the electric smoker; however, it can give you the same authentic flavor of the meat that is cooked in a wood or charcoal smoker.
Propane smoker: This is the easiest to manipulate. It heats faster than electric smokers.
Structure
Vertical Water Smoker: Being the least expensive among the many types of smokers, this is the most popular in the market. Vertical smoker has three basic compartments. The bottom most compartment is the heat source, which could be a charcoal, gas burner, or an electrical source. Then, the water pan is located in the middle compartment. This functions by regulating and storing the heat of the smoker, at the same time deflecting the direct heat. Moreover, the water pan retains the moisture of the meat. The top compartment is the smoking chamber. 
Horizontal Offset Smoker: This is a two-compartment smoker. The main part is the cooking chamber that has a long grated metal box or barrel with a smokestack and a lift door. The other part is the firebox that has an access door on the side and top and a flexible vent. Smoke and heat produced in the firebox enter into the cooking chamber and into the smokestack through a little hole.
Box Smoker: Also called vault, cabinet, or block smoker, this device is actually a box with a cooking chamber on top and a heat source below. Similar to the vertical water smoker, heat can be easily preserved because the heat source compartment is located at the bottom.
Drum Smoker: Commonly known as Ugly Drum Smoker (UDS), this is also popular because it is less costly. This is made from a metal drum. You can even consider a simple oil drum BBQ smoker as a DIY project. It has also two parts: a cooking rack on top and a firebox at the bottom. Because this lacks water pan, the direct smoke and energy from the charcoal will cook the meat.
Smoker Oven: As opposed to other types of smokers that are used outdoor, smoker oven is typically used indoor. This device is equipped with temperature probes and computer controls. This box is highly insulated with an electric heating source at the bottom. 
Kamado Grill: This is a ceramic, charcoal-powered grill that is highly suitable for low and slow cooking. Its ceramic shell is well insulated and it has an airflow design. Check out our post about the Kamado Grill.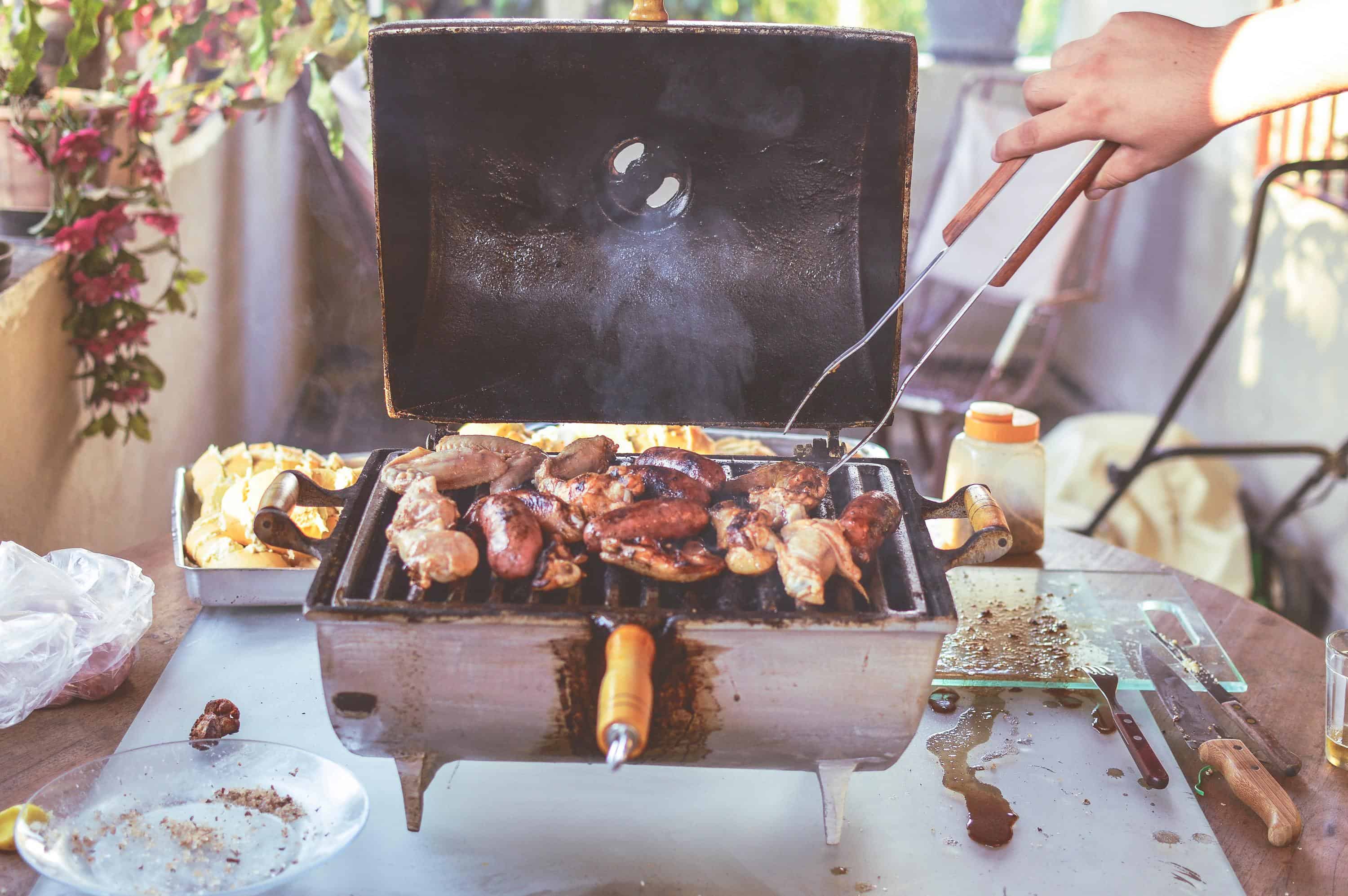 Read more: review of the Traeger pellet grills and their competition
Average Costs of Barbecue Smokers
With the various choices of barbecue smokers that are available in the market, the first thing that you need to consider when purchasing one is the price or cost.
Depending upon the size and quality, the prices of barbecue smokers range from $8 to $2000 overall. A simple backyard smoker can cost between $40 and $400, while high-end BBQ smokers could range from $400 to $2000.
Please find below the costs of some of the commonly used smokers:
2″x4.2″x2.5″ stainless steel Cameron Cookware barbecue smoke box – $15
Weber 7541 Gas Grill Smoker -$90-$100
Weber Smokey Mountain Cooker – $220-$350
Large Big Green Egg – $700-$900
Char Broil Deluxe – $300
Moreover, when calculating the overall cost of a smoker, it is also best to include the fuel cost. Consider whether the smoker is powered by gas, electricity, or charcoal.
As mentioned earlier, you can definitely make your own BBQ smoker out of trash can or metal drums. You just have to search for instructions online on how to build it. The estimated cost of materials for a DIY drum BBQ smoker is around $50 to $300.
And the other extremity is getting a full blown bbq smoker trailer to lug around.
But to get you started in smoking in your back yard really quickly, the best way to go is probably to get an affordable smoker and just start learning and doing, and see if it's for you.
Final Thoughts
You got the general idea from this article, but finding the best BBQ smoker for you is harder than choosing any other grill since the particular smoker for you will vary depending on cost and time-consumption.
However, since smokers are available in so many shapes and sizes, and even feature different fuel types, if you take your time you will find the one that's best suited for you.
If you have any doubts, focus on the best support you can find and go through customer reviews
Also read: what BBQ smoker should I buy?
Joost Nusselder, the founder of Lakeside Smokers is a content marketer, dad and loves trying out new food with BBQ Smoking (& Japanese food!) at the heart of his passion, and together with his team he's been creating in-depth blog articles since 2016 to help loyal readers with recipes and cooking tips.