I love creating free content full of tips for my readers, you. I don't accept paid sponsorships, my opinion is my own, but if you find my recommendations helpful and you end up buying something you like through one of my links, I could earn a commission at no extra cost to you.
Learn more
There are some varieties of steak which are known to most of the people such as ground meat steak, fish steak, and pork steak.
When you have a huge party or special event sometimes you are not able to eat all the steak at once, then you will try to reheat the steak, but you don't know how to do it properly then you may end up in having dry, flavorless meat and finally ruined your meal.
If you would love to enjoy your steak in second chance here best way to reheat steak you can do it easily and still so juicy and tender like the first time.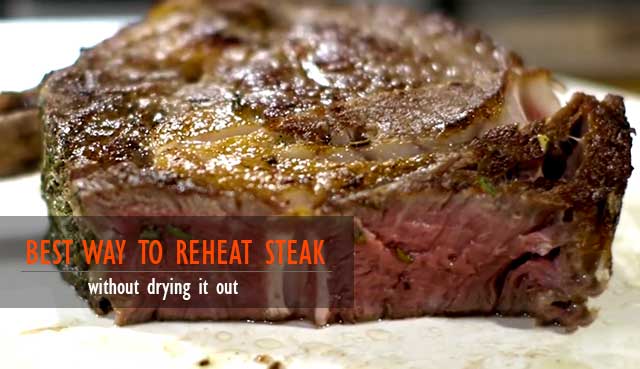 Best Way to Reheat Steak without Drying It Out
There are many ways for reheating the steak which will help you not to lose the flavor of the steak, and some of them are,
Reheat streak in a microwave
Reheat meat in the oven
Reheat steak on the stove
You can choose any of the methods which meet your needs. Let us discuss all the ways in details which will help to reheat the steak easily.
How to reheat steak in microwave
If you are short on time, then it is the way you should follow. The most important thing you need to know if you put the steak directly into the microwave then it will get dried, and you will end up in having the dried meat, it a right choice to use this smart trick.
At first, you need to put the steak in a deep microwave safe dish
Pour some of meat juices or gravies over the steak and then cover it with the plastic wrap. (maintain the moist to your steak)
Throw your steak in the microwave and set the medium heat for 30 seconds try to rotate the steak after every 30 seconds until it reaches to desirable temp.
How to reheat steak in oven
Not in a rush? make sure that you have some time before eating your leftover steak here the easy step to reheating steak you can follow which will take about 30 minutes to cook.
Turn up and preheat the oven to 250°F
Place a wire rack in the baking pan then wait for oven reach to the temp have set. When your oven ready put the baking pan in the oven and throw your steak on wire rack.
Reheat your steak until it internal temp reach 110°F it takes about 30 mins depending on your steak thickness.
Grab your skillet and heating it put some oil or butter. When your steak reaches desireable temp take out your steak off the oven, then pat dry with a paper towel in a while waiting for oil heating.
Throw your steak carefully in the skillet sear the steak for both sides for 1 minute per side after that take out your steak and rest for 5 minutes before slaughter them so crispy!!
Note: Keep an eye on your steak before it dried. If your steak gets dried put some gravy or meat juices over it give it some moist.
How to reheat steak on the stove
Run out an oven or microwave, huh? Then the stove becomes your right choice. Here a straightforward step is reheating steak you can follow.
Let your steak lying in the room temp for about 30 mins.
Set up the pot of water on your stove and light up to bring water to 130°F.
Put your steak in the ziplock bag. Wait until reach that temp then soaks your steak bag in the pot about 5 minutes depend on the thickness of your steak.
Prepare your skillet with butter or oil then Pull the steak out from the bag and put it in the skillet sear your steak 1 minute per side
How to Reheat Filet Mignon
Reheat your filet mignon in microwave, oven, or stove you can do it as your convenience. The way to reheat steak is discussed above as the filet mignon is thick steak, and it requires a lot of time to warm. Carefully follow the step by step, which will help you to reheat the filet mignon easily.
These all are the simple ways which will help you to reheat the steak juicy and tender easily, and if you don't go through them carefully then you might end up in having the worst steak ever, Don't forget to grab some wine or baked potato and you are ready to go.
Can you reheat medium rare steak?
Yes, you can. Reheat medium rare steak in oven and microwave. You need to put the steak with oil applied over it in the oven or microwave and set the temperature low and then leave it for 20-30 minutes or until it reaches a desirable temp. You also can sprinkle some spices over it. Slaughter them all
How do you reheat steak in an air fryer?
An air fryer is considered to be the part of the reheat steak as it is a multipurpose tool which allows you to cook the steak.
At first, you need to set the temperature at 250 degrees F and apply the oil all over the steak.
When the air fryer ready then put the streak in it and leaves it for at least 20-30 minutes or until internal temp reaches 110°F and doesn't forget to check it after the regular interval to make sure that the steak does not get fried.
You don't have to worry as the air fryer is easy to use and still you have to use some precautions not to set the temperature at high degrees as it will damage both the fryer and the steak.
How to reheat steak without drying it out?
There are various methods you can use to reheat the steak, but the question arises how you can do it without getting the steak dried. If you are using an oven or microwave, then you have to make sure that you put the oil or pour some of the meat juices, gravies all over the steak and if you forget to do those, then you can do one more thing.
When the steak gets dried, and then you can put it over the stove and then pour oil, meat juices, gravies over it and then leave it for 10-15 minutes. After it soaks all the salts and spices, then it is ready to be served. In my opinion, if you want to save time, then you have to put oil over the steak before putting it in the oven or microwave.
Related : How to Cook Porterhouse Steak
Joost Nusselder, the founder of Lakeside Smokers is a content marketer, dad and loves trying out new food with BBQ Smoking (& Japanese food!) at the heart of his passion, and together with his team he's been creating in-depth blog articles since 2016 to help loyal readers with recipes and cooking tips.