No matter what time of year it is, nothing defines a good gathering better than a BBQ party.
Chilling with your friends in your backyard while the soothing smell of delicious BBQ dishes seeps into your nostrils; the experience is incomparable.
If you want to host such a BBQ party or simply make BBQ for yourself. It is essential that you first have all the required accessories.
There are tons of accessories available in the market – so choosing the necessary ones can be difficult.
But don't worry! In this article, I have gathered the 12 must-have BBQ smoker accessories so that you could buy them with ease and have a wonderful time at your very own BBQ party.
Without further ado let us start the list. I'll go deeper into each of these later on in the post:
| Smoker accessories | Images |
| --- | --- |
| Best grill basket: Grillux | |
| Best Wireless Meat Thermometer: ThermoPro TP09 | |
| Best propane gas level indicator: AP products | |
| Best BBQ gloves: Ozero Leather | |
| Best chimney fire starter: BBQ Dragon | |
| Best grill steel brush: Kona | |
| Best BBQ grill light: Livin' well | |
| Best multifunctional BBQ tool: Stingray 7 in 1 | |
| Best Bear claws: Mountain Grillers meat shredders | |
| Best Meat tenderizer: Ace Select | |
12 best BBQ smoker accessories and tools reviewed
Best grill basket: Grillux
If you have ever made BBQ food, you probably know that one of the most annoying things about them is that you must scrape the bits of food that fall into the flame or inside the grill.
This is very hectic and also risky because you may injure yourself when you are too close to the charcoal flame.
To avoid this, you can buy a grill basket. This is basically a basket that prevents scrapes of food from entering the unwanted parts of the grill.
This simple accessory will make sure that your food stays in place during the time of grilling and no extra cleaning is required.
You simply place it above any sort of grill and your job will be done!
Although there are many good grill baskets available in the market- I personally prefer the Grillux Grill Basket. You can find great deals on Amazon for this grill basket.
Grillux Grill Basket has a very competitive price
It is made with heavy-duty stainless steel.
The curved handles make sure that moving it around is not cumbersome.
Check the latest price here on Amazon
Best Wireless Meat Thermometer: ThermoPro TP09
Now, when you hear about this accessory for the first time, you may think that it is not that necessary. That may be true if and only if you are a professional chef, otherwise, you need it!
What the wireless meat thermometer does is that it tells you the temperature of the food that you have placed on the grill.
You will be surprised to see how easy it is to use:
Place the probe of the thermometer into the food on the grill
Set your desired temperature setting- this depends largely on what you are cooking
Wait patiently- as all your work with it is done. The thermometer will notify you when the required temperature is reached
For this accessory we have chosen the Thermo Pro TP-09:
It has a 6.5-inch stainless steel probe.
It has a very wide temperature range of (32-572 F)
You also get a rubber sleeve case with it.
Check the latest prices and availability here
Best propane gas level indicator: AP products
This is an accessory that is not used commonly and many might argue that using it is pointless. You will, however, be surprised how helpful it proves to be in the long run!
What it does is simple- it notifies you when you run low on propane gas so that you can fill it up again.
It's a simple task- and to clear some of your misconception, it certainly doesn't add propane to your cylinder- yeah! Sorry to burst your bubble.
Having a reliable propane gas level indicator will make sure that your gas tank doesn't run empty on crucial moments.
For example: when you are on the verge of making the perfect BBQ! Using it is very simple. However, you may require a bit of getting used to it.
Carefully place the magnetic sensor underneath your gas tank
Normally, these indicators come with some sort of methods, i.e. applications, be sure to sync them together
Care must be taken when using this as propane gas is highly flammable
Currently, there are tons of propane gas level indicators in the market but we have chosen the AP Products Propane Tank Gas Level Indicator: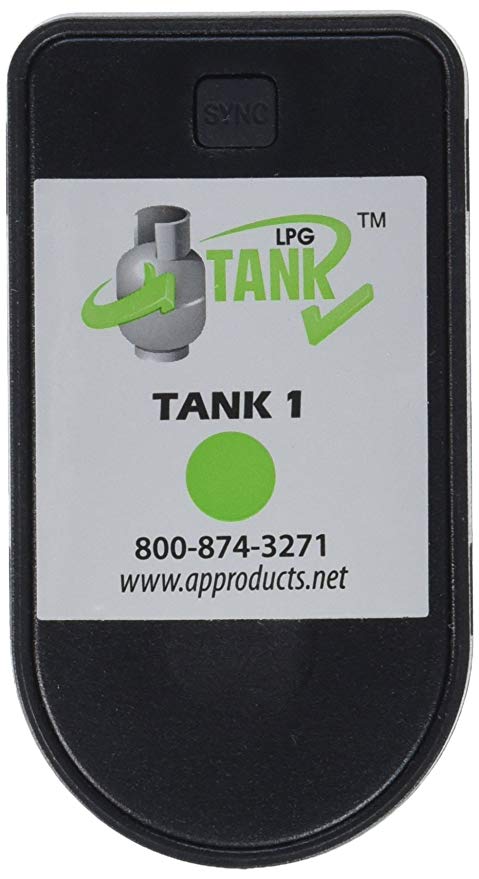 This particular product stands out from the rest due to it's magnificent features at a reasonable price
It comes with one magnetic sensor
Simple synchronization via Bluetooth
Updates automatically every 5 seconds
Check out all of the specs here
Best BBQ gloves: Ozero Leather
The main feature that makes BBQ gloves different from other gloves is the fire resistance feature.
This is one of the most important BBQ accessories and yet people choose to avoid it.
BBQ gloves are primarily a safety device but it also allows you to handle your food effectively which in turn results in a delicious meal.
BBQ gloves are quintessential if you want to minimize BBQ related injuries!
I don't think you need special instructions on how to use BBQ gloves but still, I'll put it in simple words
Make sure it fits your hand
Use all your fingers at once to avoid spills.
We have chosen these OZERO Leather Gloves. This is probably the best gloves at it's given price:
Can bear up to a staggering 932 Fahrenheit
It is manufactured in environmentally friendly methods
The leather ensures a long-lasting life for the gloves
Best chimney fire starter: BBQ Dragon
There are many ways to start a fire using charcoal for your BBQ. Most of them are cumbersome and at often times- waste of time.
If you think that lighter fluid is better, then I urge you to think about the health factor- it is dangerous!
The solution to this never-ending problem of starting a BBQ fire is a chimney fire starter. Setting it up is quite easy:
Place the required amount of charcoal in your chimney fire starter
Roll up a few paper towels with small amount of oil
Position your chimney over this ball of paper towels.
For this category, the BBQ Dragon Chimney Charcoal Starter is a terrific choice:
It is very lightweight, therefore can easily be carried around
Eco-friendly as it doesn't require lighter fluids normally.
Has a very simple assembly process
Check out this video on how to use a chimney fire starter:
Best grill steel brush: Kona
We often spent a huge amount of money buying the most expensive grills to have an optimum grilling experience but how often do we invest to keep it clean?
The truth is no one probably gives this matter that much thought. In reality- keeping your grill clean is an integral part of making a good meal.
Using a grill steel brush is simple, just make sure you don't burn yourself while cleaning!
After you are finished with your cooking, heat up your grill
Clean the chunks of meat while they are still fresh
Before starting again wash your grill with warm water and scrub it off with your steel brush
We have chosen the Kona Grill steel brush due to its high quality at a very competitive price:
It gives you a bristle-free cleaning experience.
Works with all types of grills
Comes with the perfect handle length
Best BBQ grill light: Livin' well
You probably had no idea that this even existed! But it does, and this makes a huge difference to your BBQ experience.
When grilling during the daytime, using this is not exactly required. However, for the BBQ parties that take place during the night time- this accessory is essential!
Its main purpose is illuminating the surrounding of the grill so that you can cook better and avoid accidents. You don't need to be an expert to use this!
Set up the clamp at a convenient position on the grill
Make sure it doesn't get oil on it when cooking
Set up an optimum brightness
For this category, we have chosen the Livin' Well magnetic Grill Light: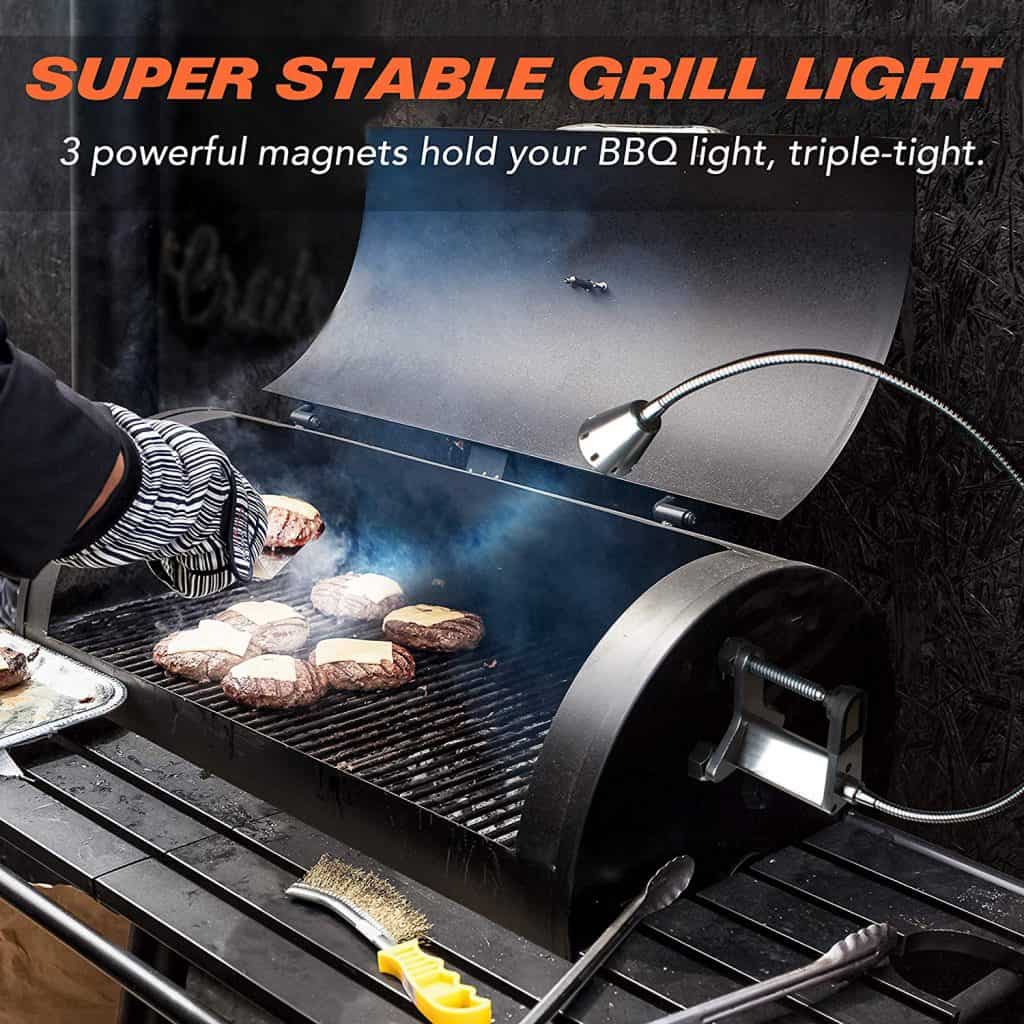 It has exceptional brightness and can have two stages to choose from
Very lightweight so handling it is easy
It can be rotated 360 degrees.
It has three powerful magnets so there's no screwing involved (unless the party is headed in that direction of course).
But it also has a clamp if you don't have a metal surface to stick it to.
Best multifunctional BBQ tool: Stingray 7 in 1
If you have grilled before, you probably know the fact that different types of food require different tools for them to be handled.
For example, some food may require spatula for them to be handled, whereas some require tongs. A variety of tools are required to tackle all sorts of BBQ food.
Buying individual tools can be hectic but do not worry as you can buy a multifunctional tool that will do all your job.
Use the right tool for the selected food
Wash it thoroughly after use
For this category, we have chosen the Stingray 7 in 1 BBQ Tool:
Made fully from stainless steel
Better grip due to rubber pads
Can be used with one hand very easily
More info on the Stingray here
Best Bear claws: Mountain Grillers meat shredders
Relax! I am not referring to actual bear claws. This is an accessory that allows users to shred through tough meat and make it the right size for your BBQ purposes.
The great thing about this is that it's really fun to use.
If you think about it, you get to have the 'bear experience'- shredding through the meat of your prey!
Nevertheless, this accessory will save tons of time and will provide perfectly shredded meat for BBQ usage. There are certain rules to be kept in mind while using them:
Wash your hand and the gloves before shredding the meat
Don't move your arms too hard as you may ruin the meat
Never wear it when you are not using it as you may hurt someone
We have chosen the Original Bear Paws meat claws for pulled pork:
The metal handle forks ensure better grip
Solid comfortable handle
The black color design gives it a very cool look
Check out the customer reviews on these
Best Meat tenderizer: Ace Select
Unlike the previously mentioned bear claws, this accessory has a very non-violent purpose.
Hammering your food before BBQ may sound hectic but you'll be amazed how great it improves your food.
The extra juiciness is all the result of a meat softener. A certain set of instructions must be followed when using a meat softener.
Hammer the meat depending on the amount of tenderness you want it
Be sure not to strike your hand
Use a board underneath when using the meat softener
We have chosen the Ace Select Meat Tenderizer for this category:
Stainless steel construction ensures long-lasting
Lightweight so it can handle with ease
Can be used for other ingredients like garlic
An oil drum smoker
This is a unique addition to this list as it may not necessarily qualify as an accessory, but believe me when I say this smoking on an oil drum is the best feeling.
The slow burn it provides makes the best BBQ and although people may argue it's a bit cumbersome than the conventional smokers- it's all worth it.
You need a few pointers when using this smoker
Make sure your oil drum has no leaks
Take your time when using this smoker
Clean it thoroughly after use
We have chosen the Esschert Black Barrel smoker for this category:
It has a very unique design.
No assembly required
It is multifunctional
Road trip grill
This is the smaller version of your average grill and although it may not be an accessory because of its mobility factor we couldn't just leave it out of the list.
Having a BBQ party at various locations is surely a unique feeling and this grill makes it possible. Using it is simple.
Keep it clean when traveling with it
Set it up on a level surface
Extinguish the fire with great care after use
We prefer the Country Smokers Grill for this category: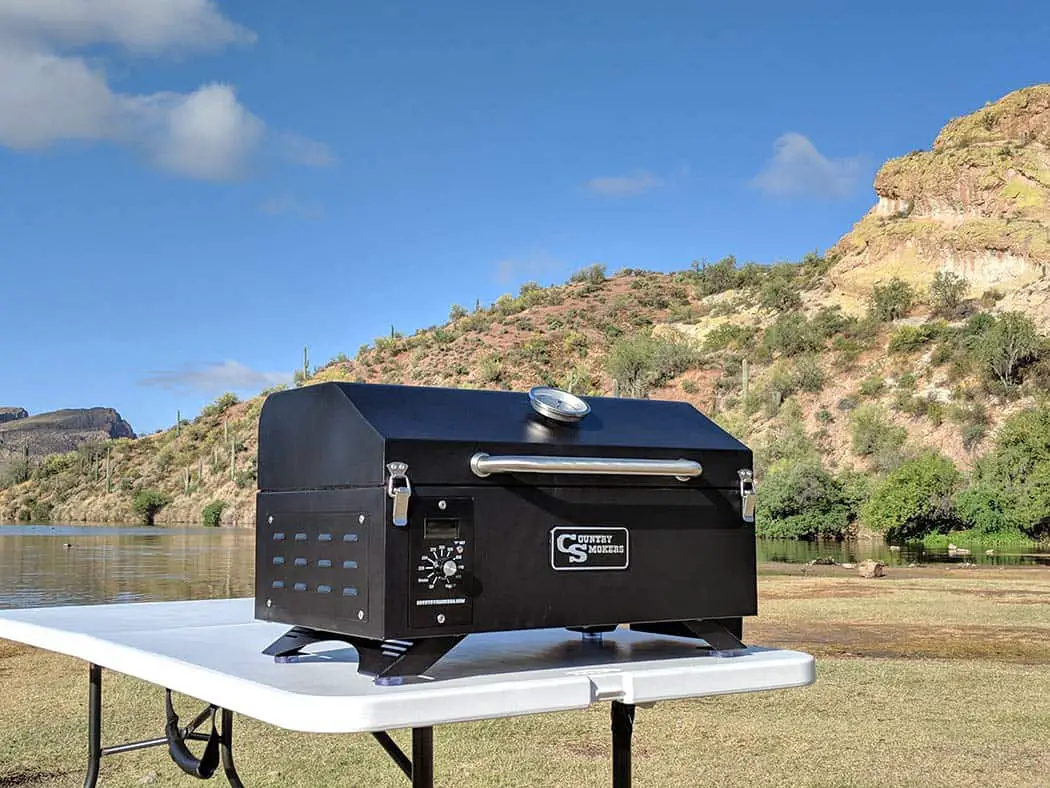 Its suitcase-like design makes it very easy to carry around
Lightweight yet very durable
Has a great design
Check out the customer reviews here
Final thoughts
The list that I just discussed contains all the necessary equipment that you will need to have the best BBQ experience.
However, you do need some great recipes. You should definitely try working with the 10 best recipes out there.