No matter what time of year it is, nothing defines a good party better than a BBQ party.
Chilling with your friends in your backyard while the soothing smell of delicious BBQ dishes seeps into your nostrils; the experience is incomparable.
I'm sure you want to host such a BBQ party or simply make BBQ for yourself. It is essential that you first have all the required accessories.
In this post, I'll look at the best smoker accessories you'll need to get the most out of your smoker.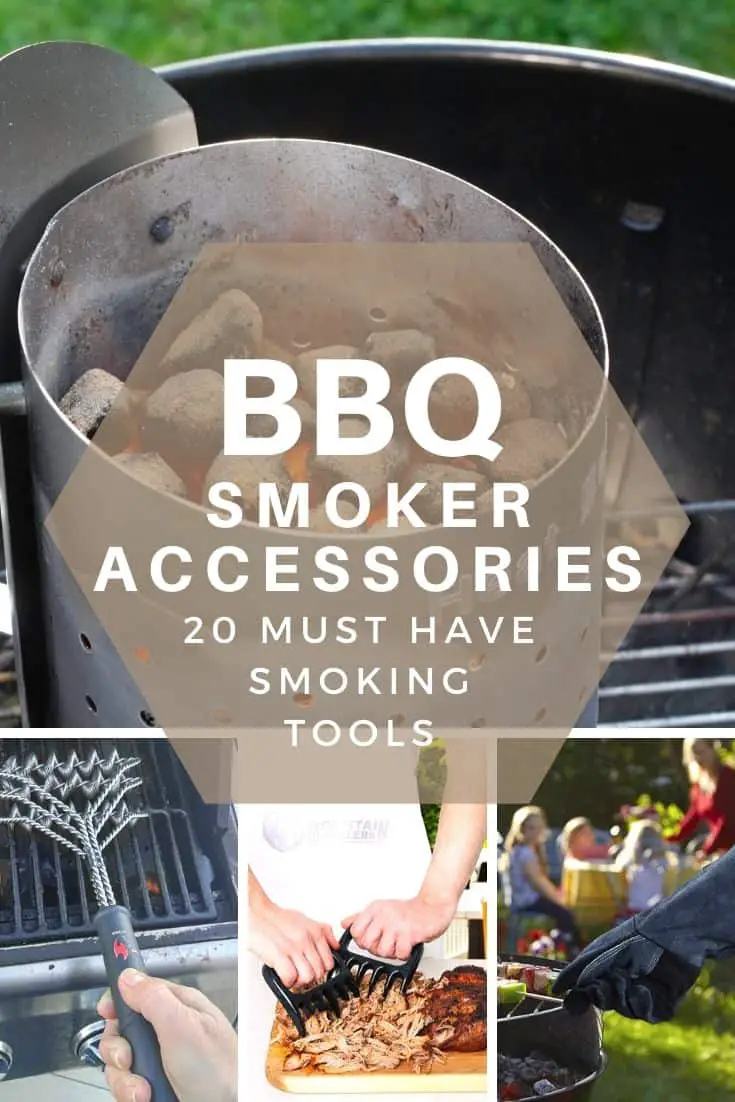 There are tons of accessories available in the market – so choosing the necessary ones can be difficult.
But don't worry! In this article, I have gathered the 22 must-have BBQ smoker accessories so that you could buy them with ease and have a wonderful time at your very own BBQ party.
Without further ado let us start the list. I'll go deeper into each of these later on in the post:
22 best BBQ smoker accessories and tools reviewed
So you're into the BBQ smoking life and enjoying it to the fullest. What could possibly make your experience even better at this point? It's already amazing!
Well, today we want to share a list of supplies that are guaranteed to make your BBQ smoking life more amazing than it already is when you're buying a smoker.
We'll start with the supplies that will facilitate your grilling experience (in no particular order) and then proceed to the ones that will make it more exciting or fun, and finally, move on to the one that will help you take care of your grill so it will last you a long time.
Best grill basket: Grillux
It is unfortunate that sometimes just by not having the right tools you are unable to grill fish or vegetables on your charcoal grill.
Spaces in a grate make it difficult to keep small foods from falling through to the coals, and sometimes skewered food is a pain to hold together.
However, that all changed when the grill basket was introduced in the grill industry and pitmasters, as well as grilling enthusiasts, couldn't be happier about it!
Just set the fish or vegetable inside the basket and then you can grill away with zero worries about foods falling through the grill grates.
You can flip it from side to side and the food will remain in place because the basket will not allow it to fall off.
Here are some great grill basket brands to select from:
Grillux
Weber
Steven Raichlen
Outset
If you have ever made BBQ food, you probably know that one of the most annoying things about them is that you must scrape the bits of food that fall into the flame or inside the grill.
This is very hectic and also risky because you may injure yourself when you are too close to the charcoal flame. To avoid this, you can buy a grill basket.
This is basically a basket that prevents scrapes of food from entering the unwanted parts of the grill. This simple accessory will make sure that your food stays in place during the time of grilling and no extra cleaning is required.
You simply place it above any sort of grill and your job will be done! Although there are many good grill baskets available in the market- I personally prefer the Grillux Grill Basket. You can find great deals on Amazon for this grill basket.
Grillux Grill Basket has a very competitive price
It is made with heavy-duty stainless steel.
The curved handles make sure that moving it around is not cumbersome.
Check the latest price here on Amazon
Best Bluetooth Meat Thermometer: Inkbird Bluetooth Grill 4 Probe Thermometer
Smoking meat is a delicate matter that requires precise temperature measurements. The cooking process itself can take several hours, days, and sometimes even weeks.
In order to get accurate temperature readings inside the belly of a scorching smoker grill, you will need a quality smoker thermometer.
A good smoker digital thermometer should have the following qualities:
Multiple probes in order to detect and monitor any number of heat sources simultaneously.
Wireless connectivity to allow for remote and push-button operations.
A rugged, durable design that can withstand the extreme temperatures inside the smoker and helps save you more money from purchasing a new one every month or so.
Easy to use, has a clear display, and gives out accurate readings.
Our top 5 brand recommendations:
Inkbird
Maverick
DozyAnt Temp Gauge
Lumsing
BFOUR
Now, when you hear about this accessory for the first time, you may think that it is not that necessary. That may be true if and only if you are a professional chef, otherwise, you need it!
What the wireless meat thermometer does is that it tells you the temperature of the food that you have placed on the grill. You will be surprised to see how easy it is to use:
Place the probe of the thermometer into the food on the grill
Set your desired temperature setting- this depends largely on what you are cooking
Wait patiently- as all your work with it is done. The thermometer will notify you when the required temperature is reached
For this accessory, I have chosen the Inkbird Bluetooth Grill BBQ Meat Thermometer with 4 Probes.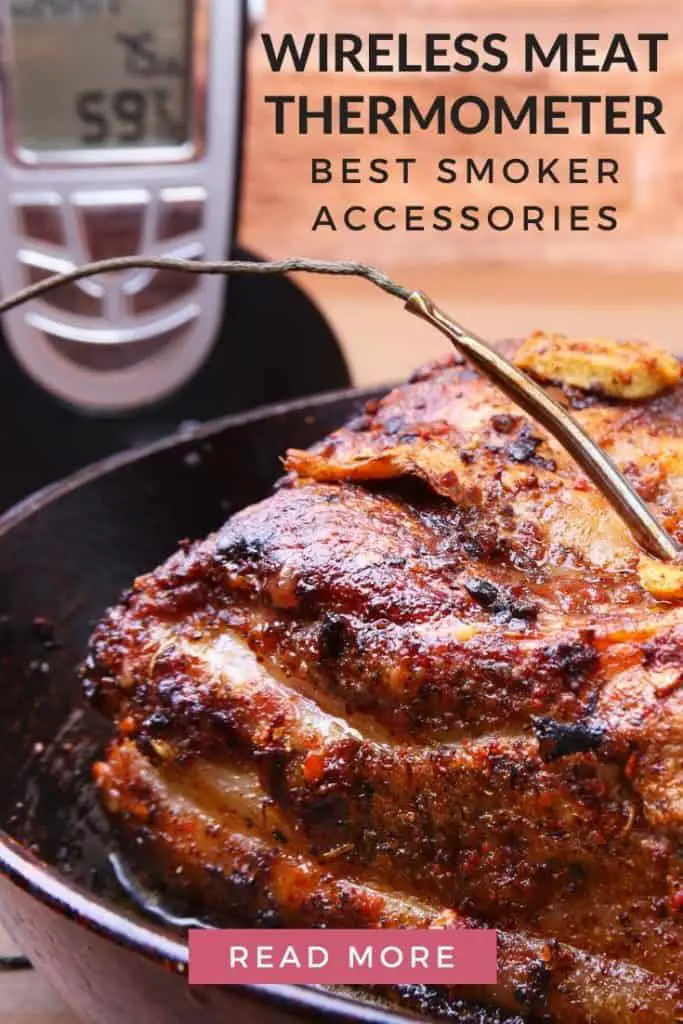 It has 4 probes.
It has a very wide temperature range of (32-572 F)
This is a Bluetooth thermometer you can control via smartphone
It shows you the food temperature in realtime
Check the latest prices and availability here
Best dual probe meat thermometer: ThermoPro TP08S
This is a must-have for any BBQ smoker who's serious about smoking. Any thermometer for that matter.
However, if you already have a regular one, you probably know how annoying it can get to have to walk outside every couple of minutes to check on food that you know will take hours. Let me introduce the ThermoPro TP8S, the best dual-probe thermometer for your grill. 
Achieving a great smoked meal is only possible by going low and slow. So investing in a high-quality wireless thermometer makes this part of the equation much more enjoyable, and will help you have more control over the process.
The best wireless thermometers not only measure your smoker's temperature but also have probes to help you measure the internal temperature of the meat you're smoking. This is still very simple, though.
You simply have to insert the temperature probe into the meat, then set the temperature alert on the receiver gadget and enjoy all the other fun activities in your life while your smoked meat is getting done in the meantime.
We recommend this electric thermometer since it features a dual probe that will help keep an eye on both the smoker's temperature and the meat's temperature.
You can set it up so that every time your smoker reaches a specified temperature, you will receive an alert on your remote receiver.
When you're looking to achieve delicious smoked meats, being able to monitor both your smoker's and your meat's temperature at once will make things much easier.
Best propane gas level indicator: AP products
This is an accessory that is not used commonly and many might argue that using it is pointless. You will, however, be surprised by how helpful it proves to be in the long run!
What it does is simple- it notifies you when you run low on propane gas so that you can fill it up again. It's a simple task- and to clear some of your misconceptions, it certainly doesn't add propane to your cylinder- yeah!
Sorry to burst your bubble.
Having a reliable propane gas level indicator will make sure that your gas tank doesn't run empty at crucial moments.
For example: when you are on the verge of making the perfect BBQ! Using it is very simple. However, you may require a bit of getting used to it.
Carefully place the magnetic sensor underneath your gas tank
Normally, these indicators come with some sort of methods, i.e. applications, be sure to sync them together
Care must be taken when using this as propane gas is highly flammable
Currently, there are tons of propane gas level indicators in the market but we have chosen the AP Products Propane Tank Gas Level Indicator: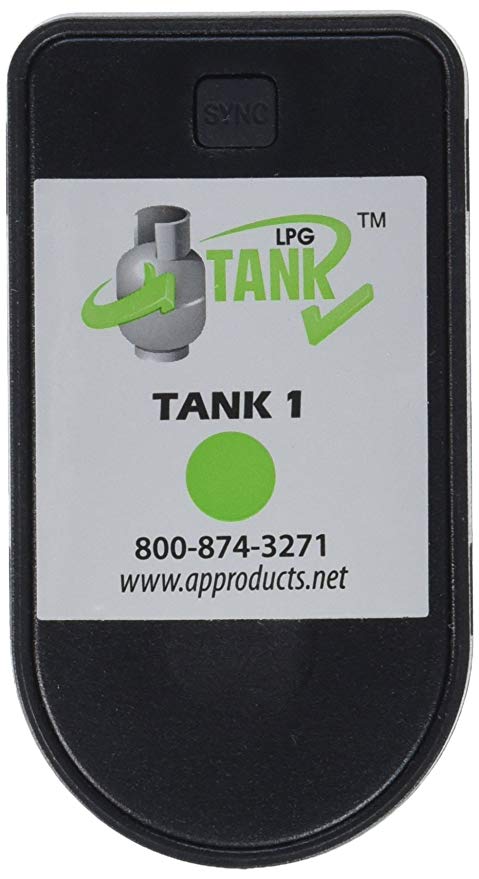 This particular product stands out from the rest due to its magnificent features at a reasonable price
It comes with one magnetic sensor
Simple synchronization via Bluetooth
Updates automatically every 5 seconds
Check out all of the specs here
Best Leather BBQ gloves: Ozero Leather
Your hands, by design, are very useful and just about every person on Earth is very attached to theirs.
However, they are also sensitive and can get damaged easily like when you're working under extreme conditions such as grilling or smoking food and meat.
To keep your very useful yet very delicate hands from suffering minor (or major!) burns while working on a grill smoker, you would have to wear heat-resistant gloves for grilling.
These things are made with multiple layers of protection which are all fire-resistant, so you'll stay protected even if you reach into the coal pit of your grill or smoker.
Our top 5 picks include:
Ozero
Artisan
Grill Heat Aid
Man Law
Grill Armor
Ekogrips
Mitt Pitt
The main feature that makes BBQ gloves different from other gloves is the fire resistance feature. This is one of the most important BBQ accessories and yet people choose to skip it.
BBQ gloves are primarily a safety device but it also allows you to handle your food effectively which in turn results in a delicious meal.
BBQ gloves are quintessential if you want to minimize BBQ related injuries! I don't think you need special instructions on how to use BBQ gloves but still, I'll put it in simple words
Make sure it fits your hand
Use all your fingers at once to avoid spills.
We have chosen these OZERO Leather Gloves. These are probably the best gloves at it's given price: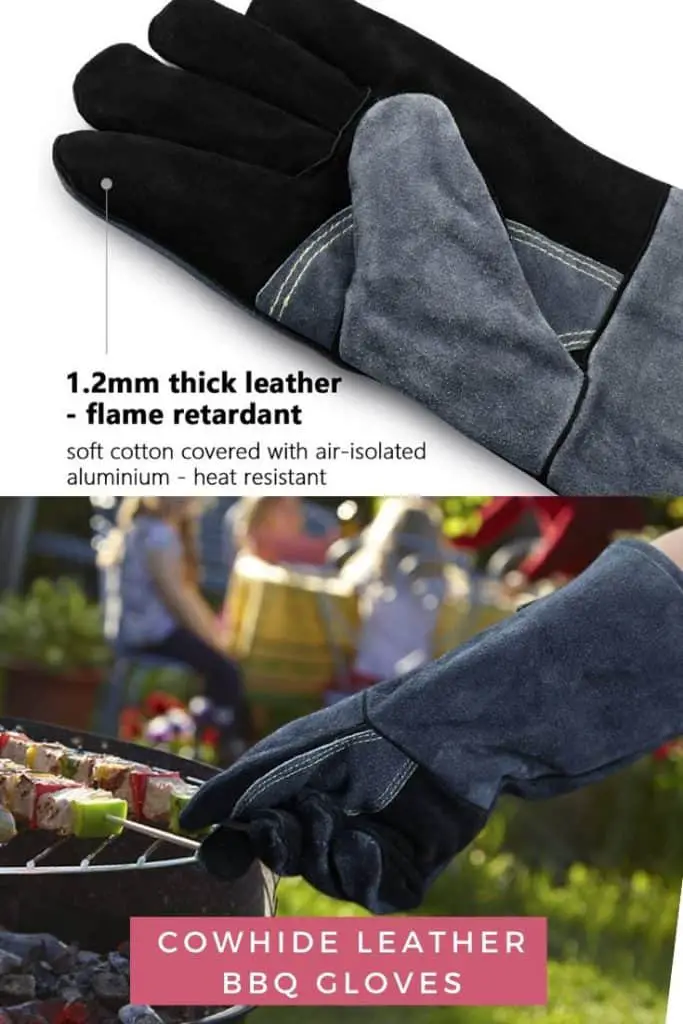 Can bear up to a staggering 932 Fahrenheit
It is manufactured in environmentally friendly methods
The leather ensures a long-lasting life for the gloves
Made out of flame retardant cowhide leather
Best heat Resistant BBQ gloves: Artisan
When you're focusing on creating delicious smoked meals, you shouldn't need to worry about burning your hands in the process. If you have (or decide to purchase) the chimney starter, for example, you're in for a horrible experience if you don't have anything to protect your hands.
So invest in this extremely useful supply and never burn your hands again. They will also reduce the chances of damaging the bark you're working so hard on.
Check out the Artisan Griller BBQ Heat Resistant Insulated Gloves: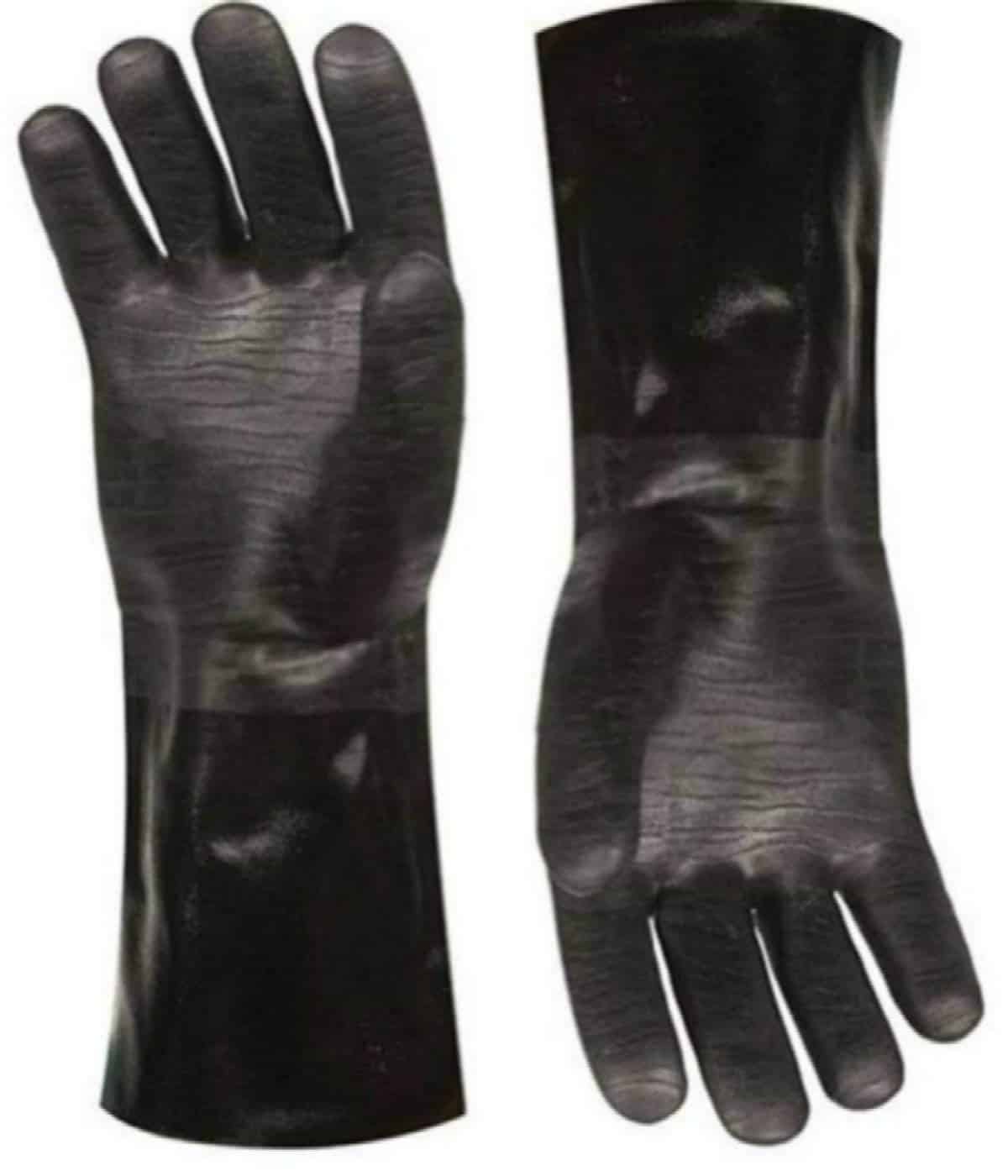 We recommend these gloves because they're non-slip, insulated, and have a five-finger design which makes it easier to manipulate food. The added benefit is that they're 14" in length which helps keep your arms safe as well.
Best chimney fire starter: BBQ Dragon
As an experienced pitmaster, I can tell you that starting up those charcoal lumps or briquettes takes forever to do.
In order to mitigate this obvious obstacle, the company saw the potential for this market and started creating the charcoal chimney starter.
A chimney starter is a small cylindrical device designed to light up charcoal fuel faster than doing it in the charcoal chamber in BBQ grills and smokers.
By utilizing lots of oxygen going through a sizable amount of holes on the bottom plate of the starter as well as around the lower extension of it, you can set the charcoal briquettes on fire in 30 minutes or less.
You also don't need to use lighter fluid or any type of liquid catalysts like kerosine or gasoline to light the charcoal lumps, all you need are old newspapers or natural lighters, or firestarters.
Choose from these brands to add another item to your grill smoker tools:
BBQ Dragon
Weber
Char-Broil
OUTXPRO
There are many ways to start a fire using charcoal for your BBQ. Most of them are cumbersome and at often times- waste of time. If you think that lighter fluid is better, then I urge you to think about the health factor- it is dangerous!
The solution to this never-ending problem of starting a BBQ fire is a chimney fire starter. Setting it up is quite easy:
Place the required amount of charcoal in your chimney fire starter
Roll up a few paper towels with a small amount of oil
Position your chimney over this ball of paper towels.
For this category, the BBQ Dragon Chimney Charcoal Starter is a terrific choice:
It is very lightweight, therefore can easily be carried around
Eco-friendly as it doesn't require lighter fluids normally
Has a very simple assembly process
There's a 90-degree side elbow which means it draws more air than other chimney starters
Check out this video on how to use a chimney fire starter:
Many seem to like using lighter fluid to start off the fire, but this basically contradicts the simple principle of BBQ smokers. It can also end up altering the taste of your smoked meat and emanate some funky odors.
To fix this, resort to a Chimney Fire Starter. You will simply need to put your charcoal briquets into the starter, add some oil-dipped paper towels and light it up. You'll be all set in 15 to 30 minutes.
We recommend the Weber Firestarter since you can never go wrong with the classics. This starter system will light the charcoal quickly and evenly.
It's also high quality since it's made from aluminized steel with a handle that is guaranteed to never get hot.
Make sure you analyze the right size before purchasing since this one can hold enough briquettes for a 22-½-inch kettle grill but there are other sizes out there.
Your charcoal will be lit in about 20 to 25 minutes, and its two-handle design will help you have more control when pouring the lit briquettes.
Best grill steel brush: Kona
We often spent a huge amount of money buying the most expensive grills to have an optimum grilling experience but how often do we invest to keep it clean? The truth is no one probably gives this matter that much thought.
In reality- keeping your grill clean is an integral part of making a good meal. Using a grill steel brush is simple, just make sure you don't burn yourself while cleaning!
After you are finished with your cooking, heat up your grill
Clean the chunks of meat while they are still fresh
Before starting again wash your grill with warm water and scrub it off with your steel brush
We have chosen the Kona Grill steel brush due to its high quality at a very competitive price: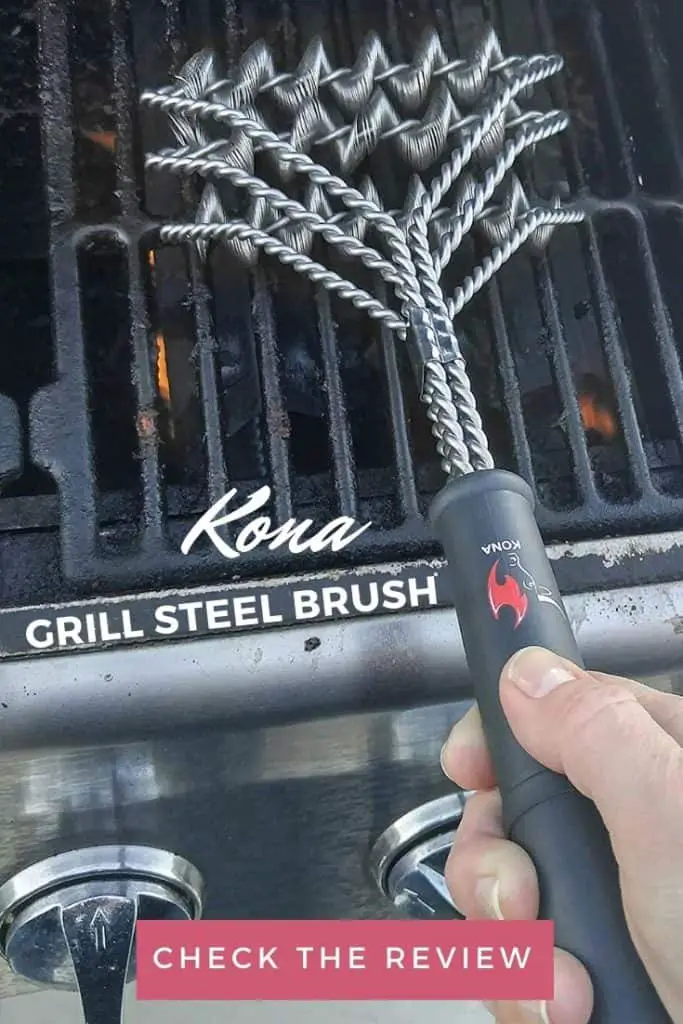 It gives you a bristle-free cleaning experience.
Works with all types of grills
Comes with the perfect handle length
Sturdier and more rigid so it will last you for years
BBQ grill brush alternative: Grillart Grill Brush and Scraper
You prepared a delicious smoked brisket and now you're ready for another challenge. You prep out your amazing smoker and are ready to begin, except… it's dirty. You remember washing it but apparently, it wasn't enough.
Don't skimp on the cleaning part of meat smoking. Sure, it's not as fancy or fun but it's necessary if you want to achieve perfect results every time. So let's start making it a habit.
After each smoking session, increase the temperature for about 10 more minutes and then use a wire brush to clean up any meat left behind. And before you smoke the next time, remove the grate and wash it water then put it back on your smoker and wait for it to get hot before you start smoking your next cuts.
We recommend the Grillart 18″ since the size guarantees a large scrubbing surface that can quickly and easily remove all the built-up gunk on your grill.
It also features a 3-in-1 brush design so it will get your smoker clean up to 5 times faster. And with the long handle, you can keep your hands away from the heat and also have the best angle to take advantage of this 360° grill brush.
Also read: have you made smoked meatloaf yet? You should, with these recipes
Best BBQ grill light: Livin' well
You probably had no idea that this even existed! But it does, and this makes a huge difference to your BBQ experience. When grilling during the daytime, using this is not exactly required.
However, for the BBQ parties that take place during the nighttime- this accessory is essential! Its main purpose is to illuminate the surrounding of the grill so that you can cook better and avoid accidents.
You don't need to be an expert to use this!
Set up the clamp at a convenient position on the grill
Make sure it doesn't get oil on it when cooking
Set up an optimum brightness
For this category, we have chosen the Livin' Well magnetic Grill Light: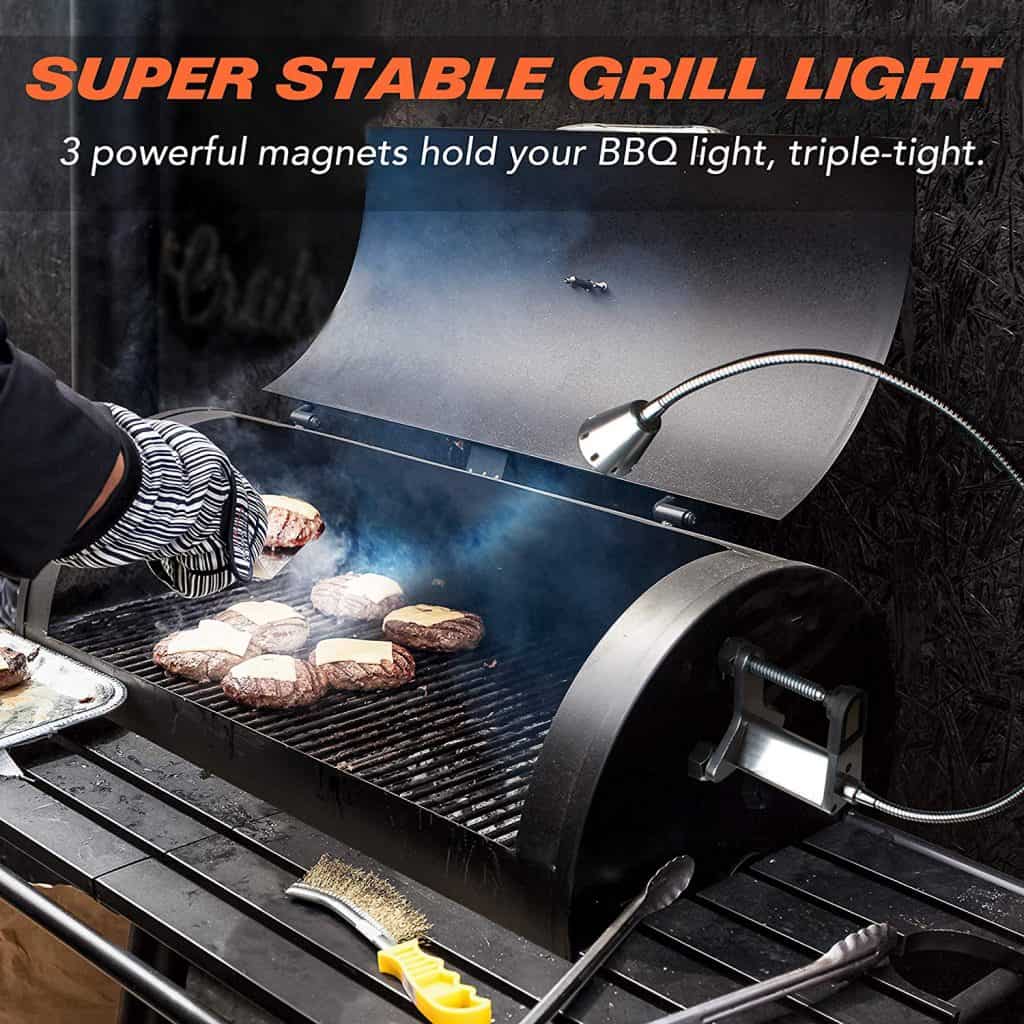 It has exceptional brightness and can have two stages to choose from
Very lightweight so handling it is easy
It can be rotated 360 degrees.
It has three powerful magnets so there's no screwing involved (unless the party is headed in that direction of course).
But it also has a clamp if you don't have a metal surface to stick it to.
Best multifunctional BBQ tool: Stingray 7 in 1
If you have grilled before, you probably know the fact that different types of food require different tools for them to be handled. For example, some food may require a spatula for it to be handled, whereas some require tongs.
A variety of tools are required to tackle all sorts of BBQ food. Buying individual tools can be hectic but do not worry as you can buy a multifunctional tool that will do all your job.
Use the right tool for the selected food
Wash it thoroughly after use
For this category, we have chosen the Stingray 7 in 1 BBQ Tool: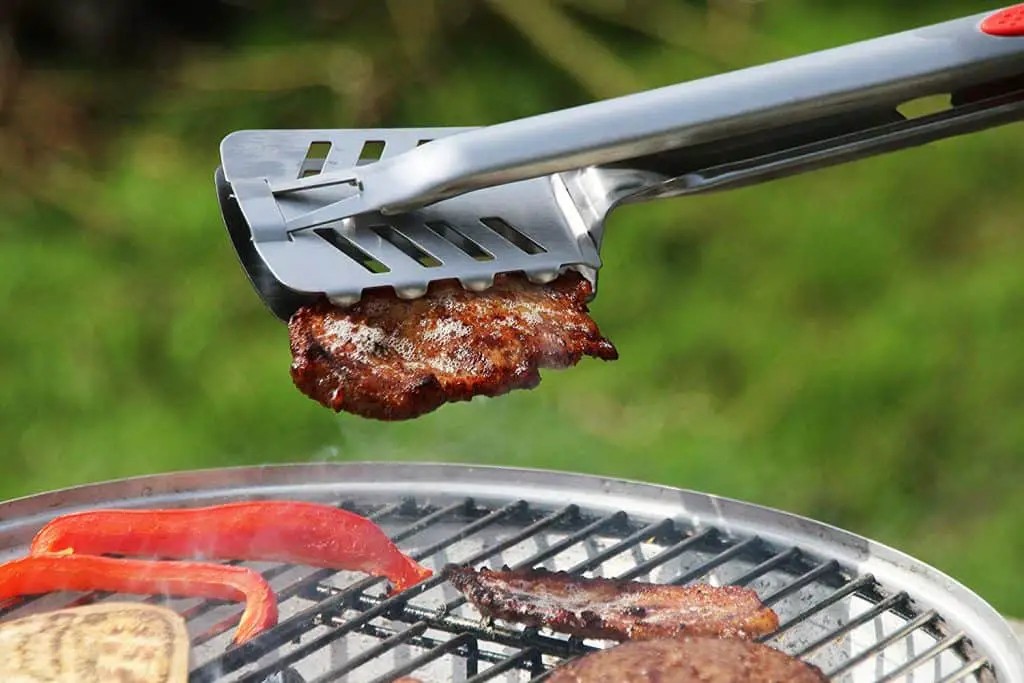 Made fully from stainless steel
Better grip due to rubber pads
Can be used with one hand very easily
More info on the Stingray here
Best BBQ Tongs: OXO Good Grips
Have you noticed how when you use the BBQ forks and pierce the meat, juices come flowing right out? I know it looks delicious but how about we keep all that delicious, juicy flavor inside the meat instead of letting it go to waste all over our charcoal?
This can be remedied with a simple piece of equipment: BBQ tongs. Not only will they let you keep a distance and avoid burning your hands (especially if you don't have gloves, which we'll get into in a second), they will also keep you from piercing your smoked meats and wasting that delicious flavor.
The OXO Good Grips stainless steel tongs are perfect if you want a secure grip.
We recommend these tongs since they're perfect in all the important categories. The head (the part you'll use to grab the meat) is wide enough so it can easily grip the food and keep it from sliding under.
And since they're 16" long, they'll also help keep your hands far away from the fire. We really don't want you to burn your hands when you're making something as good as a marinated tuna steak.
It's made of durable stainless steel which is bound to help them last a long time since they won't bend and they also feature a non-slip handle which makes them comfortable to hold.
Also read our post on the best bbq smoker aprons
Best Bear claws: Mountain Grillers meat shredders
Sometimes the simplest of things suddenly becomes a difficult task simply because you do not have the proper tools to handle them.
Like for example, transferring those chunks and slabs of meat from the grill grates to the dinner plates.
The smoldering heat from the coals is roughly between 250 – 350 °Celsius, so you can't grab the meat with your hands. Even if you were wearing heat-resistant gloves you might also ruin the meat or drop it by accident creating more mess in the process.
The answer to this predicament is the meat shredding claws! I know their name sounds counterintuitive, but trust me they do the job well.
These meat claws are good for lifting a heavy roast as well as shred pork and since they are made from they are made of sturdy BPA-free nylon, you can easily clean them in the sink or dishwasher.
Relax! I am not referring to actual bear claws. This is an accessory that allows users to shred through tough meat and make it the right size for your BBQ purposes.
Here are some reliable brands to buy from:
Mountain Grillers
Cave Tools
Bear Paws
iArtker
Zenware
The great thing about this is that it's really fun to use. If you think about it, you get to have the 'bear experience'- shredding through the meat of your prey!
Nevertheless, this accessory will save tons of time and will provide perfectly shredded meat for BBQ usage. There are certain rules to be kept in mind while using them:
Wash your hand and gloves before shredding the meat
Don't move your arms too hard as you may ruin the meat
Never wear it when you are not using it as you may hurt someone
We have chosen the Original Bear Paws meat claws for pulled pork: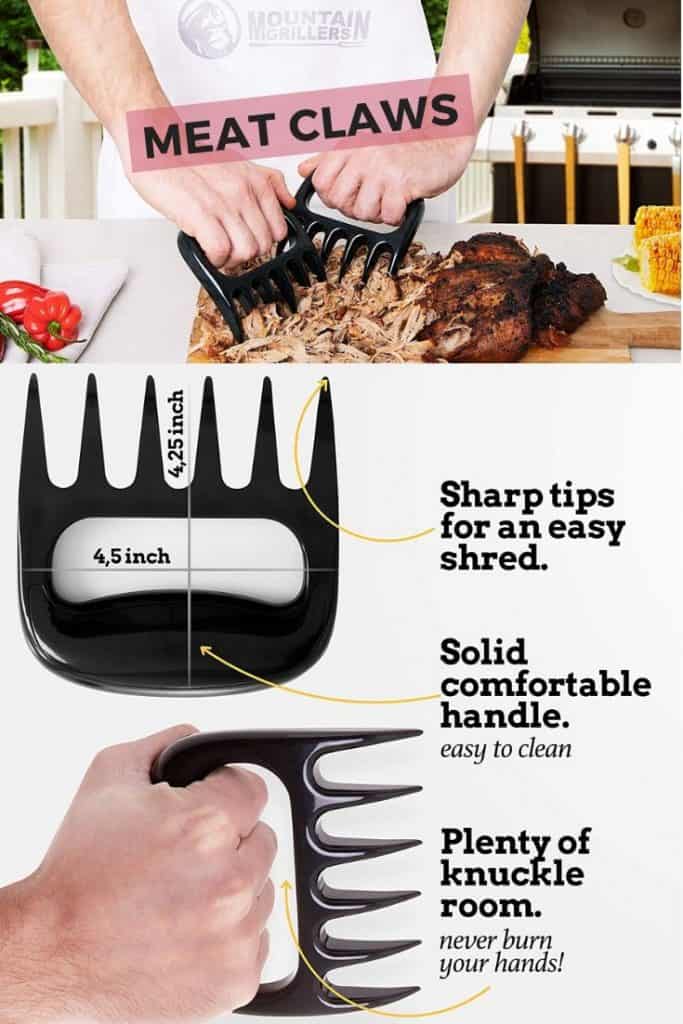 The metal handle forks ensure better grip
Solid comfortable handle
The black color design gives it a very cool look
Check out the customer reviews on these
Stainless steel Bear Claws with handles: Cave Tools
Do you love pulled pork? (Who doesn't?) Then you know how that amazing tender meat comes apart while having to use two forks. What if I told you there's a much better way that's also fun?
Cave Tools stainless steel bear claws have easy-to-use handles: 
Introducing the "bear claws". They're not actually new but they feel like a new world just appeared before your eyes.
They're perfect for transferring, lifting, and of course, shredding any type of meat but are especially perfect for pulled pork. You can also go ahead and use them for any meat-holding task you can think of: like simply holding meat in place.
We recommend the Cave Tools pulled pork claws since their shape makes it easy to pick up, carry and shred meat. They're also heat resistant and BPA-free so they're safe to use on food even if it just came off the smoker.
This particular pair even includes some of its recipes for you.
Also see: decals to liven up your barbecue area
Best Meat tenderizer: Dual-Sided Meat Tenderizer
Unlike the previously mentioned bear claws, this accessory has a very non-violent purpose. Hammering your food before BBQ may sound hectic but you'll be amazed how great it improves your food. The extra juiciness is all the result of a meat softener. A certain set of instructions must be followed when using a meat softener.
Hammer the meat depending on the amount of tenderness you want it
Be sure not to strike your hand
Use a board underneath when using the meat softener
We have chosen the Dual-Ended Meat Tenderizer for this category: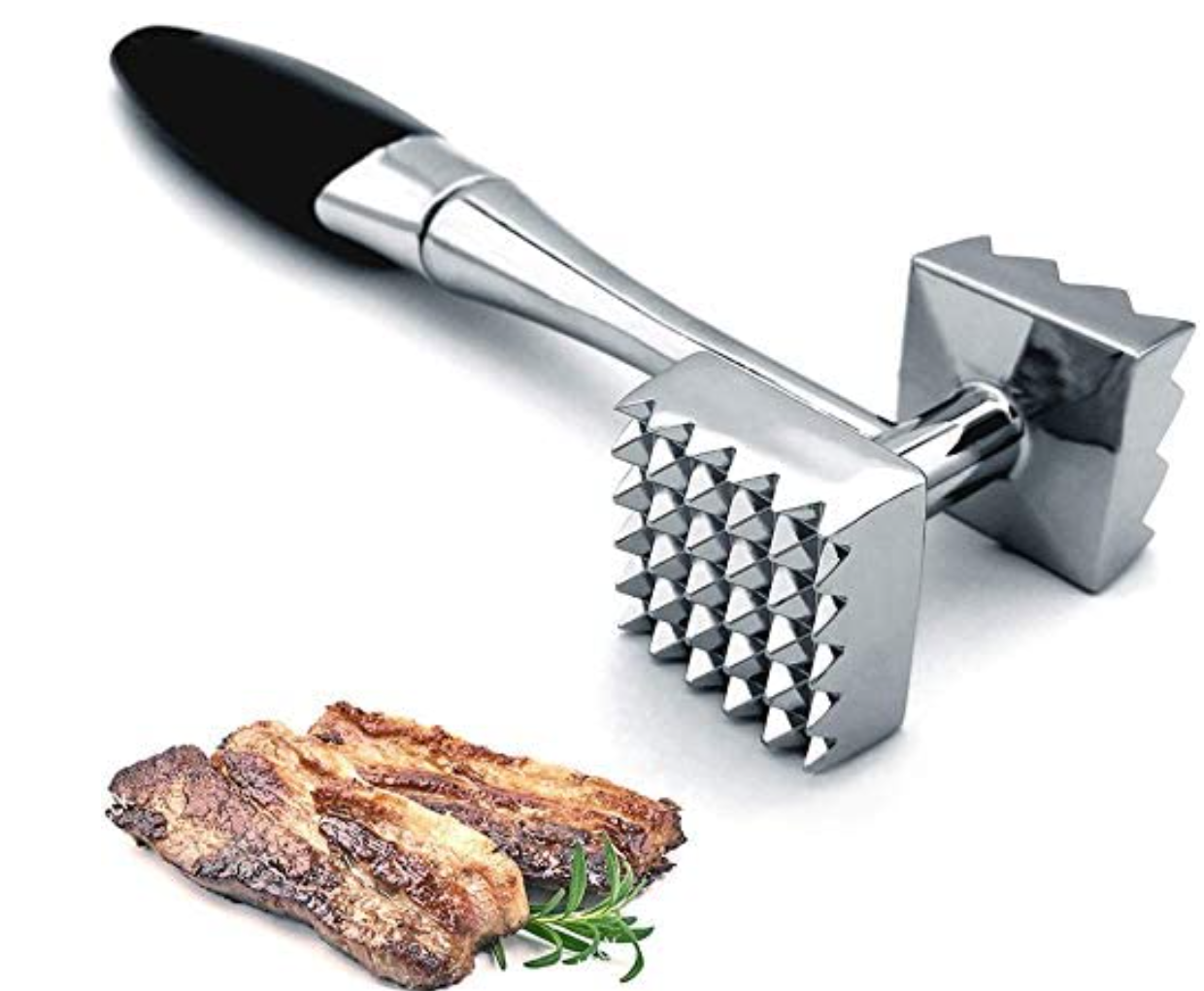 Stainless steel construction ensures long-lasting
Lightweight, so it can handle with ease
Can be used for other ingredients like garlic
It's dual-ended and designed to tenderize different foods and meat cuts
Infuses spices and rubs into the meat
All-in-One Supply Sets: Grilljoy
The next thing to consider acquiring for your smoker tools is a grill utensil set.
A typical grill utensil set includes spatula, fork, tongs basting brush, knife, 4 skewers, 8 corn skewers, grill brush with a replacement head, 1 replacement head, and salt & pepper.
All the tools must be made of good quality stainless steel and rubber, so they won't rust or crack and can be relied upon for years.
If you're lucky enough, then you should be able to find ones that have 5 – 10 years warranty with them!
The top 3 brands we recommend are:
Grilljoy
Mr. Bar-B-Q
Cuisinart
How about an all-in-one alternative to conquer all of the above? Well, most of them anyway. If you feel like testing out a couple before investing in the major ones (although they're all pretty affordable), look no further than this grilljoy 24PCS BBQ Grill Tools Set with Meat Thermometer and Injector.
It's a 24 piece smoker accessory set and features 2 shredder claws, 2 silicone gloves, 2 grill mats, 2 flexible skewers, a thermometer, basting brush, marinade injector, and even a burger press. All the materials are BPA-free, food-grade, and even easy to clean.
If you're a smoker enthusiast you've probably have to go through the terrifying task of looking for all of these separately hoping they're high-quality or that they match together. If you want to save time and money by getting everything in one place, this is the set for you.
Some reviewers stated that their claws seemed a little flimsy but so far we haven't had any issues testing these out shredding pork or simply holding meat. But for the price point, I guess it's worth the risk, especially since they also offer a 100% risk-free guarantee and will even give you a full refund if you're not satisfied.
It remains true that the supplies won't make the smoker, but boy do they make the task much easier. Take your time to look into and invest in these supplies since they can help you save time and effort. They might even improve your smoked food's taste (if you think about it).
Check prices and availability here
Also check out these bbq smoker books which will help you get started.
Kebab Skewers: Reusable 12 PCS Metal Kabob Skewers
If you want to grill any combination of various meats, vegetables, seafood, or fish, then you will need those kebab skewers.
The Reusable 12 PCS Kabob Skewers are a great option since they're made of metal and don't burn. 
In Turkey, they call this type of grilling "shish kebab" and this practice goes way back to ancient times, with mutton or lamb being the most common meat of choice at that time.
You can buy skewers made of wood or stainless steel, although it is highly recommended that you go for the metal ones as they can be used many times and are easy to clean.
For best kebab grilling choose a stainless steel skewer that is flat-bladed as it does not allow foods from spinning along their axis which can result in uneven cooking.
We recommend these brands for you to get kebab skewers from:
12 PCS metal set from Amazon
Kabob skewers Pack of 500 8 inch Bamboo Sticks Made from 100% Natural Bamboo
Goutime 23 Inch, 1 Inch Wide Stainless Steel BBQ Skewers
CLIENSY 17″ Barbecue Skewers, 20Pcs Stainless Steel Kabob Skewers Flat Metal Skewers
Best Rib Rack: Premiala Stainless Steel Rib Rack 
What is grilling without tender pork spare ribs?
It would be incomplete; however, the problem with grilling ribs is that they take up so much space that you either cook them 2 pieces at a time, which will increase the wait time for dining up to 2-3 hours; or use a rib rack to cut the time to do it by 70%.
The rib racks will also reduce the space-hogging pork ribs down by about two-thirds of the entire cooking surface of the grill as the spare ribs will be lying vertically across the grill grates.
The result is a faster cook time and you also save space and be able to grill more spare ribs than when done the usual way.
Top brands to pick rib racks to complete your grilling tools:
Premiala
Steven Raichlen Best of Barbecue Nonstick Ultimate Rib Rack
270 Smokers Rib Rack
Traeger Rib Rack
Sur La Table Pro Ceramic Upright Rib Rack
KALREDE Rib Rack BBQ
My favorite is this Premiala 6-rib rack made of stainless steel as it is just so affordable and durable.
Best grill grid lifter: Bull Grill Grate Lifter
The one unavoidable task that you'll need to do while grilling your favorite recipes is lifting the grill grates to replenish the charcoal briquettes or wood smoking chips in order to keep the heat at ideal temperatures.
The problem with this thing is that the grill grates will reach temperatures in excess of 200 °Celsius and it wouldn't be safe to touch it even if you were wearing heat-resistant BBQ gloves.
Fortunately, there is a device called the grill grid lifter and what it does is exactly as it's implied in its name – to lift the grill grates.
Now you can safely remove the grill grates and be at a safe distance of 2.5 feet while replenishing the coals or wood chips in your grill.
It's a nifty device that has a long stainless steel rod, a silicone handle, and a bottom square contraption that has a locking mechanism that securely holds the grill grates in place, so you can lift it.
Once you've placed the grill grate safely on the ground, then you can unlock the grill lifter via a trigger on the handle and your hands will be free to do other things like pour more coals or wood chips, prepare the next batch of food to grill, etc.
Here are the top 5 grill lifters:
Bull Grill Grate Lifter
Charcoal Companion CC1089 Grill Grate Lifter, Steel
KamadoJoe BJ-XR Big Joe Accessory Rack
Big Green Egg Grid Lifter
Hisencn Cast Iron Barbecue Universal Grid Lifter, Grate Lifters, 8″ Long
My favorite one is the Bull 24145 Grill Grate Lifter. I haven't seen one that is sturdy and easy to hold. You don't want the grate to slip when you're lifting it off hot coals! 
Check prices and availability here
An oil drum smoker
This is a unique addition to this list as it may not necessarily qualify as an accessory, but believe me when I say this smoking on an oil drum is the best feeling.
The slow burn it provides makes the best BBQ and although people may argue it's a bit cumbersome than the conventional smokers- it's all worth it. You need a few pointers when using this smoker
Make sure your oil drum has no leaks
Take your time when using this smoker
Clean it thoroughly after use
We have chosen the Pit Barrel Cooker Co smoker for this category: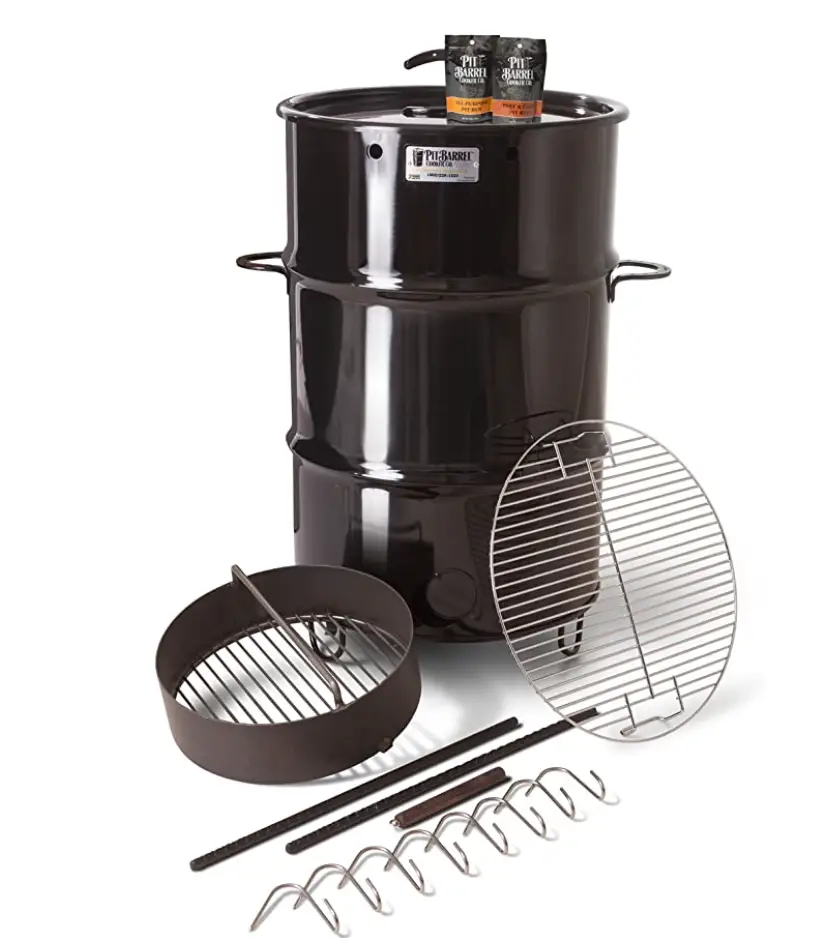 It has a very unique design.
No assembly required
It is multifunctional
Comes with everything you need since it's a set
18.5 inches – it's the perfect size for outdoor cooking
Best Road trip grill: Weber G0-Anywhere
This is the smaller version of your average grill and although it may not be an accessory because of its mobility factor we couldn't just leave it out of the list. Having a BBQ party at various locations is surely a unique feeling and this grill makes it possible. Using it is simple.
Keep it clean when traveling with it
Set it up on a level surface
Extinguish the fire with great care after use
We prefer the Weber Go-Anywhere Charcoal Grill for this category:
Its suitcase-like design makes it very easy to carry around
Lightweight yet very durable
Has a great design
Runs on charcoal so it's cheap to operate
Made of porcelain-coated cast iron
Check out the customer reviews here
Also read: do you know the Pit Boss Brand wood pellet smokers?
Final thoughts
The list that I just discussed contains all the necessary equipment that you will need to have the best BBQ experience. If you're new to this whole grill smoking business, then you probably only have some slight idea on how to smoke vegetables and meats and you probably also have limited knowledge about the tools used for it.
Things like accurate temperature monitoring and heat absorption are two critical aspects of producing high quality smoked meats.
The key to successful smoking or grilling of a good brisket and other BBQ recipes is to have the proper smoking tools and provisions.
That's why we've put together a quick guide to some of the most essential barbecue smoker accessories that professional pitmasters and smoked meat enthusiasts use that should also be in your list of smoking/grilling tools.
However, you do need some great recipes. You should definitely try working with the 10 best recipes out there.