I love creating free content full of tips for my readers, you. I don't accept paid sponsorships, my opinion is my own, but if you find my recommendations helpful and you end up buying something you like through one of my links, I could earn a commission at no extra cost to you.
Learn more
If you're a fan of grilling, you've got to try planking or grilling with wooden planks.
Planking fish (especially salmon) has been popular for centuries in the Pacific Northwest Indigenous communities.
The reason? The smoky, earthy flavor of the salmon is a delicacy!
Read on for the complete guide to using grilling planks for your next dish.
There's nothing like that aroma of freshly charred cedar and fish. But planking isn't limited to fish only; you can use any type of meat or vegetables for cooking on your grill!
Imagine cooking delicious dishes, with minimal clean-up and food full of all the aroma of a real smoker!
Let's take a look at the top choices for grilling planks, and then I'll get into how to use them, the benefits, re-using and much much more.
What is a grilling plank?
Planking is a method of cooking on the grill where you place your food on a wooden plank and cook indirectly on the grill.
The heat enters the food indirectly and spreads flavors from the plank and smoke from the grill into your food.
The planks are made of different kinds of wood, which give your food different flavors.
The most popular planks are
cedar (for fish),
alder,
hickory,
pecan,
maple,
cherry,
and apple.
The reason people love using a grilling plank is the simplicity behind this method.
Just place the food on the wood and place it on the grill.
The wood protects your food from the fire, which ensures even the most delicate of foods cook well without falling into pieces.
Did you know that planking is healthier than cooking directly on heat?
When you cook on an open flame or direct heat, carcinogenic chemicals are produced which penetrate your food.
Using wooden planks creates a barrier layer, which doesn't let the chemicals touch your food.
What flavor plank should I use?
With all the plank options available, you're probably wondering which type of wood you need to use. It all depends on what kind of food you're cooking.
With salmon and other fish like trout, use cedar.
With chicken, use a medium wood like pecan, maple, or fruit woods. These woods don't overpower the taste of the meats.
With game meats, pork, and beef – you need a strong wood with intense flavor like oak and hickory.
With vegetables, you can use any wood plank flavor you like.
Check out this selection of wood planks we've selected below. You'll be sure to find planks that appeal to your grilling needs.
Can you use grilling planks on a gas grill?
You can use grilling planks on all grills, charcoal and gas grills included.
If you use a gas grill, the direct flames will cause your wood to smolder, which creates smoke – this gives an excellent smoky flavor to your food.
Always try to contain the smoke by keeping the lid of the grill closed for as long as possible during the grilling process.
How do you use a grilling plank?
Planks are about ½ inch or 1-inch thick pieces of wood that you grill your food on.
You can find pre-cut grilling planks at grocery stores, on Amazon, or you can make your own.
The most popular planks are rectangular shaped, about 13×7, or 6×12 inches, but you can also buy square and oval-shaped planks depending on the dish you're cooking.
Planks are going to give your food that wood-smoked, intense flavor on a grill. You have to place your food directly onto the plank, covering most of the plank.
There are two simple ways to use a plank:
Place food on your damp plank, covering most of the surface, and put it down on the grill. Let it cook on medium heat.
Place an empty plank on the grill and let it smoke a little bit until slightly charred. Flip the plank and put your food on the charred side. This will give your food an even more intense flavor.
Food on a plank will cook slower than on regular grills, so you'll need to give yourself some extra time. For some meats, the cooking time can be up to 50% longer.
For example, it takes about 15-20 minutes to cook a 2-pound piece of salmon, whereas it takes only about ten on a regular grill.
But, the flavors of cedar planked salmon are incomparable to simple cooking.
BBQ Galore USA has this great video on BBQ planking:
Benefits of using grilling planks
You're probably wondering why people are raging about the great taste of planked food?
There are three main advantages of using wood planks:
more flavor,
more moisture,
and more whole food.
The first benefit of using planks is the taste your food will have.
The skin on your fish, your veggies, and other meats will stay directly on the wood and get that charred smokey flavor.
Usually, you can only get that smokey BBQ flavor when you use a real smoker, but with the planking method, you get a similar taste with a simple grill.
You can flavor your meal anyway you prefer by choosing different types of wood planks.
With the help of the plank, your food is away from direct flames and the intense heat from the grill. The plank acts as a heat shield, which then spreads flavor into the food.
The second benefit of using planks is that your food remains moist. You've probably had an experience where your meat turned out dry and chewy.
The advantage of using a plank is that as your food cooks on the damp piece of wood, it won't dry out as fast and retains more moisture than if you grill on the grates.
The third advantage is that your food will remain intact on the plank.
Grilling fish and vegetables can be challenging. Imagine, just as you are about the turn the fish around, it falls apart and sticks to the grates!
Or, your asparagus breaks in half and falls through the grates!
With planks, you avoid all the inconveniences of grilling delicate foods directly on your cooking device, and you end up with whole pieces of food.
How long do grilling planks last?
Planks are resistant to heat as long as you prep them properly by soaking them in water before use.
Some grillers will tell you that a half-hour soak is enough, but experts suggest a much longer soak.
To make sure that your wood doesn't catch fire while grilling, give your plank a long soak for a minimum of 2 hours for up to 4 hours for the best results.
Place the planks in a sink or container and submerge them in water completely. Use some type of weight to push them down if necessary.
Your planks must not float; they need to be fully covered by the water.
This way, they'll last long on the grill for you to be able to cook all kinds of foods properly.
An occasional flare-up may happen here and there, so keep a water bottle close by and spray if needed.
Some charring is normal, and small flare-ups won't destroy your food but always extinguish them right away.
When you place the planks on the grill, they should be damp only. Make sure the wood is not dripping wet, so use a towel to pat the wood until it is moist and damp.
Be careful about using oil on the plank; it can actually cause the plank to catch fire and burn much quicker.
You can add a slight amount of oil onto the fish skin but not on the plank itself.
If you prep your plank correctly, it will last for at least one hour, so you can cook any type of food.
Can you re-use planks?
In most cases, it's best to use each plank only once and dispose of it after you're finished cooking.
To get the most flavor and best results from your planking experience, use the plank just once.
But if you really want to re-use your planks, they need to still be in good shape. It should not be badly charred and burned or bent in any way.
When you use a plank, it releases flavor and oils. Once you've used it, some of the wood's oils are used up.
The second time you use the plank, you won't get as much flavor out of it.
You can only use planks with one type of food/protein. You can't use it for salmon the first time and then re-use with chicken the second time.
Best grilling planks reviewed
Browsing through the Amazon site can be confusing, as there are so many products to choose from.
We've narrowed down the selection to some of the best grilling planks available online.
Bestseller: Wood Fire Grilling Co. cedar grilling planks
Cedar planks are the most popular types of wood. This type of wood works best when cooking fish like salmon, trout, striped bass, bluefish, and even swordfish.
You can also cook vegetables, chicken, scallops, and even pork. Cedar gives food a woody, hearty, and foresty type flavor to salmon and veggies.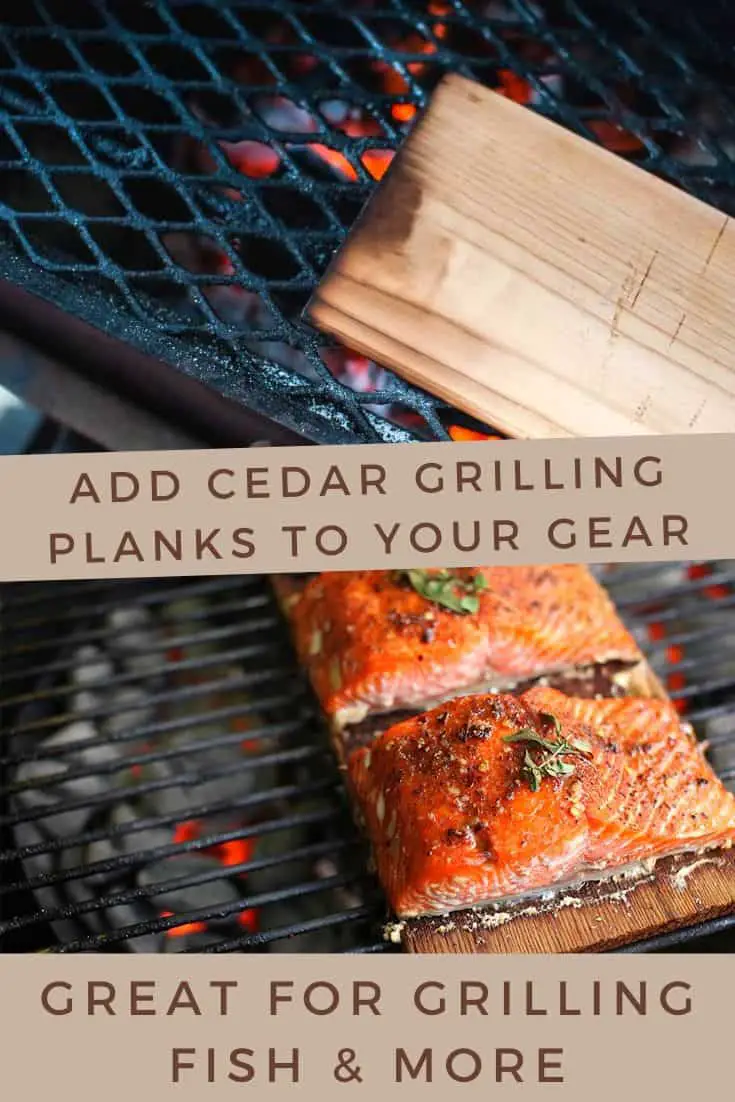 In this set of planks, you get the classic cedar flavor, plus alder planks, which provide a gentle, more delicate smokey flavor to any meat.
Alder is light and mild-flavored wood that works with all meat types. It also has a slightly spicy aftertaste.
It's a great way to try alder and taste the difference between cedar and alder.
You can customize this pack to switch the alder with hickory or maple (for stronger flavors).
They are made in certified manufacturing plants in the US.
It can be used on the grill or oven.
Grill Gourmet textured Cedar grilling planks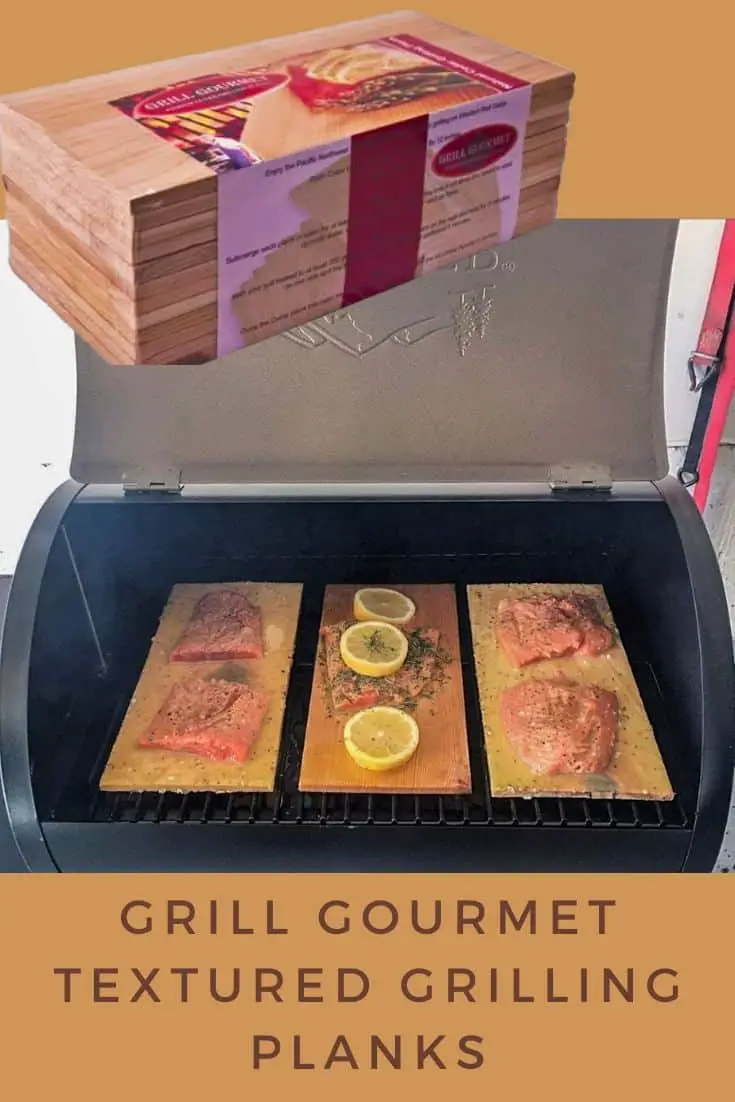 Check out this pack of single-use cedar planks. They are affordable and excellent for use with fish and veggies.
Benefits of the product:
New thicker planks 1/3"
Ideal dimension: 5.5″ x 11.00″, which fits most foods
Premium quality wood at an affordable price.
Best extra large cedar grilling planks: Wood Fire Grilling co. 7 x 15 inch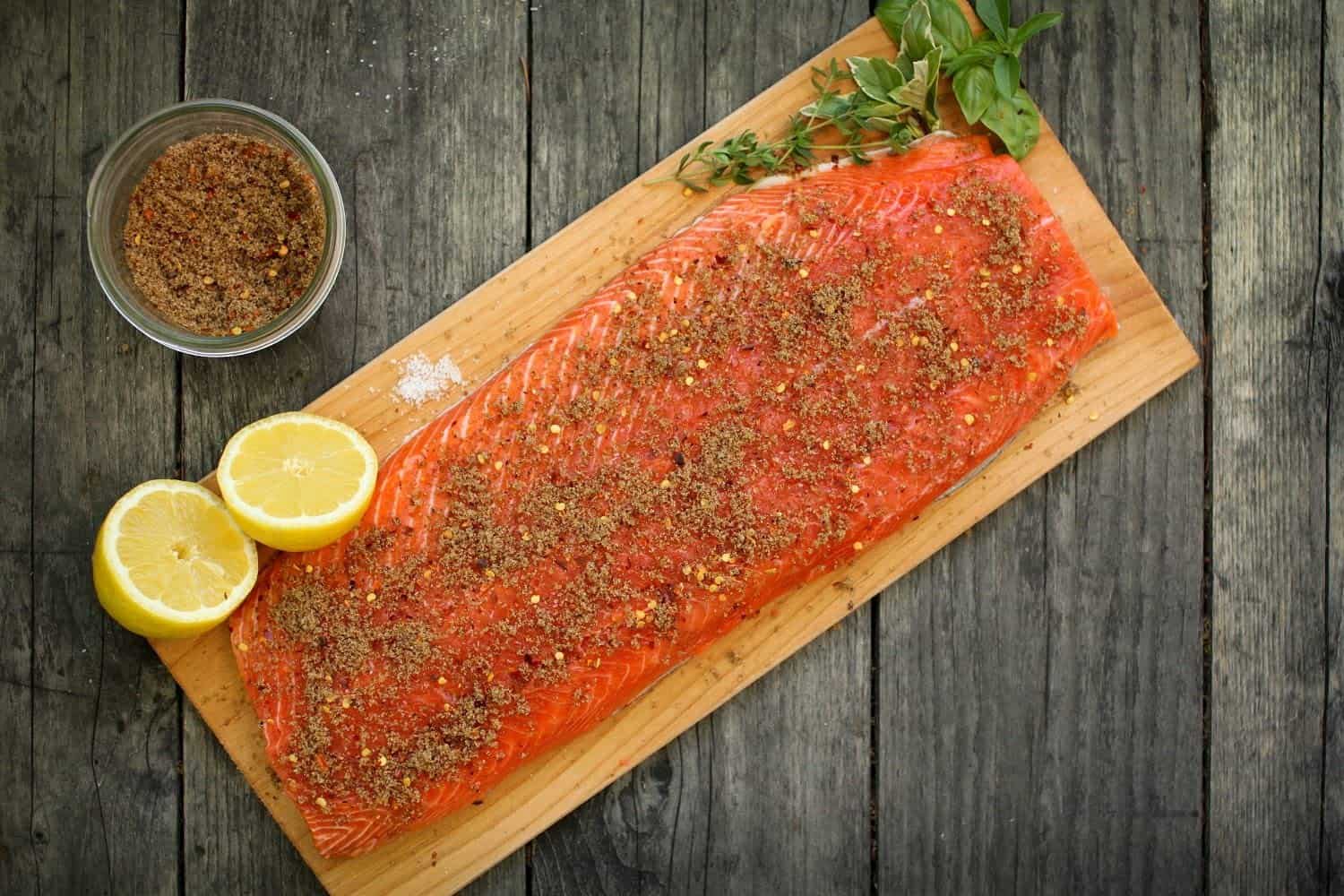 If you are going to cook large fish or veggies, choose extra-large planks. These are perfect for fillets of King Salmon.
You can also feel safe using these cedar planks that are organic and untreated.
Benefits of the product:
The size of these planks is 7" x 15" x 3/8"
Large pack of 20 planks
The product is chemical-free
Planks are organic and sustainable Provides natural smoke flavor
Wood is untreated and natural
Check these out here on Amazon
Best flavor variety: Wildwood grilling 6 grilling plank variety pack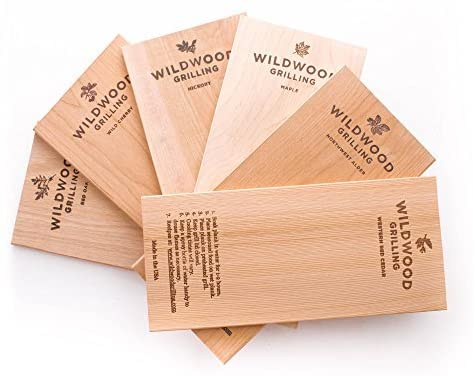 This pack contains a mix of 6 different kinds of wood:
Western Cedar
Alder
Hickory
Cherry
Maple
Red Oak
Since you have a selection of woods in this pack, you can try out the different flavors to see which you prefer.
Benefits of the product:
The planks are all made sustainably in the United States.
Planks are made in a certified facility with no chemicals and toxic materials.
They are certified organic.
It can be used on all types of grills and even in the oven.
Family-sized planks are available so you can cook for all the food at once on one plank.
Check out the latest prices and availability here
How to clean planks
If you aren't throwing your planks out, wash and scrub them with water only, no soap. The soap penetrates the wood and has a bad taste when you grill.
Even if the plank has some charring on it, you can still use it one more time if you've given it a good scrub.
Some grillers go as far as sanding down the plank to get more use out of it.
Can you make your own grilling planks?
It is possible to make your own planks. The easiest way to make them is to buy wood from a lumber store.
The wood must high-quality, meaning it should be furniture-grade, kiln-dried, and it must be untreated.
You don't want any harsh and toxic chemicals transferring into your food. Cut your planks into rectangular shapes of 1-inch thickness.
Takeaway
With all these options, you can choose a variety pack or stick to sustainable cedar planks.
You must try planking because you'll be pleasantly surprised to taste the difference between classic grilling and wood plank cooking.
Besides, planking is a healthier way to cook because you don't end up with carcinogenic chemicals that are produced when you grill on direct heat!
Next time you fire up the grill, consider planking your food and get ready for intense flavors and aromas!
Joost Nusselder, the founder of Lakeside Smokers is a content marketer, dad and loves trying out new food with BBQ Smoking (& Japanese food!) at the heart of his passion, and together with his team he's been creating in-depth blog articles since 2016 to help loyal readers with recipes and cooking tips.