I love creating free content full of tips for my readers, you. I don't accept paid sponsorships, my opinion is my own, but if you find my recommendations helpful and you end up buying something you like through one of my links, I could earn a commission at no extra cost to you.
Learn more
If you are thinking of grilling some tasty food, try grilling it on a cedar plank.
When cooking with a cedar grilling plank, you typically start by soaking the wood in water.
When you put the food on the plank, the water causes the flavor of the cedar to infuse the food making it incredibly smokey and woody.
This is a unique taste that can work quite well in certain recipes.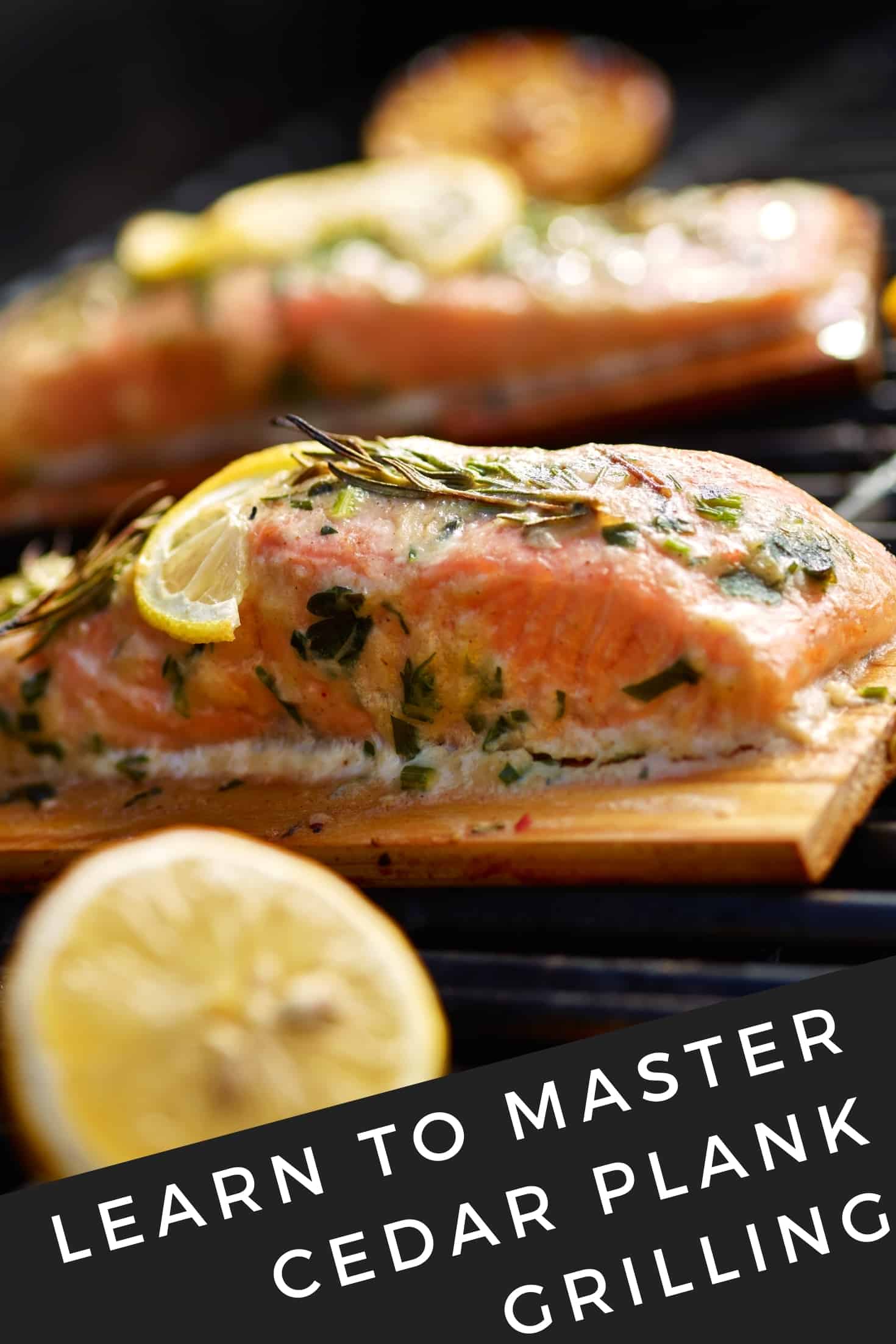 Also, because food does not stick to a cedar plank as it does to a grill, no oils or non-stick products are necessary.
In this article, we are going to discuss cedar plank grilling and recommend recipes that can take your grilling to the next level.
6 delicious Cedar Plank Recipes
Now that we know a little about cedar grilling, let's take a look at some recipes that are simply divine.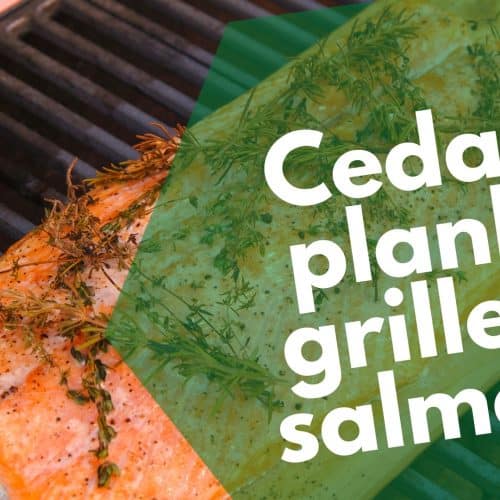 Cedar Plank Grilled Salmon
Since salmon is such a popular cedar plank food, let's take a look at how we can grill it to perfection.
Ingredients  
3

12"

untreated cedar planks

⅓

cup

vegetable oil

1½

tbsp

rice vinegar

1

tsp

sesame oil

⅓

cup

soy sauce

¼

cup

chopped green onions

1

tbsp

fresh grated ginger root

1

tsp

minced garlic

2

2 lb

salmon fillets with the skin removed
Instructions 
Soak planks in warm water for at least an hour; the longer the better.

Stir vegetable oil, rice vinegar, sesame oil, soy sauce, green onions, ginger root and garlic in a shallow dish. Place salmon in the dish and leave in for 15 minutes to an hour to marinate.

Heat outdoor grill to medium heat and place planks on the top. When boards start to smoke and crackle, add the salmon discarding the marinade.

Cover salmon and grill about 20 minutes. The fillets will be ready when you can flake them with a fork.
I like to use these 12″ Nature Carrier cedar planks: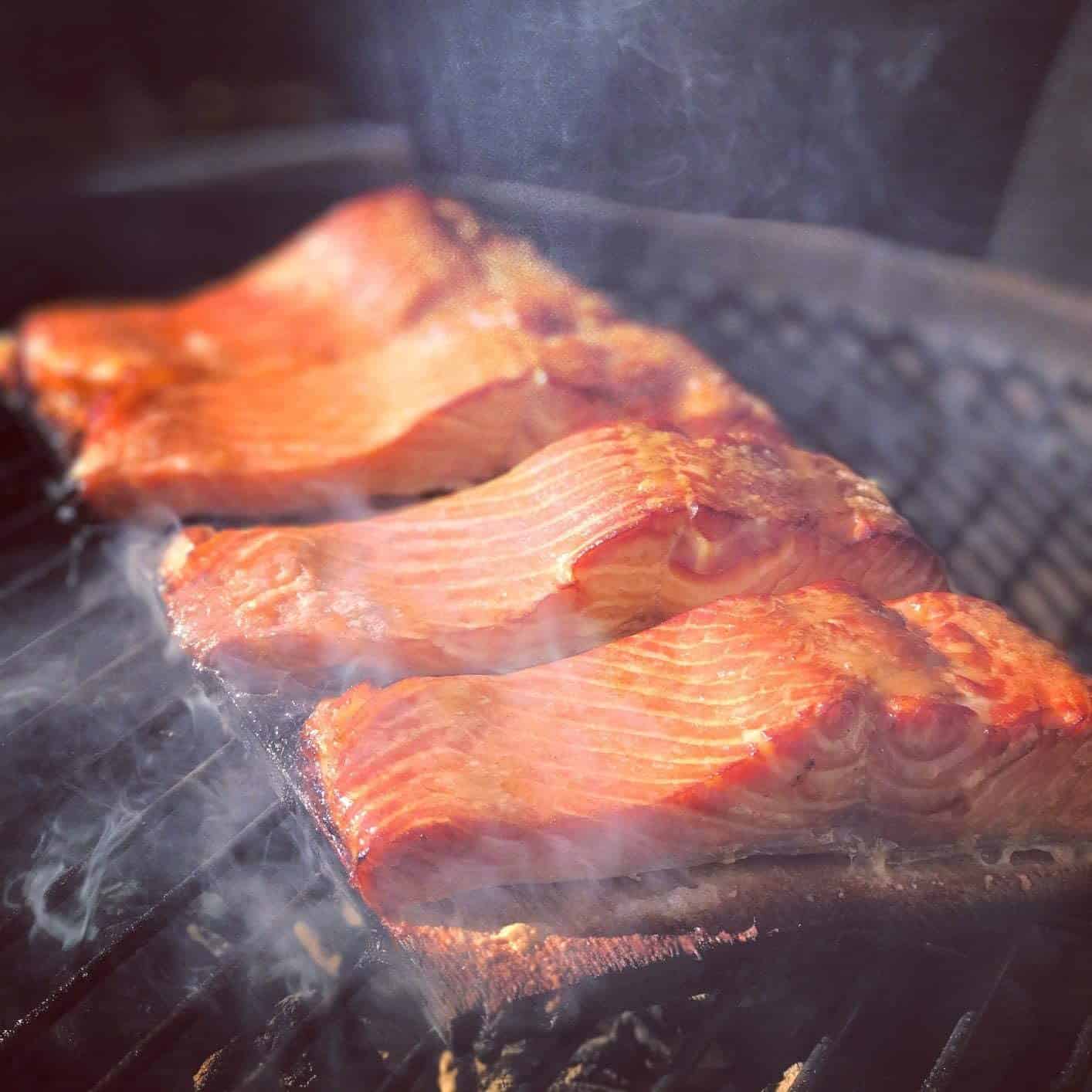 A cedar plank makes an ideal grilling surface for many types of meat, but few meats are more ideal than salmon.
Before cooking salmon, the cedar plank should be soaked in water for several minutes.
Once the fish is cooked on the plank, the moisture helps the wood flavoring become infused into the fish. The fish is left with a smokey taste that is characteristic of cedar.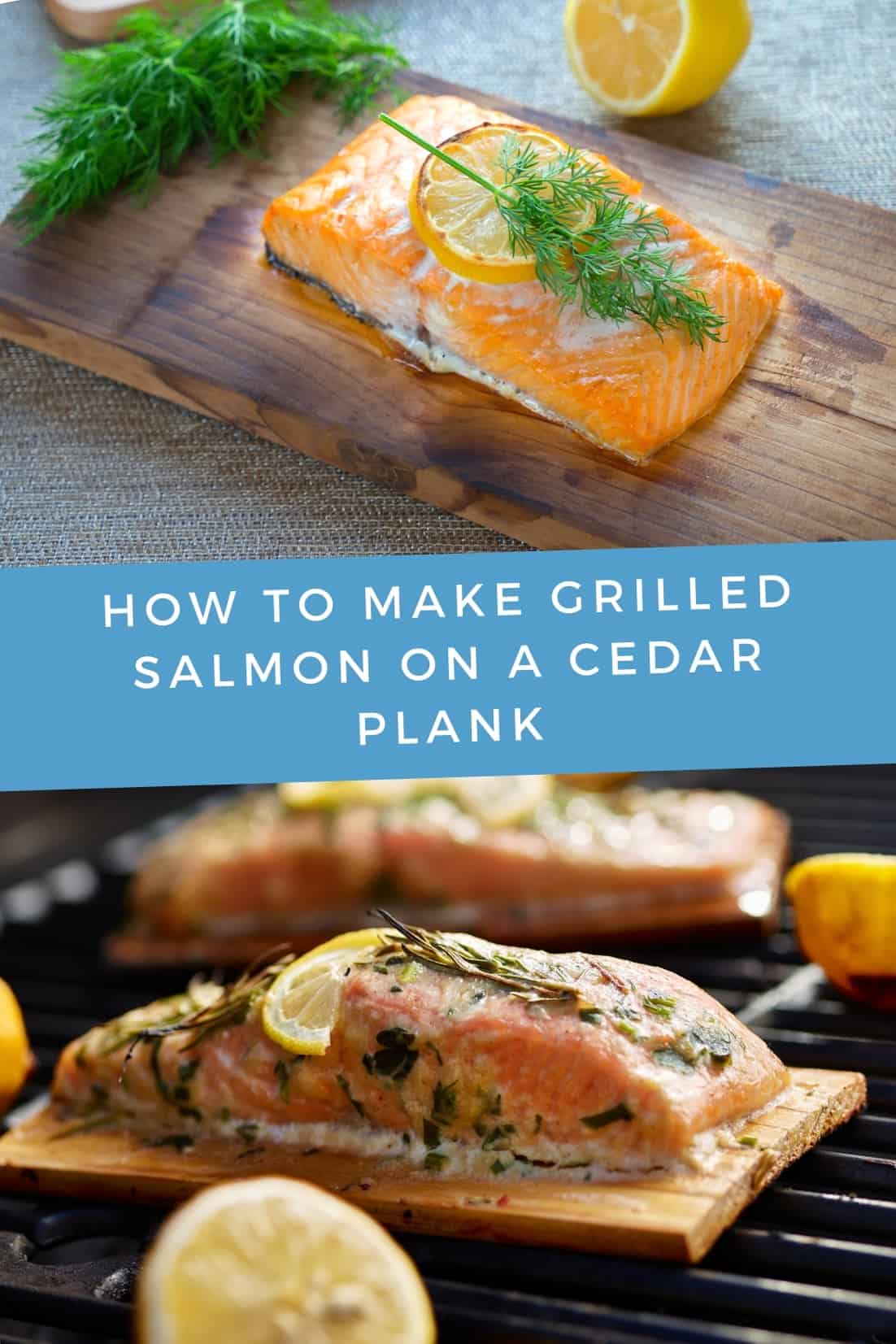 This article will take a look at cedar plank grilled salmon and how you can make your fish dishes taste their best.
Why Grill Salmon on a Cedar Plank?
In addition to providing a great taste, grilling on a cedar plank is also best for tender meats, like salmon, that can fall apart easily.
When you cook tender meat on a grill, it can stick to the grill and fall apart diving through the grates to its death. Cedar planks eliminate this issue.
Furthermore, because you don't have to worry about the meat sticking to the grill, you don't have to cook with oil. This makes the food healthier and lower in calories.
In general, cedar planks can be used to add flavor to food without the need to use a lot of additional ingredients.
Because cedar blocks are wet before cooking, they continue infusing meats with moisture to keep them from drying out. This can be especially beneficial if you are grilling fish or chicken both of which tend to dry out quickly.
What Other Meats Are Great for Cedar Plank Grilling?
In addition to being perfect for grilling salmon, cedar can also add a great flavor to the following foods:
Pork
Chicken
Fruit
Cheese
Vegetables
Lamb
Fish and shellfish
How Did Grilling Salmon on Cedar Planks Originate?
The Native Americans of the Pacific Northwest were the first to grill salmon on cedar planks. They tacked fish on to the planks and held them close to the fire to grill them. This is a practice that they have been doing for centuries.
However, the first documentation of using cedar planks for grilling can be traced back to 1911, when the method was published in the Boston Cooking School Cookbook. Here the process was featured for a recipe called Planked Chicken and Duchess Potatoes.
The Scandinavian people also are known for grilling a mean cedar plank salmon.
They use a process called loimulohi, which involves attaching salmon to a board with wooden pegs at the bottom. The pegs work to prop the boards up vertically and the bottom of the boards are placed near the fire for grilling purposes.
Best Cedar Planks to Use for Grilling Salmon
When it comes to picking the best cedar planks for grilling salmon, you don't have to be too choosy. While some people go all out buying cedar planks at a high-end culinary store, you can save money buying a quality untreated board at a lumber yard.
The wood can be smooth or textured but you must be careful not to get one with a lot of knots. Grease can settle in knots making for an uneven cook.
The planks should be at least ½" thick, especially if you are planning on reusing it.
If you prefer to buy your cedar planks at a retail store instead of foraging for it on your own, here are some brands that are recommended:
Primal Grilling Premium Cedar Planks: These planks measure 12×6" and they are made from 100% Western red cedar. They do not contain any harmful chemicals. They are kiln dried, so they absorb water efficiently, without producing a lot of smoke. At 7/16" thick, they are completely reusable, so you get more bang for your buck.
Grill Gourmet Cedar Grilling Planks: At 11.5×5" and 1/3" thickness, these are slightly smaller and thinner than the planks Primal Grilling has available. Therefore, they are not ideal for reuse. However, they come in a 12 pack, as compared to Primal Grilling's five pack, which makes them more economical. They are also made of Western red cedar.
Wood Fire Grilling Co. Cedar Grilling Planks: These grilling planks are a fun choice, because they allow you to experiment with different kinds of wood. In addition to the 12 pack of cedar planks, there are two free wood planks included, of your choice. You can experiment with alder, maple, hickory, untreated varieties and more. At 11 x 5", Wood Grilling's planks are the smallest yet. However, their 3/8" thickness means they can be reused several times if cleaned properly.
If you are foraging for your own wood, you will probably want to emulate these brands by choosing the red Western cedar variety. The Eastern variety is also a recommended favorite.
How To Reuse Cedar Grilling Planks
Cedar grilling planks (one of the best woods for grilling planks) can be reused two or three times.
If the wood starts to break apart, you can crush it up and make it into chips.
Although you can reuse cedar planks for grilling, it is important to note that the plank will retain the flavor of the food that was last grilled on it. Therefore, it is best to stick to foods that are the same or that taste similar.
Also, some of the essential oils in the wood will be used up after the first grilling, so the flavor may not be as strong the second time around.
Do You Flip Salmon on Cedar Blocks?
Flipping is a part of grilling most meat. However, when you are grilling on cedar boards, flipping is not necessary.
Plank cooking is indirect. Therefore, the food is insulated from direct heat and it will absorb the heat throughout no matter what position it is in.
However, you do want the board to be exposed to the direct heat of the grill, so it can smolder.
Also, because the salmon will grill on indirect heat, it will take longer to grill. Count on it taking twice as long as it would for other salmon grilling recipes.
Is Cedar Plank Cooking Healthy?
Yes.
Because you don't have to add oil or a lot of ingredients to make the food tastier or nonstick, there is less chance that unhealthy additions will be in the dish.
Tips for Grilling with Cedar Planks
Here are some additional tips that will help your salmon and other meats achieve perfection.
Soak Planks for 12 Hours Before Grilling: Most recipes will advise you to soak wood for a few hours before grilling, but the longer the better. Soaking the wood for 12 hours will keep it from burning and it will keep the fish moist during the grilling process. Make sure to weigh down the planks with a bowl or another heavy object to ensure it stays underwater while it soaks.
Soak Planks in Fruit Juice: While many people soak cedar planks in salt water before grilling, fruit juice is a great alternative and it will add zest to your flavors.
Brush Planks with Oil: Although oil is not necessary for grilling salmon on cedar planks, it will ensure there will be no chance the filets will stick to the planks. However, some argue that the oil stops the salmon from fully absorbing the flavor of the wood.
Cure Planks Before Grilling: You can cure cedar planks by sticking them on the grill for two minutes on each side with the lid closed. This will enhance the flavor of the planks and it will keep them from warping. The planks will be ready for grilling when they start to smoke and crackle a little.
Use the Proper Heating Methods: If you are using a charcoal grill, place the planks over ash-coated coals. If you are using a gas grill, preheat to high and cook on medium.
Allow More Time for Cooking: Remember, wood will take more time to heat than metal. Therefore, your salmon will need more time to cook on cedar planks than it would if it was cooking on a gas grill. The salmon will also continue cooking after it is removed from the grill so be sure to figure that into your cook time.
Clean the Planks: Planks can be reused several times. For best results, scrape the plank clean and soak it in warm water without soap after use.
Picking the Best Salmon Cuts for Grilling
A salmon filet that feeds one person will typically be 6 to 8 ounces. Center cut pieces are preferred, as they are thicker and more uniform, ensuring an even cook.
Now that you know all there is to know about grilling salmon on cedar planks, how will you be using this method to take your fish to the next level?
Also read: the best grilling planks, a complete guide
Cedar Plank Grilled Chicken
This white meat dish provides a flavor kicks it out of the park.
Ingredients:
1 cedar plank approx. 7 x 16"
4 boneless and skinless chicken breasts or 8 bone-in thighs
1 ¼ tsp. sea salt per pound of chicken
1 tsp. freshly ground pepper
Extra virgin olive oil
Directions:
Pound the chicken with a mallet so that it is an even cut.
Salt chicken generously and leave in refrigerator 6 -24 hours. Soak the plank 1 -2 hours before grilling.
After brining, season with salt, pepper and olive oil. (Olive oil is not needed for chicken thighs).
Preheat grill and put planks directly over heat. Place breasts on plank and grill over medium heat with lid closed.
Chicken will smoke while it's being cooked and it is advised to keep the lid close.
Check the chicken every 2 -3 minutes while cooking to make sure each side comes in contact with the plank. Total cook time will be about ten minutes.
Once chicken is done cooking, leave planks on the grill but put chicken directly on the grill to produce grill marks.
Serve over pasta or rice or shred into barbecue chicken sandwiches.
Plank Grilled Veggies
If you are looking for a healthy and delicious vegetarian dish, plank grilled veggies are ideal.
Ingredients:
3 tbsp. rice wine vinegar
3 tbsp. olive oil
1 tbsp. Dijon mustard
½ tsp. salt
½ cup herbs (like oregano, basil and mint)
2 lbs. summer vegetables cut into 1" pieces
2 cedar planks soaked in water
Directions:
Combine rice wine vinegar, olive oil, mustard, salt and herbs in a plastic bag and shake to mix. Add vegetables and leave to marinate at room temperature for 15 minutes.
Preheat grill to medium heat. Place planks on grill and close lid to heat for three minutes. Flip planks and arrange vegetables on planks. Cook for 20 minutes until tender. Remove from grill, season as desired and serve.
Blue Cheese and Planked Pears
Ingredients:
2 pears
½ cup bleu cheese
½ cup dried cherries
4 tbsp. honey
1 cedar plank soaked in water at least an hour before cooked
Directions:
Cut pears in half and remove core
Heat grill to medium heat and place planks on grill.
Place pears on planks flesh side down.
Close lid and allow to grill for 10 minutes.
Move pears to a part of the grill with less direct heat. Turn over and fill with bleu cheese and cherries. Drizzle with honey.
Keep the pears over the part of the grill with less direct heat and allow to cook for an additional 10 minutes.
Serve warm.
Cedar Plank Steak
If you want a nice juicy steak, cedar plank grilled is the way to go.
Ingredients:
1 massive steak
Salt
Pepper
Granulated garlic
1 cedar plank
Directions:
Take steak out of fridge and allow it to warm to room temperature.
Soak cedar plank in water for one hour.
Prepare grill for high heat. Place plank in the center of the grill and allow to heat with lid closed for 3 minutes.
Meanwhile, season steak with salt, pepper and garlic.
Turn over plank and place steak on it.
Close lid for 10 minutes
Steak should reach an internal temperature of 120 degrees. Take it off the plank and place it on the grill grates to get a sear (2 -3 minutes) then flip it over to get the other side.
Remove from grill and allow to sit for 3 – 4 minutes before serving.
Cedar Planked Grilled Cheese
Cedar planks take this everyday meal to the next level.
Ingredients:
4 cedar planks
4 slices of white bread
4 slices thick cut bacon
Gouda cheese, sliced
Cheddar cheese, sliced
1 Honeycrisp apple, thinly sliced
Directions:
Set grill for indirect grilling and set planks on top of it.
While waiting for the grill to heat, soak the planks for 15 minutes.
Place planks on grill. Close lid and let heat for 5 minutes. Assemble sandwiches open face style adding just the cheese. Put the sides of the sandwich on the plank and close the lid.
After 15 minutes cheese should be melting.
Open lid and put bacon on one side of the sandwiches and apple on the other. Let cook 5 minutes.
Open lid and finish assembling sandwiches. Put directly on the grill to produce grill marks if desired.
Now that you know how to make some great cedar plank grilled recipes, which will you be cooking up in your home?
Also read: how to make a delicious smoked nova salmon from scratch
Joost Nusselder, the founder of Lakeside Smokers is a content marketer, dad and loves trying out new food with BBQ Smoking (& Japanese food!) at the heart of his passion, and together with his team he's been creating in-depth blog articles since 2016 to help loyal readers with recipes and cooking tips.