by Joost Nusselder
|
Last Updated: 
August 12, 2020
I love creating free content full of tips for my readers, you. I don't accept paid sponsorships, my opinion is my own, but if you find my recommendations helpful and you end up buying something you like through one of my links, I could earn a commission at no extra cost to you.
Learn more
If you are thinking of grilling some tasty food, try grilling it on a cedar plank.
When grilling with a cedar plank, you typically start by soaking the wood in water.
When you put the food on the plank, the water causes the flavor of the cedar to infuse the food making it incredibly smokey and woody.
This is a unique taste that can work quite well in certain recipes.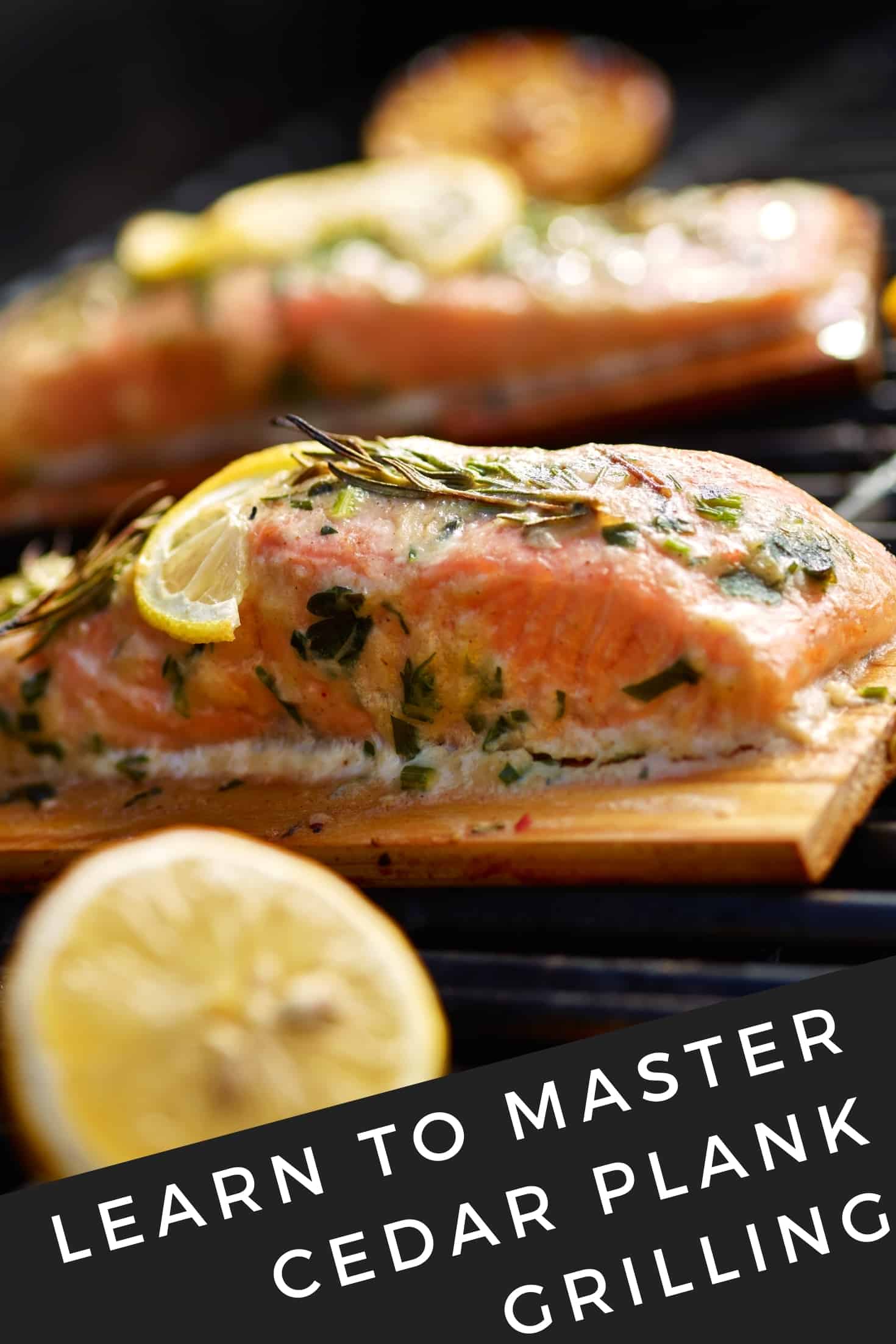 Also, because food does not stick to a cedar plank as it does to a grill, no oils or non-stick products are necessary.
In this article, we are going to discuss cedar plank grilling and recommend recipes that can take your grilling to the next level.
6 delicious Cedar Plank Recipes
Now that we know a little about cedar grilling, let's take a look at some recipes that are simply divine.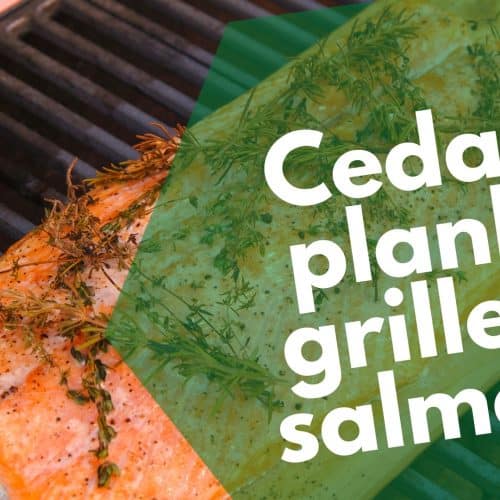 Cedar Plank Grilled Salmon
Since salmon is such a popular cedar plank food, let's take a look at how we can grill it to perfection.
Ingredients  
3

12"

untreated cedar planks

⅓

cup

vegetable oil

1½

tbsp

rice vinegar

1

tsp

sesame oil

⅓

cup

soy sauce

¼

cup

chopped green onions

1

tbsp

fresh grated ginger root

1

tsp

minced garlic

2

2 lb

salmon fillets with the skin removed
Instructions 
Soak planks in warm water for at least an hour; the longer the better.

Stir vegetable oil, rice vinegar, sesame oil, soy sauce, green onions, ginger root and garlic in a shallow dish. Place salmon in the dish and leave in for 15 minutes to an hour to marinate.

Heat outdoor grill to medium heat and place planks on the top. When boards start to smoke and crackle, add the salmon discarding the marinade.

Cover salmon and grill about 20 minutes. The fillets will be ready when you can flake them with a fork.
I like to use these 12″ Nature Carrier cedar planks: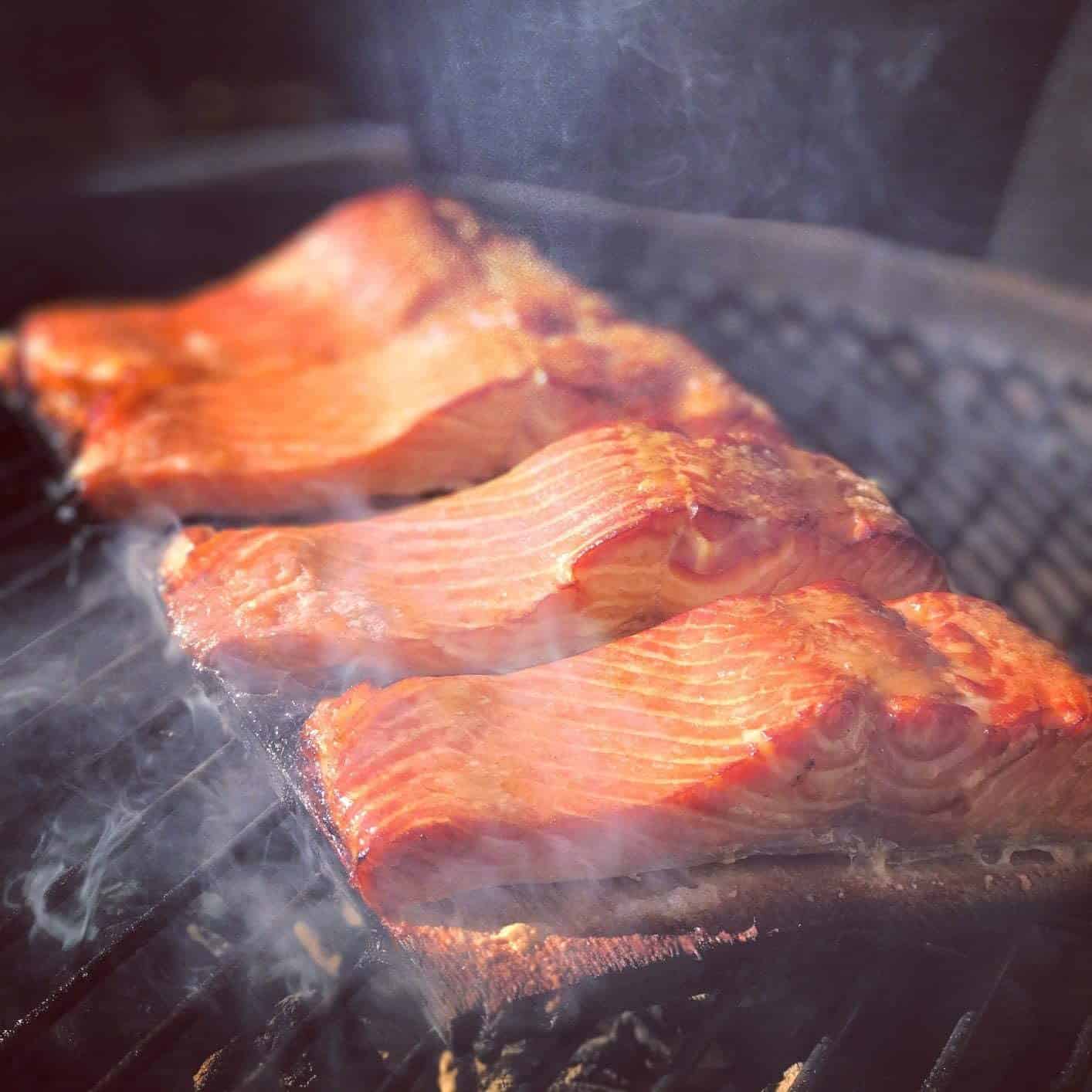 Also read: the best grilling planks, a complete guide
Cedar Plank Grilled Chicken
This white meat dish provides a flavor kicks it out of the park.
Ingredients:
1 cedar plank approx. 7 x 16"
4 boneless and skinless chicken breasts or 8 bone-in thighs
1 ¼ tsp. sea salt per pound of chicken
1 tsp. freshly ground pepper
Extra virgin olive oil
Directions:
Pound the chicken with a mallet so that it is an even cut.
Salt chicken generously and leave in refrigerator 6 -24 hours. Soak the plank 1 -2 hours before grilling.
After brining, season with salt, pepper and olive oil. (Olive oil is not needed for chicken thighs).
Preheat grill and put planks directly over heat. Place breasts on plank and grill over medium heat with lid closed.
Chicken will smoke while it's being cooked and it is advised to keep the lid close.
Check the chicken every 2 -3 minutes while cooking to make sure each side comes in contact with the plank. Total cook time will be about ten minutes.
Once chicken is done cooking, leave planks on the grill but put chicken directly on the grill to produce grill marks.
Serve over pasta or rice or shred into barbecue chicken sandwiches.
Plank Grilled Veggies
If you are looking for a healthy and delicious vegetarian dish, plank grilled veggies are ideal.
Ingredients:
3 tbsp. rice wine vinegar
3 tbsp. olive oil
1 tbsp. Dijon mustard
½ tsp. salt
½ cup herbs (like oregano, basil and mint)
2 lbs. summer vegetables cut into 1" pieces
2 cedar planks soaked in water
Directions:
Combine rice wine vinegar, olive oil, mustard, salt and herbs in a plastic bag and shake to mix. Add vegetables and leave to marinate at room temperature for 15 minutes.
Preheat grill to medium heat. Place planks on grill and close lid to heat for three minutes. Flip planks and arrange vegetables on planks. Cook for 20 minutes until tender. Remove from grill, season as desired and serve.
Blue Cheese and Planked Pears
Ingredients:
2 pears
½ cup bleu cheese
½ cup dried cherries
4 tbsp. honey
1 cedar plank soaked in water at least an hour before cooked
Directions:
Cut pears in half and remove core
Heat grill to medium heat and place planks on grill.
Place pears on planks flesh side down.
Close lid and allow to grill for 10 minutes.
Move pears to a part of the grill with less direct heat. Turn over and fill with bleu cheese and cherries. Drizzle with honey.
Keep the pears over the part of the grill with less direct heat and allow to cook for an additional 10 minutes.
Serve warm.
Cedar Plank Steak
If you want a nice juicy steak, cedar plank grilled is the way to go.
Ingredients:
1 massive steak
Salt
Pepper
Granulated garlic
1 cedar plank
Directions:
Take steak out of fridge and allow it to warm to room temperature.
Soak cedar plank in water for one hour.
Prepare grill for high heat. Place plank in the center of the grill and allow to heat with lid closed for 3 minutes.
Meanwhile, season steak with salt, pepper and garlic.
Turn over plank and place steak on it.
Close lid for 10 minutes
Steak should reach an internal temperature of 120 degrees. Take it off the plank and place it on the grill grates to get a sear (2 -3 minutes) then flip it over to get the other side.
Remove from grill and allow to sit for 3 – 4 minutes before serving.
Cedar Planked Grilled Cheese
Cedar planks take this everyday meal to the next level.
Ingredients:
4 cedar planks
4 slices of white bread
4 slices thick cut bacon
Gouda cheese, sliced
Cheddar cheese, sliced
1 Honeycrisp apple, thinly sliced
Directions:
Set grill for indirect grilling and set planks on top of it.
While waiting for the grill to heat, soak the planks for 15 minutes.
Place planks on grill. Close lid and let heat for 5 minutes. Assemble sandwiches open face style adding just the cheese. Put the sides of the sandwich on the plank and close the lid.
After 15 minutes cheese should be melting.
Open lid and put bacon on one side of the sandwiches and apple on the other. Let cook 5 minutes.
Open lid and finish assembling sandwiches. Put directly on the grill to produce grill marks if desired.
Now that you know how to make some great cedar plank grilled recipes, which will you be cooking up in your home?
Also read: how to make a delicious smoked nova salmon from scratch