I love creating free content full of tips for my readers, you. I don't accept paid sponsorships, my opinion is my own, but if you find my recommendations helpful and you end up buying something you like through one of my links, I could earn a commission at no extra cost to you.
Learn more
Smoked meat is delicious, but not everyone feels like spending many hours around the smoker.
For people like those, the propane smoker was made, among other things, which makes smoking much easier while maintaining great flavor.
A gas smoker is characterized by very easy temperature control and simple use. You don't need to worry about getting the charcoal burning or adjusting air vents, all you need to do to maintain a fixed temperature is properly set the burner power.
Another advantage is capacity, most models available at a pretty low price can fit a whole lot of food.
In this guide, I will show you the three best propane smokers available on the market. For those completely unfamiliar with this type of smoker, I have also prepared several valuable tips that will let you learn a little more about gas smokers.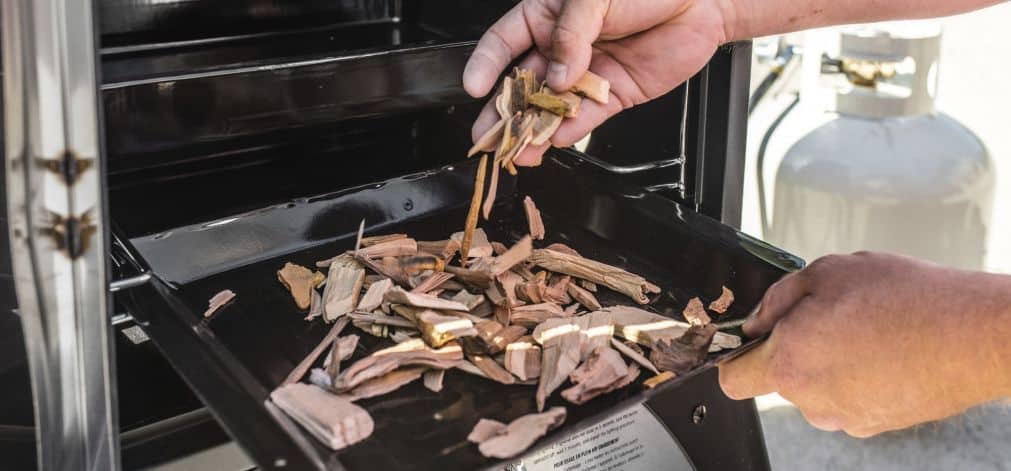 My absolute favorite propane smoker is the Dyna-Glo DGY784BDP because of the bang for your buck you get with this one. It has great features, a durable built and is easy to use. A great product for the casual smoker. 
You might like more space though, or perhaps a less expensive option, so I've listed some alternatives as well.
What to look out for when buying a new propane smoker
These are the four important things I always look out for when I'm shopping for a new smoker.
Budget
With a bigger budget comes more gadgets and better construction.
But, there are a few quality models on the market that are perfect for smoker enthusiasts with a lower budget. They just don't come with all the bells and whistles.
Size
Think about how much food you are likely to cook, then pick the right size of smoker for your needs.
The most popular sizes are 30 and 40 inches, but you can buy much smaller, mobile models or exceptionally large ones if that's something you need.
Availability of parts
There's no perfect smoker, and things do go wrong from time to time, so look for models from the most reliable manufacturers.
This way, you will always have easy access to parts, accessories, and guides.
Two-door design
When smoking, maintaining an even temperature is important. If you open the door where the food is located, you may lose temperature.
The two-door design eliminates this frustration by making it possible to open one area without the other being affected.
A two-door design divides the smoker into two parts. In one part, you will cook the food, in the second part, you will refill your water or wood chips bowl.
The propane smokers I review here are all vertical smokers by the way. Read how vertical smokers compare to both horizontal or offset smokers here in my in-depth BBQ smoker types guide.
The 3 best propane smokers reviewed
Here are my three picks for the best gas smokers available, taking into account my top four priorities as listed above.
Best propane smoker overall for everyday use: Dyna-Glo DGY784BDP 36″ Vertical LP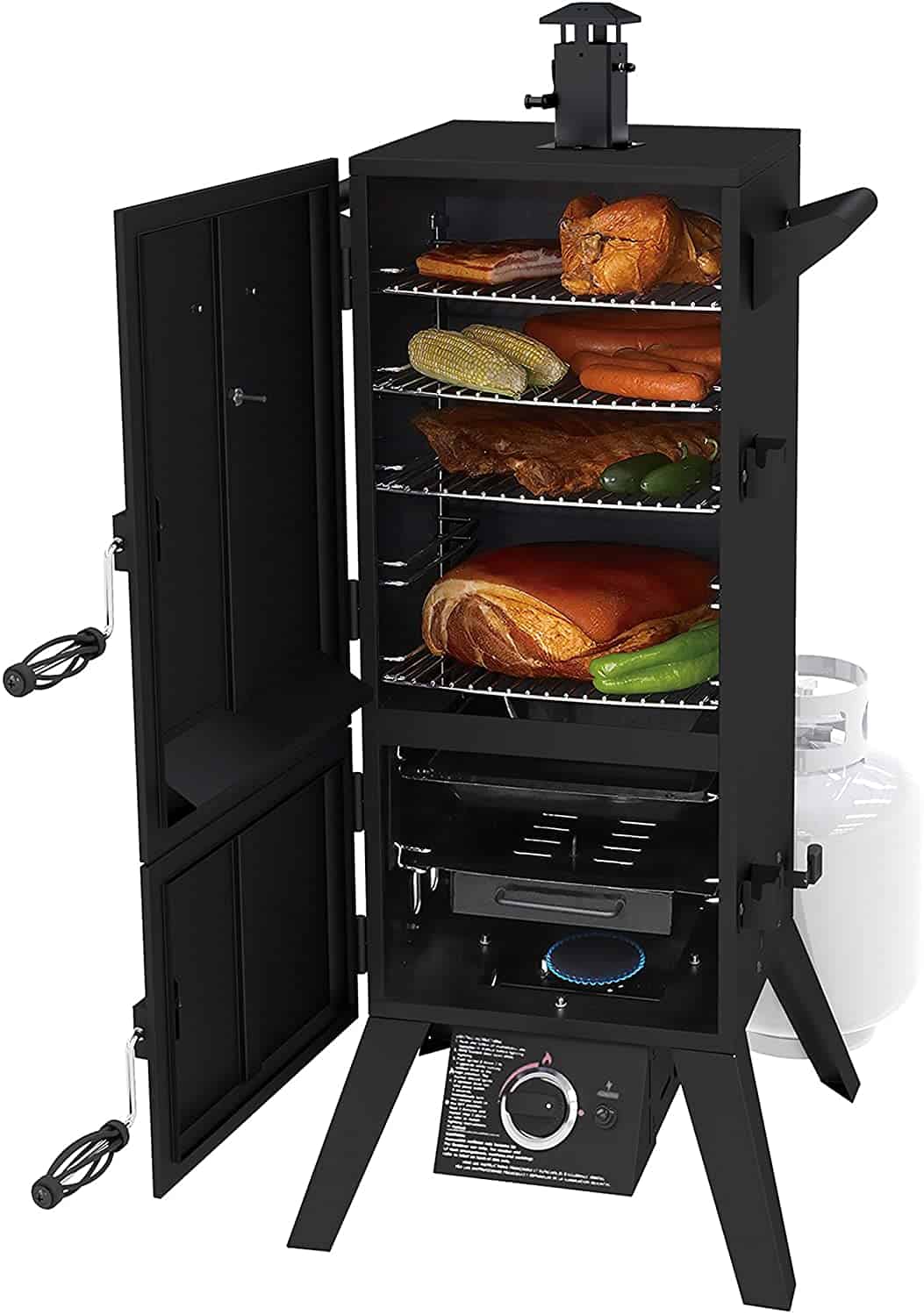 A little smaller than the Smoke Hollow by Masterbuilt below, but this is my top pick because of its fantastic accessories and features, at a very affordable price.
The Dyna-Glo 36" Vertical LP Gas Smoker includes four shelves giving you a total cooking area of 784 square inches. My only complaint is that the structure is quite narrow, so you'll have to cut a large rack of ribs in half.
It gets huge thumbs up from me for the double door structure that has a lot of upsides.
First and foremost, it separates the main chamber from the one where the burner and the smoker box are located.
During smoking, it is enough to open the lower part to refill wood chips, that way you don't suddenly lose heat in the main chamber.
There is one burner in this smoker (remember it's a smoker, not a grill!), but it can handle this kind of area very well.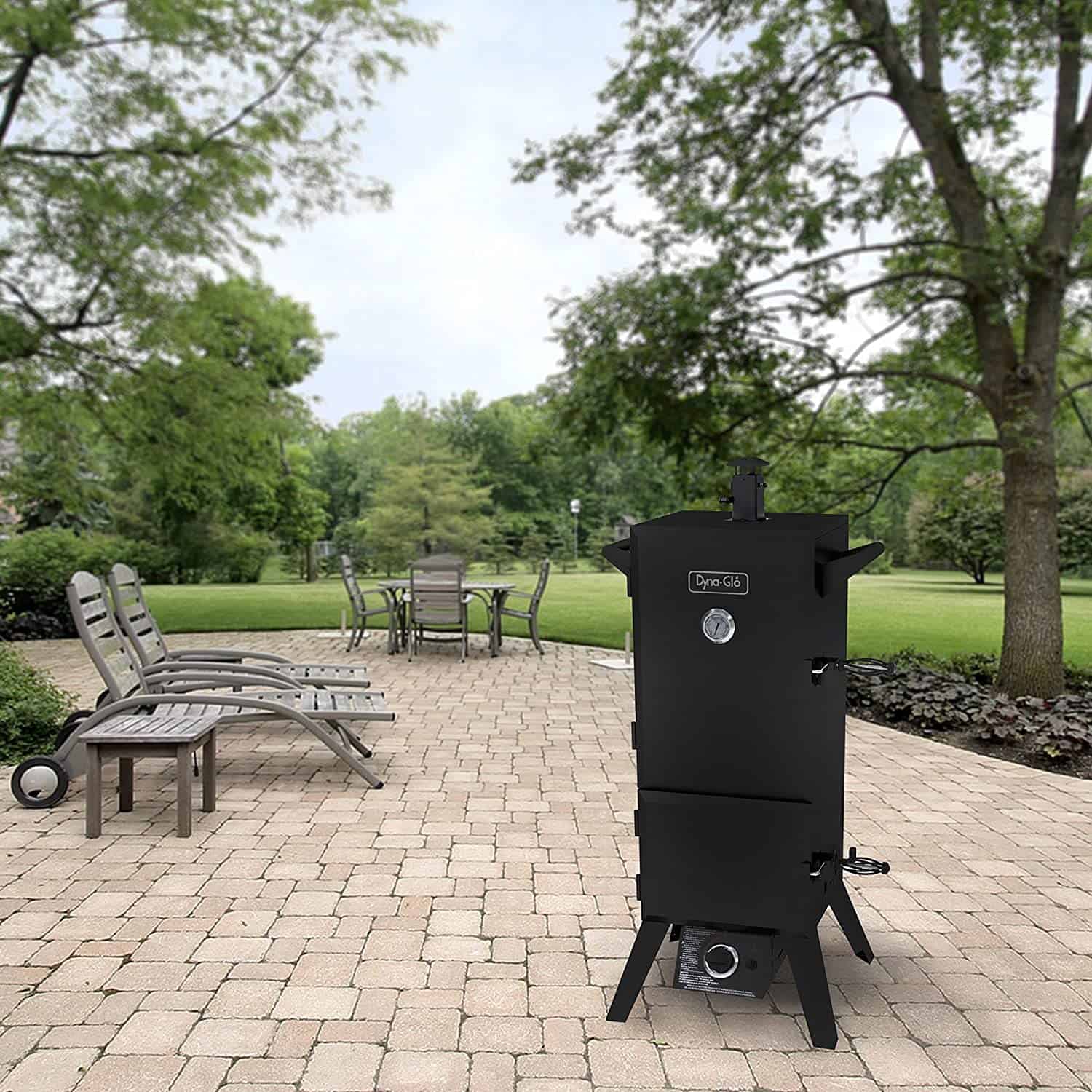 The Dyna-Glo 36" Vertical propane smoker is made with great efficiency, thoughtful detail, and the best possible quality, all while keeping it at the lowest possible price.
Did they pull it off? I'd say they most certainly did.
And if you want proof, just read the numerous positive reviews from other owners and see what they have to say.
Here's the Fun Chasers giving you a run through and smoking a pork shoulder while at it:
Pros
Budget: Very affordable price especially considering all of the features
Size: Four shelves offer a decent-sized cooking area (a little narrower than other smokers but not a deal-breaker)
Availability of parts: A very well known and well-supported brand
Two-door design: Double door system means less disturbance to the smoking process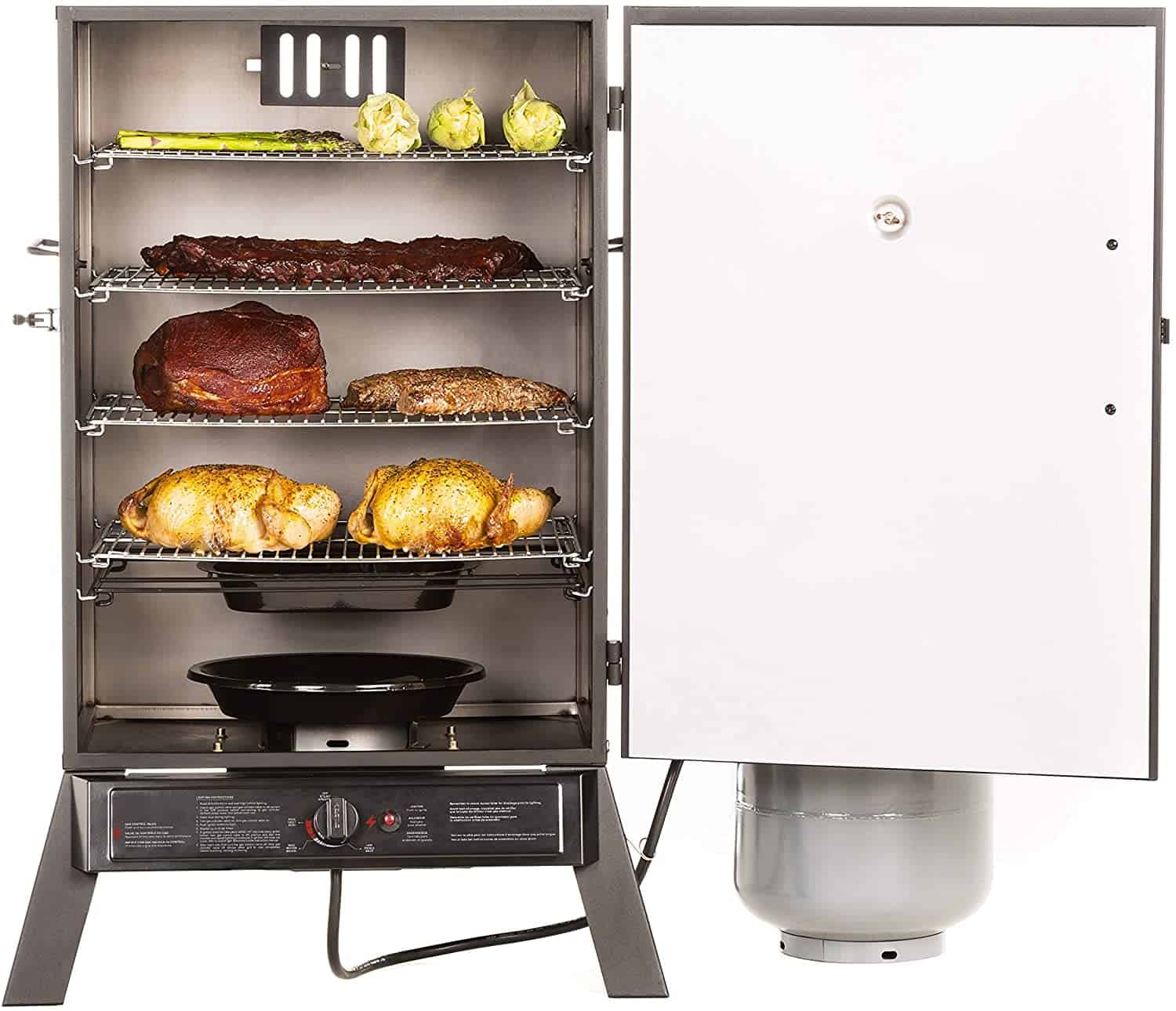 One of the bigger models from Smoke Hollow (but built by Masterbuilt) offers not only a large capacity but also several useful features.
It does come at a price, but if you're into smoking you're going to end up with one of these eventually, so why not go ahead and buy it now?
The smoker's structure is solid and well-built. It is also among the more durable models, although if you have any problems you can expect great support from the manufacturer.
Another upside of the Masterbuilt name is recognition and popularity – this means you can expect helpful information, spare parts in case of a malfunction, and all sorts of accessories.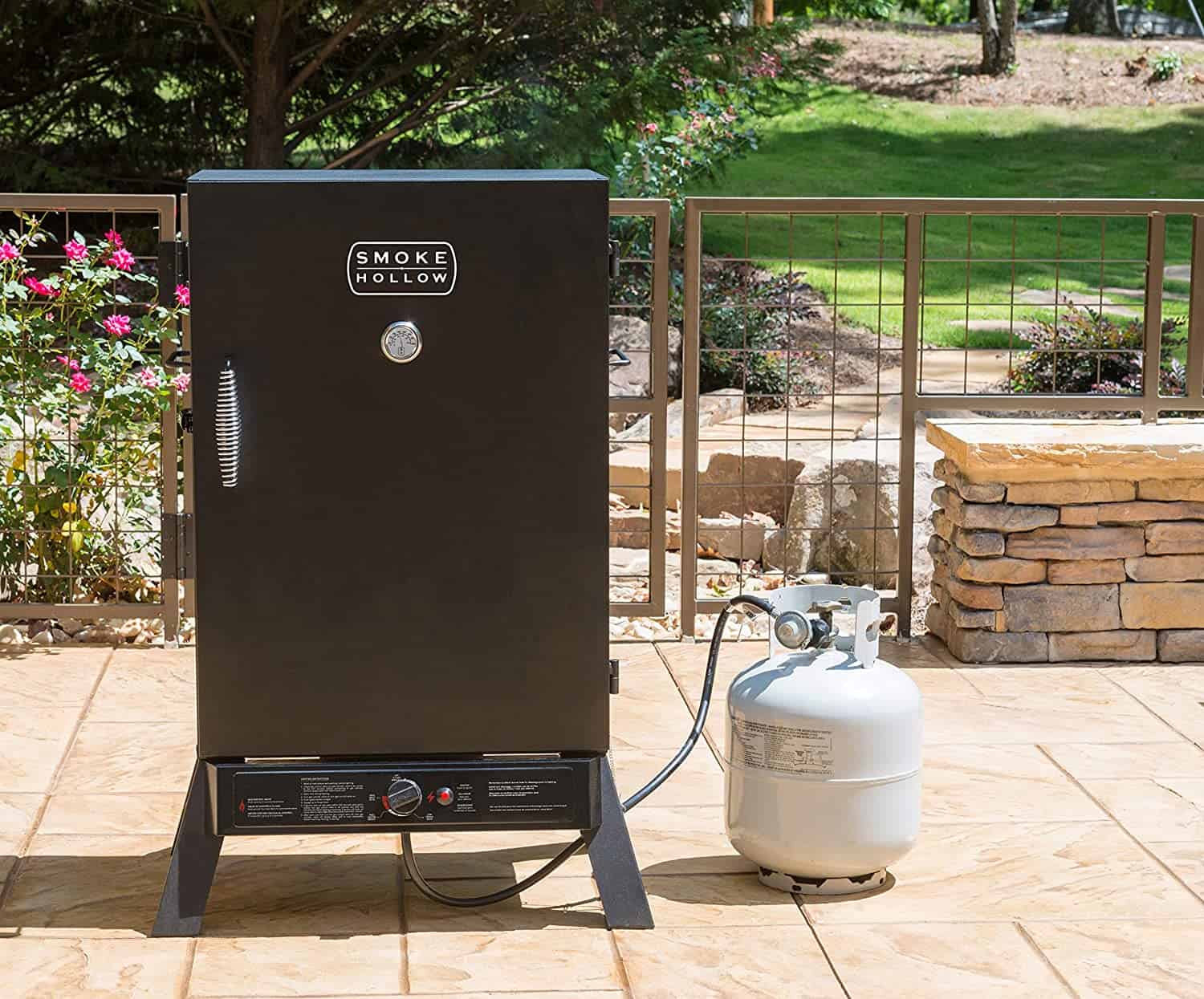 This smoker has one burner, and you can use up to four trays for shelving (provided in the sale) in the spacious cavity inside.
The wood chip tray is in the bottom part of the smoker right above the burner. It's too bad this part doesn't come with a separate door, but it's not a deal-breaker.
The Smoke Hollow PS40B comes with all the essential features and gadgets that this type of smoker should have, at a really competitive price, making it a strong contender for your smoking needs.
Pros
Budget: A fair price for the size and features
Size: You get 4 shelves with the smoker, meaning you don't have to buy them afterward. 40 inches high means a lot of good cooking space
Availability of parts: It's built by Masterbuilt – so it's one of the best, and comes with support
Cons
Two-door design: Unfortunately this doesn't come with the two-door design
Best easy-to-use propane smoker: Camp Chef Smoke Vault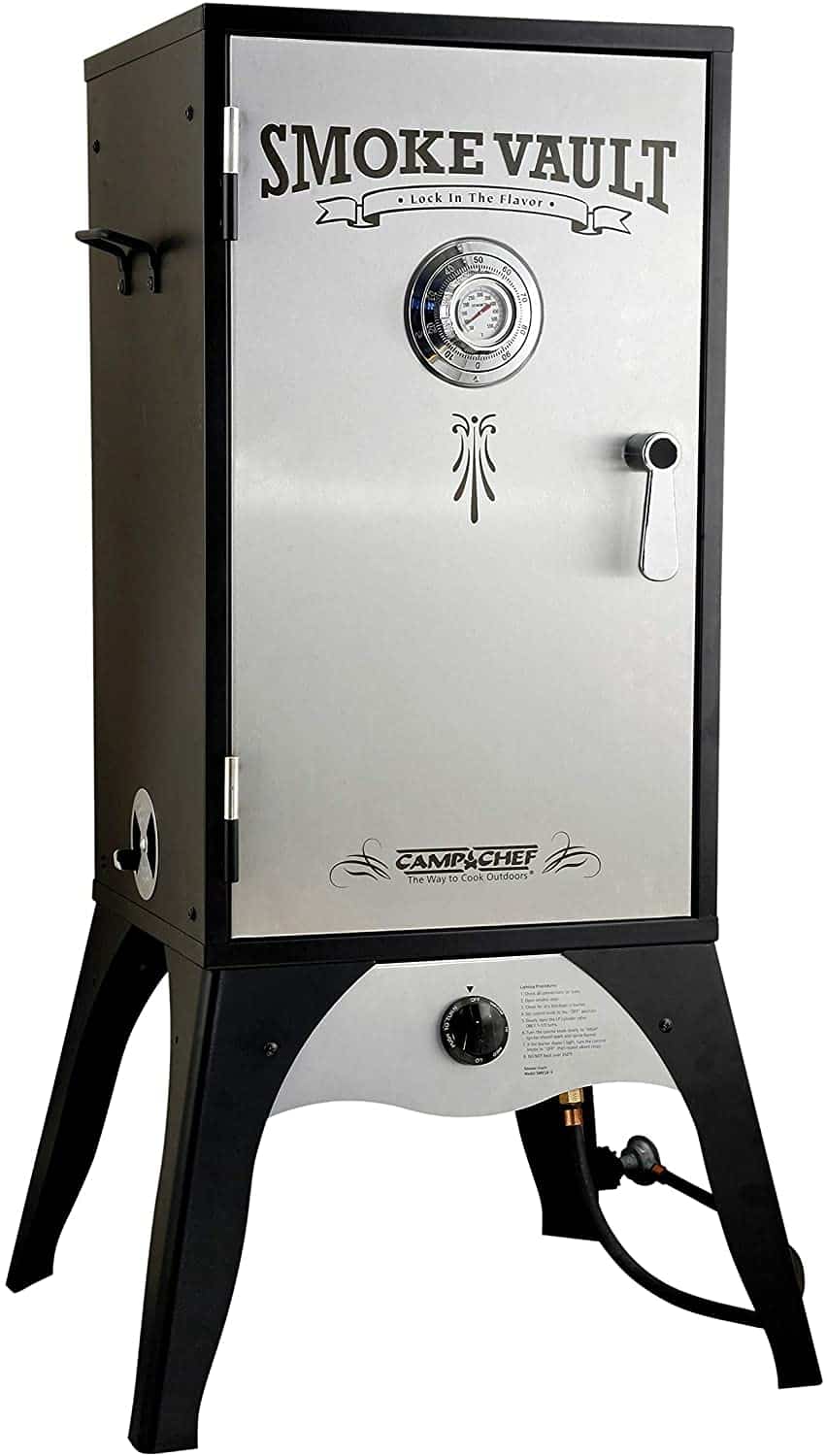 The Camp Chef Smoke Vault is all about the quality of workmanship.
This smoker is beautifully made and comes with all the trimmings, but it is very small. So I only recommend it for those who want to cook in smaller quantities.
The great thing about this smoker is the exceptional quality. It may be small, but it is built extremely well and is really stylish in my opinion.
And considering the low price, I really think it's a great option for smokers who do small amounts of food at a time.
Smoking some stacks of ribs in the Smoke Vault is still totally possible by the way, see how it's done here:
In terms of the burner, there's only one, but that's more than enough in a model this small. Also included are two racks, and right underneath them is a drippings tray and a wood chip tray.
This smoker is easy to use, reaches temperature quickly – verified by its built-in thermometer, and there are no problems with maintenance.
All in all, a good deal if you want a great quality smoker and can live with the smaller size.
Pros
Budget: Very affordable, and great quality for the price
Availability of parts: Beautifully made by a great smoker company – Camp Chef
Cons
Size: It's very small, with only 2 racks, but it may be perfect for people with less space or who want to transport their smoker
Two-door design: The small size doesn't allow for a double-door design
Check prices and availability here
Frequently asked questions about propane smokers
I have a charcoal smoker, but I've been told that gas is better. What are the advantages of gas?
The greatest advantage of this type of smoker is that it makes it possible to smoke easily and conveniently without much effort.
The smoking process usually takes many hours, and when it comes to charcoal smokers it requires a lot of attention and control.
In the case of propane smokers, you don't have any of these responsibilities. All you have to do is set the temperature and then leave it alone until the food is ready to eat!
Is there any benefit to having an electric smoker, rather than a gas one?
In a word, 'no'. A propane smoker provides convenience just like an electric smoker does, but it beats it in terms of the flavor it produces.
The propane tank also makes it possible to easily change your smoker's location. With an electric one, you will always have to be close to an electrical outlet.
I've written an in-depth comparison of electric vs propane gas vs charcoal smokers here, for more on this.
Are there any reasons to stay away from propane smokers?
The bottom line is that smoking requires a little bit of effort every now and then.
For example, you'll have to ensure your propane doesn't run out halfway through cooking your food. But it's still a lot easier than charcoal!
For the most part, propane smokers are also not as durable as charcoal or pellet smokers.
They are made to last a few seasons but aren't going to be handed down to your grandchildren. Most manufacturers will only offer a year's warranty.
Rather go for charcoal after all? Here are the 10 Best Charcoal Smokers that'll have you smoking like a pro
Joost Nusselder, the founder of Lakeside Smokers is a content marketer, dad and loves trying out new food with BBQ Smoking (& Japanese food!) at the heart of his passion, and together with his team he's been creating in-depth blog articles since 2016 to help loyal readers with recipes and cooking tips.