I love creating free content full of tips for my readers, you. I don't accept paid sponsorships, my opinion is my own, but if you find my recommendations helpful and you end up buying something you like through one of my links, I could earn a commission at no extra cost to you.
Learn more
Charcoal grills aren't the only type of grill suitable for smoking. In fact, as many of us already know, you can smoke food in just about any type of grill if you have the right accessories, and you know what you're doing.
When it comes to smoking on a gas grill, you won't get the intense smoky flavor that comes with a charcoal smoker. But experts agree that the smoky flavor from a gas grill is still superior to the results from an electric grill.
So how do you make the most of your gas grill, and which smoker box should you get if you're looking for fantastic flavor and easy clean-up? Also, which smoker box will enhance the smoke but reduce the risk of the wood chips bursting into flames?!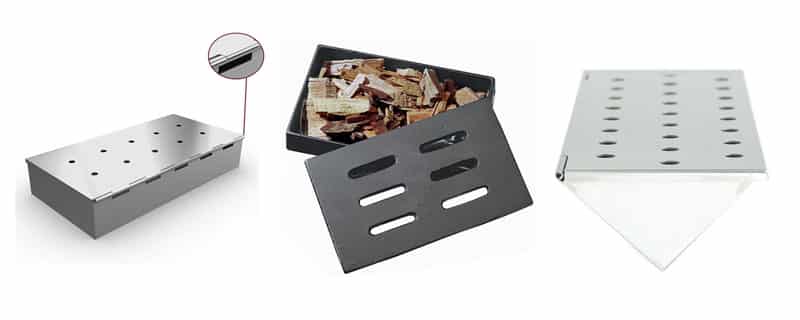 If you're looking for a quality, no-nonsense, easy-to-use smoker box then the Char-Broil Cast Iron Smoker Box is the one for you. Not only is it super affordable, but it also does everything a smoker box should do superbly.
However, if you don't have an average-sized grill, or you want a stovetop smoker, I've reviewed some of the best options on the market below.
Gas grill smoker box buyer's guide
In theory, every smoker box from my list will work well and generate a lot of smoke. To achieve better results and maintain the best efficiency possible, however, you need to choose the right box for your specific grill.
There are three key things I always check before I buy a new smoker box:
Size & construction
Match the size of the smoker box to the size of your grill. Remember that a smoker box has to rest on the grates in the place where the food rests too.
It is pointless to buy the biggest box available, as you'll end up with very little cooking space!
Also, make sure that the construction of the smoker box matches the shape of your grill.
Material
Always get a smoker box that is made of high-quality materials. It needs to be resistant to high temperatures, and you want it to last through a few seasons.
I personally don't buy anything lower-grade than thin steel. The types of smoker boxes used by the pros are steel and cast-iron ones.
Easy to refill
A smoker box must be easy to empty and refill. The design should allow you to replenish your wood chips at any stage during the smoking process without losing too much heat, and affecting the quality of the end product.
The 4 best smoker boxes reviewed
Now you know what key features to look out for when it comes to choosing the perfect smoker box for your grill.
In the article below, I'll reveal why I believe these four smoker boxes are the absolute best options on the market right now, and why you should consider them if you're looking for a new smoker box.
Smoker boxes are all relatively affordable and make a great addition to your grilling gadgets.
BUT: Remember to pick one that fits the size and shape of your grill so you don't waste any space when cooking.
Best overall smoker box for gas grills: Char-Broil Cast Iron Smoker Box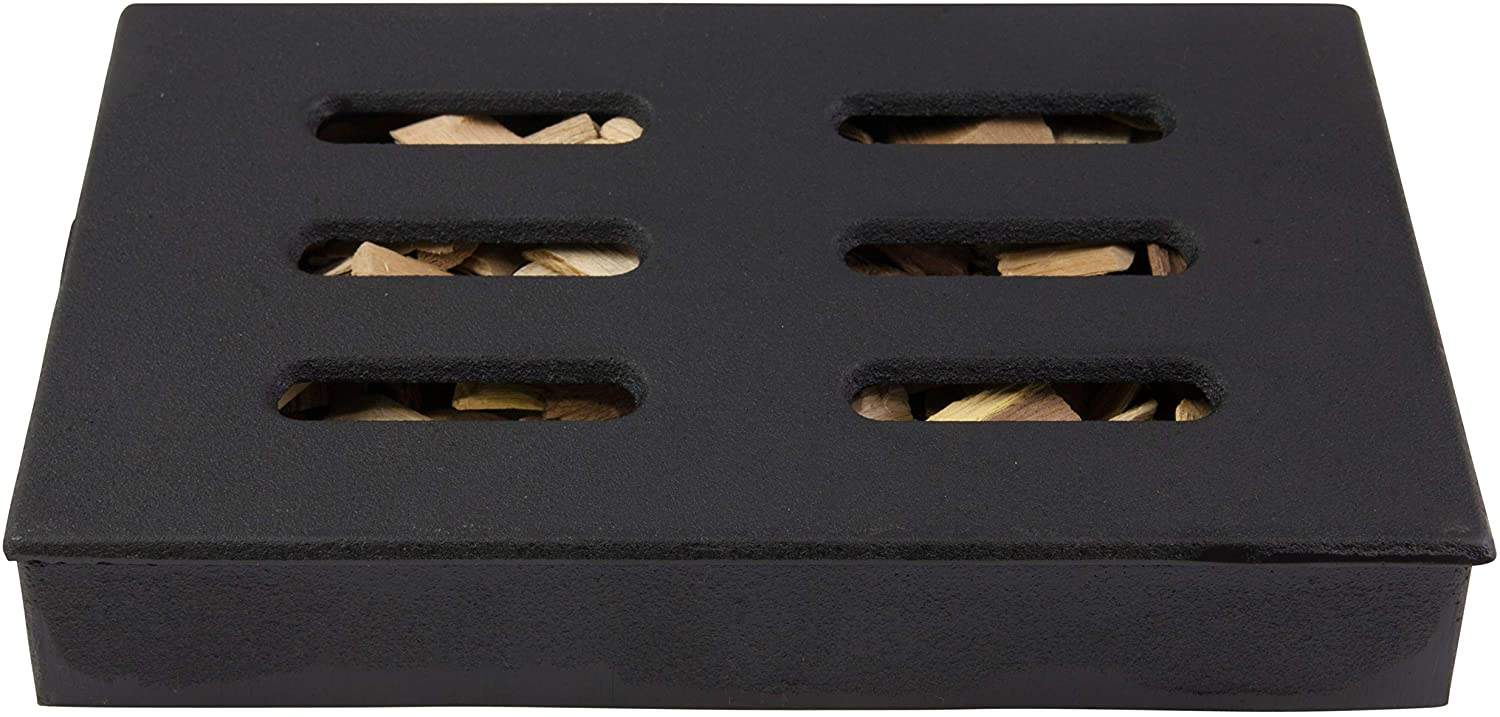 Char-Broil is a very reputable name in the grilling industry. They are known for making top-quality grilling and BBQ accessories.
Their Cast Iron Smoker Box is no exception and is my personal favorite smoker box. Not only is it high quality, functional, and durable, it's also super affordable.
The heavy-duty cast iron construction of this smoker box ensures that it will last for many seasons to come. It features holes on the bottom and sizeable slots on the top.
These create an even airflow so that the smoke that is produced surrounds your food for great flavor.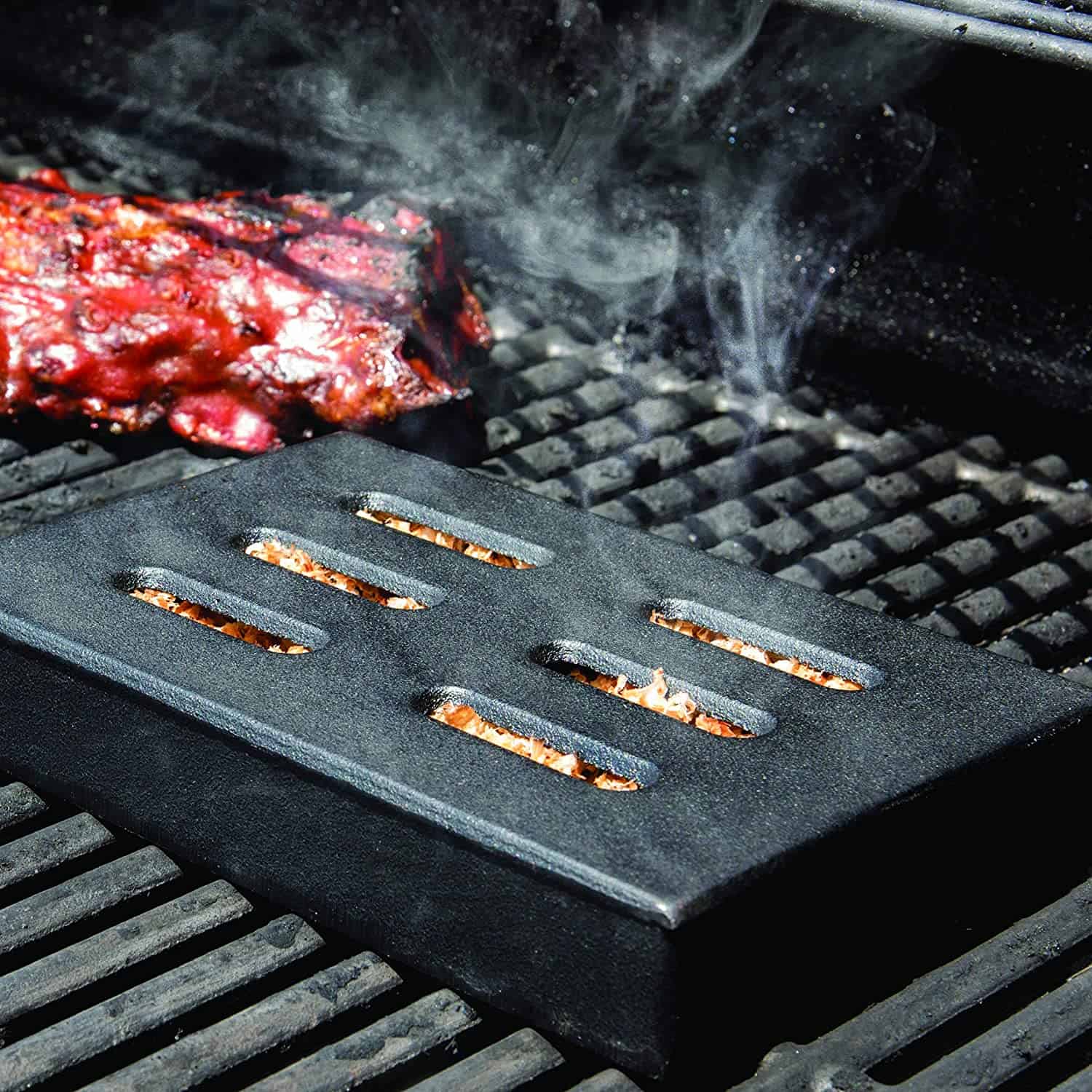 The smoker box has excellent heat retention capability and can work well with virtually any grill at any temperature range.
It can hold all types of wood chips (fresh or soaked in liquids), and it also prevents chips from catching fire. This means you'll enjoy the benefits of denser smoke without flames.
See it in action here smoking venison:
Features
Size & construction: 1.38 x 5.13 x 8.12 inches, fits most types of grills, and is well constructed
Material: Heavy-duty cast iron
Easy to refill: Simply lift the lid & add more chips when necessary
Also read: At What Temperature do Wood Chips Smoke? Guide to Getting it Right
Best high capacity smoker box: Cave Tools Smoker Box for BBQ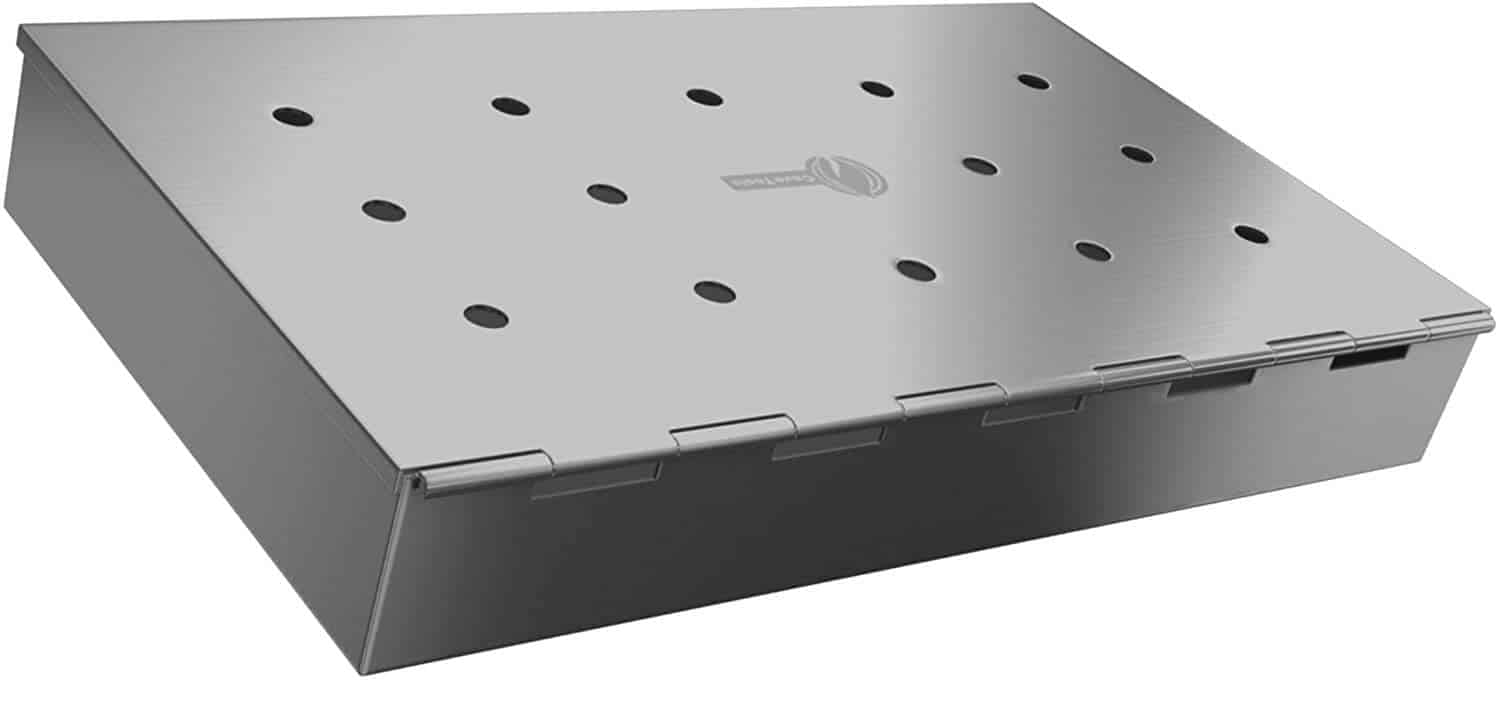 If you're looking for a smoker box that can hold a large number of wood chips without taking over your entire grill, then the Cave Tools Smoker Box for BBQ is an ideal choice.
This smoker box measures 9 x 5 inches, with a 3-cup wood chips capacity.
It can fit perfectly in between flavorizer bars and the grill grates of your gas grill.
This smoker box can also work with a charcoal grill. It features a hinged lid, which allows for the easy addition of more wood chips as you go.
This also makes it easy for you to change the chips if they burn accidentally or turn to ash.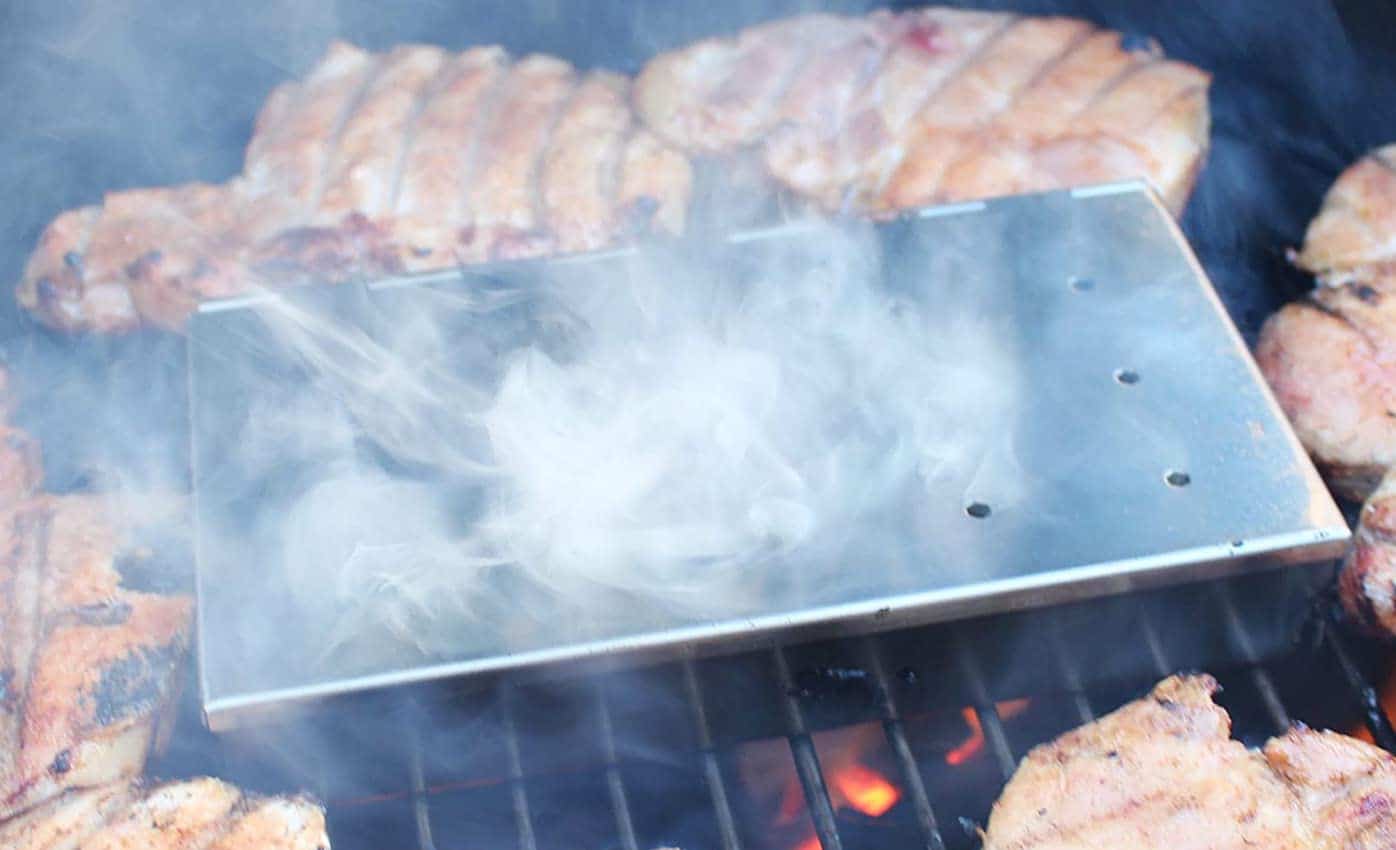 When you purchase this Cave Tools Smoker Box, you also get 25 complimentary professional BBQ recipes.
The catch is that it is more expensive than the Char-Broil product above (although not much).
Features
Size & construction: 9 x 5.1 x 1.3 inches; 1.5 pounds
Material: Thick stainless steel to reduce risk of warping
Easy to refill: Hinged lid makes it easy to refill
Best smoker box for large gas grills: Charcoal Companion Stainless Steel V-Shape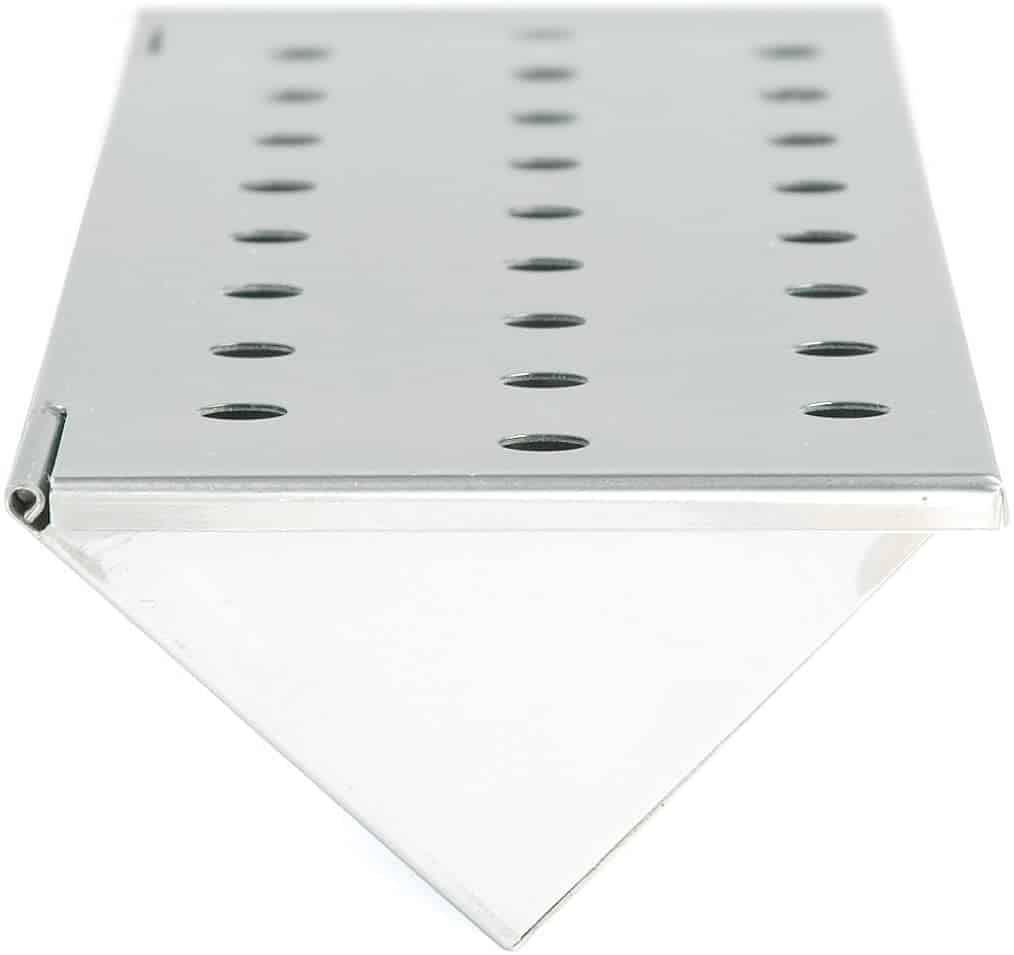 If you're looking for the perfect smoker box for your large grill, you can't go wrong with Charcoal Companion Stainless V-shape Smoker Box.
This smoker box can perfectly fit right under your grill. It is lodged between the gas grill's flame detector bars. It offers plenty of space for wood chips.
When correctly filled up, it can produce sufficient smoke for up to 4 hours. The smoker box features a hinged lid, making the lid easy to open.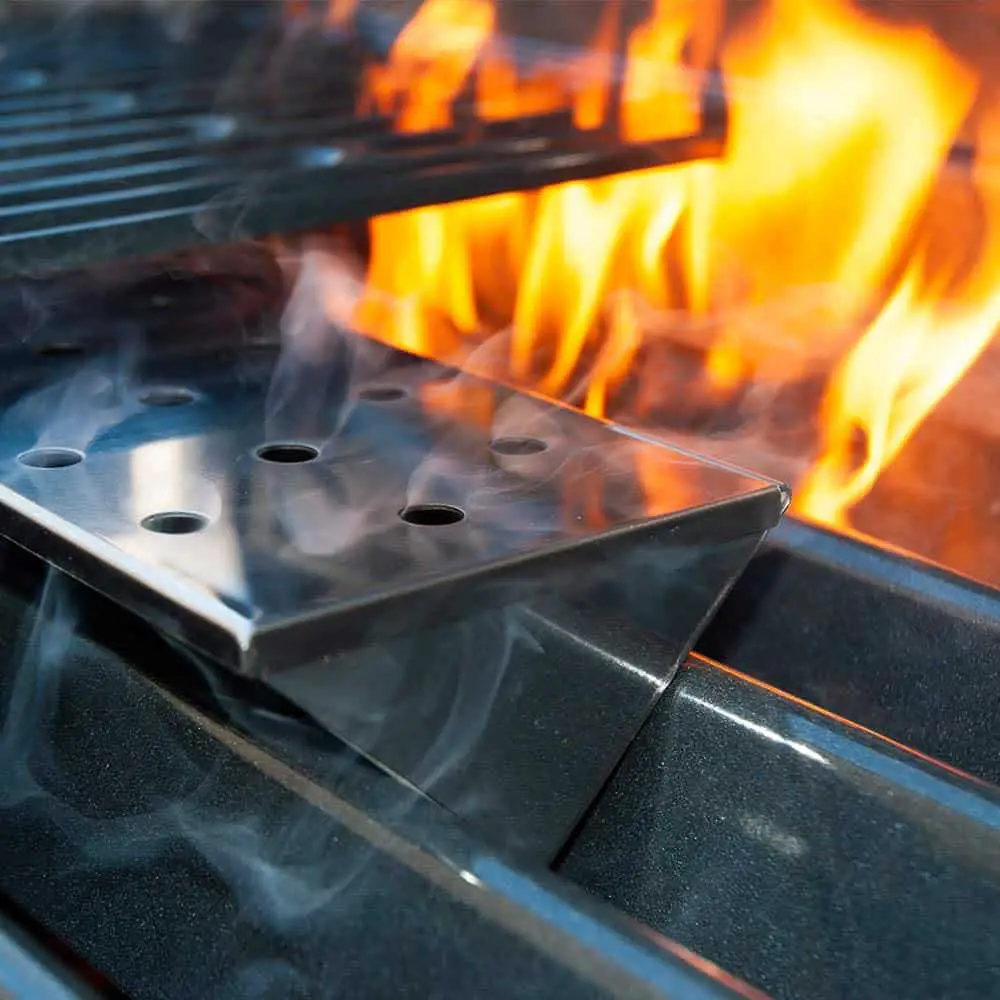 It is built with metal that has a non-stick coating. That means it is effortless to clean. Wash it by hand for the best results.
Features
Size & construction: 4.21 x 13.78 x 2 inches; 1.29 Pounds. V-shape fits between flame deflector bars on gas grills for the most intense smoke flavor
Material: Stainless steel
Easy to refill: Hinged lid makes it easy to refill
Best stovetop smoker box: Camerons Products Gourmet Mini

The Gourmet Mini Stovetop Smoker from Camerons is an excellent way to infuse healthy, smoky flavor into your meat, veggies, seafood, and poultry dishes in your own kitchen.
It saves you the need to add extra fats, oils, salts, or calories to enrich the flavor of your foods.
It is also great because it won't turn your complete grill into a smoker. You just need the heat from the gas to get it going.
This small, compact, and effective smoker box helps to retain food moisture and natural flavors, preventing your meat from becoming dry and tough.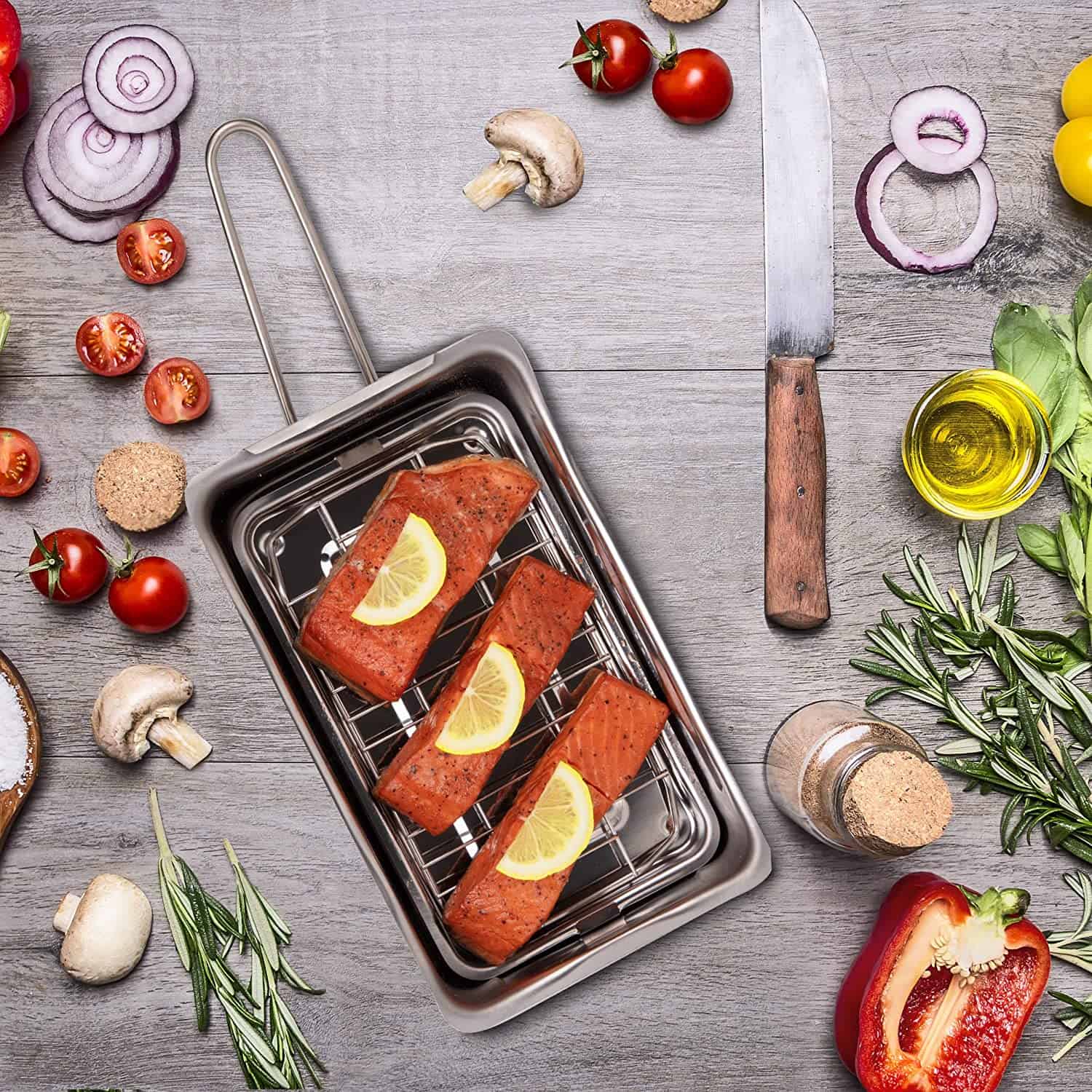 This versatile little accessory can also be used as a steamer, roasting pan, or poacher. Take it with you on a camping trip – it can be used over any indoor or outdoor heat source.
All the parts of this smoker box can nest inside it when not in use. Likewise, the handles can fold away. This makes it easy to store.
Its seamless stainless-steel construction makes it dishwasher safe.
Features
Size & construction: 7 x 11 x 3.5 inches, compact & versatile construction. Can be used on any heat source
Material: Stainless steel
Easy to refill: Simply lift out the grate to refill with wood chips
Like the idea of being able to smoke everywhere? Check out my review of the Best Portable Smokers
FAQs about smoker boxes
Can smoker boxes only be used with gas grills?
No. Smoker boxes can be used in charcoal grills and even some electric grills. Wood chips generate smoke, giving the food a slightly different taste to smoking with charcoal.
Some electric smokers and propane smokers come with their own smoker boxes from the manufacturer, but there are loads of after-market options to choose from if you need one.
I've compared the flavor and ease of use of wood pellets vs charcoal vs wood chips vs wood chunks here
Which type of smoker is best for cold smoking?
Electric smokers are usually recommended for cold smoking as they can maintain a consistent, very lower temperature for long periods of time.
You'd need to get a cold smoke generator compatible with your smoker to be able to cold smoke.
Should I soak my wood chips before smoking?
Yes, you should always soak your chips before you begin the process of smoking. Most chips come with instructions, but experienced grillers have their own preferred methods.
Some like to soak their wood chips in smoking liquid for 24 hours, while others prefer just a 30-minute soak.
Remember to let them drip dry and air before actually adding them to your smoker box.
Can I soak my wood chips in beer?
Definitely! This is one of the most popular liquids people soak their wood chips in.
Most professionals recommend that the chips are soaked for 30 minutes, then removed from the liquid, and then left to dry between 4 and 24 hours.
When should the smoke start appearing once I've added the chips to my smoker?
Once you've placed your smoker box over the heat source, the wood chips will start to heat up. You should start to see some smoke rise within about 20 minutes.
Takeaway
Whether you have a large gas grill or a compact one, there's an ideal smoker box for your needs. Stretch your grilling skills and have some fun with a smoker box – you won't regret it!
Read next: This is the best wood for smoking meatloaf (5 wood choices & some to avoid)
Joost Nusselder, the founder of Lakeside Smokers is a content marketer, dad and loves trying out new food with BBQ Smoking (& Japanese food!) at the heart of his passion, and together with his team he's been creating in-depth blog articles since 2016 to help loyal readers with recipes and cooking tips.