I love creating free content full of tips for my readers, you. I don't accept paid sponsorships, my opinion is my own, but if you find my recommendations helpful and you end up buying something you like through one of my links, I could earn a commission at no extra cost to you.
Learn more
If you like to eat steak at your favorite steak house, your favorites must be a filet, ribeye, prime rib or a sirloin.
These cuts are delicious, especially of cooked the way you want it. But have you ever tried skirt steak?
According to one chef who owns a steakhouse, the skirt steak is his favorite cut because it is tasty, quick is easy to prepare. Are you curious about what is the best way to cook skirt steak?
This article will teach you all you want to know about skirt steak, including how to prepare them to perfection. Read on, and we will show you how.
In this post we'll cover:
How to cut skirt steak?
Skirt steak can be very tricky, and there is a secret to preparing and slicing the cut. If you did not handle this cut correctly, you will a shoe leather that will take years to chew. Using two simple secrets, you can make this beef tender: one is by slicing across the grain and is by removing the membrane. You can use your fingers to remove that membrane, and it will do the trick.
If you can't catch up in this video, you will find out:
How to Marinate Skirt Steak?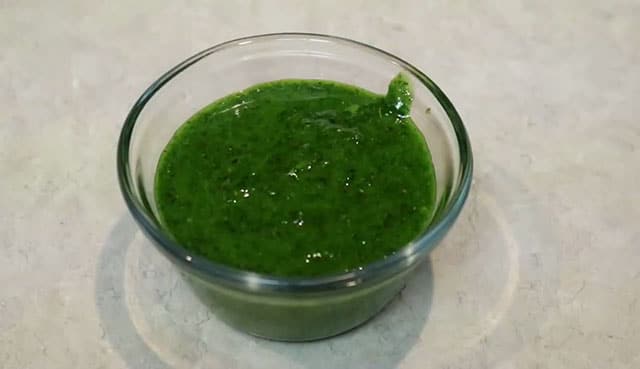 Best and Easy Marinade for Skirt Steak
Skirt steak is full of flavor unlike other steak cuts like filet or other tender cuts of beef. And because it is loose, it can absorb full flavorings; you need to go easy on it. You can use soy sauce-based marinades, peppercorn crusts, spice rubs, fresh herbs, olive oil, red wine, capers, and lemon. Some may overpower the meat, so you need to be careful.
The steak also needs a shorter marinating time because it is porous and tender. The flavors tend to bind faster. Marinating the skirt should not take more than 20 minutes, or you will lose the meat flavor.
Skirt Steak Marinade by Bobby Flay
One of the best marinades for skirt steak is from Bobby Flay, a well-known chef. His version of Chimichurri or Argentinian equivalent of the barbecue sauce is to die for. For the marinade, he combined parsley leaves, fresh mint leaves, oregano leaves, canola oil, red wine vinegar, red pepper flakes, and garlic. He combined all the ingredients in a food processor and processed them until smooth.
In a large baking dish, put the steak and coat it with the green Chimichurri for at least 4 hours or even up to 24 hours. Before grilling, remove the steaks from the marinade and let it rest for 30 minutes.
The Best Way to Cook Skirt Steak
Follow these two essential rules in cooking your skirt steak: you have to cook it in high heat, second is you need to cook it quickly. The cut of the meat is thin, so you need to cook them quickly. Also, need to sear then in a pan. This is important to seal the flavors and not to overcook the meat inside.
Sear or cook the steak until medium-rare because beyond that; you will have a dry steak. Remember, hot meat will continue cooking even if you remove from heat. The center should be rosy pink when you slice the steak.
How to Make Skirt Steak Tender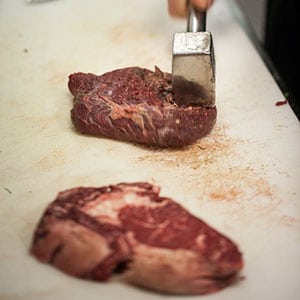 Because skirt steaks are long and tapered pieces of meat, giving them a good pounding will make the pieces uniform and thinner. It will be easier to cook and cut into pieces.
The best way is to pound the meat with a mallet until about ¼ in thickness. Pounding helps in tenderizing the meat by breaking down the connective tissues.
Another way to make the meat tender is by scoring. However, you have to be careful because it can remove the juices from the steak. To score, you need to make a crosshatched cut on the meat about half-inch apart using the tip of a knife.
How to Cook Skirt Steak
Although the easiest way to cook a skirt steak is on a hot grill, you can also cook them under the broiler or cast-iron skillet, anything else that is extremely hot will do.
Sous Vide Skirt Steak
The thinness of this beef cut can have many complications when using sous vide, but if the recipe calls for it, why not? Using sous vide will give you a flavorful steak without any of the chewiness.
The usually recommended sous vide time for skirt steak is from 12 to 24 hours for super tender and flavorful meat. After removing from the sous vide, chill the steak in an ice bath for another 5-10 minutes. Then sear them in a skillet or pan for a minute each to seal the flavor.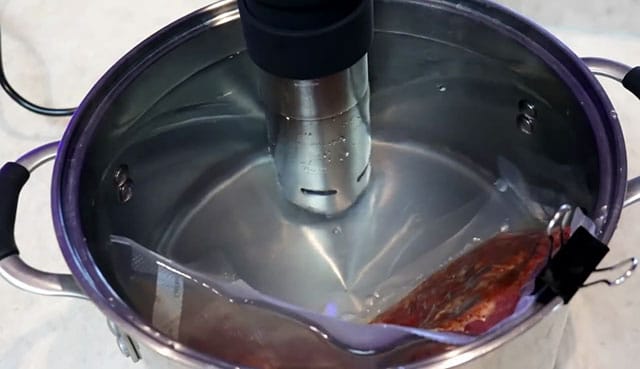 Skirt Steak Sous Vide Temperature and Cooking Time
| Doneness | Temp | Time(hour) |
| --- | --- | --- |
| Rare | 54°C / 129°F | 7 |
| Medium Rare | 58°C / 136°F | 6 |
| Well Done | 68°C / 154°F | 5 |
Thing You Need:
Sous vide cooker
Container
Ziplock bag
A paper towel
Skillet
Some olive oil
Salt and pepper to taste
1½ lb skirt steak
Instructions:
Preheat your pool, prepare your pool and set sous vide cooker depend on your passionate
Season your skirt with salt and pepper then put it down in ziplock bag or vacuum bag.
When the time has come, take your skirt off the pool, and the bag then pats dry with a paper towel.
Heat your skillet with high heat pour some cooking oil(prefer olive oil). When your skillet ready throw in the skillet and sear your skirt until it turns brown for 1 minute per side, make sure that doesn't cook your meat. Then leave it to rest about 5 min slice and serve.
Related: How to Sous Vide Prime Rib
Grilled Skirt Steak
Grilling the steak over hot coals is the best way to cook this beef cut. You need to cook it in the most heated area because you don't want to overcook it. It should not go beyond the medium-rare stage, get it nice and brown without cooking the meat for too long.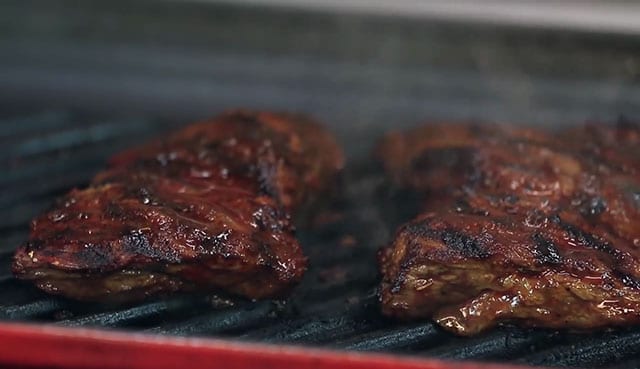 Skirt Steak Grilling Temperature and Doneness
| Doneness | Temp |
| --- | --- |
| Rare | 120 – 125°F |
| Medium Rare | 125 – 130°F |
| Medium | 130-135°F |
Thing You Need:
A grill
Aluminum foil
Some olive oil
Salt and pepper to taste
1½ lb skirt steak
Instructions:
Light coat your skirt with olive oil and pat them with salt and black pepper make sure that cover them all and leave it to temp room for 10-20 minutes
Preheat your grill medium-high heat when your grill ready throw your skirt in the grill and cook them 2 – 3 minutes per side
Take them out off the grill and cover it with aluminum foil and rest 5-10 minutes. Let them finish and the juices to redistribute fairly completely the steak. Then slice against the grain and serve.
How to Cook Skirt Steak in the Oven
Before putting the steak in a 450 degrees Fahrenheit Oven, prepare the steak by seasoning it with a dry rub and allow it to reach room temperature. You have to sear both sides for a minute each and place them in the preheated oven for five to ten minutes. The internal temp should reach 160°F to achieve the ideal doneness.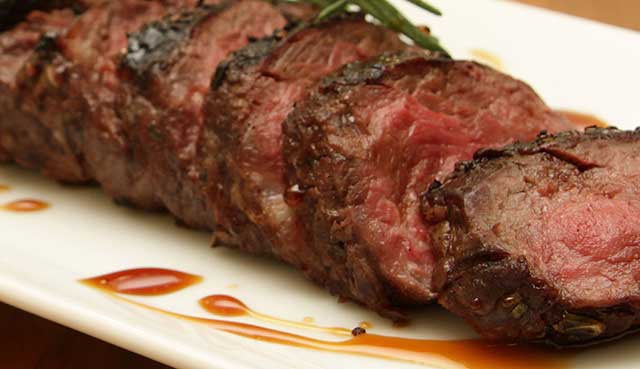 Thing You Need:
An oven
Aluminum foil
A wire rack
Baking sheet
Some olive oil
Salt and pepper to taste
1½ lb skirt steak
Instructions:
Set oven to broiler on high
Massage your skirt with olive oil, salt, and pepper
Line aluminum foil on a baking sheet and set wire rack on top
When the oven ready place your meat on a wire rack and throw them in the oven. Broil your skirt about 5 minutes then flip it and cook it for 5 minutes or until it turns brown. Rest the meat about 10 minutes before slice against grain and serve.
Skirt Steak Recipes
Thin and fatty, skirt steak is the perfect cut for this grilling season. When you cooked this meat over high heat and sliced them thinly against the grain, this inexpensive cut can be absolutely rewarding.
Carne Asada Tacos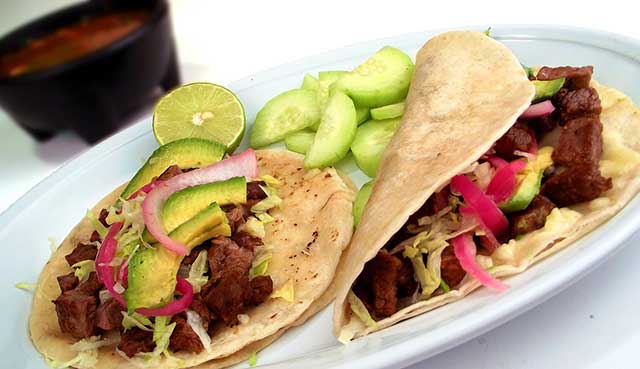 This recipe takes you to Mexico but takes the classic flavors of skirt steak tacos to the next level. The skirt steak is marinated in a spicy, citrusy concoction and grilled to perfection.
Carne Asada literally means grilled meat, but it is not as simple as that. The marinade is the foundation of what you love in many Mexican restaurant favorites like tacos, burritos, fajitas, and many more.
What kind of meat is used for Carne Asada?
This recipe is traditionally made using flank or skirt steak. These two cuts have many similarities and are frequently used in recipes interchangeably. Skirt steak has the same intense flavor as flank steak and grainy so it can absorb more flavors. For a perfect steak, cook it to medium-rare or medium. Otherwise, it can be chewy. You also have to cut it against the grain.
Serving: 8 | Prep Time: 10 min | Cooking Time: 15 min | Total Time: 25 min
Ingredients:
It will only take five minutes to prepare the spicy citrus marinade for Carne Asada. Here are the ingredients:
½ cup Olive Oil
½ cup of orange juice
½ cup lemon juice
½ cup lime juice
½ cup of soy sauce
4 cloves garlic, minced
1 canned adobo chipotle pepper
1 tbsp chili powder
1 tbsp ground cumin
1 tbsp paprika
1 tsp dried oregano
1 tbsp black pepper
4 lbs flank steak
24 small corn tortillas
1 white onion finely chopped
¼ cup cilantro
Directions:
Mix them all the ingredients in a blender until emulsified. Reserve 1 cup in the fridge for serving when cooked.
Poke your steak with a meat tenderizer and then place it in a bag. Pour in the marinade and marinate for 48 hours.
Grill on medium heat for 5-6 minutes each side until you reach medium doneness, let them sit and cut into ½ inch cubes. Serve them on warmed corn tortillas with toppings.
Toppings for the Carne Asada Tacos
Cheese: can be cotija, queso or cheddar
Creamy: Crema (make your own with the recipe below), sour cream, guacamole or avocado
Citrus: lime juice or orange juice, you can also use lime or lemon wedges
Spice: hot sauce, Jalapenos or adobo sauce
Crunchy: radish, pico de gallo, cilantro, jicama or white onion
Recipe for Homemade Crema
¼ cup Mayonnaise
¼ cup sour cream
1 tsp lime zest
1 tbsp lime juice
½ tsp salt
Mix all the ingredients well and refrigerate for an hour.
Best Way to Heat the Tortillas
When you do not heat tortillas and use them in a taco, you will find them less pliable compared to warm tortillas. If you are running out of time, just place the tortilla in a moistened paper towel and popped them inside the microwave for 5 to 10 seconds.
You can heat the tortillas in two ways: indirect heat and direct heat.
Indirect Heat
Place the tortillas in a foil and wrap it tightly. Put the foil in a heating surface. Packing the tortillas in a foil will heat them gently and maintains their moisture and avoiding the crispy texture.
Direct Heat
Place the tortilla directly to the flame, whether a grill or a grill pan. You will have a crispy tortilla with char marks.
How to Cook Carne Asada
Grilled: using medium heat, you can grill it outdoors using gas or charcoal for 5 to 7 minutes on either side.
Stovetop: use a heavy cast-iron skillet on medium-high heat for 4 to 6 minutes on each side.
Oven-roasted: cook at 400 degrees until the internal temperature reaches 130 degrees.
Broiled: about 18 inches away from the broiler 5 to 6 minutes on each side.
Pro Tip: When you are cutting the meat, make sure to slice them against the grain. These are the lines that run along with the meat. Cut perpendicular to these lines. These grains are the natural breaking point for the meat. You should cut them into small bite-sized pieces and not more than ½ inches cubes. Also, allow the meat to rest before you slice them. Otherwise, you will lose all its moisture, and you'll end up with a dry steak.
Grilled Mojo Marinated Skirt Steak
Skirt steak has hearty grain and coarse texture that is perfect for marinating. A marinade made from a garlicky concoction of orange and line is heavenly, with it's inside ending up buttery-rich.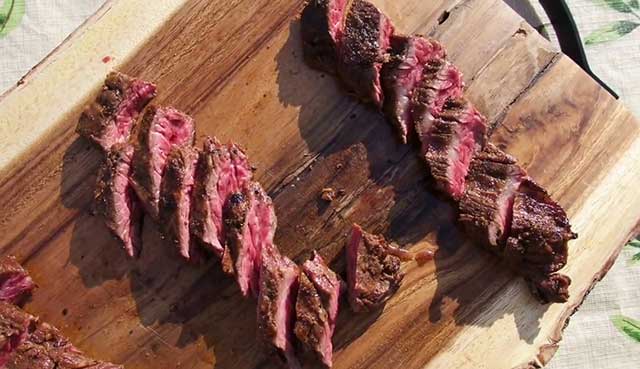 This version of the marinade comes from the Cuban Mojo. The secret to a perfect skirt steak is to plenty of heat. Skirt steak is a thinly cut piece of meat so, they cook fast. To achieve that charred and crispy on the outside and moist warm center, you need to cook the beef in high heat. Use a two-zone fire when cooking the steaks; this is where the coals are piled up on one side of the grill to maximize its heat.
Some steaks are best when they are medium-rare, but skirt steaks are better when they are done medium. You will get a juicy and moist consistency. When it is cooked, slice the steak against its grain so that you shorten the muscle fiber and the slices are more tender.
Do not waste the marinade. Reduce it in a pan placed on the stovetop or the grill until it thickens. You will use this as you post-grilling sauce. You'll love the last-minute burst of acidity that will bring out the best flavors of the steak.
It is best served with grilled potatoes and some vegetables. It's also great tucked into a flour or corn tortillas with excellent salsa.
Why This Recipe Works?
This cut is particularly suitable for marinating because of its dense grain and ability to absorb all the flavors. Cooking it over high heat will result in a beautiful, charred crust while the center keeps its buttery, melt-in-your-mouth texture.
Serving: 4 | Prep Time: 10 min | Cooking Time: 8 min | Total Time: 1 hr 18 min
Ingredients:
For the Steak
2 lbs skirt steak trimmed of its excess fat and cut with the grain into 6 to 8-inch
6 garlic cloves minced
2 tbsp soy sauce
1 tsp grated lime zest plus ¼ cup juice (about 2 limes)
1 tsp ground cumin
1 tsp dried oregano
Salt
½ tsp grated orange zest plus ½ cup juice (2 oranges)
¼ red pepper flakes
2 tsp extra-virgin olive oil
1 tsp baking soda
Directions
Combine garlic, soy sauce, two tablespoons lime juice, cumin, oregano, ¾ teaspoon salt, orange juice, and pepper flakes in 13 x 9″ baking dish. Place the steaks in the dish. Make sure to flip the steaks to coat both sides with marinade. Cover the baking dish and refrigerate for about an hour. Flip also the steaks halfway through refrigerating.
When able to cook, remove the meat from the refrigerator. Remove it from the marinade and pat it dry with paper towels. Transfer the marinade in a small saucepan. Combine a mixture of 1 tablespoon oil and baking soda in a bowl. Rub the mixture evenly on both sides of the steak.
Reduce the marinade by bringing it to a boil over high heat. Transfer it in a bowl and add lime zest, orange zest, and the remaining lime juice and one tablespoon of oil. Set this sauce aside.
Cook each method:

Charcoal Grill: Light the chimney with charcoal. When the charcoal is lit and covered in gray ash, spread them evenly over half of the coal grate.
Gas Grill: You can also use a gas grill. Set one burner to high heat. Set the cooking grate in place, cover and preheat for 5 minutes. Clean and oil the cooking grates.
Pan Cooking: Heat 2 tablespoons of vegetable oil in a large cast-iron or stainless-steel skillet over high heat until the oil is simmering. Add the steaks and cook, turning them frequently until it is well-browned. Check the internal temperature of the meat by inserting a thermometer. It should read 115 to 120 degrees Fahrenheit for medium-rare and 125 to 130 degrees Fahrenheit for medium. You can reduce the heat if necessary, especially if the steak starts to smoke excessively. Transfer the cooked steaks in a pan and let them rest for 10 minutes.

Cook the steaks on the hotter side of the grill. Flip them occasionally until the meat is well charred. Insert a thermometer in the center. It should read 115 to 120 degrees Fahrenheit for medium-rare and 125 to 130 degrees Fahrenheit for medium. Transfer the steaks on a plate and tent with a foil. Allow the steaks to rest for 10 minutes
Slice the steak by going on bias against the grain into half an inch thickness. Arrange the slices on a serving platter and drizzle with the sauce. Serve with extra sauce for passing.
Important Tip: Slicing the steak is as important as how you cook them. The steak is more pleasurable to eat when ho cut them against the grain to shorten the muscle fibers. This makes the steak more tender and more natural to munch. Though and thin cuts like skirt, plank or hangar steak should be cut at an angle to show a broader cross-section of its interior for a more tasteful presentation.
Joost Nusselder, the founder of Lakeside Smokers is a content marketer, dad and loves trying out new food with BBQ Smoking (& Japanese food!) at the heart of his passion, and together with his team he's been creating in-depth blog articles since 2016 to help loyal readers with recipes and cooking tips.