I love creating free content full of tips for my readers, you. I don't accept paid sponsorships, my opinion is my own, but if you find my recommendations helpful and you end up buying something you like through one of my links, I could earn a commission at no extra cost to you.
Learn more
Thermometers are a necessary part of the smoking process. Being able to tell the temperature of your meat helps you determine whether it is safe to eat and how tender, juicy, and flavorful it will be.
Many smokers have built-in thermometers. However, these really only tell you the air temperature in your cooker. They don't tell you the internal temperature of the meat.
That's why it's important to have a real meat thermometer on hand.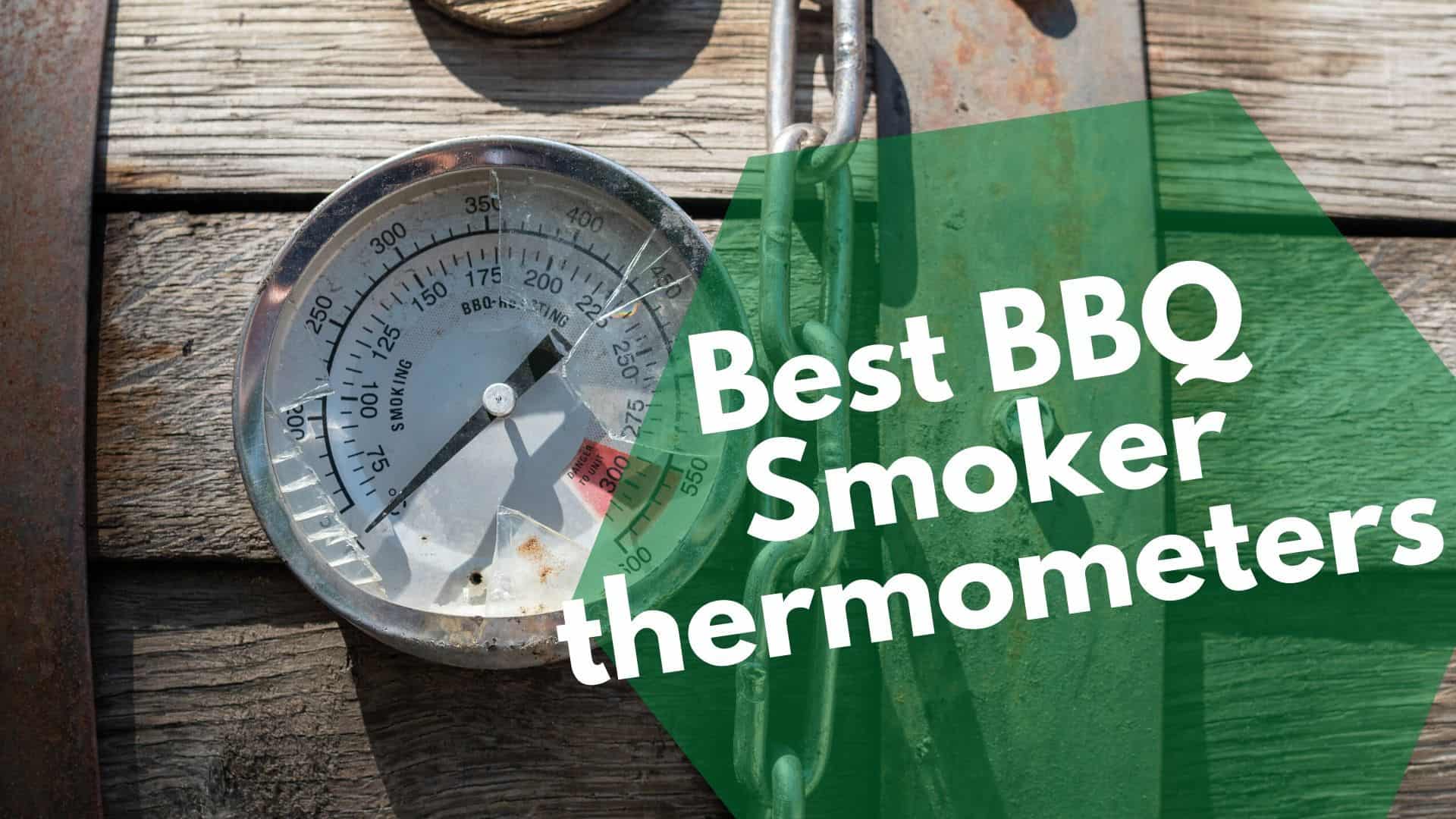 There are many different types of thermometers and the one you choose may depend on your personal needs and preferences.
In any case, this article will review the different types of thermometers so you can determine which is best for you.
So let's look at the top ones and then dive a little deeper into what you need to look out for when buying one:
What Should I Look for in a Barbecue Smoker Thermometer?
A barbecue smoker thermometer has a variety of features that can help make your culinary experience easier and more enjoyable. Here are some things you should look for in your thermometer.
Meat Probes: Thermometers will have a meat probe that can be inserted into the meat. The probe should be easy to use and designed to get accurate readings.
In some cases, thermometers will have two or more probes. Dual probe thermometers will use one probe to get the meat temperature and the other to get the ambient temperature in the oven.
Or one probe will do both jobs. If your thermometer has several probes, you can use the probes to measure the temperatures of various foods you are cooking.
Range: Thermometers should have a range that allows you to check the temperature of your meat without requiring you to get up to do so. Some thermometers even work with apps that will help you adjust them from far distances.
Display: The display on the thermometer should provide you with extensive information and it should be easy to read.
Design: The thermometer should have a rugged and durable design. It should also be waterproof and shockproof.
Settings: The thermometer should have a variety of settings to work on different kinds of meat. Settings should be easy to work with.
What to Consider When Buying a Smoker Thermometer
The right thermometer to buy will basically depend on your needs. To help you with this, here are some of the most important aspects to consider. Remember to carefully analyze the features and choose the model that's most suitable for your needs and preferences.
Price
One of the most important aspects to consider when shopping for the best smoke thermometer is your available budget. For most people, a thermometer in the mid-range price should be enough. But for those who have an extremely limited budget, there are also cheaper brands and models. It's important to note, however, that the price will mostly depend on the quality and the features that it comes with. So if you go for the cheaper model, you can't expect great quality and good features from it.
Number of Probes
Most of the cheaper brands come with only one probe but you can also find some affordable models with a dual probe. If you only need to monitor the meat's internal temperature, then the single probe should be enough. But if you also want to monitor the temperature of the grill, the dual probe is what you should go for.
Is It Wireless or Not
The wireless feature is not really necessary for everyone, but it's worth considering when buying a thermometer. With the wireless version, you'd be able to stay away from the grill and you can focus on doing your tasks since it will feed the temperature through a transmitter that you can carry with you. This feature can be found in most of the expensive models and can make your grilling experience even more convenient.
Warranty
It's common for most thermometers to encounter issues with the probes. Therefore, find out what the warranty is before you decide to purchase a particular brand or model of a thermometer. Most manufacturers offer a lifetime warranty on the probes, which is great.
How Should a Good Smoker Thermometer Be?
Accurate
Accuracy is very important when it comes to cooking food. This guarantees that the meat you're smoking or grilling is cooked to perfection, not undercooked or overcooked.
Functional
Depending on your budget and needs, choose a smoker thermometer that is highly functional. This means that it should come with features that increase the ease of convenience when using the thermometer to monitor the temperature of the meat being cooked. When it comes to functionality, the timer is an important feature that the thermometer should have. Other features that can help improve the thermometer's functionality are Wi-Fi, alarm, and an app.
Easy to Use
The best smoker thermometer is something that should be easy to use for everyone. The display and interface must not be complicated to understand for most users. Of course, it's also important that the device should come with a manual that displays clear and easy to understand instructions. This is especially important for first-time users of the device.
Durable
We definitely don't want a device that will get broken after only a few uses. Therefore, durability is very important when buying a meat thermometer. It's pretty common for the probes of the thermometer to get broken after only a few uses. So look for a brand that is known to use high-quality materials for the probe. The waterproof design is also recommended, especially since the probe could be exposed to liquid from time to time.
Best Barbecue Smoker Thermometers reviewed
Now that we have a clear understanding of what to look for in a smoker, let's take a look at what's out there.
Best Long-Range Wireless Meat Thermometer: ThermoPro TP20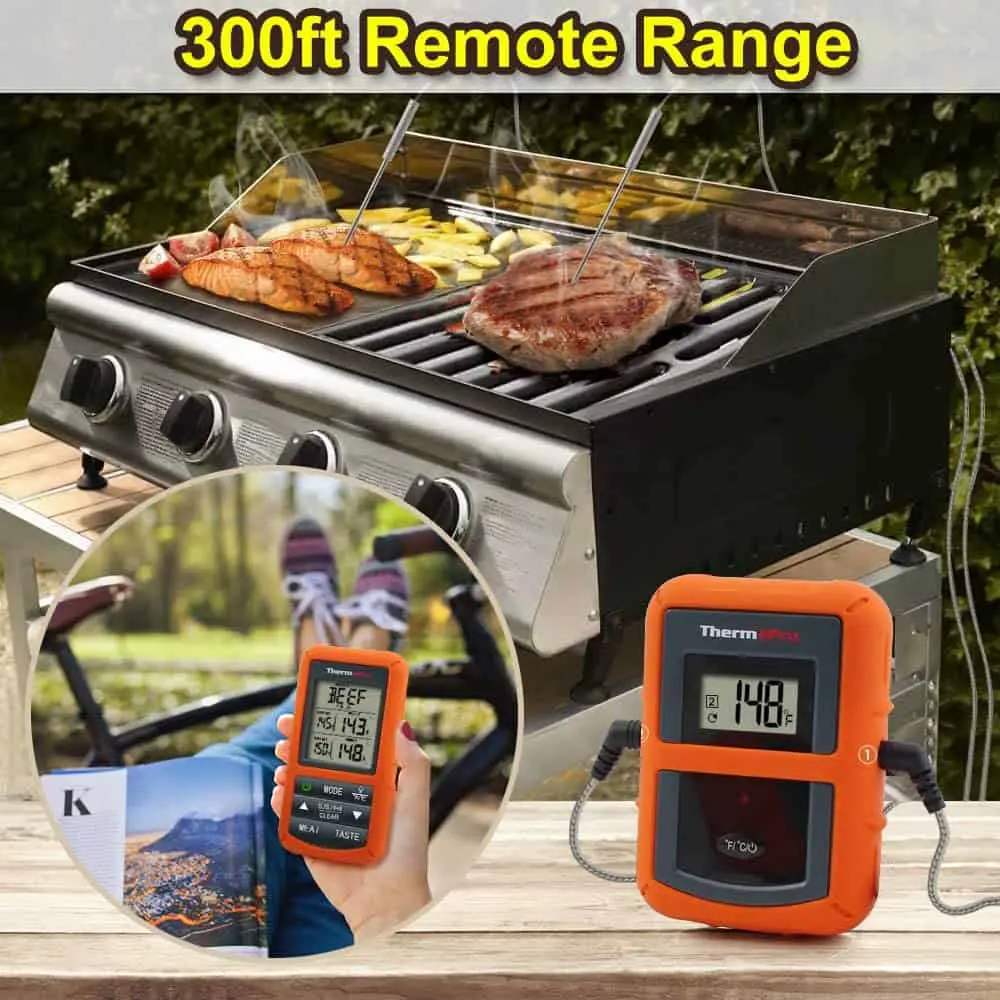 This thermometer is recommended for serious chefs. It has dual probe monitors that help you keep track of the temperature of your food from up to 300 feet away.
Set up is easy and it has a large LCD display that keeps track of food and oven temperature. A timer is also included. It has various settings for nine different types of meat.
It has a stainless-steel probe that gets deep inside meat and measures temperature accurately. It can withstand temperatures of up to 716 degrees.
My favorite bbq thermometer, it offers all the essentials plus several useful features. It is great both for beginners and for advanced users who expect better quality.
It's available at a good price, considering the overall market I'd say that it is somewhere between the medium and high price tier.
It is not my goal to get you to buy the most expensive thermometer, but instead one that is first and foremost solidly made and available at a price affordable for everyone.
Of course I mostly use this model as it meets all my expectations.
ThermoPro TP20 comes with two pretty long probes, transmitter and receiver. Such combination allows you to remotely monitor the temperature inside the meat and inside the smoker.
It comes with preprogrammed basic settings but in many cases I recommend using manual settings if you want more personalized results of smoking.
High quality probes are certainly durable, resistant to high temperature and accurate in their measurements (accuracy of +/- 1.8°F). Remember that it is an element that is most likely to malfunction right after purchase and that's another reason why I picked this model and this manufacturer.
The thermometer is covered with whole 3 years of warranty, by default it is one year but if you register the product after the purchase, the warranty gets extended to three years.
Believe me, ThermoPro is a trusted and proven brand that takes their customers seriously and cares about them after the purchase. This is one of the elements that made the brand so valued and popular.
ThermoPro TP20 is in my view the best overall smoker thermometer for everyone and nearly everyone's budget. Me as well as plenty of customers appreciate the high quality of workmanship, functionality, accuracy and most of all durability – especially for that kind of money.
Here' Bad Beast with the TP20:
Pros:
Easy to set
Large LCD display
Accurate temperature readings
Hands-free up to 300 feet
Works at high temperatures
Various settings
Timer included
Cons:
Does not take temperature accurately
Check out the latest prices here
Best Bluetooth Barbecue Smoker Thermometer: Uvistare Digital

This thermometer is ideal for all-around use. It can provide a powerful and reliable connection although the connection range is only up to 164 feet.
The temperature of your meat can be read in real time and if the meat is overheating, you'll receive an alert on your device even if you're not near the thermometer.
With this thermometer, you no longer need to stand around your grill as it cooks. You can attend to some other tasks or perhaps spend some quality time with your family and friends.
The probes of this model are made of high-quality stainless steel that's flame and heat resistant. It can be used while smoking or grilling meat.
As for the probes, this model is capable of taking up to six probes and you can monitor all of them at once using only one app. Most of the time, they can provide an accurate reading of the temperature.
And although it could take up to six probes, you'll only get two probes when you purchase this product.
The app lists down 11 different types of meat and the recommended level of doneness for each. But these temperatures can also be customized depending on your preferences.
When the time or the desired level of temperature is achieved, the device will produce a beep sound along with a flash in your app in order to alert you.
Pros
Can withstand a high level of temperature
Comes with a pre-set temperature for certain types of meat
Could take up to six probes
The device gives off a beep sound and a flash once the desired temperature is reached
Cons
The range of Bluetooth wireless is only 164 feet
Probe's quality is somewhat inconsistent
Best Analog Barbecue Smoker Thermometer: Dozyant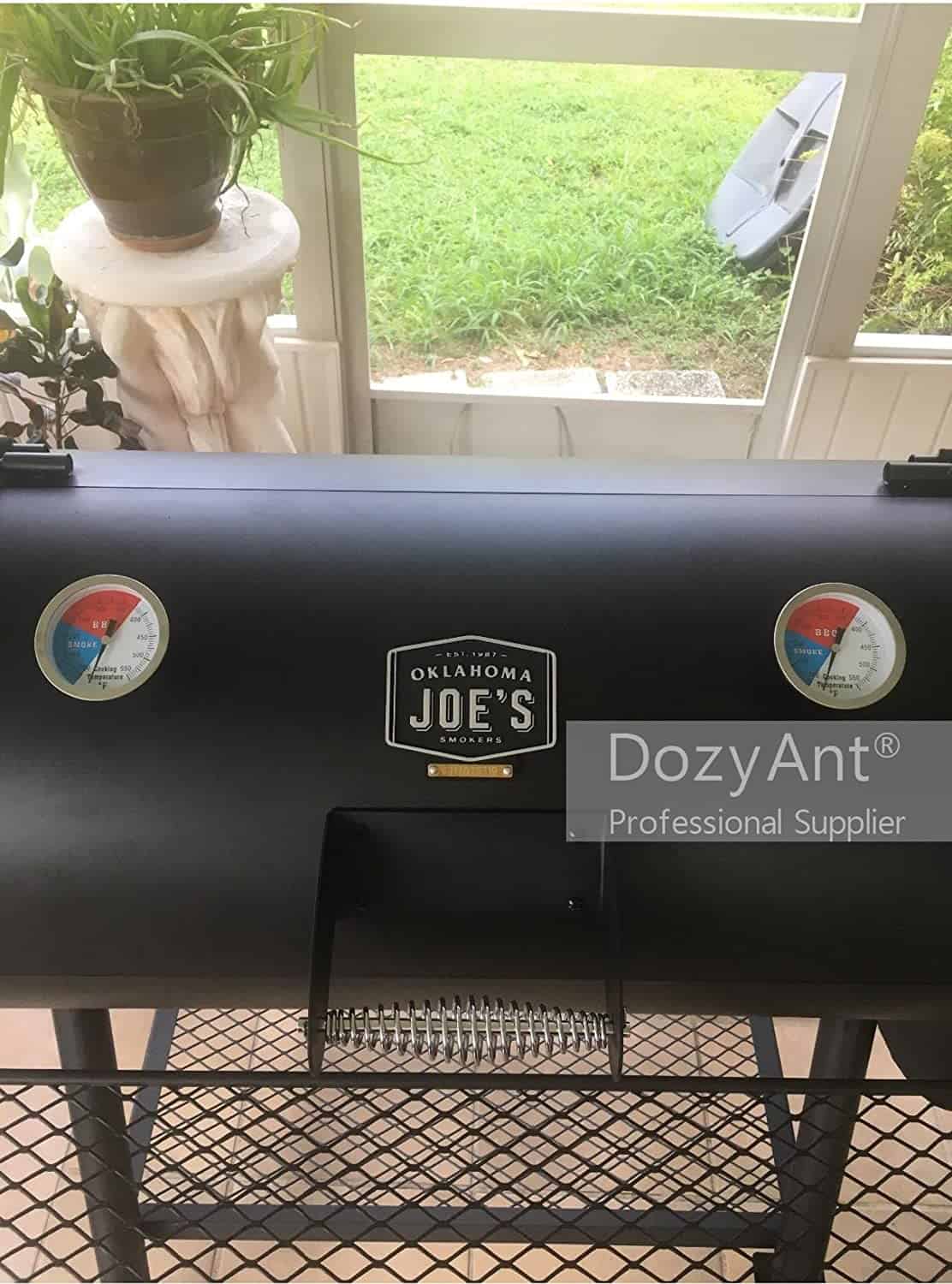 Analog thermometers may be a bit old fashioned, but they are an accurate way to determine the temperature of your meat.
What's more, some believe that these are preferable to other types of thermometers because they don't have delicate parts and probes that can melt in the oven.
At 3 1/8", the thermometer has a large face that makes it easy to read. It is also waterproof and it will not get foggy.
It is made of a durable stainless steel that is durable, food safe and environmentally friendly. It reads temperatures from 100 to 550 degrees and it is extremely accurate.
Pros:
Accurate
Durable
Food safe
Environmentally friendly
Eco-friendly
Parts won't melt in heat
Easy to read face
Water-resistant
Cons:
Needs calibration to be used
Not as accurate as advertised
Best Dual Probe Barbecue Smoker Thermometer: Inkbird IBT-4XS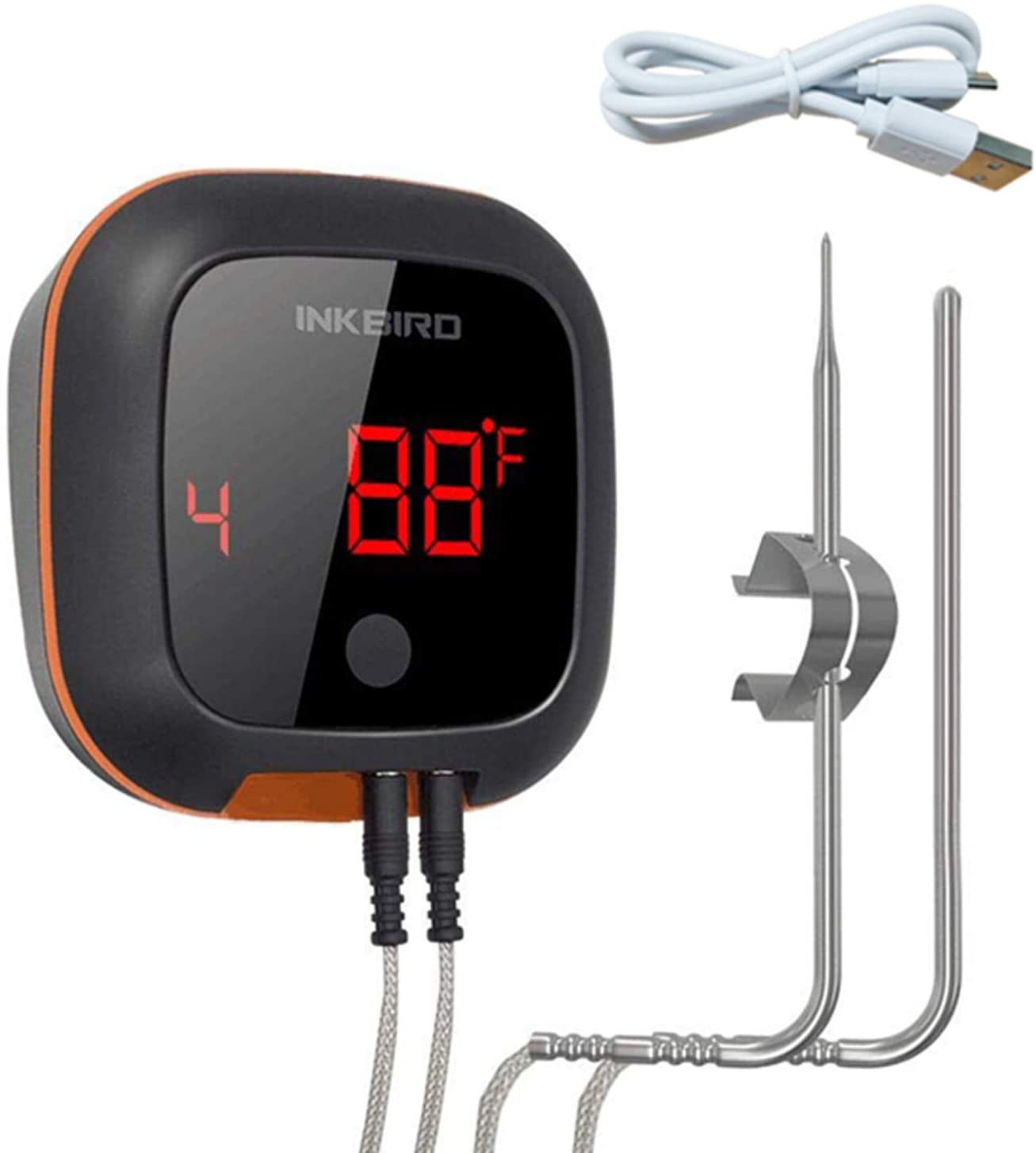 The probes of this thermometer click in so you can get an accurate reading. The thermometer has a magnetic design so it can easily be hung on metal surfaces.
It has a large LCD screen that can be adjusted with the touch of a button. The temperature value can be read on either side.
It has a rechargeable battery that can last 40 – 60 hours and it has a remote range of 150 feet. It has a graph that allows you to track temperature changes.
It can be used with an iPhone or Android so you can read your cooking temperature anywhere. The thermometer comes with 2 probes, one for meat temperature and one for ambient temperature.
It also comes with a USB charging cable, a probe clip, and a manual. It works in temperatures up to 572 degrees.
Here you can see Dave with his review:
Simplicity is the first thing that would come to your mind when you see this product. Aside from the on and off switch, you'll find one large circle at the LCD screen. This is because all the controls have been moved into the app that you can install in your tablet or smartphone. As such, the main unit itself is very basic.
The actual thermometer is made from plastic, which is lightweight and seems like it's less durable than the bulky ones. It doesn't come with any waterproofing feature so you cannot expose this to liquid.
There are really no huge surprises when it comes to the specs of this thermometer. However, the 4.9 feet probe wire seems like a nice addition, giving you lots of freedom when setting up the thermometer around your grill.
The range seems exaggerated for real-life use. Although they claim that the thermometer has a wireless range of 150 feet, the range will normally depend on the overall layout of your home.
Pros:
Long-lasting battery
Accurate
Can be used with an iPhone or Android
Has 2 probes for meat and ambient temperature
Large LCD screen that's easy to use
Clicks in place to provide an accurate temperature reading
Comes with four probe channels
Easy to use
12-month warranty
Provides accurate temperature readings
Cons:
Probes are not accurate as advertised
Has long cables
Not waterproof
Probes don't come with color coding
Check out the latest prices here
Best professional thermometer for Chicken: Lavatools Javelin PRO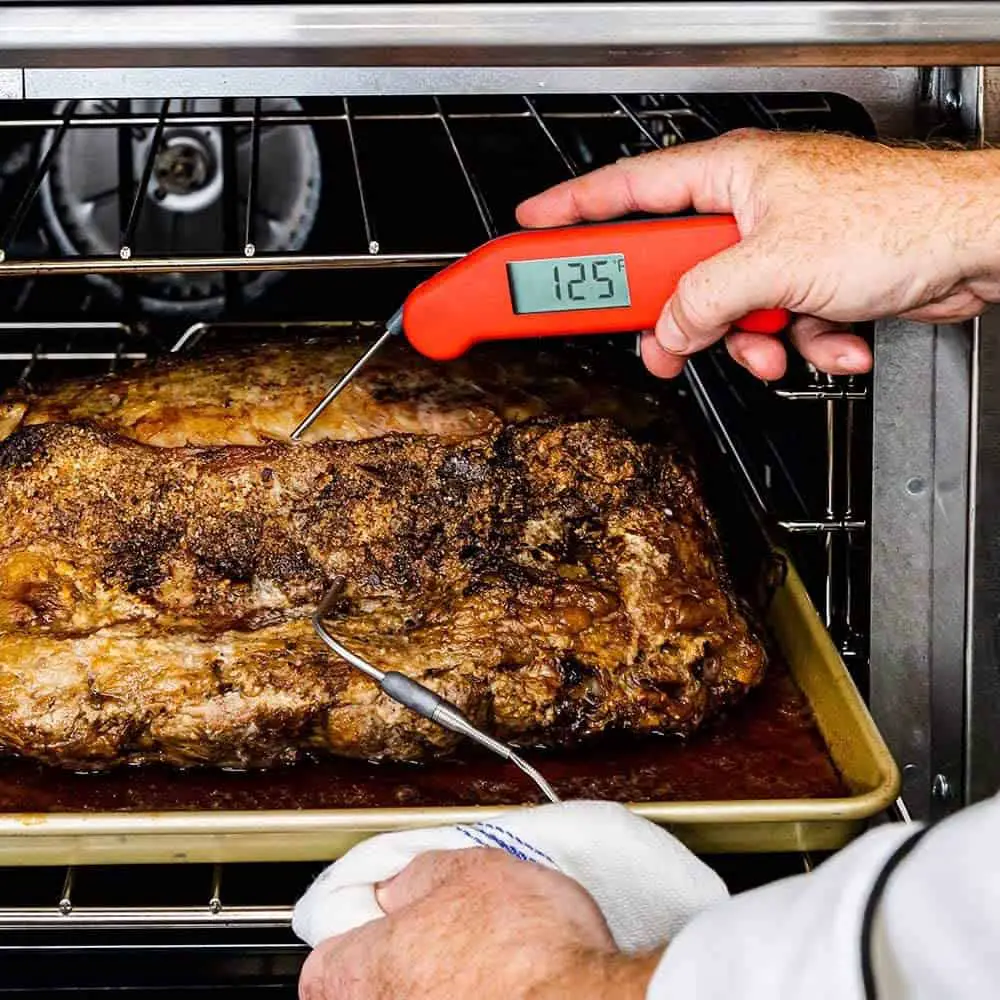 When cooking beef, you want to keep the thermometer inside the meat while it roasts to monitor its temperature at all times. This will be a good way to tell how moist and juicy it is.
When checking the temperature on chicken, however, you only want to stick the thermometer in quickly to make sure it's safe to eat.
It is for this reason that an instant-read thermometer will be more suited to your needs.
With this in mind, the Lavatools is the perfect tool. It reads temperatures in 1-3 seconds with a less than one-degree deviation.
It is a large auto-rotating display and a magnet for easy storage. It has a durable build and superior quality.
Here is Lavatools working with some pros on their temperature setup:
Pros:
High quality
Quick and accurate readings
Large LCD screen
Easy to use
Cons:
Occasionally stops working after a few months
Expensive
Best cheap thermal pen: Smak Digital Instant Read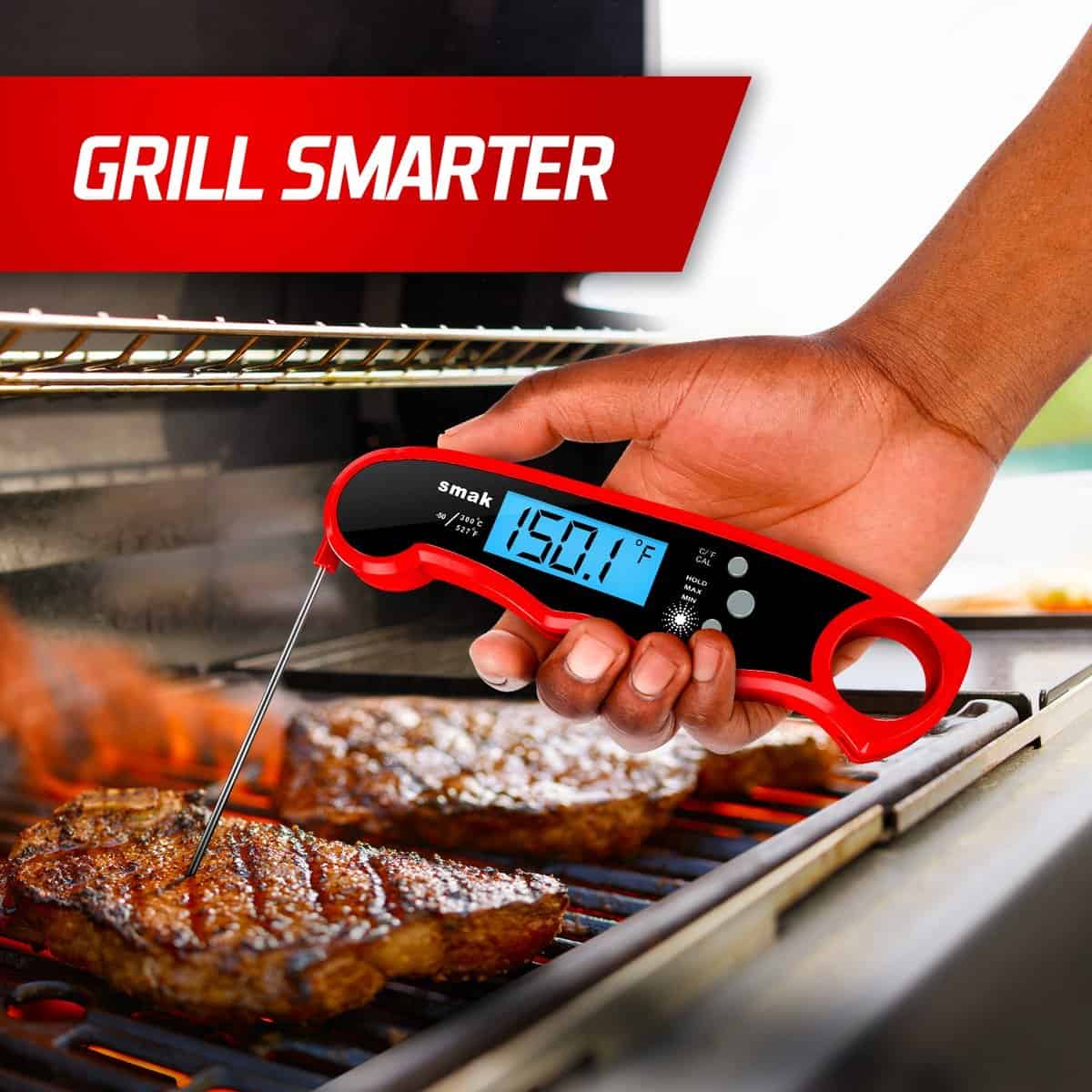 Perhaps, one of the best features of this thermometer is that it comes with a handle that has a ribbed design, which allows for better grip.
This is one of the best smoker thermometer 2019 that can provide temperature reading in as fast as two seconds! The range of the temperature is from -58°F to 572°F, which is pretty wide. Thus, it's highly reliable for just about anything that you plan to cook – meats, pastries, drinks etc.
When it comes to convenience, this model will not disappoint. It has a large hanging hole and a magnetic back for easy storage. You can easily flip between Celsius and Fahrenheit temperature reading, depending on your preferences. If you need to use the device in the dark, simply flip the backlight switch.
Because of its long handle and the ability of its probe to rotate up to 180 degrees, safety is guaranteed when it comes to using this thermometer.
Pros
Average reading time is as little as two seconds
Comes with a 3-year warranty
320+ reviews online and rating of 4.7 out of 5-stars
Wide temperature range of -58 to 572°F
Cons
Some users have complained that temperature readings can sometimes take longer than three seconds.
Best Pit Boss Smoker Thermometer for Beef: Maverick ET-733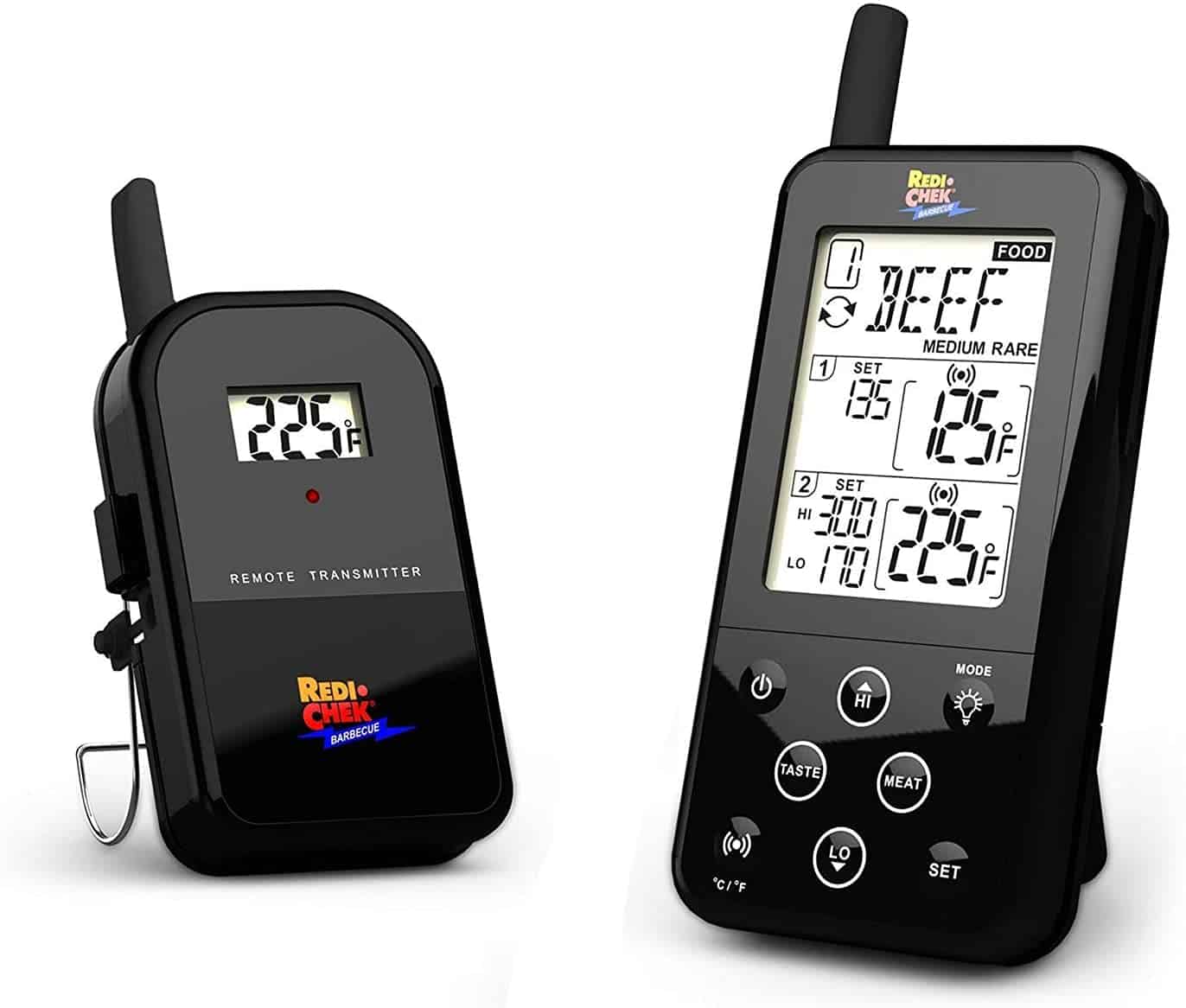 This Maverick thermometer has a slower probe and read time which makes it more suitable for beef. It also has other features that put it over the top.
These include a backlit screen that shows extensive information on how your meat is doing.
It has 2 hybrid probes, easy to use controls and preset temperatures for the various types of meats you are smoking.
It is wireless and can monitor temperatures from 300 feet away and it will alert you when the meat goes above the programmed temperature.
It will also alert you when the thermometer goes out of range. Its probes are three feet long, they can be used at temperatures up to 716 degrees and you can monitor 2 foods at once.
Another bbq thermometer with two probes from an equally valued and famous manufacturer in the world of BBQ. Maverick ET-733 has been perfectly known in the community for years so my list of the best bbq thermometers couldn't go without it.
Solid structure, two high-quality probes, the ability to wirelessly monitor the temperature and several other features have gotten it into my ranking.
It is actually fairly simple and intuitive to use, comes with preprogrammed basic settings for different types of meats, but it's also possible to manually set it which I personally use a lot when I want to achieve a slightly different result of smoking.
Two probes is something I bring up often, it's nice to have two of them due to the ability to monitor temperature in two places at the same time. For example, if you're smoking in a charcoal smoker you can use one probe to monitor the temperature inside the meat and the other inside the smoker at the grill grates' height.
In set & forget style smokers there's no need to monitor the temperature but the truth is that most of us use different types of smokers, so it's always better to have two probes rather than one.
The biggest downside is the warranty, sadly such short warranty period compared to the competitive models at similar prices is slightly disappointing. I know that in the end it's a solid smoker thermometer but if the competition protects the customer much better then it is seriously something to think about.
Here's StokedonSmoke with their review:
Pros:
Two probes for different foods
Easy to use
Sends alerts when temperature is excessive and when you are out of range
Reads at high temperatures
Large screen with a wealth of information
Preset temperatures for meat
Cons:
Slow read times make it impractical for certain kind of meat
Runs on batteries and battery change may be complex
Check prices and availability here
Best Cheap Budget Gauge Smoker Thermometer: Newstart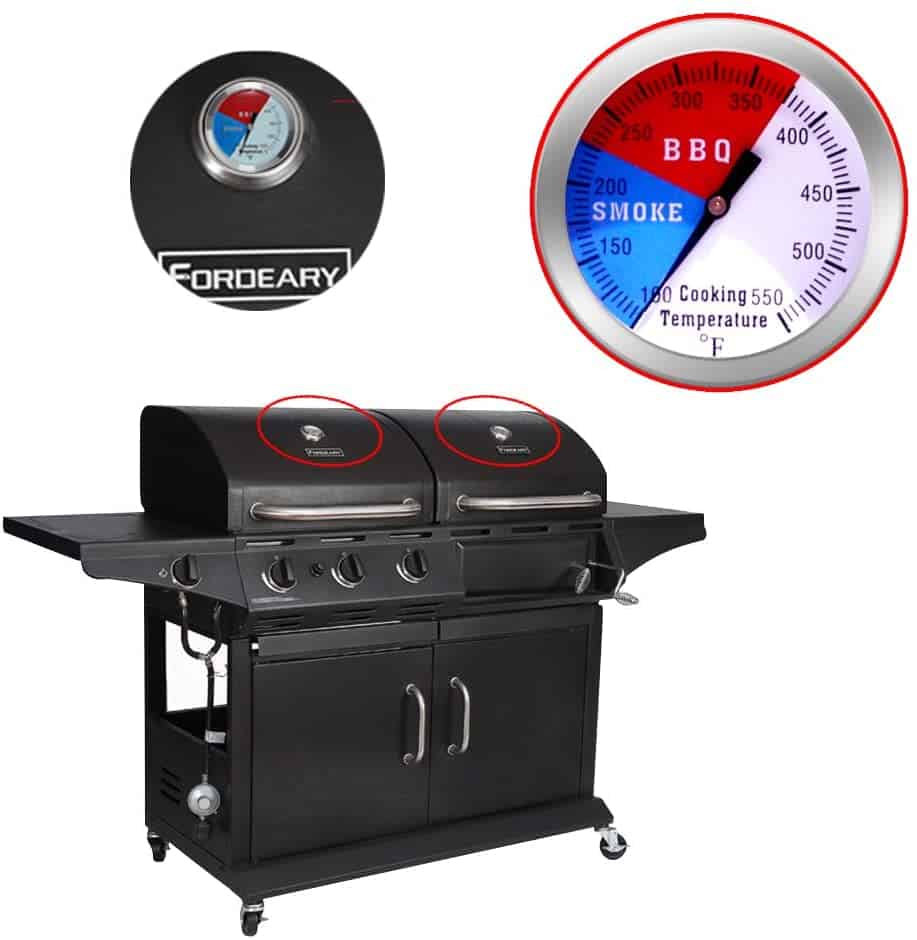 This two piece temperature gauge has large degree scales that make it easy to read. Its color-coded zones let you know whether you are in the smoke, BBQ, or grill range.
The thermometer works in temperatures that range from 100 to 550 degrees and provides accurate readings. The casing is waterproof and will not get foggy.
The screw thread and wing nut make for easy mounting and easy use. It is made from a high quality, hypo-allergenic and food safe stainless steel.
In addition to being used for smoking meats, it can also be used in the machine industry, the chemical industry, the medical industry, the light textile industry, and more.
Pros:
Easy to mount
Easy read face
Water-resistant
Can be used in a variety of industries
Durable design
Cons:
Not as accurate as described
Why get a thermometer
Not many people are aware of this, but a thermometer is actually just as important accessories as any other cooking utensil. The best meat thermometer for smoker helps you ensure that your meat will turn out tender, juicy, and bursting with flavor! Sure, your cooker may come with a built-in thermometer, but you shouldn't rely entirely on it! Most of these thermometers will only provide you with the temperature of the air in the cooker and not the actual internal temperature of the meat or food that you are cooking.
Investing in the best meat thermometer for smoker is really worth it! It helps to determine if your meat has already been cooked or if the food is ready to be served. To help you choose the right thermometer to buy, we have reviewed some of the best meat thermometers in the market and came up with the best smoker thermometer 2019. We've also provided a guide to help you choose the right one for your needs.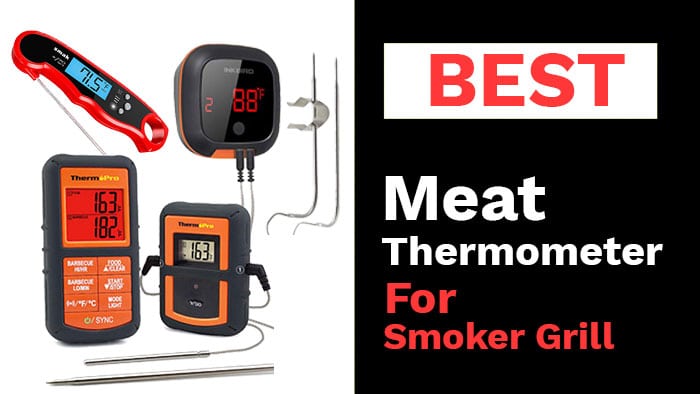 You're probably thinking that a thermometer is no longer necessary because your smoker already comes with a built-in thermometer. Well, the truth is that the thermometers that are attached to your smoker are not able to provide you with accurate information in terms of the temperature of your meat. They can only provide you with the temperature of the air in your smoker. However, when it comes to determining the temperature of the meat, you need a separate thermometer for it. Determining the meat temperature is the best way to tell if the meat is already cooked to perfection.
The best BBQ smoker thermometer is capable of providing you with the most accurate readings of the internal temperature of the mat. It's also much easier to use than dial thermometers. Dial thermometers could take up to 30 seconds before they can provide you with a stable reading. But the digital meat thermometers can provide you with the result in as fast as one second, which is definitely a huge difference! If you plan on cooking a lot in preparation for a party or an event and you have a strict timeline, you cannot rely on dial thermometers! Otherwise, it would take ages before you can get the food ready for your guests.
A high-quality digital thermometer is the only device that can accurately provide you with information on whether your meat has already been cooked to perfection. There are people who would rather check the meat manually by touching it with their hands. This is definitely not the best way to do it because the result will be inaccurate.
Poking with hands may work for other people but you should know that everyone has different hands. Even a trained and experienced cook can't accurately tell the meat's temperature by merely touching it. The color of the meat's juices is also not a good indicator that the meat is already cooked. Using a digital smoker thermometer is the best way to get an accurate reading of the meat's temperature.
Smoker Thermometer Benefits
One of the most obvious reasons for getting a thermometer is accuracy. The built-in thermometer in your smoker won't be able to provide you with an accurate reading. You can simply use it as a gauge, but sometimes, the reading is different by up to 15-20 degrees.
Aside from accuracy, there are several other benefits that you can get from buying a smoker thermometer.
Here are some of them:
Helps Prevent Illnesses
Remember that uncooked meat could make you sick. You definitely don't want your loved ones or any of your guests to catch some disease just because you served them raw meat. Thus, when it comes to reading meat temperatures, you cannot just wing it. Half-cooked meat is fine when it comes to beef or pork, but with turkey, chicken, and other poultry meats, this is definitely dangerous. It could lead to poisoning and whoever will eat the meat could catch an illness because of the bacteria coming from the meat, such as salmonella.
So to ensure the safety of the people who will eat the meat that you're going to cook, you need to invest in the best smoker thermometer. This thermometer can provide you with accurate temperature reading so you can rest assured that the meat you are serving for your loved ones is safe.
Avoids Overcooking
Overcooking meat is just as bad as undercooking it. If you don't want to overcook your meat, you should seriously consider investing in a thermometer. The last thing you want is to serve overcooked and burnt meat to your loved ones and beloved guests!
The thermometer is capable of providing readings close to 0.9 +/- °F, thus, you can get a more precise reading, unlike when you rely on the smoker's built-in thermometer. Remember that when it comes to cooking food, accuracy is of utmost importance. If you invest in the right meat temperature, you can avoid overcooking your meat.
Accurate Readings
If you have a thermometer, there's no longer a need for you to stay beside the grill all throughout the entire time you are cooking. Since the thermometer can provide you with accurate reading, you can simply use it to determine if your meat has already been cooked. Once the food is already cooked to perfection, it will trigger an alarm. Therefore, there's no longer a need to stay behind the grill all day long.
Dual-Probe
Most thermometers come with a dual probe system. The other digital and wireless models even come with four to six probes. Therefore, if you want to prepare steak, poultry, pork chops, and brisket, all at the same time, then you're free to do so!
Just set the desired temperature for the meat in advance and turn the timer on. There are also those that come with advanced features that will suggest the proper temperature suitable for your meat. They work really great because there's no longer a need to guess or look things up since the thermometer can do it on your behalf. It will grill or smoke your meat to perfection by setting it to the right temperature.
Whether you're an amateur griller or an expert, a thermometer can certainly benefit you in a lot of ways! From helping to make your life easier to keeping your food safe from bacteria, the thermometer is certainly a very useful device for smoking meat.
Thanks to technological advancement, the manufacturers of these thermometers have come up with models that come with high-tech features and can do everything for you. All that's basically left for you to do is to place the meat into the smoker and add some seasonings! Then you can sit back, relax, and enjoy some quality time with your family while you wait for the meat to be cooked.
With the meat thermometer, grilling meat is now fun and efficient! Even if you're new to grilling, you'll feel like a pro, thanks to the meat thermometer.
Digital Thermometer Types
The digital thermometers of today are available in different types and here are some of them:
Single Probe Thermometers
From the name itself, the single probe thermometers only come with one probe. These thermometers are usually attached to a digital readout that will provide you with the reading and come with options for notifications and alarms. These devices also come with a dedicated receiver and transmitter which allow you to take readout of the temperature with you.
The instant-read thermometers belong to the single probe category. These meat thermometers are usually lightweight and are capable of getting reading incredibly fast. There's a wide range of these kinds of thermometers that are extremely useful for all kinds of cooking not just for barbecue. It's highly recommended that you get this thermometer even if you already own another type. These thermometers work very quickly and are extremely easy to use. In fact, once you experience using them, you definitely don't want to cook again without a thermometer!
Dual Probe Thermometers
Another popular type of meat thermometer is the dual probe. This is the thermometer that's highly recommended since it provides you with an option to read both the temperature of the meat and that of the grill or smoker. With this device, you can enjoy precision cooking and will definitely make your life in the kitchen so much easier! The dual probe designs are also available in different variations. There are the standard versions that have digital screens providing you with two probes.
There's also the Wi-Fi version that is equipped with two displays. They are also known as the wireless meat thermometers where one display is linked to the actual probes that were attached to the smoker itself. It comes with a second display that you can take with you wherever you go. They are very useful and allow you to set it in advance and then you can simply just leave it and you can go on with doing your own tasks.
With the best wireless meat thermometer for smoker, there's no longer a need for you to sit right in front of your smoker while it cooks your meat. For instance, you can simply watch TV or do some household chores while the smoker is doing its own tasks! Once the countdown timer comes to zero, the monitor that you have taken with you will inform you that your meat is already cooked. There are also other models that will trigger an alarm once the timer reaches zero.
You can also opt for a Bluetooth version. The smoker thermometer Bluetooth works in the same way as the wireless versions but instead of a second monitor that you can bring with you, this version requires installing an app on your mobile phone. Instead of the Wi-Fi, it uses Bluetooth.
Infrared Laser Thermometers
These thermometers resemble hairdryers or guns and are battery powered. They provide very accurate readings even from a distance. What's great about these types of thermometers is that they provide a wide range of temperatures and can be used on places where normal probes cannot reach. This is why it's recommended to choose this version if you are fond of cooking pizzas in your oven.
Thermostatic Temperature Controllers
If you need to do long cooks with wood or charcoal smokers and grills, a thermostatic controller is what you need. You simply have to place the probe near the meat and then close the air intakes except for one. There's a fan that will go through this intake that will relay with the probe in order to regulate the oxygen air that gets in and out of the grill. This allows for accurate control of the temperature.
Are Dome Thermometers Good?
Built-in or pre-installed dome thermometers are a regular feature of some of the excellent quality grills and smokers.
Although it might seem convenient to use these thermometers instead of buying the best smoker thermometer separately, this is usually not a good idea. This is because dome thermometers are not really capable of providing you with the most accurate temperature reading of the insides of the smoker. Most of the time, the thermometer will provide a reading that's more than 50°C cooler than the actual temperature at which the meat is being cooked. The reason is that these types of thermometers will simply measure the temperature of the air that's right above the food being cooked.
How to Use a Smoker Thermometer Properly
If this is the first time that you're using a smoker thermometer, here are some important points to keep in mind:
The smoker's internal temperature has to be consistently low. It should be somewhere between 225 and 250 °F. This range is what's ideal for slow grilling the meat without making it crusty or dry.
It's important that you regularly monitor the internal temperature because the protein in the meat starts breaking down at a specific temperature point that could possibly affect the meat if it's not corrected. If in the event that this thing happens, the meat must be pulled out of the smoker and be left to rest at a certain temperature.
The dual probe thermometer is highly recommended instead of the single probe thermometer. Dual probes allow you to simultaneously monitor the temperature reading of the grill and that of the meat.
The ThermoPro TP08 and Maverick ET-733 are some of the most recommended thermometers in the market. They allow for the easy monitoring of the meat and grill.
Look for the best wireless meat thermometer for a smoker if you want something that you can carry around your house allowing you to do your own tasks while the meat is being cooked.
One of the downsides to using the instant read thermometer is that you need to open the smoker lid each time you need to read the temperature of the meat. This is not only time consuming but can also affect the flavor of the meat due to loss of heat.
How to Get Accurate Temperature Readings
The smoker thermometer's error of margin and accuracy will vary from one model to another. To ensure that you'll get the most accurate reading possible, place the thermometer at an appropriate point inside the smoker.
Here are some useful tips when it comes to the proper placement of the thermometer in order to get the most accurate temperature reading:
The probe must not be in contact with the grill. It must be raised off a bit and must be near the meat.
Make sure that the probe is not very close to the meat since the meat's initial coldness could result in false temperature reading.
Some smokers are often hotter in the middle than on the edges. Therefore, avoid placing the probe too close to the edge or in the middle.
Consider using a clip to ensure that the probe stays in place.
Cover the probe with a tin foil so it will not come in contact with the heat of the grill and its lifespan can somehow be extended.
Maintaining the Thermometer
The best meat thermometer for a smoker is long-lasting and sturdy. But just like with anything else, these devices also require general care and maintenance in order to increase their longevity.
Here are some tips on how to properly take care of your thermometer:
Don't rinse the probe with water and avoid dipping them into the water. Simply wipe them off with a paper towel.
Each thermometer comes with a temperature rating. The rating must not be exceeded so as not to damage the device. Most of the thermometers come with a rating of 700°F that should be enough for most barbecue recipes.
Store the probes neatly. Make sure the wires are not crimped during storage.
The Differences between Instant-Read and Wireless Thermometers
You're probably not sure whether to go for the wireless version or the instant read.
Here's what you need to know when it comes to the differences between the two:
Probe Tip
The instant-read version is capable of literally reading the temperatures once you insert the probe end to about 1/8-inch into the meat. Even at the thickest portion of the meat, this should be able to provide you with a fairly accurate temperature reading. The best smoker thermometer is efficient enough to provide you with the most accurate temperature reading.
On the other hand, a wireless thermometer is one that would require you to enter the probe to the thickest portion of the meat. It may also require you to place the probe all the way into the meat. This should provide you with a more accurate reading although it needs deeper insertion.
Reading Accuracy
Regardless of the type of thermometer that you will go for, accuracy must be given utmost priority. You definitely don't want your steak to end up dry and burnt out.
The wireless version is more reliable than the instant read since it requires you to insert the thermometer into the thickest portion of the meat that you're cooking. This can provide a more accurate reading and is definitely a much safer option when grilling certain meat that must not be consumed less than a certain temperature.
As for the instant read model, it provides more of a gauge reading, similar to what built-in thermometers can provide. They may provide fairly accurate reading but are not really as resourceful as the BBQ smoker thermometer.
The most reliable model of these thermometers can guarantee readings of +/- .9 to 2 °F. As for the wireless variety, you'll be able to get a more accurate and instant reading unlike the instant-read model that can provide a reading in 3-7 seconds depending on the model and the brand of the thermometer.
For general grilling purposes, the instant-read thermometer could be enough. These thermometers are also easy to use and are capable of providing a simple and accurate reading. The thermometer also allows you to get the temperature on the internal point of insertion regardless of the type of meat that you're cooking.
Features
When it comes to features, the wireless thermometers are on the lead. The thermometer allows you to choose different meat settings and it's also possible to set it to your preferred temperatures. These devices typically come with built-in timers that you can also set. On the other hand, the instant read thermometer is pretty basic. It doesn't come with fancy features and it requires you to search for more information yourself just so you can achieve the most ideal temperature for your meat. But the wireless version will pretty much do the work for you.
Reading Times
The wireless thermometer can reach the accurate temperature for your meat in only a matter of seconds. It will not take long to provide you with a very precise and accurate reading, most especially if you invest in top of the line brands.
The instant-read can provide a fairly accurate reading as well. However, it will sometimes take a few seconds longer before it can provide you with the exact temperature of the meat that you're grilling. This can be a problem for charcoal smokers as there's a risk of overcooking the meat.
Conclusion
Given the many different models and brands of smoker thermometers that you can find in the market nowadays, choosing the right one for your needs can be daunting. This is especially true if you don't know the necessary features that the device should come with. But there's really no need to complicate things. When it comes to choosing the best meat thermometer for smoker, choose something that can provide you with the most accurate reading of temperature, such as the Inkbird IBT-4XS Bluetooth Wireless Digital. It may be simple but that's what makes it convenient and easy to use. Check price and reviews on Amazon
Despite its simplicity, it's capable of providing an accurate reading, has four probes, and comes with a 12-month warranty. These are the best features that a smoker thermometer should have! Not only that but buying this product comes with an app that you can install in your mobile phone or tablet allowing you to control the thermometer even when you're away. So if you are someone who loves to multitask while cooking, then this smoker thermometer is exactly what you need!
[amazon bestseller="meat thermometer for grilling" template="list" items = "3"]
Conclusion
Although the differences in features and functionalities make these thermometers difficult to compare, if we had to choose one, it would be the ThermoPro TP20 Thermometer.
Although it is expensive, its many bells and whistles put it over the top.
If you enjoy smoking meats, the right thermometer can make all the difference when it comes to getting the results you are looking for.
Which of these will you be adding to your culinary collection?
Also read: the best BBQ temperature controllers for your smoker
Joost Nusselder, the founder of Lakeside Smokers is a content marketer, dad and loves trying out new food with BBQ Smoking (& Japanese food!) at the heart of his passion, and together with his team he's been creating in-depth blog articles since 2016 to help loyal readers with recipes and cooking tips.