by Joost Nusselder
|
Last Updated: 
June 18, 2020
I love creating free content full of tips for my readers, you. I don't accept paid sponsorships, my opinion is my own, but if you find my recommendations helpful and you end up buying something you like through one of my links, I could earn a commission at no extra cost to you.
Learn more
Thermometers are a necessary part of the smoking process. Being able to tell the temperature of your meat helps you determine whether it is safe to eat and how tender, juicy, and flavorful it will be.
Many smokers have built-in thermometers. However, these really only tell you the air temperature in your cooker. They don't tell you the internal temperature of the meat.
That's why it's important to have a real meat thermometer on hand.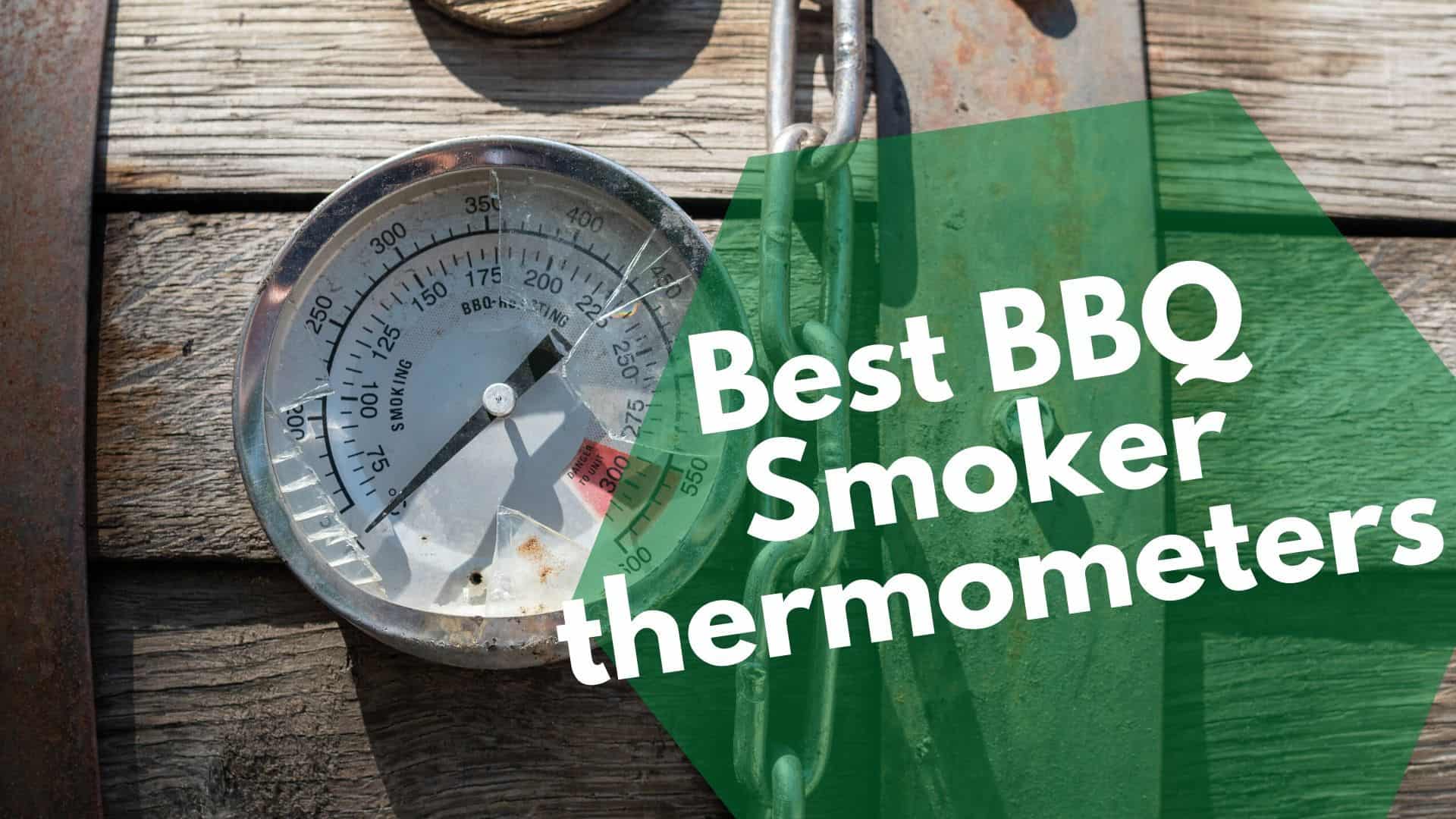 There are many different types of thermometers and the one you choose may depend on your personal needs and preferences.
In any case, this article will review the different types of thermometers so you can determine which is best for you.
So let's look at the top ones and then dive a little deeper into what you need to look out for when buying one:
What Should I Look for in a Barbecue Smoker Thermometer?
A barbecue smoker thermometer has a variety of features that can help make your culinary experience easier and more enjoyable. Here are some things you should look for in your thermometer.
Meat Probes: Thermometers will have a meat probe that can be inserted into the meat. The probe should be easy to use and designed to get accurate readings.
In some cases, thermometers will have two or more probes. Dual probe thermometers will use one probe to get the meat temperature and the other to get the ambient temperature in the oven.
Or one probe will do both jobs. If your thermometer has several probes, you can use the probes to measure the temperatures of various foods you are cooking.
Range: Thermometers should have a range that allows you to check the temperature of your meat without requiring you to get up to do so. Some thermometers even work with apps that will help you adjust them from far distances.
Display: The display on the thermometer should provide you with extensive information and it should be easy to read.
Design: The thermometer should have a rugged and durable design. It should also be waterproof and shockproof.
Settings: The thermometer should have a variety of settings to work on different kinds of meat. Settings should be easy to work with.
Best Barbecue Smoker Thermometers reviewed
Now that we have a clear understanding of what to look for in a smoker, let's take a look at what's out there.
Best Wireless Meat Thermometer: ThermoPro TP20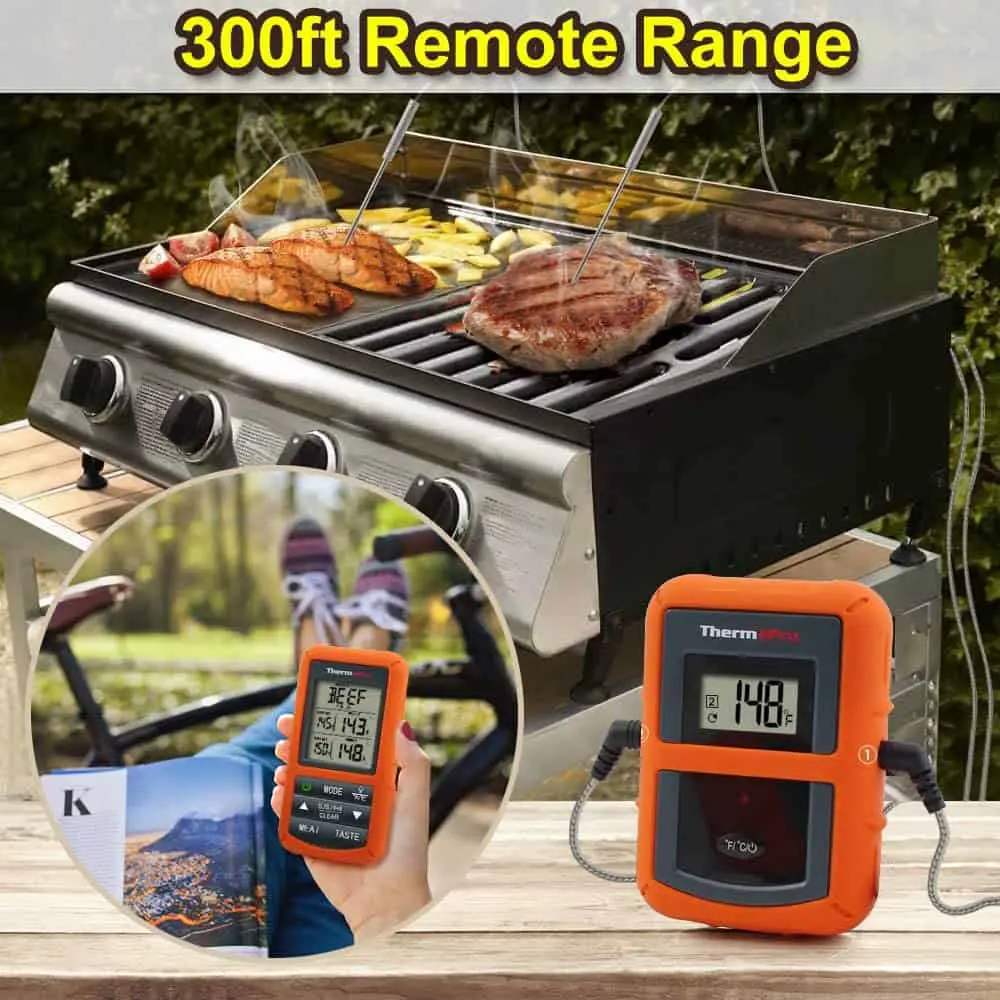 This thermometer is recommended for serious chefs. It has dual probe monitors that help you keep track of the temperature of your food from up to 300 feet away.
Set up is easy and it has a large LCD display that keeps track of food and oven temperature. A timer is also included. It has various settings for nine different types of meat.
It has a stainless-steel probe that gets deep inside meat and measures temperature accurately. It can withstand temperatures of up to 716 degrees.
Here' Bad Beast with the TP20:
Pros:
Easy to set
Large LCD display
Accurate temperature readings
Hands-free up to 300 feet
Works at high temperatures
Various settings
Timer included
Cons:
Does not take temperature accurately
Check out the latest prices here
Best Bluetooth Barbecue Smoker Thermometer: Lumsing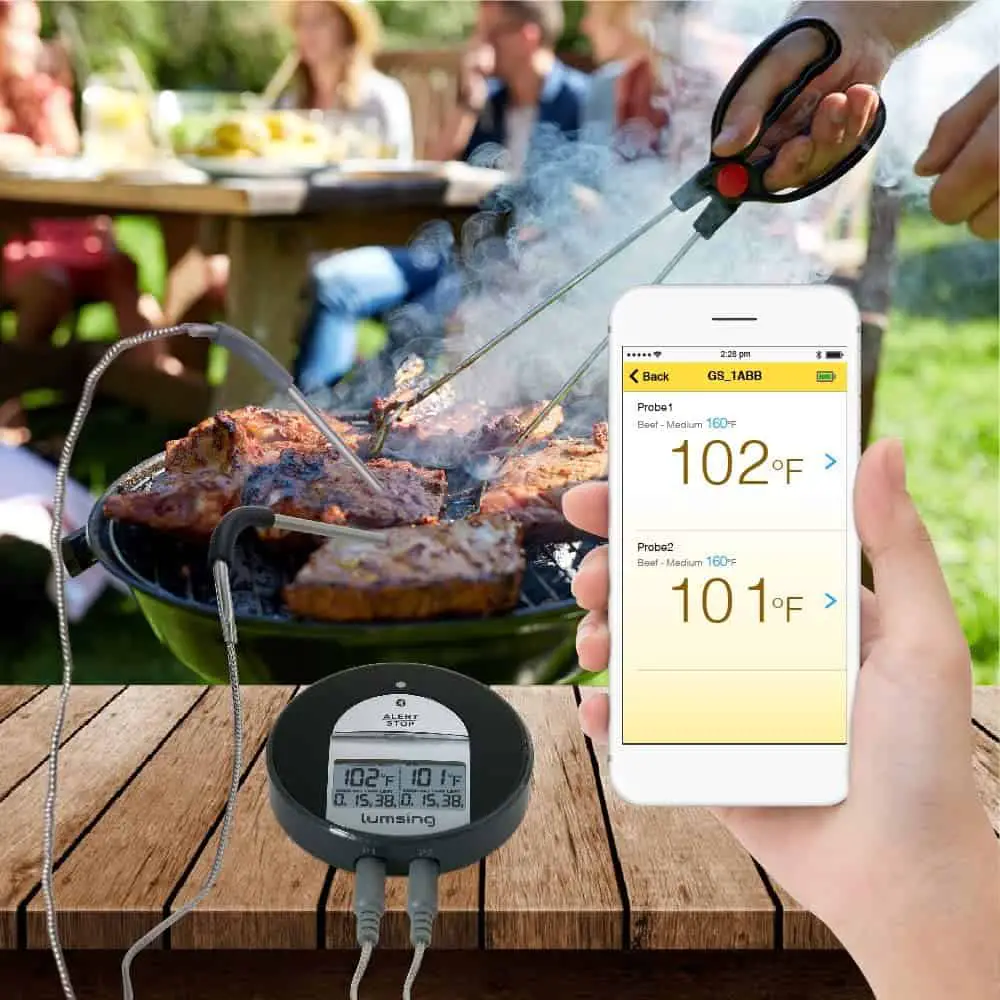 This remote thermometer must be used with a mobile device. It does not come with a receiver at all. Its LCD display will be visible when it is paired with an Android or iPhone.
However, those that are not technologically savvy will find that this is surprisingly easy to do. It can connect to a tablet, phone or laptop with Bluetooth and it updates regularly.
Therefore, you will only need to carry your device around with you to know exactly what's going on with your meat. Everything can be controlled through the app and this is very easy to do.
The transmitter goes to about 300 feet and the long cords on the probes make it easy to wander away from your barbecue.
The product is durable and it has a lifetime warranty. On the downside, it only withstands temperatures up to 482 degrees.
Pros:
Easy to set up
Hands-free up to 300 feet
Settings are easy to use
Works on a variety of devices
Works with Android and iPhone
Durable
Lifelong warranty
Cons:
Does not work with very high temperatures
Best Analog Barbecue Smoker Thermometer: Dozyant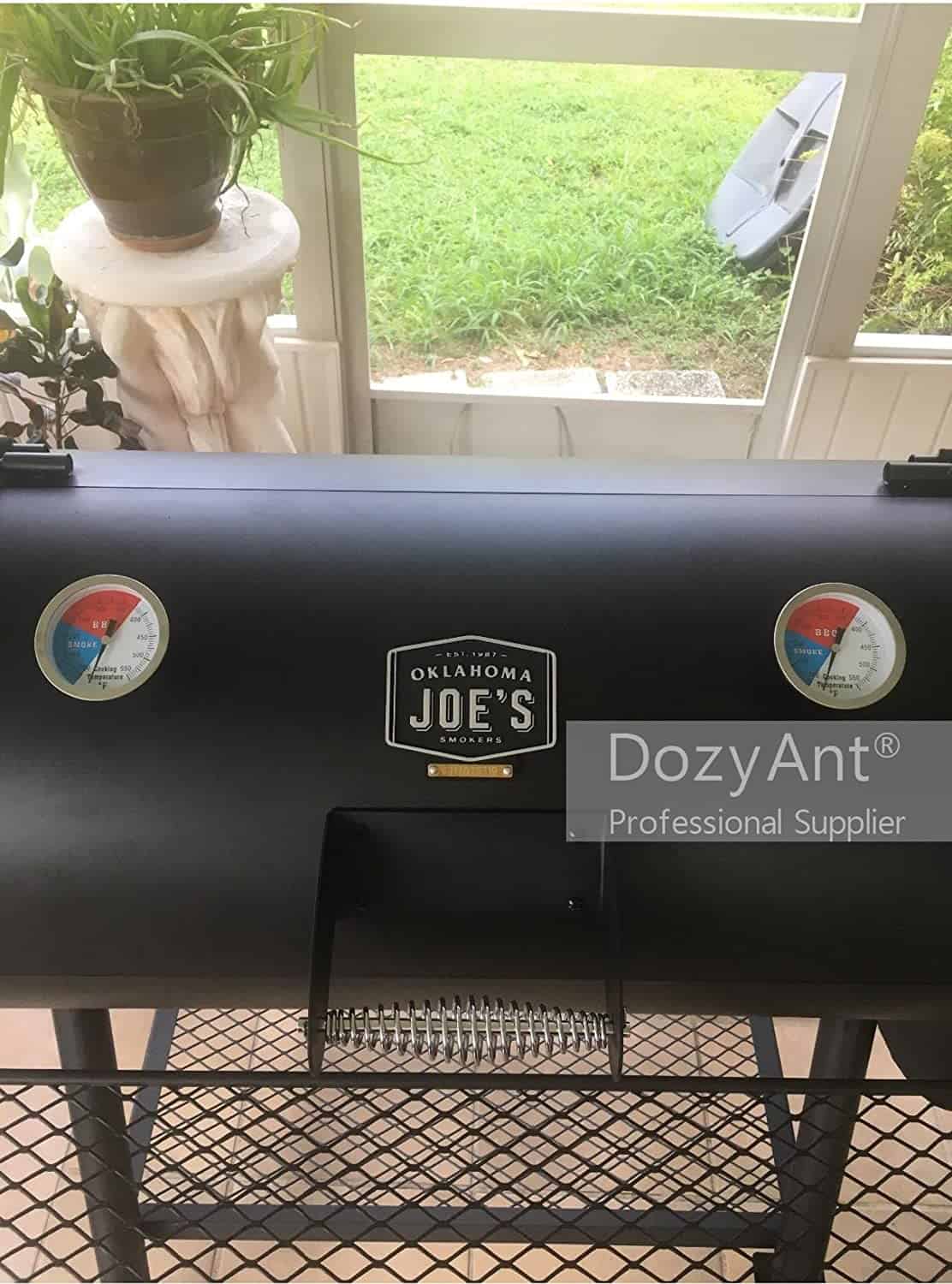 Analog thermometers may be a bit old fashioned, but they are an accurate way to determine the temperature of your meat.
What's more, some believe that these are preferable to other types of thermometers because they don't have delicate parts and probes that can melt in the oven.
At 3 1/8", the thermometer has a large face that makes it easy to read. It is also waterproof and it will not get foggy.
It is made of a durable stainless steel that is durable, food safe and environmentally friendly. It reads temperatures from 100 to 550 degrees and it is extremely accurate.
Pros:
Accurate
Durable
Food safe
Environmentally friendly
Eco-friendly
Parts won't melt in heat
Easy to read face
Water-resistant
Cons:
Needs calibration to be used
Not as accurate as advertised
Best Dual Probe Barbecue Smoker Thermometer: Inkbird IBT-4XS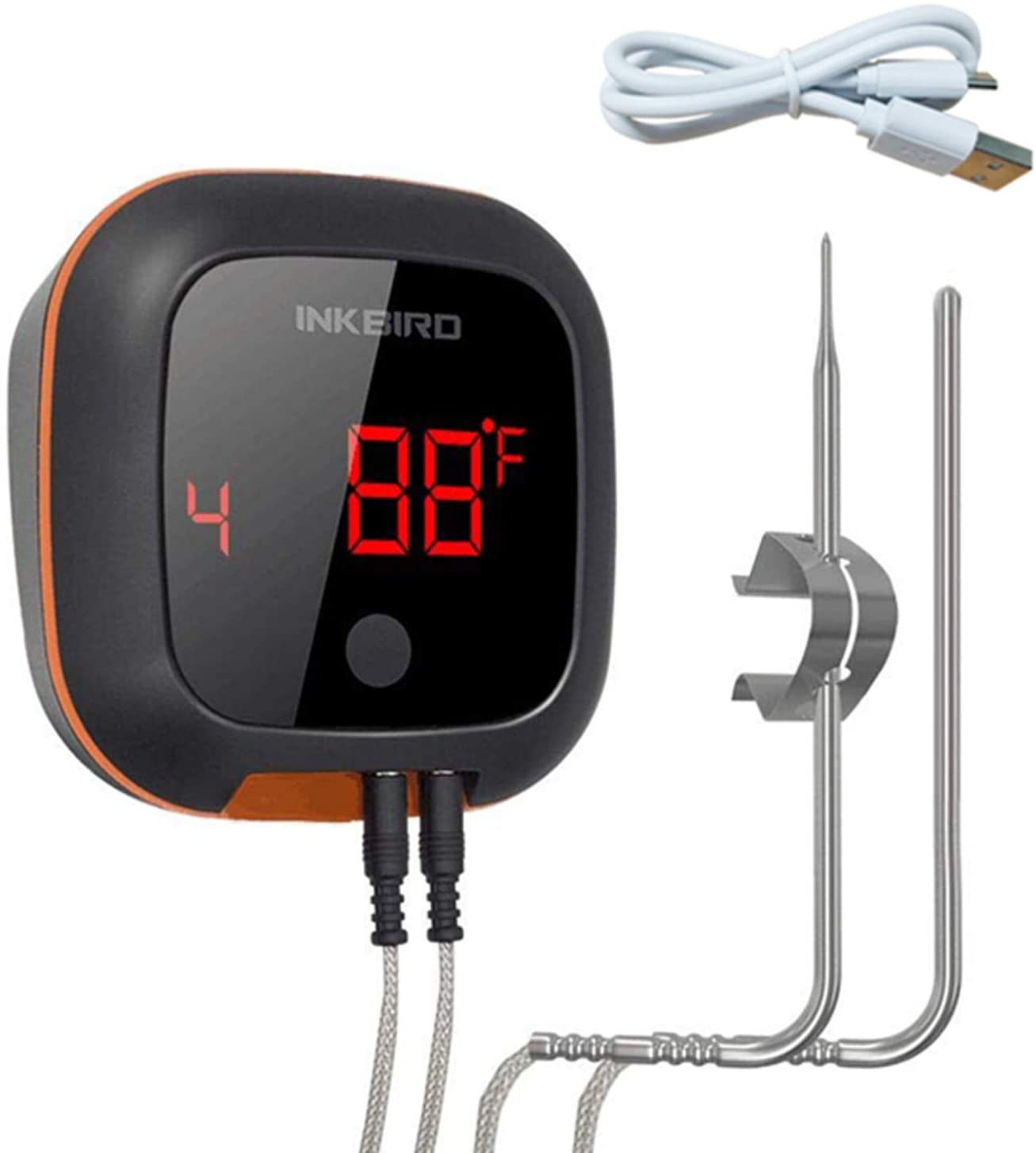 The probes of this thermometer click in so you can get an accurate reading. The thermometer has a magnetic design so it can easily be hung on metal surfaces.
It has a large LCD screen that can be adjusted with the touch of a button. The temperature value can be read on either side.
It has a rechargeable battery that can last 40 – 60 hours and it has a remote range of 150 feet. It has a graph that allows you to track temperature changes.
It can be used with an iPhone or Android so you can read your cooking temperature anywhere. The thermometer comes with 2 probes, one for meat temperature and one for ambient temperature.
It also comes with a USB charging cable, a probe clip, and a manual. It works in temperatures up to 572 degrees.
Here you can see Dave with his review:
Pros:
Long-lasting battery
Accurate
Can be used with an iPhone or Android
Has 2 probes for meat and ambient temperature
Large LCD screen that's easy to use
Clicks in place to provide an accurate temperature reading
Cons:
Probes are not accurate as advertised
Check out the latest prices here
Best Barbecue Smoker Thermometer for Chicken: Thermoworks Thermapen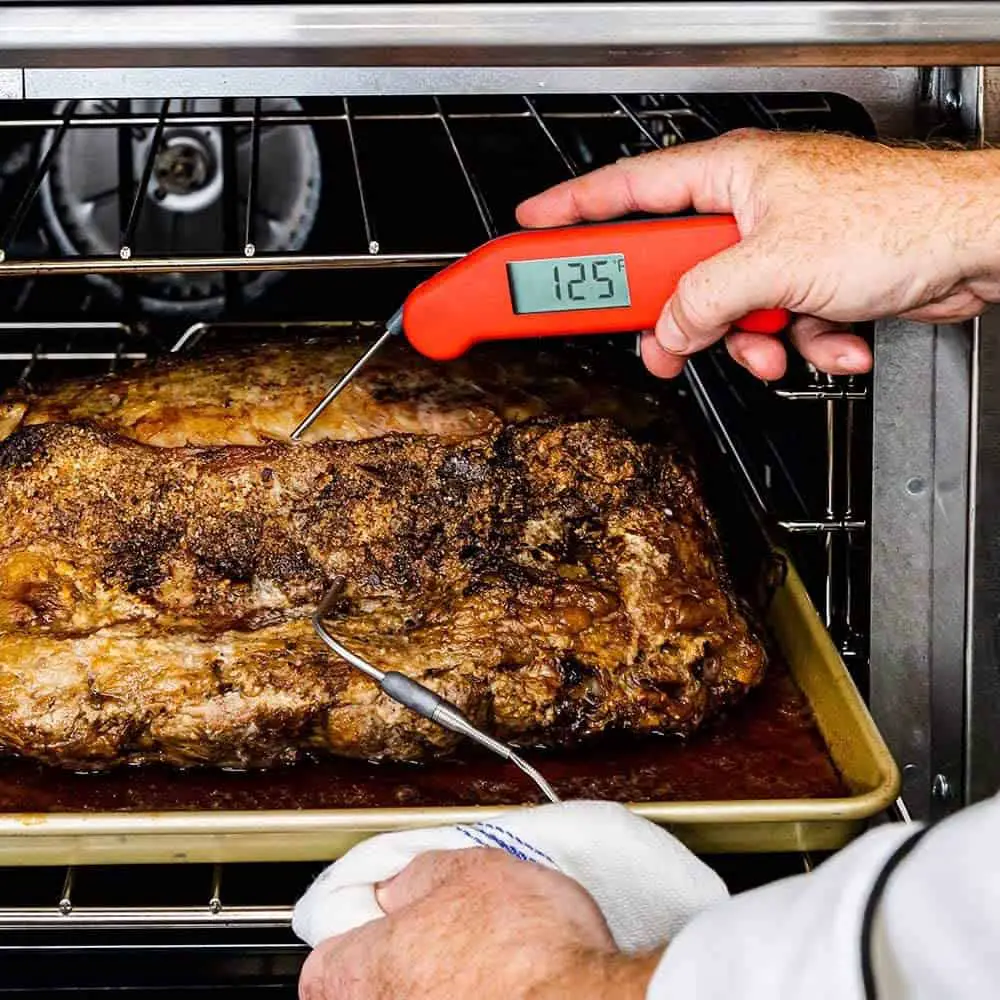 When cooking beef, you want to keep the thermometer inside the meat while it roasts to monitor its temperature at all times. This will be a good way to tell how moist and juicy it is.
When checking the temperature on chicken, however, you only want to stick the thermometer in quickly to make sure it's safe to eat.
It is for this reason that an instant-read thermometer will be more suited to your needs.
With this in mind, the Thermapen Mk4 is the perfect tool. It reads temperatures in 1-3 seconds with a less than one-degree deviation.
It is a large auto-rotating display and a magnet for easy storage. It has a durable build and superior quality.
Here is Thermoworks working with some pros on their temperature setup:
Pros:
High quality
Quick and accurate readings
Large LCD screen
Easy to use
Cons:
Occasionally stops working after a few months
Expensive
Best Barbecue Smoker Thermometer for Beef: Maverick ET-733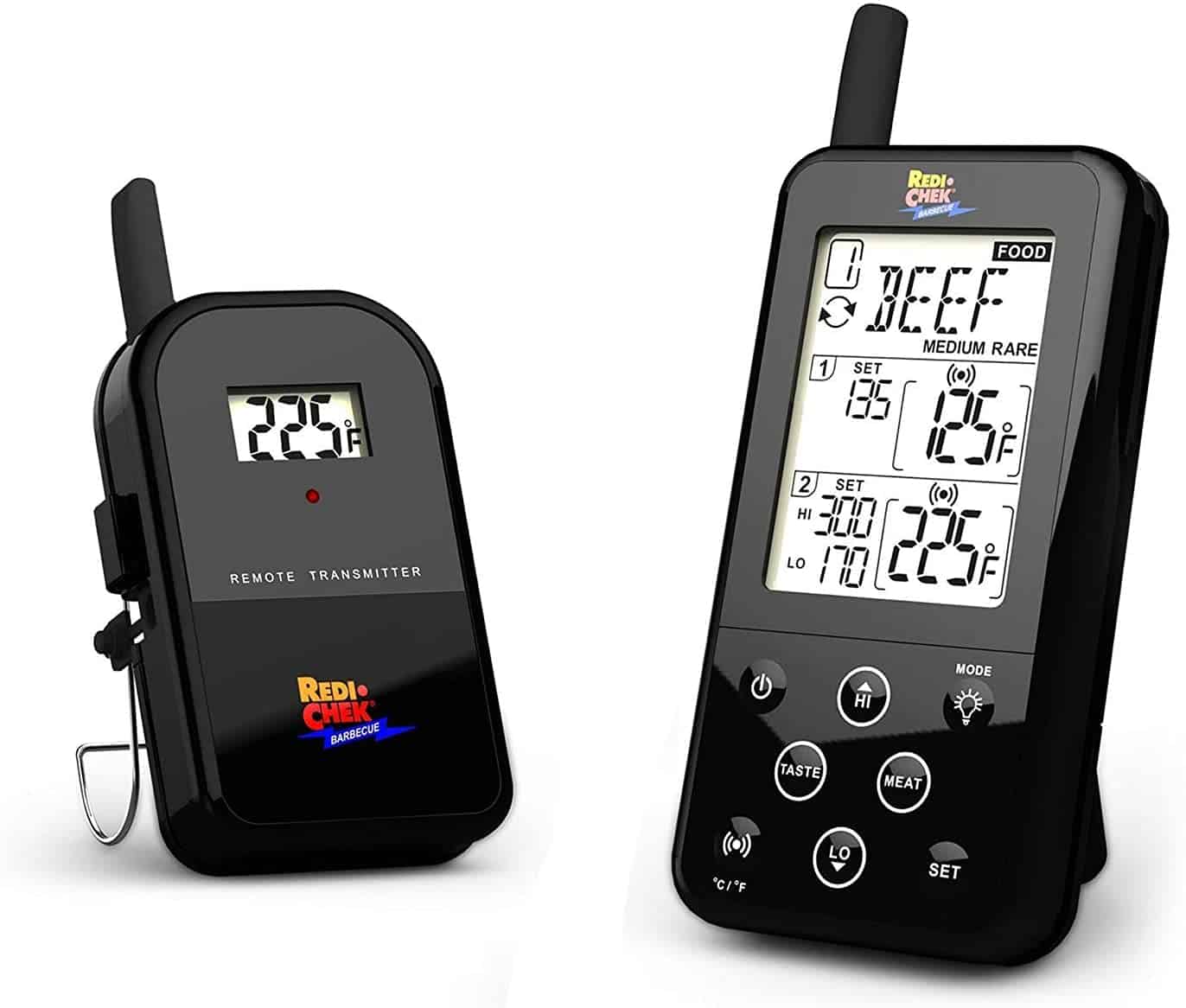 This Maverick thermometer has a slower probe and read time which makes it more suitable for beef. It also has other features that put it over the top.
These include a backlit screen that shows extensive information on how your meat is doing.
It has 2 hybrid probes, easy to use controls and preset temperatures for the various types of meats you are smoking.
It is wireless and can monitor temperatures from 300 feet away and it will alert you when the meat goes above the programmed temperature.
It will also alert you when the thermometer goes out of range. Its probes are three feet long, they can be used at temperatures up to 716 degrees and you can monitor 2 foods at once.
Here's StokedonSmoke with their review:
Pros:
Two probes for different foods
Easy to use
Sends alerts when temperature is excessive and when you are out of range
Reads at high temperatures
Large screen with a wealth of information
Preset temperatures for meat
Cons:
Slow read times make it impractical for certain kind of meat
Runs on batteries and battery change may be complex
Check prices and availability here
Best Cheap Gauge Smoker Thermometer: Newstart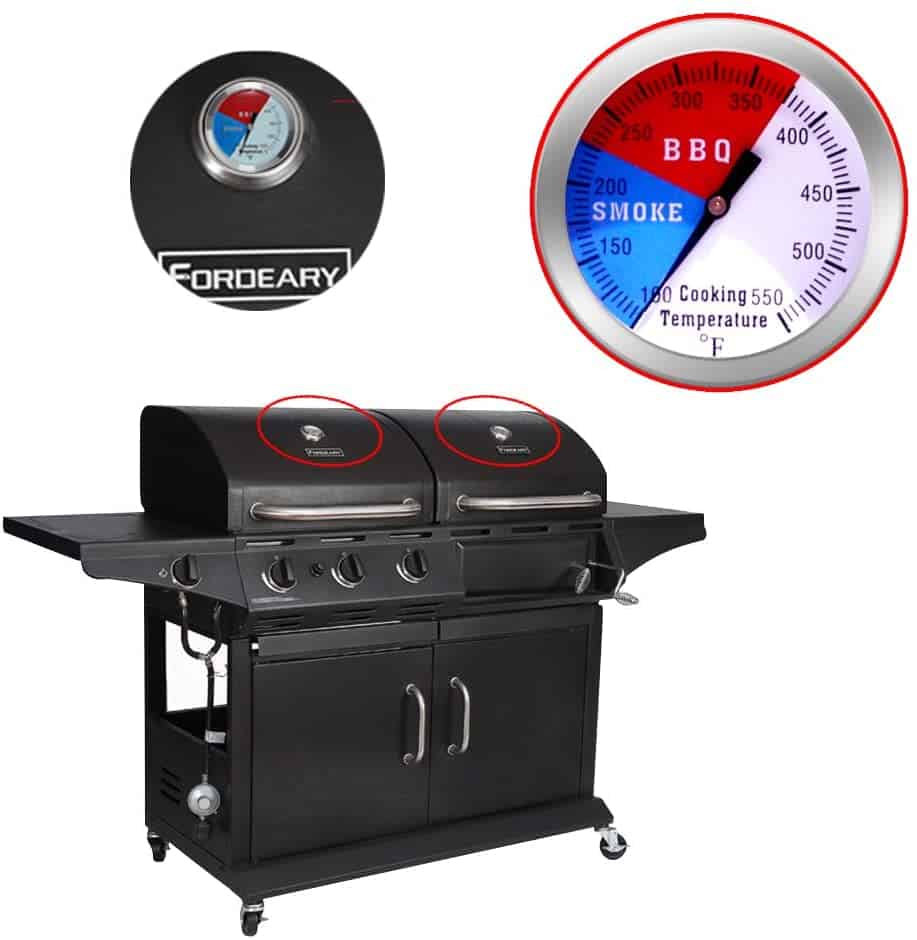 This two piece temperature gauge has large degree scales that make it easy to read. Its color-coded zones let you know whether you are in the smoke, BBQ, or grill range.
The thermometer works in temperatures that range from 100 to 550 degrees and provides accurate readings. The casing is waterproof and will not get foggy.
The screw thread and wing nut make for easy mounting and easy use. It is made from a high quality, hypo-allergenic and food safe stainless steel.
In addition to being used for smoking meats, it can also be used in the machine industry, the chemical industry, the medical industry, the light textile industry, and more.
Pros:
Easy to mount
Easy read face
Water-resistant
Can be used in a variety of industries
Durable design
Cons:
Not as accurate as described
Takeaway
Although the differences in features and functionalities make these thermometers difficult to compare, if we had to choose one, it would be the ThermoPro TP20 Thermometer.
Although it is expensive, its many bells and whistles put it over the top.
If you enjoy smoking meats, the right thermometer can make all the difference when it comes to getting the results you are looking for.
Which of these will you be adding to your culinary collection?
Also read: the best BBQ temperature controllers for your smoker