I love creating free content full of tips for my readers, you. I don't accept paid sponsorships, my opinion is my own, but if you find my recommendations helpful and you end up buying something you like through one of my links, I could earn a commission at no extra cost to you.
Learn more
Oysters are a great alternative to your classic smoked meats. They are light, delicate, and have a distinct flavor that seafood lovers are sure to enjoy!
Once ready, oysters are juicy, firm, and mildly smoky.
Smoked oysters can be served as smoked appetizers, snacks, chowders, or combined with rice and pasta as main dishes. To get the most flavor, you must choose the right wood for smoking.
In this post, I'll discuss the top choices and which to definitely avoid.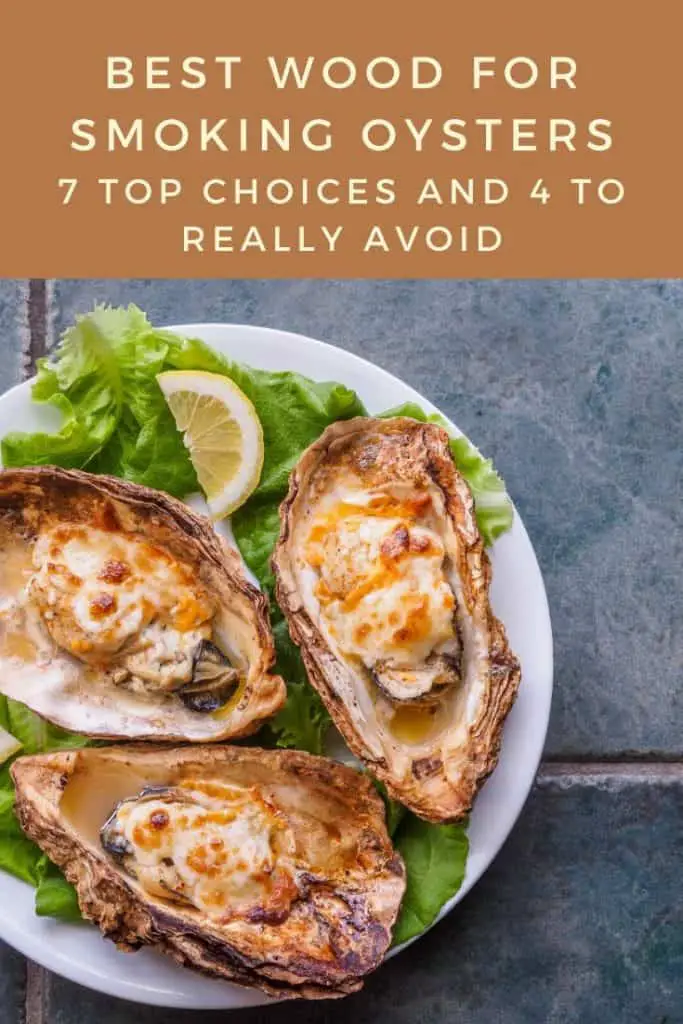 In this post we'll cover:
Best wood for smoking oysters
The two main types of wood to use are fruit woods or light to medium hardwoods. Seafood is best complemented by aromatic woods like fruitwoods.
It's easiest to use wood chips because logs burn for too long, and the smoking time for oysters is relatively short.
You can soak your wood chips in water for about one hour when smoking oysters and fish.
Fruitwoods
Fruit woods are an excellent choice because they offer mild or medium flavored smoke, which is ideal for seafood. If you are using logs, you don't need more than two pieces of wood.
The best wood for oysters are:
Apple – this light wood has a mildly fruity and sweet taste, but it has the most intense flavor of fruit trees.
Cherry – this light wood has a mild fruity taste but is less sweet than apple and works well as a smoke wood for all types of meat.
Peach – many smokers prefer peach when smoking oysters because it has a woodsy flavor that complements seafood very well. The taste is medium in intensity and slightly sweet and makes oysters tender and juicy.
Apple is also one of my top choices for smoking a nice rib roast as you can read here.
Hardwoods
You can also use hardwood logs and chips to smoke. As long as you don't choose very strong flavored wood, you'll get good results.
Alder – this wood has a mild, light flavor. It works well with oysters because it gives a herb-like taste to the meat and a hint of sweetness.
Beech – this wood is considered universal smoke wood because it has a neutral to mild smoke flavor, which allows the natural aromas of oysters (or any other meat) to come through.
Oak – try using oak that's been soaked in whiskey for extra flavor. This wood gives that classic "smoky" flavor and doesn't have a harsh aftertaste.
Cedar – this wood is commonly used when smoking seafood because it has a strong flavor that pairs well with the taste of oysters.
Once you've chosen your flavor, place the flavored wood into the heating element of your cooking device.
The wood should start to smoke for a few minutes before you place your oysters.
How to prepare oysters for smoking
The first thing to do before smoking is to ensure that your oysters are fresh. They should be hard to shuck with your oyster knife.
You have to wash oysters in cold water,
then boil them in hot salty water for about 3 minutes or until they all open up.
Strain the oysters and liquid to remove any debris or dirt.
With an oyster knife, remove the oyster and its scallop from the shell.
If you want the most flavor, marinate oysters in a salty broth.
To season oysters, it's best to keep it simple: salt, pepper, garlic, and butter because those ingredients will not overpower the seafood flavor.
Which woods to avoid when smoking oysters
Avoid any strong-flavored hardwoods and coniferous wood, which contains lots of resin. Using strong woods will overpower the flavors of the oysters, and they won't taste as good.
These are the woods you definitely want to avoid because their smoke is too heavy and intense for oysters and may make the meat taste bitter:
Hickory – the flavor is too overpowering and bitter.
Mesquite – with this wood, the oysters will taste too smoky.
Pine – contains toxic resin.
Lemon – the taste of lemon goes well with seafood, but the smoke of lemonwood will actually ruin the taste of oysters.
How long do you need to smoke oysters?
Before you begin smoking, add a grate to make sure your oysters don't fall through. The ideal temperature for smoking oysters is between 200 – 250 degrees Fahrenheit, so you want to make sure your grill or smoker is at that temperature before you place your oysters and smoke them for 40 minutes.
They must not be placed directly on the heat source because they are delicate, and the goal is to smoke them, not fry them.
The oysters are ready in approximately 30 minutes, but you must check them and let them smoke for an additional 10 minutes if they don't appear to be firm.
A simple trick is to fill oysters with butter when you start smoking them and make sure that the butter does not evaporate. If it starts to disappear, your oysters are well done and ready to serve.
Enjoy oysters with an excellent mignonette sauce or as the main delicacy of your next BBQ. When you use the best light woods, seafood fans will be delighted with your smoked oyster.
What do smoked oysters taste like?
It really comes down to what smoked oysters recipe you follow and the type of wood you use, just as with any bbq.
That being said, if you smoke oysters with a subtle and sweet flavor like cherry wood or apple, the final taste will likely be sweeter. 
Similarly, if you use a bit nutty, or let's say, smoky wood like oak, hickory, or pecan (which, by the way, I wouldn't recommend for such a light food), then they are probably going to be smoky, or maybe even bitter. 
However, that was just the story of fresh oysters.
If we talk about the canned ones, the taste might come off completely different, especially for those who are used to eating freshly smoked oysters.
To describe the taste for you, it's more salty and smoky with a particular essence of added soybean that doesn't seem to complement the overall flavor much.
If we compare both, I will go for freshly smoked oysters any day.
They taste much better while giving you the flexibility to choose the suitable wood and recipe as per your liking, something not the case with canned oysters. 
Also find out what woods I would recommend for smoking eel to get the best out of this fish
What is the recipe for smoking oysters in the shell?
There are many ways you can smoke fresh oysters with the shell on.
Some like to add a pinch of butter to bring out the natural flavor of oysters, while others want to spice it up with a touch of tasty sauces. 
But hey, the bottom line is, that nothing is more beautiful and tasteful than smoked oysters in the shell.
Easy smoked oysters in the shell recipe
Following is a great recipe you can follow to make a deliciously smoked oysters dish.
Ingredients  
12

fresh and cleaned oysters in the shell

2

pinches

of salt

2

tablespoons

of Worcester sauce or hot sauce
Instructions 
First of all, preheat the electric smoker to 225 degrees.

Shuck oysters and then add them to a bowl along with liquor.

Add salt and let it marinate for at least 20 minutes.

Wash half of the total shells and drain liquor from the oysters.

Now place a single oyster on each half shell.

Place each shell on the smoker grate and let it stay there for a cook time of 1 hour.

Once ready, top each oyster with an optimum amount of Worcester sauce or hot sauce, and you've got yourself some deliciously smoked oysters!
Notes
Recommended woods: For this specific recipe, you can use any fruitwood, like cherry wood and applewood. The goal is to give the oysters a mild, subtle hint of sweetness, just enough to complement their natural taste. 
Conclusion
Smoked oysters are one of the most delicious and versatile dishes out there. You can serve them as an appetizer, a snack, or even as a seafood chowder; they'll taste as good.
In this article, we discussed everything you need to know about smoking oysters.
Now you know what type of woods to use for smoking oysters, which ones to avoid, and a great recipe you can use to make a delicious oyster dish for your family and friends.
Also read my post that explains (step-by-step) how to use an electric smoker
Joost Nusselder, the founder of Lakeside Smokers is a content marketer, dad and loves trying out new food with BBQ Smoking (& Japanese food!) at the heart of his passion, and together with his team he's been creating in-depth blog articles since 2016 to help loyal readers with recipes and cooking tips.