I love creating free content full of tips for my readers, you. I don't accept paid sponsorships, my opinion is my own, but if you find my recommendations helpful and you end up buying something you like through one of my links, I could earn a commission at no extra cost to you.
Learn more
Grilling is a great way to sizzle up your get-togethers this summer. One of the best types of grills for outdoor use is the Weber charcoal grill. It's such an excellent investment, especially if you are fond of hosting outdoor parties and get-togethers.
But just like any device, your charcoal grill can get dirty over time. Ashes build up and it may develop some rust. This is why it's crucial that you know how to clean weber grill properly.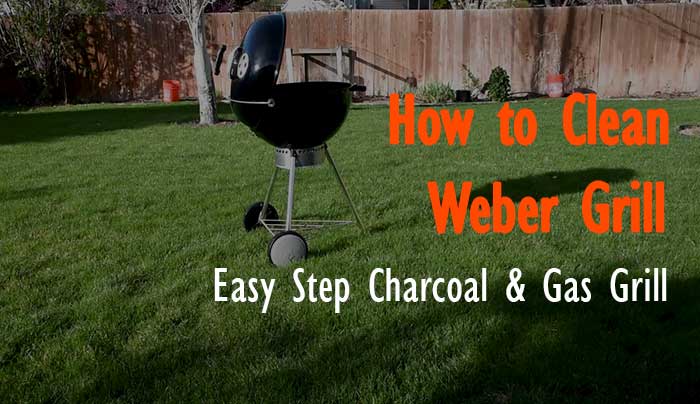 How to Clean Weber Grill
Cleaning your grill can help it to last longer and will make your grill taste better. Above all, it makes the process of grilling safer. So here:
How to Clean Weber Charcoal Grill
Wipe the Grill with Paper Towels
First, use paper towels to wipe away the grill. Although the interior part of the grill's lid is coated with a porcelain enamel and doesn't peel, small debris could occasionally get into it and must, therefore, be wiped. As you use your grill, some grease deposits and smoke could accumulate on the area so that part should be wiped clean.
Wipe the Inner Part of the Bowl
It's important that you clean the inside part of the bowl and you can do this in two easy steps. First of all, apply the one-touch system when cleaning the debris and ashes that have accumulated in the bowl. Second, remove the leftover residue with the help of steel wool pad and liquid dish soap.
Clean the Cooking Grates
Cleaning the grates is easy. You can do it right before you start grilling. First, preheat the grill by opening the vents. Then set the grill at a high temperature for about 10 to 15 minutes. Use stainless steel wire brushes in removing any excess debris off the grates. This is an important step since any of the residues could stick into the food that you are grilling, which is unhygienic.
Wipe the Lid Properly
While the grill is still cool to the touch, wipe the bowl and the lid properly. Use a glass cleaner for this or perhaps a mild detergent soap. This is to remove any excess debris and bring back the original and spotless condition of your grill.
Don't Forget the Ash Catcher
Many times, people tend to forget to clean the ash catcher, but it's important that you also wipe this part clean. There are times that some residue would get in there and there are instances that the lighter fluid will spill in the area.
How to Clean Weber Gas Grill
Easy step by step you can follow how to clean your weber gas grill
Take your wire brush and scrape out the deposit of grease and smoke inside of the lid. Then wash with soapy water throughout the area and wipe it out a paper towel or rag. The purpose of that is to get any built up carbon a scrape it off so that way it doesn't rain down on your food, which isn't very appetizing.
Take a wire brush and scrape down the grill grates. Then take them out and wash them with soapy water, make sure that you have wash another side too. This is the part that you probably don't do very often, and it's good to get that out to get rid of the extra carbon and keep it from getting on your food.
Remove the flavorizers bars you will see the burner tube Next, clean out your burners by going perpendicular the tube do not brush lengthwise across the hole as this will only push debris from one hole to another.
Remove the deflectors out if the grill has then wash flavorizers bars previously removed and deflectors with soapy water. Use scraper scrape excess grease that is smeared throughout the area as much as possible into the bottom tray.
Go to underneath the grill. Remove the bottom tray and scrape inside the tray with a plastic scraper remove the greased pan and then wash bottom tray and catch pan with soapy water. Replace the greased pan with a new one. If your grill has warming rack wash with soapy water carefully, don't scratch it.
Wash grill exterior with soapy water rinse and wipe dry with towel paper or rag. For stainless steel part may use a stainless steel cleaner or soapy water then wipe dry with a cloth. Remove the knob in front of the grill then spray it with simple green and then wipe them down with a paper towel then put the knob back
Note: Don't use abrasive to clean exterior will scratch you finish
Can You Use Oven Cleaner on a Weber Grill?
Yes, you can use the oven cleaner in cleaning the interior portion of the grill but avoid spraying it on the exterior area as this could damage its enamel finish. Spray the cleaner on the grates and leave it there for up to 30 minutes to soften the grime. Afterward, wipe the grill clean using paper towels.
How Do You Deep Clean Grill Grates?
Use a mixture of baking soda and vinegar to deep clean the grates. This is to soften the burnt food and remove it easily. Simply add a cup of vinegar to two cups of baking soda and mix well in a garbage bag. Use a rubber band to seal the garbage bag into the grate. Then eventually remove the grates and rinse it with water. If there are still some residues left, brush them up with a grill brush.
How Can I Make My Charcoal Grill Last Longer?
The best way to ensure that charcoal grills will last longer is to clean and maintain them regularly.
How Do You Clean a Dirty BBQ?
Simply wipe your dirty BBQ grill with a soft sponge that's soaked in soapy water. Remove the grill grates and the drip tray and wipe them as well.
Also read our how to here
Joost Nusselder, the founder of Lakeside Smokers is a content marketer, dad and loves trying out new food with BBQ Smoking (& Japanese food!) at the heart of his passion, and together with his team he's been creating in-depth blog articles since 2016 to help loyal readers with recipes and cooking tips.