I love creating free content full of tips for my readers, you. I don't accept paid sponsorships, my opinion is my own, but if you find my recommendations helpful and you end up buying something you like through one of my links, I could earn a commission at no extra cost to you.
Learn more
A clean grill is a must and it's not just about the aesthetics – there's plenty of arguments in favor of keeping your grill clean, especially the grill grates.
After each cooking session, there are food remains and grease left that you should remove preferably when you finish or alternatively before you start cooking again.
Ignoring this responsibility will lead to a gradual accumulation of impurities, which will make your situation increasingly worse.
At the first glance, a grill brush is a simple tool, but what kind of brush you use to clean your grill matters a lot. The right bristle and structure will make cleaning not only easier and more effective but also safer.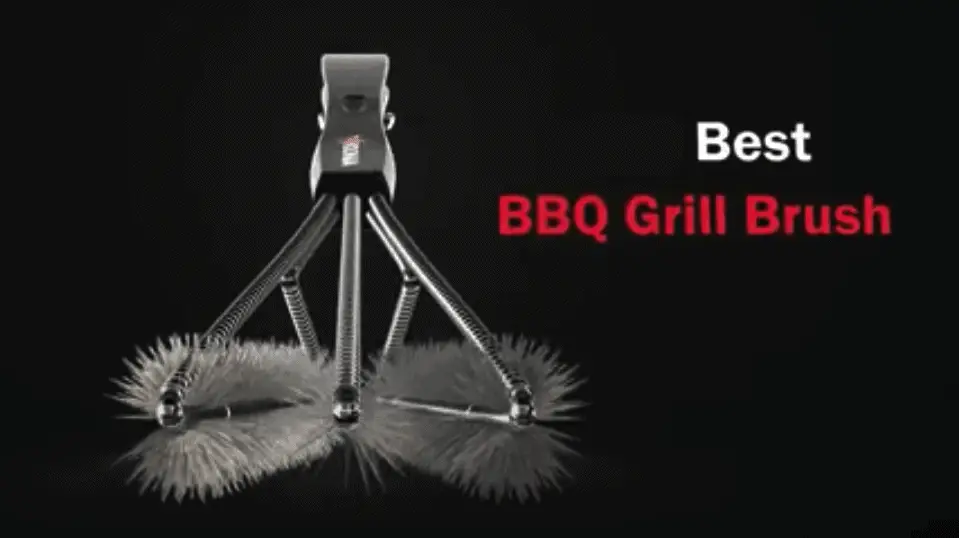 My top pick grill brush is the Kona 360° thanks to the excellent structure of the bristles, the lengthy warranty, and the quality of workmanship as well as the affordable price.
Here is a list of my other top options to help you choose the right grill brush for you:
Tips for buying a new grill brush
Take your grill cleaning seriously and choose the right brush based on your grill type and grate design.
Here are three aspects to consider when choosing the best grill brush for you.
Compatible with your type of grill
If your grill grate is made of steel, then there's nothing to worry about – whatever brush you choose will be fine.
However, a lot of the pricier grills come with grill grates that are covered with porcelain or enamel. In such a situation, your grill brush bristles MUST be safe for that material.
A porcelain or enamel coating is fragile and prone to scratches, and chipping flakes might stick to the food or make the grate lose its "non-stick surface", so you really do want to be sure to get the right brush.
Sturdy bristles
A strong set of bristles is another very important thing when choosing a grill brush. Focus on proven manufacturers, especially if you can't test the brush yourself.
The bristles shouldn't be loose and prone to falling out, as this can lead to dangerous situations which have been all over the media in recent years.
Check the reviews on the product to see how other people experienced the product before you click 'buy'.
Handle length
The best time to clean your grill is while it's still hot. But you can risk burning yourself if the handle of the grill brush is too short.
Make sure the handle is at least 18 inches long to ensure your hands are well protected, while at the same time offering you a good grip and manageability.
Once you've cleaned your grill, it can be a good idea to season it again. Here's how you do it
The 3 best grill brushes reviewed
There are many types of grills and many types of grill grates. They differ in the materials they are made from, and their overall design.
In order to make cleaning as effective and safe as possible, it is necessary to choose the right brush. I have listed what I believe to be the three best grill brushes for most grills.
Read the reviews below to help you select the one that fits your grill the best.
Best overall grill brush: Kona 360 Stainless Steel 3-in-1 Grill Cleaner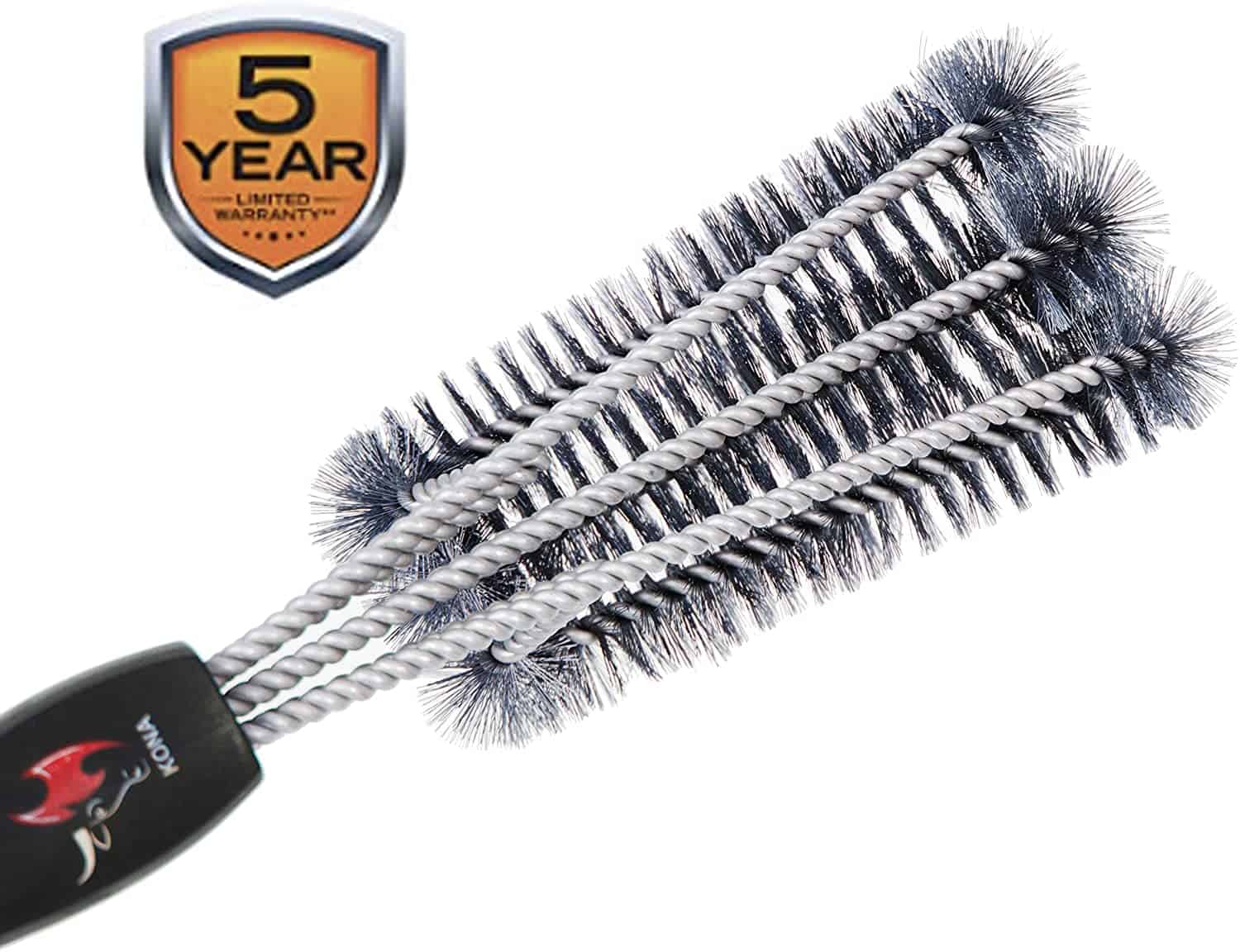 The Kona 360 is a well-designed brush that can clean faster and better than most competitive models on the market.
This is thanks to the perfectly thought-out structure of the bristles which can reach further than most regular bristles.
There are three sets of them that make cleaning easier and faster, and they are super strong, so they will tackle burnt-on grease with ease!
Another distinct advantage is a long handle – 18 inches. This extra length makes efficient and convenient cleaning possible while protecting your hands from the hot grill.
The manufacturer claims that the brush's bristle is fully safe for every type of grill grate, even porcelain-coated ones. This means you don't have to worry about destroying your grill grate when you use the Kona 360.
See Kona introduce the grill brush here:
It is worth noting that the Kona 360 brush is covered by a 5-year warranty against malfunctions not arising from normal use.
The brush from the Kona manufacturer has earned popularity and trust. When you read the number of positive reviews (and my own positive experience), you get the sense that people are happy with the product.
It is clearly one of the best brushes on the market in terms of quality of workmanship, effectiveness, and price.
Features
Compatibility: The manufacturer claims that the brush's bristle is fully safe for every type of grill grate, even porcelain-coated ones.
Sturdy bristles: There are three sets of bristles that makes cleaning easier and faster, and they are super strong, so they will tackle burnt-on grease with ease
Handle length: A safe 18-inch handle
Best nylon grill brush: Char-Broil Replaceable Head Nylon Bristle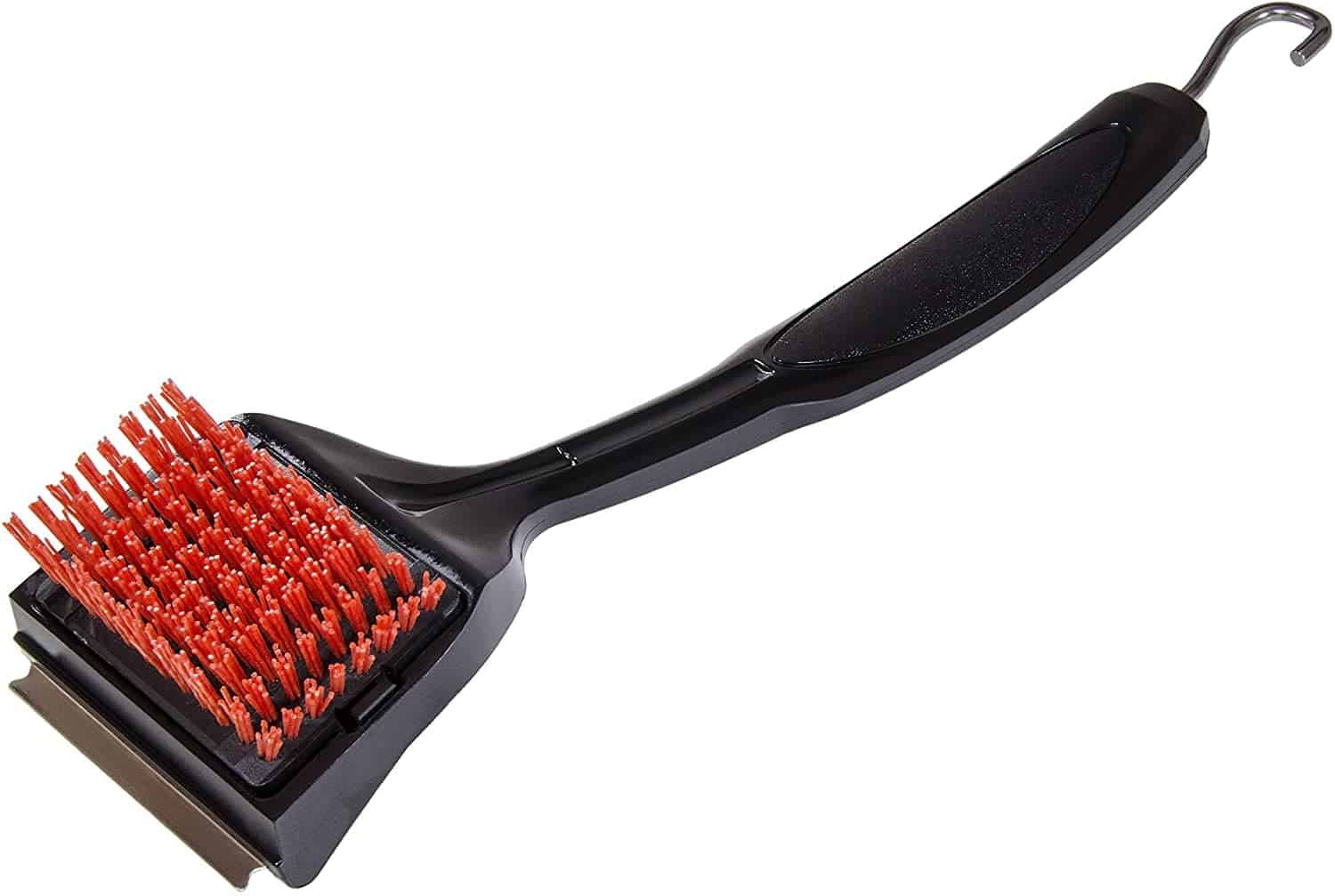 Some people are wary of having a wire-bristled grill brush in case kids or animals hurt themselves on the bristles.
If you are nervous about using a grill brush with wire bristles, then this next one is for you: the Char-Broil SAFER Grill Brush is a nylon-bristled product that packs a punch in terms of its cleaning ability.
It also comes with replaceable heads, so if one wears out you can just pop a new brush head on instead of buying a whole new brush.
These brushes have been lab-tested to 15,000 cycles with no breakage, so you shouldn't need this anytime soon, though.
The nylon bristles are bright red and five times thicker than other brands, making them good for safety and visibility, and the brush is ideal for cleaning all grate types, including porcelain.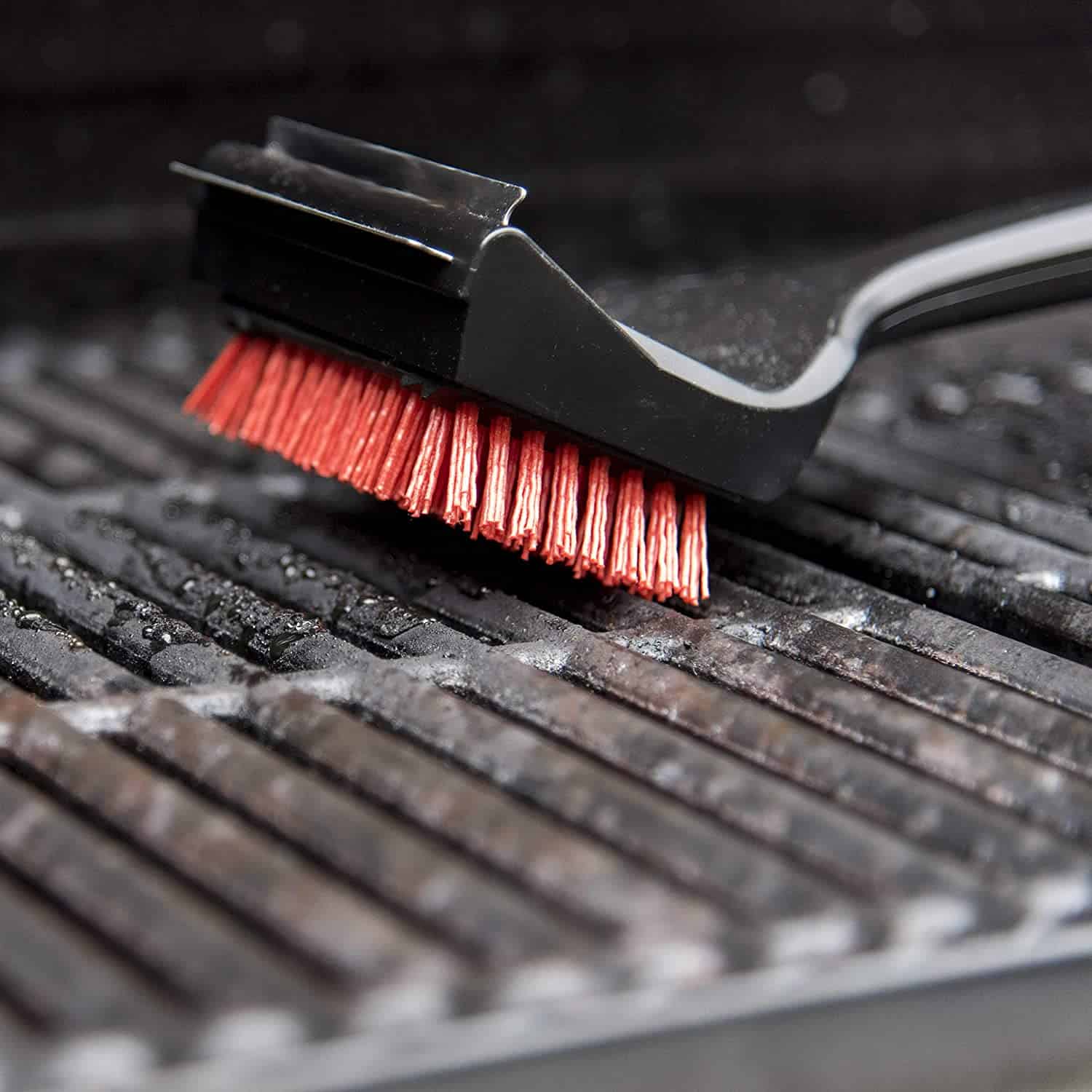 It has an added scraper for 'tough to clean areas' where dirt may be burned on, and the heavy-duty tool hook doubles as a grid lifter and under-wire scraper.
The only thing to note about this product is that it's only good for cleaning cool surfaces, as the nylon will melt if heated. Otherwise, a great option.
Features
Compatibility: The brush is ideal for cleaning all grate types, including porcelain.
Sturdy bristles: The nylon bristles are bright red and five times thicker than other brands, making them good for safety and visibility. There's an added scraper for the tougher dirt
Handle length: A safe 18-inch handle
Also have a look at my review of the Char-Broil The Big Easy TRU-Infrared Smoker Roaster & Grill
Best budget grill brush: Alpha Grillers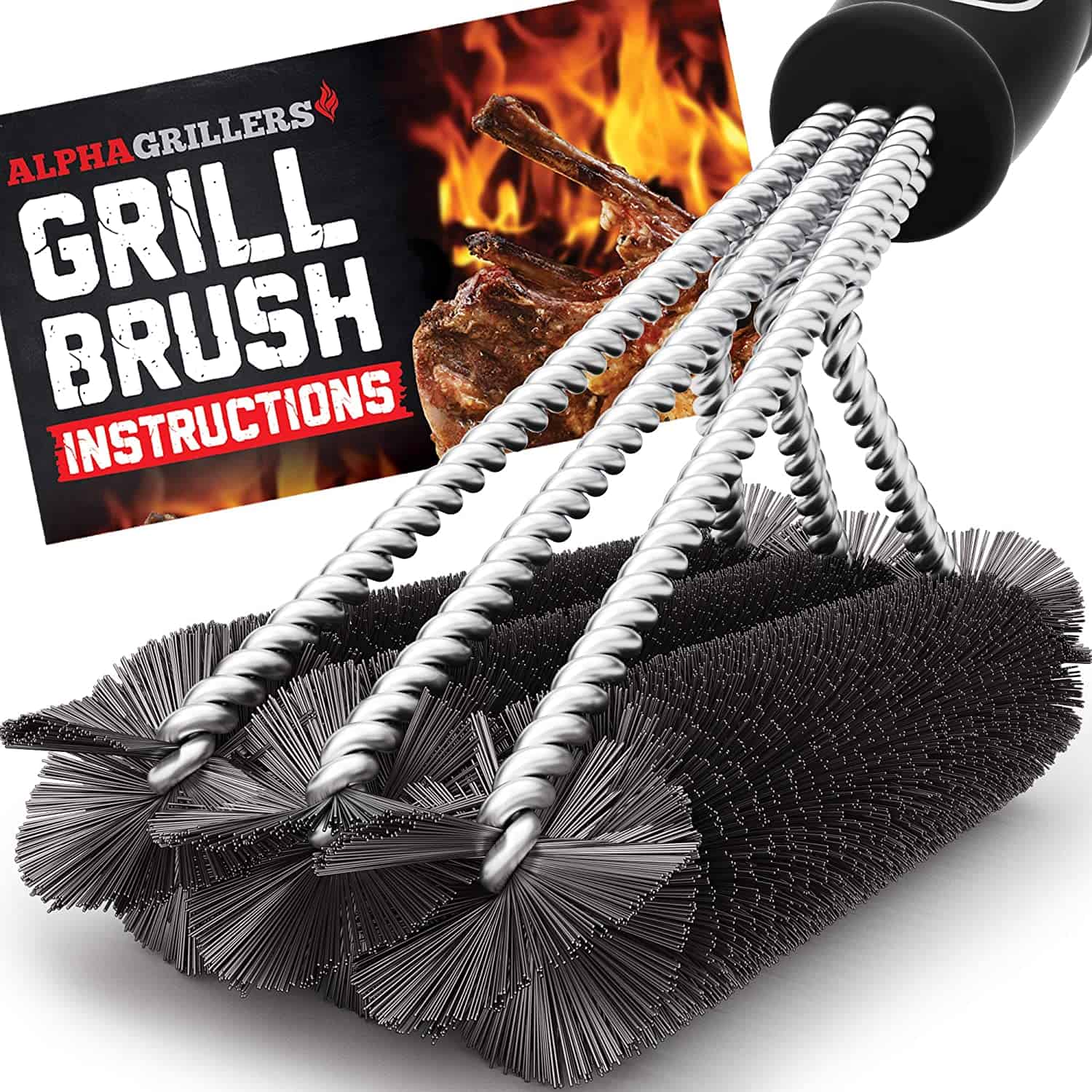 The Alpha Grillers Grill Brush is a bit more budget-friendly than my number 1 choice and also a great option.
The bristles are wire, and there are three of them, but instead of being mounted sideways, they are mounted vertically, meaning that all of your elbow grease goes directly into cleaning the grate.
The handle is long and super securely mounted, too, meaning that no amount of pressure will be too much for the brush to handle. This means that there's no excuse for a dirty grate anymore, and that results in better tasting, healthier meat.
The handle's length is also advantageous, making it possible to easily and safely clean an extremely hot grill.
The brush's bristles easily reach further than a regular brush, getting between the gaps in the surface of the grate. This helps to clean the sides and bottom of the grill, rather than just the top.
In practice, the brush works brilliantly. The 3 in 1 structure and the good quality of the bristles make it a very effective product in the right hands.
Check out this video showing you how to effectively clean a grill using this type of brush, so you can see how easy it is:
I placed this model on my list of recommended brushes due to its quality, design, and most importantly price.
And if you want to see how other people feel about it, just look at the number of positive reviews from owners of this brush to see that it's no joke.
Features
Compatibility: It will work perfectly on all grate types, including porcelain, stainless steel and cast iron
Sturdy bristles: With 3x the surface area of a standard grill brush, packed full of rust proof stainless steel bristles, you'll be done cleaning up in no time
Handle length: A safe 18-inch handle
Learn more on How to Clean a Weber Grill here
Frequently asked questions about grill brushes
Why should I buy a grill brush?
When you grill or barbeque your food, some of it gets stuck on the grate. If you don't clean the grate afterwards, the next time you put food on there, you are cooking your new food on top of the old food.
This can be unsafe for health reasons, and it can alter the flavor of the food, too.
How often should I clean my grill grates?
It is recommended that you clean your grill grate every time you've finished cooking. Preferably while the grill is still hot (if your grill brush is compatible with a hot grill).
This makes it easier to get rid of the old grease and food remains. If, for any reason, however, you can't do it right away, it is necessary to do it before the next cooking.
Is the metal wire-bristle brush safe?
Yes and no – it depends on many factors, primary among them personal responsibility.
From a theoretical point of view, a wire bristle could be dangerous, but only if the bristles are falling out. This does happen, but with proper care, you should be able to prevent it.
How can I care for a wire-bristle brush to ensure it is safe?
Never use a brush that is really old. Over time, the bristles become loose and start falling out. Once you have seen the first few bristles falling off you can be sure that it will happen again and again.
You need a brush with a solid bristle structure. There's no point cutting corners here.
On top of that, before cooking it is essential to check out the grill grate to see if there are any wire bristles that have fallen out and become stuck.
Make sure to wipe the surface with a damp cloth or a paper towel, especially if you've seen something wrong with your brush.
Check out more great BBQ smoker accessories, these are the 22 must-have smoking tools
Joost Nusselder, the founder of Lakeside Smokers is a content marketer, dad and loves trying out new food with BBQ Smoking (& Japanese food!) at the heart of his passion, and together with his team he's been creating in-depth blog articles since 2016 to help loyal readers with recipes and cooking tips.