I love creating free content full of tips for my readers, you. I don't accept paid sponsorships, my opinion is my own, but if you find my recommendations helpful and you end up buying something you like through one of my links, I could earn a commission at no extra cost to you.
Learn more
You might have seen it in romantic movies— when a couple goes out on a fancy date, dining at a luxurious restaurant and being served that juicy, mouth-watering piece of meat.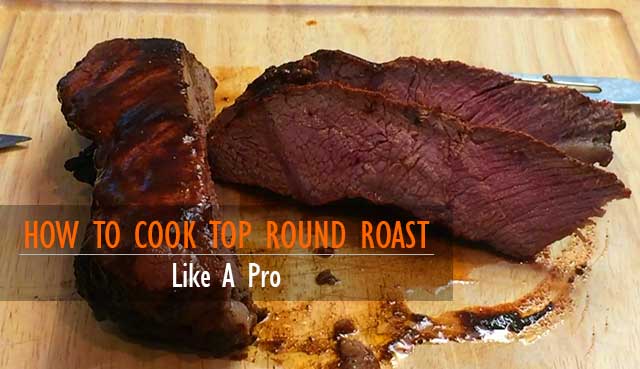 Although sirloin is probably the most popular beef cut in every restaurant's menu, if you want to try out good roasted meat with an inexpensive price tag at the comforts of your home, then the beef round primal cut is your best bet— notably the top round roast.
In this article, you'll learn what makes this meat cut different and how to cook top round roast.
But, first…
In this post we'll cover:
What Is Top Round Roast?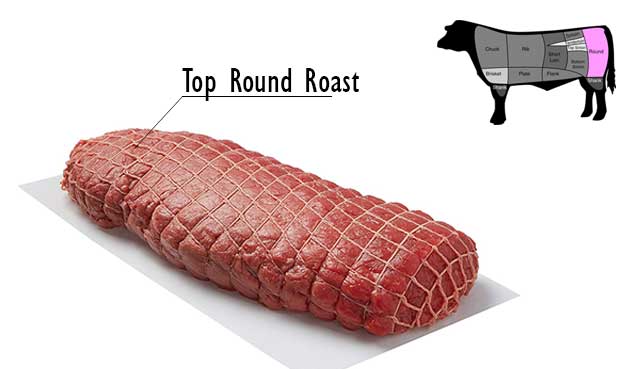 Top round roast, also known as the inside round, is a cut from the upper thigh of cow's hindquarters. It is very lean and sturdy, making it one of the less expensive cuts of beef.
However, for a budget-friendly cut, the top round roast is actually flavorful. It tastes similarly top sirloin and is mostly roasted and sliced deli-style to enhance its tenderness; however, it can also be fabricated onto steaks. A top round roast can also be stewed, smoked, and braised.
Top Round VS Bottom Round
The top round is a beef roast cut from the inside of the round. It is the most massive muscle on the round cut and is gristle-free when correctly trimmed. Bottom round, on the other hand, is a cut from the outside of the round and has the great flavor of top round; however, it is not big and features a slightly tighter grain.
Both are muscular and lean with the top round being tenderer than the bottom round. Both are usually cooked slowly in a moist environment such as stew or pot roast and can be used for deli-style roast beef.
In terms of cuts, top round can be found whole or sliced in halves while the bottom round is cut into 3 sections— heel, flat, and eye of round.
Best Way To Cook Top Round Roast
Almost devoid of marbling, the top round roast can be a quite tough portion if not cooked using the right techniques. This portion is boneless and is not meant to be prepared using any dry-heat methods.
With one side of the roast covered in a layer of fat which can help infuse some richness, the best way to cook it is using slow-cooking methods which require the roast to be dipped in a liquid throughout the cooking duration.
Besides, it can also benefit from generous spices and even light frying before stewed or braised.
Top Round Roast Beef Cooking Time Per Pound
Depending on the size of the meat, the cooking time may vary. For a 2-pound roast, you can cook it at 350°F for at least 35 – 40 minutes, and you'll have a perfectly medium-rare roast.
If you are not fond of medium-rare, you can cook it a bit longer until the meat reached about 160°F inside. Have a bigger slab? Just add 30 minutes of cooking time for every pound.
Here is a general guideline:
| Approx. Weight | Rare (125°F) | Medium (145°F) |
| --- | --- | --- |
| 4 lb | 50 min | 67 min |
| 5 lb | 74 min | 96 min |
| 6 lb | 102 min | 124 min |
| 7 lb | 133 min | 155 min |
| 8 lb | 166 min | 188 min |
How Long To Cook A Top Round Roast
Multiply the weight of the roast by 21 minutes to find your cooking time. For instance, a 4 pound top round roast can take around 84 minutes or 1 ¼ hour to cook. Larger roasts may take longer to cook. Similarly, cold roasts can take a little longer to cook than those that are at room temperature.
The average roasting time can also vary depending on your oven at the heat settings that you use.
How To Cook Top Round Roast
Slow cooking a top round cut at low temperatures ensures that it comes out as medium-rare, preserving what little tenderness it has. It is also essential that you slice it thinly. Roasted top round is ideal for creating roast beef for sandwiches.
A top round roast can also be used as steaks, typically referred to as the top round steaks. And although top round cuts may not be your first choice of steaks to cook over a grill since there are better options.
If you had a thick slab of top round and a grill, then you could marinade it, quickly grill it over high heat and thinly slice it against the grain. This preparation is called the London broil.
Another way of preparing top round steaks is tenderizing it with a meat mallet and create a Swiss steak by braising it instead of grilling.
Related: Best Way to Cook Hanger Steak , Best Way to Cook Skirt Steak
How To Cook A Top Round Roast In The Oven With Vegetables
Things You Need
1 (4-5 lb.) top round roast
2 lb. trimmed asparagus
4 tbsp olive oil
Pepper and salt
1 red onion, cut
12 oz. peeled carrots
3 lb. small white potatoes cut in half
1 tbsp fresh thyme leaves
1 ½ tsp Coarse ground black pepper
1 tbsp kosher salt
Instruction
Preheat your oven at 425 degrees.
Spray the baking dish or roasting pan with cooking oil.
Using paper towels, pat the beef dry. Then, rub salt, black pepper and thyme all over the roast. Place the meat on the pan with fat facing up.
Roast for 15 minutes.
While roasting, prepare the veggies. Spray another baking dish or pan with cooking oil. Add onion, carrots, and potatoes. Season with pepper and salt and  3 tablespoons of olive oil. Toss the asparagus with pepper and salt and the remaining olive oil. Set aside.
After 15 minutes of roasting, turn down your oven temperature to 325 degrees. Leave the beef in the oven and add the veggies, except asparagus.
Roast for at least 1 hour.
When there are 20 minutes left on the timer, quickly add the asparagus with the other veggies.
The beef is cooked when it reaches 120°F inside for rare, 125°F for medium-rare, and 135°F for medium.
Let it rest for 15 minutes before slicing.
Tips:
If your roast is more significant, add in 30 minutes of baking time to each pound.
You can add in any veggies you like, just make sure that they are cooked well.
---
Top Round Roast Instant Pot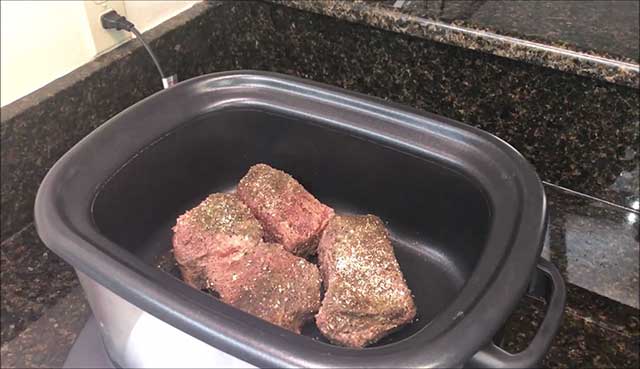 Things You Need
1 ¼ cups of beef stock
3 ½ pounds top round roast
1 tbsp vegetable oil
1 tsp garlic powder
1 tsp coarsely ground black pepper
 1 ½ tsp Kosher salt
¼ cup brown sugar
½ cup Dijon mustard
1 (12 oz.) bottle dark beer
Instruction
Using paper towels, pat the beef dry.
Place it in a sealable plastic bag or a large container.
In a bowl, combine garlic powder, pepper, salt, brown sugar, mustard, and beer. Blend ingredients thoroughly.
Pour marinade over the roast and cover the container or seal the bag tightly. Refrigerate the beef for 4 hours or up to 24 hours if you like.
Before cooking, remove the roast from the bag. Discard the marinade and pat it dry.
On your Instant Pot, select the Sauté function and add vegetable oil.
Add the roast when oil is hot. Sear it on all sides, which usually takes 10 minutes. Remove the roast and set aside.
Place the trivet in your Instant Pot, then add beef stock.
Lock the lid in place and make sure that the vent is in "sealing" position. Select the manual button, low pressure, and set the time to 4 minutes.
After the cooking time is up, don't remove the lid. Leave the roast inside for 35 minutes, and it will switch to the "keep warm" mode automatically.
Remove the cover and check the temperature and see if it reaches your desired temperature.
Remove the roast and place it on a platter or cutting board and tent it loosely with foil.
Allow it to sit for 15 minutes before slicing.
Tips:
Thinly slice the beef and use it to sandwiches. Or you can use it as the main dish with mashed potatoes or a homemade gravy on the side.
If you have any leftovers, you can use it to make tasty stuffed peppers, stroganoff, beef hash, casseroles, and more!
---
Sous Vide Top Round Roast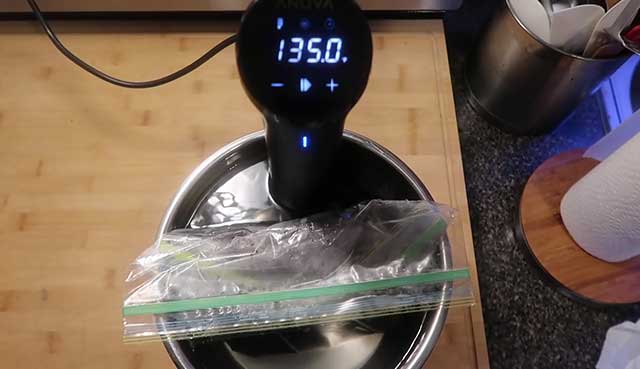 Things You Need
2 pounds top round roast
½ tsp. Memphis Style BBQ seasoning
½ tsp celery seed
1 tsp parsley
1 tsp oregano
1 tsp garlic powder
1 tsp black pepper
1 tsp black sea salt
1 tbsp liquid smoke
2 tbsp butter
Instruction
Preheat your sous vide cooker to 135°F.
Sprinkle all spices and liquid smoke on top of the side of the top round roast.
Place the roast into the vacuum seal bag carefully and seal it.
Once your sous vide cooker reaches the right temperature, place the vacuum-sealed bag into the water.
Cook for 15 hours.
Remove the bag from the cooker.
In a cast-iron skillet, add the butter. Ensure that the skillet is hot and the butter is melted.
Remove the roast from the bag. The meat might fall apart, so you need to be very careful.
Place the roast with seasoning side down in the skillet and sear. This usually takes 2 – 3 minutes.
Turn the roast over and sear the other side.
Remove the roast from heat and allow to rest with a foil tent for 10 minutes.
Cut and serve.
Tips:
You can serve the roast drizzled with olive oil and some sea salt along with sautéed broccolini and roasted potatoes.
---
Smoked Top Round Roast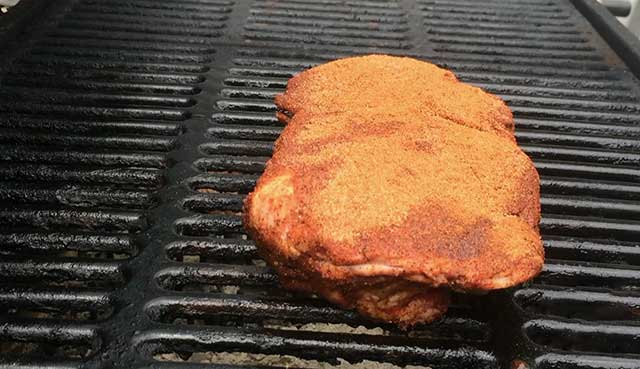 Things You Need
3 lb top round roast
Worcestershire sauce
½ tsp onion powder
1 tsp smoked paprika
1 tsp garlic powder
1 tsp pepper
1 ½ tsp. Salt
Instruction
Mix onion powder, garlic, smoked paprika, pepper, and salt together.
Rub the Worcestershire sauce on the roast, then the spice mixture.
Depending on how much time you have, there are a couple of ways to smoke a roast. However, for the best result, cook it in a smoker at 215°F for 4 – 6 hours.
Cover with foil and let the roast rest for 20 minutes before slicing.
Tips:
Sprinkle a bit of salt on to the beef before serving. The salt helps in bringing out the beef's flavors and gives it a nice pop.
Top Round Roast Recipe
Crockpot Top Round Roast
Serving: 6 – 8 | Prep Time: 10 min | Cook Time: 8 hr 4 min | Total Time: 8 hr 14 min
Ingredients
1 (3 – 5 lb) top round roast
Spices
1 tbsp olive oil
2 tbsp corn starch
Veggies
Liquid: broth or water
Instructions
Rub the oil on the roast. Then add some spices. You can try sea salt or kosher salt or go for low-sodium alternatives such as thyme, rosemary, paprika, garlic powder, pepper, and dried onion soup mixes.
Slice your preferred veggies into bite-sized pieces. The most common vegetables include potatoes, mushrooms, celery, carrots, and onions.
Place the veggies at the bottom of the crockpot if you want them soft.
Set the crockpot to low heat.
While the vegetables cook, preheat the skillet over high temperature.
Add a tablespoon of olive oil and roast the skillet about 2 min on each side.
After roasting, place the beef into your crockpot.
Add any liquid you like, but the beef broth is most commonly used.
Cover the crockpot tightly and set the temperature to slow heat. Allow the roast to cook for at least 5 – 6 hours. In case you want to add veggies such as mushrooms, zucchini, and baby carrots, then prepare for less time. Cover it again and let the roast to continue cooking for another 1 ½ – 2 hours.
If you want a thicker gravy, remove the veggies and meat and place them on a serving dish with cover to keep it warm. Pour the liquid into a saucepan and wait to boil. Meanwhile, mix 4 tablespoons of cold water with 2 tablespoons of cornstarch in a small cup. Add the cornstarch mix to the broth and stir constantly. Continue this until your gravy reached the thickness you desire.
Pour the gravy on the beef and veggies and enjoy.
---
[su_spoiler title="Reference & Resources" style="fancy"]
[/su_spoiler]
Also shopped for
[amazon bestseller="sous vide top round roast" template="list" items="3″]
Joost Nusselder, the founder of Lakeside Smokers is a content marketer, dad and loves trying out new food with BBQ Smoking (& Japanese food!) at the heart of his passion, and together with his team he's been creating in-depth blog articles since 2016 to help loyal readers with recipes and cooking tips.