by Joost Nusselder
|
Last Updated: 
September 9, 2020
I love creating free content full of tips for my readers, you. I don't accept paid sponsorships, my opinion is my own, but if you find my recommendations helpful and you end up buying something you like through one of my links, I could earn a commission at no extra cost to you.
Learn more
In this post, I want to take a look at one of my favorite dishes, smoked Nova Salmon. But first:
What is nova salmon?
Traditionally, nova is the origin where this salmon comes from, as well as the style of smoking. This fish comes from Nova Scotia, Canada, where the salmon is cured, and cold smoked.
Let's look at some delicious recipes you can make with this specific kind of salmon.
The salmon has a much deeper pink color, almost burnt orange, which makes it a bit different compared to other cured salmon. In addition, this fish has a more intense flavor compared to gravlax or lox.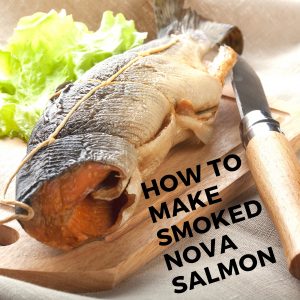 How to make smoked nova salmon
This type of flavor is really popular in Gaspe, Nova Scotia, and many parts of the Eastern provinces. Since it's less smoky, it works well on sandwiches and appetizers. 
The fish is cured and smoked therefore it is salty and smoky at the same time. 
Ingredients  
Brine
5

lbs

Canning or kosher salt

6

lbs

Dark brown sugar
Ingredients (wet brine)
3.5

gal

Water

6

cups

Coarse (non-iodine) or kosher salt

6

cups

Brown sugar 

2

cuos

Real maple syrup

¼

cup

Black peppercorns (whole)

2

cloves

Garlic

Fresh dill (chopped) – to taste
Instructions 
Preparation
In case you are filleting a whole salmon, remove the pin bones and leave the skin on. You can use a small pair of needle-nose pliers to remove the bones that might be on the flesh. If you want to buy filleted salmon, buy whole salmons with the skin on, and remove the remaining bones—if there are any. Rinse the fillet and then pat-dry—but not completely dry. At this point, leave the fillets whole, with their skin on.
Brining—this is a two-step process
Step 1
Here, you will need to use dry brine ingredients, which are:

Canning or kosher salt – 5 lbs.

Dark brown sugar- 6 lbs.

Mix the sugar and salt thoroughly with your hands so that you can break up any chunks in the brown sugar. You will use to dry-brine the fish. Make sure that you use kosher or coarse (non-iodized) salt. In case you have any leftover dry mix, place it in a ziplock bag or sealed container. This will preserve the mixture for future use.

Next, take a small container, long enough and with enough width that will allow you to lay your fillets flat, and spread an even ½" layer of the dry brine mixture on the container's bottom. After spreading the dry brine mix, place your first fillet layer on top of the dry mix, when the skin side is facing down. Now, you can cover the fillets with extra dry mix ½" layer and then place the next layer of fillets on top, now with the skin side facing up. Cover the fillet with ½" layer of the dry mix, and make sure that the dry mix covers the fish completely. You should understand that the size of your container matters as it prevents you from wasting the dry brine mix.

Continue layering the fish fillet, and you can place them in the manner that you like, so long as they are somehow flat and straight. This process is essential as it removes any excess moisture in the fish, and makes it firmer.
Refrigerate
When you are done with the layering, place the fish in your refrigerator for around 7 to 8 hours. Please note that: in case you forget this step and you dry brine the fillets for too long, you will end up ruining them. Make sure that you set a timer so that you don't forget.

After the 7 to 8 hours, you will start seeing a considerable amount of thick liquid at the bottom of the container—this is the moisture from the fillets. You can now take the container out of the fridge, and remove the fillets one at a time. When done, cut the fillets into half, so that they can fit in a smoker, and then rinse them under running water to remove the mixture.

At this stage, the fillets should feel firm and hard, and somehow smaller than when you bought them. Discard the thick liquid at the bottom of the container, and don't use it.
Step 2
This step will also change the texture of the fillet

Ingredients (wet brine)

Water – 3.5 gal.

Coarse (non-iodine) or kosher salt – 6 cups

Brown sugar – 6 cups

Real maple syrup – 1-2 cups

Black peppercorns (whole) – ¼ cup

Garlic – 2 cloves

Fresh dill (chopped) – to taste

Use a large food bucket to mix together all the ingredients, and make sure that the sugar and salt are completely dissolved. The container should be large enough to hold the brine and fillets. Please note: you need to check the salt concentration (salinity) of the mixture. A fresh raw egg should float on the mixture. If the egg doesn't add an extra ½ cup salt and then mix well. Recheck to see if the egg will float again. If the egg doesn't float, repeat the process until it floats. Allow the brine to set for around 5 hours before you use it.

Place your dry brined fillets into the bucket with the wet brine. Make sure that all the fillets are completely submerged, and then use a plate to cover the bucket. Allow the fillets to brine for around 7 to 9 hours.

Refrigerate

It's optional at this point since the dry brine has "cooked the fillets" already. You can also move around the fillets at some point in the wet brine process—just in case some are too close. When the process is over, you will need to freshen the fillets so that you can remove the excess salt.
How to freshen your fillet
Start by removing your fillets from the wet brine, and then rinse them using freshwater. Dispose of the briner, rinse your bucket or the container you used to wet brine your fish and make sure that all the spices and peppercorns are removed.

Put back the fillets in the bucket/container and then fill it with clear water. Allow the water to run into the container (never use a lot of pressure as this can damage the fillet) for around 30 minutes. Make sure that you stir gently with your hands after every 10 minutes.

You can taste a small portion of the fillet to check the salt levels. If it's too salty, rinse for an additional 10 minutes, but don't exceed that as this will make the fillet waterlogged.
Drying the fillet before smoking
Remove your fillet from the wet brine, and pat dry using a paper towel.

If using Bradley racks, turn them upside down, and then lay your fillets on the racks, with the skin side facing down. (you can use Teflon coated racks since they will give you excellent results)

You should note that placing the racks in an upside-down position will keep the fillets in a suspended position, which will allow the fillets to air-dry bottom and top.

Let the fish dry for around one hour. When the fillets become somehow sticky—on the meat side, they are ready for smoking.

Cold smoke your fillets only! You can smoke for around 1 – 3 hours, but this depends on your preferences and tastes.
Also read: smoked vegetable recipe that goes great with fish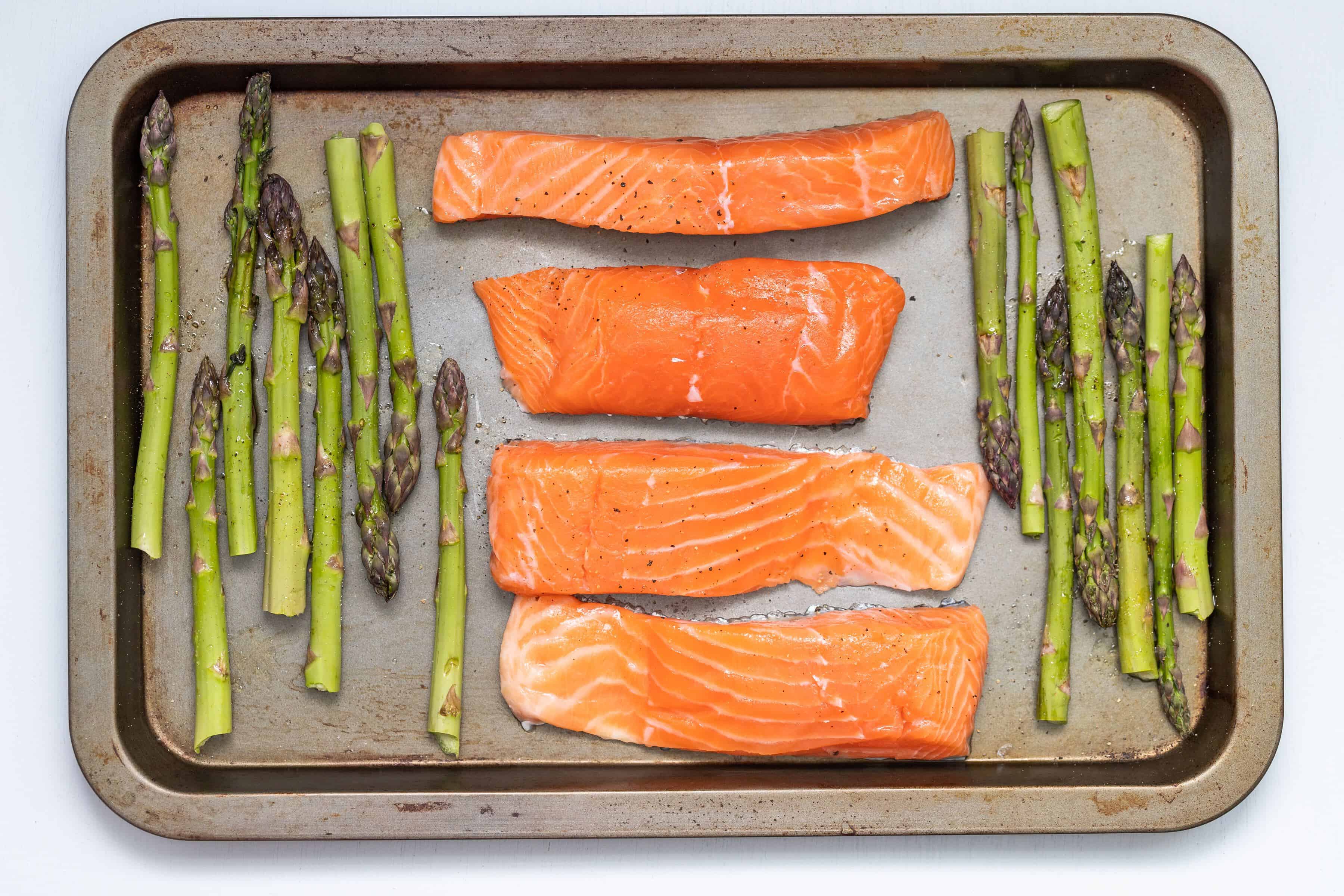 Also read: learn how to grill salmon on a cedar plank with this great recipe
Tips
Always make sure that you don't turn on the heating element—it can be better if the smoking unit is not connected to the smoke generator. Carefully monitor the temperature, and make sure that it doesn't go beyond 80 degrees f, as this will ruin your fillets.
Fill the drip bowl with ice, and don't forget to add a big block of ice between the lower shelf and the bottom shelf. When the ice melts, it drips into the bowl, not the burner—and thanks to the good design of Bradley smoker. Now, make sure that you place a large piece of the aluminum pan under the drip bowl, as this catches any water that overflows from the water bowl.
This is an important step that maintains 60 – 70 degrees when the outside temperature is – 10. In case you notice that the temperature on the smoker is rising, then all the ice has melted and you need to add more ice until the smoking is complete. Therefore, it is important to make sure that you monitor the temperature as you smoke the fish as this will have a big impact on your outcome.
3 delicious smoked nova salmon recipes
Smoked Salmon Swirls
Smoked Salmon Swirls
These canapés are simple but look impressive. Serve with chilled fizz.
Ingredients  
500

g

puff pastry

(not all-butter)

140

g

smoked nova salmon

sliced

1 tsp

poppy seeds

1

box

cream cheese

Boursin

flour

for dusting
Instructions 
Use a baking parchment paper to line two large baking sheets.

Use the plain flour to dust your working surface. Roll out the puff pastry into a rectangle shape—about 30.5 cm x 18 cm or 12" x 7". If possible, roll out the pastry in one direction, without turning it—this will assist you in achieving an even rise. When done, trim the edges.

Spread your cream cheese/boursin evenly over the pastry. Lay the smoked nova salmon evenly over the cheese. Now, cutting down into the pastry—but not straight through, slice a line of ½" or 1 com in from the edges of the two short sides. This will assist you in rolling.

Next, roll the pastry inwards (tightly) from one short side—until you reach the center. Repeat this step on the other short side until it meets the first roll. Press them together to join them, and try to maintain the shape. Now, move the pastry, with the seam side facing down onto a board, and allow it to chill for around 30 minutes.

As the pastry chills, preheat your oven to 220 degrees C.

Use a serrated knife to cut ½" or 1 cm thick slices, from the roll—be careful not to squash the slices.

Lay these slices on the baking sheets, and leave a space of 1 ¼" or around 3 cm in between the rolls. Cover the pastries with another sheet of baking parchments. Now, roll the pastries gently using a rolling pin so that you can slightly flatten them. When done, remove the top sheet of the parchment paper.

Sprinkle the poppy seeds over the pastries, and bake for around 20 – 25 minutes, until they turn golden brown.

When done, move your smoked salmon swirls to a wire rack to cool. Serve.
Smoked salmon frittata
Smoked Salmon Frittata
This tasty frittata combines the delicious flavor of smoked salmon with a breakfast classic: the omelette.
Ingredients  
8

eggs

150

g

new potatoes

finely chopped

170

g

smoked salmon

20

g

chives

finely chopped

1/4

cup

heavy cream

1

cup

mozzarella cheese

shredded

1/2

tsp

salt

1

pinch

black pepper

1

tsp

olive oil
Instructions 
Boil your potatoes for 12 minutes and then drain the water completely.

Next, pre-heat your oven to around 200 degrees c. Take a 23cm (9") square baking tin and line it with nonstick baking parchment.

Add a bit of olive oil on the parchment paper.

In a large bowl, beat your eggs—lightly. Add the salt and pepper.

Whisk in the heavy cream.

Add the potatoes and salmon pieces.

Now, pour this egg mixture into the baking tin, and top it with the shredded cheese.

Cook for around 18 to 20 minutes, or until cooked through and well risen. When done, remove it from the oven, and allow it to cool for a moment before removing your frittata from the baking tin. Peel off the parchment paper, and cut it into 4 quarters and then serve.

Garnish with the chopped chives.
Read more: these smokers are the perfect companion for smoked meat
Egg, Chive, and Avocado Nova Salmon Toast
Egg, Chive, Avocado Nova Toast
Here's a must-try breakfast recipe for all of you toast lovers. This sandwich is very easy to make and doesn't take longer than a few minutes.
Ingredients  
4

slices

sourdough bread

1

avocado

pitted and sliced

3

chives

or 1 spring onion

4

oz

smoked nova salmon

4

eggs

2

tbsp

cream cheese

1/4

stick

butter

unsalted

1

pinch

salt and pepper
Instructions 
First, whisk together the eggs, cream cheese, and chives in a bowl.

Melt the butter in a large skillet over medium-low heat.

Add the egg mixture for approximately 4 minutes and stir well to avoid the egg sticking to the pan.

In a smaller bowl, mash the avocado.

Add avocado to each slice of bread.

Place the eggs over the avocado and sprinkle with salt and pepper.

Then finally, add a slice of salmon on top of each slice. 
What to cook with smoked nova salmon
The best part about cooking with smoked salmon is that you don't need to cook the fish. It tastes great when you cook it and incorporate it into other dishes. But, it also works as a topping on toast, canapes, entrees, and appetizers of all kinds. 
There are so many ways to cook with this smoked fish. You can use it as trimmings for omelets, frittatas, oatcakes, and other breakfast foods. 
Nova is so popular and so versatile you can make all kinds of recipes, all you need is a little imagination. 
Here are the top ways to enjoy nova salmon:
A smoked salmon risotto
As a pate
 In scrambled eggs
On toast
Kedgeree (a classic fish and rice dish)
Smoked salmon pasta
Nova gratin with potatoes
Sushi
Smoked salmon tart
Soup
Information about Nova Salmon
As I mentioned above, this particular salmon gets its name from the region it comes from, which is Nova Scotia. But, there are similar types of cured salmon and although they look and taste similar, they are quite different. 
Nova Salmon falls under the umbrella term of Smoked Salmon. It refers to any type of cured salmon. This includes farmed, wild, steak, fillet, and hot or cold cured fish. 
What's the difference between Nova Salmon and Lox?
There is a general sense of confusion between the Nova, Lox, and Hot-smoked Salmon. 
Lox: salmon, usually gravlax, which is cured in salt-sugar brine or rub.
Gravalax: it's cured but not smoked salmon.
Nova: the salmon is cured and cold-smoked afterward.
Hot-smoked: this refers to cured salmon that's fully cooked with wood smoke. 
Basically, the Nova is a style of preparing the salmon. Yes, the name refers to the location where the fish is caught but it also refers to the way it's smoked. First, the fish is cured, and then it is lightly smoked. 
There are two types of Nova. The first is from the Gaspe region and it is cold-smoked. The second type is a wild Pacific salmon called the Western Nova. This one is also cold-smoked. 
What does Nova Smoked Salmon taste like?
People really enjoy the taste of Nova. It is fattier, milder in flavor, and less smoky. 
This type of flavor is really popular in Gaspe, Nova Scotia, and many parts of the Eastern provinces. Since it's less smoky, it works well on sandwiches and appetizers. 
The fish is cured and smoked therefore it is salty and smoky at the same time. 
Brief History of Smoked Salmon
The concept of smoked salmon was born many centuries ago. In fact, the Greeks, Romans, and Native American communities consumed smoked salmon quite often. It was a primary staple in their diets. Smoked salmon came about because people needed a way to preserve the fish for longer periods of time. Of course, there were no refrigerators, so they needed to improvise. The Native American communities respect their natural resources and salmon is carefully and responsibly caught and cured. 
Canada's The Hudson's Bay Company started to import salmon from the west and they cured and smoked it in Nova Scotia style along the East Coast of Canada and the United States. By the 1960s, smoked salmon was an integral part of the North American diet. 
Nutritional facts:
The following are the nutritional facts of smoked salmon and are based per 100g.
Calories – 122.8
Calories from fat – 39.5 (32.1)
Total fat – 4.4 g
Saturated fat – 0.9 g
Cholesterol – 52.6 mg
Sodium – 1386 mg (58%)
Carbohydrates – 0 g
Net carbs – 0 g
Fiber – 0 g
Protein – 22.8 g
Calcium – 35.1 mg (4%)
Iron – 0.3 mg (4%)
FAQ's
I'm sure there are still some questions we haven't answered, so here is some extra information to help you make the best smoked salmon at home. 
How long does it take to smoke salmon?
First, the salmon must be cured. Then, after it's cured and dried, the fish is hot-smoked. For the best results, it's recommended that your smoke the salmon for 3 to 4 hours at a temperature of 225 degrees Fahrenheit.
What temperature should I smoke salmon to?
When you are hot-smoking the salmon it's best to increase the temperature gradually. So, slowly increase the temperature inside the smoker during the course of a day. When the fish is almost ready, about an hour beforehand, make sure the temperature is between 150-160 degrees F. Then, smoke the fish until the internal temperature is 145 degrees F. Always check the temperature in the thickest part of the salmon. The process takes between eight to twelve hours. 
Are you supposed to cook smoked salmon?
You don't have to cook smoked salmon. The smoking and curing process makes it ready to eat. As a matter of fact, smoked salmon is already cooked. Therefore, there is no need to cook it further.
Do you have to brine salmon before cooking?
It depends on the method you decide to use. But, you don't need to brine the fish before you smoke it. However, we recommend that you do brine the fish because it tastes better. Brining gives salmon more flavor. It's all due to the sweet and salty flavors of the brine – they combine with the smokiness and make the fish taste delicious. 
Is Nova Smoked salmon healthy?
In general, salmon is a healthy type of fish. It contains lots of high-quality protein. As well, it contains omega 3 fatty acids, vitamins, and minerals. But, the smoking process makes it a bit unhealthy because it adds lots of salt. This means the smoked fish contains a high amount of sodium. 
Cold-smoked salmon is potentially dangerous if it is not smoked properly. It can increase the risk of developing listeriosis which is a dangerous bacterial infection, linked to raw fish. 
But, when properly cured and smoked, salmon is a delicious and healthy food option. Consumed in moderation, it's a good food to include in your diet because it contains healthy fats. 
Do you have to refrigerate smoked salmon?
Yes, you should always keep smoked salmon in the fridge for your own safety. It ensures that the fish doesn't develop listeria. 
As soon as you buy or smoke your own salmon, keep it in the fridge until you use it. 
Bottom line
There you go! Now that you've read about Nova Salman, you can try your hand at curing and smoking your own salmon at home. As long as you're careful and precise with the temperature, the fish should taste amazing. Therefore, you no longer need to buy the cured salmon from the grocery store.