by Joost Nusselder
|
Last Updated: 
June 7, 2021
I love creating free content full of tips for my readers, you. I don't accept paid sponsorships, my opinion is my own, but if you find my recommendations helpful and you end up buying something you like through one of my links, I could earn a commission at no extra cost to you.
Learn more
If you're looking to smoke delicious meats (and more) in the comfort of your home, your best option is an electric smoker, BUT you have the choice between a digital or an analog one. 
Using an electric smoker is convenient, easy, and CAN BE just as flavorful as a pellet or even charcoal smoker. The secret lies in choosing the right smoker for your needs. 
In this post, I'll take a look at the best indoor smokers.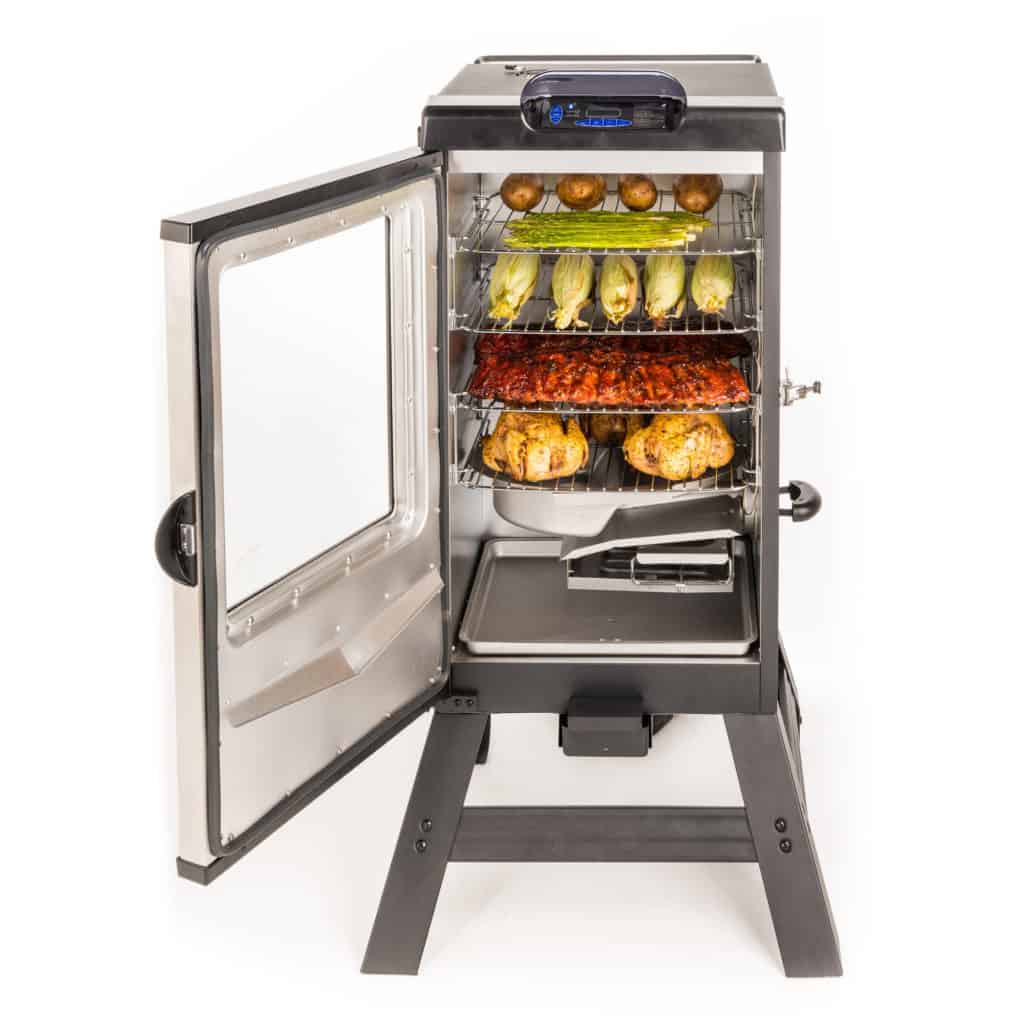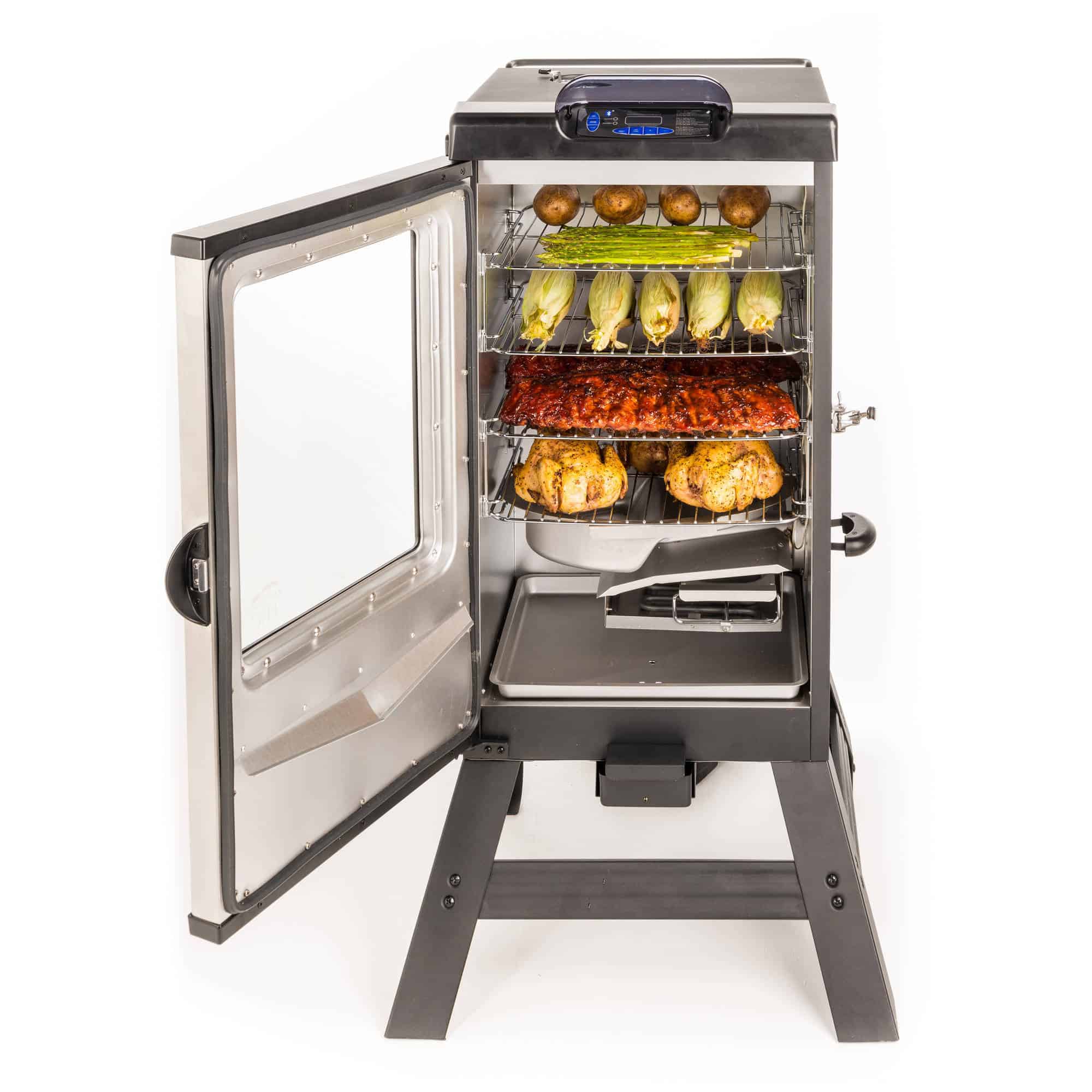 Now I don't like to advertise the most expensive Masterbuilt smoker and that's certainly not the one I got, so you don't have to spend a lot of money. I have to tell you, this Masterbuilt Front Controller Electric Smoker is one of the best value for money I've seen.
It's got the front window and even Bluetooth-controlled temperature so I don't have to sit with it or check it every half-hour or so while it cooks.
But there are a few more options, like an analog or a kettle smoker that might suit your needs more.
These are my top 3 indoor electric smokers, I'll get to them in a more in-depth review later on in this post:
Ok, so the most asked question when looking at buying an electric smoker is:
Can electric smokers be used indoors?
Electric smokers can definitely be used indoors and any electric smoker will do, as long as it doesn't use gas, charcoal, or wood for fuel. Using highly combustible fuel in indoor grilling is unsafe. That's why most people in small condos use an electric smoker grill.
How do I choose an electric smoker?
If you have the right electric smoker, you can prepare the perfect piece of smoked meat. Imagine smoking your own sausage or a couple of cornish hens for a family dinner.
It's all about the equipment.
Here's what to look for when buying an electric smoker:
Cooking Capacity
Consider the size of the smoker. The product description usually states how much of one food you can cook at once. For example, some smokers will say you can smoke 2 whole chickens at once.
The size you need depends on how many people you want to feed.
If you cook for a small family, buy a small smoker. For occasional family events or guests, choose a medium-sized one. Finally, if you cook for large groups on a regular basis, invest in a commercial-grade electric smoker. 
How Much Space it Requires
A smoker can be large or small, but it depends on how much storage space you have in your home. Never choose a large device that takes up all the kitchen space or outdoor patio area. Besides, a small smoker can do the job just fine and there's no need to buy bulky equipment. 
Features
Looks for special features like temperature control, sturdy materials, and a see-through door. 
If you want to see the meat smoking and you are a beginner, choose a smoker with a window on the door. This way you can see the food smoking and you aren't tempted to open the door to check how well the food is smoking. 
Controller
You can buy an analog smoker which shows you the temperature on a gauge. The disadvantage to this is that it's hard to control. 
An electric smoker is much easier to control. You can set the temperature and time and let the device do the smoking. The smoker maintains heat at a constant temperature during the cooking process.
Best indoor electric smokers reviewed
Best digital indoor electric smoker: Masterbuilt front controller Bluetooth
What do you do about during the autumn and winter seasons?
You certainly can't smoke food outdoors due to the dropping temperatures. So you no choice but to do it indoors.
The best smoker grill for the job is the Masterbuilt Electric Smoker or any other electric smoker as long as it doesn't use gas, charcoal or wood for fuel.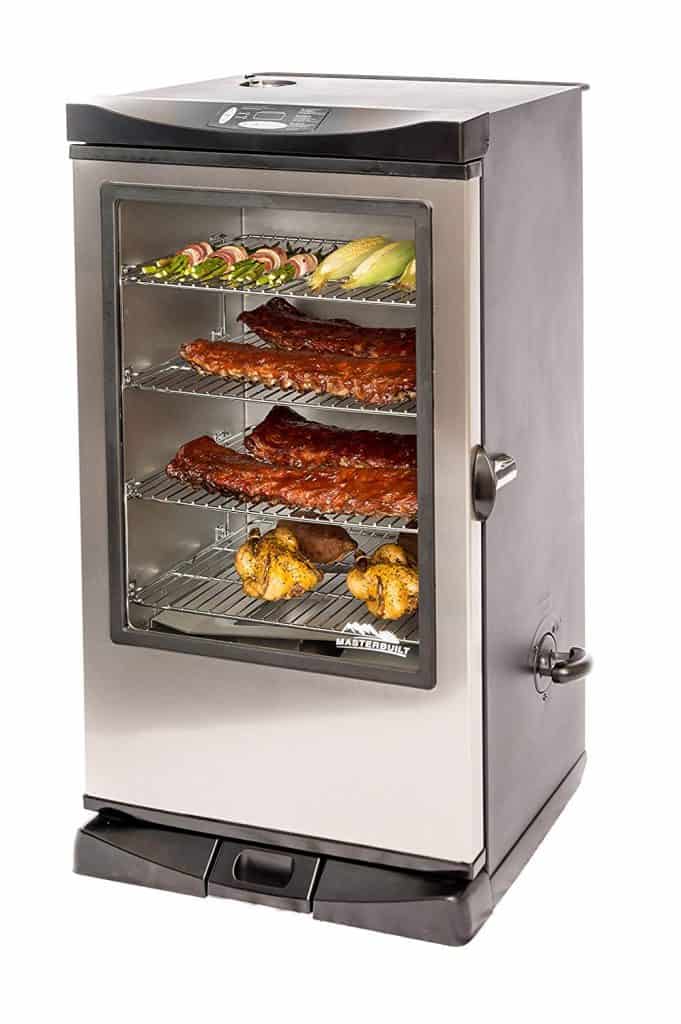 Using highly combustible fuel in indoor grilling is unsafe that's why we opted for the electric grill. You'll enjoy the vertically arranged designs of the 30 and 40-inch electric smokers from Masterbuilt.
These grills are the best space-saving grills around. This is the best smoker for you if you're renting a small flat or a condo.
You can smoke up to 3 or 4 different foods at a time with the Masterbuilt Electric Smoker which means that you'll also save half the time to cook your meals! Meals you can cook with the electric smoker include:
Fish fillets
Steaks
Pork chops
Hamburgers
Vegetables
Electric smokers can only cook easy-to-cook meals. So, you don't shove the whole turkey in there for Thanksgiving or chunks of meat that are larger than 5 square inches.
It is not designed for those kinds of food and either your electric smoker will break down or your food won't cook thoroughly. So only cook foods that are mentioned above and only cook them in small sizes.
The size of the grill rack in the Masterbuilt should tell you the maximum volume of content that can fit inside this vertically stacked grill, and it's a lot!
Check out the latest prices and availability here
Best Pressure Smoker: Emson 8303 Electric Smoker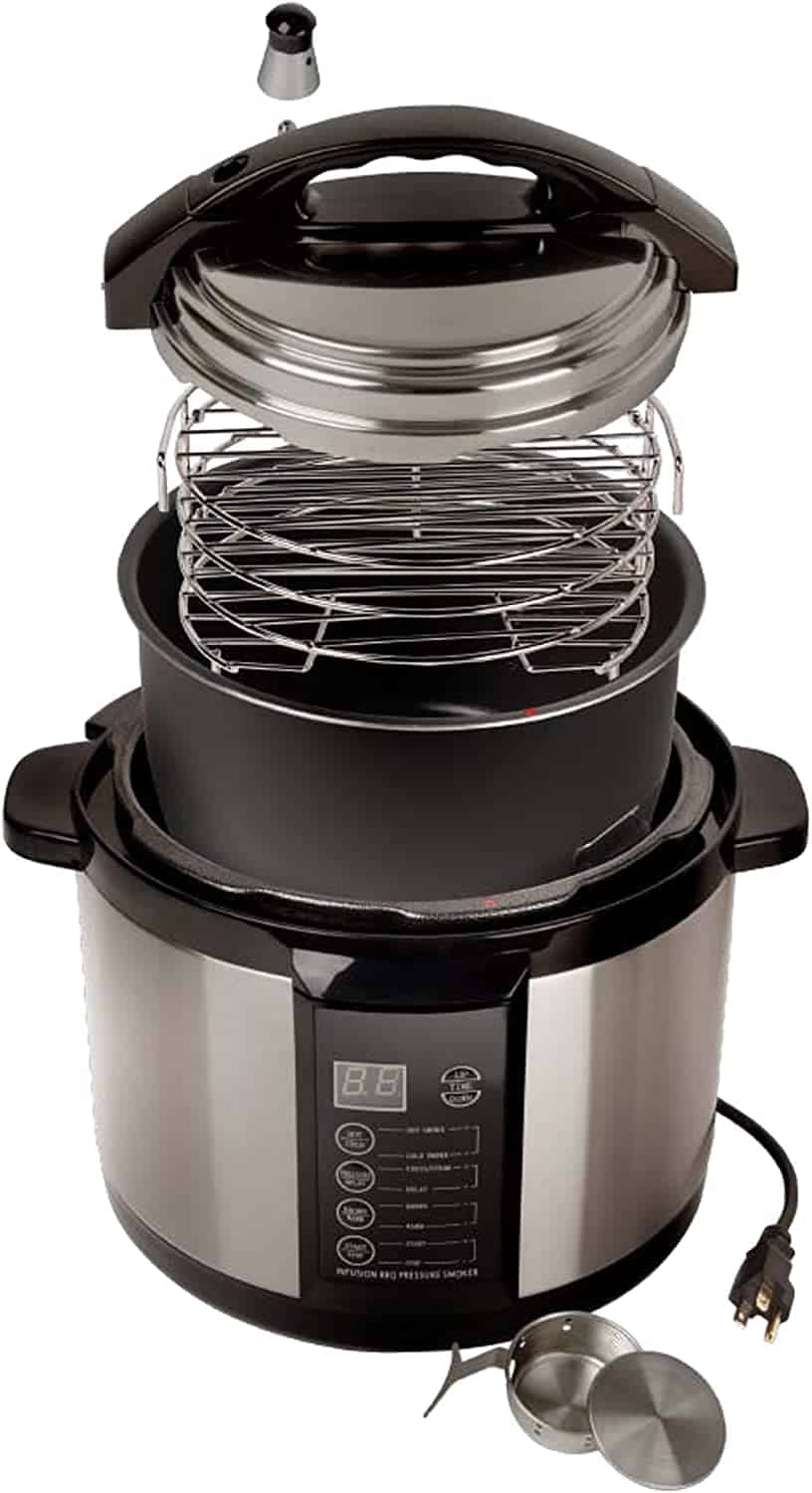 This innovative product is a combination of a pressure cooker and a smoker. It is lightweight, easy to use, and compact.
You can cook up to 4lb. of food at once, enough to feed a small family. 
It is designed for indoor use, thus it's safe and smoke-free. This innovative smoker reduces cooking time by up to 50%, which means you are using less electricity and cooking faster.
As well, it reduces the calories of the smoked foods. 
The smoker has digital time and temperature settings.
It can cook, sear, and cold smoke. Cold smoke is excellent for cheese. 
The smoker has a compartment for wood chips. The chips release their flavor which infuses the food as it cooks.
All you need is 3 to 5 pieces of wood chips to smoke 4lb. of food.
You can use this cooker as a smoker or a pressure cooker because it's a 2 in 1 device. 
All in all, this is an excellent small-sized smoker for your apartment. 
Best analog indoor electric smoker: Char-broil Analog
This analog smoker is well insulated and has a double-wall construction. It also has a removable food thermometer and a heavy-duty door for great durability.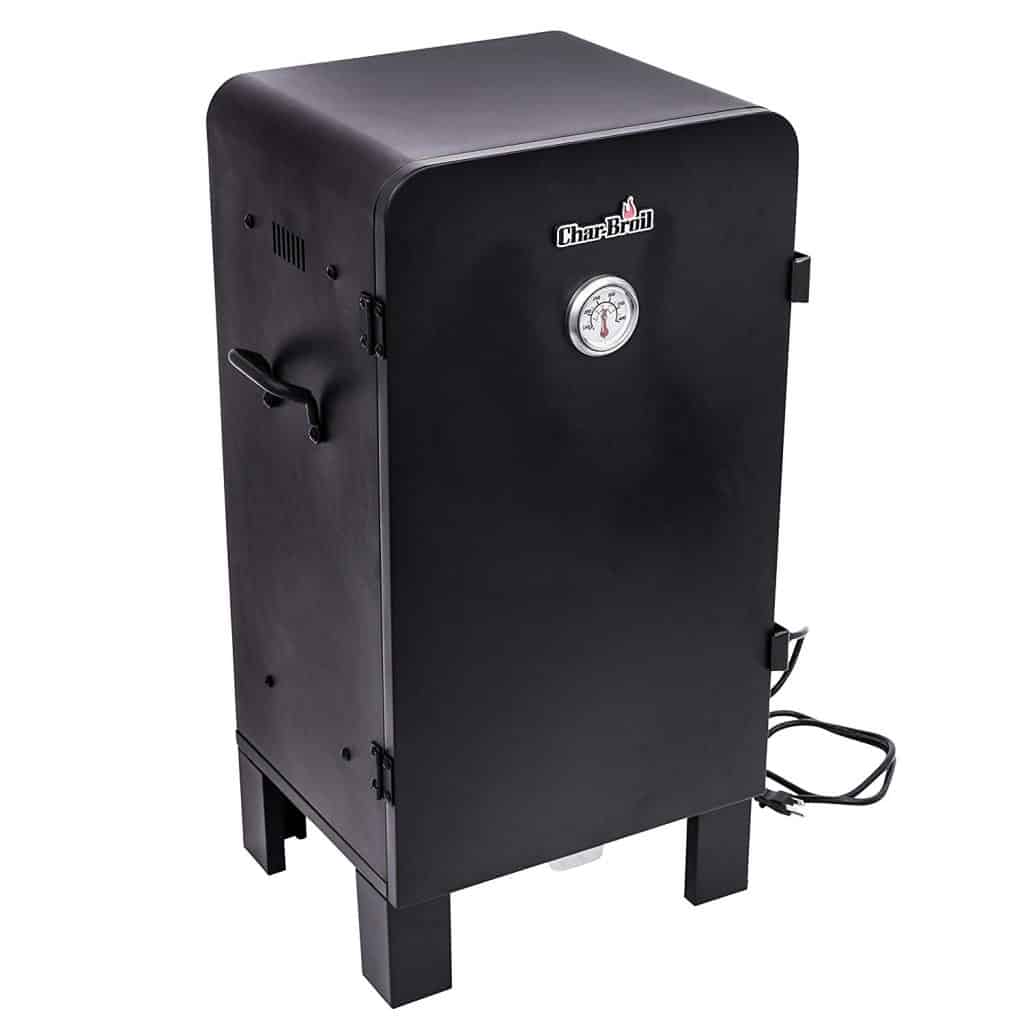 Moreover, it has a large stainless steel locking fastener for a smoke-tight seal.
Since using charcoal smokers is a time-consuming procedure and requires a lot of attention. This electric smoker makes grilling easy with 1000 square inches of internal cooking space.
It contains four adjustable smoking racks and provides the capacity to prepare and grill various kinds of food and in large quantities as well.
It has no hassle and is easy to use. All that is needed to do is waiting for your savory meal to be ready with a great smoked meat flavor. 
It has a double insulated built-in wall that locks in the heat and steam and keeps the surroundings smoke free and its advanced control panel monitors and adjusts the temperature of the grill itself.
Other than this, some additional features include a large capacity Smokebox, Removable temperature gauge, a Warming feature that keeps the food inside the smoker warm and an 8.5-Cup High-capacity grease tray that makes grease cleaning easy.
The char-broil smoker works exceptionally well for large amounts of food because of its large space. It can prepare food for a group of 10 or more people easily.
The fire access doors, air dampers, and smoking racks give the user sufficient control over the smoker. 
Best small indoor kettle smoker: Nordic Ware
Nordic Ware Kettle is an electrical smoker available on Amazon via various sellers. The model is specifically designed for easy indoor cooking.
It is easy to handle and measures 6-7/8 by 13 by 13-1/2 inches and weighs 8.16 pounds while the total shipping weight is 9.3 pounds.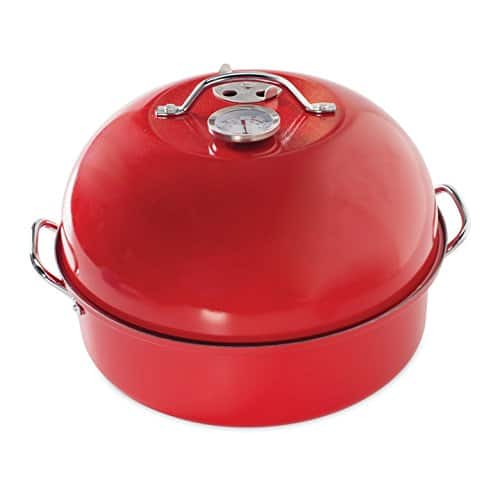 It has a cover with a high dome which allows for maximum food capacity. It grills the food easily and the best part is that it can be used indoors as well for times it is freezing outside.
However, it is not recommended to use this smoker at a very high temperature. A temperature range of 190-210 Fahrenheit is ideal for this to turn the raw food into something delicious.
The smoker is originally made in the USA whereas the thermometer used in it is imported from China and the handle is from Taiwan.
This smoker is specially designed to promote culinary creativity for every season and both outdoor and indoor use.
It provides the users with an all-rounder experience and taste when grilled either indoors or outdoors.
Why is this grill special?
This cooker is the only full line of indoor and outdoor grill cookware. It can be used to grill meat, steaks, barbecue, vegetables, or even seafood while it infuses the food with rich and smoky flavor and promotes the overall ambiance of the food.
The device consists of various parts including high-dome cover, the base pan, water pan, nonstick smoking rack, thermometer, and wooden chips. It is user-friendly, easy to use, and easy to clean.
And because it comes with a thermometer, it is easy to monitor the internal temperature of the smoker as well.
The height of the lid makes it easy to add a steamer rack which is ideal to grill foods like chicken legs, thighs, wings, and vegetables, etc. It also comes with two packs of wood chips in it with apple and oak flavors.
The wood chips can be crushed to a powder that is perfect to use with this smoker. It also comes with a recipe booklet that you can use to cook any dish of your choice.
The smoker gives the food a smoky flavor and the surrounding air a very subtle smoky ambiance but doesn't smoke up the room.
On a wider note, it is a brilliantly designed smoker which facilitates easy grilling and is worth its cost. To use it ideally, scatter the wood chips or the wood chips powder on the base of the kettle evenly.
Line the water pan with a foil sheet or any heat-tolerant sheet and put it in and put the rack on the top. Use the holes around the edge of the rack to put in a knife when the rack needs lifting. 
Do electric smokers produce carbon monoxide?
An electric smoker produces only trace amounts of carbon monoxide. Generally, this is not dangerous but be careful. Commonly, an electric smoker produces a lot less carbon monoxide than a regular outdoor smoker. 
Be careful if you use your smoker in a tight space, open a window, and let air in. The device you buy must be specifically made for indoor use so that it doesn't emit carbon monoxide. 
You may also want to read Fish Tacos for My New Brinkmann Grill
Why you need an electric smoker
Spring and summer span 6 months of each calendar year. These are the favorite months of smokers and barbecue grill enthusiasts to smoke food outdoors.
The summer heat and the least amount of rainfall during these months make smoking food a challenge. 
The best time to smoke outdoor is the late afternoon or evening. But, you can smoke indoors at any time.
Whether it's in your own backyard, or out camping on parks, or maybe you prefer a more scenic place like near the cliffs of The Grand Canyon. Grilling your favorite recipes is best done during the summer and spring seasons.
Why are indoor smokers useful?
The main reason why you need an indoor smoker is due to size. A traditional smoker requires lots of space outdoors and then additional storage space on the patio or in the garage. In indoor smoker uses fewer utilities and wood thus it saves you money. And finally, there is less smoke and smell. 
3 Types of Electric Grills: Open Style, Contact Style and vertically stacked
Open Grill Type indoor smoker
All Masterbuilt's smokers including Masterbuilt Electric Smoker are all closed vertically stacked type, so it definitely does not fall under this category of an indoor electric grill.
If you plan to get an open grill style smoker, then choose one that comes with a lid cover. Most of this type of grill nowadays often comes with a lid cover, so you probably won't have to give it too much thought.
A lid cover ensures that all of the steam and smoke are contained inside the smoker. You wouldn't want to set off the fire alarms in your area, now do you?
This is especially important if you in crowded urban areas like a high rise apartment or condominium building.
Examples of open grill smokers include the Cuisinart GR-4N 5-in-1 Griddler, T-fal GC702 OptiGrill Indoor Electric Grill, and the Delonghi BG24 Perfecto Indoor Grill.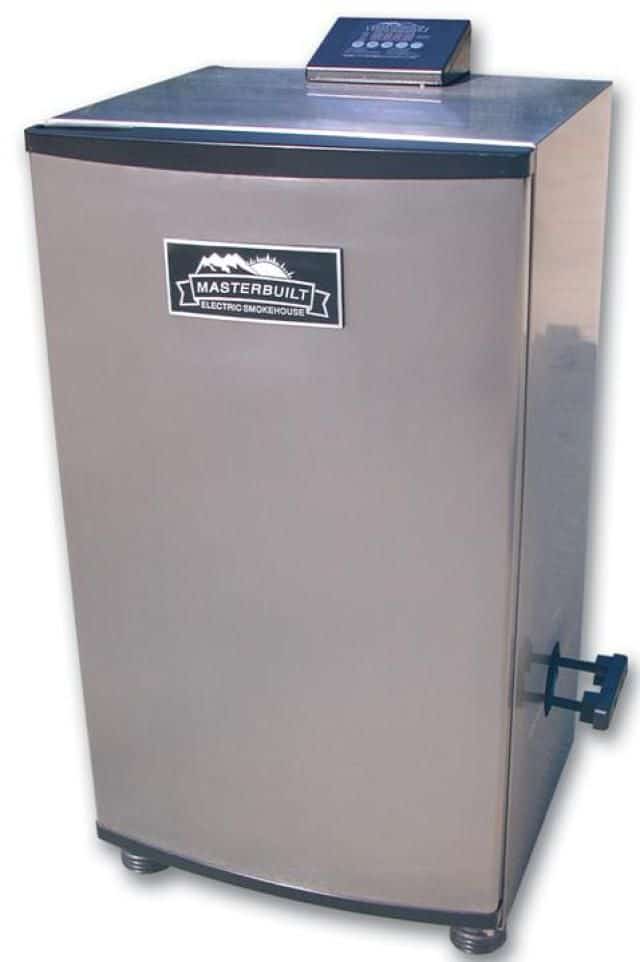 Contact Grill Type
This type of grill has the grill rack as well as the lid cover lined with electrically induced heating rods in order to simulate smoking food – it even leaves char marks on the food!
When you go to the home depot, ask for the easily removable grill racks, so that cleaning them will be a breeze.
Brands that offer contact grill type smokers are George Foreman, Krups Universal Grill, Panini Maker, Hamilton Beach MealMaker Express Grill, and Cuisinart Griddler GR-4.
Vertically Stacked Grill Type
The Masterbuilt Electric Smoker and all other grills made by Masterbuilt are vertical grills as I mentioned earlier; however, it isn't the only manufacturer in the barbecue grill industry that sells vertical grills.
So you can be sure to find an array of designs of this type of smoker at your local Home Depot or on Amazon.
The best thing about this type of grill is that you can smoke several foods on multiple layers of racks simultaneously. Some designs even have meat hooks at the top for an added bonus. 
It is also very easy to install anywhere in your condo or apartment. These smokers are very easy to clean which makes it a favorite for indoor smoker enthusiasts in North America.
Known brands that offer vertical smokers are Masterbuilt, of course, Smoke Canyon, Webber, Oklahoma, and Dyna-Glo.
With the Masterbuilt Electric Smoker, your indoor grilling experience will be very satisfactory. You can easily smoke a variety of foods and recreate delicious recipes. 
You'll be an expert griller in no time and soon your friends will beg you to cook your amazing recipes for them.
This is especially true during the autumn and winter seasons when people prefer to stay indoors.
Perhaps the only thing you'll need to worry about is getting a bigger grill. But, this time get one for the outdoors that is fueled by gas, wood, or charcoal.
Complete electric smokers guide: how to choose 1, AND use your pick!
An electric smoker is an extremely versatile piece of cooking equipment to have, especially if you love smoked foods. Unlike charcoal, pellet, and gas smokers, electrics are much easier to use, and they are the perfect unit for beginners.
Even pitmasters can benefit from owning an electric smoker because these smokers cook delicious smokey foods.
It does more than just cook meat cuts like briskets, ham, and ribs. It is used to make delicious smoked cheese, fish, nuts, smoked peppers, bacon, sausage, and so much more, I can't list it all.
In this guide, I'm sharing the best tips for using electric smokers, answering common questions, and giving full reviews for the best electric smokers on the market.
Here's a brief overview of the best electric smokers. I will review them all below.
What is an electric smoker?
It is an electric device, usually used outdoors or indoors, that smokes and cooks using hot electric rods.
Since the heat source is electrical, it's different from using charcoal or pellet smokers, which create a lot of smoke. The electric smokers are cleaner and easier to use because they don't require as much supervision.
Electric smokers come in many sizes, from small indoor ones to large indoor smokers for commercial purposes and outdoors smokers. Although designs can vary, most are made of stainless steel or cast iron.
Features may vary, they can have different sized cooking areas, warming racks, smoking racks, and cool modern features. These include:
smartphone-operated Bluetooth features
one-touch power buttons, automated heating, and cool-down cycles
digital control panels
remote controls
The bottom line is that electric smokers make delicious food that's smoky and flavorful, and they are easier to use and operate. With an electric smoker, everyone, including beginners, can smoke tasty foods.
Buyer's guide: what to look for in an electric smoker?
Electric smokers come in many sizes and at many prices. There's one for all budgets, but before you buy one, there are some things to consider.
I'm listing the three most important factors to think about ahead of investing in a smoker.
Size and cooking capacity
The larger the smoker, the more meat you can smoke at once. A 30 or 40-inch smoker is usually enough for most people. That gives you a few racks for the food.
Consider how much patio space you have for an outdoor electrical smoker. If you want a small apartment-friendly smoker, you'll need to think small.
It all comes down to your personal needs. Giant smokers are only necessary for pros and restaurants.
Portability
Can you move the electrical smoker around easily? Are you going to keep it in one specific spot on your patio all year round?
The main thing to consider is that the smoker has to be positioned near an electrical outlet so you can plug it in and use it. Moving it from storage to the cooking spot can be hard, especially if the smoker is huge.
So, consider getting a portable unit with sturdy wheels and handles so you can maneuver it.
Features & controls
Bluetooth and wireless temperature control are great features to have. Digital displays are a must-have so you can see the temperature at all times.
Look for smokers with plenty of control options, buttons, and digital controls. WiFi and Bluetooth connectivity makes it easy for you to smoke from a distance and if you want something like that, look for smart units.
Best electric smokers reviewed
Now let's have a look at my top 5 bes electric smokers.
Best overall & best electric smoker for beginners: Masterbuilt MB20071117 Digital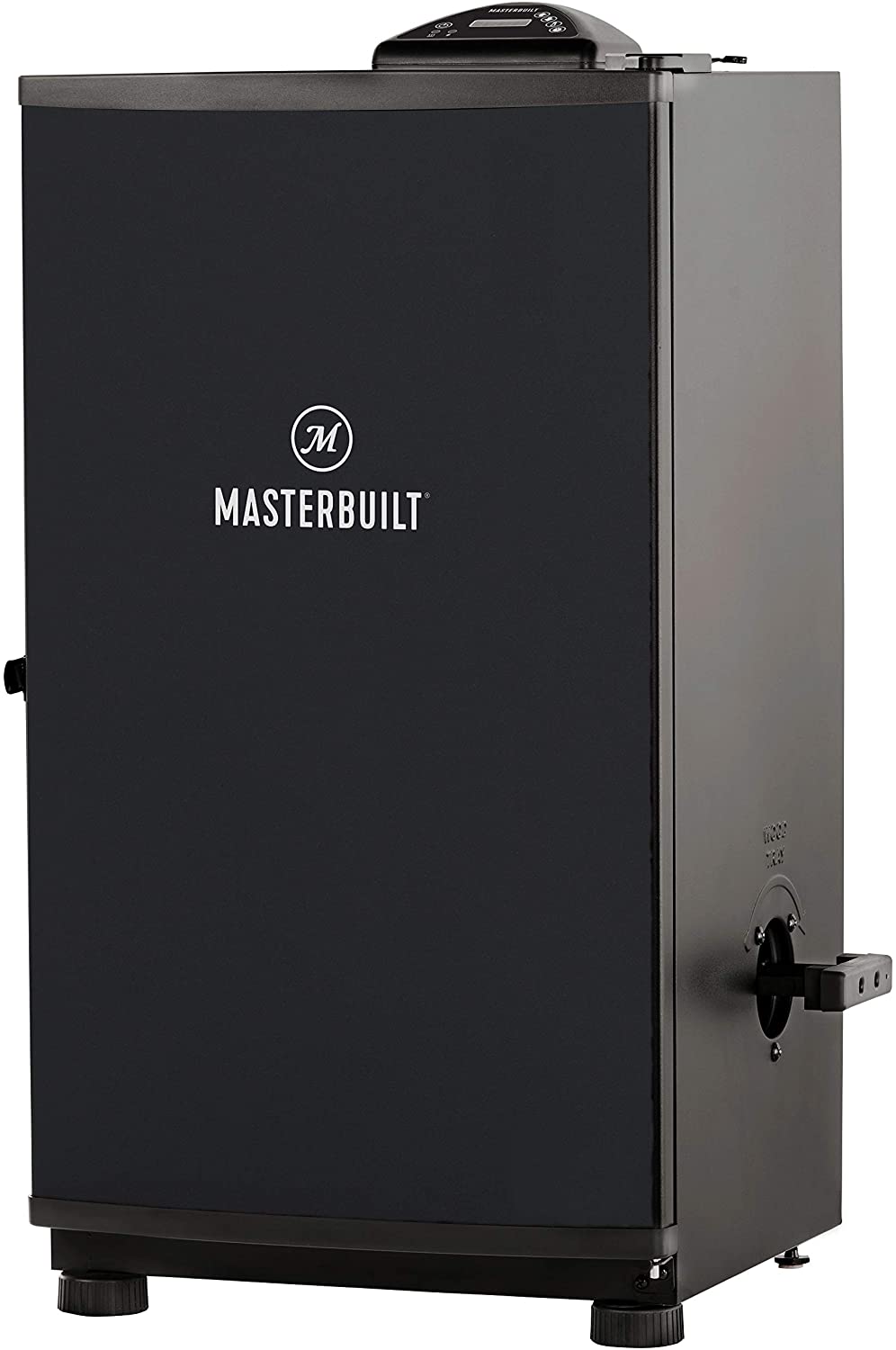 Whether you are a newbie to smoking or switching to electric, you need an electric smoker that's easy to use, not too large, and comes with digital controls.
The Masterbuilt 30 inch is a vertical smoker that's powered by a powerful heating element, and it's a great option for beginners. This smoker comes with everything you need: a water pan, drip tray, wood chip tray, and four chrome-plated racks.
In terms of design, it's very stylish, made of steel, comes in black, and looks like a mini-fridge, so it adds a nice touch to any backyard patio.
It has a low profile, so you're going to need to get a stand for it too.
The smoker is very budget-friendly but has the quality you'd expect from Masterbuilt – they're the masters of electric smokers, after all!
I'd say this smoker is the perfect mid-sized unit for the up-and-coming pitmaster. Four racks is enough to get you smoking ribs, pork butts, turkey, or six whole chickens at once.
Check out this video on how smoke country-style pork ribs in this smoker:
I also appreciate that the smoker is well insulated so that you can use it all year.
But what really recommends this unit as the perfect beginner-friendly model is its top-mounted digital control panel. Therefore, you can see the temperature clearly without having to open the smoker.
As well, the integrated thermostat is of pretty good quality, and you can use it for reference. The wood chips are loaded at the side, so there is no hassle adding them.
Overall, this smoker is just easy to use!
Prefer to smoke indoors instead? Check out my review on the best indoor electric & analog smokers featuring Masterbuilt
Best electric smoker for brisket & best with remote control: Char-Broil 17202004 Digital Deluxe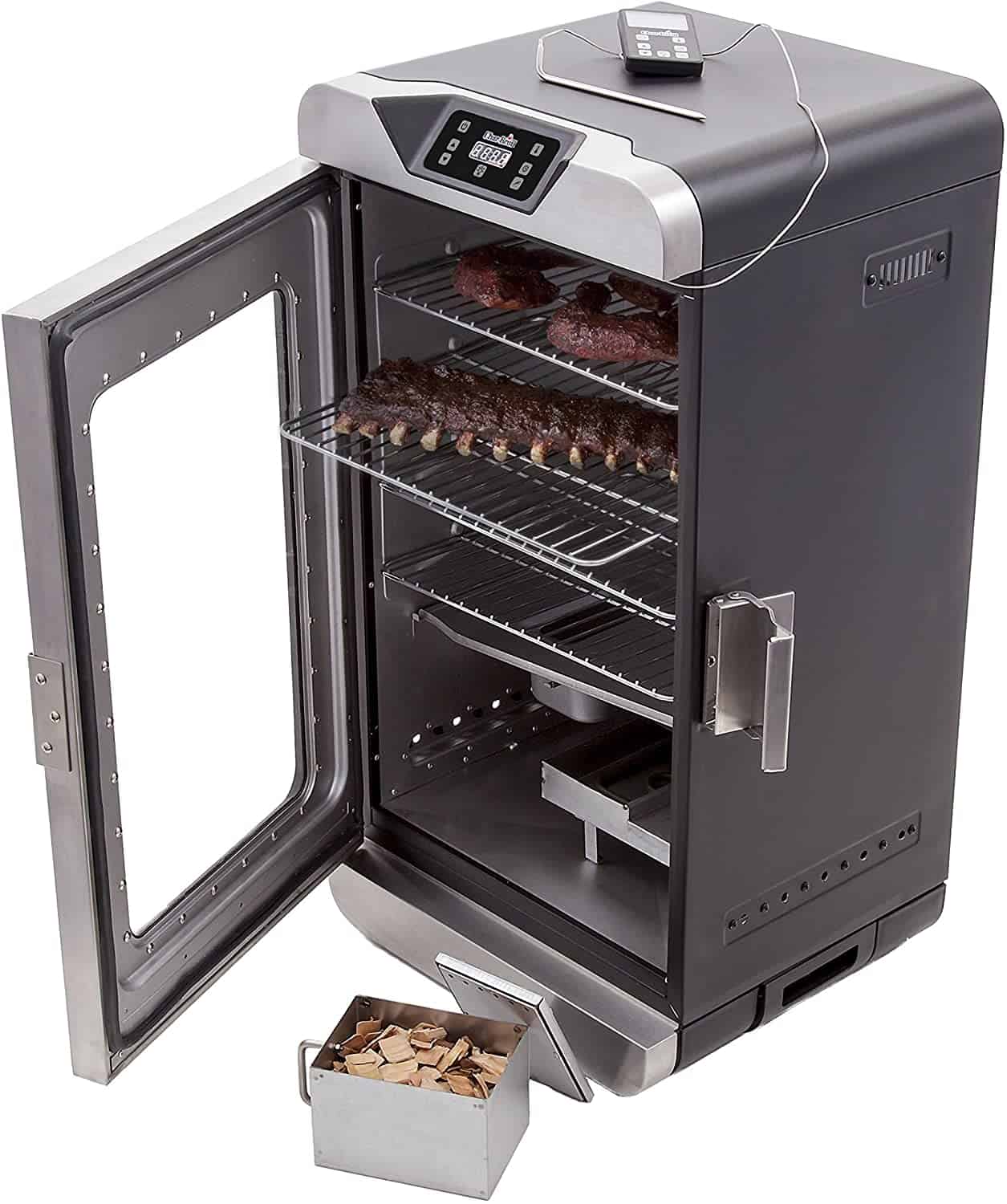 Brisket lovers behold the digital electric smoker from Char-Broil. It's the best option for smoking large cuts of beef.
With four racks and 725 square inches of cooking space, you've got enough room to smoke as much brisket as you can eat.
Additionally, all the racks are adjustable, so you can set up the smoker any way you want, depending on what foods you're cooking.
This vertical electric smoker is full of smart features and comes with a remote control so that you can go about your day while the unit prepares mouthwatering smoked foods.
You no longer have to go up to the smoker to check the display and see the temperature. All you have to do is adjust it via remote control for perfectly cooked meat every time.
What makes this a great smoker is that it has a glass door. Most Masterbuilt electrical units don't have glass doors, but this one is fun to use because you can see the food browning.
See this smoker being unboxed here:
A major advantage with this smoker is that the trays and pans are all dishwasher-friendly which seriously reduces cleanup time. Also, it's easy to load the wood chips because the tray is built into the side of the unit.
I want to mention that the remote control has a limited range, so you will still need to stay pretty close to the smoker.
Best small electric smoker: Landmann USA 32948 Smoky Mountain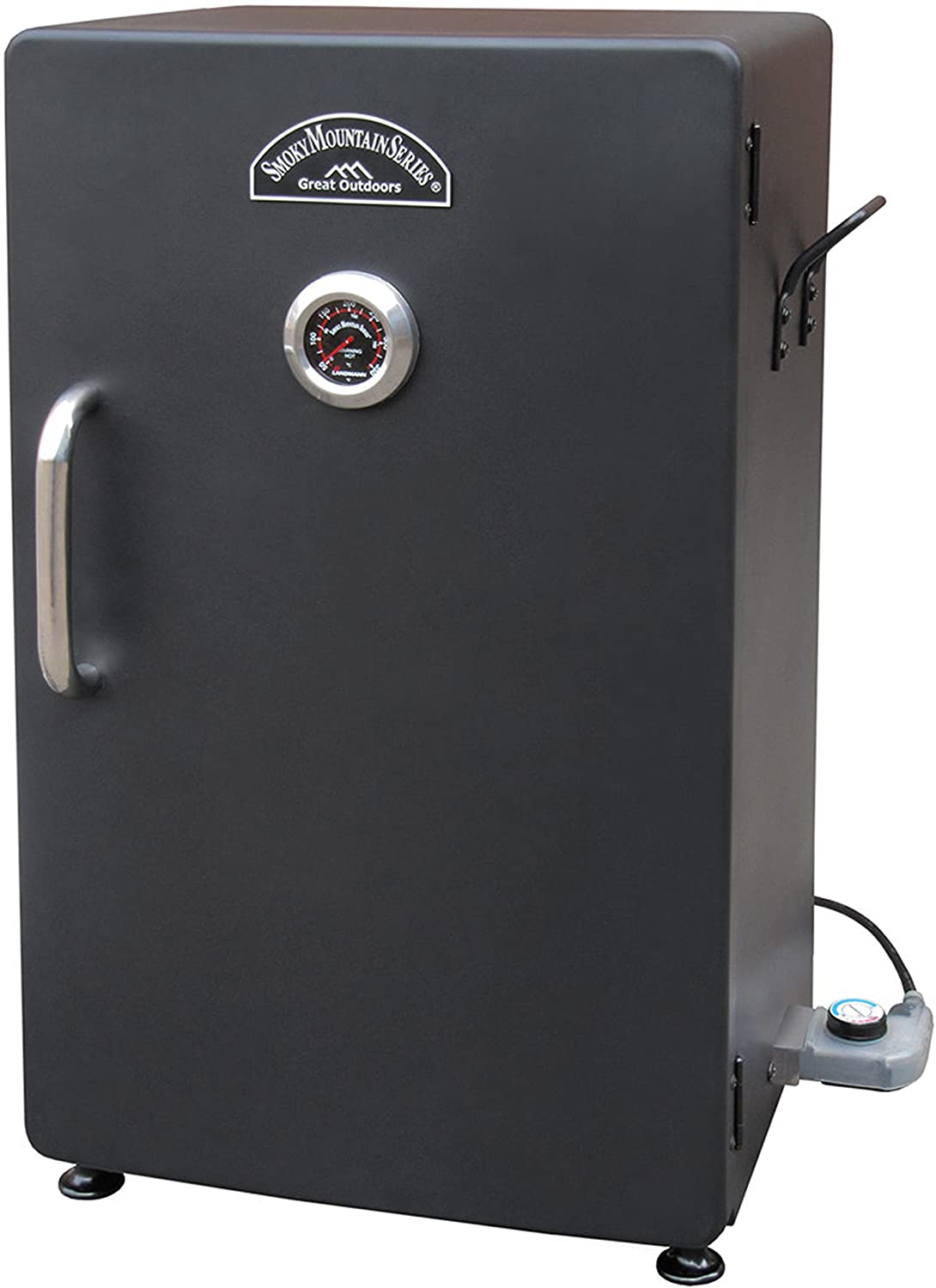 A 26-inch electric smoker is the perfect small-sized smoker for everyday use. If you don't smoke food regularly, you likely don't need a big smoker that takes up half of the patio space.
This one is small and compact but still offers enough cooking space. It has three racks and a really unique 3-in-1 tray that hold the water pan, wood chip tray, and grease tray in one place.
The smoker is portable and easy to carry from place to place as it has iron-wrought handles and adjustable feet. It is also lightweight (30 pounds), sturdy, durable, and will last you for years.
To get an idea of its practical size, have a look at this video from Landmann:
When it comes to cooking, it's easy to do with this one because it has vents at the rear, which lets you release the air if the temperature gets too hot.
This smoker lacks the "smart" features of many other similar products. Therefore, if you struggle with managing the temperature and need remote control or Bluetooth, this might be hard to use.
However, this is a basic smoker, and it costs less than $200, so it's perfect for occasional smoking.
If brisket is your favorite, you don't need anything fancier than this electric smoker. It infuses the food with that tasty wood smoke, and it's an overall great small unit.
Check prices and availability here
Also read: At What Temperature do Wood Chips Smoke? Guide to Getting it Right
Best electric pellet smoker: Z GRILLS ZPG-450A 2020 Upgrade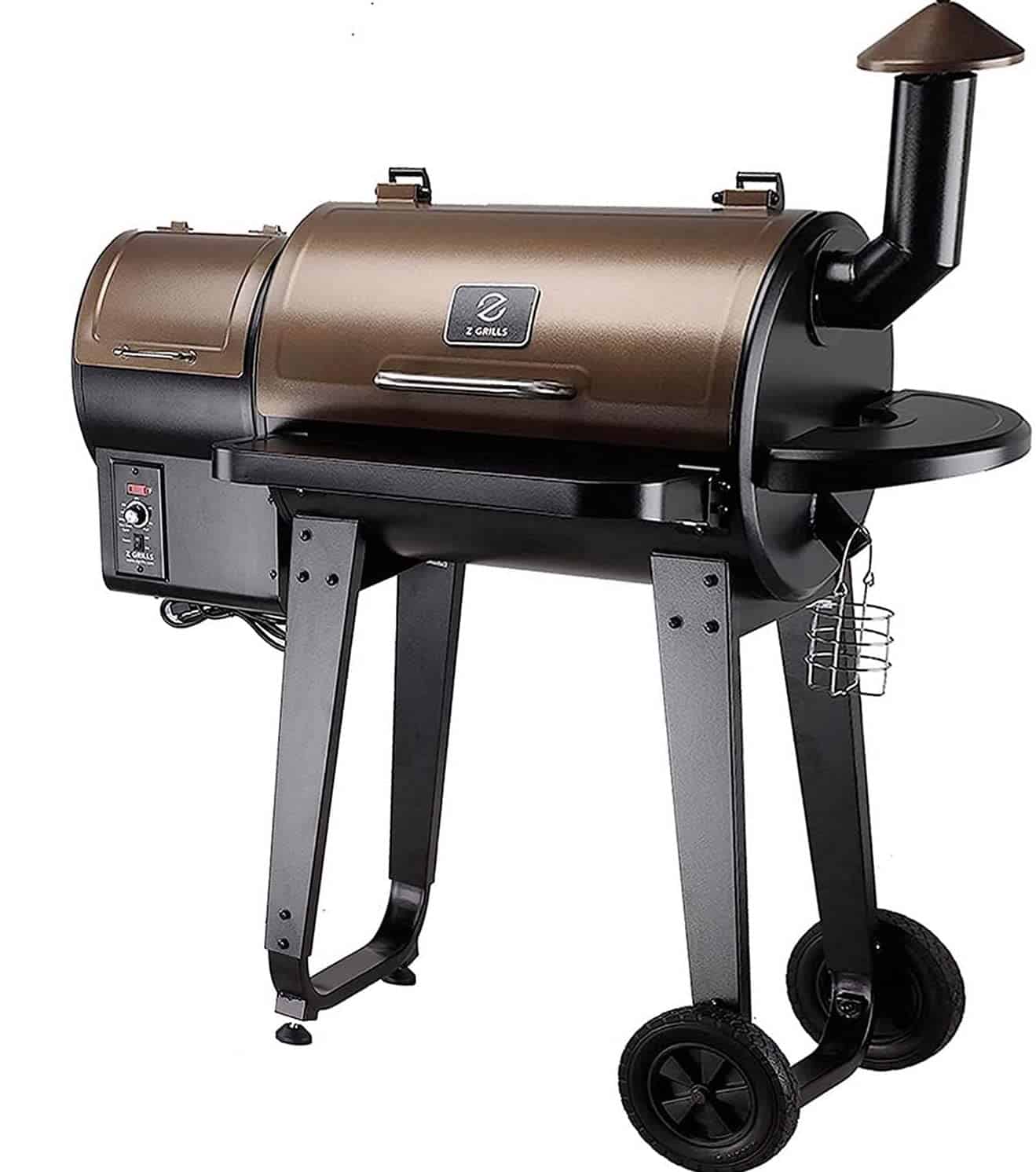 The pellet smoker is the best compromise between a fully electric model and a charcoal unit which can be hard to use. This budget-friendly pellet smoker is versatile and suitable for all kinds of cooking needs, not just smoking.
You can grill, braise, roast, bake, and even rotisserie. But you don't have to struggle to start the grill because it has an electrical plug, so you start it, and the pellet combustion method creates heat.
There is plenty of cooking space (19.2×26 inches), so you can even smoke big briskets and rib racks or whole chickens. How about a classic pellet smoker beer can chicken?
You can even cook whole large turkeys, so it's a useful smoker to have.
Check out this video with a review and a nice sweet potato recipe:
The temperature is quite easy to control because the unit has digital temperature controls. Z Grills is the type of grill and smoker with automated temperature control and optimal heat distribution.
Unlike fully electric smokers, you will still need to monitor the grill and the temperature frequently. However, you get a wider temperature range between 180 to 450 degrees, which is more than most electric smokers.
Best electric smoker with Bluetooth and rotisserie: Masterbuilt MB20074719 Bluetooth Digital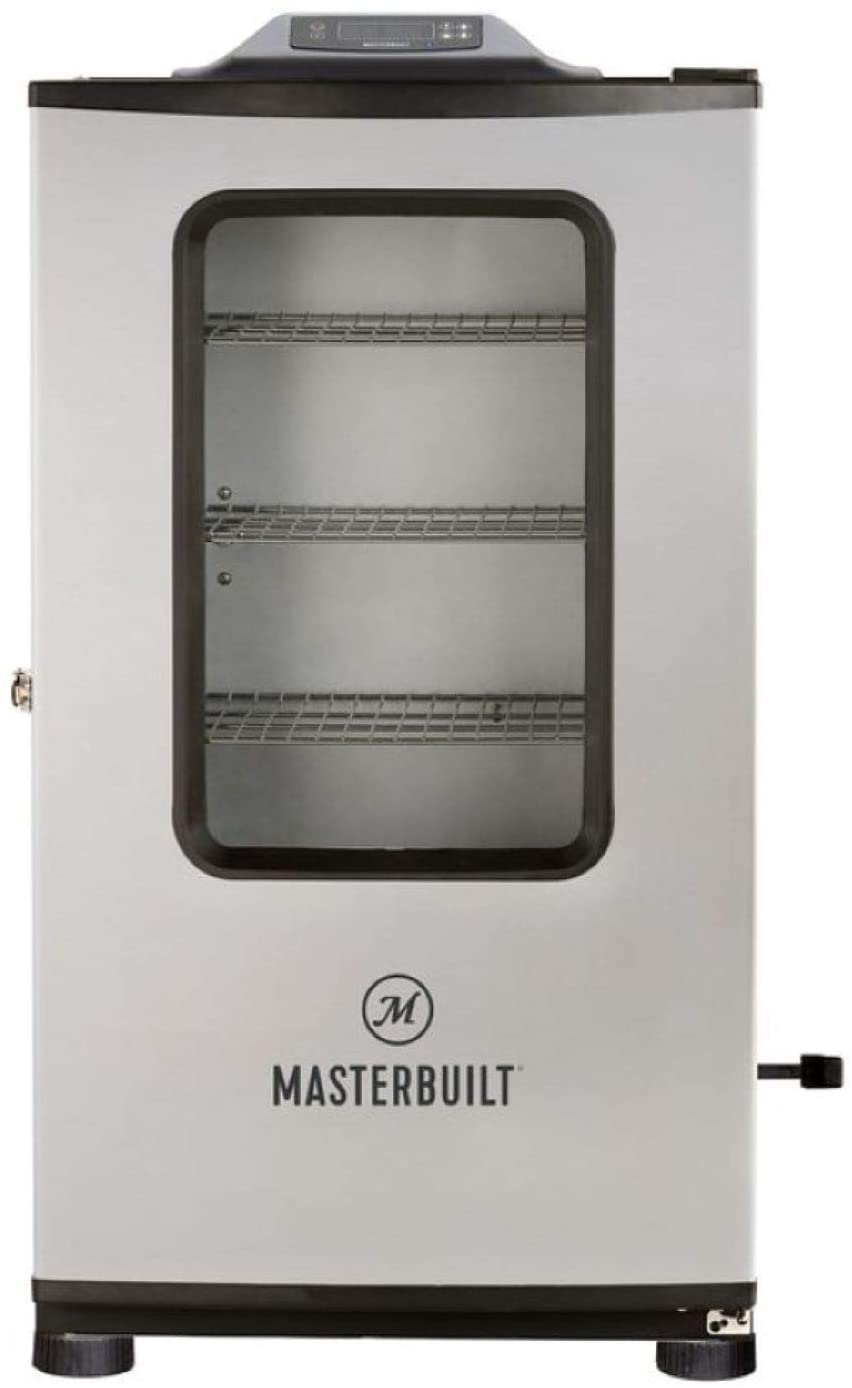 If you're looking for a large electric smoker with modern features like Bluetooth controls and a rotisserie, Masterbuilt's 40-inch smoker is an excellent choice.
It's a sturdy, large smoker made of stainless steel. The smoker is pricier than the others I've reviewed, but it's worth it because it has many premium features.
The smoker has a digital control center where you can select the temperature you want to smoke at and even control the smoke density.
It also has Bluetooth compatibility, so you can control the smoker through WiFi. This is helpful if you can't sit around the unit all day to monitor it.
Of course, the unit also has a built-in thermostat and temperature probe to offer you accuracy.
Here's Masterbuilt's own CEO introducing the features of this great smoker:
You can access the wood chip tray from the side of the unit. The smoker also has a glass door, so you can see the food as it cooks.
Unlike many other smokers, this one has airtight seals, so no smoke gets out through the door. If you need to adjust the racks, you can remove them and reconfigure them.
If you want to rotisserie, add the special racks that come with a Masterbuilt Rotisserie Kit.
Check prices and availability here
How do electric smokers work?
An electric smoker is a relatively simple smoking device, and it doesn't have too many components.
The smoker has a cooking chamber and hot rods, which heat up when plugged into a power outlet. These rods heat the cooking chamber by circulating hot air.
Thus, the basic principle is this: the electric smoker heats food through convection.
The smoker also has grill racks where you can place food, a water pan to keep enough moisture, and a place to put wood chips or chunks for smoke flavor.
The wood burns alongside the heaters, and these are responsible for giving meat that classic smoke flavor.
Main components of an electrical smoker
Before you can become a master at using your electric smoker, it's important to understand how it's built and how it works.
Here are the main components:
Heating rods
Each smoker has at least, but usually more metallic heating rods. These are located at the bottom and heat up the space (cooking chamber) and cook the meat.
The heat builds up slowly; thus, the meat cooks slowly. After all, smoking is all about cooking low and slow.
Wood chip tray
Each model is slightly different, but each contains a wood chip tray near the electric heater. You have to place wood chips or small chunks into the tray.
These burn slowly and produce flavorful smoke. Of course, you can only use wood chips that are safe for smoking, such as fruitwoods, and select hardwoods like hickory.
The chips are added to the firebox about a quarter of the way into the smoking process. Usually, you add about a couple of cups to add flavor to the meat.
Water pan
The water pan is usually located under the wood chip tray or under racks if the wood chip tray is on the side.
At the start of smoking, cold water is added to the pan to ensure the temperature in the smoker doesn't get too hot too quickly. As soon as the water starts to heat up, it releases steam, and that helps the convection cooking process.
Also, the water ensures the food stays a bit tender and moist and doesn't end up hard and chewy. Humidity is essential for the best-smoked foods.
How to or should you use an electric smoker water pan?
It's best to use the water pan. This piece of equipment makes temperature control much easier.
When it's cold outside, you can add some hot water to the pan. It helps the smoker reach a high temperature quicker.
On the other hand, when it's hot outside, but the smoker temperature is getting too hot, you can add some cold water to the pan. It can help maintain a stable temperature in the cooking chamber.
Learn more: Why put water in a BBQ smoker? Benefits + when NOT to
Grilling racks
The grilling racks are where you put the meat or other foods when you smoke. Most of these racks are made out of non-stick stainless steel.
You place the food straight onto the racks (especially filet cuts of meat). You can also place your cast iron skillets right onto the grilling racks for roasted foods.
Dampers and vents
Without dampers and vents, you can't control the smoker's temperature. The temperature settings in an electric smoker are controlled by airflow.
Since oxygen feeds the flames, you need to be able to control how much oxygen goes in.
Dampers at the bottom of the smoker unit open, so they allow air to enter. When more air enters, the oxygen feeds those flames that increase the temperature.
Vents at the top of the smoker can be opened and closed as needed. They allow the heat to escape when the temperature gets too hot.
Some heat also escapes when you open the unit's front doors when you check on the food.
Accessories for electric smokers
Accessories are the perfect way to customize your electric smoker. They can help you get the most out of your device and make smoking easier, so you should keep an eye out for these accessories.
The 6 best accessories for electric smokers:
An electric smoker cover – this is absolutely essential in order to protect your smoker outside. Without an electric smoker cover, the unit gets damaged and rusty when it gets wet and rained on.
Wireless meat thermometer – without a good external thermometer, it's hard to know the exact temperature inside the smoker. The built-in thermometers are usually pretty inaccurate. I recommend a wireless thermostat because you can always know the temperature even if you are away from the unit.
Additional racks for smoking all kinds of meat like sausages, jerky, seafood, etc. Because of their shape, you need special racks to hang sausages. That's why you'll need to invest in additional racks for your electric smoker.
Electric smoker stand – a stand is what you put the smoker on if you want it to be higher, especially indoors. A stand raises the smoker at least 16 inches so that you have easy access to it and don't need to squat.
Smoker insulation blankets – it's a blanket and smoker cover, but it insulates the heat so that it stays inside the smoker and doesn't escape. You're supposed to use the insulation blanket in the winter during cold months when it takes longer to smoke. By keeping the heat inside, the blanket helps maintain a constant temperature in the smoker.
Special heatproof gloves – heat-resistant gloves are a must-have because they help you handle and maneuver your smoker safely. With a silicone grip, the gloves don't get hot and also help against slipping. Therefore, even when you touch hot components in the smoker, you don't burn your hands. You can thus safely pick up the trays, touch racks, and hot meat.
Does the size of an electrical smoker matter?
Of course, it does. It really depends on how much you want to smoke and how many people you want to smoke for.
While a small smoker may be all you can fit in your apartment, a bigger smoker is always the best option for pitmasters.
When you smoke, you need to give yourself plenty of cooking space. It all depends on your patio size, too; the smoker can't take up all the space. But a good smoker must have enough space for a lot of meat.
Consider a vertical smoker. It's a tall smoker, and it can double or even triple the total cooking area. It's great for smoking all kinds of foods.
The cooking surface is measured in square inches. On the other hand, a wide smoker has double doors and is better if you want to smoke really big cuts of meats like ham.
A bigger smoker is more advantageous than a smaller one because you can cook more food. Since smoking takes a long time, why not batch cook your favorites?
Electric smokers used & stored outside
Most electric smokers are designed for outdoor use, and it is safe to use them on your patio or garden.
The more important factor to consider is how and where you store the smoker.
You can store the electric smoker outside, but you need to invest in a cover so you can keep it dry. The smoker should not be rained on regularly, or it will rust and get damaged.
For your own safety, keep the smoker and all components, including wires, away from rain or snow.
Once you cover the smoker, it will be fine even if it gets rained on. But the key is to protect it properly with a durable cover. Smoker covers are very cheap (under $20), and they are waterproof!
How to use an electric smoker
When you're cooking with your electric smoker, you're using a low-heat, slow cook, convection oven. How it works is that the hot air surrounds the meat (or other foods), and it heats up the internal temperature of the food while adding a smoky flavor.
The heat is provided by a hot metallic rod. These devices are easier to use than traditional pellet or offset smokers because you simply set the temperature, and then you can go about your day.
You will need to occasionally add more water and flavored wood chips but only once every few hours.
Here is a step-by-step guide on using an electric smoker:
Turn on the smoker by plugging it into an electrical outlet and turn the ignition on. Use the smoker's instruction manual to check how to do it best because each smoker model varies.
Fill the water tray with water (hot water in the winter). You can add some herbs if you want extra flavor.
Add wood chips to the wood chip tray or wood chip loader. Close the loader.
Some smokers also have a small tray under the grates where you can store wood chips. Residue from the wood loader can accumulate there but don't worry; this only enhances the smoky flavor. Don't empty this tray; let the wood bits add flavor.
Now it's time to add the food. Marinated meats, seafood, cheese, and vegetables can now be added straight to the grates or in cast-iron pans. Position the food well, lock the grill and make sure to secure the lock.
Look for the temperature gauge and the timer settings. Depending on your food, you should set the ideal temperature and time to cook.
Once smoking is well underway; you may have to adjust the vents and dampers. The airflow regulates the temperature, so keep an eye on it; even if you are a distance, don't leave the smoker unattended for too long.
After the food is smoked and finished, clean the smoker to remove residue and grime.
Check out this short video in which a woman demonstrated how to use the Masterbuilt electric smoker in 5 easy steps. It's short and easy to understand and follow along to:
Can barbecue meats be smoked well in an electric smoker?
Of course, it's simple to make very smokey and tasty meat in your electric smoker. The secret to making delicious smoked meat recipes is to learn how to set up and use an electric smoker properly.
Once you get the hang of it, you won't stop smoking. An electric smoker cooks meat well, helping the meat retain juiciness and tenderness while infusing it with smokiness, often from flavored woods.
There are pitmasters like Meathead Goldwyn who insist that an electric smoker is not as good as traditional charcoal, gas, or pellet smokers.
But he admits that electric smokers can cook very tasty foods, and they are easy to use.
Convenience is important after all, and if the meat is full of flavor, there is no reason not to buy an electric smoker.
What are the pros and cons of electric smokers for cooking?
Pros
Easy to turn on and off and start smoking
Most are portable or at least easy to move
The cooking surface distributes the heat evenly
Maintenance is easy
There are indoor and outdoor models
It doesn't require constant monitoring. Once you set it up and add the wood, you only need to check the water and wood every four to six hours.
Available for all budgets
Not costly to use
If you have a water-based smoker, you can add additional ingredients like herbs to flavor the food.
The food is moist and tender
It's pretty affordable to use
Dry heat smokers give the meat a crispy layer, and it's very delicious
Takes less time to smoke food
Cons
The newest and most innovative electric smoker models with Bluetooth and smartphone-controlled apps are more expensive than charcoal, pellet, or gas smokers
Depending on the model, it can be hard to assemble and learn to use
Some models are not suitable for both indoor and outdoor use
Outdoor electric smokers require a nearby outlet
They can create unpleasant smoke and smells
You constantly have to clean the grease pans to avoid fires
Electric smoker vs. charcoal
Electric smokers are different because their heat source is electricity.
An electric smoker has a heated rod near the bottom of the unit. The hot air circulates and combines with the smoke to cook and infuse the food with a smoky flavor.
Once you set the timer and temperature, you can basically let it do the work.
The charcoal smoker functions on a simple principle – hot charcoals burn and generate heat to cook foods. Wood chunks or chips burn on top of the charcoal and add that smoky flavor.
The disadvantage of charcoal smokers is that they constantly require attention. The temperature fluctuates, so you have to adjust the dampers and vents more often.
A charcoal smoker gives a smokier flavor to the food than an electric unit. Also, it can give the meat that crispy skin that an electric just can't.
The bottom line is that although charcoal smokers are usually cheaper and more popular, they are more difficult to use.
Read more on Wood pellet vs. charcoal vs. wood chips vs. wood chunks
Electric smoker vs. pellet smoker
Electric and pellet smokers both have to be plugged into an electrical source. While the electrical smoker cooks the food with electricity, the pellet smoker works with combustion.
But the main difference between the two is that pellet smokers use special hardwood pellets that burn and smoke your food. The pellets provide an indirect heat source that cooks the meat.
The advantage of a pellet smoker is that you can cook all kinds of foods, and it's not just for smoking. Cooking options for these units include baking, grilling, smoking, charring, and roasting. How about pellet smoker bacon?
In terms of flavor, the pellet smoker gives a more intense smoky flavor because the combustion of wood imparts a different flavor from electric units.
The bottom line is that pellet smokers are great because they give food that classic smokiness pitmasters are after. They are still more difficult to use, though, than electric smokers.
Electric smoker vs. propane smoker
An electric smoker is best when you want to control and cook delicate foods like cheese and fish. When you use a propane smoker, you have less control over temperature.
Gas smokers are more versatile, and they can cook at a higher temperature but require constant monitoring while you use them.
Propane smokers have a propane tank that acts as the fuel source. You can add wood chips to the smoker, too, and so you get amazing wood smoke-flavored food.
The gas smoker is most similar to charcoal smokers, and you can get the same kinds of results.
What makes the propane smoker is that you don't need electricity to run it, but you've got to fill up that propane tank regularly.
But, for outdoor smoking, it's very convenient. Also, these smokers are cheaper than electric smokers.
Electric smoker temperature range
Electrical smokers, like the Masterbuilt, have a temperature range between 100-275 degrees F (37-135 Celsius).
But, there are some electric smokers with a wider temperature range between 100 F all the way to 500 F. That's the best option if you plan on smoking a variety of meats and other foods.
Before you start to worry that your electrical smoker doesn't get hot enough, you should know that the ideal temperature for smoking is between 225 to 250 F.
This is just a generalization, and some meats require other temperatures to cook well. Also, take into account cold smoking vs. hot smoking.
What wood chips to use for an electric smoker
The wood chips have different flavors. Fruitwoods like apple are sweet and fruity, for example.
The type of wood chips you use will influence the overall flavor of your smoked food. That's why choosing the best wood to pair with your food is of utmost importance.
Wood chips are just as important as seasoning. Using the wrong wood can ruin the meat's flavor.
If you want the meat to have that cant-get-enough aroma, then choose a wood that complements the type of food you're smoking.
There is no difference between wood chips you use in an electrical smoker compared to offset or other smokers.
Here is a list of the most popular wood chips for electrical smokers:
Hickory
Oak
Mesquite
Apple
Cherry
Alder
Pecan
Walnut
Best tips for smoking with an electric smoker unit
One of the advantages of electric smokers is that the unit regulates the temperature for you, so less guesswork and supervision are required.
1. Use a temperature probe and don't rely on the built-in one
Electric smokers have a built-in thermometer called a thermostat. But, in most smokers, these aren't the best quality and are often inaccurate.
Sure, if you buy a very expensive smoker, the thermostat might be good, but your best bet is to use your own external temperature probe.
Use it and it's going to show you the actual temperature so you can smoke the perfect meat every time.
2. Always cook at the right temperature
Not all foods cook at the same temperature. I know, it sounds like common sense, but people usually forget to check the ideal cooking and smoking temperature for each cut of meat or food.
For example, you have to cook poultry at a higher temperature of 275 degrees F, while brisket and ribs are smoked at 225 F.
3. Maintain a clean smoker
It may be tiring, but you always have to clean your smoker before using it. If a smoker is not clean, it doesn't perform optimally, and the flavor of the food won't be as good.
An electric smoker is so appealing because it burns very clean. Therefore, remove any charred food or buildup from the smoker.
Ashes and grease deposits must be removed to keep the smoker in good shape.
After each smoking session, clean each cooking surface well, especially the grates and pans.
If you want less clean-up, you can always use a drip pan at the bottom of the smoker. This collects grease and drippings, and you can clean it as soon as you're done or when you clean the unit.
You're probably wondering how often to clean an electric smoker?
Well, the answer is after each use, as I mentioned above. But every few months, you need to do a deep clean of the smoker.
Then you have to re-season it also to keep it nice and oily. This not only prevents rusting of the metallic components, but it will make the food taste much better.
4. Always give yourself extra time
Smoking involves a lot of planning and time management. Some meat, like ham, can take up to 24 hours to cook. So, on that day, you'll need to do some supervision day and night!
Here's the thing. Electrical smokers cook food slower at a far lower temperature than regular charcoal smokers. The meat has to become tender, smoky, and well cooking inside.
For that, you have to prepare for a long cook. Some foods like ribs take several hours to smoke. But if the weather is cooler, it can take an extra hour or two.
So, the best tip is to give yourself enough time and avoid frustration.
5. Experiment with wood flavors
The fun part of smoking is deciding which wood flavor to add to the smoker. The smoke then flavors the food.
Most electric smokers come with a wood-burning option, and you can add flavored wood chips of your choice. Fruitwoods like apple, cherry, and apricot are popular.
But so are hardwoods like hickory, alder, and mesquite. There's nothing quite like the bacon-y flavor of hickory paired with ham or brisket.
If you're feeling experimental, you can even blend woods. Apple and hickory are good pairs that complement each other.
Beef works best with hardwoods, while delicate poultry tastes best with apple or cherry.
How to season an electric smoker
Before you use your smoker, you have to season it. Don't worry; it's not hard to do.
The role of seasoning is to remove and burn off the residue on the grill racks, chip tray, or the rest of the smoker. You will often find lots of residue on the sides of the smoker, especially all over the stainless steel.
During the manufacturing process, some residues still remain inside the smoker, so you must clean it before you use it for the first time.
Grab a small brush and cover the interior surfaces of the smoker with a light coat of cooking oil. It doesn't have to be dripping all over the place but make sure to use a generous amount of the cooking racks.
Then, run the smoker for 3 hours at 275 degrees F. If you want to do it like the pros, after 2 hours, add some wood chips to the tray. This creates smoke and primes the smoker with that smokey aroma before you even cook meat for the first time.
What to cook in an electric smoker?
Electric smokers are just as versatile as pellet, charcoal, or gas smokers, and this means you can smoke any food you like.
Here are some great food ideas to smoke in your new electric smoker:
Brisket
Beef cuts
Ribs
Pork (loin, shoulder, butt, bacon)
Ham
Chicken
Wings
Turkey
Gamefowl
Seafood like lobster
Fish
Salmon
Cheese
Tofu
Vegetables
Prime rib
Lamb
Derrick Riches of The Spruce Eats recommends easy cuts of meat like small pork shoulder roast or picnic roast for beginners.
These cuts are inexpensive and quite forgiving because they pair well with most woods, so you can't really go wrong with the flavors.
How to smoke pork shoulder in an electric smoker
Smoked pork shoulder is one of the most delicious foods you can make with your smoker. But, for some reason, people always think it's very hard.
People always ask, "is smoking a pork shoulder easy in an electric smoker?"
Let me clear this up: there is a simple way to do it!
If you want to make pulled pork that you can shred easily and add to your sandwiches, you're going to have to smoke for approximately 7 to 8 hours, but a large cut of meat can take up to 12 hours.
After all, it all depends on the size of the meat cut. It's actually one of the easier foods to smoke if you follow the low and slow method, and there's not much you can mess up.
Here are some basic rules to follow:
Add your dry rub about 12 hours before you start smoking.
Take the meat out of the fridge 1 hour prior to smoking, so it has time to warm up.
Preheat the electric smoker and add your wood chips (apple and cherry are best).
Place your pork with the fat side up in the smoker.
Start to smoke at 250 degrees F. You have to smoke at this low temperature.
It takes about 60 to 90 of smoking per pound of meat. Since pork shoulder is fatty, it's best to let each pound for 90 minutes.
The meat is ready once the internal temperature reaches 195 to 205 degrees F. Make sure to use a meat thermometer and measure the temperature inside the meat, not in the smoker.
FAQs electric smokers
Are electric smokers allowed in apartments?
Yes, electric smokers can be used indoors and in apartments and condos. Unlike charcoal, gas, or wood-fired grills, electric smokers don't use a highly combustible fuel source; therefore, they are safe for indoor use.
However, keep in mind that an electric smoker will still smoke up the apartment, and if your neighbors are sensitive, you might get complaints.
Just to be safe, check the apartment rules and regulations regarding grilling and smoking.
Can I use electric smokers indoors?
Yes, some models are suitable for apartment use and general indoor use. Commercial smokers are used in restaurants to smoke meat and other foods. Wet wood chips are heated, and they smoke your food, infusing it with yummy flavors.
These indoor smokers are quite good. They come with their own set of advantages. First, an indoor electric smoker is smaller than the outdoor one. This means it requires a lot less wood to smoke food, which saves you money on wood chips.
Next, they run on electricity but use less than larger smokers. It's great if you want to reduce utility bills.
Pros and cons of indoor electric smokers
Like all smokers, indoor ones have pros and cons you should consider before investing in one. I highly recommend getting indoor smokers if you have a small business or restaurant and want to serve fresh smoked foods.
Pros
You can use the smoker at any time of day all year round, regardless of the weather.
An indoor smoker is the best solution when you don't have outdoor space or your patio is just too small.
With indoor smokers, you don't waste expensive utilities like charcoal, lots of wood, or gas/propane. These smokers use fewer wood chips than other types of smokers.
You've got more control over how the meat cooks. Unlike other smokers that you have to keep checking, electrics require minimal intervention. Once you set the temperature, you have to fill the water tray and add wood chips but only once every 4 hours or so.
Cons
Indoor smokers can stink up the house, especially if you have a small kitchen and apartment.
They still take up quite a lot of space, so you may have to skip out on other appliances.
Indoor smokers are pricey and often more expensive than outdoor models.
Can you use an electric smoker in the garage?
It's not very safe to use your electric smoker in the garage if it's an outdoor smoker. The reason is that these smokers cause smoke damage to the garage.
Plus, they will make your whole garage smell like smoke, and that's not good if you store other objects there.
Strong ventilation is a must-have in the garage, but I recommend avoiding smoking there. Carbon monoxide poisoning is still a danger when you smoke in the garage, so avoid it and stay safe.
Will an electric smoker work in cold weather?
Yes, you can use an electric smoker in cold weather. However, there are certain challenges you'll face and need to prepare for.
But don't let cold weather discourage you. When the temperatures drop, the exterior of your electric smoker cools down and as a result, the temperature in your smoker's chamber will drop too.
This is an even bigger challenge when the wind blows hard.
Snow, rain, wind, and cold weather all have a negative effect on your electric smoker. So, you'll notice that the temperature in the smoker keeps dropping.
Therefore, the challenge is maintaining the right and even temperature throughout the smoking process.
It's going to take longer for your smoker to reach the desired temperature. Then, when it's cold, you need to add extra cooking time.
When the temperature outside is below 45 F, you must smoke for an extra twenty minutes per pound of meat.
Can you use an electric smoker in the rain?
You're likely wondering if you can use your smoker when it rains and if it's safe to do so.
The problem with smoking in the rain is that you need to open the top vent as you smoke. But if it rains, the water will trickle down all the way to the food, and that's not a good thing.
This scenario is unlikely to unfold because most electric smokers are made for outdoor smoking, and the weather is unpredictable. The smoker should withstand inclement weather like rain.
The good news is that you can still smoke when it rains. However, you might encounter some hurdles.
First, the smoker might get rusty.
Second, your grease catcher can become full of water, so you'll have to keep emptying it during the smoking process.
Then, the third biggest issue is the water in the top vent I mentioned earlier. A simple fix is a piece of aluminum foil loosely covering the vent like a mini tent.
The final and last potentially dangerous aspect of smoking in the rain is your electrical outlet. Make sure to use a grounded GFCI outlet.
Then always put something under the electrical cords so that they are not sitting on the wet ground. If you can cover them, do that also.
For your own safety, never stand in water while you touch the smoker.
Can you use an electric smoker overnight?
Sure, it is possible to smoke all night; however, it's not quite safe. Even when you smoke meat for a long time overnight, it still needs to be monitored.
Make sure to set the alarm and check on the smoker every couple of hours. Also make sure there is enough water in the pan and top up the wood chips.
The bottom line is that it's never safe to leave electrical equipment unattended overnight.
Can you use aluminum foil in an electric smoker?
Many recipes call for wrapping meat in aluminum foil. You're probably wondering if it's safe to do so in an electric unit.
The answer is that yes, you can use aluminum foil in electric smokers.
The only broader health concern is the potentially toxic elements of the foil seeping into the food.
Are electric smokers healthy?
Generally speaking, electric smokers are safe and healthy to use. In fact, compared to other smokers like charcoal ones, electric smokers are healthier.
They reduce the amount of smoke that leaks out, so you're not breathing in as many toxic fumes. These electric units also have no flare-ups from open flames.
The food is tasty, and the hot air convection system is not a danger to human health in any way. Electric smokers eliminate the buildup of carcinogenic particles from charcoal. Thus, they are the healthiest smokers out there.
The bottom line
Smoked foods are delicious – there's no doubt about that. Luckily, electric smokers make it easy for anyone to make tasty foods.
Whether you're a fan of smoked ribs, beef brisket, or you prefer smoked gouda, there is a smoked food recipe for everyone.
The great news is that an electric smoker is pretty easy to use so you don't need to be a pro to get all the tasty benefits of such a unit.
So, the next time your family demands something yummy, don't hesitate to bring out the smoker!
Now you have the smoker sorted, let's look at some of the best electric smoker cookbooks with recipe inspiration for all skill levels
Is it safe to use an electric smoker in the garage?
A lot of electric smokers aren't safe to use in the garage. You need to get one built specifically for indoor use. Even if you use it in your garage, you must vent the smoke and carbon monoxide from the smokers outside.
What are the pros and cons of using an indoor smoker?
The traditionalists prefer outdoor smoking, charcoal smoking, and slow cooking. But, the modern world has its advantages. Now busy people can smoke their favorite foods indoors in less time. 
Pros
Indoor smokers are small and fit in kitchens of all sizes. They are compact and easy to store.
The smokers can be used year-round, regardless of the weather. So, you can enjoy a BBQ anytime you like. 
You can save money because you don't need to buy wood chips and the devices are energy efficient. 
These high-tech cookers let you have control over temperature and cooking time. Forget about checking on the meat constantly. 
Cons
Indoor smokers are costly because they usually have more features and added functionalities such as digital displays. 
There is a smokey smell that penetrates the kitchen and home. While it's not the classic smoke scent of outdoor grilling, it can linger.
You need to be careful and watch over the smoker to prevent any fires or damage. The smokers get extremely hot. 
The Bottom Line
If you want to smoke, roast, and grill year-round, invest in an electrical indoor smoker. The food tastes amazing, the flavors are similar to outdoor smoking, and these devices are affordable. 
However, always be careful and ensure you don't leave electrical devices unattended for long periods of time. 
In conclusion, the next time you invite friends and family over, make them some delicious smoked sausage, hot dogs, or even cold-smoked cheese in your new indoor cooker.