by Boris
|
Last Updated:
January 1, 2020
Ok, so the most asked question when looking at buying an electric smoker is:
Can electric smokers be used indoors?
Electric smokers can definitely be used indoors and any electric smoker will do, as long as it doesn't use gas, charcoal or wood for fuel. Using highly combustible fuel in indoor grilling is unsafe so that's why most people in small condo's use an electric smoker grill.
In this post I'll take a look at the best indoor smokers.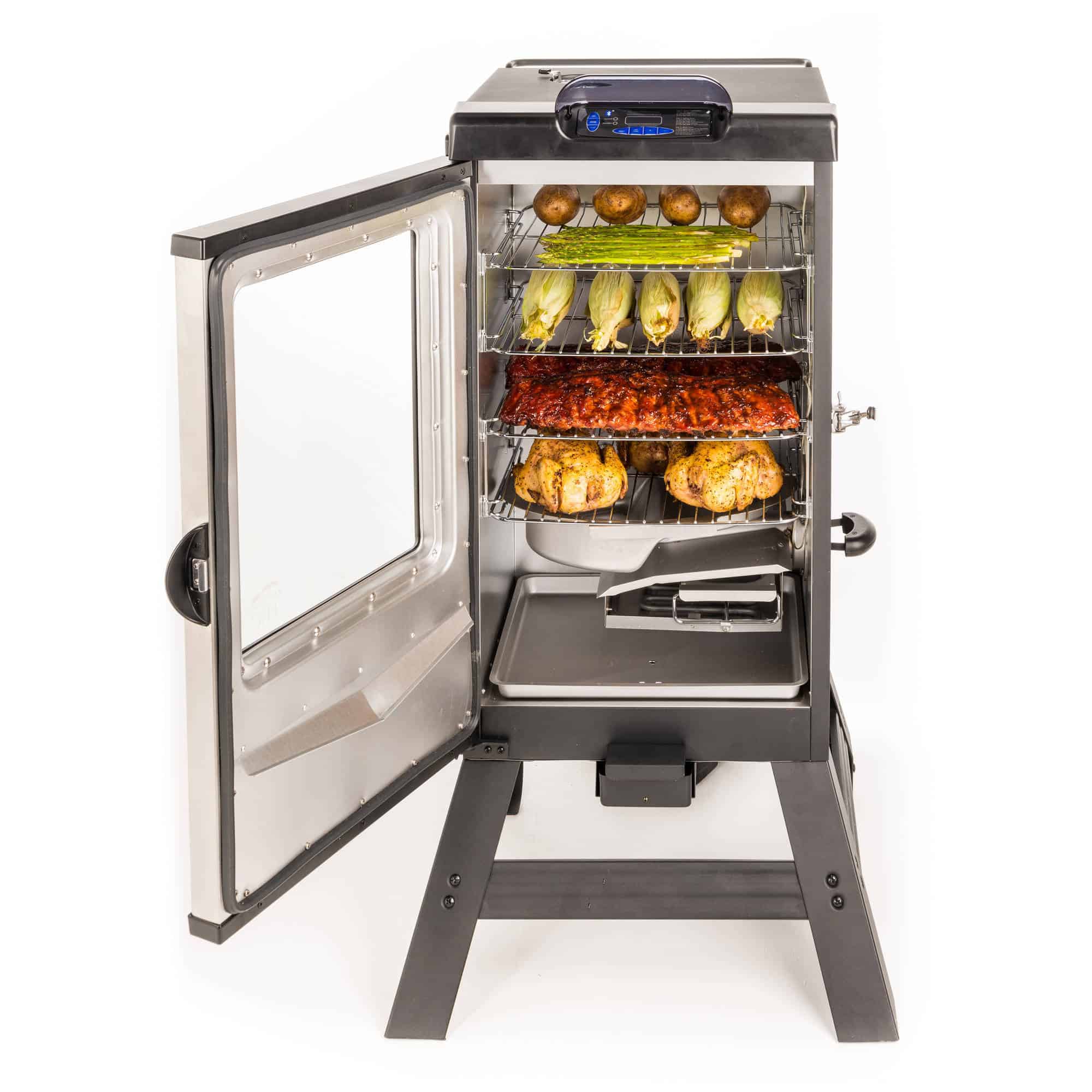 Kinds of Food that can be Cooked with an indoor Electric Smoker
Spring and summer spans 6 months of each calendar year and these are the favorite months of smokers and barbecue grill enthusiasts to smoke food outdoors.
The summer heat and least amount of rainfall during these months makes smoking food around the bottom half of the afternoon is very ideal.
Whether it's in your own backyard, or out camping on parks, or maybe you prefer a more scenic place like near the cliffs of The Grand Canyon; grilling your favorite recipes is best done during the summer and spring seasons.
Now I don't like to advertise the most expensive Masterbuilt smoker and that's certainly not the one I got, so I will just go with what I myself have bought and still use this Masterbuilt Front Controller Electric Smoker.
Now, it's got the front window and RF controlled temperature so I don't have to sit with it or check it every half-hour or so while it cooks. Here's the one I've got:
Check the remote RF function on this thing:
These are my top 3 indoor electric smokers, I'll get to them in a more in-depth review later on in this post:
Best indoor electric smokers reviewed
Best digital indoor electric smoker: Masterbuilt front controller RF
What do you do bout during the autumn and winter seasons?
You certainly can't smoke food outdoors due to the dropping temperatures, so you'll have no choice but to do it indoors; and the best smoker grill for the job is the Masterbuilt Electric Smoker or any other electric smoker as long as it doesn't use gas, charcoal or wood for fuel.
Using highly combustible fuel in indoor grilling is unsafe that's why we opted for the electric grill. You'll enjoy the vertically arranged designs of the 30 and 40-inch electric smokers from Masterbuilt.
These grills are the best space-saving grills around and this is the best smoker for you if you're renting a small flat or a condo.
You can smoke up to 3 or 4 different foods at a time with the Masterbuilt Electric Smoker which means that you'll also save half the time to cook your meals! Meals you can cook with the electric smoker includes:
Fish fillets
Steaks
Pork chops
Hamburgers
Vegetables
Electric smokers can only cook easy to cook meals, so you don't shove the whole turkey in there for Thanksgiving or chunks of meat that are larger than 5 square inches.
It is not designed for those kinds of food and either your electric smoker will break down or your food won't cook thoroughly. So only cook foods that are mentioned above and only cook them in small sizes.
The size of the grill rack in the Masterbuilt should tell you the maximum volume of content that can fit inside this vertically stacked grill, and it's a lot!
Check out the latest prices and availability here
Best analog indoor electric smoker: Char-broil Analog
This analog smoker is well insulated and has a double-wall construction. It also has a removable food thermometer and a heavy-duty door for great durability.
Moreover, it has a large stainless steel locking fastener for a smoke-tight seal.
Since using charcoal smokers is a time-consuming procedure and requires a lot of attention. This electric smoker makes grilling easy with 1000 square inches of internal cooking space.
It contains four adjustable smoking racks and provides the capacity to prepare and grill various kinds of food and in large quantities as well.
It has no hassle and is easy to use. All that is needed to do is waiting for your savory meal to be ready with a great smoked meat flavor. 
It has a double insulated built-in wall that locks in the heat and steam and keeps the surroundings smoke free and its advanced control panel monitors and adjusts the temperature of the grill itself.
Other than this, some additional features include a large capacity Smokebox, Removable temperature gauge, a Warming feature that keeps the food inside the smoker warm and an 8.5-Cup High-capacity grease tray that makes grease cleaning easy.
The char-broil smoker works exceptionally well for large amounts of food because of its large space. It can prepare food for a group of 10 or more people easily.
The fire access doors, air dampers, and smoking racks give the user sufficient control over the smoker. 
Best small indoor kettle smoker: Nordic Ware
Nordic Ware Kettle is an electrical smoker available on Amazon via various sellers. The model is specifically designed for easy indoor cooking.
It is easy to handle and measures 6-7/8 by 13 by 13-1/2 inches and weighs 8.16 pounds while the total shipping weight is 9.3 pounds.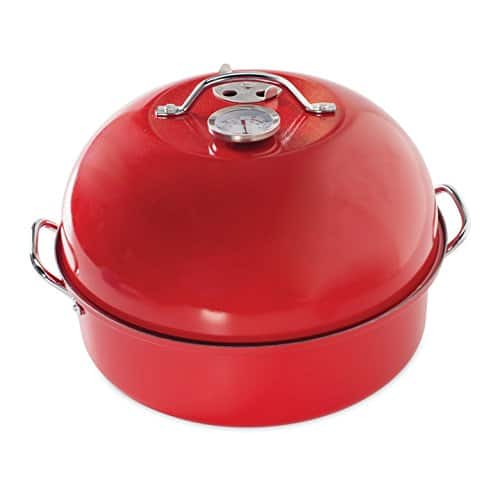 It has a cover with a high dome which allows for maximum food capacity. It grills the food easily and the best part is that it can be used indoors as well for times it is freezing outside.
However, it is not recommended to use this smoker at a very high temperature. A temperature range of 190-210 Fahrenheit is ideal for this to turn the raw food into something delicious.
The smoker is originally made in the USA whereas the thermometer used in it is imported from China and the handle is from Taiwan.
This smoker is specially designed to promote culinary creativity for every season and both outdoor and indoor use.
It provides the users with an all-rounder experience and taste when grilled either indoors or outdoors.
This cooker is the only full line of indoor and outdoor grill cookware. It can be used to grill meat, steaks, barbecue, vegetables or even seafood while it infuses the food with rich and smoky flavor and promotes the overall ambiance of the food.
It consists of various parts including high-dome cover, the base pan, water pan, nonstick smoking rack, thermometer, and wooden chips. It is user-friendly, easy to use and easy to clean.
And because it comes with a thermometer, it is easy to monitor the internal temperature of the smoker as well.
The height of the lid makes it easy to add a steamer rack which is ideal to grill foods like chicken legs, thighs, wings, and vegetables, etc. It also comes with two packs of wood chips in it with apple and oak flavors.
The wood chips can be crushed to a powder that is perfect to use with this smoker. It also comes with a recipe booklet that you can use to cook any dish of your choice.
The smoker gives the food a smoky flavor and the surrounding air a very subtle smoky ambiance but doesn't smoke up the room.
On a wider note, it is a brilliantly designed smoker which facilitates easy grilling and is worth its cost. To use it ideally, scatter the wood chips or the wood chips powder on the base of the kettle evenly.
Line the water pan with a foil sheet or any heat-tolerant sheet and put it in and put the rack on the top. Use the holes around the edge of the rack to put in a knife when the rack needs lifting. 
3 Types of Electric Grills: Open Style, Contact Style and vertically stacked
You may also want to read Fish Tacos for My New Brinkmann Grill
Open Grill Type indoor smoker
All Masterbuilt's smokers including Masterbuilt Electric Smoker are all closed vertically stacked type, so it definitely does not fall under this category of an indoor electric grill.
If you plan to get an open grill style smoker, then choose one that comes with a lid cover. Most of this type of grill nowadays often comes with a lid cover, so you probably won't have to give it too much thought.
A lid cover ensures that all of the steam and smoke are contained inside the smoker. You wouldn't want to set off the fire alarms in your area, now do you?
This is especially important if you in crowded urban areas like a high rise apartment or condominium building. Examples of open grill smokers includes the Cuisinart GR-4N 5-in-1 Griddler, T-fal GC702 OptiGrill Indoor Electric Grill, and the Delonghi BG24 Perfecto Indoor Grill.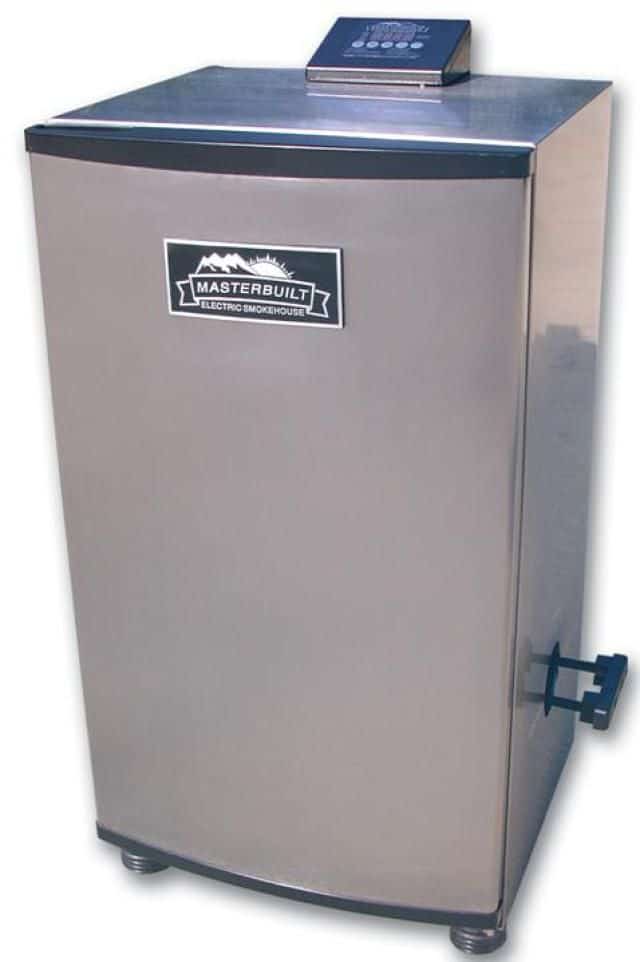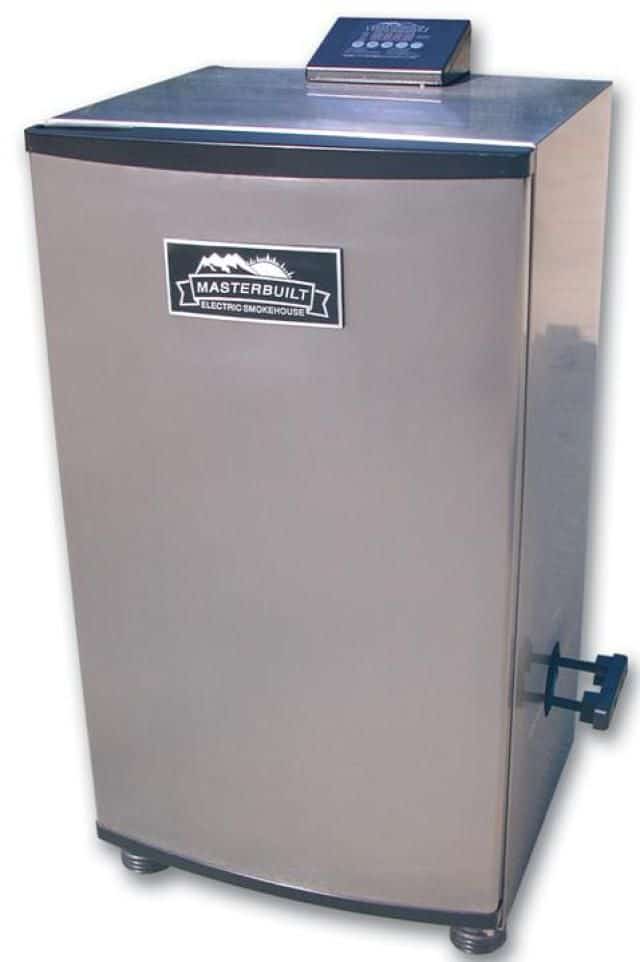 Contact Grill Type
This type of grill has the grill rack as well as the lid cover lined with electrically induced heating rods in order to simulate smoking food – it even leaves char marks on the food!
When you go to the home depot, ask for the easily removable grill racks, so that cleaning them will be a breeze.
Brands that offer contact grill type smokers are George Foreman, Krups Universal Grill, Panini Maker, Hamilton Beach MealMaker Express Grill, and Cuisinart Griddler GR-4.
Vertically Stacked Grill Type
The Masterbuilt Electric Smoker and all other grills made by Masterbuilt are vertical grills as I mentioned earlier; however, it isn't the only manufacturer in the barbecue grill industry that sells vertical grills.
So you can be sure to find an array of designs of this type of smoker when you go to the home depot in your area.
The best thing about this type of grill is that you can smoke several foods on a multiple layers of racks at a time (some designs even have meat hooks at the top for added bonus).
It also very easy to install anywhere in your condo or apartment, and are very easy to clean which makes it a favorite for indoor smoker enthusiasts in North America.
Known brands that offer vertical smokers are Masterbuilt, of course, Smoke Canyon, Webber, Oklahoma, and Dyna-Glo.
With the Masterbuilt Electric Smoker, your indoor grilling experience will be very satisfactory and in time you'll want to smoke a whole lot of recipes in it.
You'll be an expert griller in no time and soon your friends will beg you to cook for them with your amazing recipes, especially during the autumn and winter seasons where people prefer to stay indoors.
Perhaps the only thing you'll need to worry about is getting a bigger grill and this time probably one for the outdoors with gas, wood or charcoal fueled.
Is it safe to use an electric smoker in the garage?
A lot of electric smokers aren't safe to use in the garage. You need to get one specifically made for use indoors, even if you use it in your garage and you should have a way to vent the smoke and carbon monoxide from the smokers outside.

From our buying guide:

Top posts from our blog: