I love creating free content full of tips for my readers, you. I don't accept paid sponsorships, my opinion is my own, but if you find my recommendations helpful and you end up buying something you like through one of my links, I could earn a commission at no extra cost to you.
Learn more
It's not surprising why so many people compare induction vs gas cooktops. These are two of the most popular cooking appliances to invest in your kitchen. But which of the two is better? Let's find out.
The induction cooktop is becoming very popular lately. Although there are still a few people that use the traditional cooktop with an electric coil, many homeowners are switching to the more modern induction cooktop. This method of cooking is not only safe and easy to use, but it also allows you to prepare meals quickly.
So, you might be asking, what about the gas cooktop? Cooking with gas is something that we all have done. This method is, no doubt, reliable, and works for most people. But if you want to upgrade and perhaps, go for the more modern cooking technique, then the induction cooktop is definitely worth giving a try.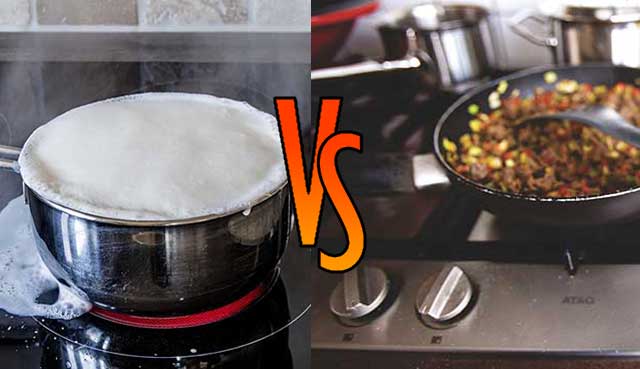 If you need more reasons why you should upgrade to an induction cooktop from gas, then here's our take on the differences between gas vs induction cooktop.
In this post we'll cover:
Induction Cooking Advantages and Disadvantages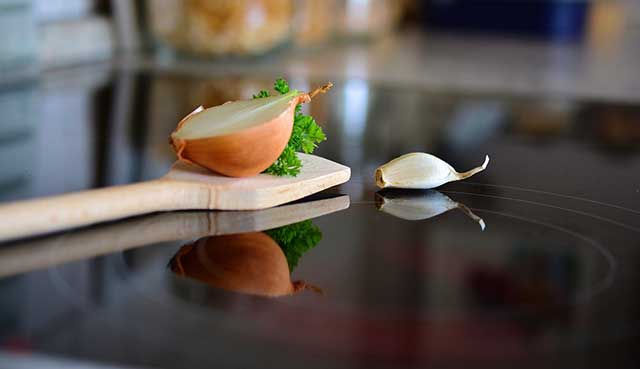 Many people are now switching to induction cooking, even though using gas for cooking is reliable. So, what could be the reason behind that?
Take a look at these pros and cons of induction cooking:
Pros
Faster than gas cooktops:
When using an induction cooktop, you're able to boil water in less than the amount of time you will spend boiling the same amount of water using a gas cooktop.
The induction cooktop is more cost-effective and energy-efficient than the gas cooktop. All the heat energy that the induction cooktop generates goes towards the pots, and no energy will be wasted. Thus, they are more energy-efficient. So even though induction cooktops are more expensive, you could save money in the long-term.
Induction cooktops remain cool, which makes them safer to use. That's because the energy that these cooktops generate will only be converted to magnetic materials. Therefore, they will not heat the cooktop, and this minimizes the risk of burns and fire. This also means the food you are cooking won't burn. It also won't cause food particles to stick, so you won't have a hard time cleaning the pots.
Cons
The induction cooktops cost a whole lot more compared to the gas cooktop, which is obviously a downside for most people.
The biggest drawback with appliances that rely on electricity is that they will be deemed useless in case there's no electricity or in the event of a blackout.
You can't rely much on the induction cooktops in terms of the accuracy of temperature. Sure, you can set it to your desired temperature, but it will take longer for you to adjust it to your desired temperature, which is not really the case with gas cooktops.
You must have special cookware:
The induction cooktop needs a special type of cookware that has iron to make them magnetic, although it's quite easy to look for this type of cookware nowadays.
Gas Cooktop Advantages and Disadvantages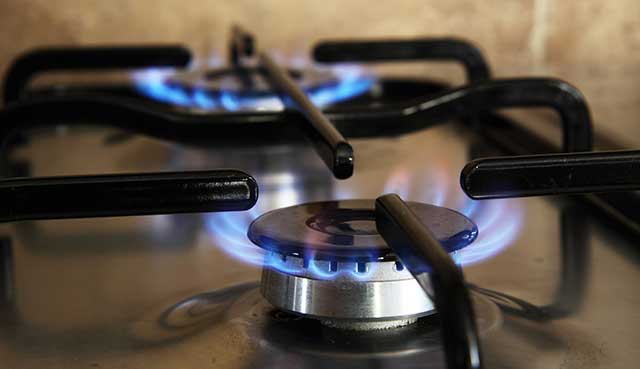 Everyone is familiar with gas cooking. You probably grew up using this type of cooking method in your parent's kitchen. This is not really surprising because this was the preferred method of cooking some 50 or so years ago. To compare it to the induction cooktop, let's take a look at the pros and cons of gas cooking.
Pros
Indeed, the biggest advantage of using a gas cooktop is its reliability. You should be able to rely on this cooking appliance for all your cooking needs just as long as there's gas in the tank. In fact, even if the power goes out, you can continue to use it for as long as you have a lighter or match. This won't be possible if you're using an induction cooktop.
Unlike the induction cooktop, gas cooking will allow you to set the temperature accurately so you can cook your food well. If you're going to change the flame of a gas cooktop, there will be immediate changes to the temperature. This is the main reason why there are some people who would settle with the traditional way of cooking gas.
Gas cooktops cool down immediately after use. This is the reason why so many people like them. It works by dispersing heat directly to the cookware, while those with electric coil will remain hot forever. As soon as you shut the gas burner off, the heat will instantly disappear.
Cons
The biggest downside with the gas cooktop is the need to make sure that the gas tank is always full or that it's attached to the gas line. Otherwise, you won't be able to use it. Sometimes, it can be a hassle to keep on refilling the gas tank since you would have to call and pay someone to do it for you. If you're using a tank, you need to refill as soon as it's empty, which is time-consuming.
Using the gas cooktop is obviously more dangerous than an induction cooktop. The fire that it produces could burn you if you're not careful and is a fire hazard. In fact, there are hundreds of fire incidences involving the gas cooktop.
 Although gas cooktops are cheaper than the induction cooktop, this could eventually cost more in the long run since you need to refill it with gas regularly. Plus, the cooktop uses a lot of gas, and some of it will only go to waste. Thus, gas cooking is not cost-effective.
The problem with gas cooking is that the grates that cover the burner could get messy and dirty. When this happens, the grates are difficult to clean.
Best Induction Cooktops reviewed
By now, you should have an idea of what to choose between the induction vs. gas cooktop. If you find the induction cooktop to be a better choice, then here are some of the best induction cooktops in the market that are worth checking out.
GE JP5030DJBB 30 Inch Smoothtop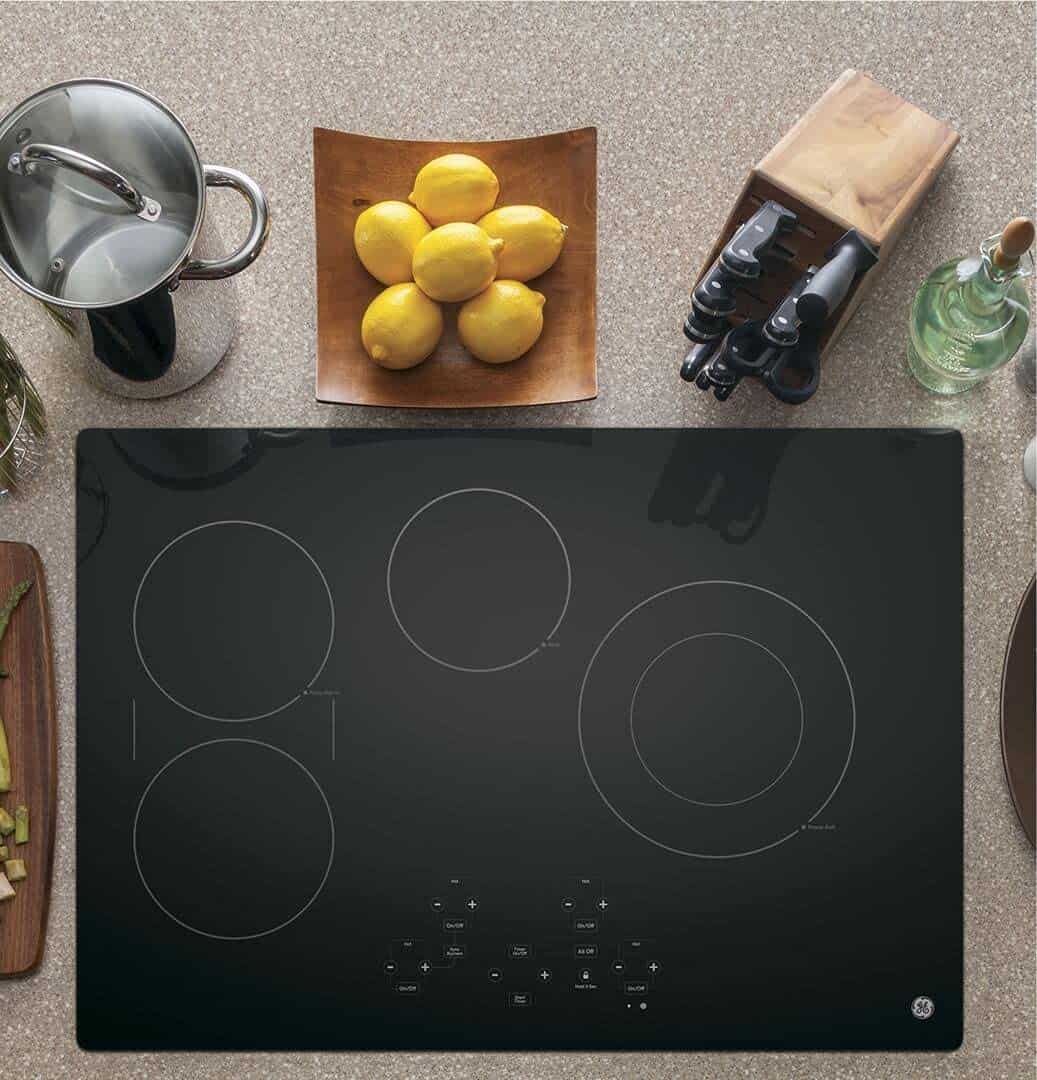 The GE JP5030DJBB 30 Inch is one of those cooktops online that are gaining popularity in the market in terms of value and quality. You can choose from all black color or black with stainless steel trimmings. This is a 30-inch cooktop equipped with 4 different heating elements – 6 inches, two of 7 inches, and 11 inches. Of these, the 11-inch is the most powerful with a burning capacity of 3,700 watts. Thus, it can boil water very quickly.
Another good thing about this model is that it's loaded with features. For one, it's integrated with touch controls, which you can lock if you want to. This is a great safety feature, especially for those who have kids at home. It has sensors that will heat only according to the size of pans that are being used and only if there are pans at the cooktop.
It's also possible to simultaneously use the cooktop's two 7-inch burners in order to accommodate larger griddles and pans. There's also an indicator light that will inform users once the heating elements are active or that the surface is still hot.
Pros
Loaded with features
Easy to setup
Covered with a one-year warranty.
It comes with five different heating elements.
Touch controls can be locked.
Cons
Difficult to clean, especially the grease splatters
Check prices and availability here
Duxtop 1800W Portable Induction Cooktop Countertop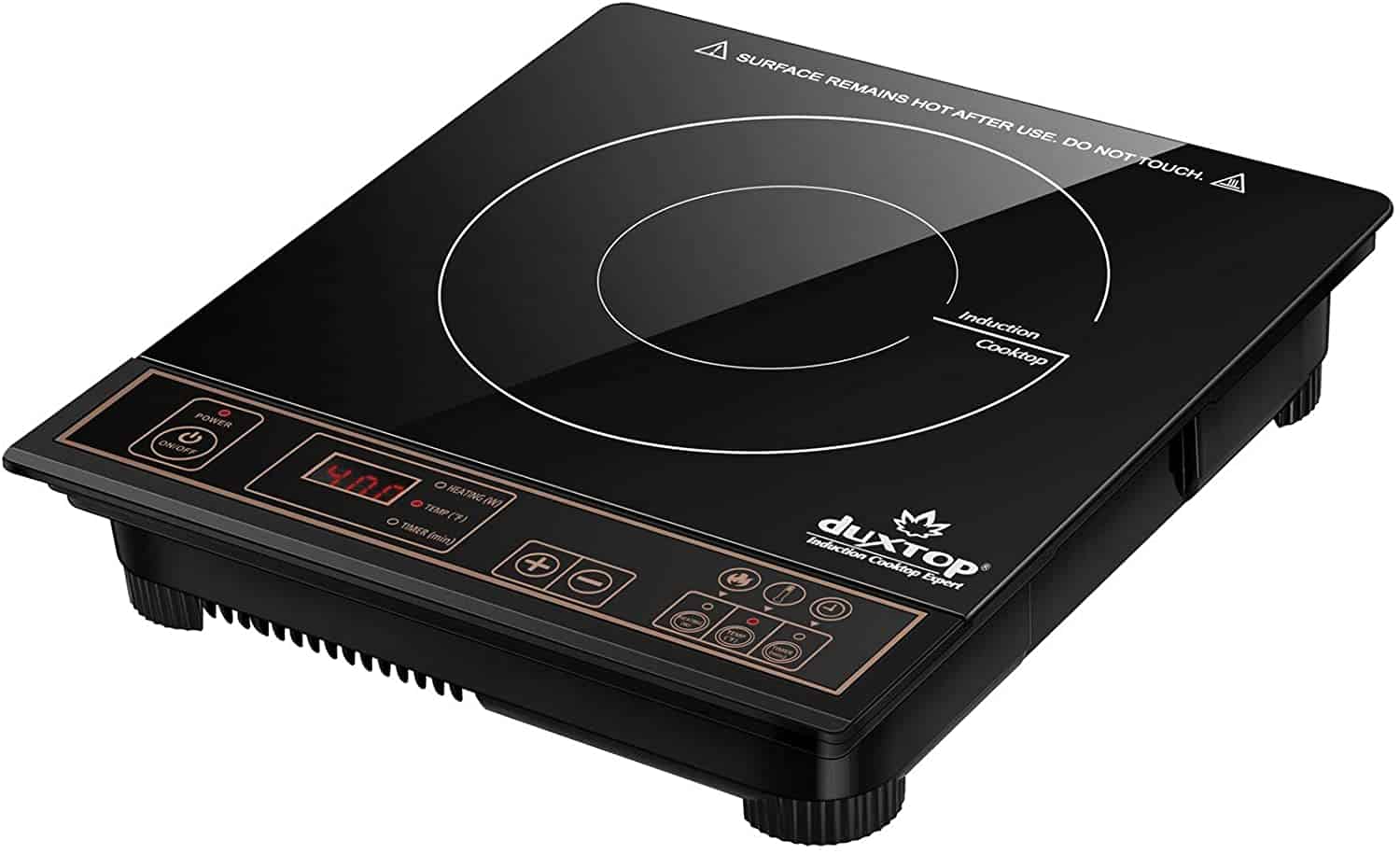 A lot of customers are delighted with the way the Duxtop 1800W Portable Induction Cooktop works. It's equipped with a single 8-inch burner that can work in ten power levels, from 200 watts to 1,800 watts. Furthermore, the cooktop's temperature ranges from 140 to 460 degrees. At only 13 x 11.5 inches, this compact induction cooktop is ideal for those who live in studio apartments, condominiums, and dorm rooms.
But despite it being portable, this cooktop doesn't lack in features. Just like with most of the induction cooktops, it can easily detect the presence of cookware and will adjust its heating element according to the size of the pan. There's also a built-in timer on the cooktop, which you can set to 170 min, plus an easy-to-use control panel that you can operate with a push of a button.
Overall, customers are very pleased with the way this cooktop works as it can heat up and boil water at a fast speed. They also love just how lightweight this cooktop is, allowing them to carry it whenever they need to go camping, picnic, etc., for as long as there's access to electricity.
Pros
Lightweight and compact for easy portability
Equipped with an easy-to-use digital control panel.
Easy to clean
Comes with an auto-pan detection system
Cons
True Induction TI-2B Double Burner Induction Cooktop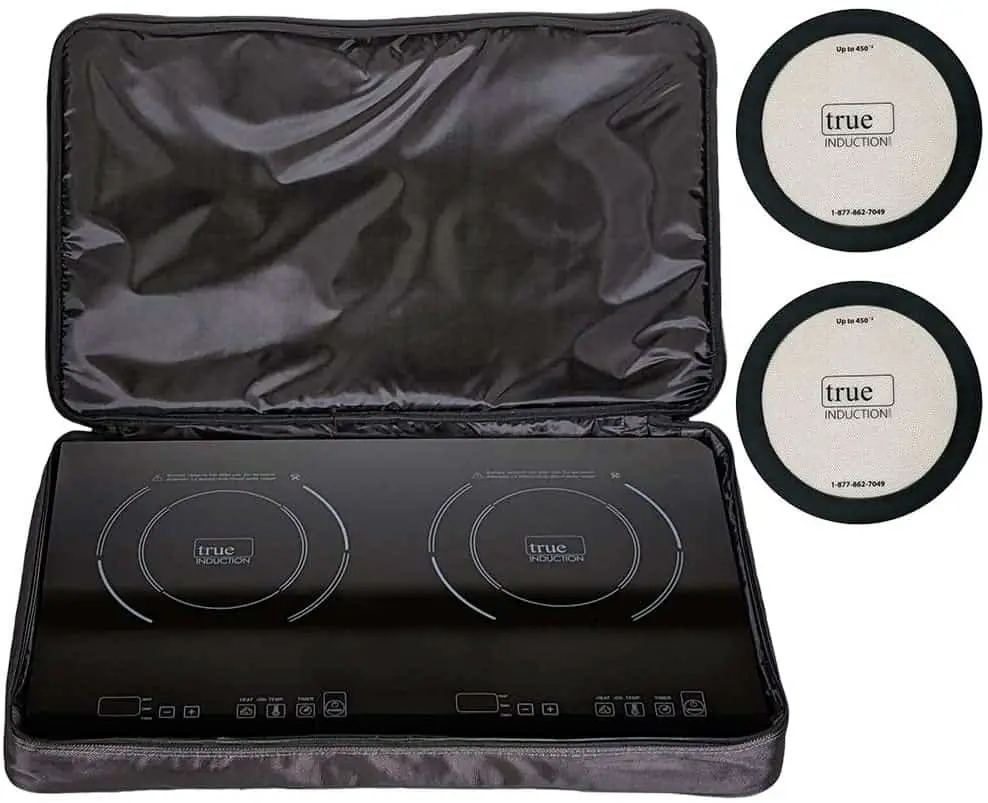 If you're on a budget, the True Induction T1-2B Double Burner Cooktop is what we would recommend. This compact size cooktop is also suitable for those with small kitchens. It's only 24" in length and comes equipped with 2 10" heating elements. Unlike the other budget-friendly options, this model can be easily integrated into countertops, resulting in a more seamless look. Since it's compact in size, this model is also very portable and can be used in dorms and as a cooktop for RV.
This cooktop is not too complicated to setup. Plus, the heating elements rely on power-sharing technology, capable of sharing up to 1,800 watts of power. The cooktop is equipped with 10 heat settings. When set at full power, one of the burners could boil one cup of water in a mere 70 seconds only!
Users are fond of this little cooktop that's ideal for those with cramped spaces in their kitchen. It heats up pretty quickly and can be cleaned easily. This unit is covered with a 2-year warranty period, and buyers can benefit from a 60-day trial.
Pros
1800 Watts Voltage
Comes with level selection settings
ADA Compliant, 90 percent energy-efficient
Compact size
Portable
Cons
Temperature control only available in 15-degree increments
Rosewill 1800 Watt Induction Cooker Cooktop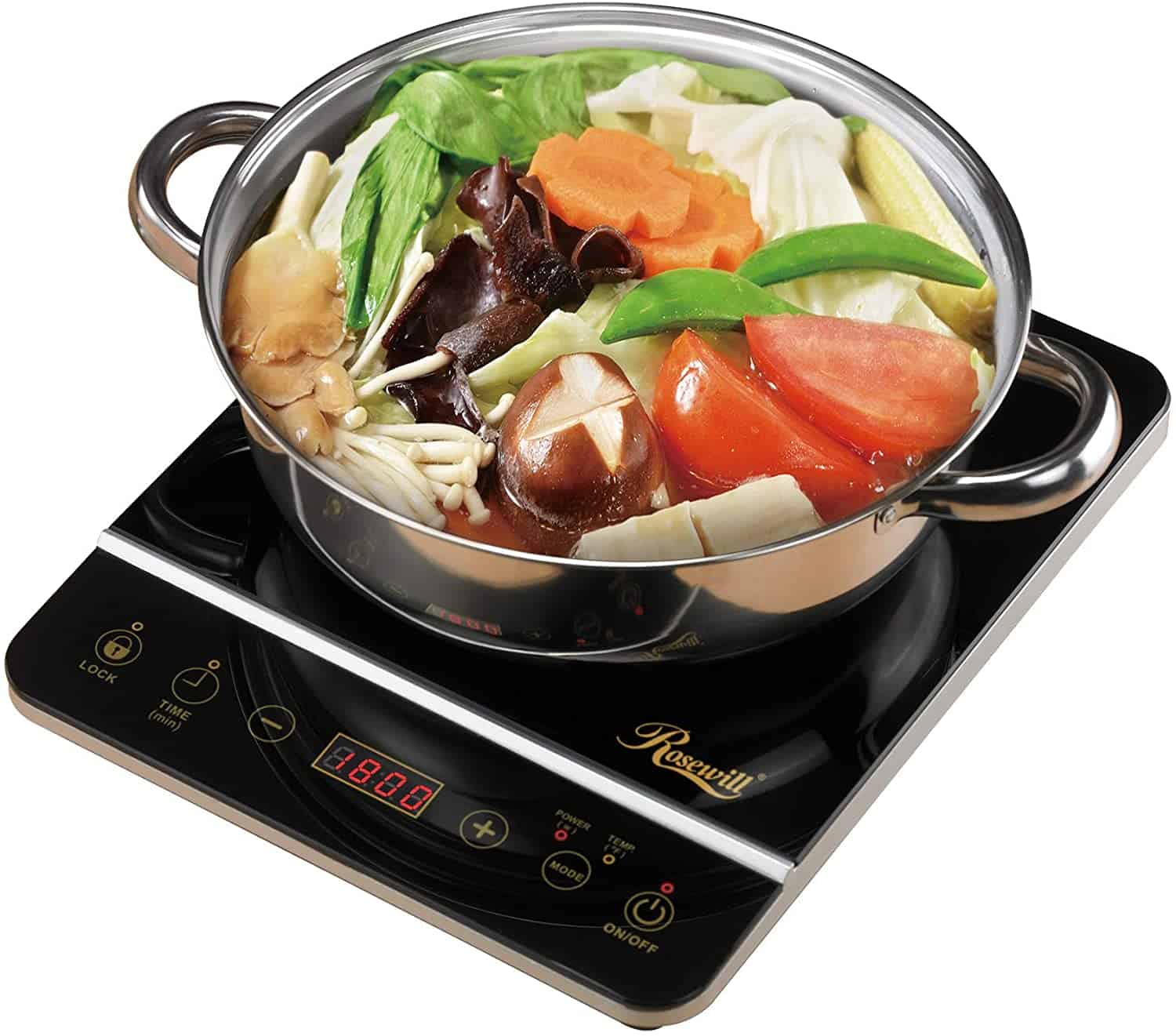 Despite its minimalist design, the Rosewill 1800-Watt Induction Cooker is loaded with excellent features, which is why it's one of the most in-demand induction cookers in the market today.
With its glossy and jet black finish, the polished crystal plate surface of this Rosewill Induction cooker lets you cook meals with less time and energy while enjoying a bit of elegance in your kitchen.
This induction cooker has eight different power levels and allows you to set it to different temperatures. It has an LED display that will let you see clearly the cooking time as well as the level of temperature, which adds convenience when cooking. This induction cooker has a built-in digital timer with a sleek control panel that makes it easy to use. There's even a free stainless steel cooking pot with every purchase of this cooktop!
A lot of users are pleased with the way this cooktop works. Its controls are easy to navigate, plus the free cooking pot is made of excellent quality materials!
Pros
Touch Control Panel is easy to use.
Comes with free stainless steel pot
Equipped with magnetic detection strip
Energy-efficient and heats up quickly
Cons
It tends to produce a spark when being plugged.
The user manual is poorly written
Check prices and availability here
GE CHP95302MSS 30 Inch Induction Cooktop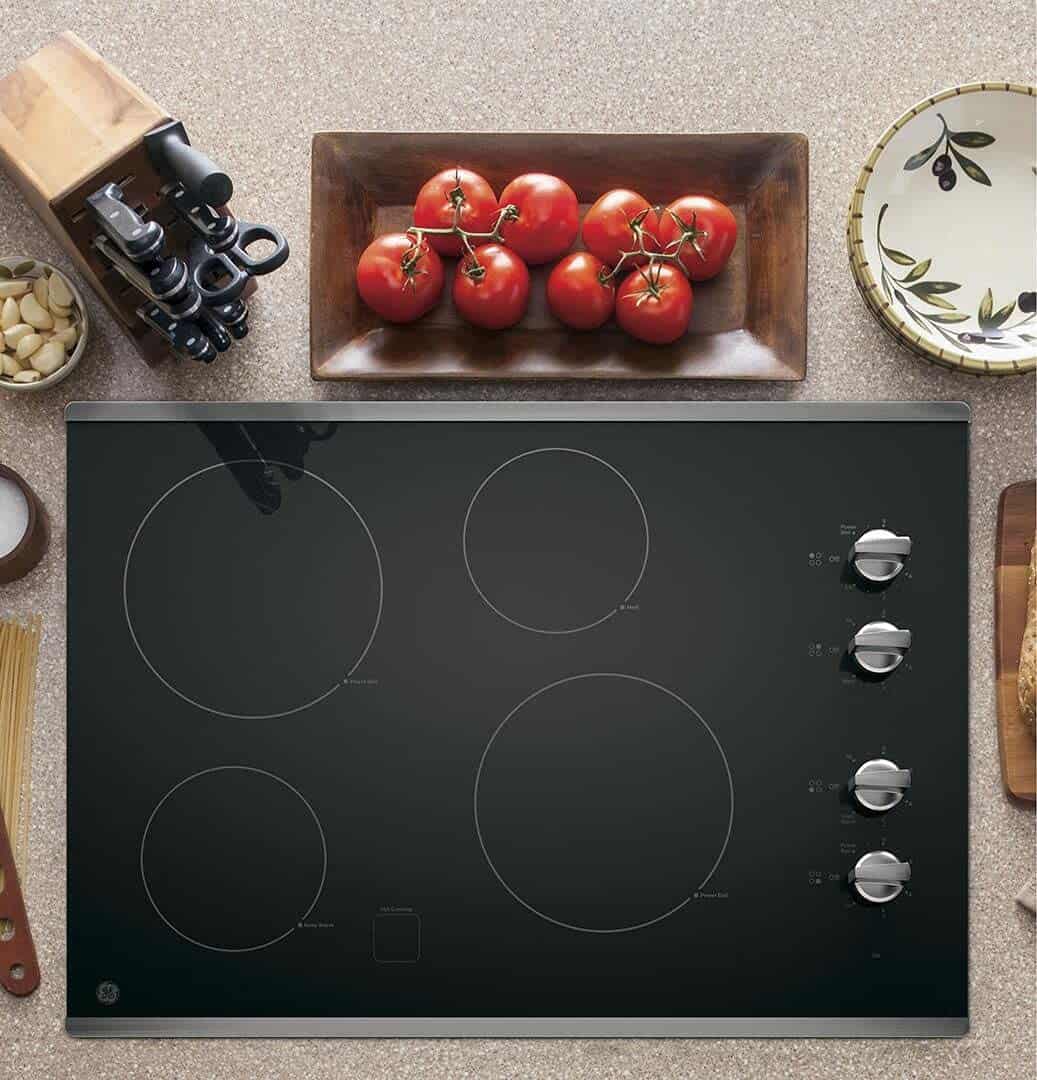 The GE CHP95302MSS has everything you will ever expect from an induction cooktop. With a width of 30 inches and comes with four heating elements of different sizes, there are absolutely so many reasons to love in this induction cooktop. 3 of the heating elements are high-powered, and the cooktop has powerful touch controls with stainless steel trim that makes it look elegant.
If you've checked the reviews written about this cooktop, you'll understand that a lot of users are extremely satisfied with the way this product works. They find it to be reliable even for long-term use. The cooktop's low heat and high heat capabilities are truly superb. In fact, it can boil a large pot of water fast compared to the other cooktops of the same caliber.
But what really made this induction cooktop to stand out from the rest is its Gourmet Guide Cooking. This will give you access to hundreds of recipes in an app. The cooktop itself is even equipped with Wi-Fi connectivity!
Pros
Equipped with accurate temperature control leading to excellent cooking results
Includes Gourmet Guided Cooking
Can be easily controlled at your fingertips
Has Wi-Fi Connectivity Feature
Cons
Check prices and availability here
Best Gas Cooktops reviewed
If you still prefer the traditional method of cooking in gas, then we'll let you in on some of the best gas cooktops in the market. These cooktops have been receiving praise from many customers online, thanks to their great features and excellent performance.
Bosch NGM8656UC 800 Series 36 Stainless 5 Burner Gas Cooktop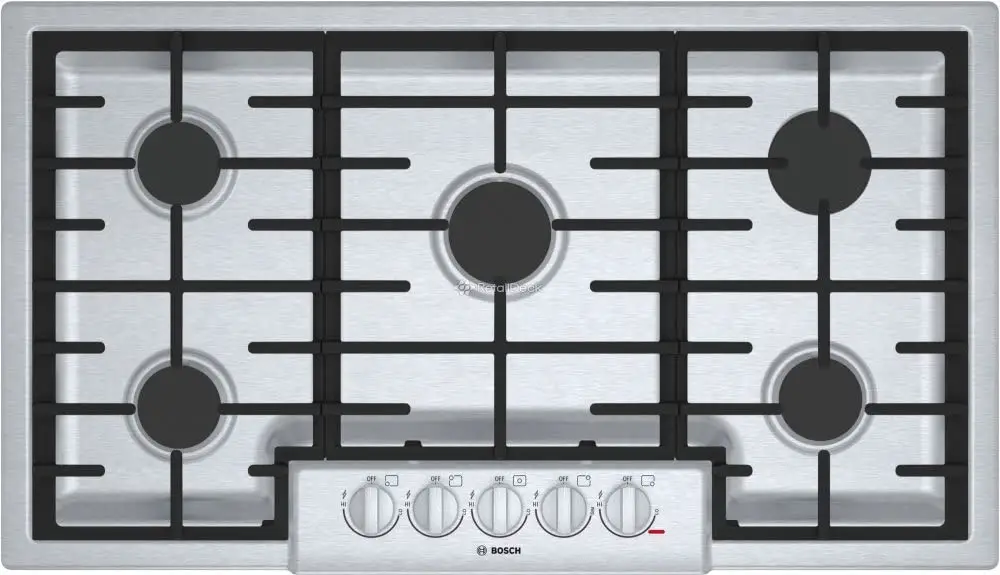 Bosch is a famous brand of appliances in the market, and this name has long been associated with high-quality products. Thus, we believe that the Bosch NGM8656UC 800 5 Burner Gas Cooktop deserves to be on this list. This stylish looking cooktop is highly dependable for all your cooking needs.
This product is part of the Bosch Benchmark Series and comes with impressive features. The center burner is truly exceptional, boasting the power of 20,000 BTU. It's equipped with 2 burners having 12,000 BTU of power, as well as a 5,500 BTU and 10,000 BTU burners. Thus, you would be able to use this in cooking food in different sizes of pots and pans.
This gas cooktop is equipped with high-quality knobs in large sizes, making it easy for you to adjust the temperature. It has a heavy-duty cast iron grate and housed in a beautiful but minimalist package. Overall, this gas cooktop is highly reliable and has excellent build quality.
Pros
Has a powerful 19,000 BTU for searing, boiling, and stir-frying
Comes with OptiSim Burner, which is ideal for simmering delicate sauces
Equipped with Electronic Re0ignition System
Has a distinctive LED light indicating the burner is on
Cons
The surface has a tendency to get scratched very easily
Frigidaire FGGC3047QS Gallery 30 Gas Cooktop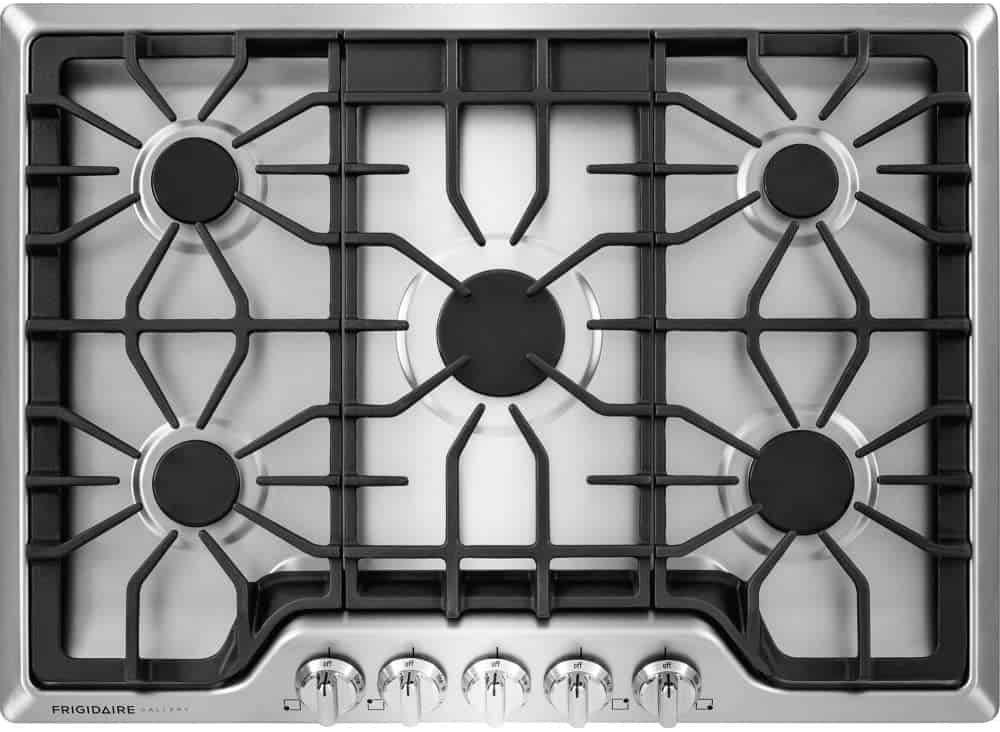 Frigidaire is another brand known for producing some of the best kitchen appliances in the market. The FGGC3047QS 30" Gas Cooktop is one of their most popular products. This cooktop can be used for either propane or natural gas range, although it's mainly designed for use with natural gas.
When buying this product, you'll get a conversion kit along with easy to follow instructions. However, it's highly recommended to hire qualified technicians to ensure that the local safety requirements were met.
Equipped with an Express-Select Control Knobs, this gas cooktop allows you to choose various options and different cooking temperatures. It has sealed gas burners, so cleaning this device should be a breeze. Furthermore, the cooktop's control knobs are available in different colors, which are easier to control. The stainless steel models have control knobs in neutral black colors.
Pros
Grates allow you to slide pots from one burner to the other.
Comes with five burners and four are sealed
This cooktop can be used with propane and natural gas
Large control knobs are responsive and easy to clean
Cons
Has a tendency to scratch very easily
Check prices and availability here
Conclusion
When choosing between induction cooktop or gas cooktop, people tend to have differing opinions. But regardless of the type of cooktop that you will go for, what's important is that you choose the model that can give you the best value for your money.
Sure, the induction cooktop is definitely more expensive than the gas cooktop, but these do not require any gas, which might save you money in the long run. On the other hand, a gas cooktop doesn't need any electricity, so even you run out of power in your home, you can still prepare delicious meals for your loved ones.
Joost Nusselder, the founder of Lakeside Smokers is a content marketer, dad and loves trying out new food with BBQ Smoking (& Japanese food!) at the heart of his passion, and together with his team he's been creating in-depth blog articles since 2016 to help loyal readers with recipes and cooking tips.