I love creating free content full of tips for my readers, you. I don't accept paid sponsorships, my opinion is my own, but if you find my recommendations helpful and you end up buying something you like through one of my links, I could earn a commission at no extra cost to you.
Learn more
If you've ever spent time in the great outdoors then you'll agree that very few homemade meals taste better than those cooked at the campsite. There's something about outdoor cooking or the old-fashioned cooking that makes camp dishes taste special.
However, if you visit 99camping.com you'll see that cooking at the camp can be a tedious affair. It takes more time, calls for patience, and requires more ingenuity than home cooking.
It t's why more and more travelers are looking to handy and portable grills that are made specifically for the campsite.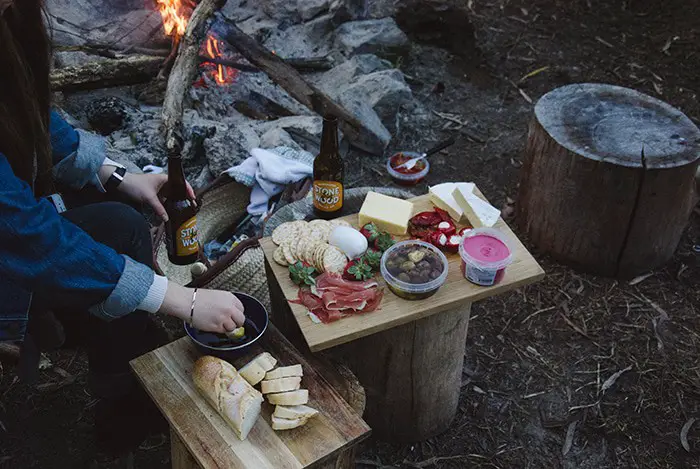 In this article, I'm sharing my top picks for camping grills.
You can't go wrong with the Coleman Roadtrip 285, a portable and foldable compact propane grill. Equipped with an automatic ignition system and a propane tank, this is the perfect-sized grill for a family outing and it takes the guesswork out of cooking. Simply set the temperature and come back when the food is ready.
Check out the recommended products in this table, then keep reading to see the full reviews of each product and how it can make cooking fun and tasty while camping.
Buyer's guide
I'm sharing all the features you should look for when purchasing a grill for camping.
Type
There are three main kinds of portable camping grills.
The first is the classic charcoal grill like the Hibachi on our list. It's easy to use, the fuel source is cheap, and it makes the meat taste smoky and delicious. It's probably people's favorite type of grill and if you want to have an easy grilling experience, you can always depend on a charcoal grill.
The main advantage of a charcoal grill is the unique flavor it imparts with food. There's nothing quite like smoky BBQ. Also, you can sear the meat at high heat. You just don't get those sear marks on an electric or propane grill.
Propane grills are also great because they are safe to use, usually foldable, and easy to operate. You can heat them up quickly without tampering with coals and fires and then set the grill to the desired temperature.
The main advantage is that propane grills don't cause flare-ups so there's no charring. It's a safe bet, especially for beginners. You won't get that intense smoky taste though.
Then, you have electric grills but you need to have a power source close by, which can be challenging if you're camping in remote areas and don't want to use your car battery.
But, the advantage of an electric grill is convenience. You don't need to monitor the food as it cooks all the time. The electric grill doesn't create any nasty smoke and it's easy to clean and move around.
Budget
You can get camping grills from $60 to $600, so narrow down the options available by setting your budget right from the start.
You really can get a great camping grill for under $100, so you don't have to have a hefty budget for a good cookout.
Heating elements
Consider the heating elements of your camping grill. It's important that the heating elements are well-designed and not a danger to the environment and your surroundings because you don't want to create a fire hazard.
Look at the flare-up potential. For maximum safety, get a propane or electric grill. But, a small charcoal Hibachi or a classic tabletop style grill with legs is also okay. This way the flames are not directly on the ground and there's less fire risk.
Material
Cast iron, aluminum, and stainless steel are all great grill materials because they are durable and long-lasting.
Look for products that say rust-proof on them because you'll be using the grill outside and you can't prevent rain, so it's better to get a quality grill that can withstand the wear and tear of camping.
If the grill has grates, look for porcelain-coated ones because these heat up fast, are usually non-stick, and make searing meat really easy. But, overall, good grates are non-stick and easy to clean.
Portability
Finally, consider the weight of your grill or cooker. The whole point of a camping grill is that it's lightweight and portable. If you can't pack it up, move it and store it easily, it's not a great camping grill.
Look for foldable legs or a foldable and adjustable stand. This way you can fold everything and carry it like that. The last thing you want to be doing is lugging a heavy cooker through the campsite.
Wheels are another cool feature. The Coleman has sturdy rubber wheels so you can pull the grill around without any heavy lifting.
All of my suggestions below are mobile, but some of them still weigh quite a lot. The charcoal versions are the most lightweight camping grills available. You can even carry some of them around in one hand.
Lid locks, handles & stands
To help with efficient transport, camping grills should preferably have a lid lock to secure everything in place while you're on the move.
You really don't want to have to deal with spilled ash, grease, and food remains in the back of your vehicle, or inside your tent!
Handles are also one of my top requirements for camping grills. They make transportation and moving a hot grill relatively easy.
It's always an added benefit to having a solid stand to place your grill on. This helps you cook at the height of a full-sized grill.
However, the stand should be easy to store and fold away, and should also be light!
Warranty
Cooking while camping means you'll be in the great outdoors, and your grill will be exposed to the elements.
Always choose a respected brand or a grill that has a good warranty to ensure you've got backup if you need some repairs or replacements.
Best grills for camping reviewed
Best propane camping grill: Coleman Roadtrip 285
Type: propane grill
You'll want to watch the Milky Way late at night with a beefsteak burrito in your hand as you enjoy a nice existential and esoteric conversation with your family or friends.
You'll want to grab a coffee mug at dawn as you wait for the sunrise. Food is a basic need besides your camping equipment and transportation.
Now the Coleman Roadtrip 285 Portable Stand-Up Propane Grill is the thing to have when going out camping for a barbecue.
If you're limited by space though, a small foldable grill like the Coleman Roadtrip is a good idea. It has 285 sq. inches of cooking space, and that's quite good for such a small unit. After all, you can always batch cook food for everyone.
It's got everything from 3 separate burners to cook up multiple different things for your camp-out meal at the same time, to push-button ignition if you might have forgotten to bring your matches.
This is one of the most reliable and durable gas grills for the road. It has porcelain-coated cast-iron grates to ensure the food doesn't stick to the grates.
Oh, and it also has a removable water and grease pan so you can clean the smoker easily after each use.
The Coleman's got it all, here it is in action:
But, what really has me sold on this Coleman grill, is that it's so easy to open, close, and set up, it's pretty much like having a small open-up stove with you.
It folds easily like a table and the wheels are sturdy so you can move it left and right wherever you want.
The performance is also amazing and you can cook up to 14 burgers at once. The small propane cylinder will last you for a while and since it's small, the spare doesn't take up much space.
Best charcoal camping grill: TOP & TOP Charcoal Grill

If you like to keep things simple when you go camping, then a very basic foldable charcoal grill is all you need.
The Top & Top grill is just under $25, and it has a wire mesh and a regular grate. It's most similar to a Japanese tabletop cooker but it's great as an outdoor camping smoker.
The grill is made of stainless steel so it's relatively rust-resistant. It is small and compact with foldable legs. Simply put the legs up and the grill is assembled.
For safety, it has folding bracket supports which offer extra stability and prevent the smoker from collapsing while you cook.
Cooking is easy: simply place the charcoal into the trough and then place it on the grill rack and add one of the two grill grates provided.
Sure, you can't control the airflow but it's great for making hot dogs, burgers, skewers, corn on the cob, and more!
I want to briefly compare the Coleman propane smoker and the budget-friendly charcoal grill because they are both aimed at people looking for convenience.
The Coleman is for those looking to invest in a high-quality smoker that will last many years and can be used at home or while camping.
On the other hand, the small Top & Top charcoal grill is marketed towards people who are occasional campers and not looking for any sophisticated cookers.
It's the kind of grill you use when you want to cook fast and aren't concerned about proper grilling methods and techniques.
Best electric camping grill: 

George Foreman Silver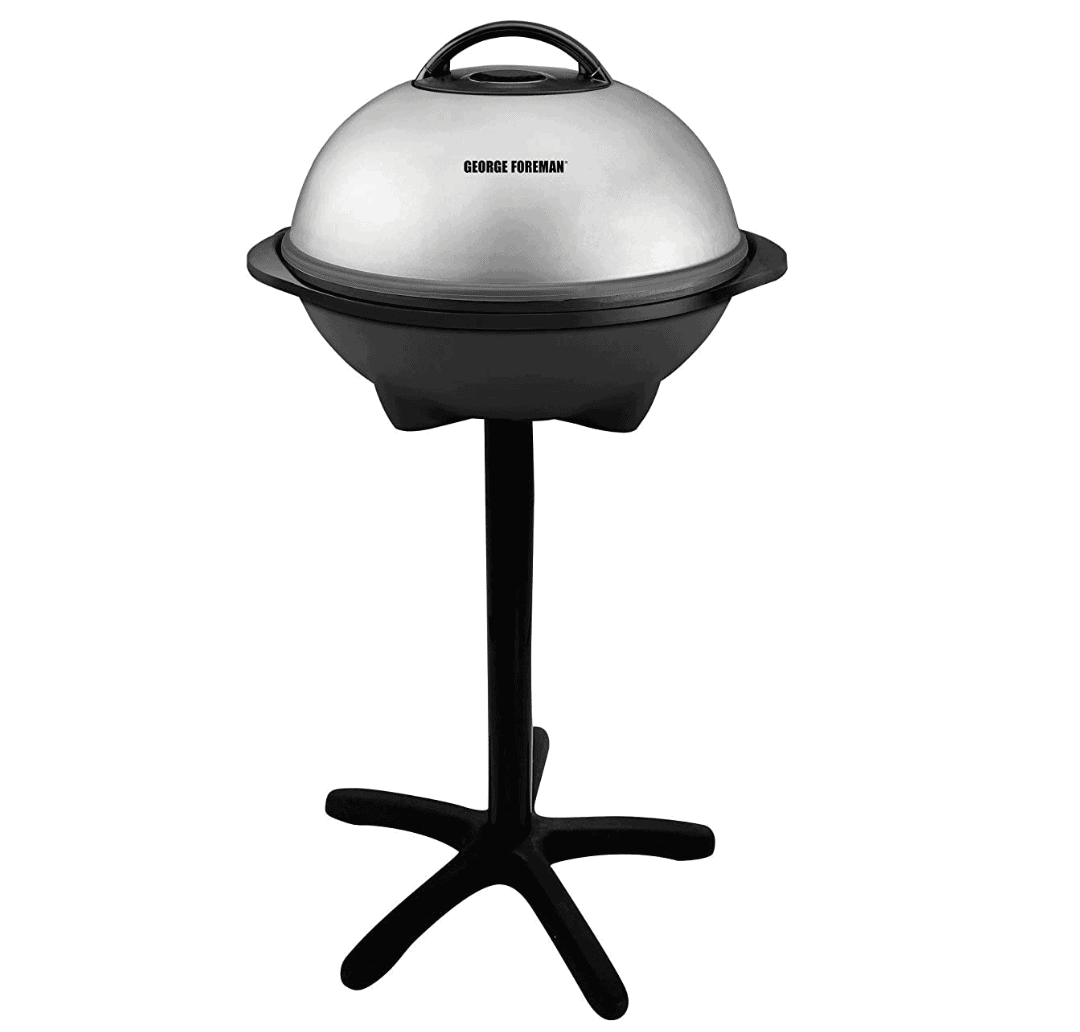 Type: electric grill
This is one of the most versatile and handy portable electric grills. The George Foreman is a spacious grill with 240 sq. inches of cooking space which is enough to cook for up to 15 people at once. Thus, the grill is best for large gatherings and family camping trips.
The main advantage of this grill is that it has a stand so it's not sitting on the ground. Thus, it's easily portable and moveable and the dome shape makes it easier to control the interior temperature. Also, there is a moisture control feature so the water doesn't drip onto your food.
Unlike basic camping grills, this one has an indicator light that shows you when the unit is hot enough to start cooking. This feature is helpful because it takes the guesswork out of grilling.
You can make delicious meats, seafood, cheese, vegetables, and more. If you want to use it as a countertop grill, you can do that too because the grill has an elongated bottom.
So, if you want a great camping cooker that heats up quickly and doesn't require charcoal, then you'll appreciate how lightweight this grill is and how mess-free cooking can be.
Best hibachi camping grill: Baoyou 

Japanese Style BBQ Grill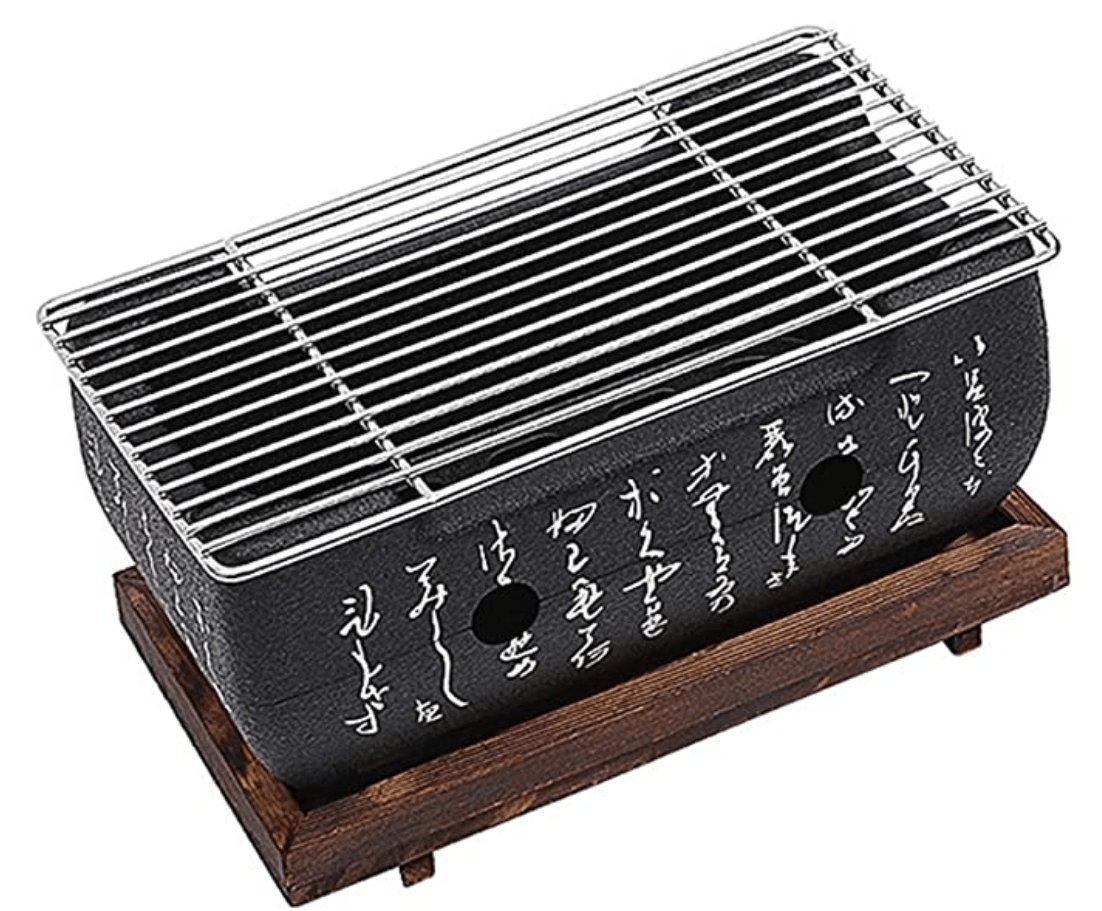 Type: charcoal grill
There's nothing quite like Yakiniku (Japanese BBQ). Cooked on a hibachi grill, the thin strips of beef and chicken, or yakitori skewers turn out mouthwatering and are sure to please everyone.
The traditional Hibachi grill is best used with binchotan charcoal for that clean smoke-flavored food.
What I love about this small portable Japanese grill is that it's lightweight and easy to move. It's built on a wooden base out of an alloy metal and it heats up and retains heat very well.
You can buy this grill in different sizes depending on how many people you cook for. The cool thing about it is that you can use it outdoors on the patio or while camping, or indoors as a tabletop grill.
The grate is made of a non-stick material so you don't have to worry about cleaning. But, one challenge of using hibachi grills is that you can't really control the temperature, so you have to be careful not to burn the food. For the best results, use thin strips of meat or skewers.
George Foreman vs Hibachi
Are you a beginner? Are you unfamiliar with portable charcoal grills? Then, I recommend the electric George Foreman grill because it's very easy to use.
Simply wait for it to heat up, place the meat and veggies, and let it cook the food. You don't have to deal with an open fire or lighting charcoal.
It's actually the simplest way to cook while camping and the safest because there's no chance of starting a fire or burning the food.
But, if you like to make Japanese and Asian-style BBQ, then you'll love this small compact hibachi grill. The charcoal gives the meat the classic smokey BBQ aroma and flavor.
Honestly, a hibachi is such a portable and compact cooking unit, it will fit anywhere so it's a great grill to have. If you're a huge fan of traditional charcoal barbecue then you'll enjoy the hibachi more than an electric grill.
The one thing to note though is that the electric grill has a nice stand and it can also be removed and used as a stovetop cooker. So, it might be a bit more versatile.
Best griddle grill for camping: Blackstone 1666 Heavy Duty Flat Top Grill Station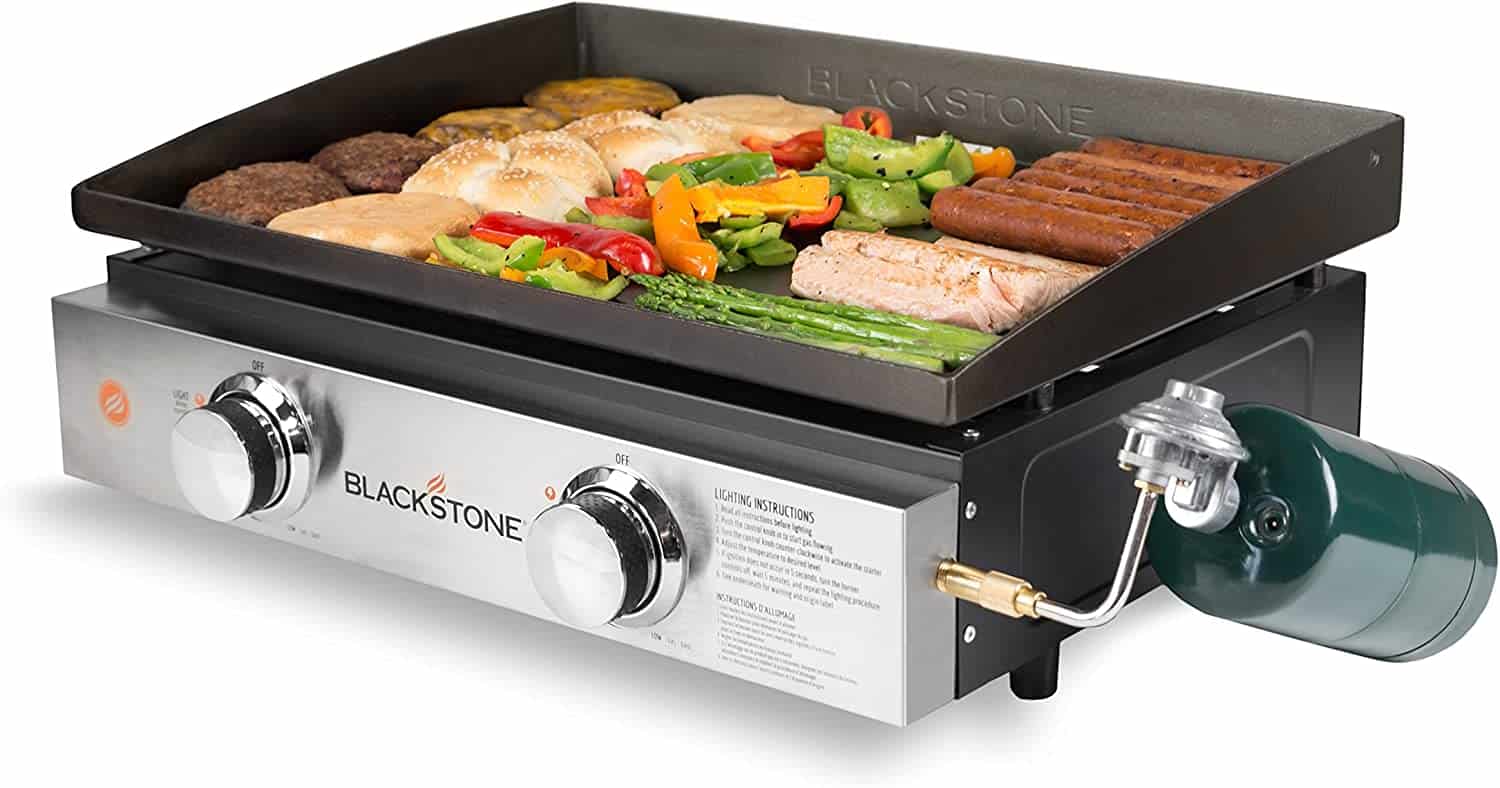 Type: propane griddle
An outdoor gas griddle is a great alternative to regular grilling with grill grates. The flat plate allows you to cook a lot more food at once, and you can grill a wide variety of foods including eggs and vegetables.
Every griller and camper will know that the Blackstone is one of the most popular grills for camping trips as it allows you to cook almost every meal on it from breakfast to dinner and dessert (pancakes!).
It's simple and mobile, and very durable. The two-burner, 22-inch Blackstone offers 330 square inches of cooking area, and the two burners allow you to create two different heat zones.
It also has a very efficient grease management system, so the post-cooking cleanup is simple and easy.
I would give this product full marks if it had handles. But the lack of handles makes it a little difficult to move around when hot. Besides this, it is a great quality, versatile option for camping.
It's fueled by propane and comes with a 1-year limited warranty.
Like the idea of a flat top grill? I've reviewed more outdoor gas griddles here
Best large charcoal kettle grill for camping: Weber Jumbo Joe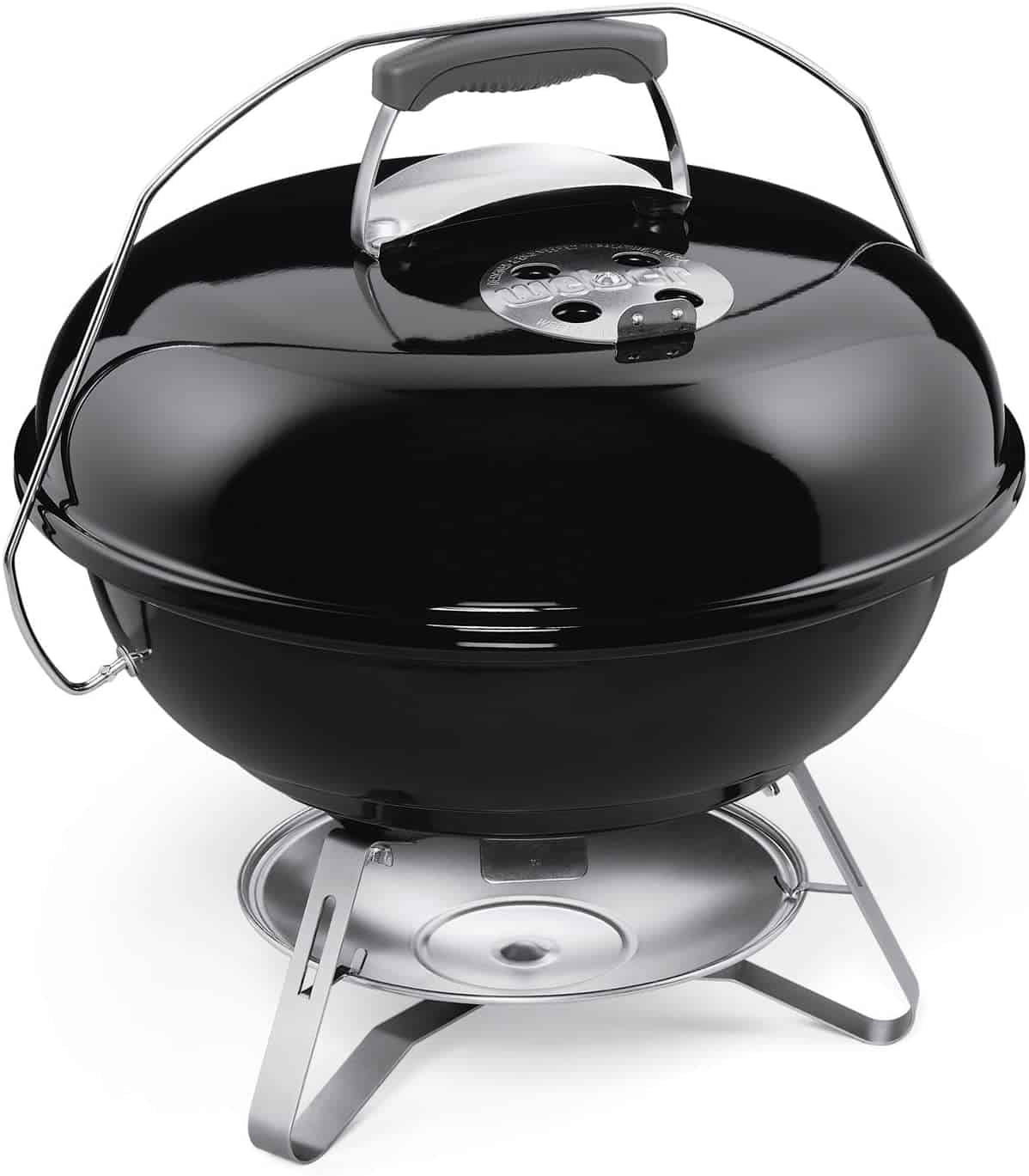 Type: charcoal kettle grill
A great option from Weber for the fans of the full-sized kettle. The Weber Jumbo Joe offers a substantial 240 square inches of cooking area, and a good distance between the grates and lid.
You don't have to worry about burning your food on this full-sized grill.
Of course, it is also manufactured according to Weber's excellent standards. And for the truly adventurous, you can add an extra bit of flavor to your next campout by smoking your food in this grill.
For under $100, this is a remarkable high-quality and durable grill. It boasts 240 square inches of cooking area but weighs only 17.65 pounds, so it's great to take along.
It also gets a very big thumbs up from me for the ash catcher mounted under the bowl. This makes sure the post-cooking cleaning won't be quite so tedious.
The Tuck-N-Carry lid lock is another advantage, it makes it convenient to move the grill around without worrying about a problematic lid.
The secret to precise temperature control in a charcoal grill is adequate air vents and the shape of the construction, which can be achieved with this grill thanks to the thoughtful design.
Best grill grate: 

Domaker Folding Campfire Grill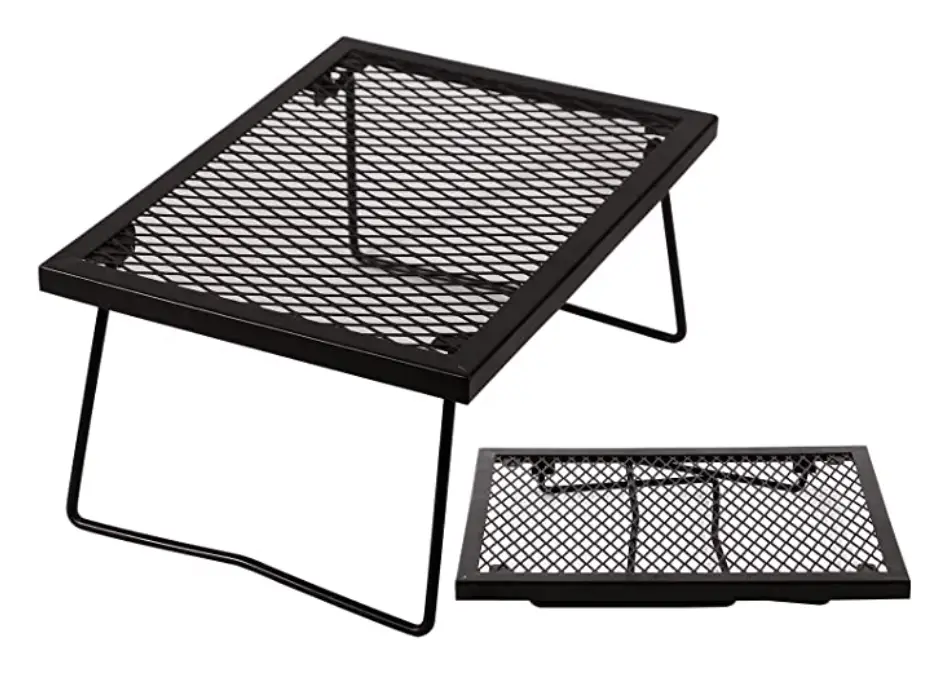 The best grill grate is one with folding legs like this Domaker one. It's easy to set up or fold up so it's completely portable and you don't need to carry any heavy equipment around.
This grill rack is pretty heavy-duty and made of rolled steel so it's not only heat-resistant and warp-proof, but it's also heavy-bearing so it won't fold under the weight of rib racks and large steaks.
That's because you can lock the legs in place and then even place pots or a dutch oven on top. Thus, I highly recommend this grill rack for direct-heat cooking over a fire pit or campfire.
The rack has a diamond shape mesh pattern and not the traditional vertical racks. But don't worry, your meat will still have those nice sear marks.
Actually, the diamond pattern helps the airflow and so the fire burns efficiently and flare-ups are less common.
Camping grill propane adapter: 

Coleman 5 Ft. High-Pressure Propane Hose and Adapter

You need a good-quality propane hose to connect your grill to the propane tank.
The advantage of using such a high-pressure hose and adapter is that you can attach a 20 lb propane tank which will last you up to 20 times longer before you need to refuel. Thus, you can save some fuel and do more cooking.
But, this Coleman adapter hose is not for grills or smokers only. You can use it for lanterns, stoves, and heaters so it's a versatile hose to have in your camping kit.
This is especially useful because if you usually use those 1 lb canisters, you can now add a larger propane tank so you don't need to keep refueling so often.
How to grill over a campsite fire with a grill rack
Campfire grilling is an ancient way of cooking food. But, who hasn't enjoyed making smores over an open fire? Making your own food over a fire pit with a grill rack is the simplest way to cook while camping.
I think the first thing that comes to mind is the classic hot dog on a stick, roasting over open flames. But the reality is simpler. All you need is a good grill rack and then you can start grilling your favorite foods, including meat and vegetables.
Here's what you need to do before cooking:
Check the campsite. You should only light a fire in designated places or ensure there is no dry vegetation nearby that can catch fire.
Then, consider what method you're using. The grill rack over the open fire can be dangerous if you're not careful and the fire gets out of control.
Don't use plastic near the fire.
A grill grate is simple to use because it creates an even and stable cooking surface. You place the food directly onto the grate. Alternatively, you can use a Dutch oven on top of the grate.
The grill grate is a small metallic grate and the best models have two legs so they sit sturdily on the ground over the fire.
Be careful not to grill very fatty foods like bacon, which create lots of fat drippings on the grill because the flames can get out of control.
Tips for cooking while camping
Don't leave all the hard work for the last minute. Before you hit the road, there are many things to think about, buy, and prepare to ensure a problem-free camping trip for the family.
Do Your Food Prep Well in Advance
This is actually a no-brainer but definitely worth mentioning. Take time to do as much food preparation as possible before you leave home to make things easier at the campsite.
Measure the ingredients you plan to use and pack items needed for each meal together. Zip-lock bags like these provide a safe way to maintain your dry ingredients dry and prevent wet ingredients from leaking:
To make your camp cooking easier, chop your veggies, and keep them in plastic bags. You can also marinate meats and freeze your stews in advance.
Remember to wash your fruits, hard boil a few eggs, and of course pack some dry rations or a loaf of bread and a jar of peanut butter just in case the weather at the campsite doesn't allow you to cook.
More importantly, pack all the necessary utensils and cookware that you'll need at the campsite. This might sound like a lot of work but you'll thank yourself for the careful preparations when you are miles away from your kitchen.
Plan Carefully for Breakfast
Breakfast (like these perfect get-up-and-go recipes) is an important meal when camping. The smell of coffee and a freshly cooked breakfast are a perfect way to start the day after a challenging night in a tent.
If you have a small single stove, you could make porridge, which is quite simple to make and can easily be enriched by adding nuts, chopped banana, seeds, and a drizzle of honey.
Eggs are great too, whether boiled, fried, or scrambled. Pita bread warmed briefly and served with tomato, avocado, grated cheese, and chili sauce will make your morning eggs a special delight.
Make Your Pancakes On-the-Go
Pancakes are a favorite camping food but the process of whipping everything together with limited ingredients and tools can be a tedious task.
To make simple morning-ready pancakes, simply premix all the ingredients before you leave home and store the mix in a plastic bag and throw it in the cooler.
When you want to cook the pancakes, just cut off one corner of the bag and squeeze a small amount of the mix on your pan. It's an easy way to make your favorite flapjacks on the go.
Carry Scrambled Eggs in a Bottle
One reason why most campers don't pack eggs is the fact that you'll always break a few and possibly mess up other ingredients during transportation.
To avoid the broken eggs nightmare and save a lot of precious space, break the eggs in advance, scramble them up, and store them in a plastic water bottle. When you want to cook the eggs at the campsite, just pour them into a pan and enjoy freshly cooked scrambled eggs.
Make Bacon and Eggs in a Paper Bag
Feel like having a hearty breakfast of bacon and eggs while camping without using plates and frying pans and without a lot of cleaning afterward?
There's an easy way to do it. Just get a paper bag and line its bottom with strips of fatty bacon then crack a few eggs over the bacon nest. Fold the bag carefully and attach it to a stick then roast over hot coals for around 10 minutes.
You can eat the bacon and eggs delicacy straight out of the paper bag if you're careful enough not to spill everything on your lap.
Make Tin-Foil-Cooked Meals
Ever heard of foil packet meals in the wild? They are quite easy to make.
Throw your ingredients in tin foil, wrap everything up and place it on hot coals until it is ready. Foil packet meals make great dinners and desserts.
Popcorn in a Soda Can
Popcorn is also easy to make at the campsite.
Just get a soda can, cut a small rectangular door flap on the upper part of the can, pour in a little vegetable oil, and add a few kernels then place the can on a grill over coals or close to the fire. Place a frying pan close to the door to collect the popcorns when they start popping out.
Camping grills FAQ
Why does the type of fuel matter for camping grills?
Before you head out to your camping spot, find out if the place you're staying allows the use of charcoal grills.
In many places, it is forbidden to cook over flames. In this case, you'll have to use a propane or electric grill.
How long will a 1-lb propane tank last me if I take it camping?
This will last around 1½ hours at high heat. A 10 lb tank should last a reasonable amount of time. Approximately 6 hours on high heat.
Is it safe to grill in a campground?
Many campgrounds actually have built-in fire pits or BBQ pits, where it is very safe to set up your grill to cook your food.
Just make sure you use safe materials when lighting your grill, and if you're cooking on coals, make sure your campground allows this.
What are the lightest camping grills?
Weber kettle grills are amongst the lightest grills to take with you on camping trips. Even the large Weber Jumbo Joe only weighs in at 17.5 pounds, so you can take it pretty much anywhere without much hassle.
Takeaway
When you're heading out for the annual camping trip and want a small portable grill, then my top pick is the propane Coleman grill because it's easy to use, clean, and store away.
Plus, with a propane grill, there's not much room for things to go wrong. Set the heat and let it cook your meat to perfection.
But, if you want a charcoal grill for that added smokey aroma, I also recommend the Top&Top, Hibachi, or Weber Kettle grill because they're so easy to use compared to those big bulky patio grills.
And finally, if you think a grill grate is enough, don't hesitate to cook over an open fire. It's such a fun cooking experience that everyone is sure to enjoy!
Read next: Best Dutch Oven for camping vs normal dutch oven (hint: lightweight & legs!)
Joost Nusselder, the founder of Lakeside Smokers is a content marketer, dad and loves trying out new food with BBQ Smoking (& Japanese food!) at the heart of his passion, and together with his team he's been creating in-depth blog articles since 2016 to help loyal readers with recipes and cooking tips.