I love creating free content full of tips for my readers, you. I don't accept paid sponsorships, my opinion is my own, but if you find my recommendations helpful and you end up buying something you like through one of my links, I could earn a commission at no extra cost to you.
Learn more
Almost every American loves to chill down on the weekends and burn some steak or hotdog in their charcoal grill in their front or backyard.
Since grilling is essentially an American tradition it's not surprising to find that nearly every home in America has at least one BBQ grill tucked away in their garage or storage area.
In this post I'll talk about my most trusted BBQ smoker product, the chimney fire starter.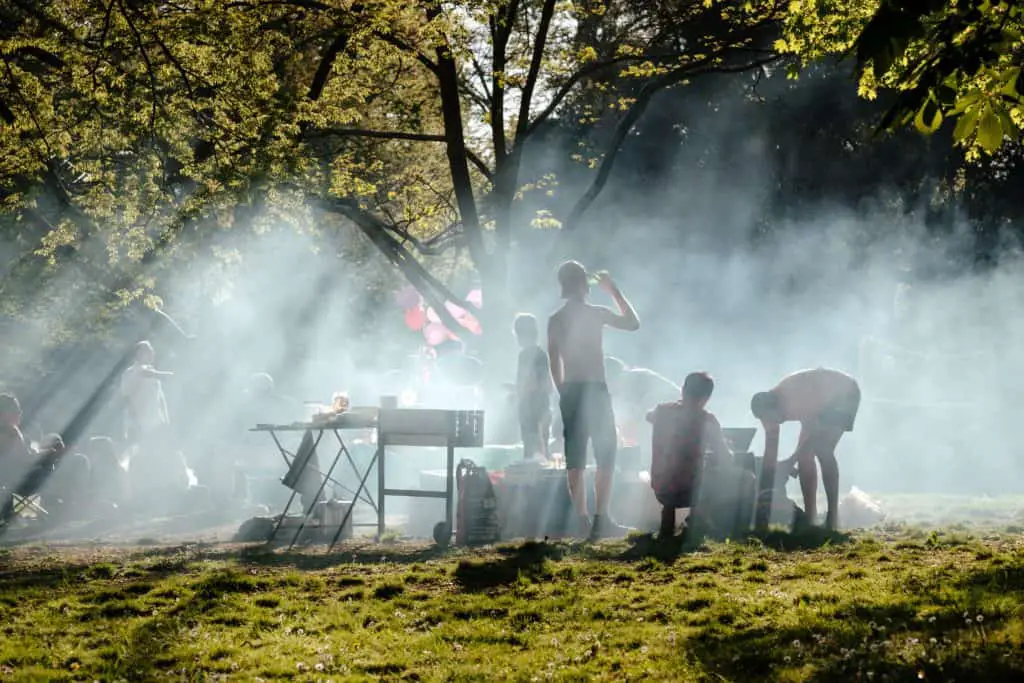 Most grills use charcoal as fuel, but some are built to be powered by liquefied petroleum gas (LPG), electric starters and wood pellets.
Normally a charcoal lighter fluid, which is made from kerosine, is used to ignite the lump charcoal, but it is now recommended that old newspapers or electric charcoal lighter be used instead as a replacement.
However, if you want to ignite the charcoal briquettes faster, then you'll need to use a BBQ smoker chimney starter.
In this post we'll cover:
5 Best Charcoal Chimney Starters
Now that you know how to use the chimney starter and what to look for when choosing one, it is time to select the best brands that most users would also recommend to you.
For this reason we've reviewed 5 different charcoal chimney starters for you to choose from to use for your own barbecue grill at home.
Read through our list and decide for yourself which chimney starter best suits your needs for grilling.
Also read: A simple Mac and Cheese recipe with Gouda you can't beat
Weber Rapidfire Chimney Starter
A simple, durable and reliable tool for preparing very important meals for various ocassions – that's the reputation that the Weber Rapidfire has made over the years on its customers.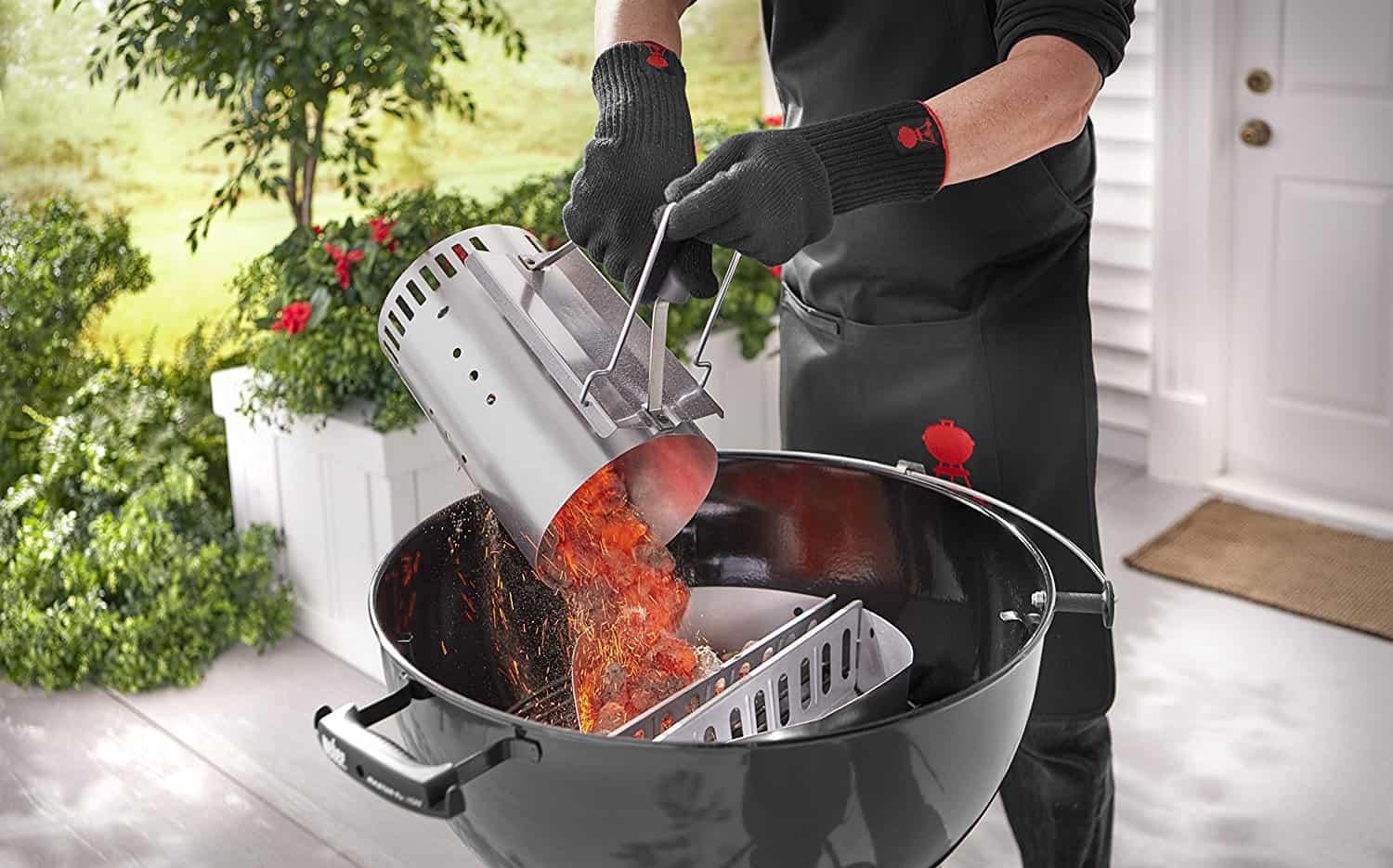 It features an aluminized steel body, non-heat conductive thermoplastic handle, 2-handle design for increased comfort when lifting and pouring the coals over to the BBQ grill, has a large heat shield and more volume that can hold more charcoal briquettes.
Customers have reported owning and using the Weber 7416 Rapidfire Chimney Starter for over 2 decades before buying a new one!
The key feature of this chimney starter is the conical wire grid inside that holds up the charcoal.
This allows for air to pass through more and circulate from its vents up to its stack thereby igniting the charcoal lumps quickly and efficiently.
Pros:
One of the top brands in the market and comes highly recommended by its patrons
Built to last
Greater volume and can hold more charcoal briquettes/lumps
Safe to handle as thermoplastic handle does what the ad says – stays cool even under all that heat
Ignites coals fast and heats it up evenly
Cools coals quickly
No need for lighting assistance like lighter fluid
Easy to pour
Cons:
The conical wire grid allows smaller charcoal pieces to fall through the bottom
Get the weber Rapid here on Amazon
GrillPro 39470 Chimney Style Charcoal Starter
If you want a chimney starter that can ignite the charcoal in half the time it takes for other brands, then all you need is the GrillPro 39470 to do the job for you!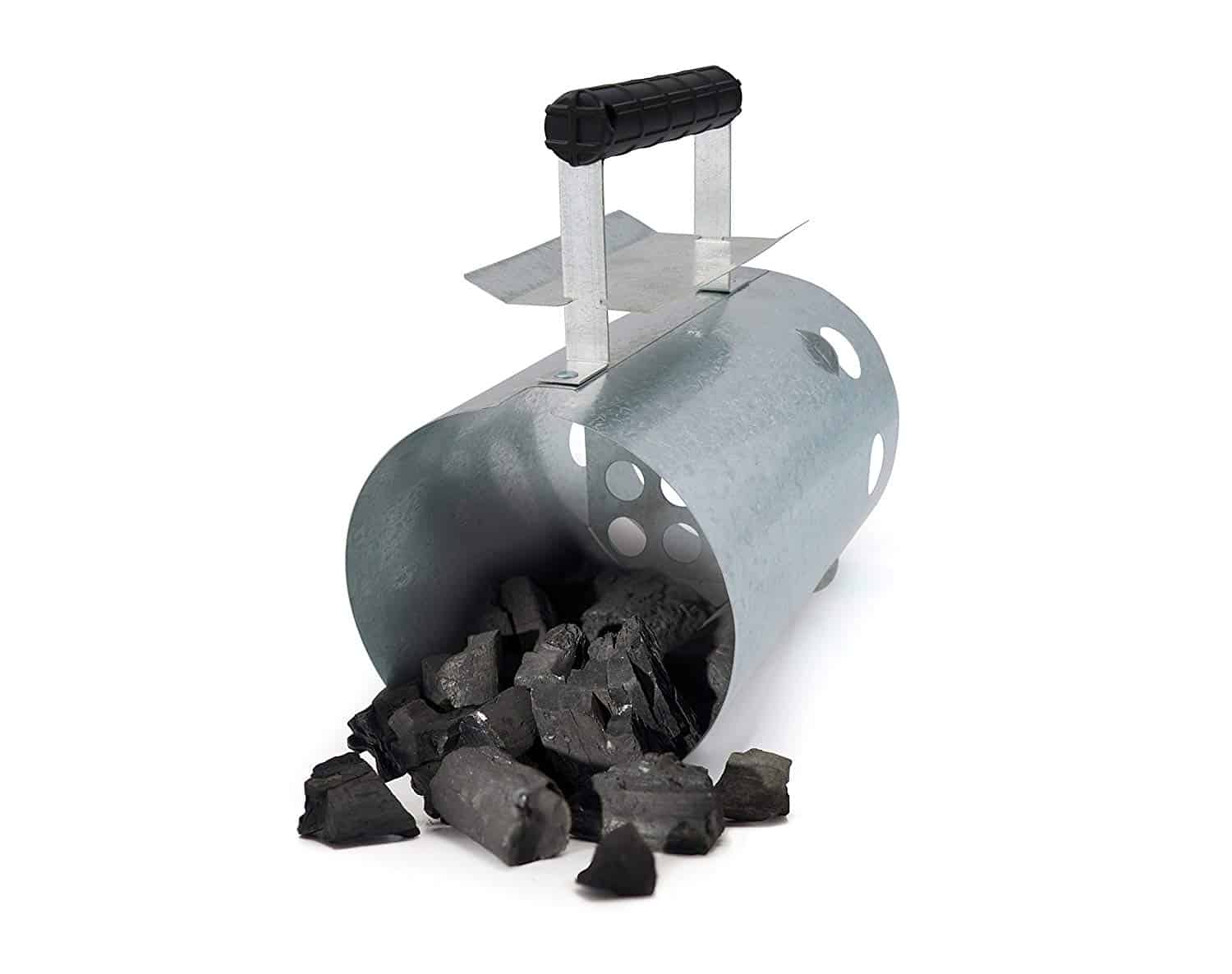 GrillPro is also intuitively designed so that it can hold up almost a kilogram of charcoal briquettes and is also well ventilated that it can ignite the coals in just 10 minutes compared to the 20 – 30 minutes igniting time for other brands.
As you can see from the Amazon page the holes on its air vents at the bottom and on the grill plate are larger than most models, which allows for more air circulation and fuel combustion.
It has a rubber handle as oppose to a thermoplastic option, but it will keep your hands safe while handling and pouring the smoldering lumps of charcoal onto your charcoal grill.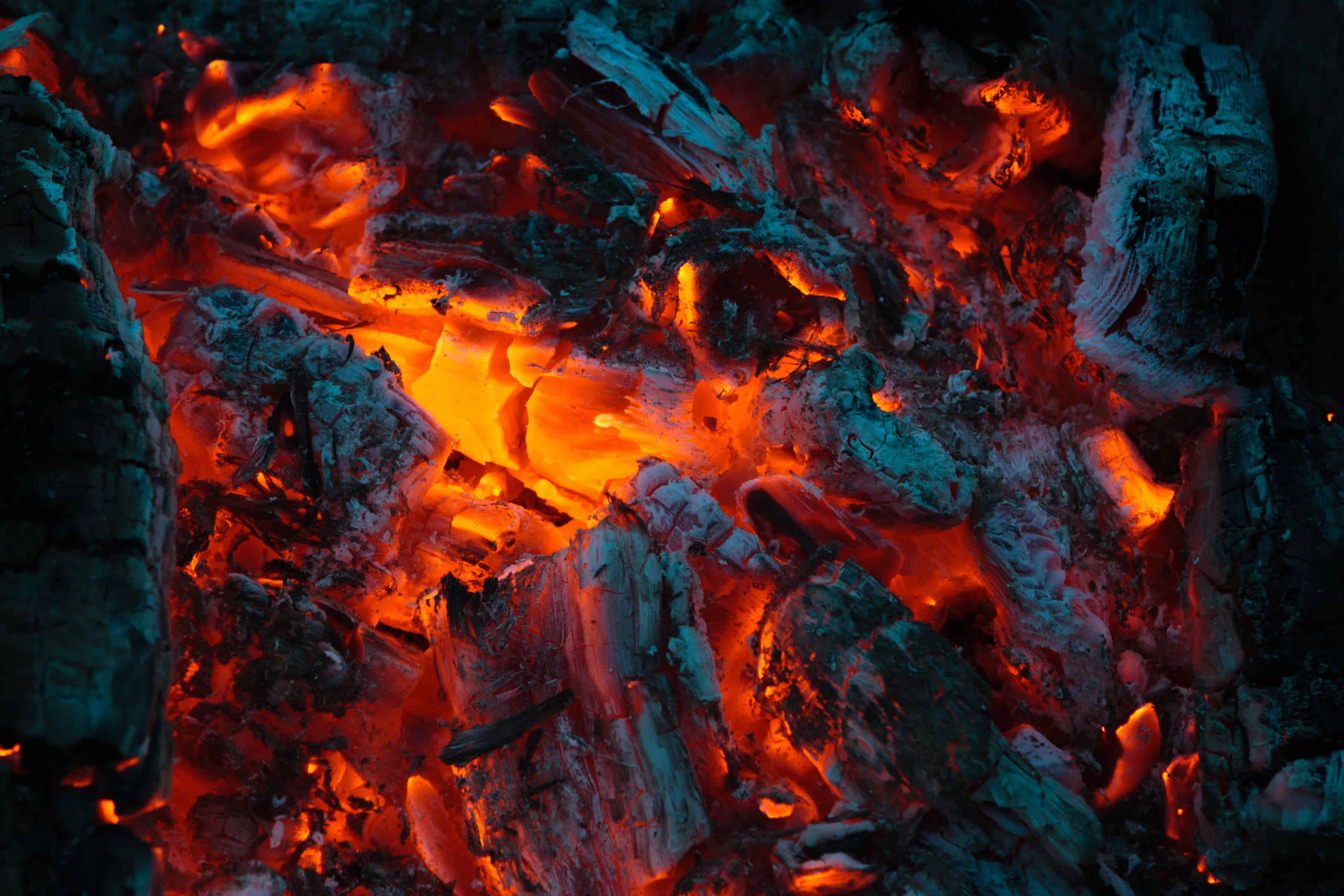 Pros:
Gets coals hot in under 10 minutes
Lighter fluid assistance not necessary
Coals are evenly ignited at high temperatures even on windy conditions
Able to hold over 900 grams of charcoal
Well ventilated and does not need to be fanned
Excellent value in price for its performance
Cons:
The stainless steel body is thinner than other brands
Wood handle is difficult to grip
Check prices and availability here
Firefly Grill 'N More
Built intuitively to withstand high temperatures the Firefly Grill 'N More charcoal chimney starter is a great option for all your roasting plans.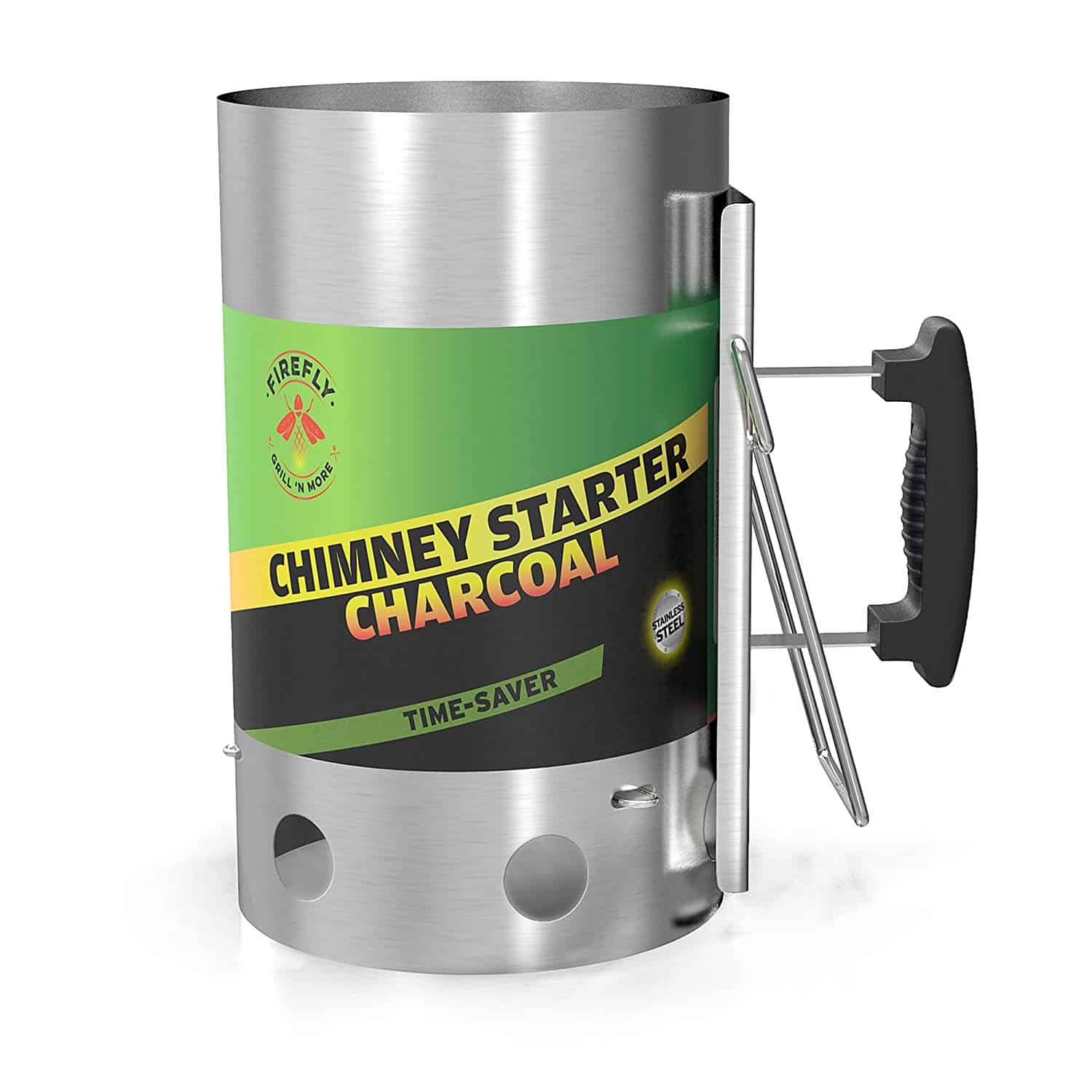 This chimney starter is made from heavy duty stainless steel which makes it long-lasting; able to withstand high temperatures from the smoldering charcoal lumps and briquettes, impact and corrosion resistance.
Now you don't have to wait for an hour to prepare your charcoal grill and cook your favorite grilled foods because the Firefly Grill 'N More charcoal chimney starter can do it for you in half the time!
Its ventilation holes at the bottom of the cylinder as well as the grill plate are a bit larger than most starters, which makes it ignite the briquettes quicker.
Pros:
Quality construction finish
You don't need any liquid fuel to assist in igniting the charcoal lumps
Perfect size-to-volume ratio (can hold more charcoal)
Made from high grade aluminum stainless steel
Coals get hotter than when using lighter fluid/
Coals burn evenly
Cons:
More expensive compared to other brands
Check out the latest prices here
Cuisinart CCC-100 Charcoal Chimney
This is the one charcoal chimney starter with a wooden handle that will not cause any hazard to your hand as you lift it up with all those hot coals inside.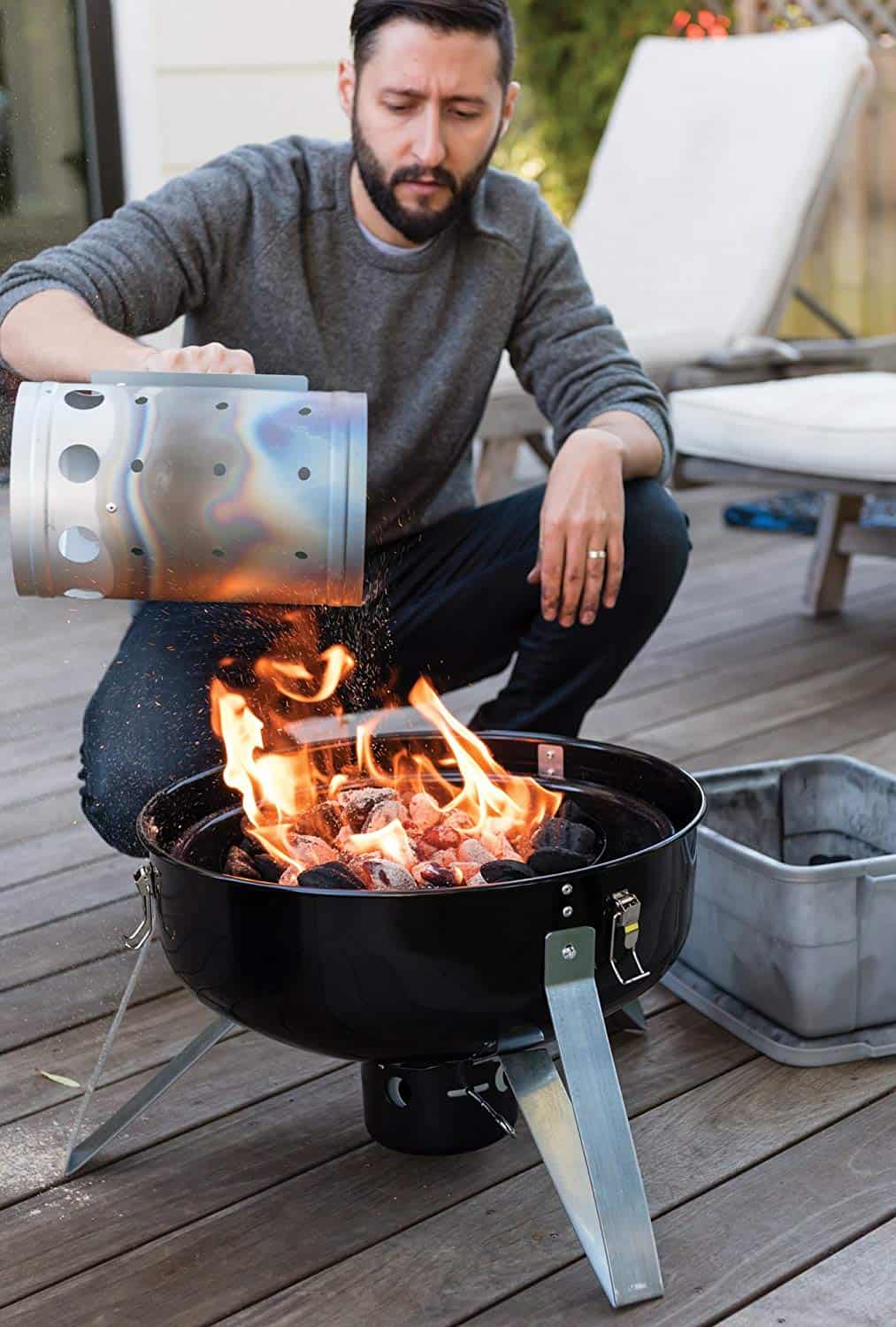 This chimney starter will easily ignite the charcoal briquettes in less than 20 minutes without the assistance of a lighter fluid or kerosine fuel.
The reason for it is because the starter does not only have venting holes at the bottom section of its body and the grill plate, but it also has smaller vent holes scattered across its upper portion.
This allows for air to circulate effectively throughout the starter and when there's more air, then more oxygen is burned and the charcoal will light up faster.
The designers understood that all that heat in the starter will radiate outwards in all direction, which is why they've installed the large heat shield flaps parallel to the handle to keep the heat from radiating to your hands and you'll be able to handle the starter without any problems.
Pros:
Made from very lightweight materials and the whole device weighs only 0.68 kilograms (1.5 lbs)
Liquid fuel assistance not needed
Heats up coal quickly and evenly
You will enjoy a 1-year warranty from the manufacturer
Thanks to the extra-thick heat guard the handle stays protected from the heat
Cons:
The material used for this chimney starter is not stainless steel, so it gets discolored and, in some cases, rusty after a several uses
Wooden handle tends to be slippery (use heat-resistant gloves is recommended)
BBQ Dragon Chimney of Insanity Charcoal Starter
The BBQ Dragon Chimney of Insanity Charcoal Starter has a unique design that allows it to ignite charcoal briquettes at an even faster rate than the fastest known starters in the market.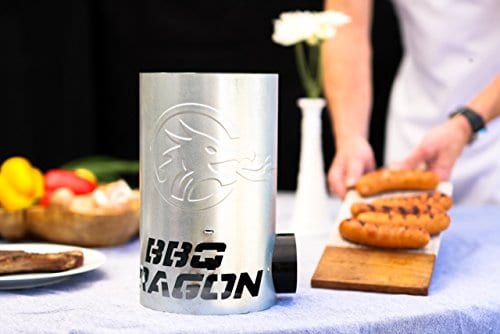 The reason why this is so is because it's the only one of its kind that features the innovative 90- degree elbow air intake tube that can be powered by an external mini electric fan that literally blows air into the starter.
This is also the first chimney starter to feature its vent holes in the shape of the letter of its name "BBQ Dragon," which is catchy and adds aesthetics to the overall design.
Since the letters are bored through the cylinder are rather unusually larger than conventional vent holes, it helps draw more air into the starter and allows for faster ignition of the charcoal lumps.
Pros:
Ignites the charcoal faster
Excellent air ventilation design
No need for liquid fuel catalysts
Can be used alternatively as a forced air cookking stove that can increase the temperature exponentially when the side fan is added
This device works well with fire starters such as squares, packets, cubes, and wax sticks
Heavy-duty construction
Cons:
Lesser volume than most starters and therefore cannot hold as much coal like other charcoal chimney starters
More expensive than other chimney starters
How to Choose the Best Charcoal Chimney Starter (Buying Guide)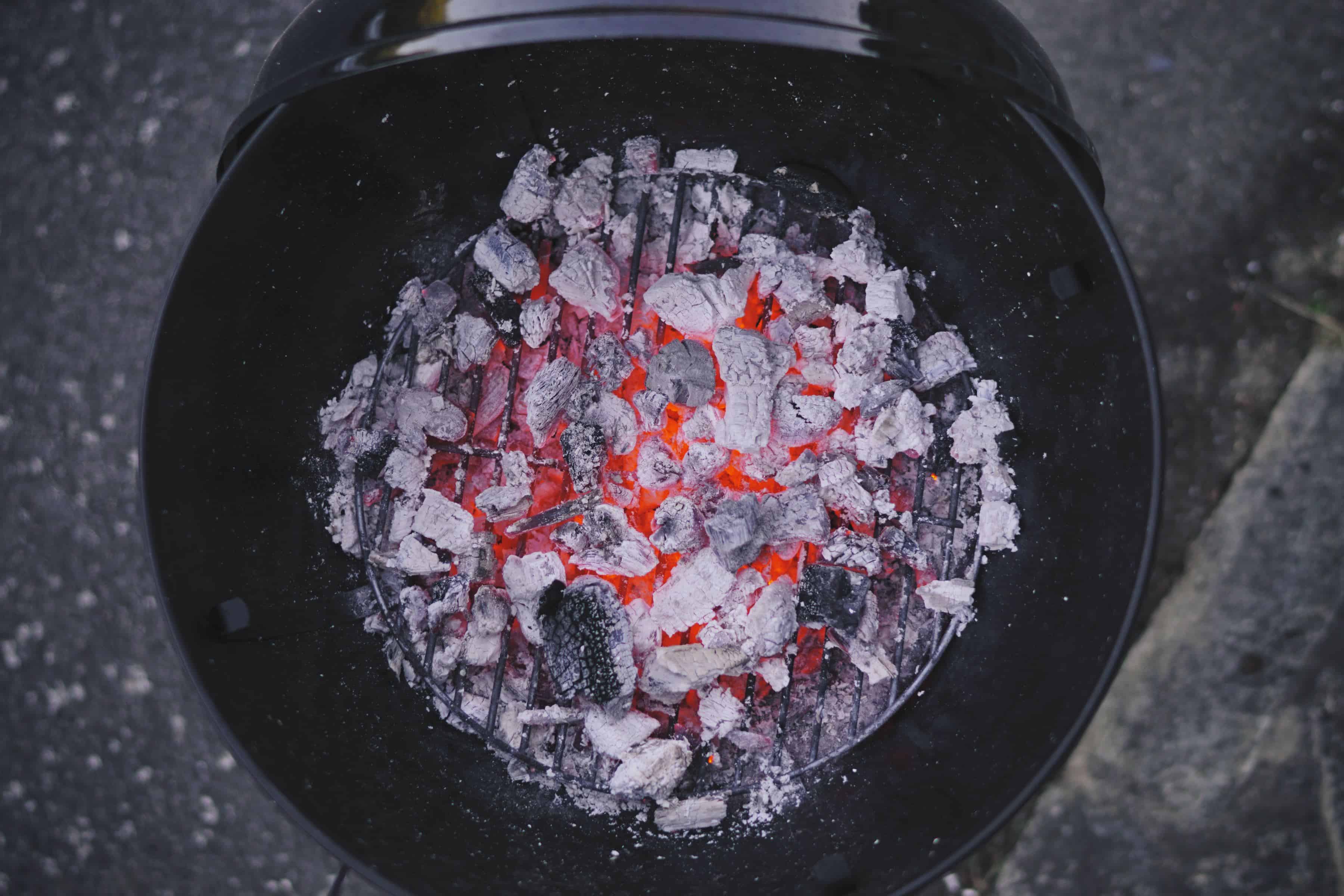 Most charcoal chimney starters are made of high qualty materials and follow the purpose of their design, but you'd still need to be looking for the best in order to get more for your money's worth.
In this section of this article we will be talking about how you can make informed decisions when purchasing a chimney starter.
The first thing you'll need to know is how to use this device and below is a brief tutorial for you:
Pour the charcoal lumps or briquettes into your cooker, but do not put the cooking grill yet, and then pour some briquettes into the starter also.
Crumple some old newspaper (do this lightly and don't make it compact) and place it under the starter, then light it up. You can also use natural firelighter if you don't have old newspapers.
Place the chimney starter in a safe place before you light it up in order to not encounter unnecessary accidents. You can place it either in the bottom of your cooker, in another cooker or on dry ground or cemented pavement (most people prefer a dry cemented pavement to ignite their chimney starters). Make sure that there are no flammable materials near it when you light it up.
Ignite the paper through the holes all around the bottom of the starter.
Allow the newspaper to burn the charcoal lumps for about 15 – 30 minutes (you may have to put more newspaper every 3-5 minutes to make a consistent flame), then observe if the flame has reached the top section of the chimney starter. Once the briquettes have turned gray with ashes on the top section, then grab the insulated handles of the starter and pour the smoldering coals slowly into the bottom of your cooker and rake in the lumps of coal that hasn't burned yet on top of it to allow for consisten burning.
After a few minutes about 80% of your coals have now been ignited and you may start grilling food.
Features to Look for in a Chimney Starter
A.) More Volume Space – look for chimney starters with more volume to accommodate a greater percentage of charcoal lumps. The more charcoal briquettes you can pack in your chimney starter, the faster you'll ignite your grill.

B.) Safely Spaced Handles – buy chimney starters with handles that are placed at a good distance from the body of the starter besides them being thermally insulated. Chimney starter handles that are placed too close to the hot metal surface of it has a high risk of burning accidents, so get your half-foot long rulers and make sure that the highest arch of the handle is at least 4 inches from the chimney starter surface.

C.) Well Ventilated – check to see if the chimney starter that you want to buy has enough vent holes at the bottom to get a good burn. It's simple chemistry, you can only make fire when you burn oxygen. Therefore the more air that goes through the chimney starter, the faster the charcoal in it can ignite.

D.) Paint Chemicals React Badly to Extreme Heat – choose metal over painted surfaces, because liquid paints have chemicals in them that reacts to heat and, in some cases, they tend to also ignite if there's too much heat in the area. Plain metal cylinders for chimney starters would be preferable.

E.) Wooded Handles are not Made for High Temperatures – avoid purchasing chimney starters that has wooden handles, that's because wood aside from the fact that wood is a good heat conductor its atomic structure becomes unstable if introduced to high temperatures. So there's a good chance that the handle will break and you'll accidentally drop all of those smoldering charcoal lumps and cause a major fire in your house or apartment.
Also read: the Oklahoma Joe reverse flow smoker
Joost Nusselder, the founder of Lakeside Smokers is a content marketer, dad and loves trying out new food with BBQ Smoking (& Japanese food!) at the heart of his passion, and together with his team he's been creating in-depth blog articles since 2016 to help loyal readers with recipes and cooking tips.