I love creating free content full of tips for my readers, you. I don't accept paid sponsorships, my opinion is my own, but if you find my recommendations helpful and you end up buying something you like through one of my links, I could earn a commission at no extra cost to you.
Learn more
Admit it – we've all burned our hands, or had a close call while grilling. When working with extreme heat, it's important to protect ourselves and our families from potential disasters.
Over the years I've learned that BBQ gloves are a literal life-saver. There are so many situations that I can recall that could have been extremely risky if I hadn't been wearing my gloves.
BBQ gloves allow you to move hot food around, touch scorching-hot grates, handle burning charcoal, hold a heated chimney starter, and even move pizza stones off of the grill without hurting yourself.
If I can give one piece of advice to any grilling enthusiast out there, I'd say:
Get yourself a good pair of BBQ gloves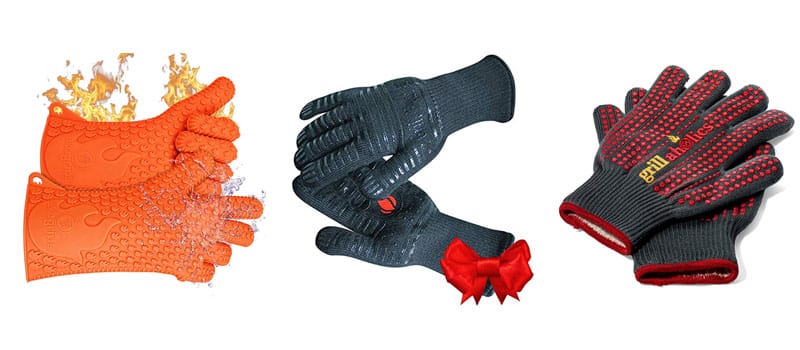 My top choice are the GRILL HEAT AID Extreme Heat Resistant Grill/BBQ Gloves as they offer the most flexibility, heat resistance, and durability for the price.
In the article below, I've revealed five of the top options on the market to consider.
In this post we'll cover:
Types of BBQ gloves
There are several materials that barbecue gloves are made of, and a number of different pros and cons of each material.
Synthetic
The outer part of the glove is usually made of neoprene or silicone. Some have an inner cotton lining. Synthetic gloves are great at handling hot food, grates, etc. They successfully protect from liquids, they're waterproof.
When it comes to cleaning, all it takes is washing them with soap and water the same way you wash hands, dirt comes off very easily. Just make sure that you dry out the inside if you get it wet.
Leather or suede
Some gloves are made of suede, leather or a combination of both, complete with lining.
They are good for moving hot elements, grill grates or food around. They are among the most comfortable gloves, and allow for the most agility in your hands. Sadly, their downside is cleaning.
Washing with water and soap causes the gloves to become more rigid over time.
Fabric with silicone patches
You can also get gloves that are made with a Nomex or Kevlar-based material with silicone patches. These gloves aren't waterproof, plus when they get wet, they lose their properties because water conducts heat faster.
You can wash them in a washing machine but don't use them when they're wet, leave them to dry.
100% silicone
Silicone gloves are characterized by very good protection from heat (even glow). The downside is poor agility and a slightly slippery surface that reduces the comfort and precision of grip.
They are, however, really easy to clean! Just put them in the dishwasher.
Tips for buying good BBQ gloves
There are so many options on the market, that you could get overwhelmed trying to figure out which BBQ gloves really stand up to their claims, and which ones are not worth your money.
Here are five key things to check before you buy:
Heat resistance
This is THE most important aspect when choosing gloves.
Check customer reviews to verify the product claims. Focus on quality and proven brands, like the ones I mention in this guide.
Length & thickness
Gloves should fully cover your hands and should extend past the wrist to ensure adequate protection. A thick glove made of a quality material ensures longer protection from heat.
However, it is important for it not to be too thick as it significantly hinders mobility and agility.
Waterproof?
Some gloves are made of waterproof materials. This is a good feature if you know you are going to come into contact with water vapor and meat juices.
Cleaning
Depending on what they are made of, some gloves can be cleaned in a sink with soap, and some can go in your dishwasher.
However, leather gloves need to be cleaned differently. It is necessary to read the manufacturer's instructions before purchase if easy cleaning is important to you.
Type of material
BBQ gloves are made of various different kinds of materials (check out the end of this article for details). Each of them has its pros and cons.
Make sure you know which material will suit your needs and preferences best.
The best barbecue gloves reviewed
It doesn't matter if you grill or smoke, or what type of grill you use (coal, gas, or electric) you always need quality gloves that will effectively insulate hands from dangerous heat.
When it comes to grilling, pay particular attention to the insulating parameters, as you are going to come in contact with very high temperatures.
Best BBQ gloves overall: GRILL HEAT AID Extreme Heat Resistant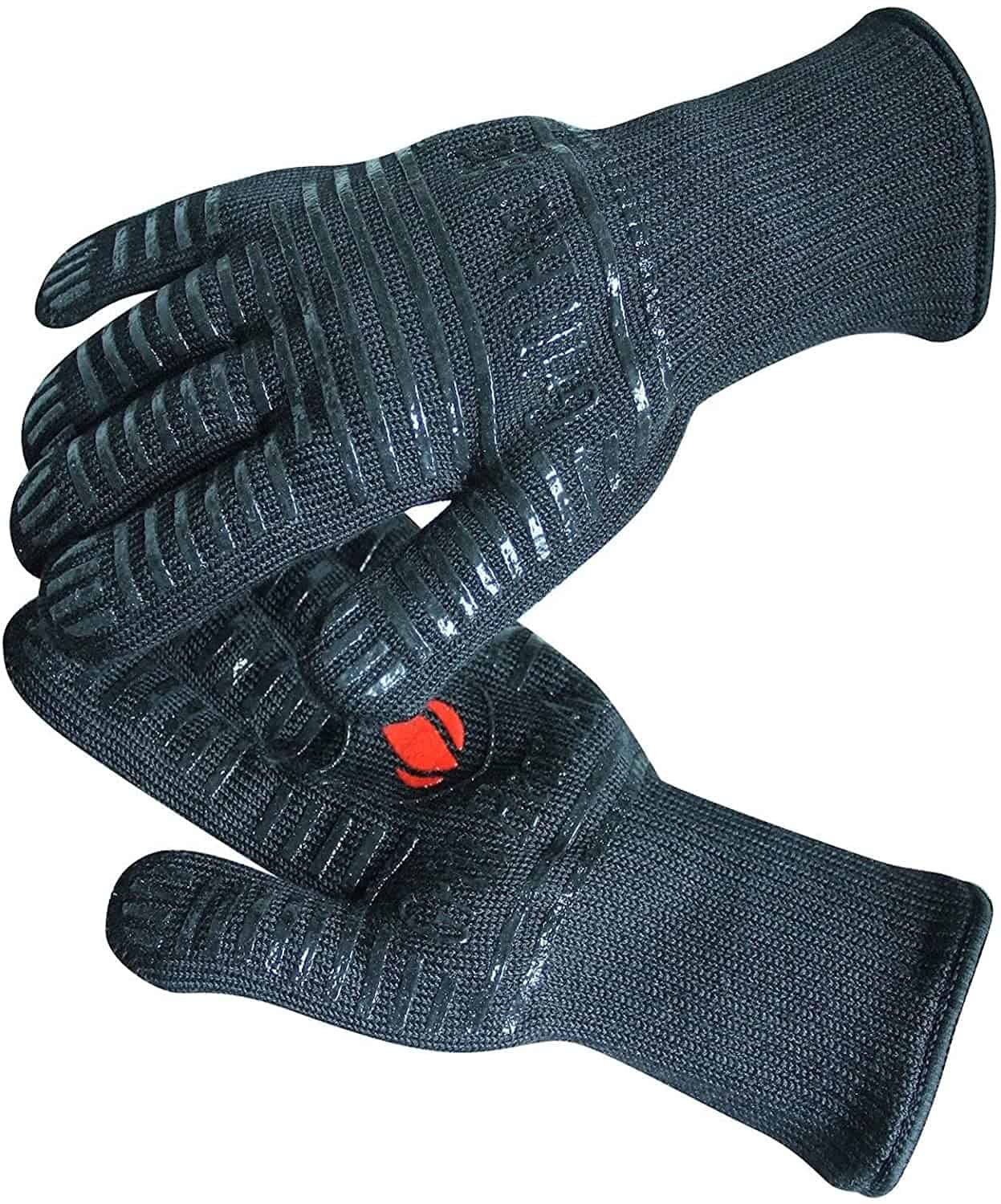 My number one choice, and the gloves that I have in my own collection.
If you're looking for barbecue gloves that offer maximum protection from extreme heat, GRILL HEAT AID Extreme Heat Resistant BBQ Gloves are a perfect choice.
These gloves can protect you from all heat sources, including open flame and convective heat.
They can withstand temperatures up to 932 degrees Fahrenheit and are made to be used indoors and outdoors.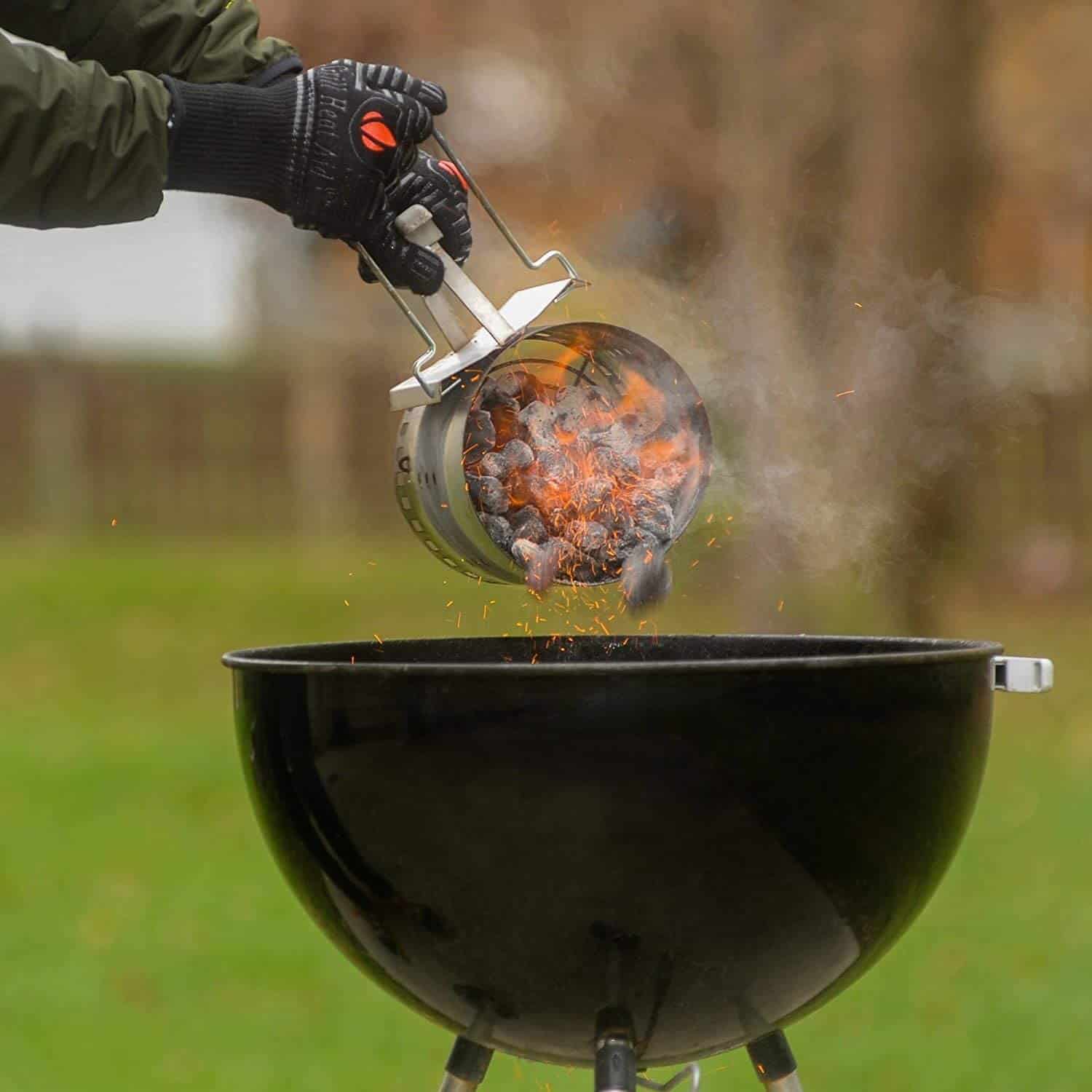 They are thick enough for you to be able to hold hot items for a long time without worrying about burning yourself, but are also extremely flexible.
Also worth mentioning is that the gloves have a 100 percent cotton lining inside to ensure comfort and breathability.
These BBQ gloves are also sturdy and durable. You can expect them to serve you well for several years.
Check out a review of these gloves here:
Pros
Heat resistance: Up to 1,472 degrees Fahrenheit
Length & thickness: Good length and thickness (extremely flexible)
Cleaning: According to the manufacturers, you can wash your gloves in any domestic or commercial laundry machine
Material: These gloves are made of P-Aramid fiber, which is engineered with M-Aramid fiber – the same material Nomex and Kevlar are made of
Cons
Waterproof: They are not waterproof
Best neoprene BBQ gloves: RAPICCA BBQ Gloves-Smoker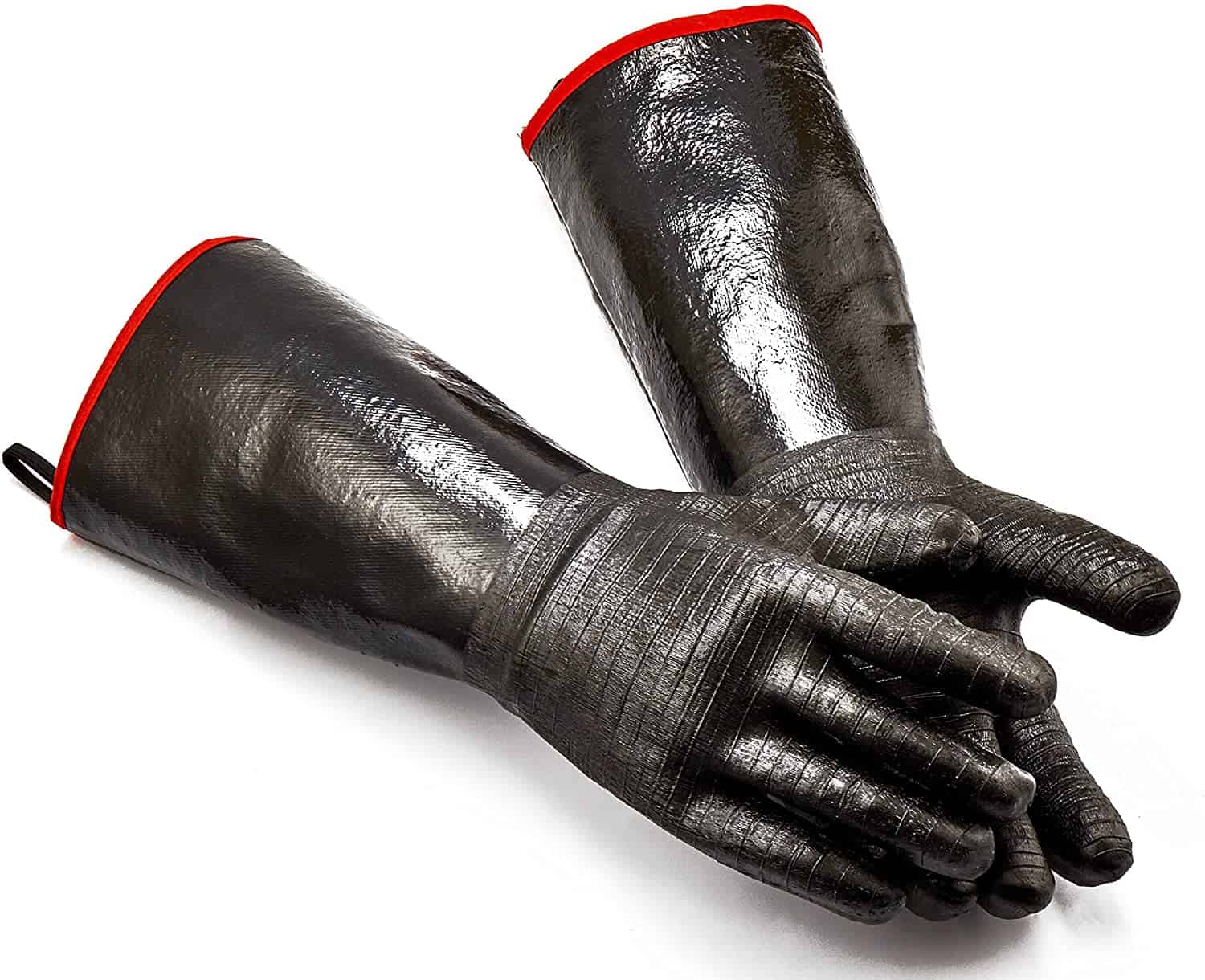 These are my number 2 choice due to the fact that they are slightly less dexterous than the Grill Heat Aid ones, and can withstand lower temperatures.
RAPICCA BBQ Gloves feature a flexible waterproof neoprene coating, making them resistant to flames, oil, grease, and water. They also have two layers of sweat-absorbing cotton inside.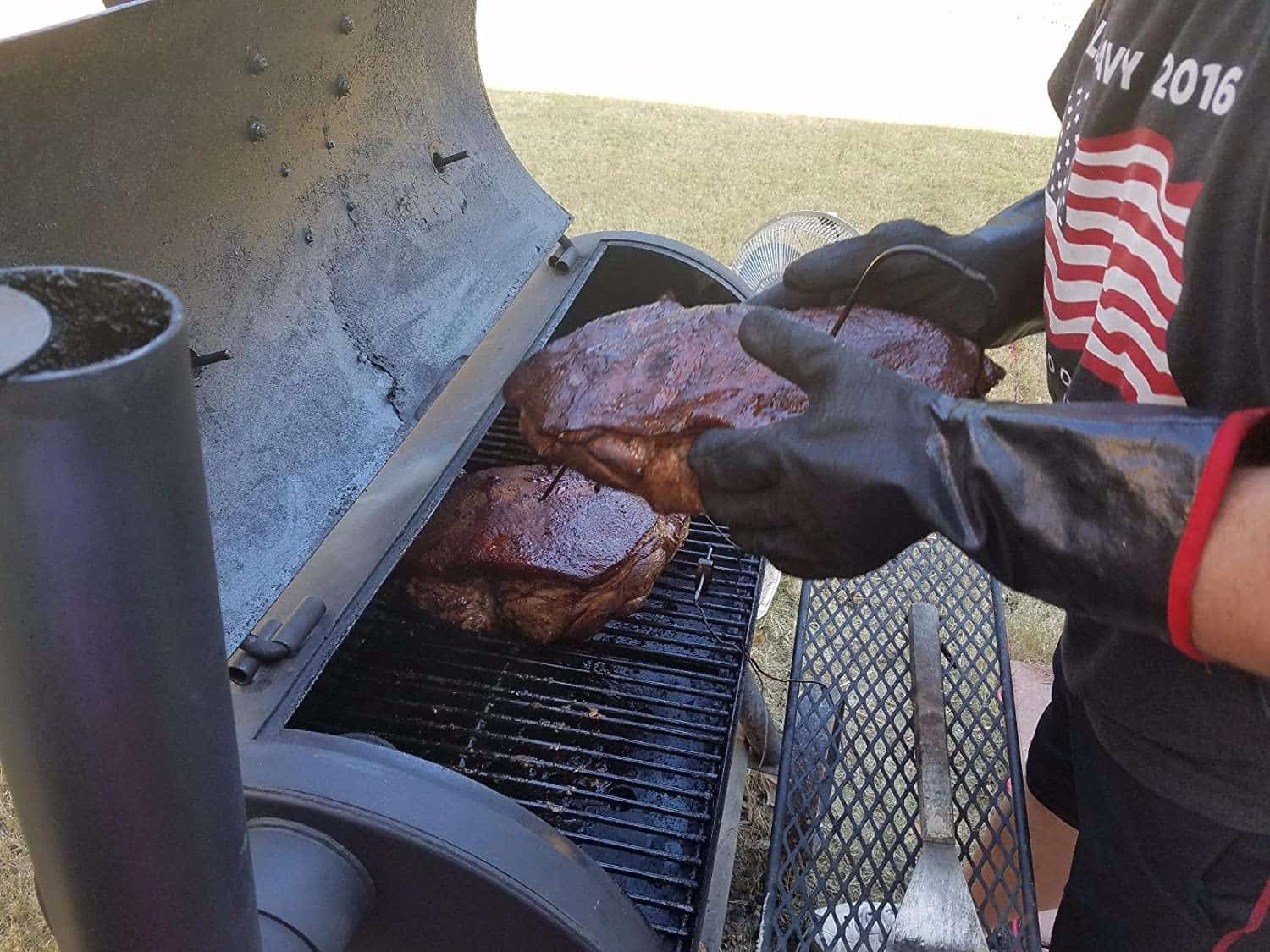 These 14-inch long gloves will effectively protect your forearms from flame and heat. They can withstand temperatures up to 450 degrees Fahrenheit.
The manufacturers have also included a rough non-slip layer on the outer palm and fingers – allowing you to pick up slippery items.
These are amongst the easiest BBQ gloves to clean – all you need is soap and water, and then it's just like washing your hands.
Pros
Length & thickness: 14-inches long and relatively thick but still very flexible
Waterproof: Yes
Cleaning: Easy to clean with soap and water, just don't get the inside wet or allow to dry before next use
Material: Neoprene
Cons
Heat resistance: Up to 450 degrees Fahrenheit (less than the Grill Heat Aid gloves)
Best BBQ gloves for smokers: Artisan Griller BBQ Heat Resistant Insulated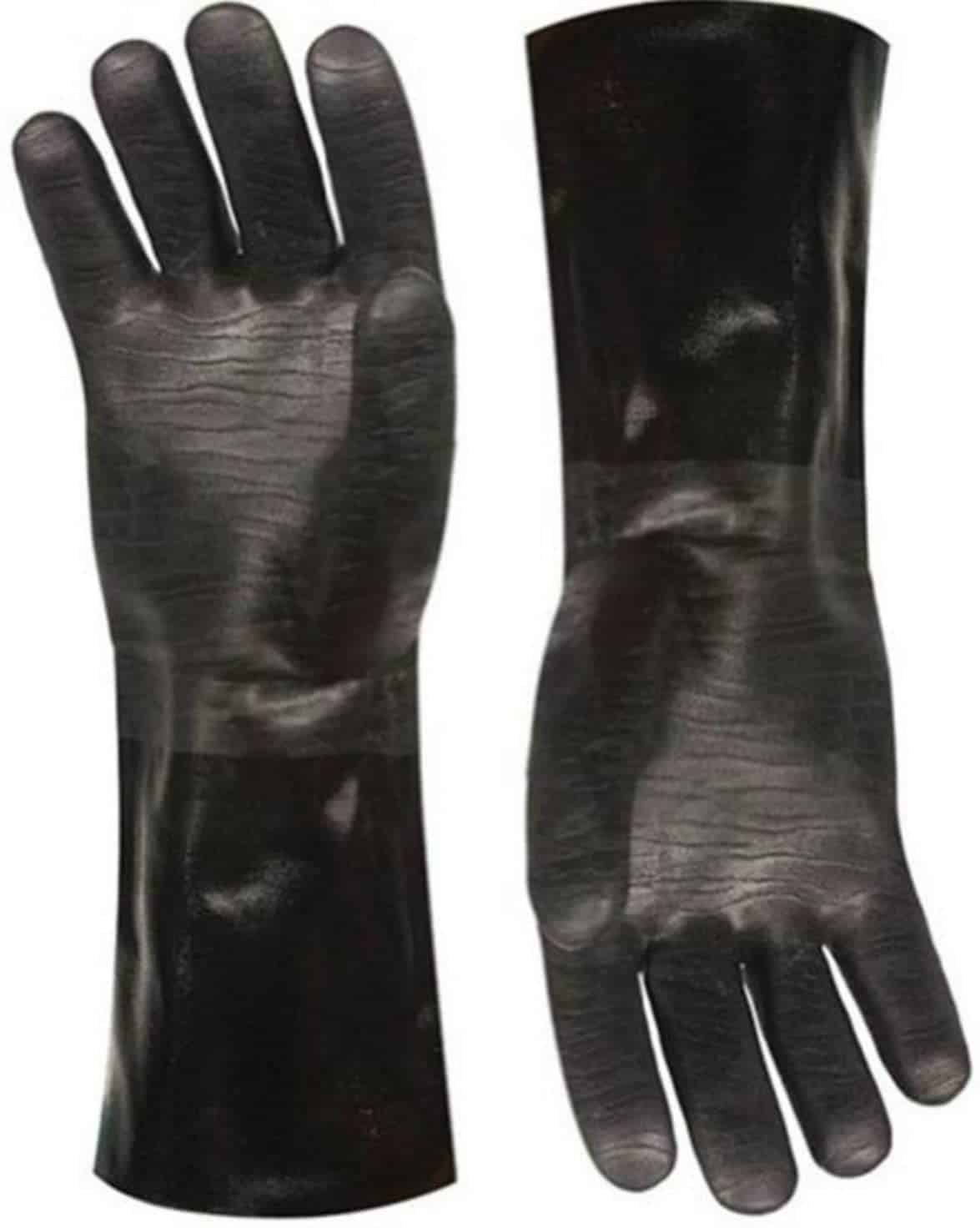 Another great choice, if you're looking for heat-resistant BBQ gloves, is the Artisan Griller BBQ Heat Resistant Insulated Smoker gloves.
They are slightly more expensive than the Rapicca ones, but they do offer exceptional quality and thoughtful design. They were specifically developed for those who use smokers and BBQ pits.
Because they are14-inches long, they can protect your hands and your arms from heat and flame. Besides frying, smoking, barbecuing, and grilling, they come in handy for various other kitchen tasks.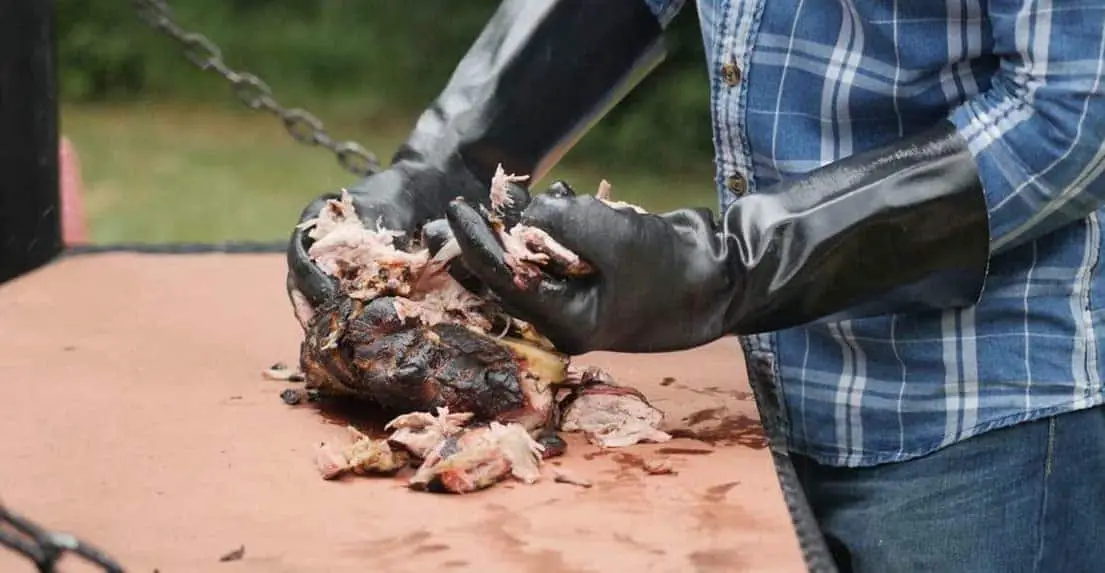 The pit glove has a soft jersey cotton liner that fits loosely and allows your hands to stay cool while performing your tasks. The gloves have a waterproof neoprene rubber coating on the outside.
Pros
Length & thickness: 14-Inches and relatively thick but still very flexible
Waterproof: Yes
Cleaning: Just wash with soap and water while you're still wearing them. Take care not to get the liner wet or make sure it is dry before using again
Material: FDA compliant neoprene rubber coating
Cons
Heat resistance: Up to 400 degrees Fahrenheit
Best silicone BBQ gloves: Grillaholics Silicone Barbecue Gloves
If you're looking for BBQ gloves that offer great comfort and protect your hands from temperatures up to 660 degrees Fahrenheit, Grillahollics Silicone BBQ Gloves are an ideal choice.
Made from 100 percent aramid 1313 insulated fibers, these are some of the most comfortable barbecue gloves on the market.
They fit well, allowing you to pick up food on your grill easily. The gloves' "grippiness" enables you to maintain a firm grip on the grill basket for example.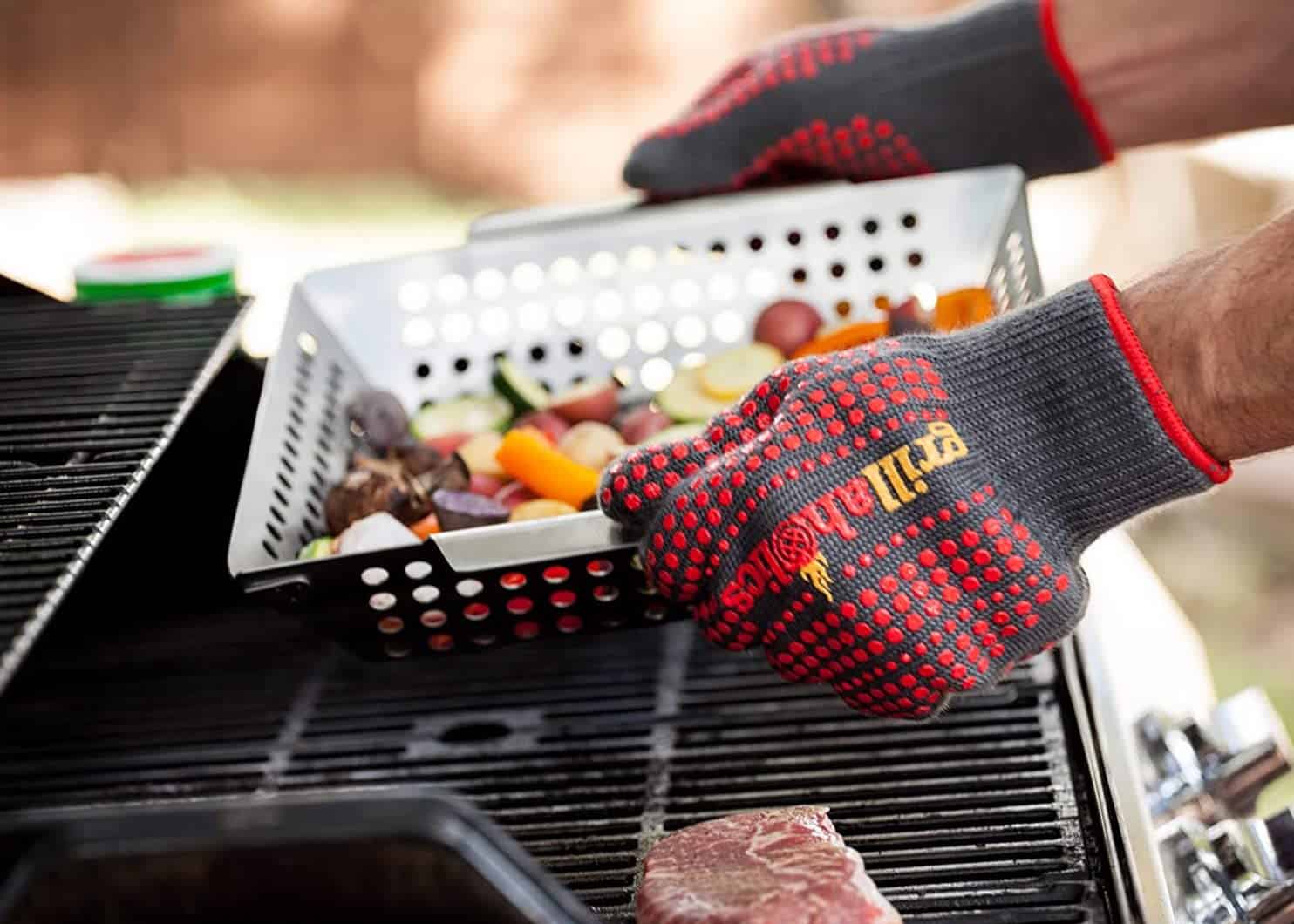 However, these gloves are not without a few setbacks. They are not long enough. So, they are not a great choice if you want to protect your forearms.
Pros
Heat resistance: Up to 660 degrees Fahrenheit
Material: Made from 100% aramid 1313 / Kevlar insulated fibers on the outside and lined with 100% cotton
Cleaning: You can wash your gloves in any domestic or commercial laundry machine
Cons
Length & thickness: The wrist protection could be slightly better, but your hands are very well protected and insulated
Waterproof: Not waterproof
Easiest to clean BBQ gloves: Jolly Green Products Ekogrips Premium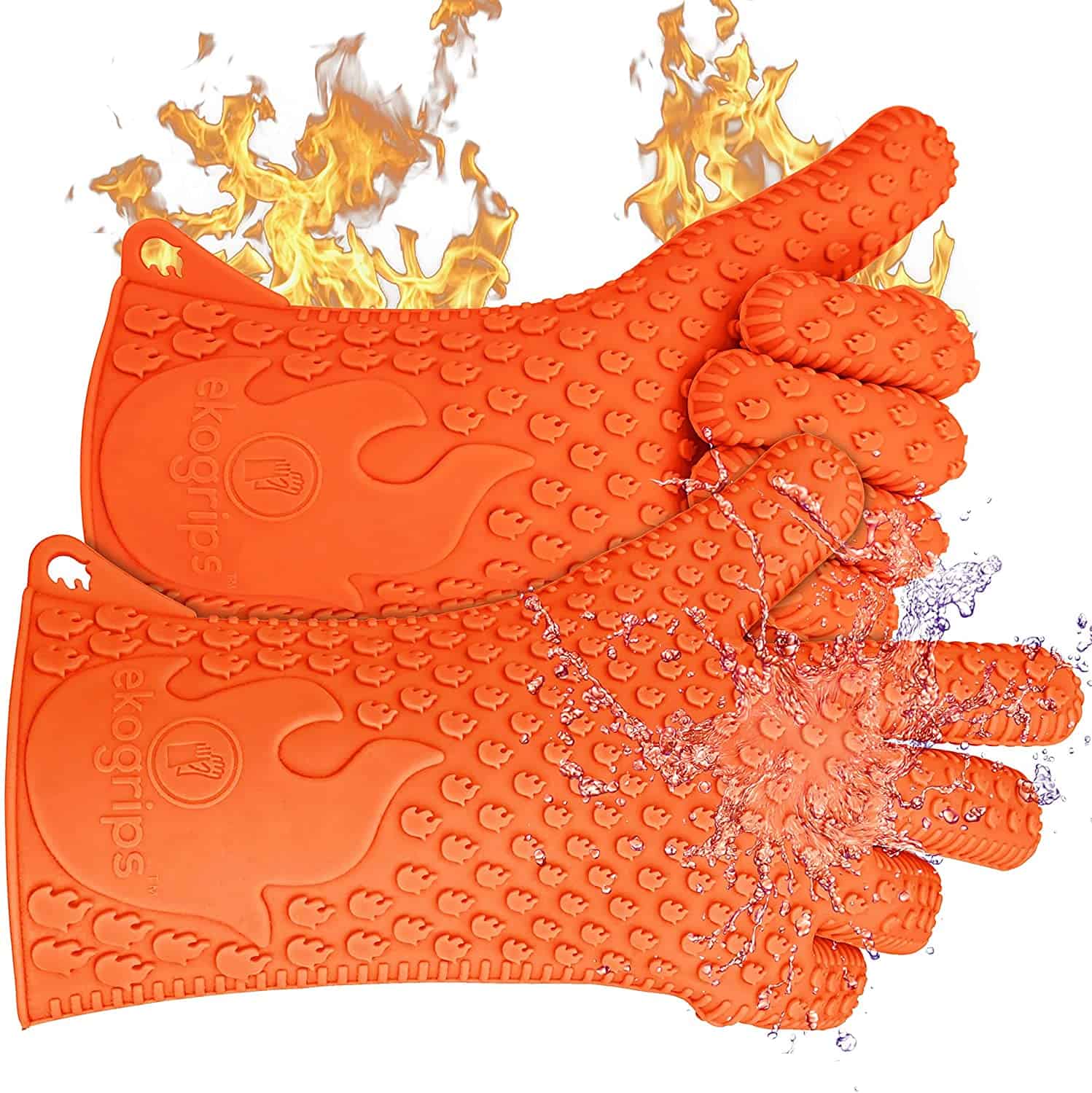 If you're looking for durable, versatile silicon gloves that offer excellent grip when handling foods directly, you can't go wrong with Ekogrips Premium BBQ Oven Gloves from Jolly Green Products.
These gloves are both non-stick and non-slip and are easy to clean. No matter what grease or grime they accumulate, you can simply throw them into the dishwasher.
Ekogrips Premium Gloves are insulated and thick enough to handle temperatures up to 425 degrees.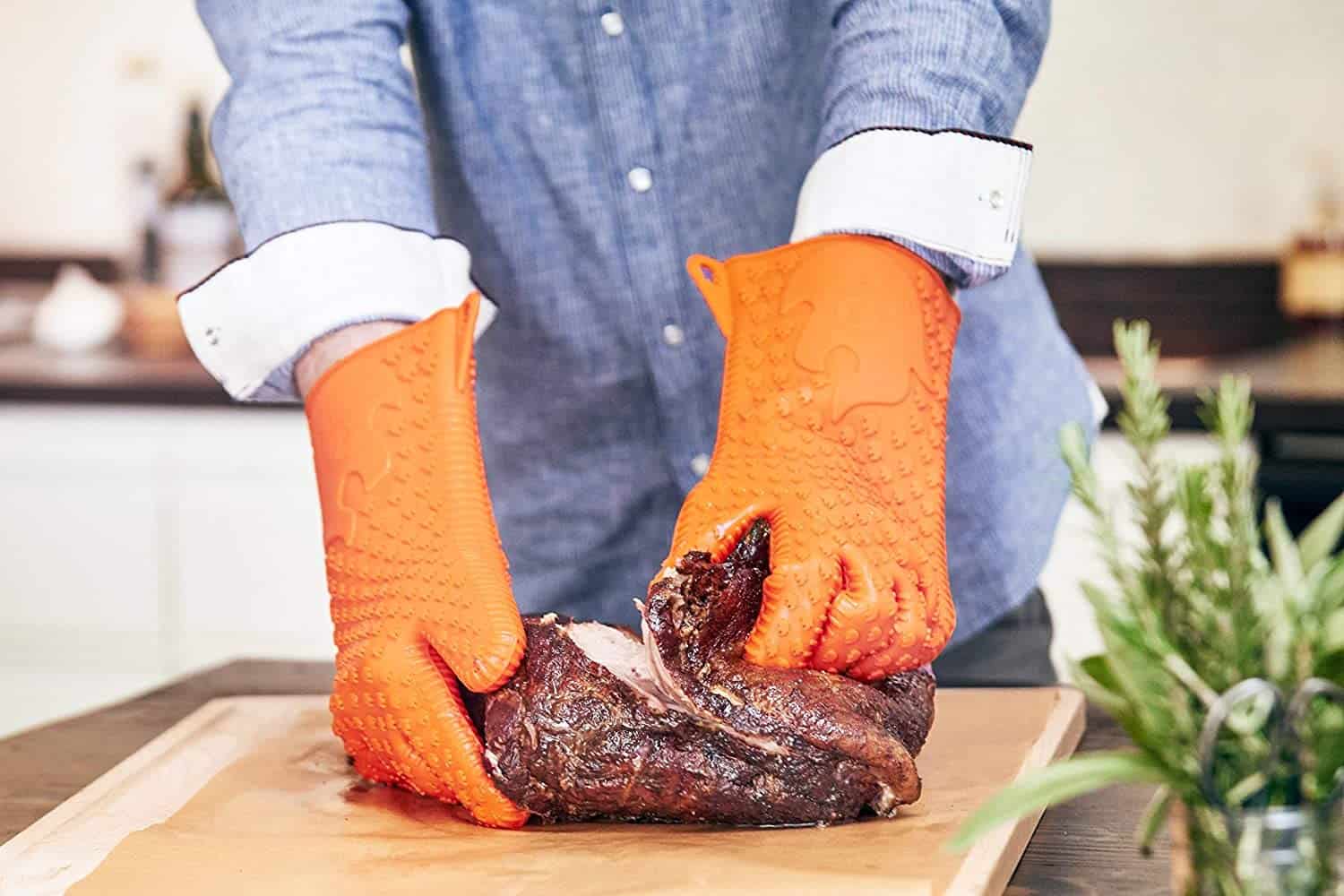 Be aware that due to the fact that they are made of silicone, they don't breathe well and may 'stick' to your hands if they get sweaty.
Pros
Waterproof: Yes
Cleaning: Easy to clean in dishwasher
Cons
Heat resistance: 425 degrees Fahrenheit
Length & thickness: Good length and thickness (less flexible and dexterous than the first 2 options)
Material: Silicone – can be a little difficult to put on and take off
FAQs about grill gloves
Do grilling gloves actually work?
Yes. Quality grilling gloves help protect your hands, wrists, and lower arm from burns and other heat-related injuries. Specially manufactured gloves can handle extreme temperatures while keeping you safe from harm.
If you're wearing grill gloves, you can pick up hot grill grates, move charcoal around, and pick up pizza stones without using other tools.
Just be sure to buy quality gloves that are resistant to very high temperatures.
Also, make sure your BBQ is safe regarding temperature, read all about the BBQ smoker danger zone here
Can you wash grilling gloves?
You can wash grill gloves, but they may require different methods depending on what they are made of.
Gloves that are made entirely of silicone can be placed in the dishwasher, while gloves that have a cotton lining can go in your washing machine.
Leather and suede gloves have special instructions for cleaning.
Are grill gloves and welding gloves the same thing?
While they both protect your hands from heat and burning, grill gloves and welding gloves are specially manufactured for their specific purposes.
It is not recommended that you use grill gloves for welding, welding gloves for grilling. Rather buy purpose-made products and follow the safety instructions carefully to avoid injury.
Takeaway
Gloves are an absolute 'must have' for any grilling or smoking enthusiast. It's really just a question of what kind of glove suits your needs and budget.
I'm sure that this list has helped you narrow down your options, so happy shopping!
Read next: Best BBQ smoker accessories: 22 must-have smoking tools
Joost Nusselder, the founder of Lakeside Smokers is a content marketer, dad and loves trying out new food with BBQ Smoking (& Japanese food!) at the heart of his passion, and together with his team he's been creating in-depth blog articles since 2016 to help loyal readers with recipes and cooking tips.