I love creating free content full of tips for my readers, you. I don't accept paid sponsorships, my opinion is my own, but if you find my recommendations helpful and you end up buying something you like through one of my links, I could earn a commission at no extra cost to you.
Learn more
Getting the right accessory for your BBQ smoker or grill can sometimes be a tricky affair.
For starters, you need to know the kind of accessory you need, the exact measurements and then, the toughest part of it all, the search for the right accessory.
Let's take a look at the best BBQ smoker parts for when your builing, or repairing, your own smoker.
The internet is filled with a lot of Smoker door handles, latches, hinges, gasket sealer, and many other essential accessories. Manufacturers are trying hard to outdo each other, and they flood the internet with similar products with minor adjustments. This can make it hard for buyers who know the product they want, but they have to go through a lot of products that look alike. It is even harder for buyers if they are not sure the kind of product they want.
The internet has the playing field for manufacturers, and this means that manufacturers have to think outside the box. The cutthroat competition implies that clients have the opportunity to get quality products and standard rates. Here are some of the best BBQ smoker door handles, latches, hinges, and gasket sealer and how best to use them;
The Best Smoker Door Handles
A door handle may seem small, but it plays a crucial role in any type of BBQ smoker or grill. When the door handle to your BBQ Smoker breaks or even tears, it is usually a tiresome job to replace it. It becomes even more challenging with some Smokers that cannot be operated without a door handle. When it comes to door handles, you want something that will fit a bit tighter and give you more flexibility.
When installing handles, users also have to do with drillings which can cause the fillings to fall all over the place. This can result in a lot of cleaning which is a bit tedious but not to worry. We have the right remedy for you. To catch all the fillings, you need to have a large raw potato and a fearless person to hold it on the other end. This way, the fillings will be caught by the potato. Here are some of the best BBQ Smoker Door Handles:
Also read: the best BBQ smoker mac and cheese recipes
Island Outdoor, LLC 5-3/8″ stainless spring handle with 1/2″ steel rod (6″ wide, 3.5″ tall) – WELD ON
First up, is this stainless spring handle from Island Outdoor. The handle is 6 inches wide and 3.5 inches tall. It has a steel rod that measures 1/2″ and is weldable and comes with a pre-mounted spring.
It is important to note that this spring handle is weld on only. This handle can be used in Grills, Smoker, pit or any other place that may require a large handle.
XT Spring Handle with Mounting Bracket 5″ BBQ Grill Wood Furnace Stove Smoker
Up next is the XT Spring handle that that has an easy to mount chrome spring. The product is safe and convenient to use on Grills and Smokers.
The spring handle is made of heavy-duty chromes that are easy to grip and are easy on your hands. It is easy to mount with no outside facing exposed; thus handle replacement will have a professional touch.
It has a built-in mounting bracket that comes with a powder coated finish that is tailored to hold your grip handle at a safe distance from your unit. Furthermore, the mounting bracket rod is a half inches thick, and it is machined down to 3/8 inches.
Check prices and availability here
Smoker DROP Handle UDS BBQ door lid Smoker Stainless Spring Rod 6 in Bracket Cap
This handle is convenient for the door lid in a BBQ Smoker. It is made of stainless steel and has a spring rod that measures 6 inches.
The handle has a measurement of 6 by 4 inches, and the two ends are equal in length. It is paramount to note that the two ends are at a 40 to 45 degrees angle.
Top BBQ Smoker latches
Latches can be a little hard nut to crack, and you need just the right product to fit in your smoker. If your current latch is rusty, or the grips have worn out, our you wish to install a new latch, then these are some of the latches you can look for;
Smoker Toggle PULL Latch
First up is the BBQ-PRO-DOOR-LATCH-LARGE, the bigger version of the BBQ-PRO-DOOR-LATCH-SMALL. With this product, you can expect to find red vinyl hand grips that are resistant to both oil and stain. For good adjustability, the manufacturer has a U bolt in place that helps users get the best from the product.
Additionally, the vendor also supplies a latch plate and the product also has a 2000 lbs. holding capacity. When it comes to measurement, the BBQ-PRO-DOOR-LATCH-LARGE has a two-and-a-half-inch drawing movement, and the U bolt has an adjustment range that measures 5/16″. This latch is convenient for Smokers or Grills that are large in size.
Check out the latest prices here on Amazon
POWERTEC 20307 Latch-Action Toggle Clamp
This latch has a latch plate supplied and 700 lbs. holding capacity. There is the U bolt for easier adjustability that has an adjustment range that measures 3/8″. There is also the 2″ drawing movement, and the hand grips are both oil and stain resistant that comes in red.
The product is a fantastic addition to your BBQ Smoker accessories, and if you are replacing one, you should try it. It is most suited in relatively small Smokers.
The Best Hinges
Hinges are an instrumental part of any smoker, and when they rust or are too old and need replacements, they can make the user really sweet. They may seem small, but hinges play a very crucial role in BBQ, and this is why it is vital to get the right hinge for your BBQ Smoker. One of the paramount conditions for a hinge is its ability to withstand rust. The buyer should be careful with the sizes of the hinge as a slight mistake means the hinge won't fit.
It is also important to note that the higher the number of hinges the lesser the cost. So, if you are looking to save a few bucks, you can try buying hinges in bulk. Here are some of the best BBQ Smoker hinges:
2.75″ BBQ PRO Hinge
As the name suggests, this is a hinge that measures 2.75″ and is welded on BBQ-H-2.75-B. The pin is made of brass and its diameter measures 4/16″. The Cross-Section measures 7/16 inches, and they have a weight load per pair of 200 lbs.
4″ BBQ PRO Hinge
This 4″ hinge is welded on BBQ-H-4-B, and the pin is made up of either steel or brass. The Cross-Section measures 5/8 inches, and the pin has a diameter of 13/32″. The product has a weight load per pair of 440 lbs.
6″ Stainless Steel Weld on BBQ Hinges BBQ-H-6-SS
This BBQ-Hinge-6-SS model is welded on BBQ hinges BBQ-H-6-SS, and its pin is made of stainless steel. The hinge has a total length of 6," and its pin diameter is of 17/32″ and the cross-section measures 25/32″. The weight load per pair is 600 lbs.
6″ BBQ Hinges
The BBQ-Hinge-6 is welded on BBQ-H-6-B, and one of the key differences between this product and the 6″ Stainless Steel Weld is the material used to make the pin as well as the pin diameter.
You can check them all out here
Top BBQ Gasket Sealer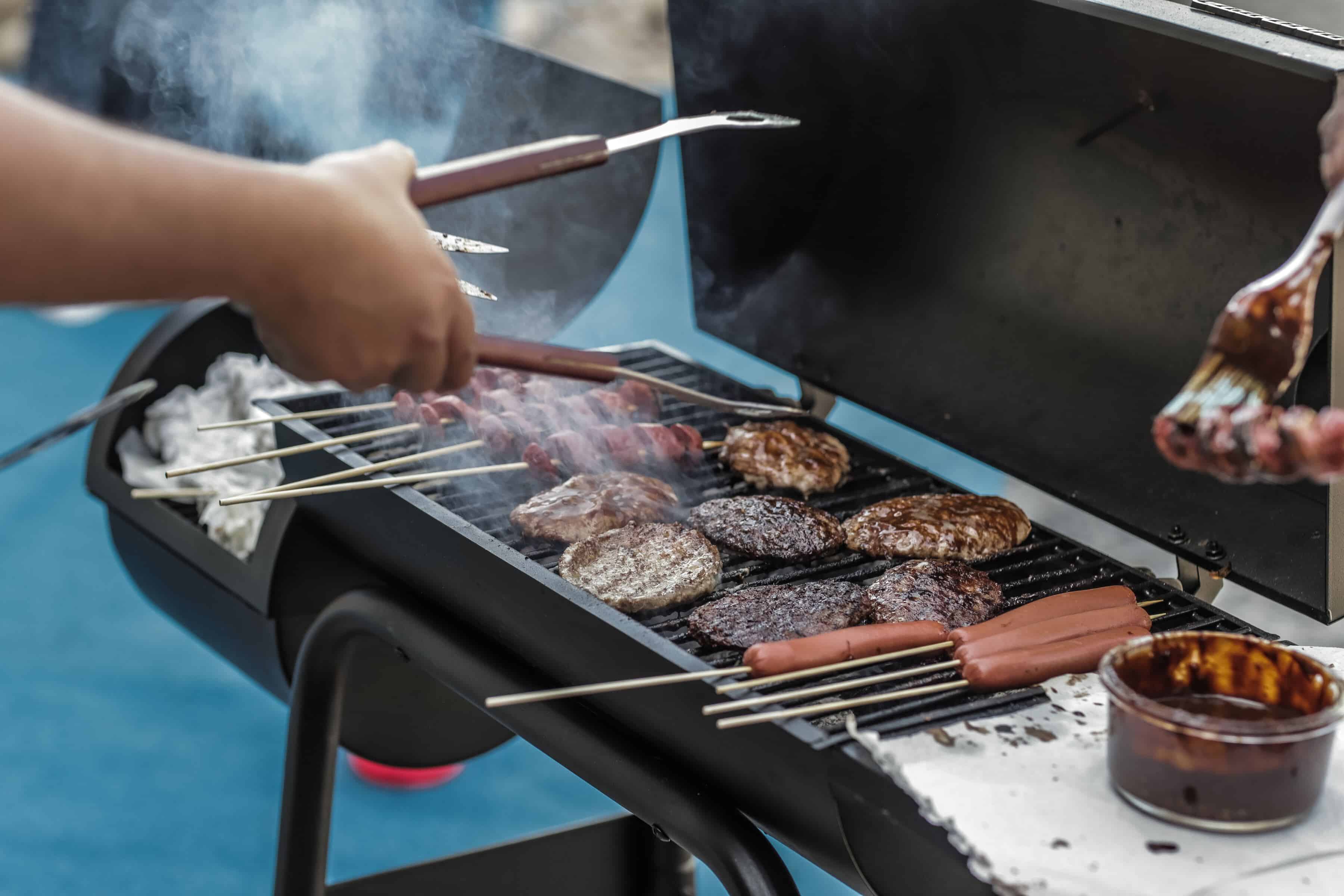 When you use a BBQ grill or smoker for a long time, it starts to deteriorate, and the original gasket may fall off or ever melt. This leads to heat loss, meaning that food takes longer to smoke and the energy used is higher than normal. Once your smoker has deteriorated, it is only prudent for you to seal the gasket which will resort the smoker to its best and in the process, help save energy.
It is important to note that even though some of these sealers are approved by FDA, if the accidentally spill on your skin, or come into contact with your eyes, kindly visit a physician immediately. Here are some of the best gasket sealers you can get:
LavaLock RTV 650 F BBQ grill smoker sealer Hi Temp Silicon adhesive 3 oz. ( 2.8 fluid ounce)
First up is this high-temperature sealer from LavaLock. The sealer has a maximum intermittent temperature of 650F and is thus conducive for sealing gaskets in both smokers and grillers.
To top it up, it can as well withstand low temperatures of up -62F and continuous temperatures of about 500F. The sealer is non-sticky and has an excellent adhesion rate. This gasket sealer has a Self-curing effect and is easy to apply. Additionally, it also has a long-lasting effect and is impervious to all types of weather conditions. It is also watertight; hence there is no need to worry when water touches your smoker.
On top of all this, the sealer is silicon adhesive, non-flammable and lasts longer. If you are wondering if it's safe to use on food-preparation equipment, then worry not since the gasket sealer is VOC complainant. The sealer not only works best on gaskets but also on doors, cracks, lids and anywhere else you would wish to apply it.
Hi-Temp RED RTV High-Temperature Silicone Sealant FDA Rated Food Contact Safe BBQ Smoker HVAC Gasket 10.2 OZ
This sealer has an excellent Adhesion and good versatility hence making it ideal for sealing your smoker. It has been approved by the FDA and is safe to use on all food contact places. The sealant can withstand high temperatures of about 600°F (310°C) are achieved intermittently. The gasket has been known to retain permanent flexibility and is also known to provide good resistance to aging, vibrations or even shocks. It fits in well when a seal or a gasket is needed in a high-temperature environment. This sealant comes in a ready-to-use condition; hence there is no need of adding or mixing it with additives. The sealant has a moisture cutting effect, and it also has a room temperature vulcanizing (RTV) silicone that enables it to it to fill in the cracks and form a strong gasket.
The sealer has also been known not to slump, sag or run upon the applied surface and it also has good dielectric and insulation themes. Additionally, it is resistant to chemical attacks and is not affected by weather conditions. Another critical element of this sealant is the fact that it is not affected by moisture, ozone and UV radiations.
Check latest prices here on Amazon
Also read: these are the best reviewed infrared grills of the moment
1/2′ x 1/8′ Nomex High Temp BBQ gasket smoker pit seal, self-stick
Another top gasket sealer is the 1/2′ x 1/8′ Nomex High Temp BBQ gasket smoker pit seal, self-stick. This product has been known to do the job quite well, and users can expect that all the leaks that have been disturbing them will be sealed with this sealant.
It has the ability to withstand very high temperatures and is self-sticking. Once you use this sealer, you can expect to get better temperature control, more efficiency and your cooking results will for sure improve. This is of course if you have had a leak in your smoker that has been derailing your cooking.
Check prices and availability here on Amazon
Conclusion
Those are some of the best BBQ smoker door handles, latches, hinges and gasket sealer that you can get out there. Thou they are not in any particular order, users can expect quality services from them.
Some of the few things you should consider when purchasing the accessories is the measurements, the cost, the warranty, materials used and how well it will blend with your BBQ smoker among other issues. Users should also be on the lookout since some of these accessories can appeal bigger on the internet, and this can cause users quite a few problems.
It is also important to note that the above accessories may be delivered in a dismounted form and thus users should be careful to ensure that the products purchased are delivered in its totality.
Read more: this is the Pit Boss brand and what it stands for
Joost Nusselder, the founder of Lakeside Smokers is a content marketer, dad and loves trying out new food with BBQ Smoking (& Japanese food!) at the heart of his passion, and together with his team he's been creating in-depth blog articles since 2016 to help loyal readers with recipes and cooking tips.