I love creating free content full of tips for my readers, you. I don't accept paid sponsorships, my opinion is my own, but if you find my recommendations helpful and you end up buying something you like through one of my links, I could earn a commission at no extra cost to you.
Learn more
Let's be honest, there's nothing like some good old rotisserie chicken!
So let's look at one of my favorite ways of smoking, using a rotisserie. Some smokers come with a built-in rotisserie, while others require a special rotisserie attachment so it's important to choose the right one.
I've reviewed a lot of smokers in my time writing here for Lakesidesmokers and I'll tell you why this Weber with rotisserie is one of the TOP ONES I've come across!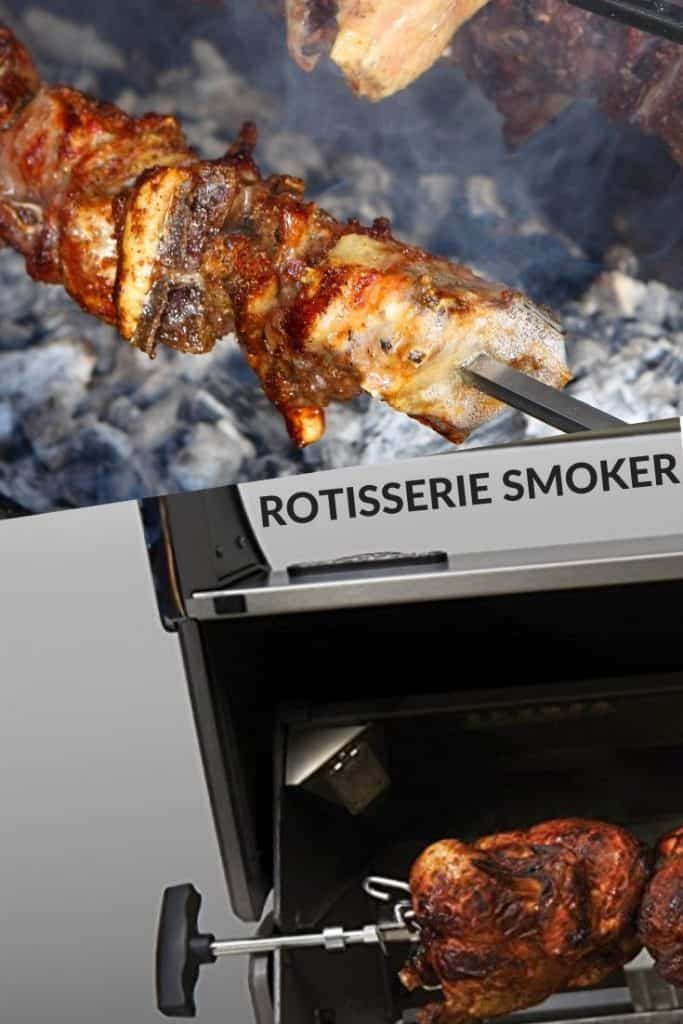 I've reviewed six smokers here with rotisseries, and summing it up it comes down to two choices, and it all depends on affordability:
Top 6 Smokers with the Rotisserie Feature
The Hearth, Patio & Barbecue Association published a study that indicated about 45% of American adults considered purchasing a new grill or smoker back in 2016.
This is very good news for the barbecue grill industry as it means they can make good profits even in the succeeding years after 2016.
But even better is that it indicates that the barbecue grill products are viewed as good investments by customers and that they very much rather cook their food at home than buy from a restaurant or fast food store.
Here are some of the best BBQ smokers with a rotisserie feature:
Also read: is rotisserie chicken healthy?
Best rotisserie with smoker box: Weber Summit tuck-away rotisserie
If you want a BBQ smoker with a rotisserie feature that can do it all, look no further. With this Weber gas grill, you can smoke, rotisserie, and BBQ all of your favorite meats, so it's the only device you really need. 
The Weber Summit Natural Gas Grill comes with a circular cooking grate with a monster 452 square inches of grilling space and has an impressive purpose-built rotisserie that allows you to spit-roast and smoke meat at the same time.
It's one of the best gas grills on the market and it's also ideal for rotisserie style cooking.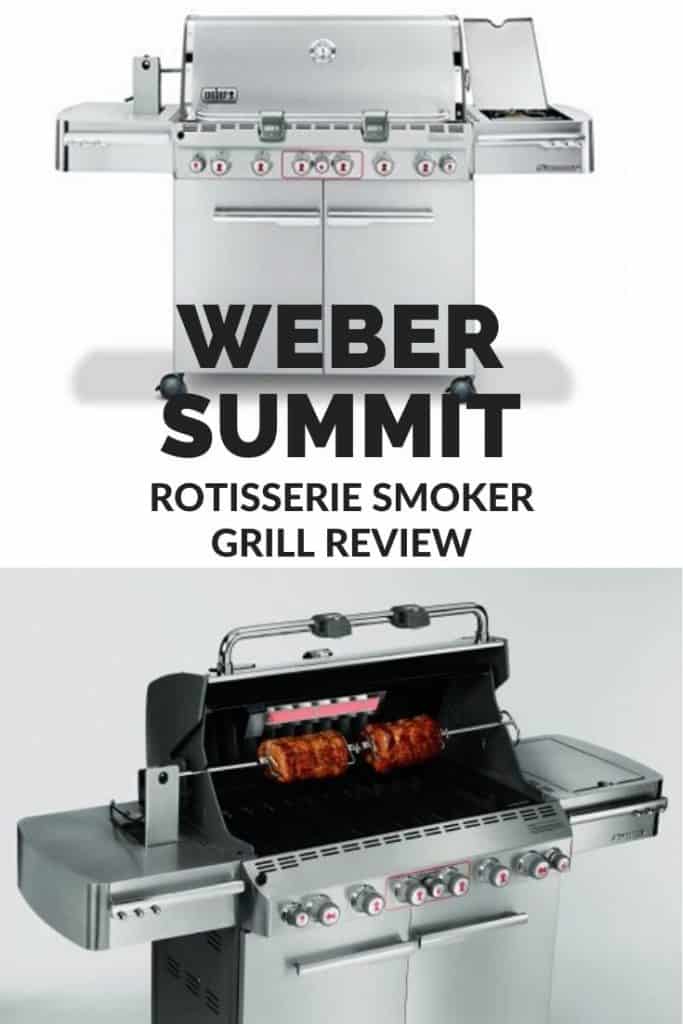 Features
This natural gas grill has a lot of amazing features, but the few that stand out from the rest include the unique Smoke/Low and Slow Vent Setting at the bottom of the grill.
This new feature in the grill design tells you exactly how many cubic inches of air (oxygen) that should flow into the bowl when smoking different types of meat.
This means that you won't have to guess how you'll adjust the settings to make the perfect grill recipe!
The best complete rotisserie smoker grill that I've found is this Weber Summit tuck-away which has awesome reviews on Amazon.
So if you're looking to buy a full BBQ smoker with a rotisserie, that's the one you should go for.
The next feature that I'd like to highlight is the Two-Position Fuel Grate which, surprisingly, makes air the insulator between the fuel grate and the cooking grates above.
This allows you to smoke with cooler air toward the bottom and use the excess heat for direct grilling up above.
Also, the Snap-Jet Gas Ignition System ignites the grill automatically with no further use of lighter fluids or matches.
If you want a top-performing bbq with the versatility of an oven and rotisserie, then the Weber Sumit 6-Burner is hard to beat. It has a great rotisserie burner so you can cook whole chickens, turkey, beef, pork, and even seafood.
If you've been dreaming about serving up a variety of BBQ foods at the same time, you can now do that with the Weber 6 burner. 
Features
Its features include six main burners for efficient grilling. As well it has a side burner for when you need to cook other recipes simultaneously. It has an infrared rotisserie burner for spit-roasting whole chicken or turkey or huge slabs of meat.
Also, there is a dedicated sear burner and a smoker box with its own smoker burner.
This gas grill allows you to cook multiple dishes at the same time. So, you can serve all meats hot off the grill in 1/6th of the amount of time it required with regular gas stoves and ovens.
Pros:
High heat emanating from its 6 main burners ensures cooking reliability.
An all-in-one grill with multi-functional grilling options plus a smoker box, side burner, rotisserie, and sear burner.
Quality construction makes it durable.
Weber ensures repair and warranty support.
Won't scratch easily as the electroplating finish on the stainless steel protects the surfaces.
Cons:
The handle light has no real use but is pleasing to the eyes to see.
Here are the 6 most notable features:
a sear station
side burner
lighted knobs
rotisserie burner
smoker burner
LED fuel gauge
It's a high range rotisserie grill and a bit more expensive.
Best rotisserie BBQ smoker attachment: Onegrill
Ok, the first is not a complete smoker in and of itself, but it can turn your smoker into a rotisserie grill in an instant! An attachment is an affordable way to add an extra feature to your grill. With the rotisserie attachment, you can make delicious and juicy whole chickens that will have the entire family licking their fingers. 
It's one of those handy tools that fits most grill models, so you can adapt it and start rotisserie cooking right away!
If you're getting started as well, and you already have a BBQ, I'd advise you to get this rotisserie attachment from OneGrill. 
It's a low-cost way of finding out if rotisserie smoking and grilling is the way you want to prepare most of your meals.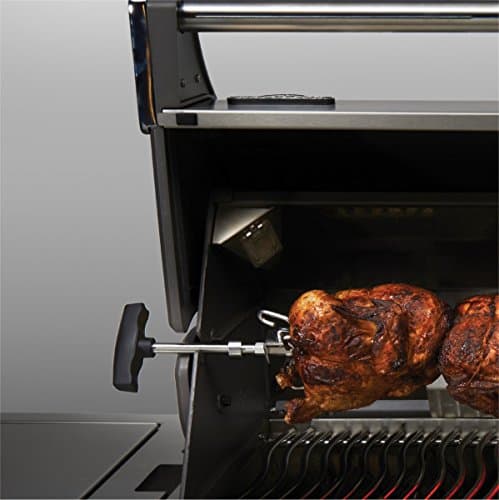 It is a universal kit so it fits most smokers:

Features
This OneGrill Rotisserie System has been designed for universal rotisserie applications on charcoal, gas, and wood-burning grills & smokers.
In most major brands, there already is a pre-ready spot you can bolt the rotisserie onto, although not all of the smokers have this spot in place.
You can, however, attach the rotisserie by modifying your existing smoker slightly and drill a few mounting holes in the sides where your rotisserie can be installed.
The two things you need to check before buying this, or any other universal rotisserie attachment, are:
Is there are a designated spot for fitting the bracket?
Is there enough room to drill the necessary holes?
Does the length of the rod fit your BBQ?
The rotisserie is made from weather-resistant stainless steel so it lasts for many BBQ seasons. It also has a 40lb heavy-duty motor that spins the meat constantly. This particular model has great balance so that food cooks evenly.
The device has an anti-backlash gear train for the smooth operation of unbalanced loads. As well, it's quiet because it operates through a unique internal gear reduction system. The spit, the fork, and the brackets are constructed of a high-quality chrome [plated stainless steel material that's very durable. 
Memphis Elite Wood Fire Pellet Smoker with the Carson Rodizio Kit
When you think of a pellet smoker, you don't really associate it with a rotisserie. Since the pellet smoker cooks indirectly, there's no need for that rotisserie. So, we recommend you get this amazing smoker and also buy the rotisserie attachment kit. 
It's been noted that the Memphis Elite Wood Fire Pellet Smoker is one of the few pellet grills you can actually use for direct grilling, because of the removable plate feature that covers the burn chamber.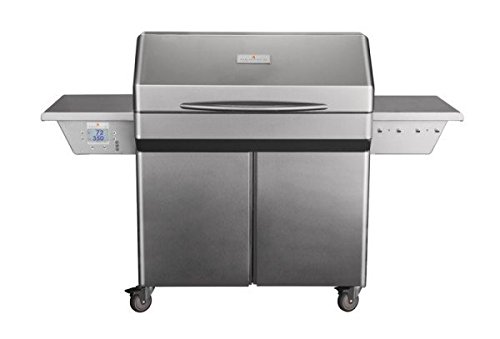 Features
This particular model which is the VG0002S has an impressive Wi-Fi controller built into it. This means you can control the settings of the grill via your phone on a local area network (LAN). How's that for modern technology?!
Although the VG0002S does not have a rotisserie built into it, you can just purchase the Carson Rodizio Kit. It's a contraption of 6 rotisseries that you can just mount on top of a barbecue grill like the Memphis Elite Wood Fire Pellet Smoker.
This grill has a huge cooking surface of 1274 sq. inches so you can make all of your favorite cuts of meat large and small. It has a temperature range of 180-700 degrees, so you can really cook anything you want. 
Komodo Kamado Big Bad 32-Inch Grill
The kamado is actually a Japanese stove used in ancient times. But now, the Komodo Company has adopted the name. They have been building kamado-style charcoal grills ever since the company was founded back in 2006.
It's actually a surprise to know that the company is owned by an American man by the name of Dennis Linkletter. He has a Thai wife and they live in Indonesia.
Dennis just hired the talented and experienced crew of a ceramic kamado grill company in Indonesia and established his own.
So in actuality, there is not a single Japanese person involved in the creation of these incredible kamado grills, which is ironic.
Features
It's made from high-quality gauge 304 stainless steel. This grilling monster, which weighs in excess of 500 kgs, is a sight to behold!
But don't be overwhelmed by its sheer size and weight, because the manufacturer ensured that it will be easy for anyone to handle it.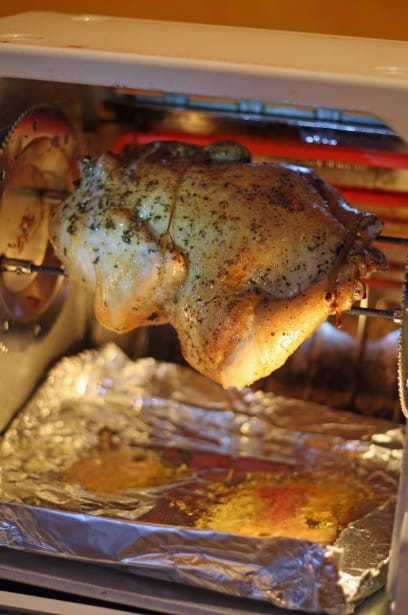 They've made the easy-open lid spring with spring-assisted hinge assembly. So, the force the lid needs in order to open and close is its own weight and a little help from gravity.
The cooking grates and charcoal basket are 3/8-inch thick 304 stainless rods. The upper grate is also hinged which allows you to add charcoal fuel without removing the food for continuous cooking.
One great feature this grill has is the rotating dial at the bottom. It's actually its air inflow damper, which allows you to adjust the settings to the air inflow to smoke your meat perfectly.
Kamado Joe Rotisserie Kit
The Kamado Joe KJ-TISSERIENA JoeTisserie Classic rotisserie kit is the main attachment you need if you want to make some delicious food.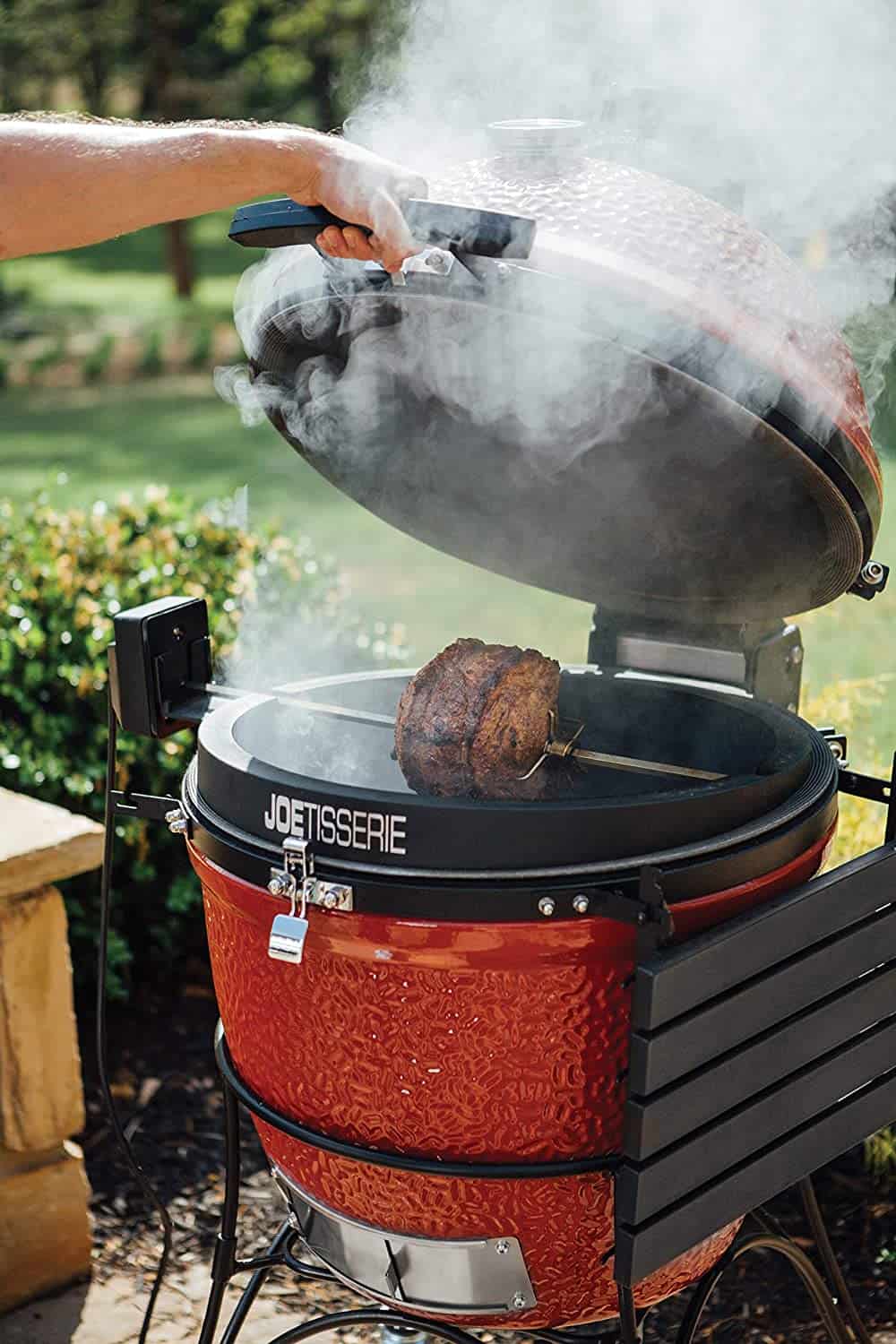 It fits the Kamodo grills perfectly so you can do more than smoke and BBQ in a classic style. This attachment is a spit rod made of durable stainless steel. It has a 120V motor to ensure constant and steady rotation. The even rotation preserves the meat's natural juices so your meat tastes succulent and never dry. If this sounds like something your Kamodo grill needs, know that it's an affordable investment that makes your BBQ possibilities limitless. 
Kalamazoo Gaucho Grill
At first glance, you'll think that the Kalamazoo Gaucho Grill is a medieval spinning wheel where people from that time made clothes from it.
Sometimes it also resembles a torturing device from the same time period.
Regardless of your first impressions, this gas grill is built around a very large rotisserie, which may, in fact, be its primary purpose.
It sports a height-adjustable grill rack 726 square inches of cooking space, is able to set wood or charcoal fuel on the fire in minutes with its high-powered gas starter, and has a motor-mounted rotisserie with 33 inches of spit for slow-roasting meats and poultry.
It also has a double cooktop and twin 16,000 BTU (8900° Celsius) stainless steel burners for maximum heat distribution and efficient cooking.
Rotisserie smoker FAQ
Can you put a rotisserie on a pellet grill?
The pellet grill uses indirect heat to cook food. So, technically, you don't need a rotisserie when using a pellet grill. You use the grill to smoke in a rotisserie style. 
There aren't any rotisserie attachments for pellet grills, although I'm sure some people have tried to DIY this. 
Do you close the lid when using the rotisserie?
You should leave the motor running then close the lid and let the meat roast there at a constant temperature. Check the roast halfway through the cooking time to see how it's going but don't leave the lid open for too long. Then, if everything looks fine, close the lid again and let it cook through with the lid closed.
This is how you get delicious juicy meat with a crispy exterior layer.
How much weight can a rotisserie hold?
It all depends on the size of the grill and the rotisserie attachment itself. If you're using a rotisserie kit from Amazon, it should specify on the product packaging. But, most Weber grills, for example, can hold up to 20 lb. of food at once. 
Usually, for most grill models, the rotisserie can hold a maximum weight of about 20lb. Never exceed that or you risk breaking and damaging the rotisserie feature and the grill itself. 
Final Thoughts
It's a very good thing that there are several manufacturing companies for the bbq smoker with a rotisserie feature.
The cleverness and ingenuity put into these things make grilling and spit-roasting fun and exciting. And although they are quite expensive kitchen tools, they do make the investment worthwhile.
The rotisserie, in particular, makes cooking almost automatic and seamless. This is especially true for devices with an electric motor spinning the spit.
Cooking whole chicken or turkey, pork, or even large portions of meat can be done in your own backyard. Or, you can try it outdoors while you're camping and in a rather short amount of time.
The rotisserie attachment allows you to serve multiple delicacies at the same time. You can make small portions for a quick bbq for two, or invite a large group of friends to enjoy a whole variety of spit-roasted delicacies.
Also read: the best smokers for meat reviewed
Joost Nusselder, the founder of Lakeside Smokers is a content marketer, dad and loves trying out new food with BBQ Smoking (& Japanese food!) at the heart of his passion, and together with his team he's been creating in-depth blog articles since 2016 to help loyal readers with recipes and cooking tips.