by Josh
|
Last Updated:
September 2, 2020
I love creating free content full of tips for my readers, you. I don't accept paid sponsorships, my opinion is my own, but if you find my recommendations helpful and you end up buying something you like through one of my links, I could earn a commission at no extra cost to you.
Learn more
Are you searching for the best low and slow smoked meat? Have you ever tried to achieve that tender and fall-off-the-bone result without success?
The secret lies in your smoker and recipe. Your meat will never taste the same after smoking the right way!
Well, you need a BBQ smoker, but not just a BBQ smoker, but the best BBQ smoker specifically designed for meat. 
Let's take a look at the top choices.
What's the best BBQ smoker for meat?
In this post, we shall highlight the best BBQ smokers that you can find on the market for every budget, but the most versatile BBQ smoker for meat is this combination grill from PK grills that's perfect for outdoors.
Here the BBQguys reviewed it on their Youtube channel, which is worth a watch:
Here's an overview of my top list and I'll get down to the individual reviews right after that:
Also keep reading for an insight into the best types of meat to use for smoking.
However, there is one challenge to this—choosing the best and right type of BBQ smoker since there are endless choices out there in the market.
What is a BBQ Smoker?
A smoker is a cooking device used outdoors which maintains low cooking temperatures for a long period of time. It produces smoke from the added wood chips or chunks.
This smoke is flavored and infuses the meat with tasty aromas. A very good smoker is capable of maintaining the smoke for a long time so the meat can absorb the flavors. 
What should I look for in a BBQ smoker?
These smokers will help you make a better BBQ. So, you will never complain of having a bad BBQ smoker again!
However, there are several things that you need to consider before choosing the best BBQ smoker. These things include:
Value
The value of a BBQ smoker should not be based on its price entirely. Of course, the price is one of the factors that you should consider when determining the value of the smoker.
But, you should also consider the smoker's design, features, engineering, functionality, as well as the quality of the materials.
The best smokers are made of stainless steel because this metal is durable.
Durability 
When searching for a BBQ smoker, you will realize that some smokers have been built with lower-quality and more economical components like low-grade parts and painted steel.
These components will eventually wear down because of extreme weather elements.
So, it's advisable to make sure that you choose a smoker constructed out of durable materials like cast aluminum or stainless steel that will never corrode or rust.
Although these smokers might cost you a considerable amount of money, they will give you excellent value for your money in terms of durability and performance.
After all, you want a good piece of equipment that lasts for many years.
Performance 
There are several factors that will determine the performance of a BBQ smoker.
The best BBQ smokers have a wider variety of temperature control, better and even heat distribution, as well as good and tight sealing for better smoke retention.
Versatility 
Different models will give you both smoking and grilling options. So, if you opt for this type of smokers, make sure that the model has a good design.
Some products will promise such features, but you won't be able to access both of them. The best models allow you to smoke and grill. 
Size & Capacity
Smaller smokers can allow you to smoke food for an average-sized family, while larger smokers will enable you to smoke for larger crowds.
Apart from evaluating the number of people your smoker can cater for, you should also consider the size of cuts that can fit in your smoker.
Don't forget to check out the storage options you have. Always put into consideration the required space around the smoker since you will need plenty of space for airflow and ventilation.
The shape of the smoker you will buy will significantly determine your decision.
Portability
This is one of the greatest factors that will determine the model that will need to buy.
A portable BBQ smoker should be your best option, especially if you want to use the smoker in camping and tailgating. Lastly, consider getting a smoker with detachable legs whenever possible. 
Let's take a look at these top smokers for your meat:
Best BBQ meat smoker and grill combination: PK Grills PK360 Outdoor
The PK360 grill has raised the bar in the charcoal grilling industry. The grill—which is made out of cast iron has a capsule appearance, which will make you quickly identify the grill as PK.
One notable thing about this grill is its simple pedestal stand, the user-friendly and unique cylinder air intakes—which have made this BBQ smoker stand out among all other smokers.
The smoker is easy to use, and it will give you consistent results. It has been designed for competitors and built for the novice.
Notable features:
The smoke comes with four vents, instead of two
One notable thing about the PK360 charcoal grill and smoker is that it has both fast and grilling, or slow and low BBQ cooking since its unique capsule shape, combined with its 4 vents, makes it easy to deliver whatever you want.
Durable aluminum material
Most people love this smoker since it's made out of cast aluminum, which is more durable compared to porcelain smokers. Besides, the material doesn't rust easily like steel.
When you buy one the PK360 grill, you will get a 10-year warranty, but most of these grills are handed down from one generation to the other—and indication of their durability.
Amazing temperature management
The combination of 4 vents and thick cast aluminum creates an efficient grilling and smoking chamber and gives you better heat management compared to the standard 2-vent grill.
Portability
Just like any other PK product, the PK360 detaches easily from its stand, giving you less of a challenge when you want to carry the grill along.
You can use it for camping, tailgating, and hunting or fishing cabins. Since this grill uses charcoal, you will not need any extension cord.
Ash management system
Another interesting feature in this grill is its ash management system, which assists you in controlling the ash, and also makes ash cleaning and disposal easier.
Comes equipped with a Tel-Tru thermometer
This is one of the best thermometers you will find out there in the market, with an accuracy of +/- 1%.
Beautiful design
The design of this grill makes it stand out among all other BBQ smokers and grills.
It has a unique and beautiful pedestal stand, user-friendly air intakes, large grilling/smoking space, as well as other amazing features like an accessory bar, rear stabilizer hooks, and lock/release hinges.
Best in its class
The PK360 grill/smoker has genuine teak wood shelves, that will give you an amazing and weatherproof workspace for your grill/smoker.
The most interesting thing about these shelves is that they are detachable and storable on the integrated side hooks.
Best wood pellet smoker for meat: Z GRILLS ZPG-series grill
Z-Grills is a US-based brand, which takes pride in manufacturing high-quality smokers and grills, and they have been in this business for the last 30 years.
This company has exported quality products to different parts of the world, thus making it one of the largest exporters of grills and smokers in the US.
The company has one main goal—to increase the accessibility of high-quality pellet grills.
So, why do you need a wood pellet grill from Z-GRILLS?
Versatility – the Z GRILLS ZPG-7002E 2019 wood pellet grill is the ultimate BBQ grill/smoker, as it has 8-in-1 functionalities, of a grill, smoker, sear, BBQ, roaster, Braise, and oven.
Easier to use – this grill is not as complicated as other grills. The grill comes with a one-button start-up, which eliminated the need for starter fluid. In addition to this, the grill has a temperature control system, which means that your meat won't be spoilt as you grill.
Efficiency – with only 20 pounds of pellets, you can grill/smoke for an average of 20 hours. When you do your calculations, you will realize that pallet grilling and smoking is more economical compared to gas grilling.
Accuracy – this grill has top accuracy, as it will remain within 10 degrees of the set temperature.
Different uses – no matter whether you want to grill hot dogs or smoke your rib roast, this grill will do all that without a struggle.
Flavor – a pellet grill is one of the grills that will assist you to get all the flavor of wood-smoked meat you need. Just try it out, and you will see the difference.
Here's how to set up the Z Grill:
Notable features
Fan-forced convection cooking
With this feature, you will not need rotisseries. In addition, the fan-forced convection cooking creates a versatile grilling, braising, baking, and smoking environment.
Temperature Control
This grill comes equipped with a Temperature and Pellet Feed Control system.
The upgraded control board allows you to ignite the grill automatically, and this allows you to the temperatures from 180 degrees F to 450 degrees F.
Auto-Electric Feed System
This system maintains the heat in the grill and also produces the required amount of smoke. You only need to set the grill, and then allow it to work.
With this feature, you will not have to babysit the grill—it will make your grilling much easier.
Large grilling surface
The grill has 19.2" x 26" of grilling surface, 6.9" x 25.7" of warming/smoking rack, and a total rack surface area of 7002" inches, as well as a hopper capacity of 20 pounds.
A 3-year warranty
The Z GRILLS ZPG-7002E 2019 wood pellet grill comes with a 3-year guaranteed manufacturer's warranty.
Easy to clean
The grill has specially designed a waste oil collector, which makes cleaning easy and safe. All you have to do is empty the collector tray and wash it out.
Portable
You can move this grill around easily—thanks to its upgraded cart, which is equipped with locking caster wheels. So, if you need to move it out of the sun's rays, you can drag it to the other side of the yard easily. 
Stainless steel material
This material is resistant to corrosion, which means that the grill will last for long.
Check the latest pricing and availability here
Also read: infrared on your grills to make the cooking even smoother
Best vertical offset BBQ smoker for meat: Dyna-Glo Wide Body Charcoal Smoker
If you love smoking your meat with charcoal—then don't worry. With the Dyna-Glo Wide Body Vertical Offset Charcoal Smoker, you will be able to smoke your meat using your favorite wood chips, as well as your favorite fuel—charcoal.
This vertical smoker is popular for capturing the maximum smoke flavor, and it comes with 6 height-adjustable cooking grills.
This gives you a cooking surface of 1,890 sq. in. and it can accommodate different types and sizes of food.
One notable thing with this grill is its pre-installed door seat, which assists in heat retention, as well as reduced smoke loss, thus making your cooking efficiency better.
Because indirect heat is suitable for slow cooking, as well as infusing smoke flavor, the basic design of this BBQ smoker keeps direct heat away from your food, and this prevents the food on the bottom grates from cooking too fast.
In addition to this, the smoker has a porcelain enameled chamber, with a design that allows proper and tight stacking of the briquettes—and this improves burning efficiency.
This smoker also comes with a removable ashtray, which is specifically designed to handle large quantities of ash—thus giving your long hours of grilling.
Notable features:
The smoker comes with 6 height-adjustable cooking grills, which gives you 1890 sq. in. of cooking space
Every grate can hold up 25 pounds of food
A porcelain enameled chamber—which keeps your charcoal briquettes tightly stacked, thus improving the burn efficiency
A steel smokestack, which is equipped with adjustable fuel gives you a precise cooking temperature control
A stainless steel temperature gauge, which gives you the ideal temperature for smoke flavor infusion
Check out the latest prices here
Best budget smoker for meat: Nexgrill 29" Barrel Charcoal Grill/Smoker in Black
We introduce to you the new Nexgrill 29" Barrel Charcoal Grill/Smoker in Black. This product will give you two options, of both grilling and smoking—all in one affordable and high-quality grill.
This grill/smoker comes with a 741 sq. in of cooking surface, as well as cooking grids made out of porcelain steel wire, and it will give you the space that you need for all your cooking needs.
Its large main barrel will give you different positions for the charcoal tray, which ensures optimal temperature control.
In addition to this, the Nexgrill 29" smoker/grill has a spring-loaded charcoal chimney, which ensures efficient airflow.
You can use the 12" x 12" offset box as a smoking chamber or even a grilling zone when you need to grill small meals.
One notable thing about the offset box is the convenient-to-clean charcoal drawer that's easy and convenient to pull out.
The Nexgrill 29" Barrel Charcoal Grill/Smoker in Black also comes with additional features, like a side shelf as well as an easy to read temperature gauge, which makes it easy and convenient to use this grill.
Here's how you put this bad boy together:
Notable features:
741 sq. in. of grilling space
Heavy-duty steel construction
29" x 15.5" barrel
12" x 12" offset smoker box
Side shelf provides convenient prep space
The adjustable charcoal tray allows heat adjustment
Steel wire cooking grids
Assembly required
Check out the Nexgrill here on Amazon
Best digital electric BBQ smoker for meat: Char-Broil 30″ Deluxe Black Smoker
This is the ideal tool for cooking enthusiasts who love outdoor grilling and smoking.
The Char-Broil 30″ Deluxe Black Digital Electric Smoker comes with an internal cooking surface of 725 sq. in. that is spread in 4 adjustable grilling racks.
The smoker will allow you to grill or smoke various varieties of meats—and you can cook food for both small and large groups.
Another interesting thing about this smoker is its large-capacity smoke boxy, which gives you up to 7 hours of smoking before refiling it.
So, you will just need to sit back, and relax, and enjoy smoking with the Char-Broil 30″ Deluxe Black Digital Electric Smoker.
Here's Smoking Meat Geeks looking at this model:
Notable features:
Integrated meat probe 
This removable and washable feature will give you the precision you need when smoking or grilling.
You just need to insert the probe into your meat, and this smoker will let you know when the meat has been cooked to its internal pre-determined temperature.
This feature will always give you perfectly cooked meat every time.
In addition to this, the Char-Broil 30″ Deluxe Black Digital Electric Smoker has a warming feature, which will keep your food warm until you remove and serve it.
A premium insulated double wall
The feature allows you to lock in the smoke and heat, which allows you meat to cook faster.
This design makes the Char-Broil 30″ Deluxe Black Digital Electric Smoker 10x more efficient compared to other meat smokers you will find out there in the market.
Most smokers will give you a smoking time of 2 – 3 hours, but with this, you can get up to 7 hours of smoking.
An advanced control panel
the Char-Broil 30″ Deluxe Black Digital Electric Smoker comes equipped with a side-locking latch—that gives you a tight seal for the smoke, thus ensuring that the smoke and the flavor stays inside.
In addition to this, it features a full-size glass window, which allows you to monitor your food as it cooks.
Another interesting feature is the removable temperature gauge, which makes it much easier to monitor your meat as it cooks.
You can also easily make adjustments with the grill's advanced control panel, which comes with an easy-to-read LED display.
Lastly, this grill features an easy-to-refill enamel-coated slide-in water pan, as well as a remote control for easy and better control of the grill.
A bigger smokebox
The 4-cup wood chip capacity will give you 7 hours of uninterrupted smoking, and you will not need to open the smoker to refill it.
Its 4 removable and adjustable shelves will give you enough space to smoke different types and sizes of foods.
Removable food thermometer and digital controls
The Char-Broil 30″ Deluxe Black Digital Electric Smoker comes equipped with an LED display, which will make it easy to set the right temperatures.
In addition to this, it has a removable food thermometer, which can be cleaned easily.
Large grease tray
This smoker/grill has an 8.5 cup capacity grease tray, which allows you to remove and clean grease from food easily.
Portability 
This Char-Broil 30″ Deluxe Black Digital Electric Smoker features wheels in the back, which makes it easier to move the unit around.
Check pricing and availability here on Amazon
What's the best meat to smoke?
There's nothing that beats grilled food. That's the reason why you need to try out smoking your meat—to see the change in this season.
Believe it or not, the cheapest cuts of meat are the best to smoke because they are tougher and fattier. 
Here are some of the best cuts that you should consider smoking:
Beef brisket
This is the best cut that will give you the best results after smoking. However, you need to make sure that you choose the best piece of meat if you want to get good results.
A cut with a healthy layer of fat and ample marbling will assist the meat to retain its moisture. Ask your butcher to give you the tenderest meat they have.
When buying your beef brisket, as the butcher to lift it—the more the brisket bends, the more tender it shall be when you smoke it. Don't forget to prepare your cut with a rub if you want to achieve better results.
Also read: a delicious smoked mac and cheese recipe to make as a smoked meat side dish
Pork shoulder or Boston butt
This cut has an amazing ratio of lean meat to fat—which makes it the ideal cut for people who love slow smoking.
The end result of this cut will be a flavorful and deliciously pulled port, which doesn't need sauces or rubs.
Once done, you can enjoy pork sandwiches, and you can also consider other exciting recipes like pulled mac and cheese, casseroles, and pulled pork tacos.
There are endless smoked Boston Butt recipes that you can find out there in the market.
Beef and pork ribs
Well, almost everyone loved smoked spare ribs, especially during the summer days. These are some of the best and easy cuts to smoke, once you remove their membrane, and then rub them using your favorite seasonings and spices.
These tasty, tender, and fun to eat cuts shouldn't miss on your smoking recipe. Here are some of the best recipes that will assist you to achieve the best results.
Chicken
The best way to smoke chicken is to smoke the whole bird. You'll need a good spice rub and some olive oil.
A good spice combo includes salt, pepper, paprika, and fresh herbs. For extra flavor, consider lemon zest. 
The problem with smoking chicken is that the exterior crust often tastes leathery. To avoid this and get a crusty outer layer, cover your chicken in olive oil prior to smoking.
The fat from the oil makes the chicken more soft and tender.
If you want a crispy skin, make sure you turn up the heat on your smoker to at least 400 to 500 F. 
For a quick smoking session, choose chicken wings. They will taste be fall-off-the-bone tender and full of flavor. 
Lamb Shoulder
Lamb's shoulder contains a high-fat content that breaks down in a manner that gives this meat the smoky texture everyone desires. However, lamb shoulder is a bit challenging to find and expensive compared to other cuts.
Leg cuts
Just like the lamb shoulder, leg cuts also need that low and slow cooking. However, this cut has one challenge—lots of creativity in terms of their positioning because of their uneven shape.
When smoking leg cuts, make sure that you check the internal temperature to avoid getting overcooked or undercooked meat.
When smoking this cut, you can opt to cut the meat into half, and smoke one half at a time, as this will assist you in achieving even smoking.
Turkey
If you thought that roast turkey was the best, wait until you try out a smoked turkey. If you prepare and smoke it well, then you should get the best flavorful and moist results.
In addition to this, the texture should be somewhere between soft and extremely tender. It's always a good idea to make sure that you brine your turkey well, and then smoke it slower compared to other cuts.
You should understand that turkey has less fat, and this can cause the meat to dry if you don't brine and cook it well.
Goat meat
This is another interesting type of meat that will give you the best results when smoked.
You can prepare smoked goat meat for supper if you need to give your family something healthy and tasty.
Goat meat has a lower count of cholesterol, calories, and fat compared to other types of red meat.
Smoking the meat will highlight its hidden sweetness, and also complement its fibrous texture. Brine and smoke goat meat the same way you would prepare deer or lamb meat.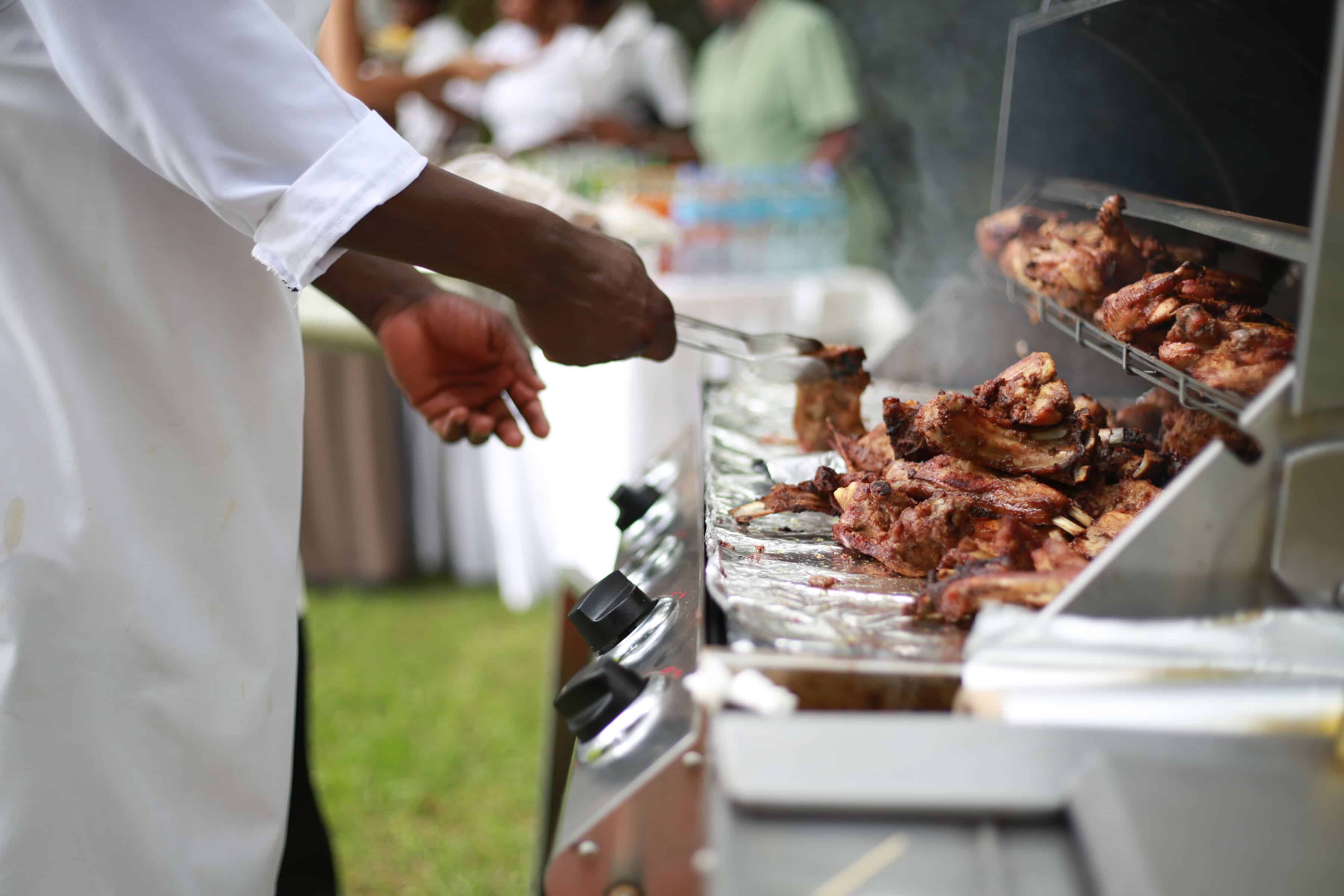 What do you need for smoking meat and how to do it
The most common mistakes occur when people try to smoke meat without knowing how to do it properly. Also, many smokers aren't familiarized with their BBQ smoker, and thus don't use it properly.
This can cause your barbecuing to go wrong. Let's examine some of the common questions or problems and look at simple solutions. 
What do I need to smoke meat?
Here are some tips to help you with your meat smoking journey.
Fatty Meat
First of all, you need to choose meat that benefits from the slow-cooking process. This means it's probably best to choose pork, beef, or game.
The meat should have a good quantity of fat on it. When a meat cut has a lot of connective tissue and fat, it is known as 'marbling'. This makes the meat taste more delicious and it is succulent. 
We recommend you get a big piece of steak. When you are smoking, the bigger the meat, the better the flavor. So, why not try a pork shoulder or beef brisket?
The idea is that smoking is a long process. So a tough piece of meat becomes tender during the cooking process.
If you start with a tender meat cut, it will become overcooked, which is what you want to avoid. 
The bottom line is that you need to look for cuts of meat with plenty of fat, protein, and collagen. These cuts perform best when smoked. 
Wood
You can't smoke without good wood. Depending on the type of wood you choose, it gives the meat a different flavor. Each type of wood pairs well with certain types of meats. 
For example, a light wood like alder is sweet and savory, therefore it pairs well with white meat. 
Fruit woods generally pair well with all meat types. Consider apple or apricot for a sweet subtle flavor. 
If you're smoking red meats such as ribs and big cuts of pork, we recommend a strong smokey flavored wood such as hickory. The flavor of this wood is intense.
Oak is another excellent choice for slow-cooking such as smoking because it imparts a subtle flavor that intensifies over time. 
Pellets
If you own a pellet smoker, you need to choose the right flavored pellets. These are easy to find and there are many flavors available. The great thing about pellets is that they are easy to use. Simply add more to the fire as needed.
Brine
Many amateurs forget or skip the brining process altogether. Brining is so important because it prevents your meat from tasting dry or chewy. 
To make a brine, all you need is salt, water, and some of your favorite herbs and spices. Leave your meat in this mixture for a few hours, or overnight and your meat will taste amazing. 
There is a science behind the brining process. Salty water makes the meat proteins absorb more water, which prevents it from drying out as it smokes. 
Cook on low heat
The best way to approach smoking is to go low and slow. So, that means you should start the process on low heat, somewhere around 230 degrees Fahrenheit.
At this temperature, the meat retains most of its nutrients. 
Don't forget to take it slow and let the meat smoke for a few hours. 
How long do I smoke meat?
Here, there is an important distinction between smoking and grilling meat. If you grill meat, you will most likely grill it anywhere from 30 minutes to 3 hours (usually). But when you smoke meat, it takes many hours. On average it can take 6-8 hours to smoke large cuts of meat. A big chunk of brisket can even take up to 22 hours, so make sure you have enough time. 
What is the purpose of smoking meat?
First of all, make sure you don't confuse smoking meat with drying, which refers to a whole different process. Drying or curing meat is not the same as smoking. 
Smoking refers to a process of cooking meat over a fire. In order to infuse the meat with flavor, you need to add wood to the fire in the form of logs, wood chunks, or wood chips. This gives the meat that classic smoky flavor. 
Basically, smoking infuses meat or other foods with the flavor of the wood.
What meat should I smoke the first time? 
If it's your first time smoking meat, we recommend you go for something simple. Choose meat that tastes best when smoked. For example, try the beef brisket, ribs, or pork shoulder. This is because these cuts of meat are chewy and hard, and fatty. Therefore, they taste best when smoked on the grill. Choose a wood like hickory or mesquite for the best flavor. 
As long as you brine, season, and follow the recommended cooking temperature, it should taste good. 
Bottom Line
Getting the best BBQ smoker for meat that gives you good value for your money is the best thing you can ever have. That's why you need to spend quality time when searching for a BBQ smoker.
All in all, the products that we've highlighted above will allow you to have the best BBQ smoking experience, and you will not regret buying any of them.
Also read: should I buy rotisserie chicken from the grocery store?