I love creating free content full of tips for my readers, you. I don't accept paid sponsorships, my opinion is my own, but if you find my recommendations helpful and you end up buying something you like through one of my links, I could earn a commission at no extra cost to you.
Learn more
The internal temperature of meat matters a lot when smoking or grilling. It allows to precisely estimate the level of being done, avoiding raw or overly dry meat.
There are many thermometers on the market – each offering different features. The variety can be confusing, so which thermometer should you get for your particular needs?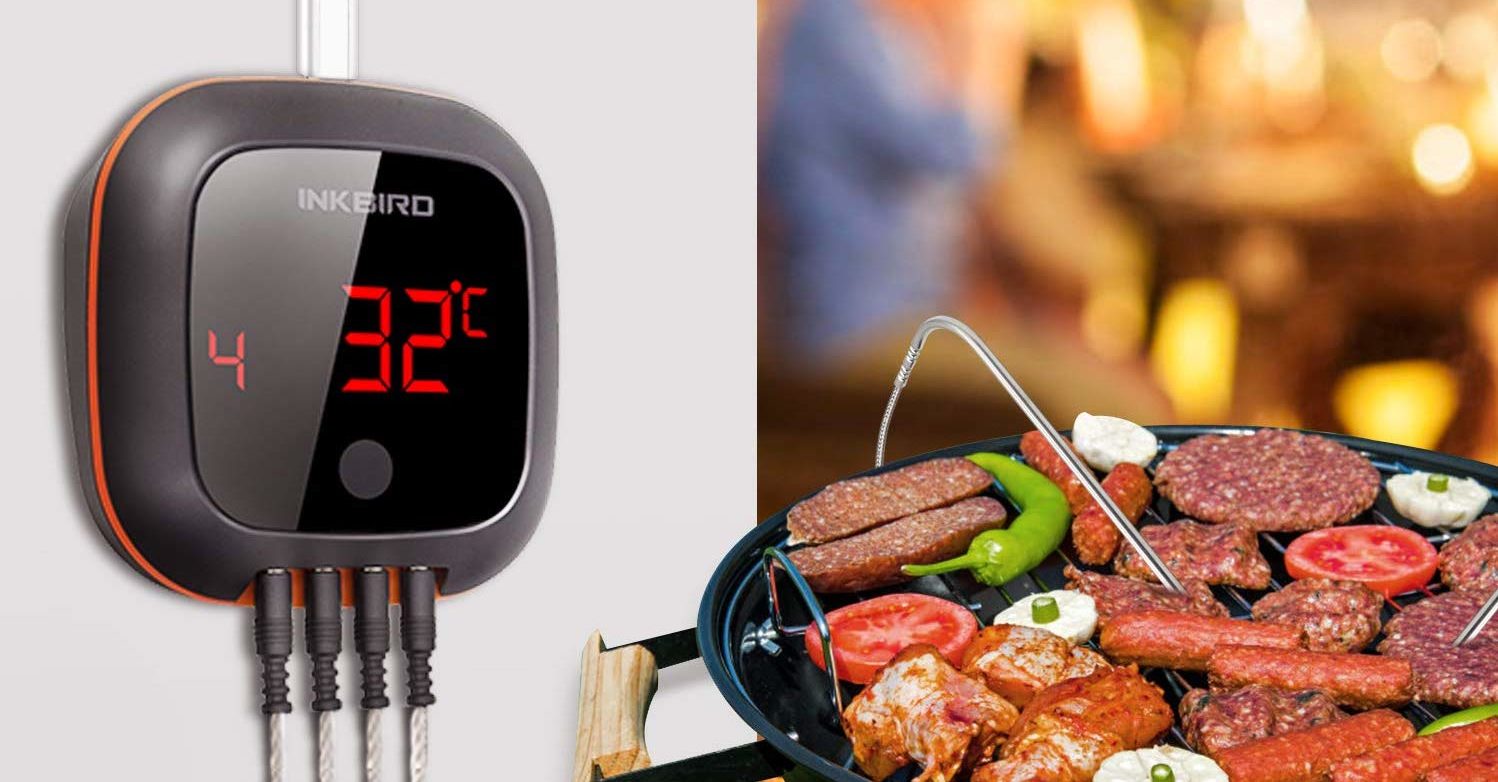 Well, for ease of use, a Bluetooth thermometer is one of my top candidates. You're never without your phone, right?
The Bluetooth meat thermometer is especially useful when smoking over many hours, allowing you to control temperature while at home, for example.
Here are my three absolute favorites when it comes to Bluetooth thermometers. I've detailed their top specs and offered some tips and tricks on what to look for when choosing from the wide range of Bluetooth BBQ thermometers on the market.
My top choice is the Inkbird IBT-4XS wireless Bluetooth BBQ thermometer. This nifty little thing has all the features you absolutely need in a thermometer, is not too expensive, and comes with four probes included. 
But also have a look at my other favorites, to make the right choice for you.
| | |
| --- | --- |
| Best Bluetooth BBQ thermometer | Image |
| Best overall Bluetooth BBQ thermometer: Inkbird IBT-4XS |   |
| Best Bluetooth BBQ thermometer over large distances: Inkbird IBBQ-4BW |   |
| Best innovative Bluetooth BBQ thermometer: The Meater+ |   |
| Best 6 probe Bluetooth BBQ thermometer: CHUGOD |   |
Tips for buying a new Bluetooth meat thermometer
Probes and range. These are the two most important things to look at when choosing your Bluetooth BBQ thermometer.
Here's what I always keep in mind when making my selection:
Number of probes
One probe takes one measurement, so if you want to measure multiple spots or multiple pieces of meat at the same time, then you're going to need multiple probes to ensure you have the best-tasting BBQ meat on the block.
I would recommend four probes as a good starting point.
Probe length
Pay attention to the length of the entire probe as they can differ significantly. The longer the probe, the better.
This ensures your hand is protected from the flames or heat when inserting the probe into your food and that you can also use it on the larger pieces of meat.
Range & signal
These are the two most important issues when it comes to a Bluetooth thermometer. You are choosing this gadget because of its ability to remotely monitor temperature, so pay attention to the range of the thermometer.
Don't forget to consider that the signal may be poorer if it's blocked by walls and trees.
Also check out my review of the top 5 Best Bluetooth smokers for more high tech outdoor cooking options
The best Bluetooth thermometers reviewed
Now let's dive into the full reviews of each Bluetooth BBQ thermometer. Check out each option carefully in order to avoid disappointment.
Best overall Bluetooth BBQ thermometer: Inkbird IBT-4XS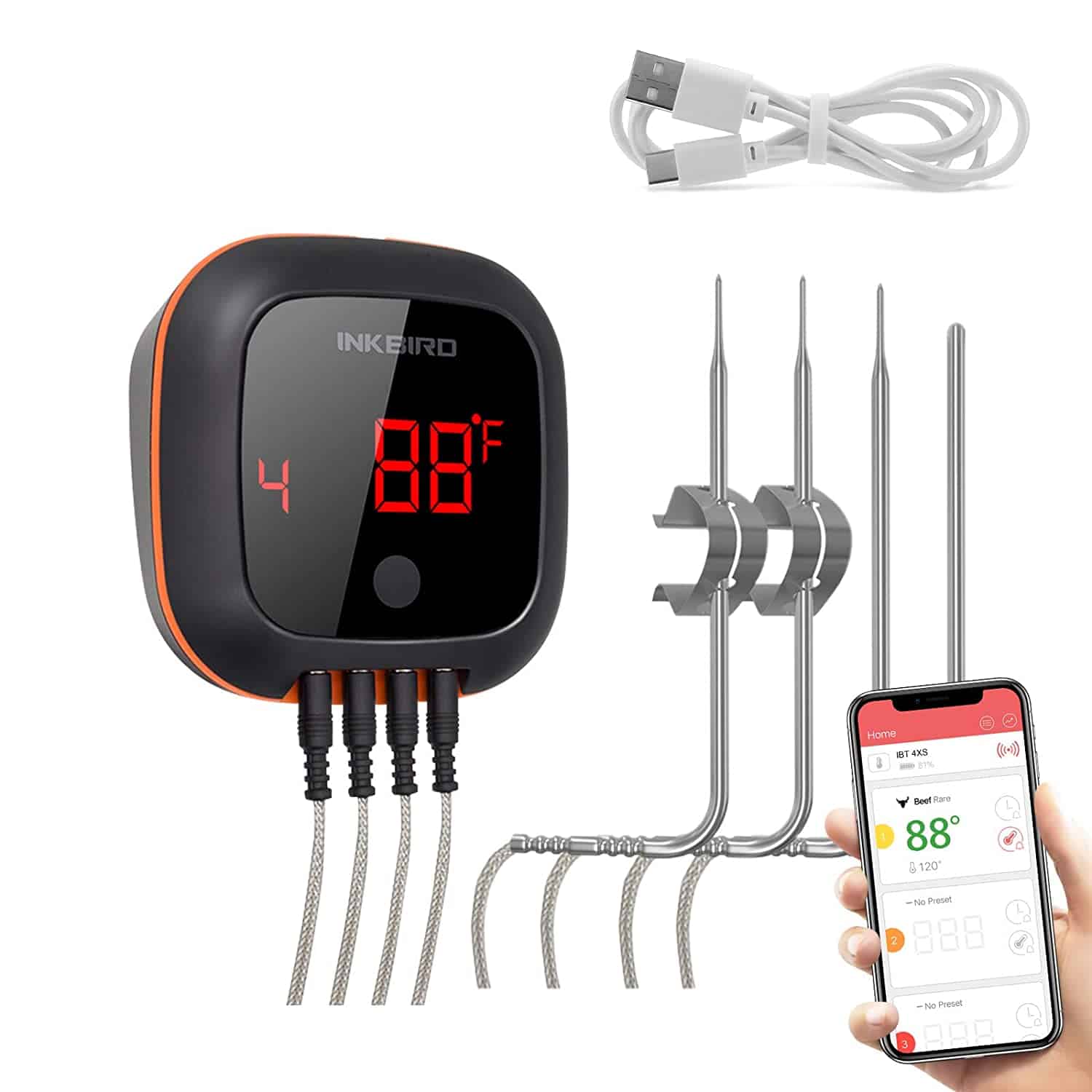 In the past, you couldn't get great features and build quality at a low price. Back in the day, the Weber iGrill2 was the class leader in Bluetooth thermometers, but they came at a price that would make you cry.
Then the Inkbird thermometers came along offering nearly the same parameters and abilities as the Webers but at a far lower price.
The Inkbird IBT-4XS offers you more features for less money, AND includes four probes! With most other thermometers, you only get two.
In terms of visuals and technology, it's the same style and principle that has been tried and tested on the more expensive devices, too.
See it in action here:
When it comes to the quality of workmanship, I don't see anything to complain about either, except for the display being a bit harder to read when it's sunny outdoors.
This is only a small downside, though, because the Bluetooth thermometer was made to make it possible to monitor temperature remotely on a mobile device (using an app).
And as for the app, it offers a lot of interesting features and works pretty seamlessly. It has built-in programs for different types of meat as well as the ability to enter your own custom settings for alarms.
In terms of Bluetooth strength, I didn't have any problems monitoring the temperature while at home, but I know that a lot depends on the construction of the house/materials as well as the device you want to use the app on, so your mileage may vary here.
One significant change is introducing a built-in battery that you can charge like a regular phone, which I'm a fan of because it's easier and more friendly to the environment than going through dozens of separate batteries.
This one's a winner.
Pros
Price: The lowest price for the most important features
Number of probes: 4
Length of probes: About 6"
Range: Connecting distance range up to 150ft/50M
Best Bluetooth BBQ thermometer over large distances: Inkbird IBBQ-4BW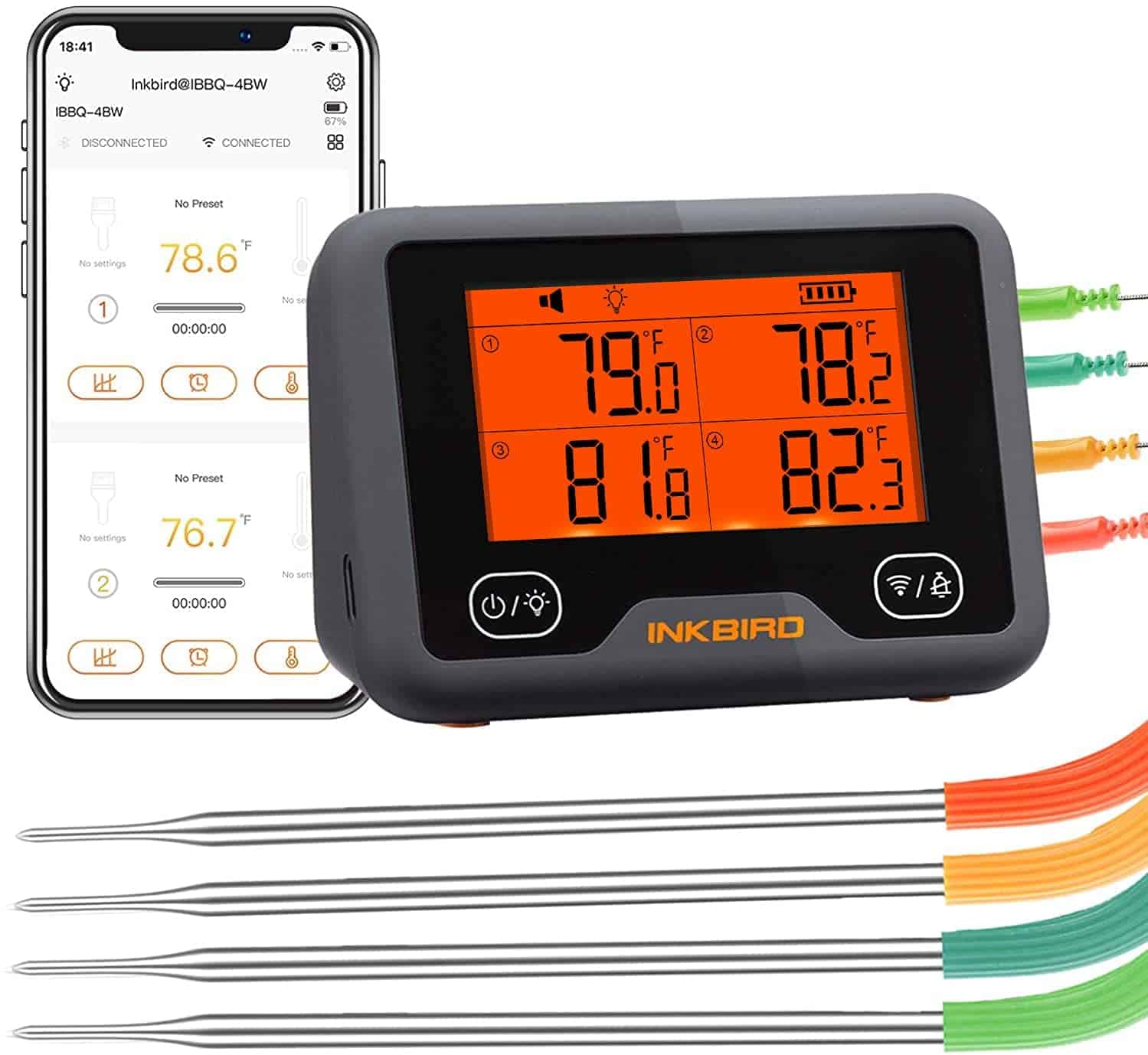 If you love the idea of a Bluetooth thermometer, and you like the Inkbird above, but you want something that connects even easier, with a longer range and fancier features, then the Inkbird Wifi&Bluetooth Grill Thermometer is for you.
You're still getting a well-built, 4-probe thermometer that will help you cook meat to perfection. So, what do you get for the extra money?
Well, first up, it's not JUST a Bluetooth thermometer. It works on Wi-Fi, too. That means that the connection you have is stronger, and if one of the things fails you have a backup.
It also means that wherever you have a Wi-Fi signal on your property you will also have a connection to your thermometer.
Then there are the pre-set cooking temperatures. There are 11 of these, which you can customize to your heart's content. When the cooking temperatures are reached an alarm sounds, making it easy to know when your food is done.
The thermometer also has a very large temperature range, and a good calibration function, so you know that your food is going to be cooked right.
And to top it all off, this thermometer comes with a 2500mAh rechargeable battery, so you won't have to recharge too often, and you're being friendly to the environment, too.
This one is definitely a step up.
Pros
Number of probes: 4
Length of probes: About 6"
Range: Connecting distance range up to 150ft/50M, but this is extended if used with Wi-Fi
Cons
Price: The extra features do come with quite a hefty increase in budget
Best innovative Bluetooth BBQ thermometer: The Meater+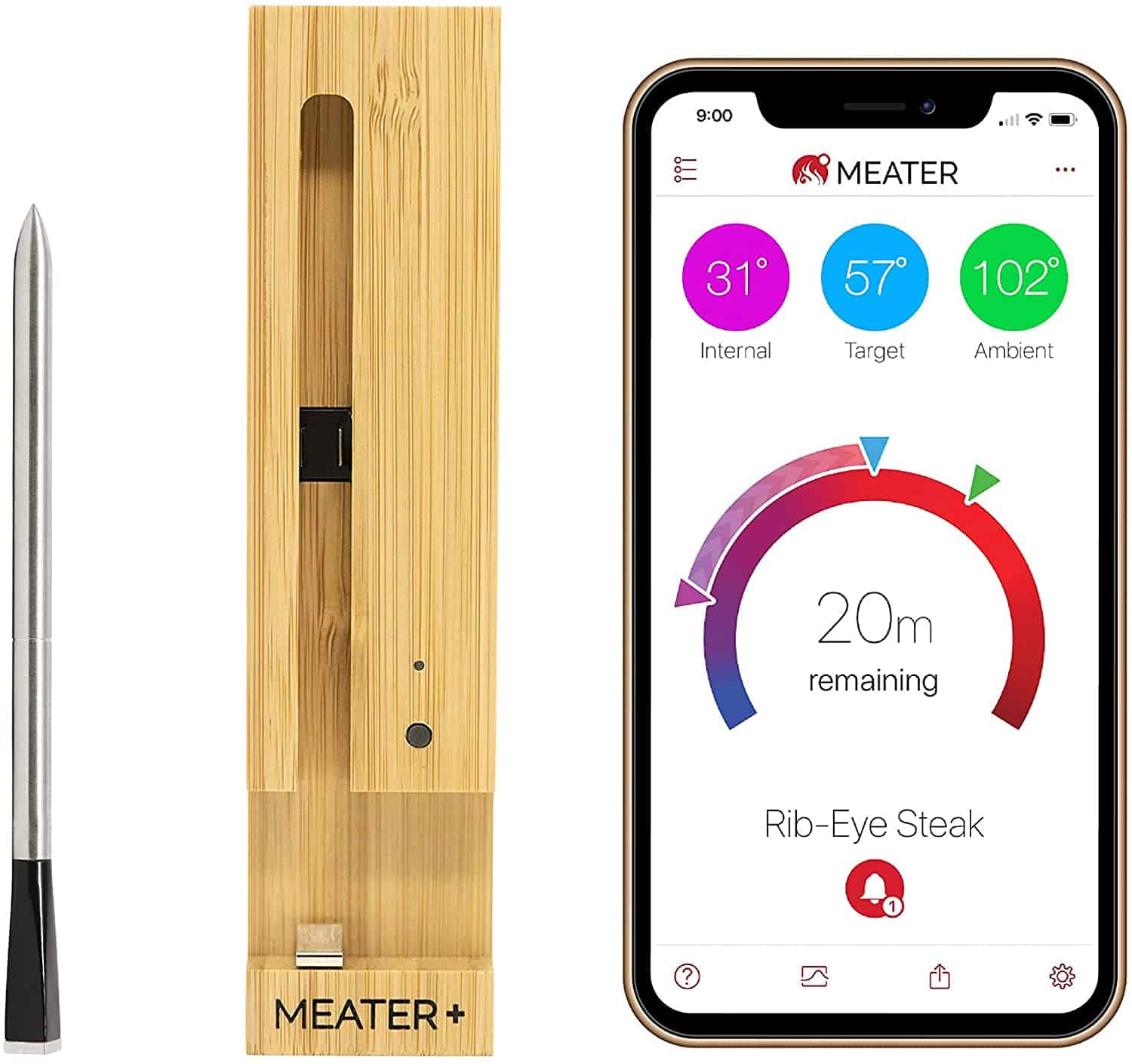 This is for the folks who want something super simple, but ultra-stylish. It's unusual and innovative, but sadly pretty pricey.
The Meater+ is a Bluetooth BBQ meat thermometer in a completely different style – it's a one-probe system that has two sensors.
All of the technology is built into the top of the probe, meaning no cables, and no control unit. It brands itself as "the first truly wireless smart meat thermometer" and it really is smart.
While it may only have 1 probe, it does have two sensors. So the probe monitors internal meat temperature up to 212°F and ambient/external temperature up to 527°F simultaneously.
The limitation is that you will have to insert the probe into each piece of meat to get an internal reading – one probe means one meat measurement.
A thermometer of this type might be a good solution when using a rotisserie, which makes it impossible to use a regular probe due to the spinning of the wheel.
One huge feature of this probe is the extremely user-friendly app. This is one of the reasons this probe is on my top three list.
Other than that, this is a solid and accurate Bluetooth thermometer, but due to the high price I suggest thinking this choice over, but if a stylish thermometer that only measures in one spot is enough for you, you will be very happy with it.
Pros
Range: Connecting distance range up to 165ft
Cons
Length of probes: About 5"
Number of probes: 1 (with dual measurement)
Price: This is not a budget-friendly option, but it does have some excellent features, and the wireless technology can come in handy
Best 6 probe Bluetooth BBQ thermometer: Chugod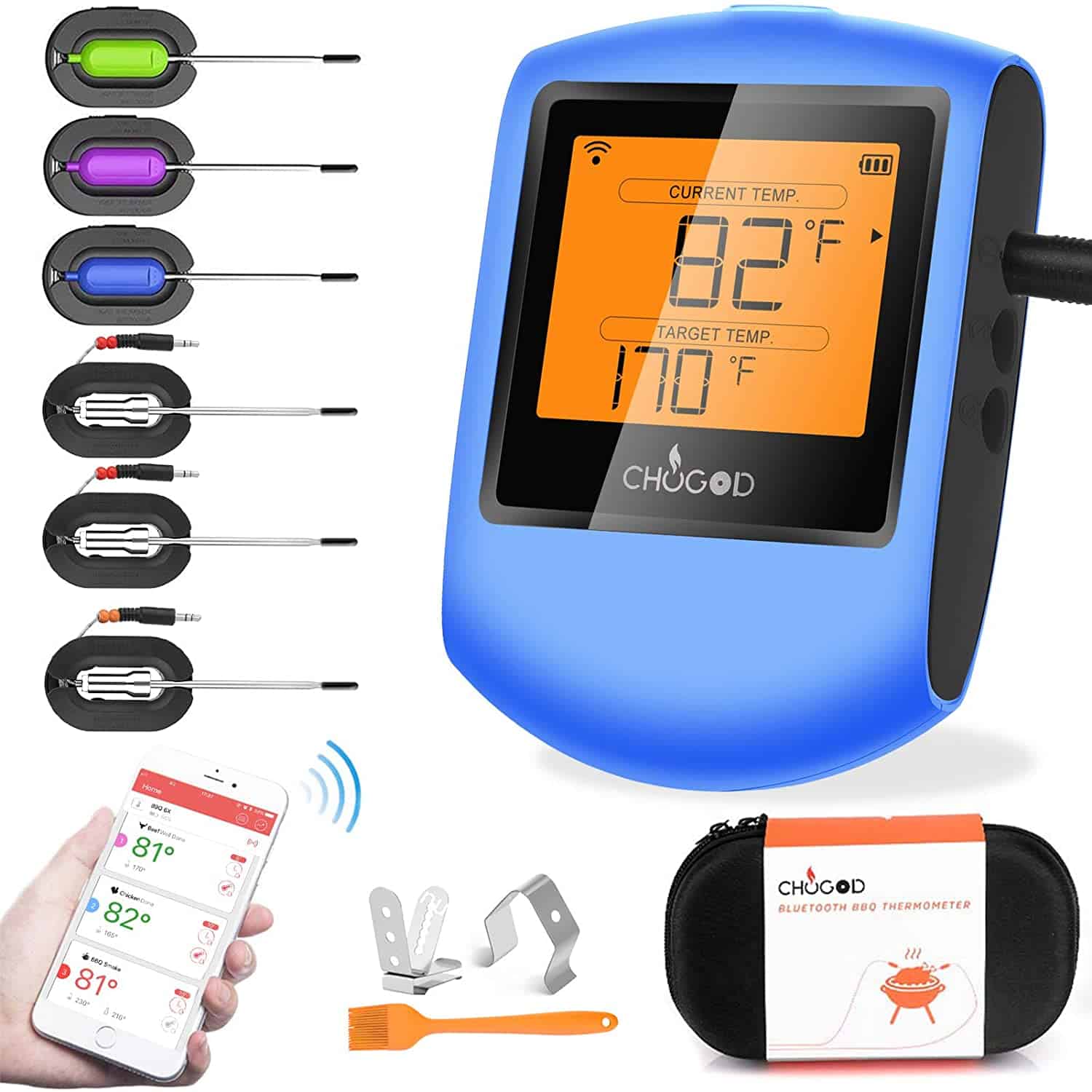 This Bluetooth thermometer van CHUGOD has a connection up to 196 feet and is a great all-rounder. What makes it extra interesting though is the fact that it comes with six probes.
The probes are made of stainless steel and allow you to measure temperatures ranging from 32°F to 572°F of six foods at once. When the food temperature reaches your programmed temperature, a beep will sound.
Just like the other ones you control the thermometer via an app and this allows you to check how your food is doing. Pairing the thermometer with the app is easy and hardly gives any issues.
The Bluetooth connectivity reaches up to 196ft outdoors and 100ft indoors, but this is not always consistent.
The app lists different types of meat and the recommended level of doneness for each. These temperatures can also be customized depending on your preferences.
It comes with a handy storage pouch, which is a plus, just like the strong magnet at the back that allows you to attach it to the grill or fridge.
The only downer is that the probes are on the shorter side, so this is not the best Bluetooth thermometer if you regularly cook large pieces of meat like pork shoulders or brisket.
Pros
Range: Connecting distance range up to 196ft (outdoor) or 100ft (indoor)
Number of probes: 6
Price: Great value for money
Cons
Length of probes: About 4"
Frequently asked questions about wireless thermometers
What's the difference between a Bluetooth and a WiFi thermometer?
They both work at the same frequency although the way they're implemented is different.
Bluetooth makes it possible to connect wirelessly on your phone or tablet with whatever instrument you are trying to control.
You connect using a dedicated app installed on your device. One huge advantage of this is the functionality of the app, which offers many solutions – like different types of charts and settings.
Bluetooth technology allows manufacturers to not make receivers because your phone or tablet has the receiver built-in. All that is needed is a transmitter that sends waves.
The limitation of Bluetooth is the distance at which it works, called range. This can be quite limited, but if there are no problems with range, it is certainly going to be a great solution for you.
However, in the event that any problems with connectivity do arise, a much better solution will be Wi-Fi, which simply offers a better range.
Wi-Fi makes it possible to connect to the home network or phone, allowing to propagate the signal further through devices all around the house.
Most thermometers of this type consist of a transmitter and a receiver, which you need to carry around to be able to read its temperature measurements.
On the other hand, option 2 above, the Inkbird Wifi&Bluetooth Grill Thermometer has both of these solutions ready to go, so you're never without a form of connectivity.
What does 'range' mean? Why does it matter?
The biggest problem with this type of thermometer is the range and how the signal is able to travel through the surroundings.
Every manufacturer provides range parameters, like 100 feet (for example).
The problem is that parameters of this type are measured in perfect conditions.
Bluetooth has low strength which means that any kind of obstacles, like walls, trees and other elements significantly lower the actual range of the thermometer.
The parameters provided by the manufacturer might be relatively achievable if you grill in the open field. As a result, a range of 100 feet might be closer to 25.
For example, you may have a problem with reception at home when there are several thick house walls between you and the grill.
Is my phone compatible with this thermometer?
The type of device you use can play a huge role in determining whether your Bluetooth thermometer will be successful.
Plenty of phones simply have poor quality Bluetooth antennas which will cause the same thermometer to work differently on many devices.
What happens if my phone battery dies while I'm cooking?
One thing few people consider when buying a Bluetooth thermometer is the higher energy consumption in the phone, which causes the battery to die faster.
During long cooking, you also need to be sure that your phone will be operational and on the entire time, or else you won't get the notifications – in this regard, a better solution is a Wi-Fi wireless thermometer with a transmitter and a receiver.
For more good wireless BBQ thermometers, including WiFi ones, check out my review of these 7 digital & analog Barbecue Smoker Thermometers
Joost Nusselder, the founder of Lakeside Smokers is a content marketer, dad and loves trying out new food with BBQ Smoking (& Japanese food!) at the heart of his passion, and together with his team he's been creating in-depth blog articles since 2016 to help loyal readers with recipes and cooking tips.