I love creating free content full of tips for my readers, you. I don't accept paid sponsorships, my opinion is my own, but if you find my recommendations helpful and you end up buying something you like through one of my links, I could earn a commission at no extra cost to you.
Learn more
Bluetooth technology has revolutionized smoking.
It's no longer about sitting around the barrel smoker, waiting for the meat to cook for hours. Now, you can control the temperature via smartphone, tablet, or laptop.
Just think about how convenient smoking is with Bluetooth now that you can control everything remotely.
Electric smokers are game-changers – they make smoking effortless because you set it and leave it.
Forget about sitting around the smoker, checking on the food all the time. The latest electric smokers are equipped with Bluetooth technology.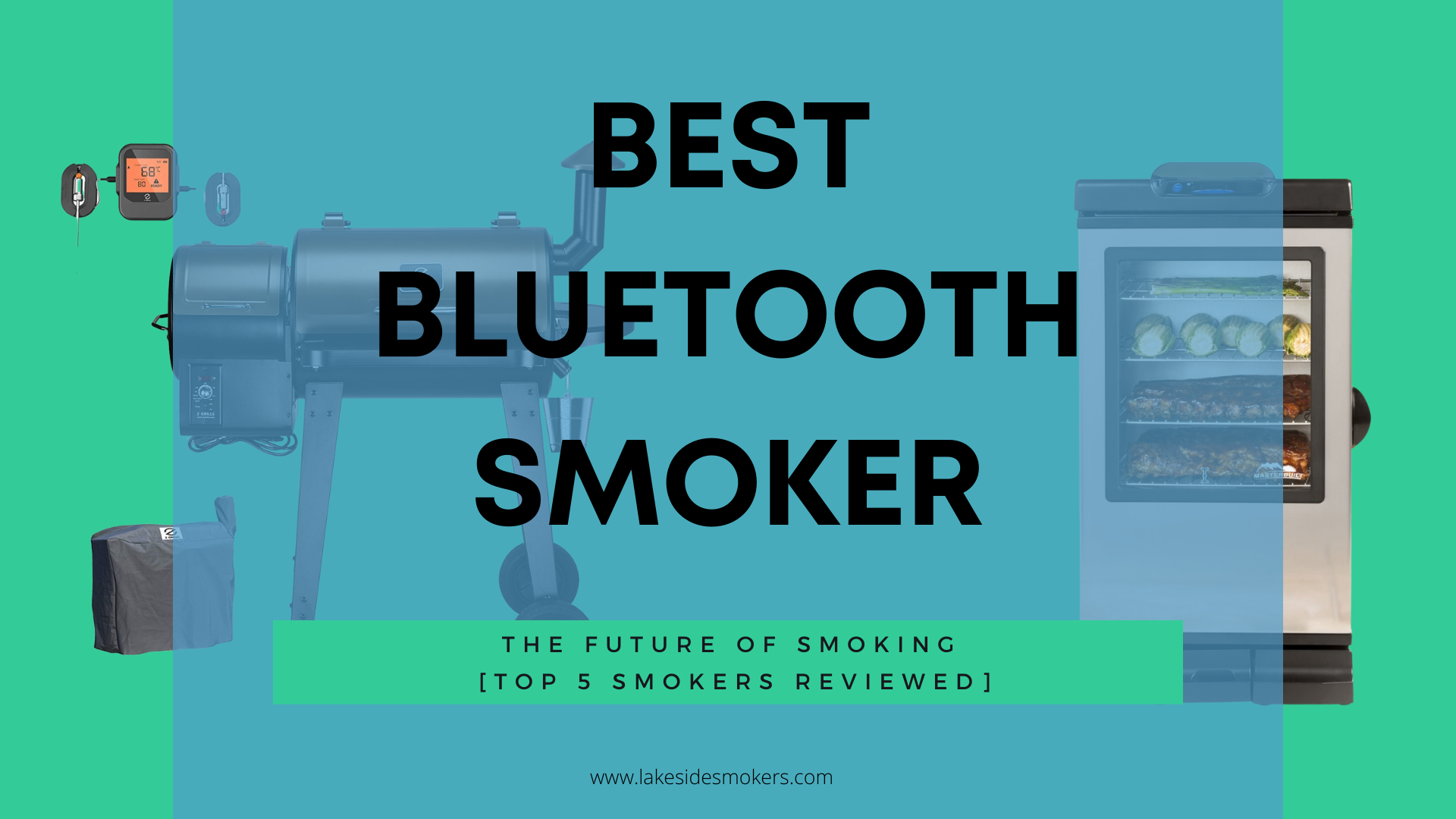 So, what's the best electric smoker with Bluetooth?
My top pick is the Masterbuilt 20072115. Not only is it a spacious 4 rack smoker, but the Bluetooth integration makes it so easy to operate via smartphone. Set up is hassle-free, and you can choose preset temperature settings from the app as there are options for all kinds of food and various recipes to choose from.
If you're ready to upgrade to a modern smoker with all of the latest features, this blog post is for you!
I'm sharing the top Bluetooth smokers on the market, and I'm going to convince you that having remote-controlled features makes life so much easier.
As a bonus, I've also added a review of the best Bluetooth thermometer for your smoker.
Check out the best Bluetooth smokers and scroll to see full reviews of each down below.
Why should I buy a smoker with Bluetooth?
When it comes to smoking meat (and other foods too), most people are after that smokey aroma that wood smoke gives to food.
But, as smokers evolve, they are fitted with the latest technology that adds to the comfort of grilling and smoking. You can power on and power off your smoker remotely.
You should buy a Bluetooth smoker if you are looking for comfort and ease of use.
With a Bluetooth function, you can watch your favorite team play AND control the smoking temperature from a distance. Basically, you have all the controls at your fingertips.
The Bluetooth function works via an app on a smartphone, tablet, or laptop. Just imagine that you can sip a drink and smoke ribs without having to constantly get up and check the meat.
Just keep in mind that if you're looking for Bluetooth function, an electric smoker is your best option because other smokers don't have the capacity to offer extensive digital features.
The reason is that with a charcoal smoker, for example, you're working with wood chips and charcoal, and you can't control those from a distance.
What does a Bluetooth smoker do?
The most basic answer is that a Bluetooth smoker makes smoking food easier.
Basically, your handheld phone or tablet becomes a remote control for your smoker. With integrated Bluetooth technology there are certain conveniences.
Here's what you can do with a good Bluetooth smoker:
you can power your smoker ON/OFF
monitor and change the cooking temperature
change the smoking time
operate the food light
adjust smoke settings (for certain Masterbuilt models)
monitor the internal temperature of the meat (or other foods)
control all settings remotely
Best Bluetooth smokers reviewed
Masterbuilt is the brand to look for when it comes to Bluetooth smokers because it offers the most models.
Not many brands include Bluetooth technology in their smokers, but they should because people are looking for modern devices and cookers.
As well, it's hard to find other Bluetooth smokers except for electrics.
Best buy & best electric Bluetooth smoker: Masterbuilt 20072115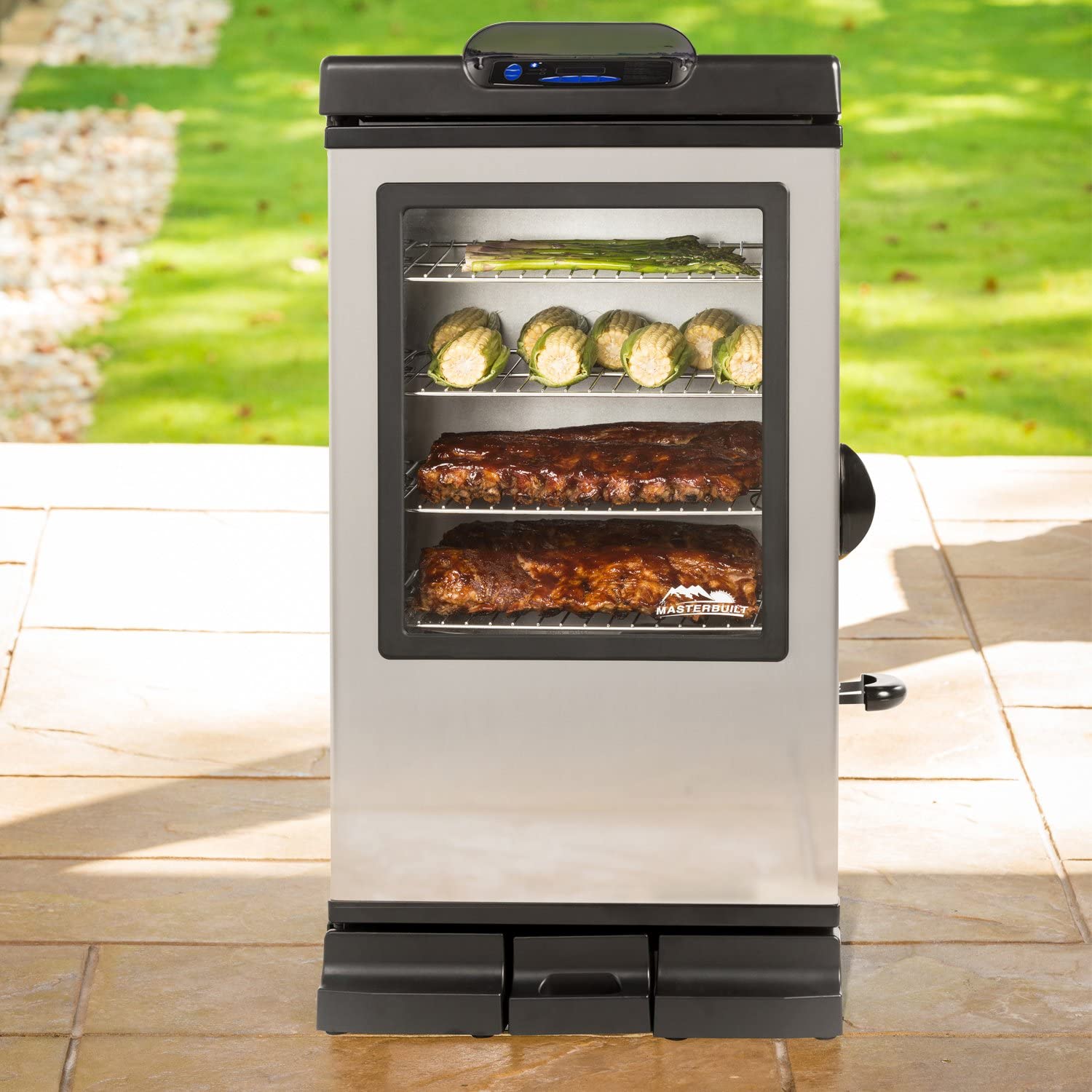 Imagine walking around the house with your phone in hand while the smoker cooks your brisket to perfection.
All you have to do is tap a button on the app and you can raise or lower temperature to get the perfect smoke! With this top smoker, you can control everything from a distance.
Not all electric smokers are built the same, but when it comes to good value electric units, this spacious Masterbuilt model has everything you need.
Since it has a Bluetooth feature, it is easy to set up and use. The "set it and leave it" experience is great for beginners and pros alike.
To get started, this video explains how to assemble this Masterbuilt smoker:
Masterbuilt electric smokers are top of the line because they deliver delicious flavors, so you're not missing out on smokey aroma.
The smoker has a side-loading wood chip tray, so you can add your favorite flavored woods to make tasty dishes.
Once you taste the rich aromas of smoked foods, there's no going back.
Compared to similarly priced electric smokers, this one really delivers much more flavor. The meat stays tender and juicy, and you can also smoke fish, vegetables, and cheese.
What makes this smoker the best buy is that it has a large cooking space and 4 chrome-coated racks. It has a stylish and modern design with an easy-to-read LED display.
There's also a built-in thermometer but which makes it easy to keep an eye on the temperature.
The one disadvantage, though, is that this built-in thermometer loses its accuracy over time, and so I recommend getting a separate Bluetooth thermometer just to be sure.
Have a look here for 20 more must-have BBQ smoker accessories
However, it's overall a great smoker for everybody, and you can cook large batches of food.
As an added bonus, you can also watch the food smoke through the glass window. That's sure to get you excited about using your new smoker!
So, if you're after an efficient smoker with modern upgrades, consider the Masterbuilt 20072115 Bluetooth Smart Digital Electric Smoker.
Check prices and availability here
Best Bluetooth pellet smoker: Z-Grills Wood Pellet Grill and Smoker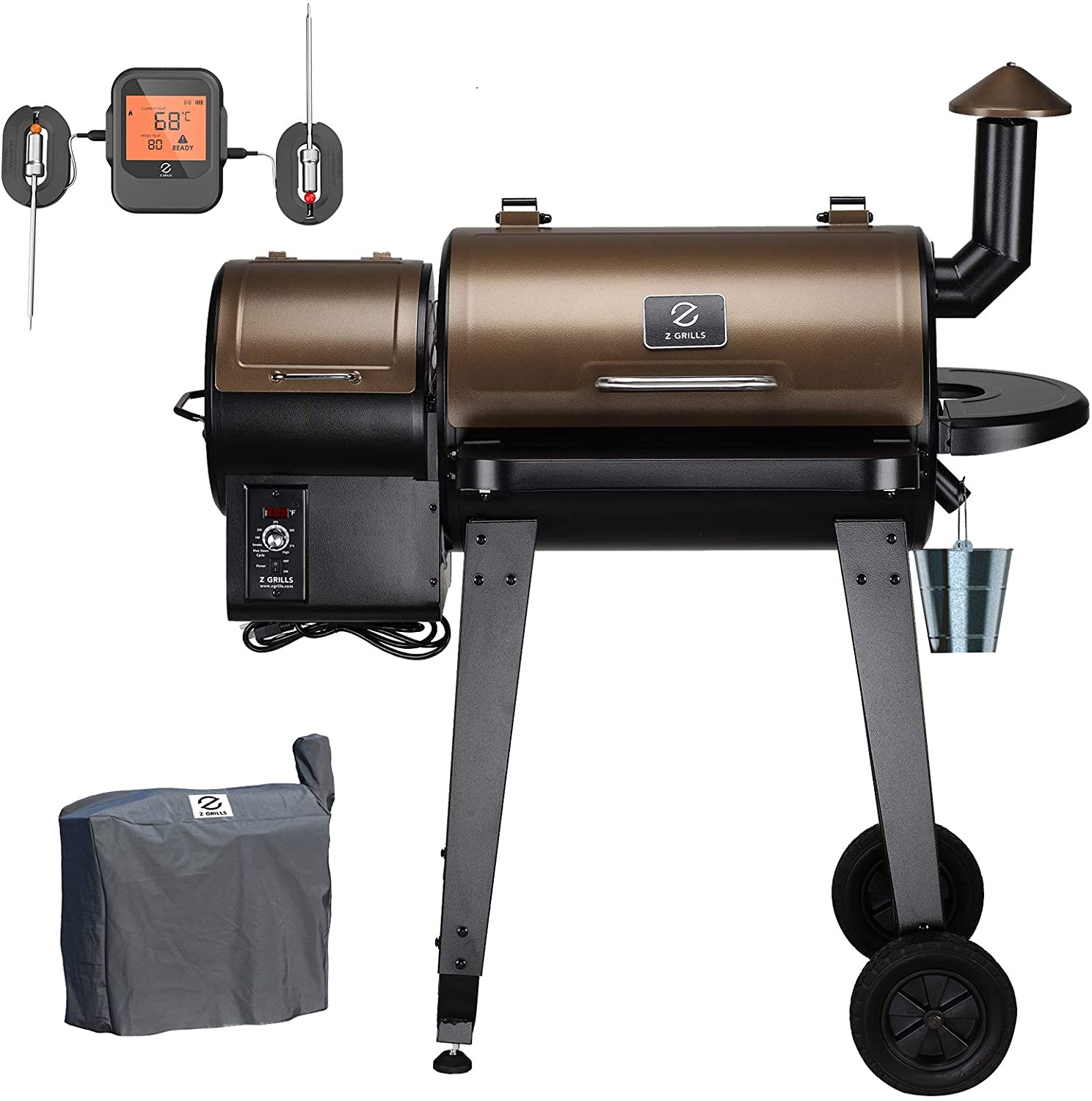 This pellet smoker comes equipped with a smart digital controller, so it's similar to an electric smoker because you can set it and leave it.
Z-Grills are equipped with Bluetooth thermometers. It's not quite the same as an electric Bluetooth smoker, as the features are more limited.
From the app, you can select from a variety of foods and then the recommended cooking temperatures. Then you can choose to cold smoke, grill, and hot smoke.
The PID controller means that you can maintain the temperature within a 10-degree range.
As well, this pellet smoker's got a great temperature range between 180ºF to 450ºF, which is enough of a range to cook any type of food.
See this grill in action here with Mick smoking brisket to buttery tenderness:
Smoking is very simple because you preset the desired temperature depending on the food. Then, you can continue with other tasks, only checking on the food occasionally to add more pellets.
But what really makes this smoker stand out is the fact that it gives food that tasty wood smoke flavor.
Also, in terms of the price, it's cheaper than many popular smokers like Pit Boss and Weber, but it has the Bluetooth feature which those others lack.
The smoker is excellent because it has porcelain-coated cast iron racks which prevent sticking. Also, you've got plenty of space to smoke with 442 sq. inches of cook space which is enough for 3 whole chickens or up to 10 burgers.
And when you're done smoking, you can move the unit around since it has wheels. Portability adds to the value of this pellet smoker because it's lightweight and easy to maneuver.
Best intelligent electric & best features Bluetooth smoker: Masterbuilt MES 440S
Don't be surprised to see another Masterbuilt on the list. This is one of the smartest smokers on the market.
Compared to the previous one I reviewed, this one is better for people looking for more high-tech features.
It comes with two elements: one 1200w cooking element and a separate 150w smoke element which infuses the food with intense wood smoke flavor.
The great feature is that you can control everything via Bluetooth. Regardless of the cooking temperature, you can still choose between 5 smoke settings, which is revolutionary.
The Bluetooth app allows you to set the desired temperature but also control the smoke intensity!
This is truly an industry game-changer because Masterbuilt's smoke sensor has a patent-pending, and it will make it easier for pitmasters to add just the right amount of smokey aroma to meat.
Imagine that this smoker can now compete with pellet and propane smokers in terms of wood smoke flavor intensity. The food tastes better yet remains tender.
One thing to note is that this model comes with one meat thermometer probe, but you can add up to four, so you can get an even smoke every time.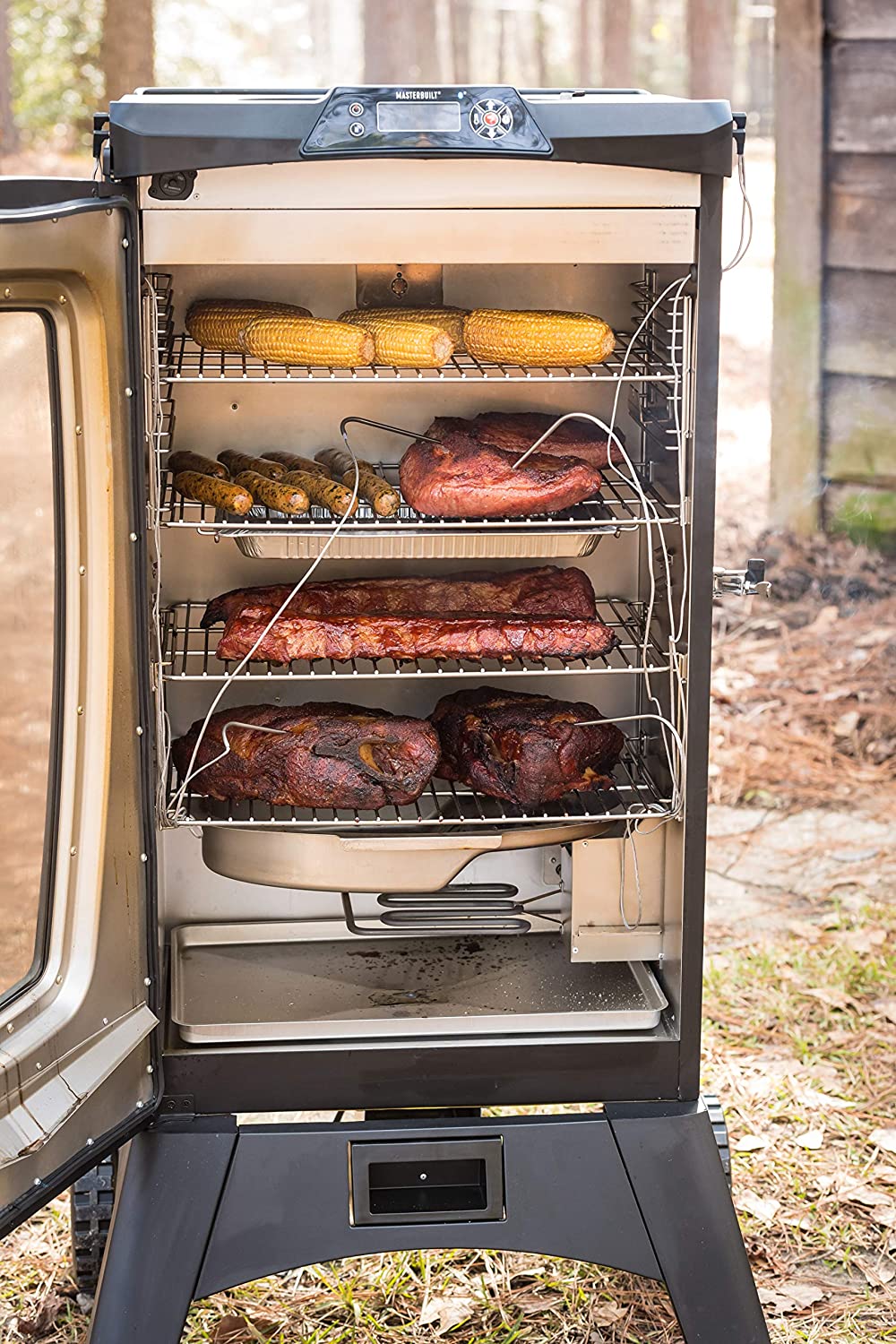 You can also add accessories like a rotisserie, different sized racks, or side shelves. This makes the smoker versatile and customizable to fit your smoking needs.
Check prices and availability here
Best budget electric Bluetooth smoker: Dyna-Glo DGU732SDE-D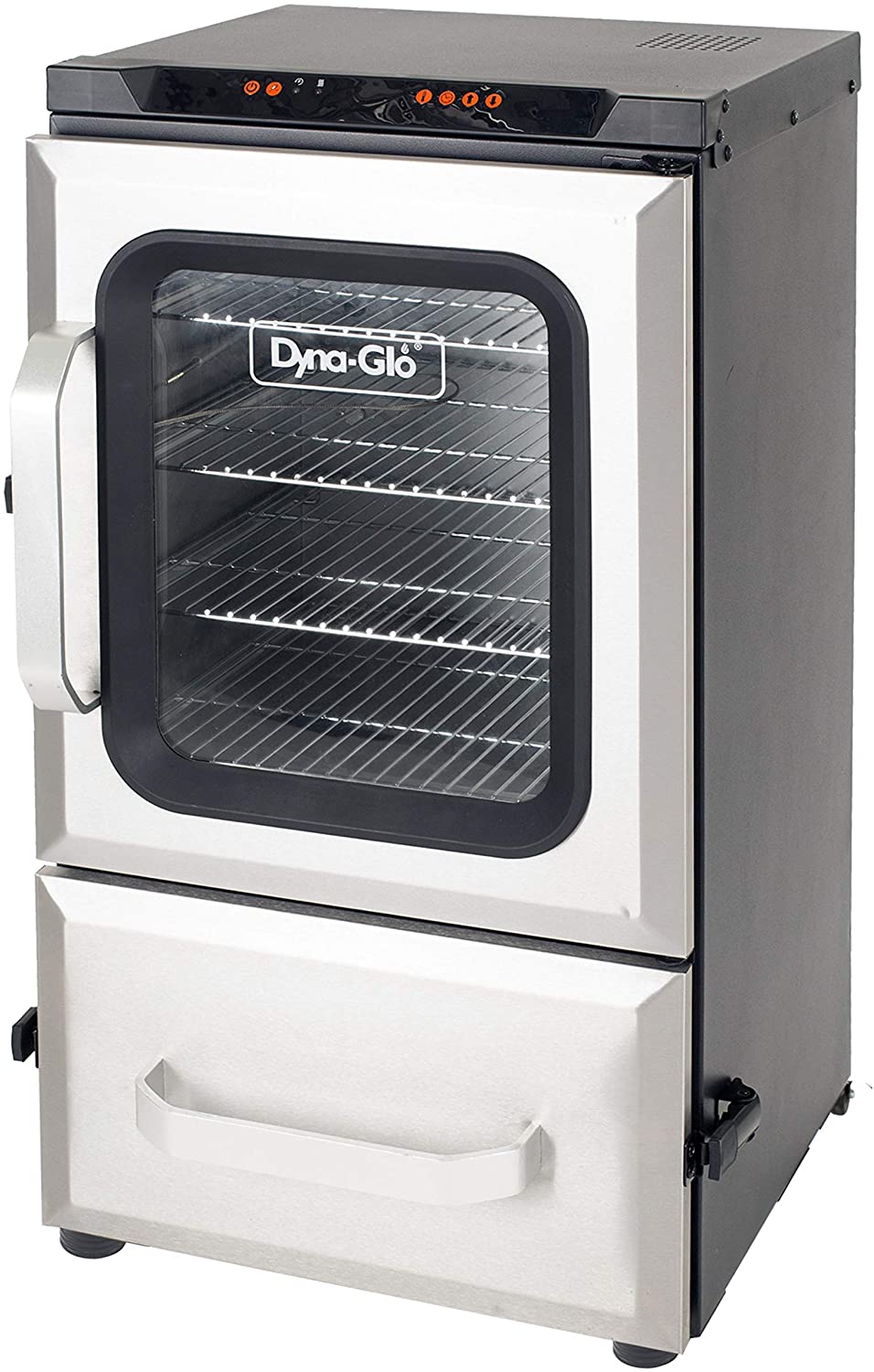 If you're looking for a great electric smoker under $300, then the Dyna-Glo 30" is the perfect family-sized smoker.
It comes with Bluetooth connectivity so that you can keep an eye on cooking temperature from your smartphone or tablet.
The smoker comes with a 1000w heating element which is not as powerful as the Masterbuilt smokers. But for those looking to stay on a budget, it is still powerful enough to cook all kinds of food.
The design is a bit different because the water pan and wood chip tray are located at the bottom of the smoker. But, this makes it easy to load, and you don't need to open the smoker door; therefore, you don't lose heat.
The door latches are adjustable, and there is an added high-temperature door seal which ensures you don't lose any heat or smoke.
Thus, the food is cooked evenly, and the delicious wood smoke aroma goes into the meat, not outside.
Dyna-Glo advertises this smoker as the electric smoker of the future and for a good reason. It is a small, compact smoker with plenty of cooking space, digital displays, and a Bluetooth app.
Smoking no longer has to be a long chore as you can simply go about your day while the smoker does its job. Since you can control the temperature from your smartphone, there's no need to supervise the smoker.
It even shuts off by itself after it finishes smoking your food.
Also check out my roundup of the best electric smoker cookbooks for recipe inspiration for all skill levels
Best Bluetooth smoker with WiFi: Char-Broil Digital Electric Smoker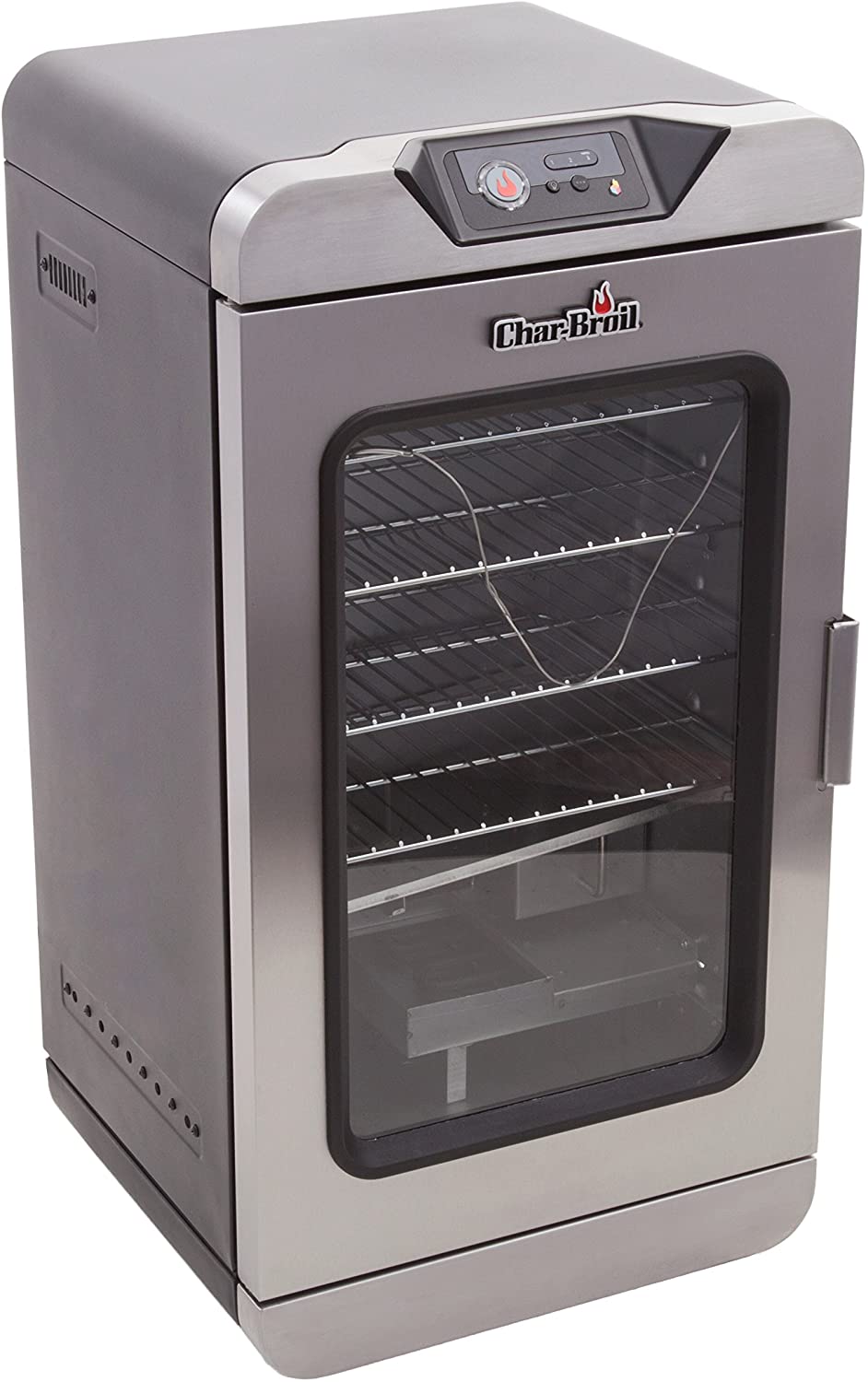 WiFi-operated apps like Char-Broil's SmartChef allow you to control your electric smoker through any WiFi connection.
This means that you can program, choose the temperature, and set up the smoker from your phone, tablet, or laptop with the click of a few buttons.
The smoker connects to the internet with 802.11n wireless technology. As a result, you get real-time cooking info on your device.
The app works on iOS and Android and is compatible with most popular smartphones. Thus, this is one of the best "smart" smokers out there.
Here's how you make the connection with your smartphone:
The only thing you have to get up for is to put the food into the smoker and hit that start button. Then, wait as the smoker cooks juicy, moist, and tasty food.
The smoker has a 725 sq. inch cooking chamber with 4 cooking racks. It also has a removable grease tray and water pan at the bottom and a smoker box for wood chips at the side.
Therefore, you can add your favorite flavored wood chips for the best smoked meats. With one fill, you get up to 6.5 hours of continuous smoke.
Design-wise, this vertical smoker also has a large control panel at the top, although it's not digital like the Masterbuilt smokers. But, since you can control most features from the app, you're mostly going to use that start button.
Of course, you can use the smoker without an internet connection, but the DADO button ensures you can connect to WiFi.
Overall, the app and the smoker are both easy to use.
Best Bluetooth thermometer for smoker: Inkbird Grill Thermometer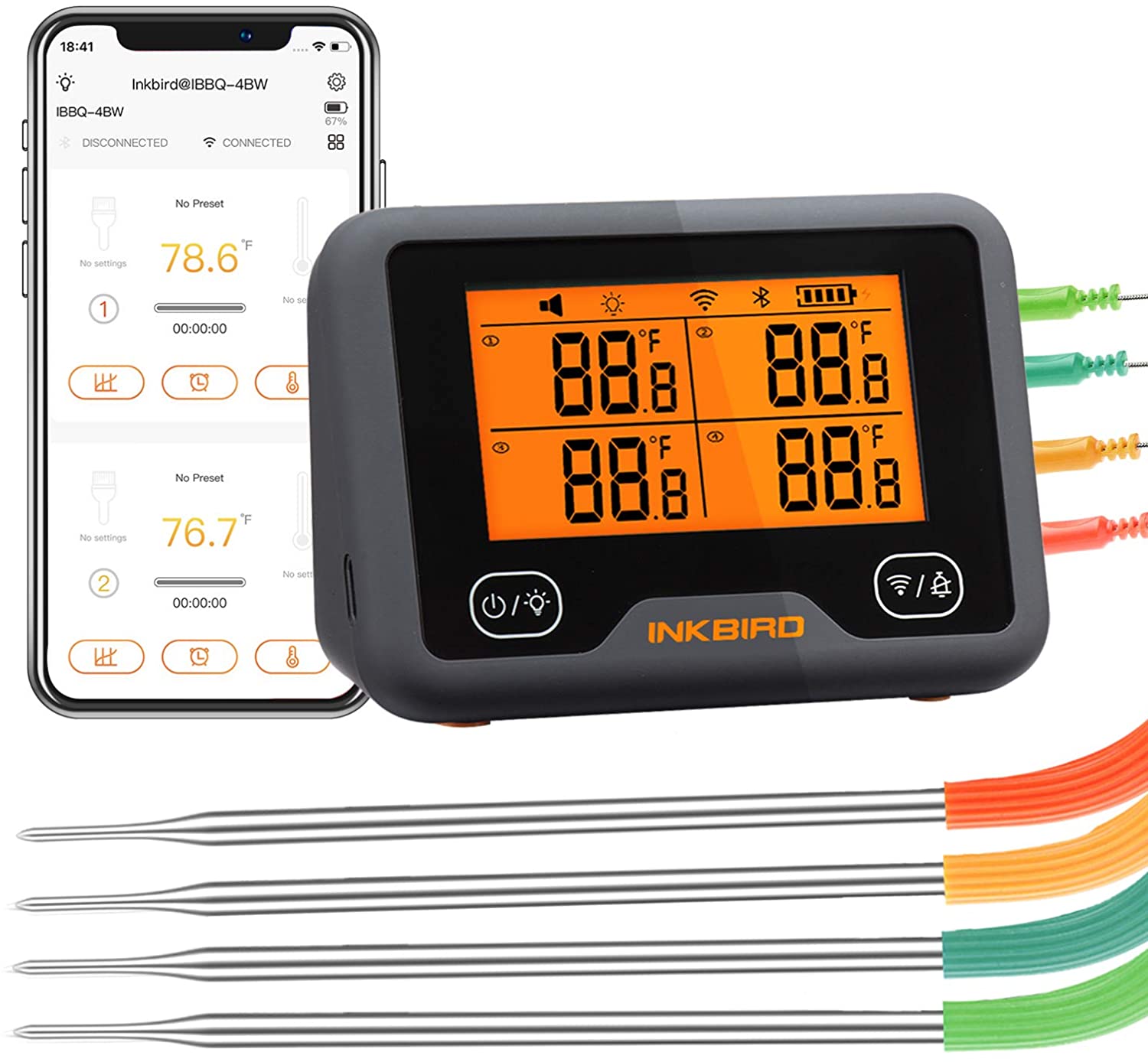 A Bluetooth thermometer is a must-have on every gadget-loving smoker's list.
If you're going to buy a new thermometer is should connect to your smartphone, or else, it's not worth having.
This wireless & Bluetooth smoker thermometer is one of the best investments because it is versatile. You can use it with your smoker, grill, or oven for years to come.
The main thing to look for in a thermometer is accuracy! Luckily, the Inkbird is highly accurate, and you can even download the temperature graphs to see how the food is cooking.
The thermometer works via an app called BBQgo Pro, and you can pair the device with your phone and through Bluetooth simultaneously.
Here's how it works:
Compared to the Fireboard 2 thermometer, which is twice as costly, the Inkbird is very similar and costs you less money. It does a great job and has enough features to keep you intrigued.
Think of it as a great value thermometer, with four probes and an app that runs smoothly.
With a backlit screen and digital display, the thermometer has a practical design. It shows the temperatures of the probes, the connection (Bluetooth & WIFI), battery power, and a volume indicator.
Each probe has a different color, so you can easily control each probe with the color-coded indicators in the app. The probes are 5 inches long, and you charge the thermometers via USB-C cable.
Overall, this is a great smoking thermometer because it has good battery life, it is accurate, and it is less expensive than some of the most popular models.
Check prices and availability here
Masterbuilt Bluetooth smoker app – info & mini-review
No matter how good the smoker is, you need the app to work well too. It has to run bug-free and smoothly to make user access easy.
Unfortunately, the Masterbuilt app is not one of the best ones out there.
It has a pretty low rating because the timers and notifications tend to freeze, so they don't go off when needed. Some users even burnt their food and hated the user experience with the app.
As well, some people claim that the Bluetooth keeps disconnecting. Therefore, the app stops working, and you still need to supervise the smoker.
Basically, people say the app is full of bugs, and they want a better update. But, if the app works properly, you're able to connect and have full control of features.
What to do if your Bluetooth smoker is not connecting – troubleshooting common problems
The most common issue with Bluetooth is that the app disconnects. Also, you might notice that the Bluetooth just won't connect.
Or, if you step out of the range, the Bluetooth will disconnect and might not reconnect automatically, so you need to keep an eye out for such issues.
Before you buy a smoker, though, make sure the app is compatible with your devices.
There are a few reasons why this might happen, so check the following:
Check to see if Bluetooth is turned on for your device.
Make sure that Airplane mode is turned OFF. Sometimes you may accidentally press the airplane mode button, and this shuts off Bluetooth and WiFi.
Turn off the power-saving mode on your device. Some power-saving modes don't allow Bluetooth to capture the signal.
If your device is on a low or weak battery, the Bluetooth function will not function properly. A lot of power is required for the Bluetooth signal to reach the smoker.
Update the software on your device to ensure you have the latest Bluetooth version and updates.
Make sure your smoker app is up to date, and you are running the latest version.
You can also unplug the smoker and then delete the app and re-install it.
How do you sync a Masterbuilt smoker?
Before you can begin to control your smoker with your smartphone or other devices, you need to set up the app.
Create a user account, and then you need to pair the smoker's Bluetooth with your device. You'll see a green light on the smoker, and the display turns on, which means the smoker is ready for pairing.
You'll need to click 'continue' and then 'add new Masterbuilt smoker.' The smoker will beep a few times after you've selected it and paired it to let you know it is ready.
What is the range for Bluetooth connectivity?
For the Masterbuilt, the Bluetooth connectivity range is approximately 100 feet direct line of sight, which is pretty decent.
You can go about your business in the house while the smoker is running outside.
The bottom line
If you've tried smoking meat in the past but hated the long process, then I recommend you get an electric smoker with Bluetooth control.
It will revolutionize the way you cook for the family because you'll be able to help pitch in with household chores instead of sitting near the smoker.
You can use your smartphone as a remote control and monitor the cooking temperature while you're at a distance from the smoker.
Read next: about Smoking Food and Staying Healthy
Joost Nusselder, the founder of Lakeside Smokers is a content marketer, dad and loves trying out new food with BBQ Smoking (& Japanese food!) at the heart of his passion, and together with his team he's been creating in-depth blog articles since 2016 to help loyal readers with recipes and cooking tips.