I love creating free content full of tips for my readers, you. I don't accept paid sponsorships, my opinion is my own, but if you find my recommendations helpful and you end up buying something you like through one of my links, I could earn a commission at no extra cost to you.
Learn more
Getting a charcoal or wood-burning smoker sounds like a great idea until you basically become a slave to your smoker.
With the introduction of gas smokers, those hours of worry and concern have been eliminated and you can become a pitmaster without a lot of trouble.
In this post, I'll share the best gas smokers and give some tips on what to look out for when buying on.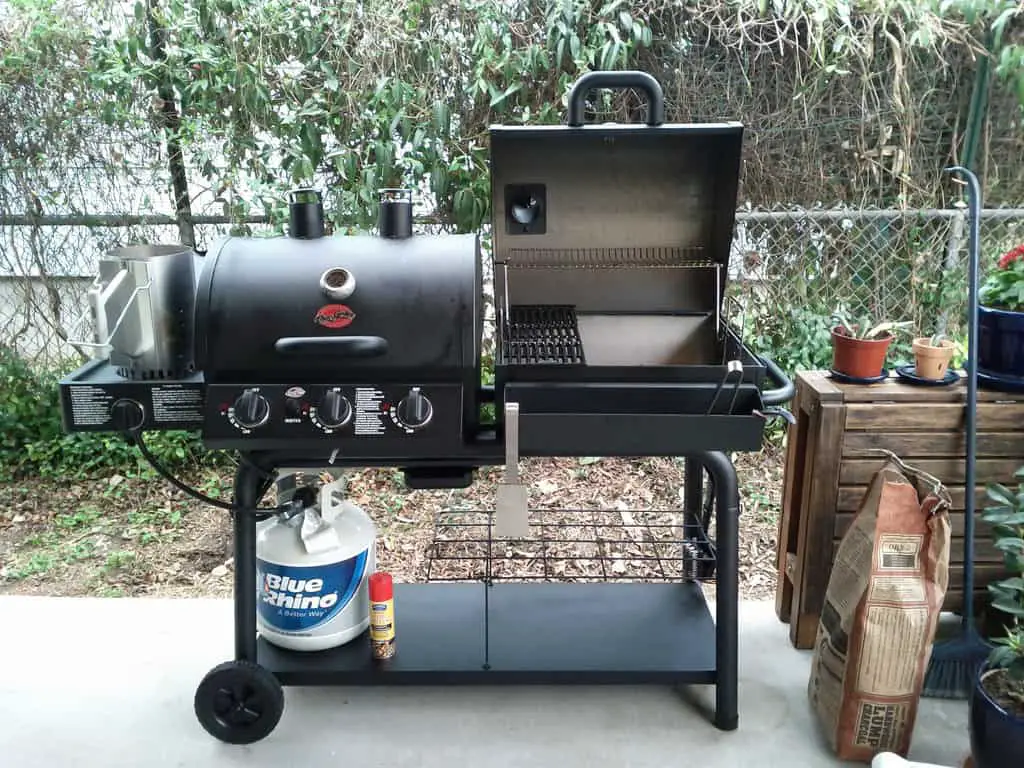 That's why when I realized that I was waking up in the middle of the night just to check on my charcoal smoker, I figured there had to be a better way that still felt more authentic to me than electric ones.
I had already spent a lot on money on my charcoal smoker so I didn't have a lot of room to spend. That's why I decided to get the Masterbuilt 2-Door Propane Smoker since it's affordable and has features I was looking for like temperature control, heat seal-in and it's even easy to clean up.
Now, I have some experience using smokers so I can defend myself. If, on the other hand, you don't have as much experience with them, you would be better off with a Char-Broil The Big Easy TRU-Infrared Smoker Roaster & Grill since it basically does the smoking for you.
Now through this article we'll go through why these two are our favorite choices for the end of 2018, but before we get to that, let us sum up their best benefits so you can make a quick assessment before diving into them.
So now that you know my favorite picks and what drew me to choose them, continue to read on so you can get a better glimpse of all the benefits
In this post we'll cover:
Why get a gas smoker?
As I mentioned before, having to look after a smoker can be an exhausting task especially since smoking is a long and slow process. Many people have even gone through the horrible experience of coming back to find their BBQ is completely unrecognizable. There just had to be an easier way.
And that easier way is a gas smoker. They're amazing because of their ease of use that lets you set everything up and then forget about it until it's done (unless you want to be hands-on). That's why all you'll have to do is add your preferred wood chips, set the timer and temperature, place your meats in the smoker and wait.
If you're looking to set it and forget it, then a gas smoker is the perfect match for you. You won't need to be as involved in the smoking experience while still getting the authentic BBQ taste we appreciate and love.
If you want to have smoked meats ready in less time. This will vary depending on the type of meat you're smoking but a smoking session won't extend too many hours. In fact, it's so quick and easy that they're considered "too easy to grill or smoke with".
Factors to consider/look out for when looking for a gas smoker
You probably just realized how much you need a gas smoker now, in which case your next step is finding the one that best suits your needs. We all want to get the most out of our money, so it's important to consider which aspects will either make it or break it for you.
Some of the cheapest options out there have amazing features that the most expensive ones might not. So follow through to get the idea of the most important things to look out for:
Also read: the best salmon is the nova scotia salmon
Smoking Area
The capacity or smoking area of your gas smoker is what helps determine what kind of meats and how much you can cook. If you'll be smoking small meats like burger patties or fish, you won't need that much space. If, on the other hand, you're looking to smoke pork butts or other large pieces of meat, enough space and adjustable racks will be a must.
Reliability
You will need a gas smoker you can depend on, one that is consistent and actually allows you to set it and forget it with the confidence that once the timer goes off, your meats will be ready and perfect every time.
Cost per Features
Some features are available independent of the smoker's price, so it might even be the case that the cheapest smokers out there have better features (for your situation) than the most expensive ones. That is why we share objective information so you can properly assess the one that will work best for you.
Strong Build
You need a strong smoker that will reduce the grease and smoke leakage. Check the cabinet to make sure it can capture and maintain the humidity, heat and smoke since these are the three important factors for an amazing BBQ.
Easy Clean-Up
Even though the most important function of your smoker will be, well… smoking, it's important to be able to properly clean it up after each use. Be on the lookout for a grease pan and removable racks. Some will even be non-stick and dishwasher safe so they're a great catch.
Now that we've looked at the most important aspects to look out for, let's dive into our review for my two favorite grills so you can assess which one would better work for you.
My favorite: the Masterbuilt 2-Door Propane Smoker
This smoker is the best one in my opinion and that of multiple reviewers that continue to appreciate the value of this amazing grill. The feature per cost ratio is also amazing and pushed this smoker to the top of my list.
This is a steel, cabinet-style or "vertical" smoker and it comes fully assembled so you don't have to worry about anything when you receive it. You get three sizes to choose from: 30", 40" and 44" so choose accordingly. I have the 44" since it has two stainless steel burners, (instead of one) which allow me to smoke multiple dishes at the same time.
It also has four chrome-coated smoking racks and two doors that help seal the heat and keep a consistent temperature throughout the smoking process. A built-in temperature sensor gauge helps you easily monitor the process and the wood chip tray and water pan are porcelain coated which makes them easy to clean.
So far the only "downside" to this smoker is that it doesn't have a warranty but no one I know has had any issues with it so far so I guess you don't need a warranty if everything will work perfectly fine.
Beginner's favorite: the Char-Broil The Big Easy TRU-Infrared Smoker Roaster & Grill
If you don't have the time or desire to delve into the complicated art of smoking just to try it out and start doing it yourself then this is the smoker (and the review) for you! This smoker is easy to use, affordable and you won't have to guess what goes where when you want to use it.
This is perfect for beginners since you can easily create delicious smoked meats without having to think about the technical details. It's also portable and compact, and with the addition of TRU-Infrared technology, your meals will always be perfect since this technology prevents undercooked and overcooked food.
It's a relatively lightweight smoker, which makes it easy to carry so you can take it with you on the go, and it's compact so it won't take up too much space at home. However, don't think it'll fall behind since it can still fit 25 pounds of meat.
TRU-Infrared technology also avoids flare-ups so your meat will always be evenly smoked and juicy. Additionally, it features an internal meat thermometer so you have more control over your smoking experience, out of the box.
It is a bit more expensive than my favorite (which packs many more features) but this is due to the TRU-Infrared technology. However, it's still an affordable smoker so you would just have to analyze how important this feature is for you. Remember all gas smokers are pretty easy to use.
If you have any smoking experience at all, I can't recommend getting this smoker since I feel it takes away the joy of traditional smoking. The exciting aspect of smoking meat is done for you so it isn't a challenge, and boy do I love challenges.
On the other hand, if you want all the flavor but none of the hassle that comes with smoking meat, then you can be completely sure that this is the best choice for you.
Final Thoughts
There's no doubt why the Masterbuilt 2-Door Propane Smoker is my favorite one ever. It has so many features for such an affordable price that it simply beats every other gas smoker out there.
The Char-Broil The Big Easy TRU-Infrared Smoker Roaster & Grill on the other hand, continues to be the perfect choice for any beginner since it's a hassle-free way of smoking your food and you will always get foods that are perfectly cooked so burnt, undercooked or overcooked meat will be a thing of the past.
Also read: our post about the essential smoker supplies
In the end, just make sure you approach your gas BBQ smoker search taking into account the features that you will absolutely need and the ones you can sacrifice if it comes down to it.
Joost Nusselder, the founder of Lakeside Smokers is a content marketer, dad and loves trying out new food with BBQ Smoking (& Japanese food!) at the heart of his passion, and together with his team he's been creating in-depth blog articles since 2016 to help loyal readers with recipes and cooking tips.