I love creating free content full of tips for my readers, you. I don't accept paid sponsorships, my opinion is my own, but if you find my recommendations helpful and you end up buying something you like through one of my links, I could earn a commission at no extra cost to you.
Learn more
Have you ever been craving a grilled burger or steak, but couldn't light up your outdoor grill due to bad weather? You don't have to miss out on the flavor of BBQ just because of a little rain or snow!
What you need is an indoor grill. Of course, it's not the same as standing around the fire with friends, but the food is still delicious.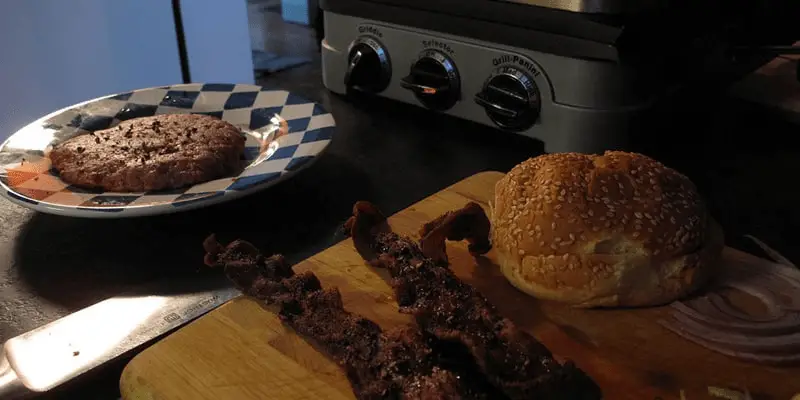 Indoor grills are convenient and cost-effective. They fit perfectly onto your kitchen worktop or even the kitchen table and can be packed away until the next use.
These grills are also handy for making burgers, toasted sandwiches, and other foods in a hurry without having to bother with cumbersome barbecue grills.
During the winter months, I get out my Hamilton Beach 3-in-1 Indoor Grill and Electric Griddle Combo. I love the versatility of this grill and the fact that you get a grill and griddle option. The plates are also dishwasher safe, and the grease collection tray is easy to clean.
I have prepared a list of the best indoor grills for different occasions as well as a few tips on what to pay attention to before you buy.
Tips for buying a new indoor grill
Before you buy a grill that doesn't suit your needs, go through the list below to figure out exactly what you want.
There are several things to pay attention to before buying an indoor grill in order to avoid disappointment.
Size
I know that this type of grill is pretty small but you should still make a decision on what size will be right for you.
Type of surface
You can choose among full grill grates, contact grill, panini press, full griddle, and half griddle/half grill. Some grills come with multiple options included, but that does increase the prices substantially.
Features
For those who just want to sit back and let the grill do its thing, there are 'intelligent' indoor grills that come with preprogrammed settings. Just remember: the more features, the higher the price.
Temperature range
Obviously, you don't need a mega high temperature to cook regular food. If you'd like to grill things like steak, however, you need a fairly powerful grill.
Cleaning
No one wants to spend hours cleaning up after the grilling is done. Make sure the grill you pick allows for easy cleaning (like removable griddles).
This is what you need to know about Smoking Meat in Cold Weather
Top 5 indoor grills reviewed
Keep in mind that an indoor grill is a completely different cooking style from a conventional outdoor grill. Here are my five favorite options that are on the market this year.
Best indoor grill overall: Hamilton Beach 3-in-1 Indoor Grill and Electric Griddle Combo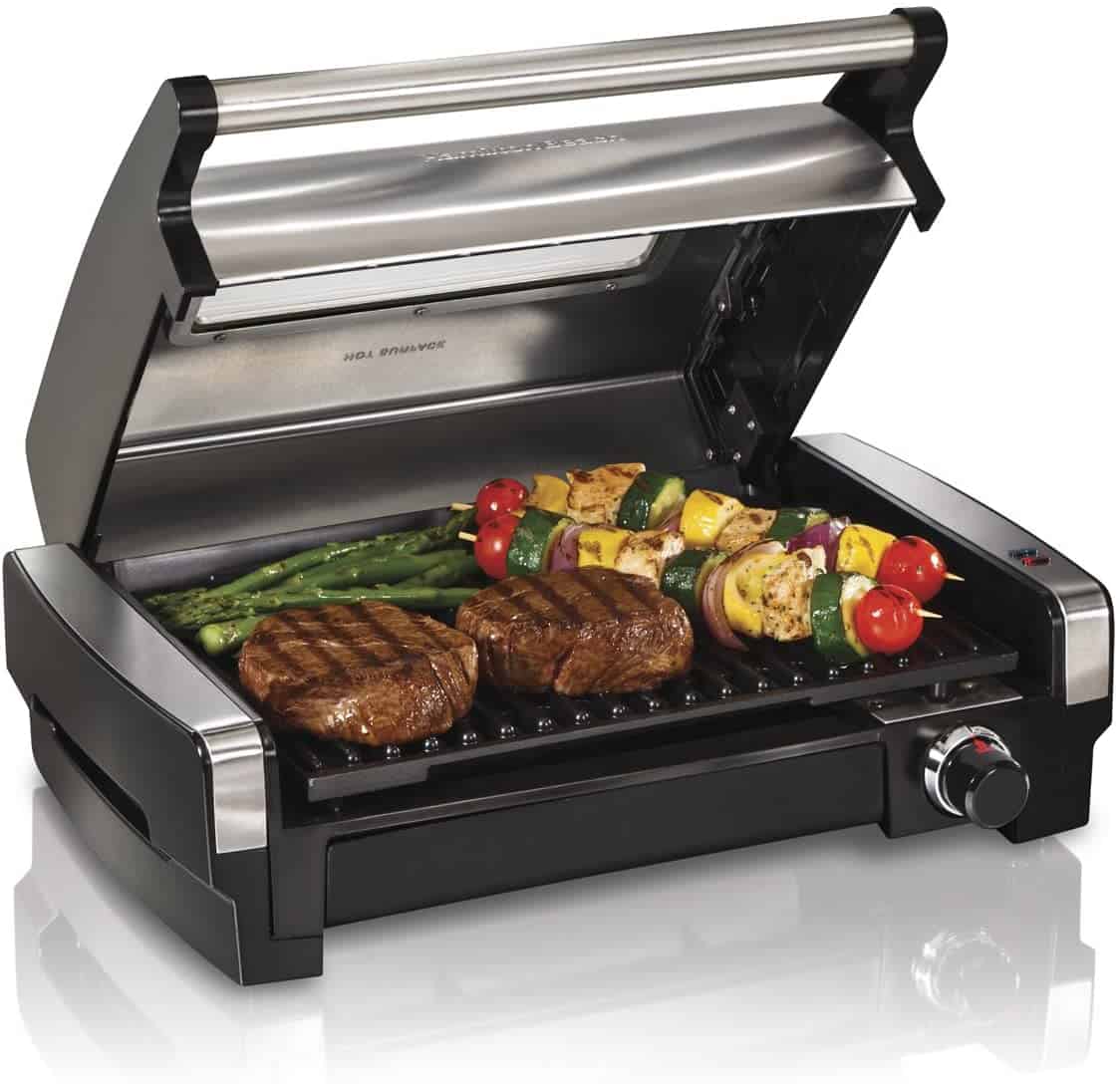 The Hamilton Beach indoor grill is a superb three-in-one grill that works as a regular griddle, a two-sided griddle, or a grill. You can hand wash it or place it in the dishwasher without any problems.
It has separate temperature controls for the different sides, allowing you to cook various items at once on the PFOA-free non-stick surfaces.
The handle is cool, even during operation. Since the surface of Hamilton's indoor grill is non-stick, you can also use it without oil.
The grill's non-stick dual cooking surfaces, are both reversible and removable and offer a total cooking area of around 100 square inches. The griddle and grill surface accommodates up to ten eggs comfortably.
The easy temperature controls are one of this product's biggest selling points. Nothing can stop you from grilling a chicken on one side and light vegetables on the other.
There's also an efficient grease collection system (pull-out drip-tray) to allow for easy clean-up and healthy cooking.
Features
Size: 12.4 x 16.73 x 6.81 inches; 8.14 pounds; 100 square inches of cooking area per side
Surface: A grill surface, a flat griddle space, and a bacon cooker
Accessories: Three different grill surfaces
Temperature: Adjustable temperature control allows for cooking at low or high heat settings
Cleaning: Removable cooking plates & drip tray are dishwasher safe
Using a BBQ Smoker on your Balcony? Watch out for these 10 things
Best 5-in-1 indoor grill: Cuisinart Griddler FIVE GR-5B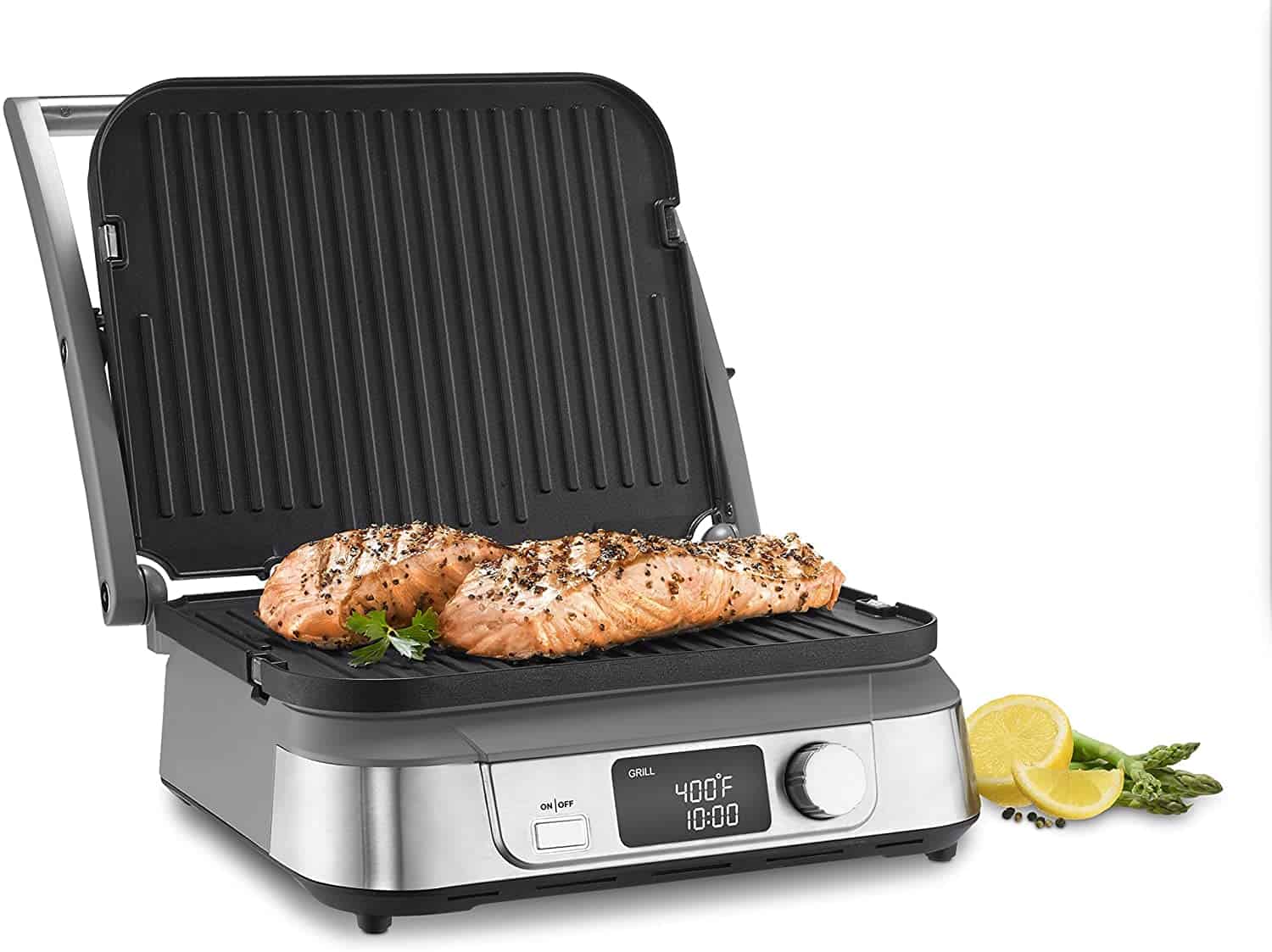 The Cuisinart Griddler FIVE GR-5B is the "Swiss army knife" of indoor grills. It is simple to use and easy to clean, and it's versatile.
It is one of those indoor grills that you can use for just about anything, from cooking pancakes and eggs to grilling steaks and burgers and pressing sandwiches.
The grill comes with two removable and reversible non-stick plates that have both a grilling and a smooth surface. The flip side contains a textured grilling surface.
The Griddler FIVE GR-5B has a user-friendly control panel so that you can grill different items quickly, using the control to regulate the temperature.
It gets its name from its five different applications:
contact grill
panini press
full grill
full griddle
half grill/half griddle
You can also use the Griddler FIVE GR-5B for a full spread of steaks, potatoes, and bacon. While it doesn't open up completely to offer two separate grilling stations, it does offer 5-in-1 cooking options.
Features
Size: 8.75 x 16 x 13.75 inches; 12 pounds; 100 square inches of cooking area on one plate
Surface: Two removable and reversible non-stick plates (grilling + smooth surface)
Accessories: Two different types of grilling surfaces
Temperature: Adjustable temperatures from 175-450 degrees
Cleaning: Drip tray plus removable plates are all dishwasher safe
Healthiest indoor grill: George Foreman 15-Serving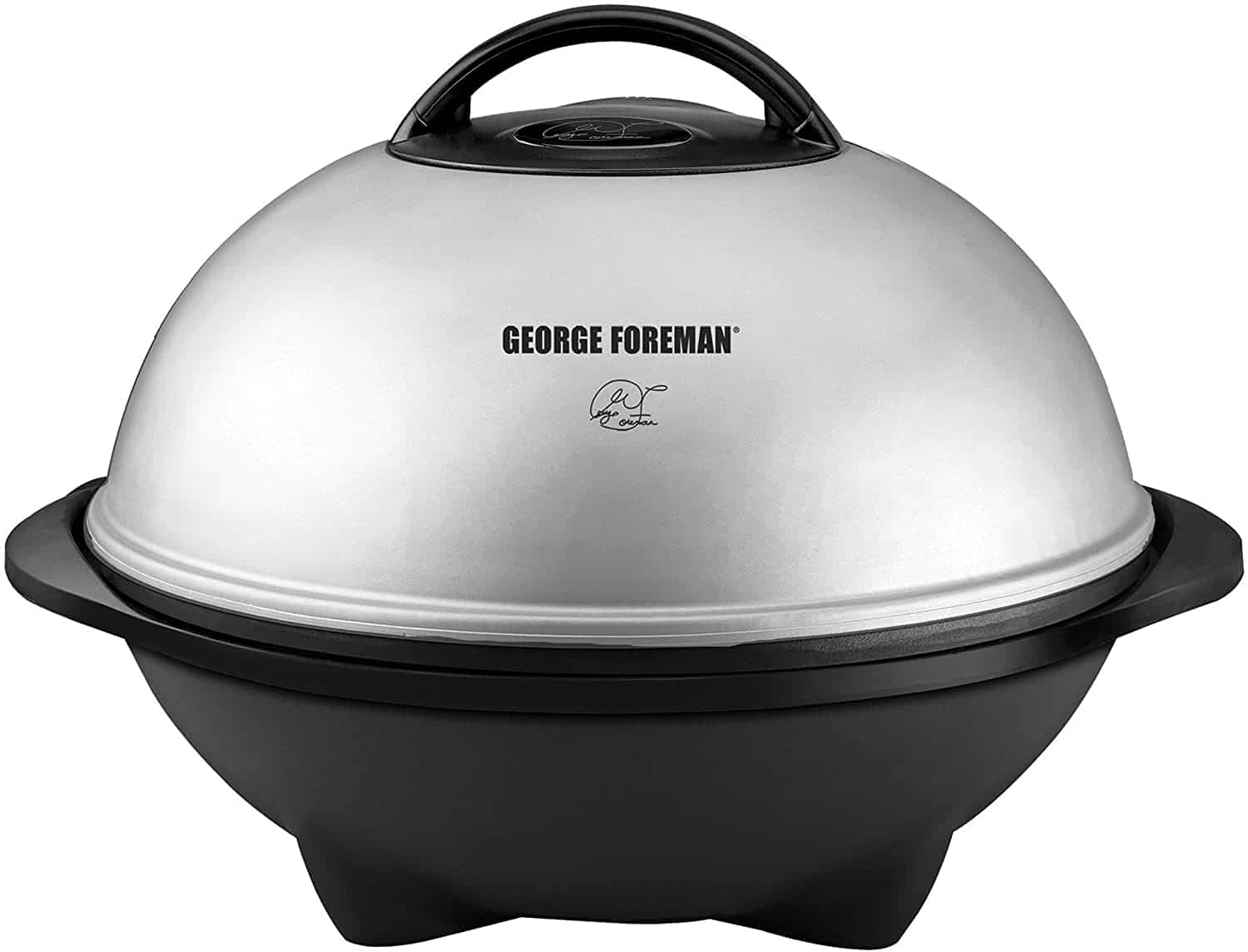 You cannot mention indoor grilling without the George Foreman Grill 15-serving grill entering the conversation. It is a well-built and extremely versatile grill, featuring one hundred square inches of grilling surface.
The grill's proprietary slanted design ensures that all the fat and grease doesn't come anywhere near your food. It takes off almost 42 percent of the fat from your meal effectively.
The handy LED also alerts you to the precise temperature, preheat count down, and cooking time.
The George Foreman 15-serving is equipped with dishwasher-safe plates for easy cleaning and non-stick surfaces so that you don't have to scrub it for hours.
The handles are cool to touch, even when you are grilling on high. The oil drip tray is handy when you are using the electric option and easy to remove and clean.
Features
Size: 22.2 x 20.5 x 13 inches; 21 pounds; around 100 square inches of cooking space
Surface: One type of grilling surface
Accessories: Dishwasher-safe removable plates, removable stand
Temperature: Reviewers love how quickly it heats up
Cleaning: Dishwasher-safe removable plates & efficient grease collection system
Best indoor grill with a flat 'BBQ mode': Breville BGR820XL Smart Grill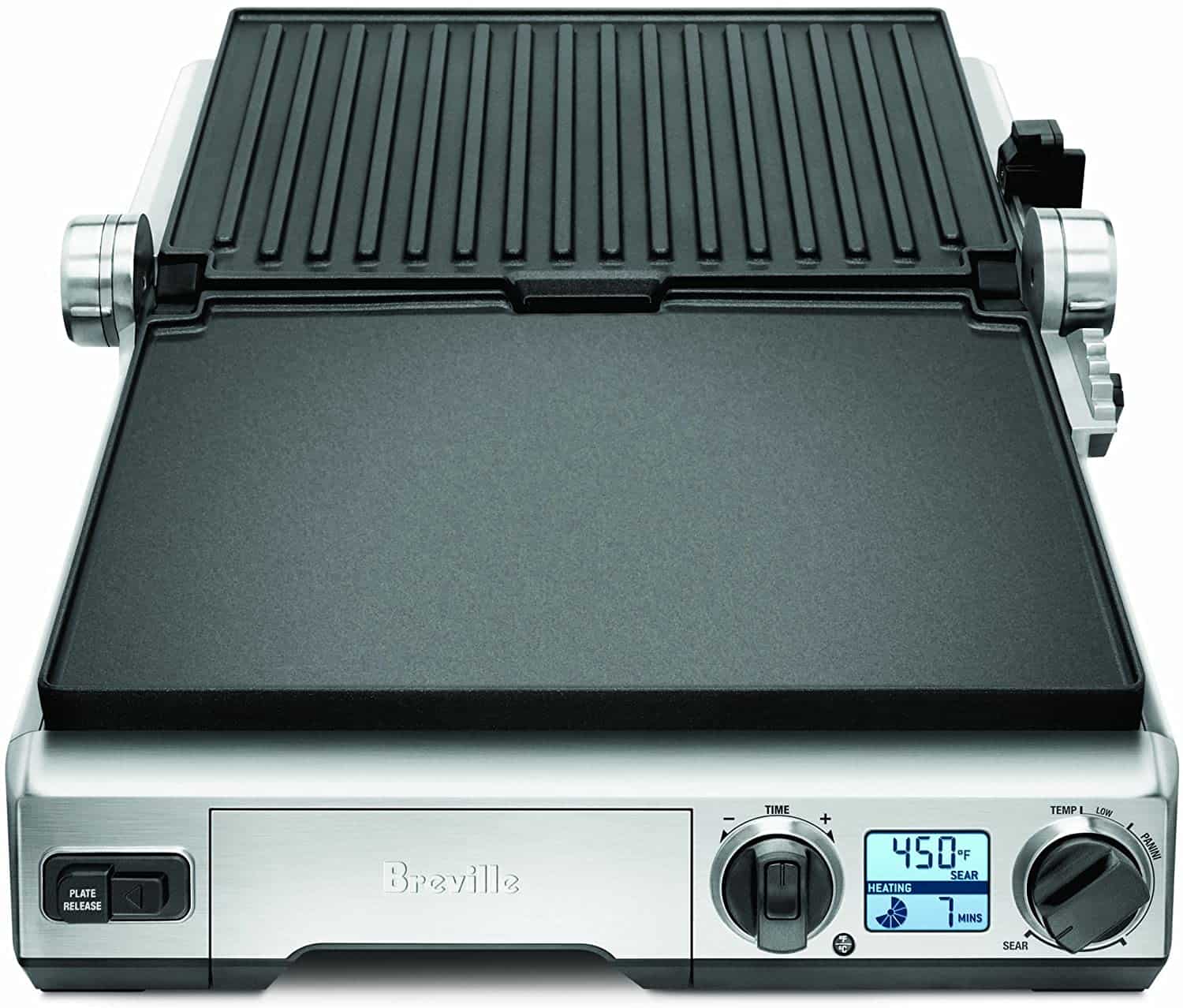 The Breville BGR820XL Smart Grill is amazing for toasting sandwiches and grilling steaks. You can also use it to grill your, burgers, and eggs in an easy-to-use and clean smart grill.
The non-stick surface makes it incredibly easy to clean and reduces the amount of oil you need to cook your food.
The Breville BGR820XL Smart Grill also comes with an accurate thermometer that enables you to grill your meals at the desired temperature.
The closed construction when grilling means it is almost impossible to lose heat, so you will enjoy faster heating and cooking. The juices and oil collect in the tray below, making cleaning fast and simple.
The timer control allows you to move away from your grill. You could relax or do other chores as you wait for the alert to remove your perfectly grilled steak or chicken.
The large grilling surface also allows you to grill everything you need for a delicious breakfast without wasting time.
Features
Size: 16 x 14 x 5 inches 18.96 pounds; around 100 square inches of cooking area per plate
Surface: The flat bottom plate is suitable for eggs and pancakes while the top plate is ribbed to sear meats. Plate positions are interchangeable and can be extended into an opened, flat 'BBQ Mode.'
Accessories: 6 adjustable height settings, Integrated, removable drip tray. Removable, dishwasher-safe plates
Temperature: Dishwasher-safe removable plates, 310- 450F variable temperature control with Low, Panini, and Sear Modes
Cleaning: Removable, dishwasher-safe plates & drip tray allow for easy cleanup
Best high-tech indoor grill: T-fal GC70 OptiGrill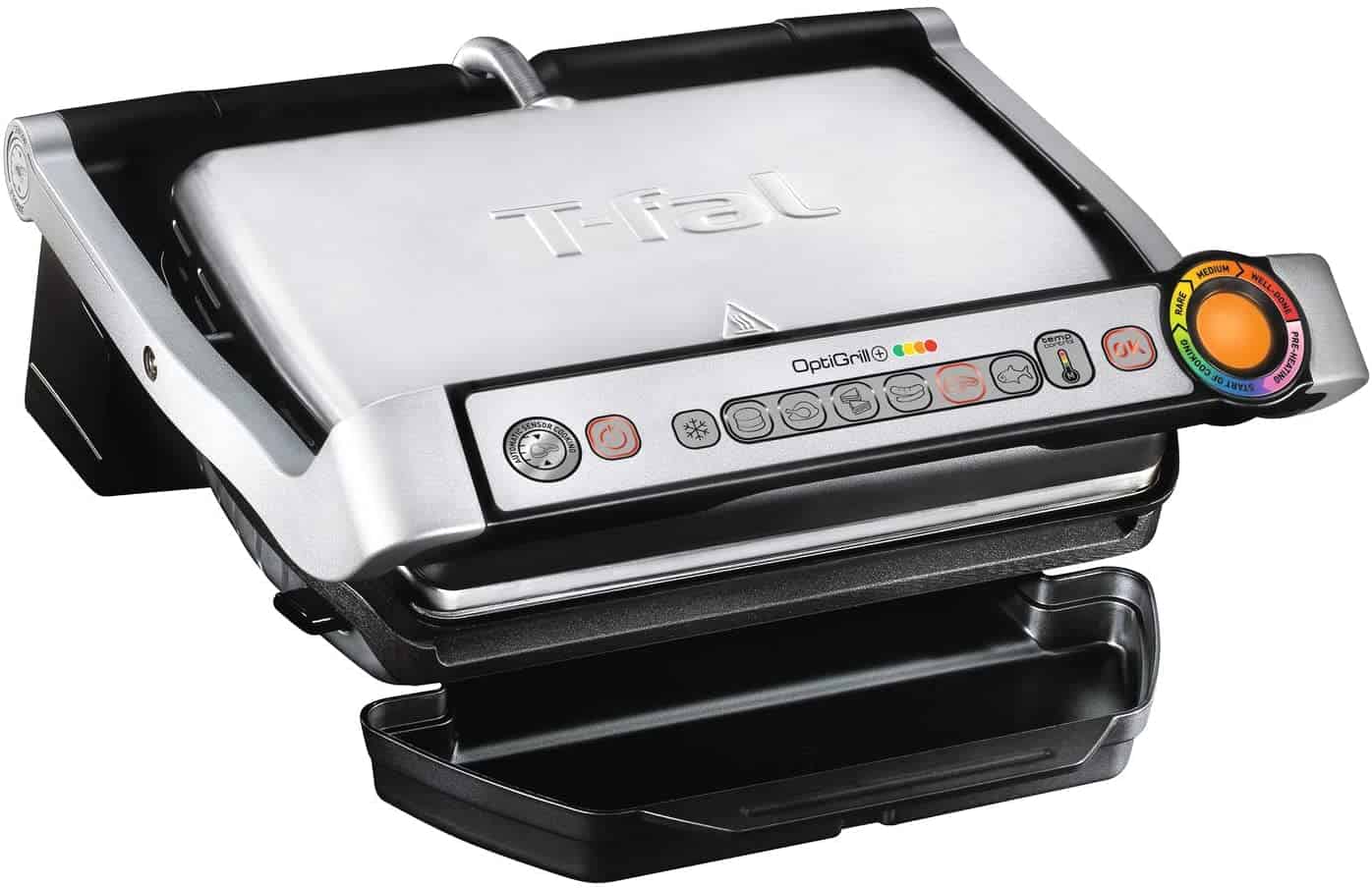 If you're looking for a high-tech grill for your indoor cooking, the T-fal GC70 OptiGrill is the one for you.
It features automatic sensors that can determine the size and amount of food, and adjusts the temperature for even cooking, and programs the ideal cooking time.
The grill also has some handy alerts for when the meat is rare, medium, or well done. Since it comes with cooking modes, you can choose the appropriate one for cooking fish, red meat, burgers, or chicken.
There are also modes for manual cooking and defrosting.
Do you need to cook thicker foods? Use the floating plates for your sandwiches and paninis. On the cooking surface, there is enough space for two or three people to cook comfortably together.
The T-fal GC70 OptiGrill features removable dishwasher-safe floating plates. It is also easy to use and does a fantastic job searing or grilling different types of meat or vegetables.
Features
Size: 14 x 13 x 6 inches; 11.6 pounds; total cooking area around 100 square inches
Surface: One type of grill surface
Accessories: 6 automatic cooking programs, removable nonstick plates that are dishwasher safe
Temperature: This grill can reach high enough temperatures to cook steaks perfectly
Cleaning: Easy cleaning thanks to dishwasher-safe removable plates & grease collection system
FAQs about indoor grills
What's the difference between open and contact grills?
At first glance, an open grill is much bigger, but a contact grill, despite its smaller surface, is generally more effective. An open grill can fit much more food, but cooking takes longer because you need to flip the food.
A contact grill ensures that the food is evenly grilled on both sides, which makes cooking much faster.
The greatest advantage of open grills is the volume of large pieces of food. The greatest advantage of contact grills, on the other hand, is the ability to grill things like sandwiches or panini.
Is indoor grilling more healthy than conventional grilling?
Most indoor grills have built-in systems to collect fats and grease, so your food doesn't get coated in them.
This is a health advantage, but you also need to ensure your sides, sauces, and your drinks are healthy if you want an overall healthy meal!
What are some of the main advantages of indoor grills?
Cooking inside – The greatest advantage is simply the ability to grill while inside. You aren't at the mercy of the weather!
Easy to use – Pretty much everyone can cook a good meal on an indoor grill. You don't have to worry about any other things like airflow control, amount of fuel, etc.
Versatility – Some grills come with additional plates that allow for more versatile cooking. You can cook things like paninis and sandwiches as well as conventional meats.
Takeaway
You don't have to forget about grilling in winter just because you can't go outside. Now that you know all about the benefits of indoor grilling, it's time to choose the one you think would suit your needs best!
Next, check out my review of the best indoor electric & analog smokers (featuring Masterbuilt)
Joost Nusselder, the founder of Lakeside Smokers is a content marketer, dad and loves trying out new food with BBQ Smoking (& Japanese food!) at the heart of his passion, and together with his team he's been creating in-depth blog articles since 2016 to help loyal readers with recipes and cooking tips.