I love creating free content full of tips for my readers, you. I don't accept paid sponsorships, my opinion is my own, but if you find my recommendations helpful and you end up buying something you like through one of my links, I could earn a commission at no extra cost to you.
Learn more
Whether you're a beginner griller, or an experienced pitmaster, one of the things you absolutely cannot live without is a high-quality instant-read thermometer.
Imagine grilling several steaks at once – how can you be sure that every steak is done 'just right'? Especially if guests have asked for different levels of 'done'.
Let's be honest, no amount of guesswork is going to help you here.
An instant-read thermometer makes it possible to quickly read the temperature on the inside of the meat and lets you be sure of the cooking stage you're at.
My favorite choice for the best instant-read thermometer is the ThermoPro TP19, due to its great value for money ratio. It is a sturdy versatile tool that will really up your grilling game, and the one I always recommend to friends. 
There are more options though, and I've put my top three in the handy guide below to help you identify the best instant-read thermometer depending on your situation.
In this post we'll cover:
Tips for buying a new instant-read thermometer
Before we check out my favorite options, let's look at the things to consider when buying an instant-read thermometer.
Budget
The price for a good quality thermometer is varied, based on features, and there's a lot to choose from no matter what budget you have.
If you want to save money, then you need to search for a simple model that offers decent parameters like the Habor 022.
However, if you have a slightly bigger budget, I'd advise looking at the ThermoPro TP19- it's my top pick and one that I always recommend to friends and family.
Reading speed
The best thermometers are built to give you temperature readings in 2–4 seconds. The cheaper ones can take up to 6 seconds.
This can be quite critical in a professional setting – where you want to cook the meat absolutely perfectly.
Accuracy
Most thermometers are pretty accurate these days, a 0.9-degree variation is the norm.
That's pretty decent since you're really looking for a ballpark figure, rather than a super-specific reading, most of the time.
Temperature range
Instant read thermometers are great because they are versatile – as long as you buy one that has a large enough temperature range.
Good thermometers work perfectly when grilling, as well as around the kitchen. They can help you ensure your Thanksgiving turkey is roasted to perfection, and your oil is hot enough for fries.
Features
Think about what you want from your thermometer. There are various features that may or may not be useful to you in your situation.
You can get a budget-friendly thermometer that JUST tells you the temperature of your meat.
If you spend more you can get one that is backlit, has a rotating display, alarm, auto wake and sleep, and other features. The choice is yours (based on your budget and needs).
Warranty
The probe of the instant-read thermometer is the most important part of the product. BUT it is also most prone to malfunction.
For that reason, you should check out the manufacturer's warranty, and only choose trusted brands that have many positive reviews.
Length of probe and handle
This is not about the thermometer being super long, it's about it being just the right length to protect your hands from burns when cooking.
Most thermometer probes are long enough, just be sure to check that you don't get a really short one.
The 3 best instant-read thermometers reviewed
Now, with the above key aspects in mind, let's look at my top three instant-read thermometers for different situations below.
These three options are all really great quality – but their prices differ significantly according to their features. Balance your budget with your needs, and you'll be sure to find the perfect instant-read thermometer for you.
Best overall instant-read thermometer: ThermoPro TP19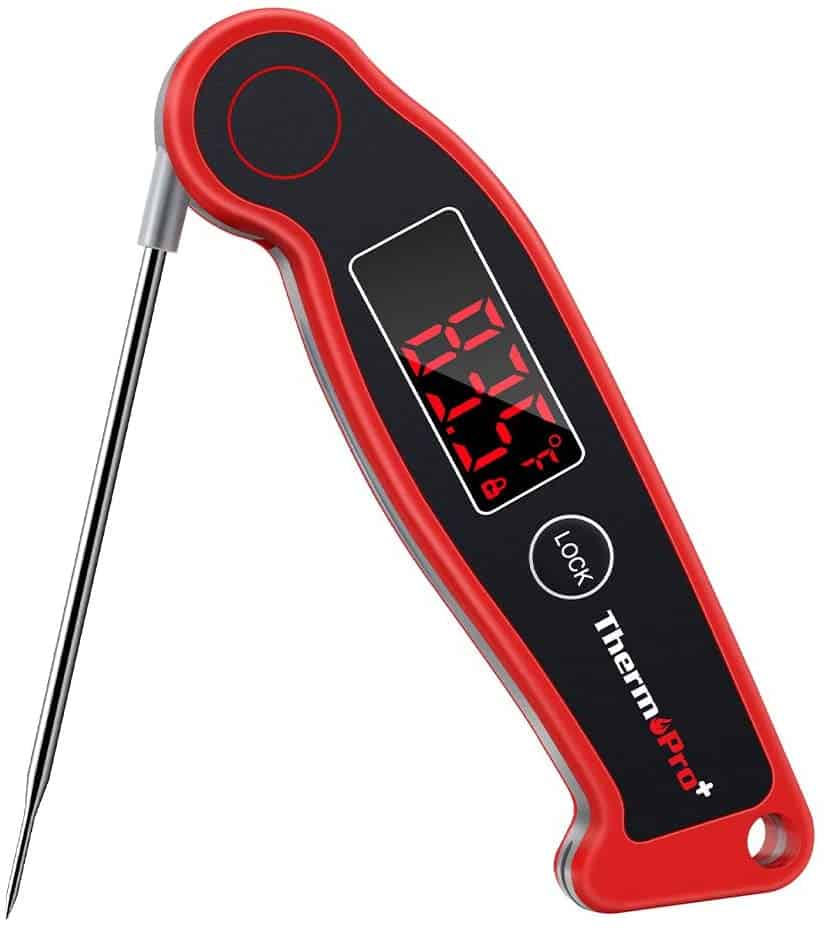 The reason this is the number 1 on my list is that, in my opinion, it's the best quality product with the best features for the best price.
While the Lavatools Javelin Pro below is slightly sturdier in my opinion, this product really offers a lot of bang for your buck.
The temperature reading appears in 2-3 seconds, and the accuracy rate is high. There's also a 3-year warranty and backlit display.
Another thing I like about this product is that it comes with a useful magnet to keep it out of the way when not in use.
Plus, it's waterproof. Its temperature ranges are also fantastic. Check out all the features here:
The ThermoPro TP19 is a magnetic, waterproof instant-read thermometer with good features, and solid parameters and accuracy.
Top considerations
Budget: A very affordable price considering the features. Just a bit less sturdy and durable than the Lavatools Javelin Pro
Reading Speed: Speedy readings within 2-3 seconds, accurate to ±0.9 degrees Fahrenheit
Range: -58°F~572°F (-50°C~300°C)
Features: Backlit ambidextrous display, motion-sensing on/off/sleep/wake, 100% waterproof, and magnet
Warranty: 3-year warranty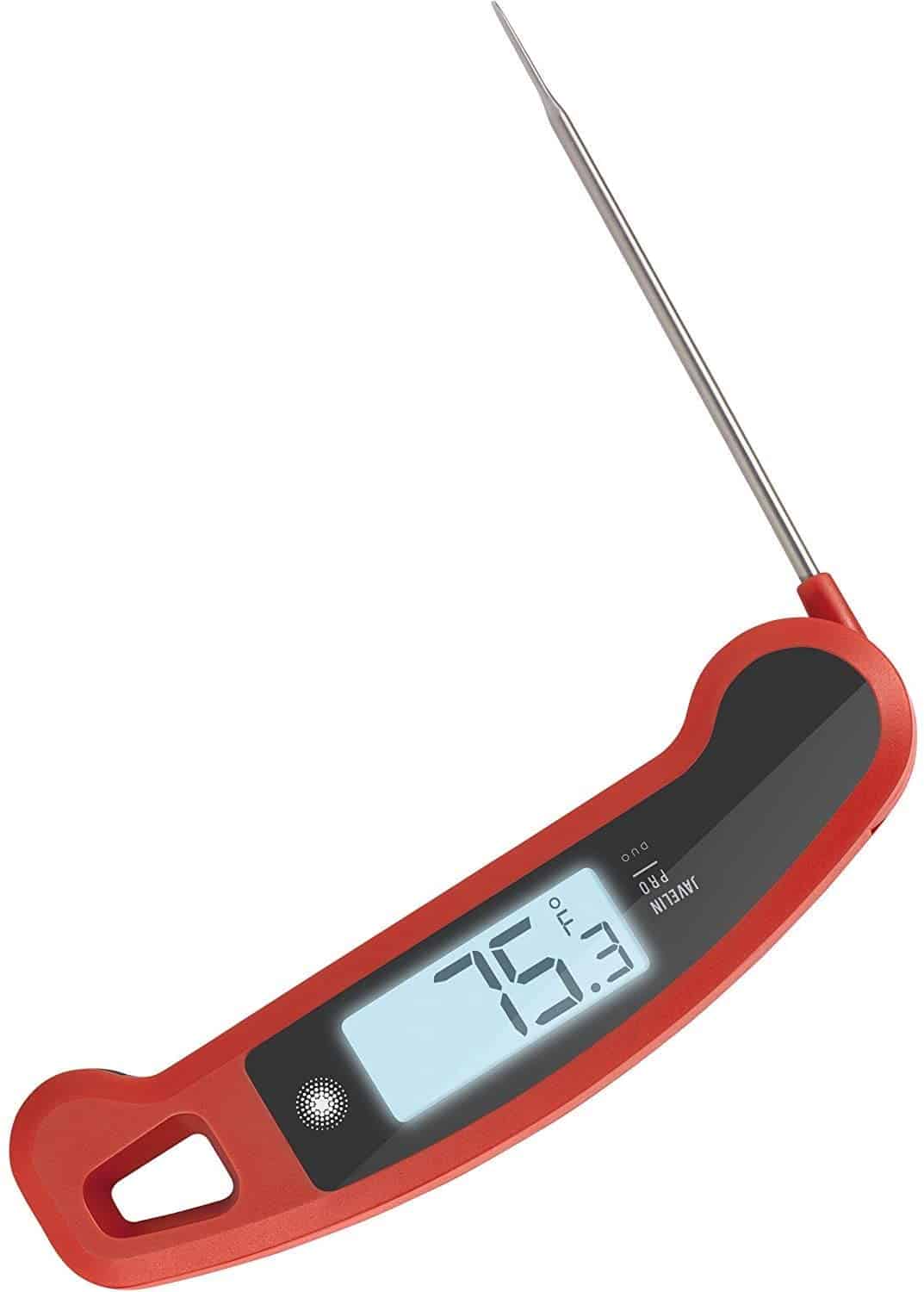 The Lavatools Javelin Pro is one of the sturdiest and best quality instant-read thermometers in my opinion.
It is similar to the ThermoPro TP19 above but comes at a heftier price. However, Lavatools is one of the most renowned manufacturers, and this product has some great features.
The Lavatools Javelin Pro is impressively fast, reading temperatures in just 2-3 seconds with a high level of precision (±0.9°F). These numbers are great for a thermometer at any price point, but for what you're paying, it's one of the best.
The thermometer is large and easy to read, and the probe is long, protecting your hands from being burnt when using it.
It also comes with an auto-rotating ambidextrous backlit display, splash resistance, temperature stabilizing and locking technology, an alarm, a motion-sensing backlight, and auto-sleep and motion-wake mode.
If this model is out of your budget, you may consider the ThermoPro TP19 above.
It comes with slightly more limited parameters and fewer features, which makes it cheaper while maintaining the same high quality of workmanship.
Top considerations
Budget: Coming in at a heftier price than my top pick, this is justified by the quality and the brand name
Reading speed: 1-3 second ultra-fast response time with an accuracy better than ±0.9°F
Range: -40°F~482°F / -40°C~250°C
Features: Large 2″ auto-rotating ambidextrous backlit display and IP65 splash-proof construction. Intelligent stabilization alert and read-out hold function with integrated magnet for convenient storage. NSF certified superior build quality
Warranty: Backed by an industry-leading 3-year limited warranty.
Best budget instant-read thermometer: Habor 022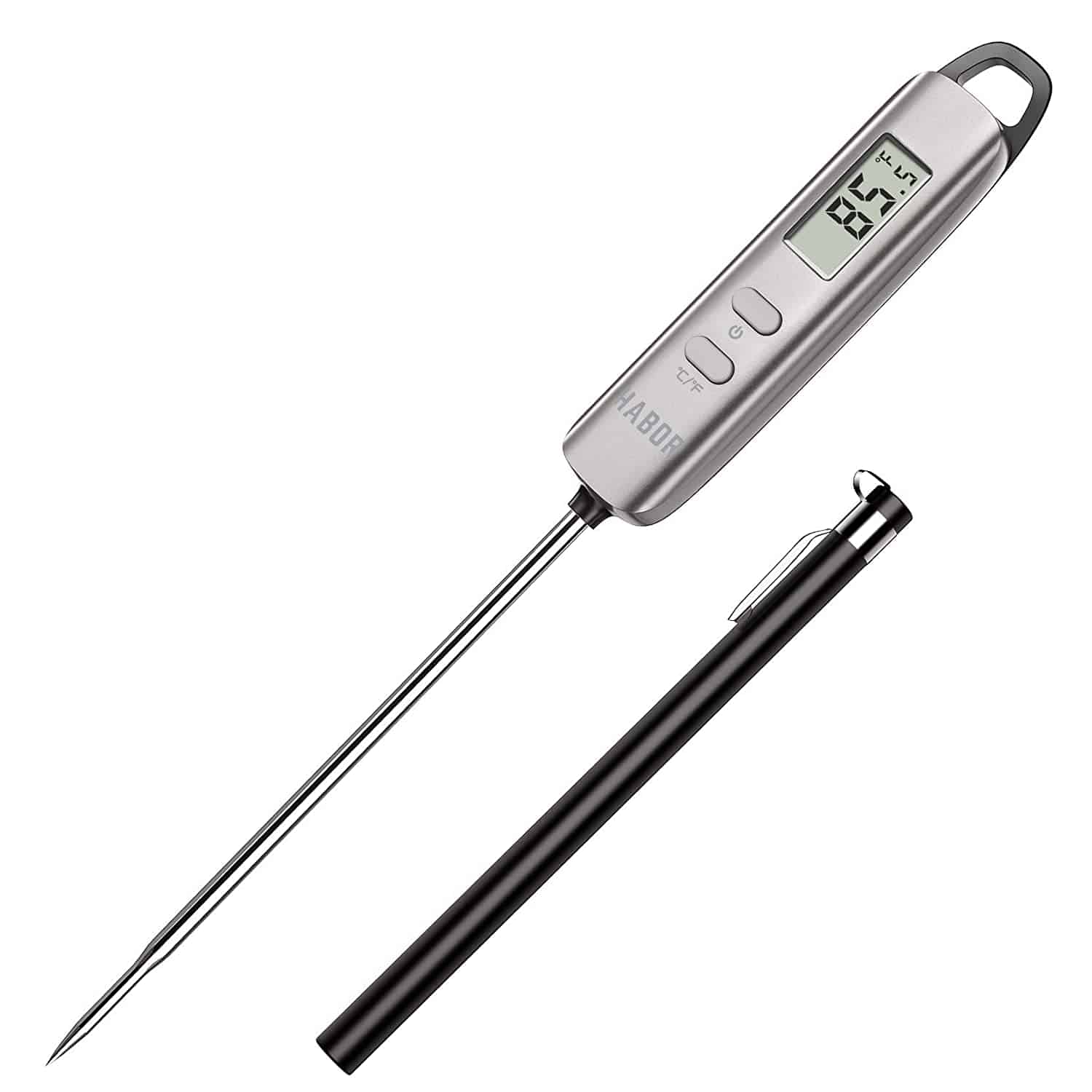 The Habor 022 instant-read thermometer is the cheapest of the bunch by quite some margin. And while that's a perfect option for some, there are some limitations.
What you're getting here is just a thermometer, nothing else. It reads temperatures in 4–6 seconds with an accuracy of 1 degree, making it slower and less accurate than the other two on this list.
One of the best parts of this product is that the probe is 4.7" long, which protects your hands from being burnt when reading the temperature, and it comes with a sheath to store it safely.
There is no backlight and no other special features. But that's what makes this thermometer so affordable.
And if you are someone who just wants to check the temperature of the meat (or other food) you're cooking, then this may actually be your favorite.
It does come with a 45-day money-back guarantee, and a 3-year warranty, which is quite something for the money, too.
Top considerations
Budget: Cheapest instant-read thermometer on my list
Reading Speed: 4-6 seconds response time with an accuracy of ±1℃
Range: -58℉ to 572℉
Features: 4.7" probe
Warranty: The product includes a 45 days money back & 3-year warranty
Instant-read thermometer FAQ's
What's the difference between an instant-read thermometer and a leave-in-probe thermometer?
An instant-read thermometer is a tool that comes with a probe built into the handle. You just stick the probe into the food, wait for a few seconds, and take it out once the temperature reading stabilizes.
With instant-read thermometers, you get speed and accuracy, and the ability to move it from one thing to another seamlessly.
These are mostly used when grilling, but will also come in handy when smoking, or in other cooking chores around the kitchen.
A leave-in probe thermometer, on the other hand, is also used to measure the temperature of food, but the way it works is completely different.
These were designed with smoking and long cooking in mind, and they allow grillers to monitor the temperature inside the meat throughout the entire process.
It also makes it possible to monitor the temperature inside the smoker, depending on where you place the probe.
As you can see, these thermometers do totally different things, and as such, you need to decide which one you need. But as a grill enthusiast, I would say you need both eventually.
I've reviewed the best wireless probe meat thermometers here
How does an instant-read thermometer help me be a better griller?
If you're cooking meat, how can you be sure it has reached the right temperature and is not over- or underdone?
If you use the publicly available BBQ temperature chart for each type of meat, and an instant-read thermometer, you can prepare perfect food by knowing exactly what temperature your meat is at.
The best models of thermometers can read the internal temperature in just 2-3 seconds with remarkably high accuracy – that beats your best guess, hands down.
Still looking for a good grill? These are the Best Gas Grills Under 500
Joost Nusselder, the founder of Lakeside Smokers is a content marketer, dad and loves trying out new food with BBQ Smoking (& Japanese food!) at the heart of his passion, and together with his team he's been creating in-depth blog articles since 2016 to help loyal readers with recipes and cooking tips.