I love creating free content full of tips for my readers, you. I don't accept paid sponsorships, my opinion is my own, but if you find my recommendations helpful and you end up buying something you like through one of my links, I could earn a commission at no extra cost to you.
Learn more
Expert smokers know that the best way to get good flavor is by cooking low and slow. But none of us wants to stand next to the grill for several hours, just to keep an eye on the temperature gauge.
That's what wireless meat thermometers are for.
Every good griller knows a wireless meat thermometer is a 'must have'. But which one should you pick for your particular needs?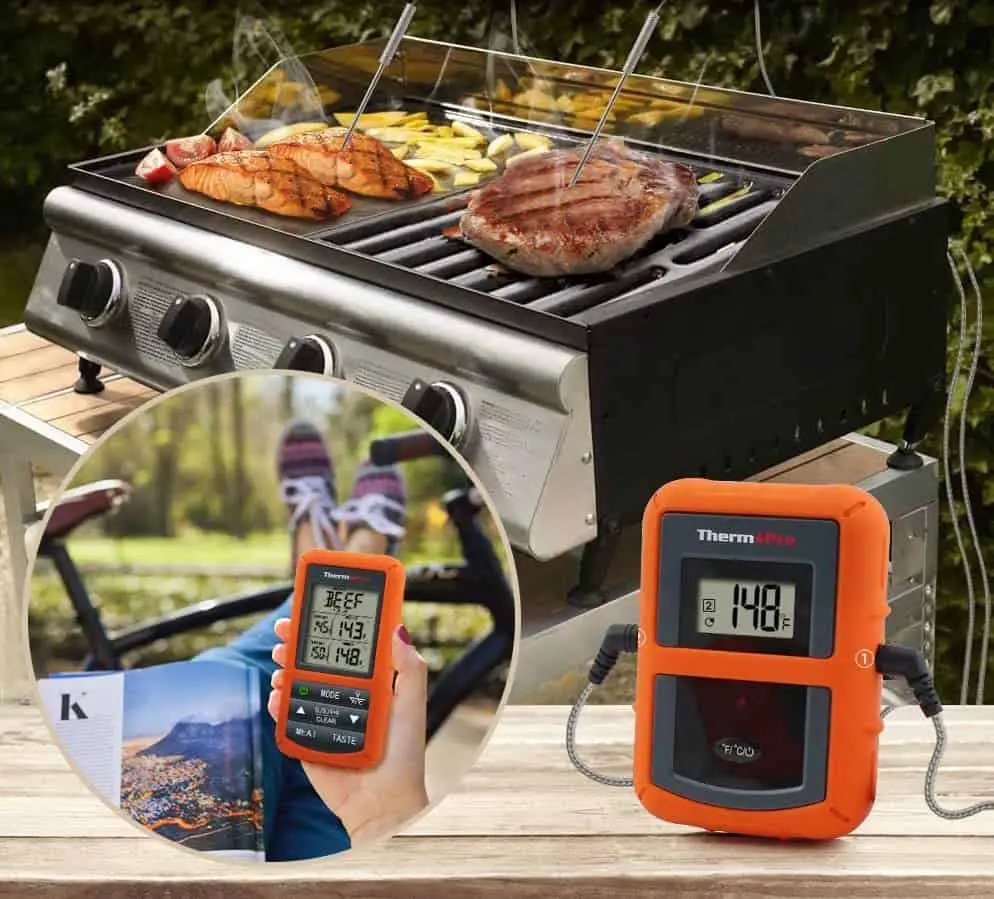 Read on, I've got some helpful hints to share about my personal experiences with wireless meat thermometers, and which ones I'd choose.
There are some key features that are absolute 'must haves' for any good wireless meat thermometer. And then there are some added bonus features that will take your BBQ to the next level.
Besides a reasonable price, my key features on a quality wireless meat thermometer include: accuracy, temperature range, remote range, and number of probes.
If they don't tick these boxes, then they're not going anywhere near my grill or smoker!
By top pick wireless meat thermometer is the ThermoPro TP20. It is a dual probe quality device that will give you constant accurate information about the cooking process. It is easy to use, has a range of 300ft and it will last you a long time due to its durable build. 
There are some other options though, so let's dive into my top 4.
Best wireless meat thermometer
Image
The best overall wireless meat thermometer: ThermoPro TP20

 

Best for beginners

,

and a top pick for pros: Maverick XR-40

 

Most innovative wireless meat thermometer: MEATER+

 

Best Bluetooth leave-in digital meat thermometer: NutriChef Smart

 
Tips for buying a new wireless BBQ thermometer
Whether you're smoking or grilling, the temperature of the meat and the temperature of the inside of the grill are key to a successful meal.
And thankfully, there are some nifty tools to help us pull off the tastiest steaks on the block.
While I've covered most of these tips already, it's important to go over the most important features to check before you invest in a new wireless BBQ thermometer:
Number of probes
Pay attention to the number of probes. Cheaper options usually only have one probe.
If you're using an electric smoker or pellet grill, then you don't really have to worry about the temperature inside the smoker as the grill does it for you.
However, if you want to monitor temperature in two different places at the same time (inside the meat and the smoker) you're going to need at least two probes or the Meater+ .
Readout accuracy
Read the reviews and make sure the wireless meat thermometer has a good reputation for temperature accuracy. It may not be an instant-read thermometer, being a real-time temperature monitoring device instead.
A difference of several degrees inside the grill doesn't make much difference, but it does make a big difference when you're measuring the temperature of meat!
Temperature range
Do you smoke or grill at high temperatures? Smoking usually takes longer than grilling, and you'll need to maintain fairly consistent temperatures throughout.
For some foods, a really high temperature is needed, while for others, a lower one is preferred.
Make sure that the product you're interested in is accurate at lower and higher temperatures, and has a fairly wide range.
Remote range
There's no point in having a wireless meat thermometer if you can only stand a few feet away from the grill for the monitor to receive the data.
A fairly average remote range is around 200 feet. This should mean that you're able to socialize, do other chores, and prepare other food in the kitchen while your meat is cooking.
Features
Each wireless meat thermometer comes with its own features. These could include preprogrammed settings, a backlit display, different kinds of alarms, different handles, and other innovations to increase convenience.
If you have a limited budget, avoid "crazy" features and gadgets.
Resistance to splashes
Accidents happen! And meat can 'spit' when it hits high temperatures, which makes it a good thing if the thermometer you're interested in is resistant to splashes.
Why do you need a wireless meat thermometer?
Well if I haven't already convinced you about the benefits, let me highlight some of the main reasons you should never be without a wireless meat thermometer:
You can check on the progress of your meat and the temperature of the grill without having to be right there! You don't have to stand next to the smoker and watch everything all that time. You can focus on something else and leave the temperature control to the thermometer.
If you've programmed your wireless thermometer accurately, the only thing you need to worry about is the timer
No one has time to watch paint dry. Or to watch the process of meat smoking, or grilling a chicken. A wireless meat thermometer will save you time while at the same time ensuring a delicious result.
The 3 best wireless meat thermometers reviewed
Please! Don't just go out there and buy the first wireless meat thermometer you see.
Just like picking out the perfect steak, and the most succulent chicken, choosing your wireless meat thermometer takes time and consideration.
I am a huge fan of smoking – from meat to cheese to anything in between! So, over the years I've tested a number of wireless meat thermometers.
Let's have a look at my favorites more in-depth to help you find what you are looking for.
The best overall wireless meat thermometer: ThermoPro TP20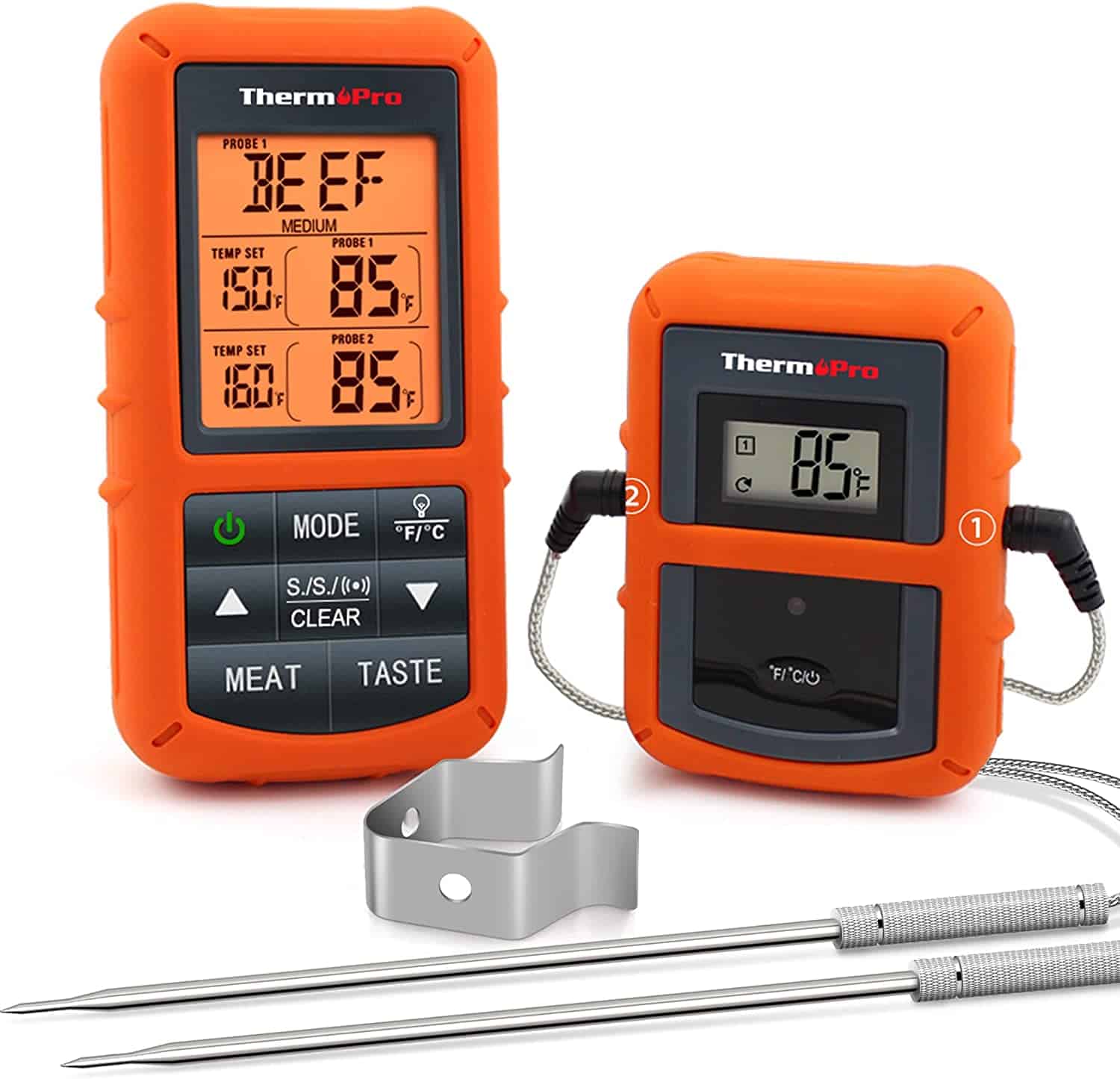 This is my number one pick on the market for wireless meat thermometers. I love that it's already synced up, so you don't need to fiddle around with Wi-Fi or Bluetooth. You can start using it right away.
The ThermoPro TP 20 comes with a receiver that allows you to monitor the temperature from as far away as 300 feet.
This means you can be in the middle of all the action with your friends, while your BBQ and smoker are safely being monitored outside.
The accuracy on this device is impressive. It gives a readout accuracy of up to 1.8 F.
I also like the two probes – which are fairly long, and come with a manufacturer's warranty in the event of any problems.
So if you think the readouts are inaccurate, or there's an issue with your probes, ThermoPro will send you new probes free of charge.
Many of the reviews mention this fact as one of the biggest positives about this product.
See ThermoPro proudly introduce their product themselves:
I also like the fact that the wireless meat thermometer comes with preset temperatures for 9 types of meat, and their various" doneness" levels recommended by USDA.
You can make a salad, watch the game, check on the kids, and participate in conversation with your buddies while your meat is taken care of on the grill. The only time you'll need to check on it is when the timer goes off.
The receiver is resistant to splashes, and it features a large, readable display with a backlight feature.
One of the main reasons the ThermoPro TP 20 is at the very top of my list of recommendations is that it comes in at such an affordable price point.
This is something I often buy as a gift for friends and family, as it is of great quality at a great price.
If your budget is quite stretched, I would recommend the slightly cheaper version ThermoPro TP-08S, which mostly differs in that the model TP20 comes with temperature presets.
Pros
Probes – Two durable and accurate probes: Grilling thermometer features food grade stainless steel probe with step-down tip design to get temperature more precisely and quickly
Accuracy – Readout accuracy of up to 1.8 F.
Temperature range – Probe wires can withstand up to 716Fahrenheit
Remote range – Up to 300 feet away
Splash resistance – Splash proof receiver
Best wireless meat thermometer for beginners, and a top pick for pros: Maverick XR-40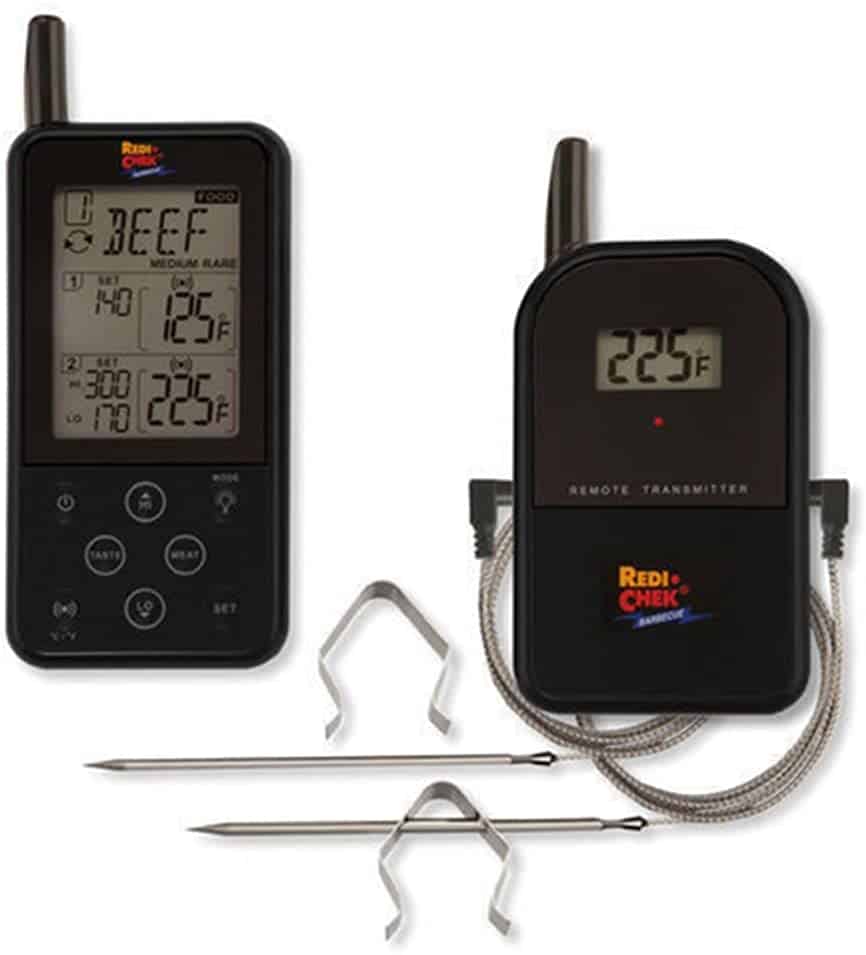 The Maverick is a well-known brand in the BBQ world, and for good reason.
I really enjoy using this wireless meat thermometer, and it is a fantastic buy for beginner smokers and grillers as well as the pros. I've heard many professional grillers swear by this item!
Watch no other than Steve Raichlen use it to prepare the perfect Pork Loin Reuben:
The large probes, accurate temperatures, and clear screen display are key features of this product. PLUS, of course, the extended range.
You could take a stroll down the block, and still be in range for this wireless meat thermometer as it features a range distance of up to 500 feet!
It comes with pre-programmed temperatures for many different types of meat as well as different levels of being done. The transmitter comes with a big and readable display that shows the alarms set.
The receiver is slightly smaller and displays the current temperature and alarms when the meat temperature is reached (it blinks and has audio signals).
You can use the two probes for different purposes. One can monitor the heat inside the grill while the other accurately tracks the temperature of the meat.
One of the main 'downsides' to this product is the very limited warranty. It is only valid for 90 days.
A huge decrease if you consider that the ThermoPro above offers a one-year warranty, with the option to extend it to three years for free!
Pros
Probes – Receive temperature readings using the included 2 meat probes
Accuracy – According to reviews, accuracy is great for both interior meat temperatures as well as exterior cooking temps
Temperature range – 32 F to 572 F
Remote range – Up to 500 ft
Cons
Splash resistance – It does not come with a splashproof cover
Warranty – Very limited, only 90 days
Most innovative wireless meat thermometer: MEATER+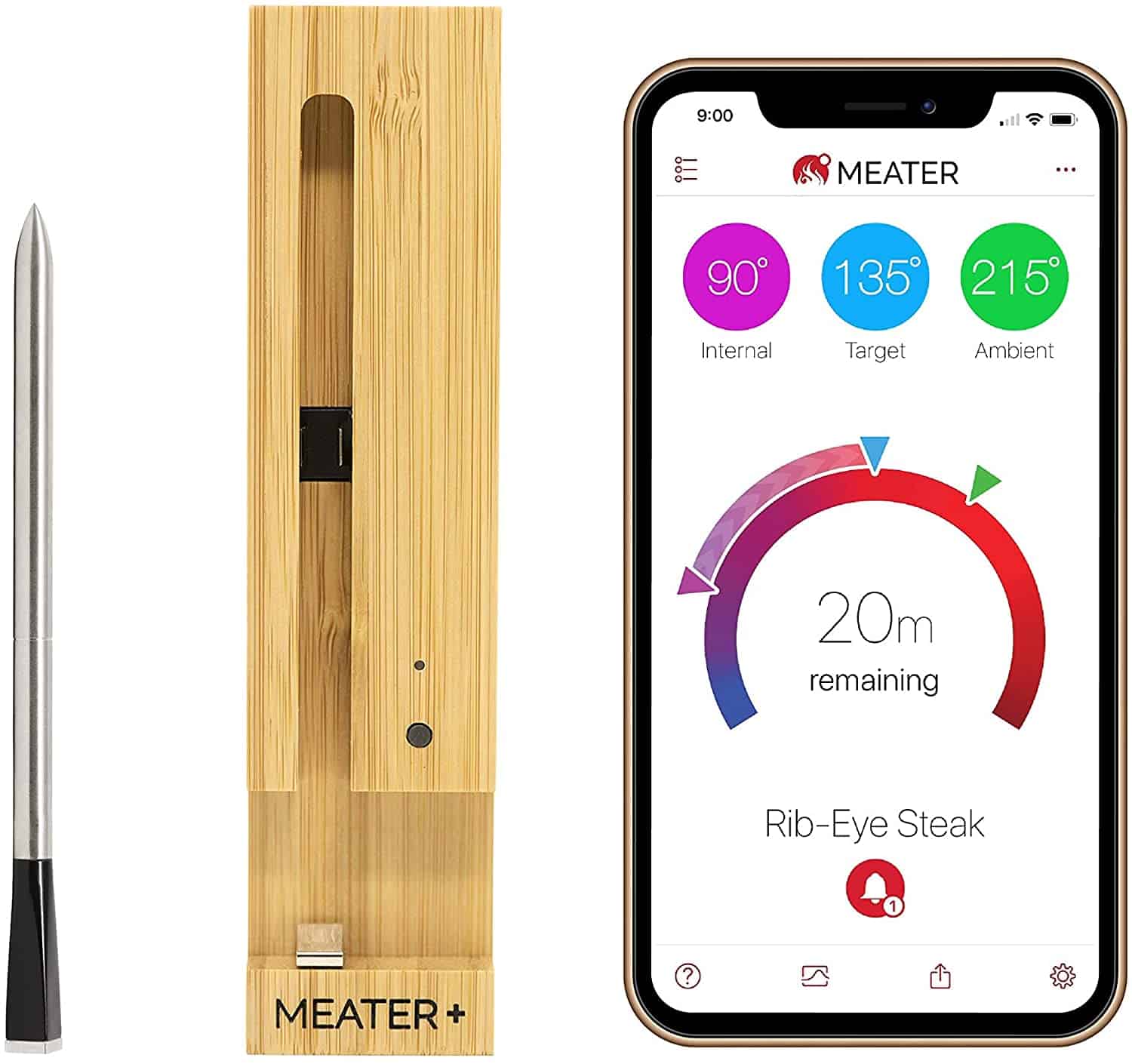 This is one of very few 100% completely wireless meat thermometers on the market. Everything is built into the probe!
There's no need for two probes, as the Meater+ can accurately monitor both the meat temperature as well as the temperature around it.
The probe is then paired with any of your personal devices such as a cellphone or tablet. You monitor your meat through the dedicated Meater+ app via Wi-Fi or Bluetooth.
See how it works here:
I love the innovation in this product. While some may be skeptical about its accuracy or quality, I can vouch for the fact that it is a truly solid, durable design.
One downside to this product is the range. It is only up to 160 feet. It is also on the pricey side. However, I believe this product will continue to make a great impact on the BBQ market.
The app is pretty sophisticated compared to competitive models.
Pros
Probes – Dual temperature sensors can monitor internal meat temperature up to 212°F and ambient / external temperature up to 527°F simultaneously
Accuracy – According to the reviews, as long as you are close enough to the device, you will receive accurate temperature readings
Temperature range – The probe can sustain a maximum internal temperature up to 212 degrees Fahrenheit and a maximum ambient temperature of 527 degrees Fahrenheit.
Cons
Remote range – Up to 160 feet
Splash resistance – Because the probe connects to your own device as the 'monitor' there aren't any splash-proof covers provided
Check prices and availability here
Best Bluetooth leave-in digital meat thermometer: NutriChef Smart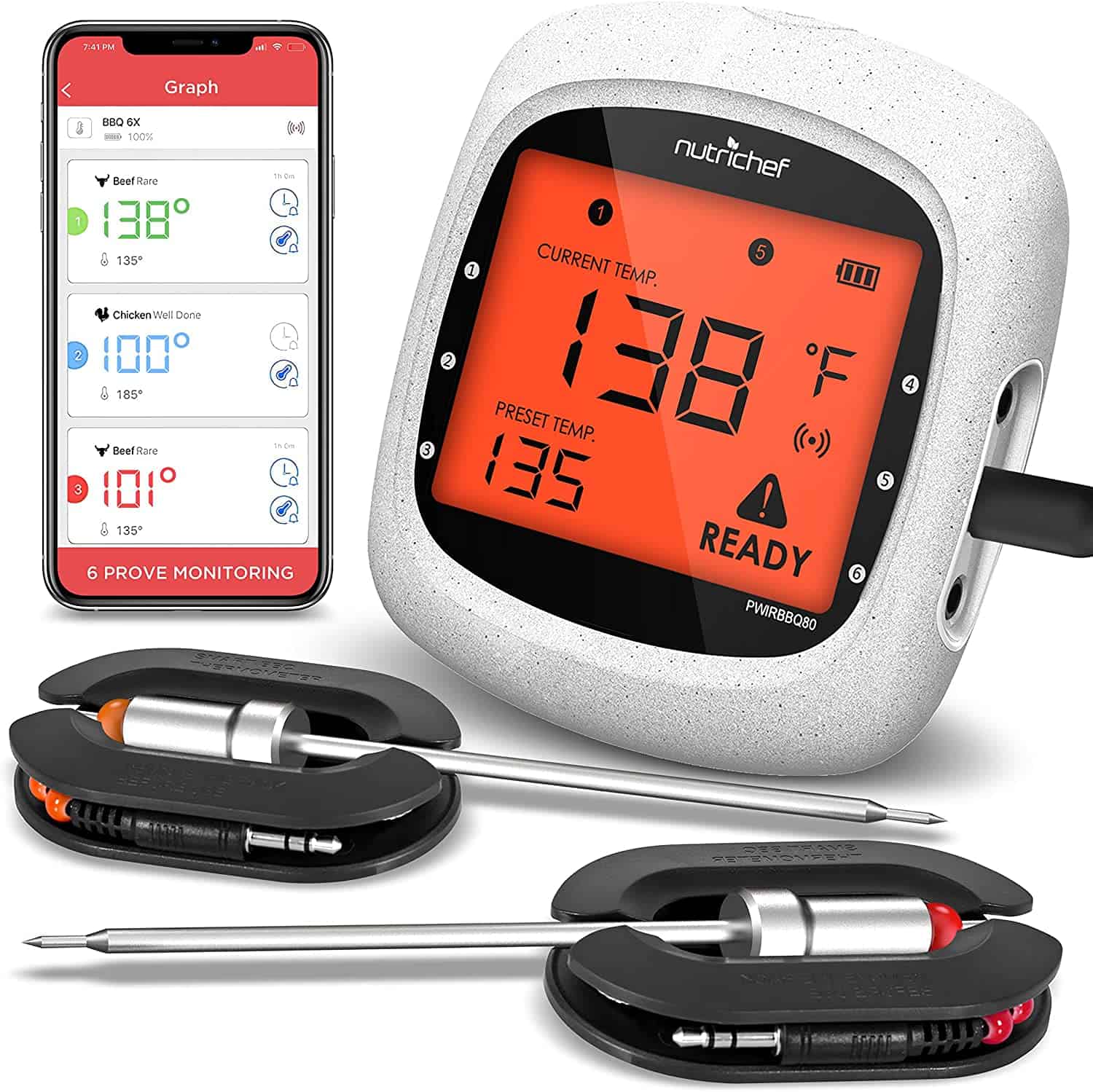 The NutriChef Smart Bluetooth BBQ Grill Thermometer is one of a new range of thermometers that includes a Bluetooth function. It turns your phone into a receiver once you've downloaded a custom application.
This is a really useful feature since most of us have our phones with us all the time. The only thing you need to do is ensure you stay within Bluetooth range – otherwise, you will lose connection.
The NutriChef comes with two probes but can work with up to six (you can buy the extra ones separately), making it particularly useful for monitoring a lot of meat as well as the temperature inside the smoker.
The phone app and colored cables on the probes line up to make it very clear which probe is measuring what temperature.
All in all, a great piece of kit, for an amazing price.
Pros
Budget: One of the best-priced options for a Bluetooth digital meat thermometer
Accuracy: Reviews of the product state that it's highly accurate. The Bluetooth range is 200 ft outdoors and 100 ft indoors
Speed: This is a leave-in thermometer
Features: Large electric backlit LCD display, comes shipped with 2 probes but add up to 4 more, 'done' smartphone alarm,
Thermometer type: Bluetooth wireless digital leave-in thermometer
Temperature range: Up to 482 F
Warranty: 1-year limited warranty
Bluetooth vs Wi-Fi wireless BBQ thermometers explained
While Bluetooth and Wi-Fi do operate at the same frequency, it's the connection with the receiver that makes all the difference.
In a Bluetooth thermometer, the receiver is a device equipped with a dedicated app and Bluetooth connectivity.
After connecting to your phone or tablet, you can monitor the temperature and use all the available features via a dedicated app.
An advantage of Bluetooth is the ability to easily connect to every phone.
The downside, however, is that Bluetooth has a much poorer signal Wi-Fi and can be impacted by physical obstacles such as thick walls of a house, trees, and other structures that are in between the probes and the monitor.
Maintaining a Bluetooth connection can also drain your battery pretty fast.
Wi-Fi is characterized by much more effective signal strength and range. It makes it possible to connect to the home network, which gives greater signal range for the receiver.
Wi-Fi thermometers usually include a functional transmitter and a smaller receiver. I believe this is a much better solution due to range parameters and receiver battery capacity.
You don't need any phone or app, all you need is the simple receiver included.
Personally, I recommend Wi-Fi if you really want remote, problem-free temperature monitoring. Bluetooth sadly often has problems with connecting, or even with the phone app.
Now that you know all about the top three best wireless meat thermometers on the market, you can make your purchase, and fire up the grill!
Also read: Will adding fire bricks to my smoker help it to maintain a consistent temperature?
Joost Nusselder, the founder of Lakeside Smokers is a content marketer, dad and loves trying out new food with BBQ Smoking (& Japanese food!) at the heart of his passion, and together with his team he's been creating in-depth blog articles since 2016 to help loyal readers with recipes and cooking tips.