I love creating free content full of tips for my readers, you. I don't accept paid sponsorships, my opinion is my own, but if you find my recommendations helpful and you end up buying something you like through one of my links, I could earn a commission at no extra cost to you.
Learn more
Nowadays, finding a good quality best gas grills under 500 budget is about as easy as finding a needle in a haystack.
There are so many different brands, models and features to choose from that the whole process can get confusing.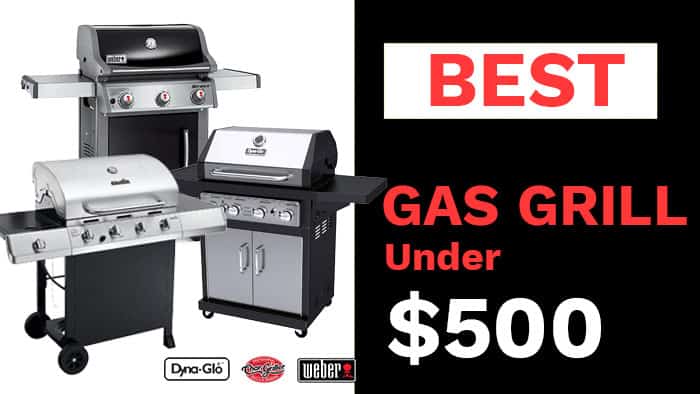 Some of the biggest brands in the business include Char-Boil , Broil-King or High-end grill options like these etc. However, brand name doesn't tell you much about the brand or what the machine does if you don't know what to look for.
There are also different store brands to choose from, which differ in quality and make.
Nevertheless, most gas grills are either Made in China or North America and are covered by a 5 to 10-year warranty. The first recommendation we can make is to opt for a reputable brand name instead of a store brand. Well-known brands offer better support and their grills are generally easier to maintain.
What to Look for in a Gas Grills Under 500
When it comes to gas grills that cost $500 and below, it's best to stay away from anything that's made of stainless steel. That's because the type of stainless steel used is usually of a low grade or quality. Not only does it rust and discolor easily, but it will be a nightmare to maintain. All in all, it will deteriorate quickly and look so gross that you'll want to throw it out in a relatively short amount of time.
Also, $500 gas grills are often larger than their expensive counterparts, which can be a problem for someone that's working with a small space. But there are smaller models with dimensions of 300 to 350 square inches that will make your life easier. These usually come with 28,000 to 36,000 BTU and about 3 or 4 burners depending on your preferences and needs. If you like you can even get a model with a side burner so you can cater to more people.
Some grills even feature rear mounted rotisserie burners for those who enjoy rotisserie style cooking. But beware of the quality because the ceramic type burners are prone to breaking, which is why we recommend getting a standard gas port burner rotisserie instead. The moral of the story when it comes to gas grills is to purchase a simple model that comes with the features you need. Don't waste money on extra burners, stainless steel construction or other features that you don't need.
If you're shopping online, be sure to pay attention to the product description and the features mentioned. For those shopping in physical store outlets, it's important to get a good look at the grill and even remove some of the parts to see how it's built on the inside. Be sure to carry a magnet so you can test to see if it's stainless steel or not. If it's made from low-grade stainless steel the magnet will stick on and it will feel lightweight. It's best to stay far away from such grills and only buy 304 heavy-duty stainless steel.
Tips for buying a new grill under $500
Remember that you can't expect miracles at this price range. Of course you can buy a decent gas grill for this kind of money but it won't be the best option on the market. Below I share the most crucial things to expect from a gas grill for up to $500.
Size – Think carefully how much you cook so that you can pick the right size of the grill. If you cook for a small family or even for just 1-2 people, the most basic small two-burner grill will be enough for you. If you cook in bigger quantities and more often, however, it will be more convenient to have a bigger, at least three-burner grill.
Number of burners – The minimum amount for a full-sized gas grill is two burners. Personally, I prefer at least three, to me it's the universal number no matter if I cook for myself and my wife or for a group of several people. On top of that, having as many as 3 independently controlled burners allows to create three different heat zones.
Features – Gadgets and different accessories are very nice, but you have to keep in mind that they have a huge impact on price. You actually don't need them to prepare great food. I suggest you go for the simplest yet solid and durable grill, especially if you have a limited budget. A perfect example is the fairly simple feature-wise yet certainly solid Spirit II series from Weber.
Type of fuel – If you have an active natural gas line and cook a whole lot, then it's a good idea to consider buying a grill in the natural gas version. Such option mostly covers the more expensive models which is why I only recommend it to those who cook a lot. Before making the choice, learn about the differences between propane and natural gas (more on that below).
Mobility – You need a grill to go camping with? For an apartment or simply don't have much room in your backyard. At a price below 500 dollars you can buy really great portable gas grills.
Warranty and customer service – Pay attention to what is covered by the warranty and for what time period, then compare it with other brands at a similar price range. There are brands on the market that have been around for a very long time so there's no worry that a company will suddenly go bankrupt and you will be left without help in the event of any problems. Another very important thing is the approach to the customer, and it's pretty common that after you buy the grill it's hard to get in touch in any way in the event of malfunction.
Propane vs natural gas
Plenty of manufacturers offer gas grills in two versions, propane or natural gas.
Don't know which version to choose?
Natural gas is great if you cook a whole lot but it requires installing a gas line at the start. It's an option for those who need a bigger stationary grill in their backyard. If you are already hooked to a line then it's another reason to consider that option. You don't need to worry about refilling the tank and in a longer run it's a more cost-effective option.
Propane, on the other hand, stands out with its mobility, the places where you have a tank are the places where you can cook. A good option if you need a mobile grill and move the grill around a lot. Personally, I believe that if you don't cook a lot or you have up to three burners in your grill, propane is a better solution. In such cases, the consumption isn't that high and you don't have to refill the tank too often.
What to Expect from a Gas Grills Under 500
A $500 grill should provide you with a nice even heat that parallels that of a high-quality model. It should have enough features to allow for versatile cooking and solid construction that will last you for at least five years. With proper maintenance, you can stretch the lifespan of your gas grill to reach 10 years.
It's advisable to register your grill as soon as you get it so that you can take advantage of the warranty that it comes with. The good news is that most companies are more than willing to honor the warranty that they offer with the product. They'll replace failed parts and even repair it if any malfunction happens due to factory issues. Be sure to check reviews and find out what the brand's customer support is like. At $500 you should be able to get decent customer support for your gas grill otherwise you should take your money elsewhere.
How to Take Care of a Gas Grill
Oftentimes, the burners and ignites are the first to experience damage out of all the components in a gas grill. Luckily, a broken igniter is easy to fix as all you have to do is light it up using a lighter with a long nozzle. The key to keeping your burners in good condition for longer is to clean them regularly. This will help prevent the build-up of gunk over time, and all you have to do is brush off any dirt that you see on the burner with a soft brush and mild detergent. It's also important to clean the ventilation holes located along the burner so that there are no obstructions.
Another great tip that you can try out involves applying a coat of cooking oil on the burners to protect them from rusting over time. The added advantage of this trick is that it forces you to clean the grill regularly to get rid of the melted oil after cooking. Practicing these simple tips can significantly extend the lifespan of your grill.
Best Gas Grills under 500 reviewed
Now that you know what to look for when shopping for a gas grill you can take the next step and start shopping around for one. Perhaps the most important thing to keep in mind while you're shopping is the different colors that are available, the size of the grill as it relates to your space, its cooking area size, and features.
Luckily, we did some legwork for you and found the top 10 best gas grill under 500 on the market.
(view more images)
Don't let the low price of this Char-Broil gas grill fool you. It's a decent well-made model with just the right features.
Not only is it made from high-grade stainless steel, but this model is durable and lasts for a long time. Users report that the components can last for up to 5 years without needing any repairs. Even after that, the only thing that requires repairs is the starter ignition.
You can cook up to 14 burgers on this grill thanks to its big cooking surface. It also features an adjustable control valve which allows you to cook a variety of meats at the same time.
This is in addition to the side shelves, side burner and warming rack which are also included. You'll love the cast iron cooking grates which are covered in a porcelain coat.
All in all, this gas grill comes equipped with everything you need to start grilling. The only thing you'll have to buy is a propane tank and you're good to go. It's one of the best Amazon gas grills around.
A great option for a bigger family with a very limited budget. Four burners plus 425 square inches of the main cooking area will meet the expectations of most people.
Char-Broil Performance Stainless Steel is a very simple grill for those less demanding. It offers a lot of space, as many as four burners, the basic essential features and an affordable price.
It is among easy options in terms of assembly due to its fairly simple construction.
In terms of quality, you get what you pay for, so in simplest words – it is sadly not a high quality grill to last for very long. Still, for that kind of money I have to admit that the quality of workmanship and materials are good for this price range.
I certainly like its visuals, especially the lid made of stainless steel.
A surprise to me is the side burner, gadgets of this type are usually only present in much more expensive grills. I give it thumbs up for pretty big side shelves that provide a lot of work space.
Char-Broil's offer mostly features inexpensive gas grills for less demanding people available at relatively low prices.
It is not an option for demanding people, quite the opposite, I recommend this grill for beginners or those who don't cook a lot. If you take good care of it (using a grill cover etc) it can certainly serve you quite a few years.
Pros
Well-built, great value for money
Easy to install and use (read: the grease tray is easy to remove)
Has plenty of cooking space and can handle different types of meat at once
Long lasting and durable
Cons
No complaints here! This grill is a great deal for the money.

This grill is an innovative effort by Dyna Glo as it features a rust-free double-walled stainless steel lid that makes it fuel efficient and insulated.
Some of the features that stand out on this grill include a warming rack and side shelves which you wouldn't normally expect to see in a grill of this size. You can fold down the shelves if you want to make the grill more portable, and its small size makes it easy to store it when not in use.
It's important to note that this grill offers a very small cooking surface of just 350 square inches which means you can only use it to cook for a few people at a time.
Pros
Compact and easy to store and carry
Easy to assemble and install
Fuel efficient
Has enough space to cook for a small group
Cons
It's not long lasting or durable at all
Made with poor quality stainless steel

Cuisinart is one of the most well-known brands when it comes to making quality cookware, and this grill doesn't disappoint. The CGG-200 model is lightweight and compact enough to travel with, which means you can take it on camping trips or van adventures. This also makes it easy to store in your garage when you're not using it over the winter.
There's only one burner on this model which limits the amount of meat you can cook, but it's totally worth it when you consider that it's well insulated and has 12,000 BTUs that sear meat to perfection.
The cooking grates on this grill are made from high-quality porcelain coated cast iron and it has a convenient modular cooking surface. This well-appointed grill also features foldable side shelves and removable cooking grates that can be swapped for a veggie panel and other different types of cooking surfaces. This helps prevent cross-contamination when preparing different types of meat and each offers superb heat distribution.
Pros
Heats up fast and works like a dream
Great customer service
Well designed
Offers decent heat distribution
Cons
The cast iron grate is very difficult to clean up
It has a poor quality deflector
Check prices and availability here

Char-Boil has gone all out on this mid-sized grill. It's packed with beneficial features like foldable tables and side shelves, as well as a large cooking surface and a convenient warming rack. It's nice and portable enough to carry with you when traveling on road trips.
It's a great grill for anyone that has little space to work with and it'll fit like a glove on an apartment balcony or patio.
Another unique feature on the gas BBQ grills is the TRU infrared cooking system which is great at preserving the natural flavors and juices of the meat you cook. This feature also contributes to the grill's amazing fuel efficiency and even cooking ability.
The temperature gauges on this grill have been conveniently placed on the surface level to ensure accurate readings and prevent over or under cooking.
Pros
Nice and portable
Heats up fast
Its cooking system helps preserve the natural flavors and juices in the meat
Sears meat very well
Durable and long lasting
Cons
The grates are very difficult to clean
Heat management is problematic

This well-priced grill from Char-Griller offers an impressively high BTU rating that allows it to heat up quickly. It's also well insulated which makes for even better heat distribution.
Not only does this grill go from zero to 500 degrees in five minutes but it has some really convenient attachments like a side burner, warming rack, and a smoker attachment. This is in addition to the cast iron grates which are protected by a coat of porcelain for good measure. These double-sided grates allow for dual cooking and faster food preparation, and overall this is a very well-made grill.
Pros
Comes with double-sided grates for dual cooking
Durable and well made
Heats up quickly
Insulated for equal heat distribution
Beautiful matte black design
Cons

This small sized cooking grill from Fuego is proof that dynamite comes in small packages. It can get you cooking in just five minutes thanks to its quick heating feature and it has the ability to go up to 700 degrees.
Although it only has one burner, you can use it for up to 20 hours with only 20lb of grill gas. This is in stark contrast to larger grills which can run out of steam in just 15 hours or less. The single burner also features dual zone cooking which means you can cook two different types of meat at once. Some users prefer to cook roasts on the slow cooking zone, and burgers or steaks on the faster inner ring.
You can switch between the two cooking zones using the provided control valve, and you'll find it easy to move around thanks to its compact circular design and tilt lock wheels.
It's important to note here that this grill doesn't come with features that you'd expect, like side shelves or a warming rack. However, it makes up for that with quick, high-heat cooking, and easy to use portability.
Pros
Easy to install and assemble
Can heat up to 500 degrees in less than five minutes
Offers even and thorough cooking
Small and portable, perfect for small spaces
Cons
The stainless steel degrades quickly

Weber is another famous brand that brings you a good quality product with this grill. It's small and compact which means it doesn't have some of the extra features that you'd expect from a regular sized grill.
But it does feature removable cooking grates which you can swap for a flat griddle. This increases the number of things that you can prepare on the grill, including steaks, burgers, roasts, bacon etc. You'll have to purchase separate attachments if you want to widen your options further than that, like a vegetable basket and a grill pan.
The handle on this grill lights up at night so that it's easier to see what you're doing. The adjustable control valve allows you to decrease or increase temperatures according to your preferences.
Some of the features we like on this grill include stainless steel burners, cast iron cooking grates with high-quality porcelain coating, and a warming rack.
In addition to the generous cooking space, this grill offers lots of different storage options for you to keep your cooking tools and there's a dedicated bracket to keep the 20 lb. LP tank.
A very interesting alternative to standard gas grills. At first glance, it is simply a differently looking grill, but if you take a look inside you will understand that there are many more differences.
Weber Q3200 has an unorthodox configuration of burners that is completely different from a traditional gas grill. The main burner is rectangle-shaped and covers the outer part of the cook box whereas the secondary burner is located in the middle to provide extra heat.
Thanks to such configuration, it can achieve the right cooking temperature very fast and offers high maximum temperature. The advantage is the ability to reach perfect conditions for grilling steaks for example (with beautiful sear marks) whereas the disadvantage is inability to create cold spots.
The entire construction of the grill was designed more for those with slightly limited spaces. Despite a big cooking area (393 square inches) it maintains a great balance between a typical portable grill and a big stationary one.
For this kind of price, the quality of workmanship is very good, you can expect it to be an investment for years to come.
The unorthodox yet solid and durable construction is pretty minimalistic when it comes to features. It's a simple grill for those with limited space, for an apartment, small patio etc.
Pros
Compact and portable
Cooks evenly
Heats up quickly
Easy to clean and maintain
Features a large grilling surface
Cons
The ignition can be problematic to heat up in the beginning
Check prices and availability here

This excellent grill from Char-Broil ticks all the boxes. It has a sprawling cooking surface of 480 square inches that enables you to cook up to 15 burgers at the same time.
It's also very well made, as all the components are made from high-quality stainless steel that doesn't rust. It uses the same patented TRU infrared cooking technology mentioned in one of the models featured earlier in this list. This makes for even cooking every time and it allows you to add wood chips onto the cooking grates in order to enhance the flavor and aroma of the meat. So if wood-fired cooking is what you're after then this grill is for you.
Everything in this grill is made from stainless steel, even the grates. This means they're most likely easier to clean and maintain. Because they're coated with porcelain, the grates heat up the cooking surface faster than most of the other models and it leaves the meat with real searing marks.
Pros
Has a generously sized cooking surface
Features TRU infrared cooking technology for even cooking
Brings out the natural flavor and texture in meat
Easier to clean and maintain over time
Cons
Some storage for tools would be nice

The Weber Spirit E310 is what you should get if you want professional quality grilling at a fraction of the price.
It offers 424 inches of cooking space which means you can use it to cook different meals at once, and clean-up is a breeze thanks to the porcelain coated cooking grates.
The Spirit E310 dazzles with innovative and unique features like the flavorizer bar which is responsible for trapping the meat's natural juices for a flavorsome texture. You won't have any problems with flare-ups either, thanks to the dedicated grease management system which is integrated into the grill. This system makes it easy to grill back-to-back meals without having to clean-up in-between.
It offers great quality of workmanship, durability and essential features at a pretty convenient price. The grill comes with 424 square inches of the main cooking area and three strong burners.
Such number of burners makes it possible to create different heat zones and to achieve very high temperatures in a very short time.
Weber Spirit II E-310 is without a doubt the best overall gas grill under 500 dollars.
It is a pretty simple gas grill without any extra features, but it's possible to buy many interesting gadgets separately (such as the iGrill 3 wireless thermometer).
The most important thing is quality, and in this case there is nothing to complain about. The Spirit II series is a solid and reliable construction that will certainly withstand a lot, especially considering that the manufacturer offers whole 10 years of warranty.
The open construction might not be appealing to everyone, which is why I'd like to remind that there is also the Weber Spirit I E-310 available with its closed construction (the previous series).
The grease management system ensures that the excess juices go straight onto the grease tray. Such solution makes the post-cooking cleaning incredibly simple and effective.
It comes with plenty of work space on the side shelves and plenty of room to store things.
A small downside is the slightly complicated assembly to many people, and I also noticed a thinner grill lid compared to the previous Spirit series.
Weber Spirit II E-310 is one of the best options of recent years. It is characterized by great efficiency, a lot of cooking space, three strong and reliable burners and durability.
Another advantage is the great approach to the customer and post-sale support as well as respecting the warranty in the event of any problems.
Pros
Easy to assemble and install with clear instructions
Makes for effortless clean-up and maintenance
The grease management system helps to keep the drippings off the burners
Cooks evenly and thoroughly
Comes with a removable drip tray
Cons
The grates and igniter don't last very long
Conclusion
Whether you're buying a BBQ gas grill for the first time or you're looking for a portable model that you can take boating, it's important that you know what to look for. Luckily, we've covered all the bases with this buying guide and have given you a few good options to choose from.
However, if we were to recommend one particular option then it would be the Char-Griller Grillin' Pro 3001 model. This is one of the best natural gas grills on the market with features like a high BTU rating, quick heating ability, and a side burner so you can diversify. It also comes with a warming rack, a smoker attachment and double-sided grates with porcelain coating. All in all, it's a well-constructed gas grill with all the features you need in order to enjoy an amazing BBQ season.
Related: Best Two Burner Gas Grill
Joost Nusselder, the founder of Lakeside Smokers is a content marketer, dad and loves trying out new food with BBQ Smoking (& Japanese food!) at the heart of his passion, and together with his team he's been creating in-depth blog articles since 2016 to help loyal readers with recipes and cooking tips.