I love creating free content full of tips for my readers, you. I don't accept paid sponsorships, my opinion is my own, but if you find my recommendations helpful and you end up buying something you like through one of my links, I could earn a commission at no extra cost to you.
Learn more
This is the must-have smoker for those who believe "smoking is life". For the ones who eat, sleep, and dream about smoking. Who smoke their breakfast, lunch, dinner, and snacks.
How do you recognize an offset smoker? They're usually massive!
Offering loads of cooking space, and have a very solid, heavy construction. They may differ in structure and style, but all of them make a statement.
Offset smokers are serious business. And I absolutely LOVE them.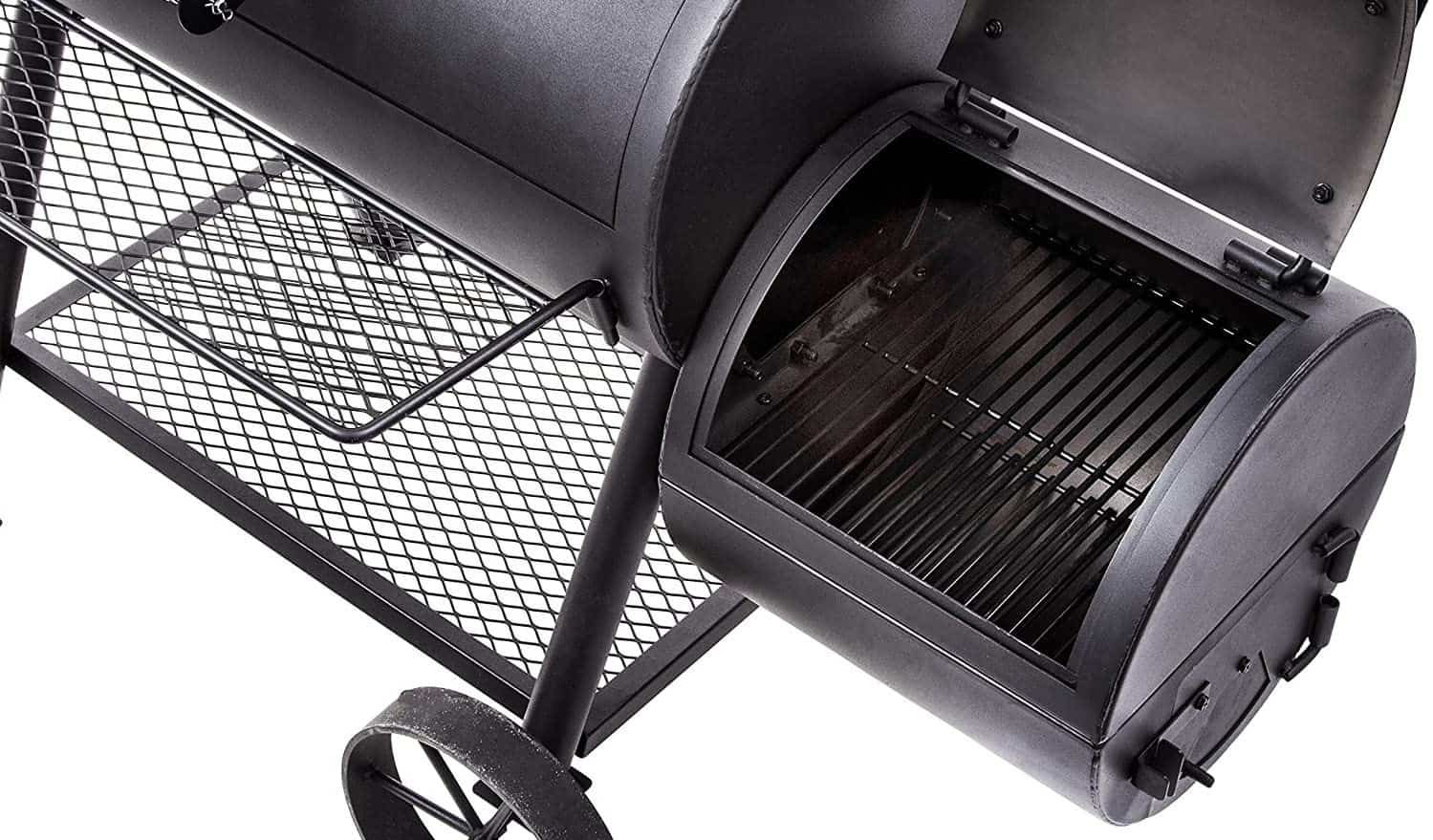 In this article below, I'm going to share my top three favorite offset smokers with you, and why I believe they are the best options on the market.
My number one pick at the moment is the Dyna-Glo Vertical Offset Charcoal Smoker. It simply cannot be beaten when it comes to size, price, and quality. Plus, since it's a vertical smoker, it takes up less space.
But read on to find out what my other two favorites are.
How to find the best offset smoker for you – buyers guide
Before we venture into the details of my top three smokers, there are five things that I look at to help me select the right smoker for my particular needs.
I've listed these five important points below to help you make your choice a little bit easier:
Budget
Plan your budget. These amazing grills don't come cheap, so be prepared to dig deep into your pockets. Even the regular, entry-level smokers are pretty pricey.
Size
Offset smokers are usually very large. So make sure you've got enough space to cook and store one before you spend the money.
There are, however, a few smaller options to choose from which also come at a more reduced price. BUT, they obviously don't have as much cooking room as the larger ones.
Decide what types of meat and other foods you'd like to smoke, and how much you need to do at a time. From there, you can figure out if you need a larger smoker or if you can make do with a smaller model.
Weather
Take into account the climate you live in. Are there huge temperature changes throughout the year? If so, this will affect the quality of the offset smoker you need to buy.
Another consideration is the location of your smoker. Is it largely protected from wind and rain or will it be exposed to the elements?
The worse the weather conditions, the higher the quality offset smoker you need.
Cheap models are made of thinner materials which result in poor insulation, which in turn leads to problems with maintaining a fixed temperature.
Type of structure
The classic structure of an offset smoker is horizontal. However, newer brands have released vertical models. The advantage of this new design is that it takes up a smaller area.
The jury is still out on whether or not it's 'better'. Everyone has their own preference!
For more on this, check out my full in-depth BBQ Smoker types (Horizontal vs. Vertical vs. Offset) guide here.
Quality of workmanship
The higher the quality of workmanship and materials, the better the insulation. As we all know, insulation is KEY when it comes to getting a good result out of your smoking.
Thicker walls are better at holding heat inside and make temperature control easier, especially when smoking in cold weather.
But this additional quality of construction does add to the overall cost of the smoker.
The best offset smokers reviewed
A top-quality offset smoker is going to make a dent in your bank balance, so be prepared! A premium smoker could set you back over one thousand dollars.
BUT, I've been grilling and smoking for many years now, and I've identified some great quality brands and smokers that are more affordable.
They aren't going to last long enough to be passed on to your grandchildren, but they offer a lot of quality, cooking space, and enjoyment for the price.
Here are my top three offset smokers under $1000.
Best vertical & best offset smoker overall: Dyna-Glo Vertical Offset Charcoal Smoker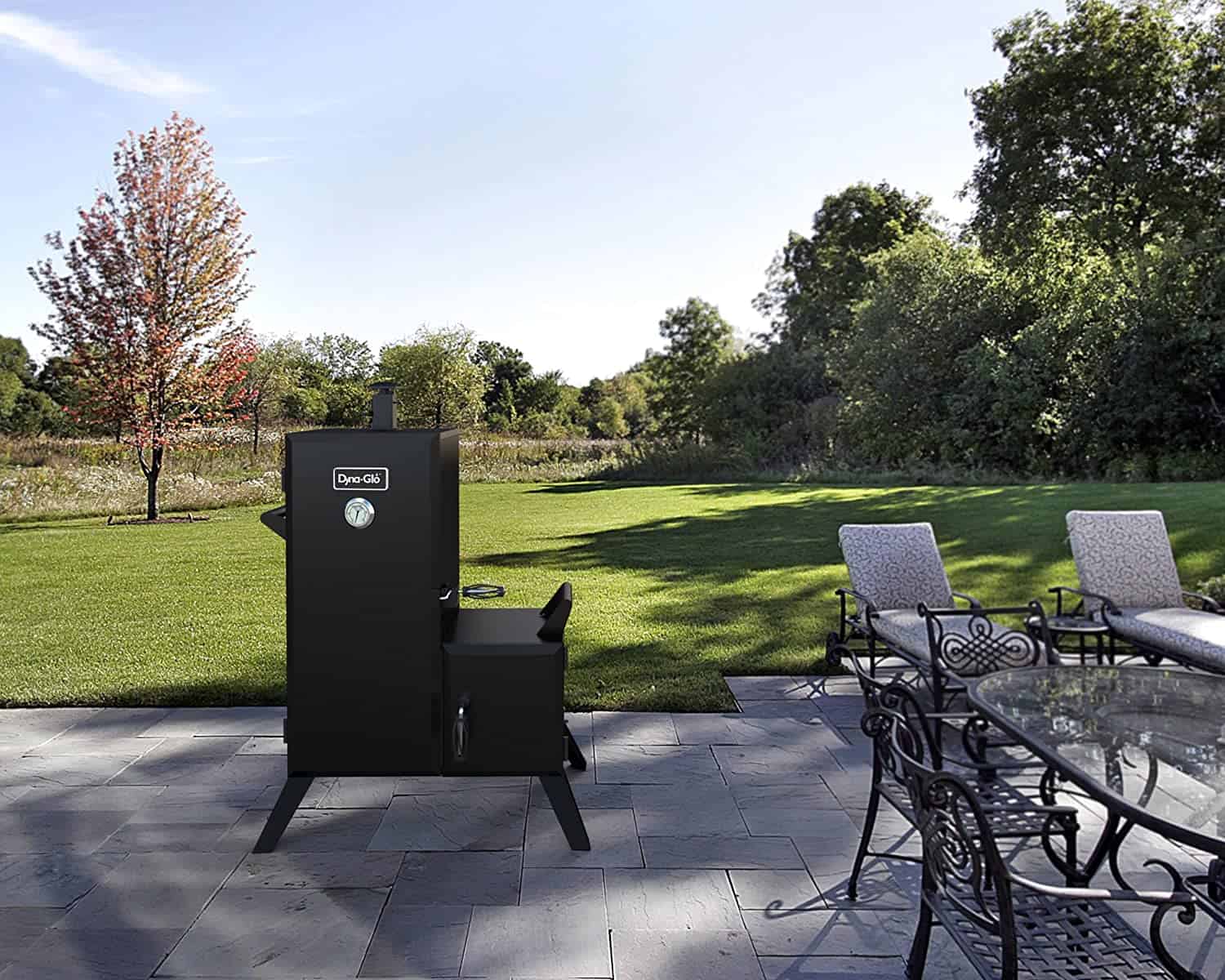 This is my number one recommendation for anyone who wants an offset smoker but doesn't have a lot of space.
Because of its vertical design, the Dyna-Glo vertical offset smoker offers lots of cooking space but doesn't take up your entire backyard.
For its size and quality construction, it's also a very affordable price. This smoker is the perfect option for those who are starting to get a bit more serious about smoking but don't have the budget for an extremely large offset smoker.
Here's a great how-to video to get you started:
I really like the big box located where the furnace is. This allows you to easily burn big chunks of wood as well as charcoal. There's a convenient ash container below it – making the clean-up a little easier.
The price, cooking space, and high quality make this my recommendation for the best offset smoker overall.
Pros
Budget: Very affordable for this type of smoker
Size: Six height-adjustable cooking grates accommodate various sizes of food. 784 square inches of total smoking area; 1176 square inches of total cooking space
Weather: The reviews state that this smoker keeps its temperature well, even in freezing weather. I would, however, recommend a good grill cover if you're going to store it outdoors
Type of structure: Vertical (takes up less space than horizontal)
Quality: Excellent quality for the price. Reviews are very positive on how well it is insulated.
Most versatile & best horizontal offset smoker: Oklahoma Joes Highland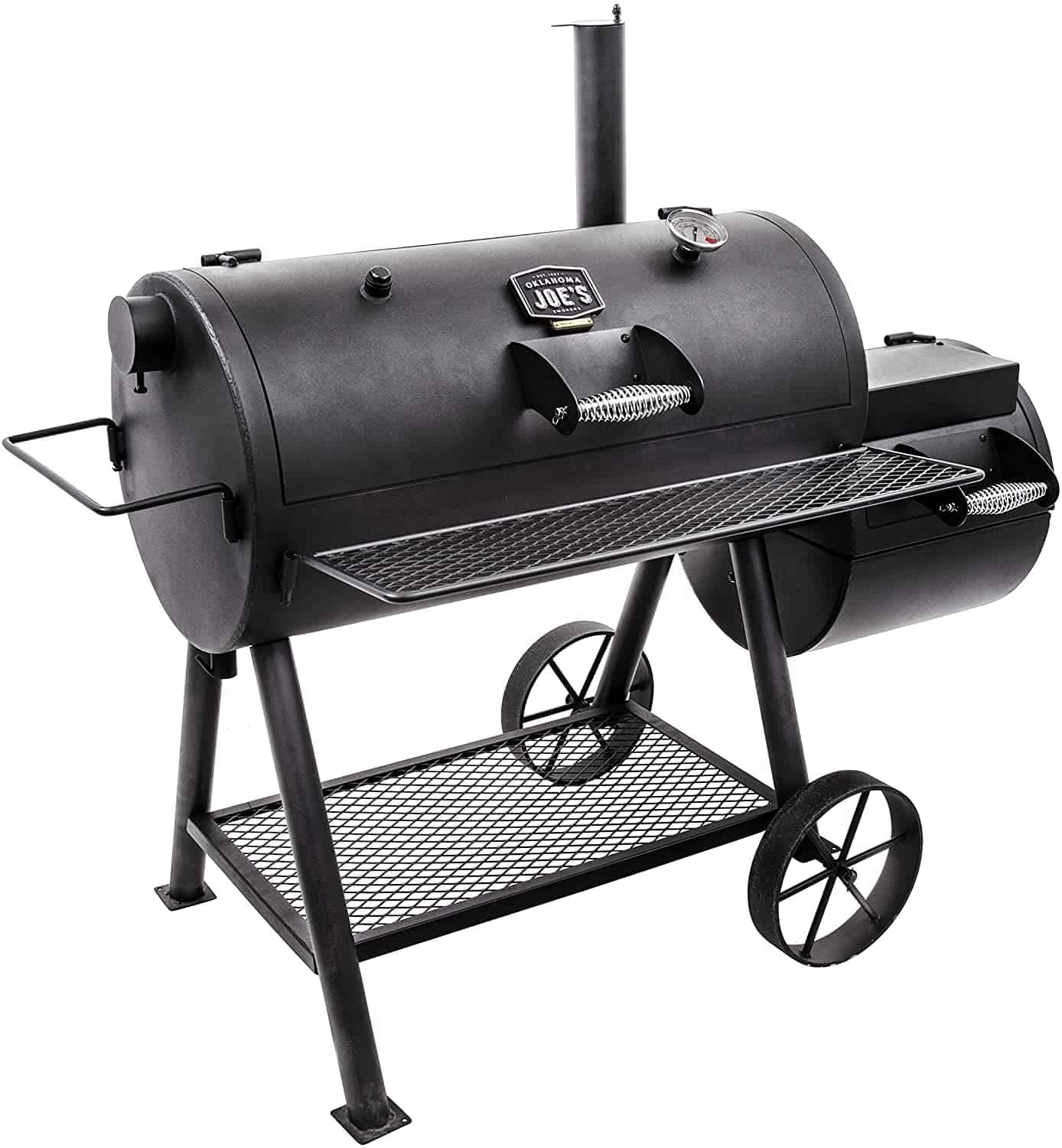 The Oklahoma Joes Highland offset smoker has the classic horizontal structure and features 619 square inches of cooking area. This is a really well-known and respected brand, which was founded in 1987.
The structure is very tough and durable, but due to the steel component, it weighs in at almost 200 pounds! So make sure you set it up in a good position and don't move it around too often.
If you really have to shift it, it does come with a solid set of wheels.
It's not only a horizontal offset smoker but also a reverse flow smoker. I've written about this great and very versatile type of smoker before, so be sure to check my post on the Reverse Flow BBQ Smoker (What it is + more in-depth review of the Oklahoma Joe).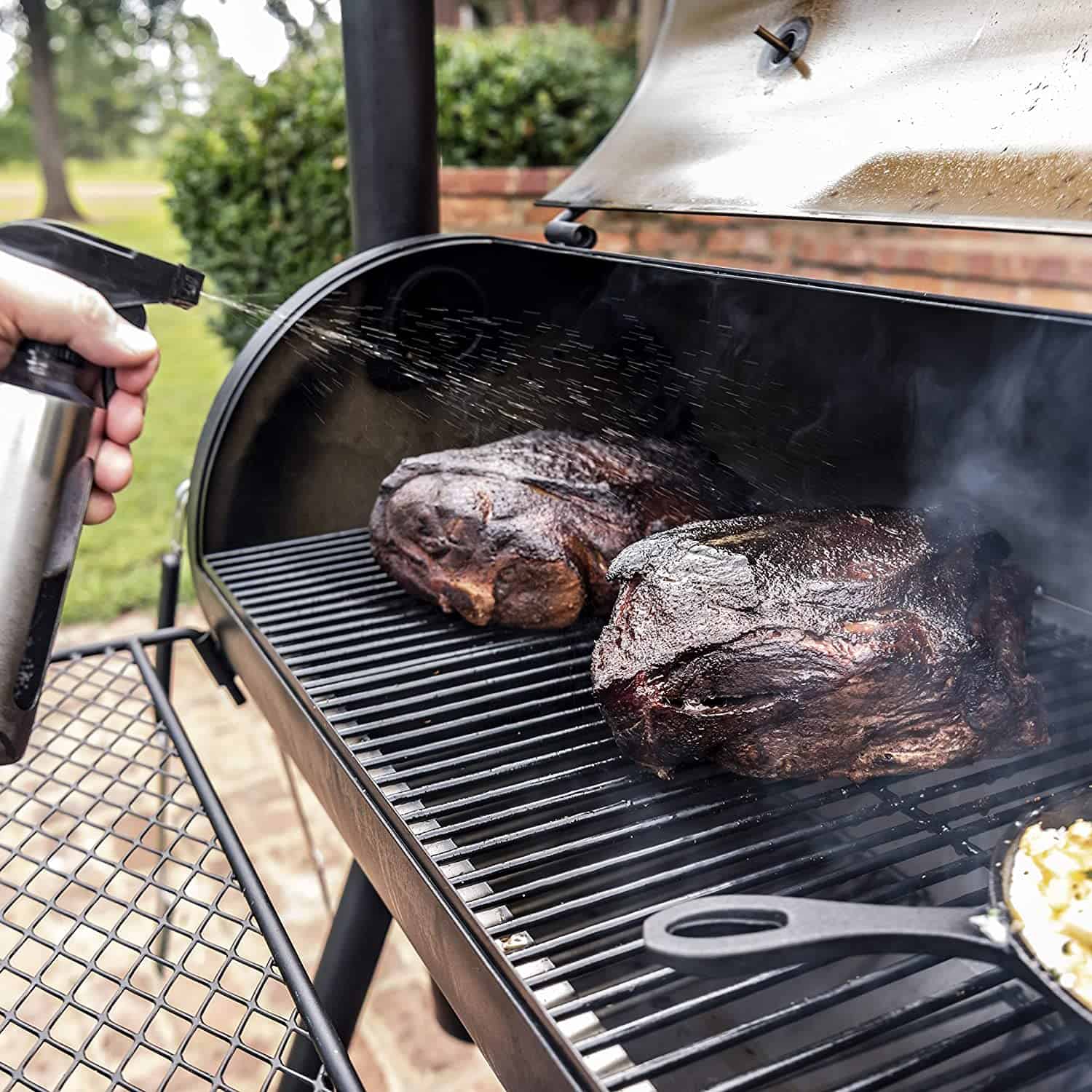 This smoker also features ample workspace and offers some very convenient storage underneath.
This smoker takes up more space than the Dyna-Glo vertical offset smoker and is also more expensive, but you're getting a great quality product from a respected brand.
If you prefer a horizontal smoker, then this is definitely my number one choice for anyone wanting to step up their smoking game.
Pros
Weather: The thick steel construction ensures this smoker will work even in the most extreme temperatures
Type of structure: Horizontal
Quality: Excellent quality construction and materials from a trusted brand
Cons
Budget: More expensive than the vertical option
Size: 619 square inches of cooking space in main cooking chamber – slightly less cooking area than the vertical option above, plus it takes up a lot of space
Best budget horizontal offset smoker: Char-Griller Smokin Pro
If you really want to get more serious about smoking, but you don't have the budget to invest in a high-quality, durable offset smoker, then the Char-Griller Smokin Pro is a great option.
This very affordable smoker is made of poorer quality materials than my other top two options above, but you're still getting a fairly good quality product for the price.
Be careful of leaving it outside, and unprotected from the weather as it will start to corrode. It also won't hold temperature in extreme cold, and can't withstand severe temperature fluctuations.
However, if you simply want to practice smoking during the warmer months of the year, and you want to test out whether an offset smoker is the best option for you, then the Char-Griller Smokin Pro offers some great features.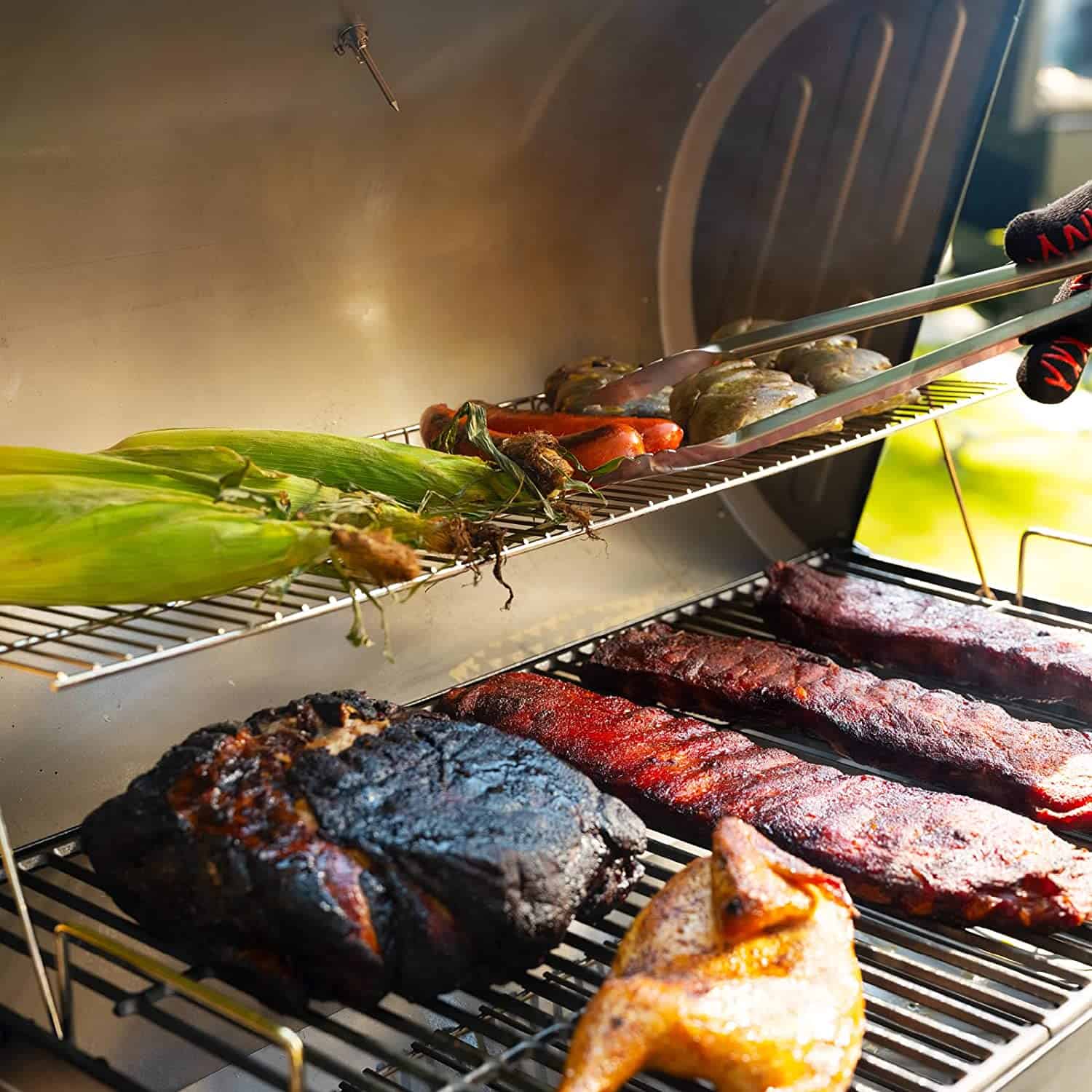 The fact that it's not made of super high quality, thicker materials means that it's far more mobile than the other options above, and it comes with wheels so you can easily move it around.
It also has removable charcoal drawers so you can clean it out and dump the ashes conveniently and easily.
Pros
Budget: Very affordable for those who have a tight budget
Size: 580 square inches of cooking surface; 250 square inch side firebox for either charcoal cooking or smoking; Total cooking area of the Char-Griller grill and smoker is 830 square inches
Cons
Weather: This smoker will not withstand extreme weather, and will corrode faster than the other two. It is also not as well insulated, so it won't maintain a smoking temperature in extreme cold
Type of structure: Horizontal
Quality: Lower quality than the other two options, but you still get a decent product for the price
The pros and cons of offset smokers
As you can tell, offset smokers are a different type of smoker altogether. They really are for the smoking fans who want to take smoking to the next level.
There are several pros and cons when it comes to offset smokers. Make sure you read through them below before you make your final choice.
Pros
Flavor – Charcoal gives the food a unique taste and produces a much better bark and smoke ring. Most smoking experts agree that charcoal is an uncontested winner when it comes to the smoking characteristics and intense smoky flavor.
Large capacity – Most offset smoker models offer a very large cooking area. You can cook even the biggest chunks of meat without having to cut them in half. This includes racks of ribs and large portions of beef.
Fun – It's the kind of smoker that requires a lot of manual input. You get a chance to flex your skills and add your own 'flavor' to the product at the end of the day. As the smoke-master, you'll be checking the temperature, making sure it's maintained, and opening vents where necessary. You'll also be in charge of choosing the charcoal and wood and smoking flavors. This is a fun challenge for those who love BBQ, but it does mean that the results depend 100% on you and nobody else.
Cons
Very difficult for beginners – You need to take care of everything by yourself, there are no support systems here. You'll have to maintain a constant temperature, even in bad weather conditions. This requires knowledge about air vents, fuel, and how to keep temperatures stable. This is not easy for a beginner!
Requires constant attention – It is definitely not a set and forget style smoker, it is actually quite the opposite. You need to take care of everything from the fuel to the temperature, and the final product. Everything depends on you!
Costs a lot – These are usually large smokers, made of durable and high-quality materials, so they do cost a lot more than conventional smokers. For a truly high-quality offset smoker, you will have to pay way above $1,000 which compared to other types of smokers is really, really a lot.
It takes a lot of space – Horizontal offset smokers require a lot of space in the backyard. If you have limited space, then you may have problems especially if you already have a few other grills and smokers. If you're stuck for space but you really want an offset smoker, then check out the vertical design options.
Takeaway
Are you ready to take your smoking game to the next level?
Now that you know all about offset smokers, and their pros and cons, you will have a good foundation on to base your selection on. Your friends and family will thank you for the scrumptious smoked goodies!
Rather go for a more beginner-friendly smoker? Check out my review on the Top 7 Best BBQ Smokers for Beginners (+ Buying Tips!)
Joost Nusselder, the founder of Lakeside Smokers is a content marketer, dad and loves trying out new food with BBQ Smoking (& Japanese food!) at the heart of his passion, and together with his team he's been creating in-depth blog articles since 2016 to help loyal readers with recipes and cooking tips.