I love creating free content full of tips for my readers, you. I don't accept paid sponsorships, my opinion is my own, but if you find my recommendations helpful and you end up buying something you like through one of my links, I could earn a commission at no extra cost to you.
Learn more
If you're like me, then the worst thing about grilling is the cleaning!
And if your grill is stored outside, this can be even more time-consuming and frustrating. Having to clean up leaves, dust, and grit as well as scrub the cooking area can really put a damper on things.
Is there a solution to keeping your grill cleaner and cutting down on the prep time? Thankfully, YES there is! Plus, it will help keep your grill safer from the elements.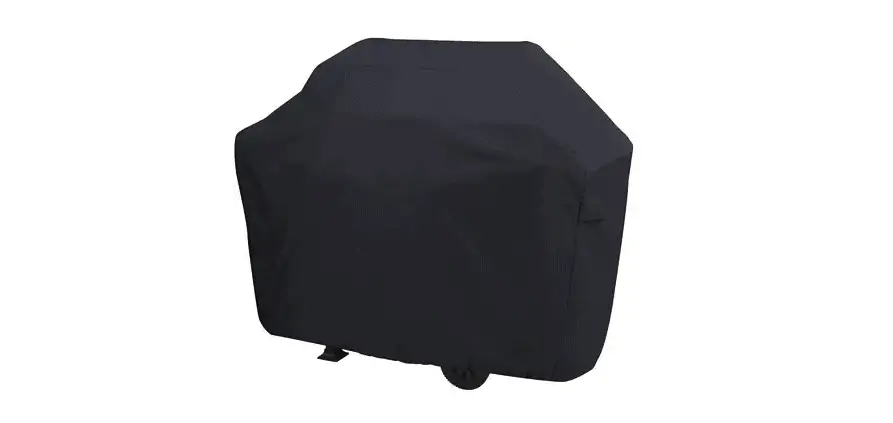 A good grill cover helps prevent fading, bending & warping, and the worst symptom of a neglected grill – corrosion. The last one is your greatest enemy, especially if you have a grill made of poorer quality steel.
Pro tip: You can buy a grill cover made by a different brand than your grill. It's a much cheaper option – you just have to check the sizing.
My top recommendation would be the Homitt grill cover. It comes at a great price, fits most grills and the quality is outstanding. It protects your grill against the elements so it's ready to go when you need it. 
Your grill might need a bigger or different shape grill cover though. I have therefore prepared a list for you of the best grill covers for the majority of the grill types available on the market.
Tips for buying a grill cover
There are a few things you should look for when you're choosing your grill cover.
A good cover should be of high quality, durable, and stick closely to the entire construction of the grill. Straps and tie-downs are also useful for those windy days when you need to keep the cover in place.
This is one of the reasons I love the Amazonbasics Gas Grill Cover so much as it ticks all the right boxes.
Here are 6 things to consider before making your final grill cover purchase:
Size
If you're going to buy a grill cover, the right size is essential. A cover should fit well if you want to maintain all of its protective properties.
Manufacturers usually list the models that fit with their cover, so you don't have to buy the same brand as your grill.
However, if you own an expensive grill and can't find the right size then it's best to buy an original cover of the same brand.
Material
Solid, heavy-duty covers are better and more durable than thinner ones. They cost more, but it's worth it when you are guaranteed that the cover will last more than one or two seasons.
They also work much better under heavy conditions: strong wind, sudden rainfall, snow, heavy frost or even hail.
Straps
Straps make it possible to securely fasten the cover to the grill and reduce all potential gaps that animals and insects could get through.
They also help the cover to stay on the grill in strong winds.
An alternative to straps is a bungee cord, which can work just as well, if not better, for keeping your grill covered.
Waterproof
Every cover exposed to external factors should be waterproof. Rain and exposure to moisture cause corrosion – the absolute worst thing for your grill.
Besides a good grill cover, properly seasoning your grill is essential to keeping it in good condition. Here's how to season a grill
UV Protection
Long-term exposure to the sun's rays has a harmful effect on a grill, causing colors to fade and certain elements to deteriorate.
Warranty
In most cases, a cover should be fairly durable. Having said that, don't expect miracles from the cheapest brands out there.
When it comes to more expensive, heavy-duty covers, though, you should expect a lot. So, check out the warranty and customer reviews to see if the price is backed up by customer service and peace of mind.
Looking to take your grilling on the road? Here are the 5 Best Portable Charcoal Grills reviewed
The 5 best grill covers suitable for most grills
Now let's look a bit closer at my top pick grill covers. What makes these so good?
The best overall grill cover: Homitt 58-inch 600D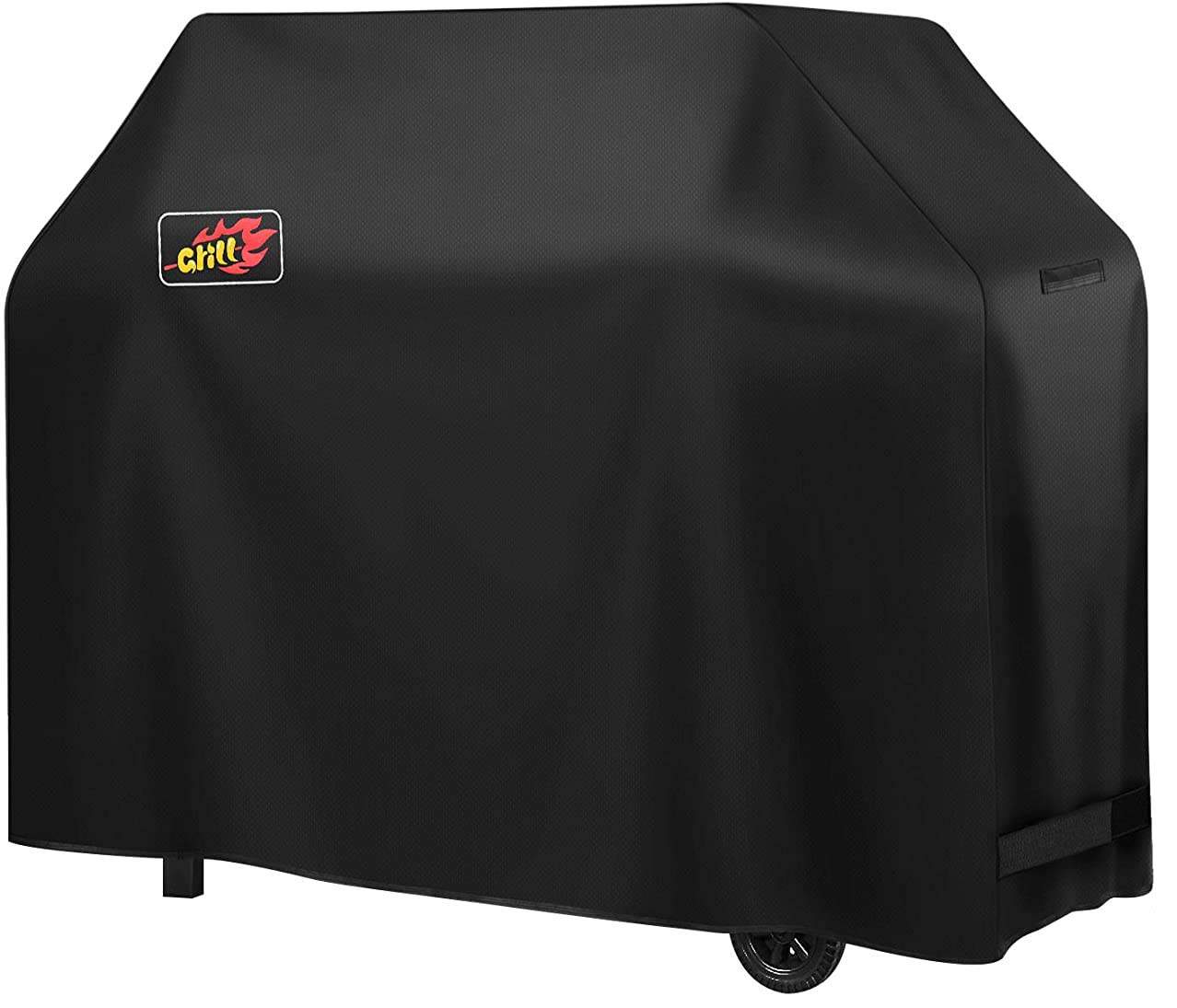 The Homitt grill cover is my absolute favorite, number one option. Budget-friendly and available in a wide range of sizes, this cover has all of the features of a top-quality cover, for a price that is affordable.
The material the Homitt Grill Cover is made from is very tough, and the selection of handles for easy use makes it user-friendly, as well as the tight final fit.
The cover is made of 600D polyester fabric, which makes it heavy and durable. The seams are double-sewn to significantly increase durability, ensuring good resistance to tears.
The 600D polyester also means it's water-resistant, dust-resistant, and comes with protection against UV radiation and strong winds.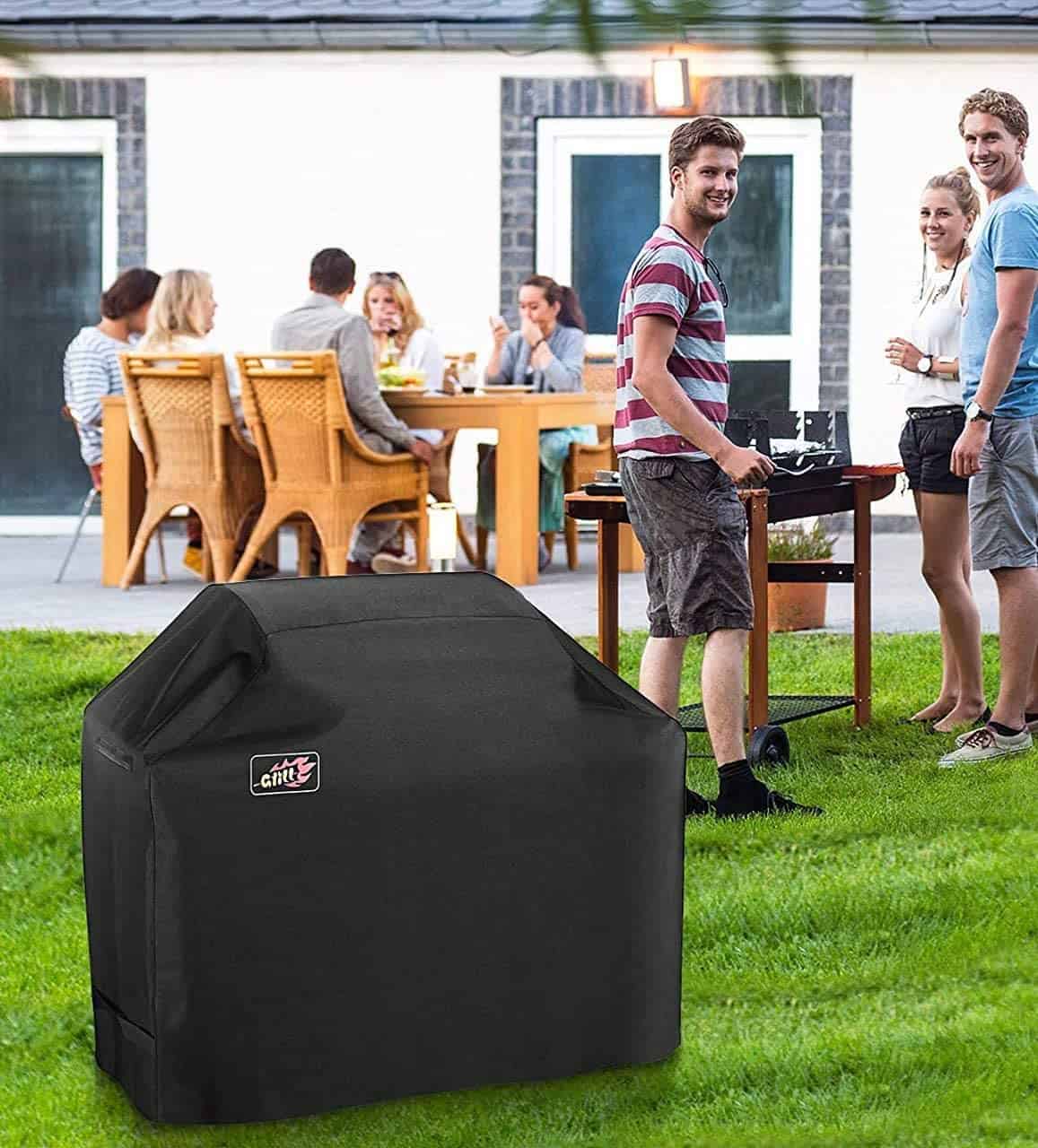 As for durability, I must admit that if it's exposed to the sun for a prolonged time it will cause the material to weaken and the colors to gradually fade.
The truth is, this is a problem with every cover in this price range, but it's still a great investment for quite a few seasons for this kind of money.
The handles make it easier to put the cover on the grill and can be used to hang the cover-up while the grill is in use, and the side straps help to fit it to the specific construction of your grill, which means that no wind is strong enough to cause problems.
A nice addition from this manufacturer is a carrying sack. Many people think they are not going to need it, but it's always nice to have something like that around if you are looking for a convenient way to keep the cover out of the way while you are using the grill.
All-in-all, in my opinion, this is the top contender to consider.
Pros
Size: The Homitt BBQ cover measures 58″L x 24″W x 44″H, fits most grills with 3 to 4 burners, width between 55 and 58inches.
Material: Made of heavy-duty waterproof 600D oxford fabric and PVC layer, to protect your grill from water, snow, sun, and dust
Straps: Handles at two sides of the cover make it easier to fit and remove. Two widened adjustable nylon straps to tighten the cover securely
Waterproof: Yes
UV Protection: Sun resistant layer protects the grill cover from fading, extends service life.
Warranty: Manufacturer's warranty can be requested from customer service
Best grill cover with bungee cord: Amazon Basics Medium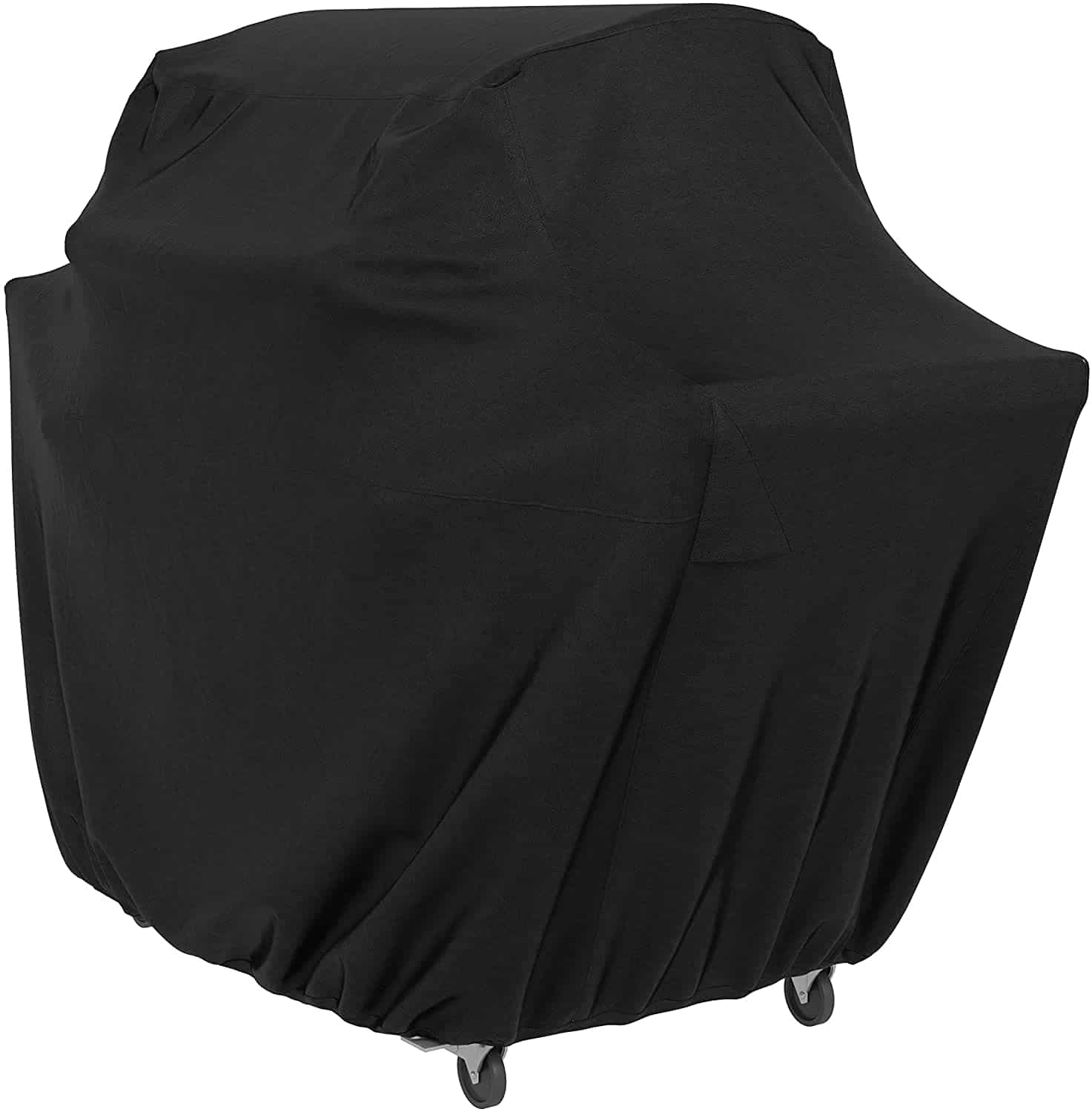 This cover also comes at a great price and is fairly durable. The AmazonBasics Barbecue Cover is available in several different sizes from smallest all the way to XX-Large.
Much bigger covers are also available at attractive prices. NOTE: A little advice here, if you have any doubts about the size, then buy a bigger one.
Despite the low price, it comes with several useful features that help it better fit the construction of the grill including a bungee cord which allows the cover to stay securely in place, and it can fit over grills of different sizes.
Sadly, it isn't fully resistant to UV radiation (like the Homitt above), but will provide partial protection. If you're worried about this, keep your grill in the shade.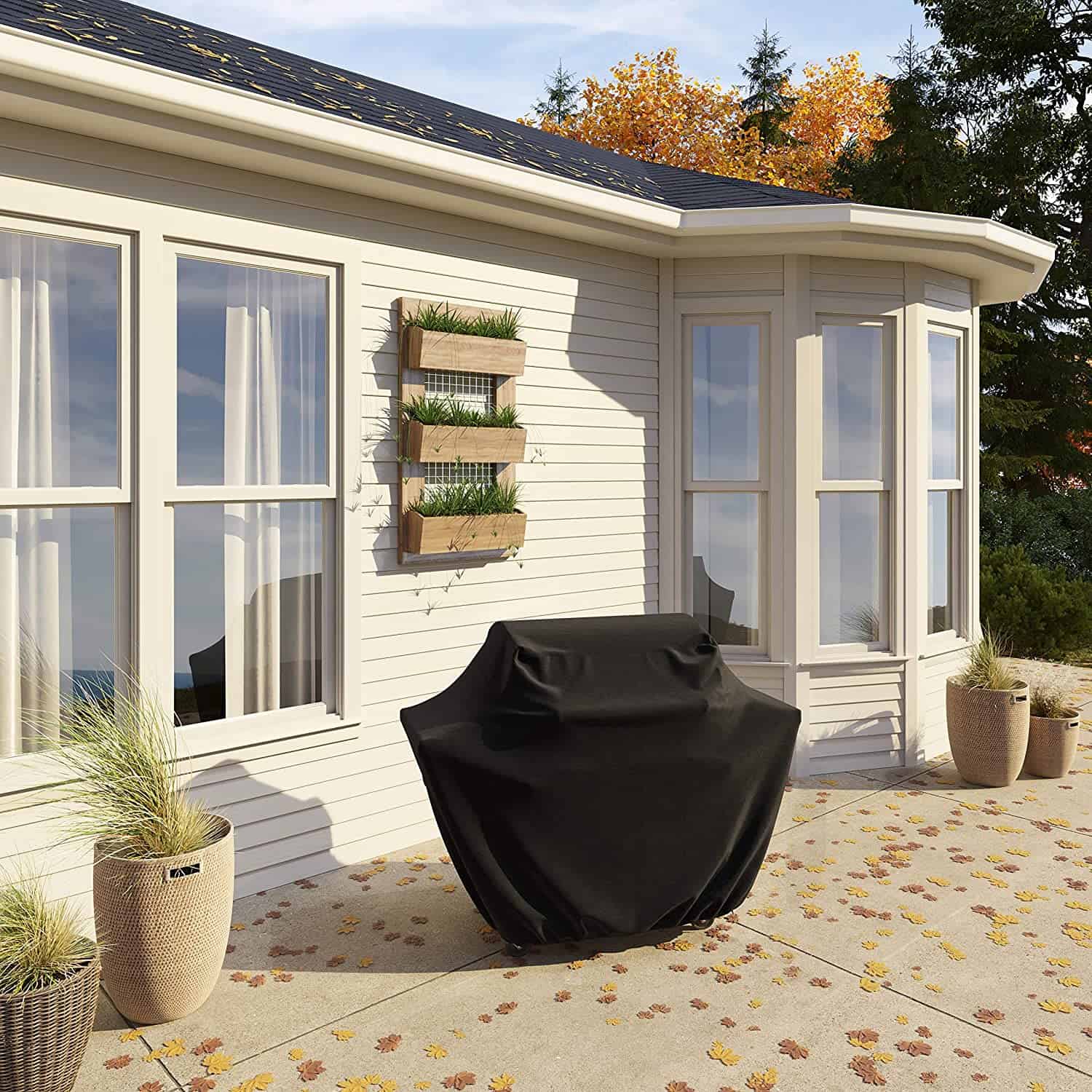 This cover is made from woven polyester fabric (300D polyester). The manufacturer claims that this material, combined with the water-resistant padding, will ensure resistance to the majority of the most common external factors.
This means you don't have to worry about the elements: rain, wind, sun, or snow. This is a truly solid grill cover that can be recommended to almost everyone.
Pros
Size: Medium outdoor cover fits most gas grills up to 60″ by 22.5″ inches
Material: Made of woven polyester fabric with water-resistant backing for protection against rain, snow, sun, and dust
Straps: Elastic bungee cord keeps cover securely in place, even during breezy conditions or unexpected wind gusts
Waterproof: Yes
Warranty: backed by an AmazonBasics limited 1-year warranty
Cons
UV protection: It isn't fully resistant to UV radiation
Best grill cover for kettle-style grills: Amazon Basics Kettle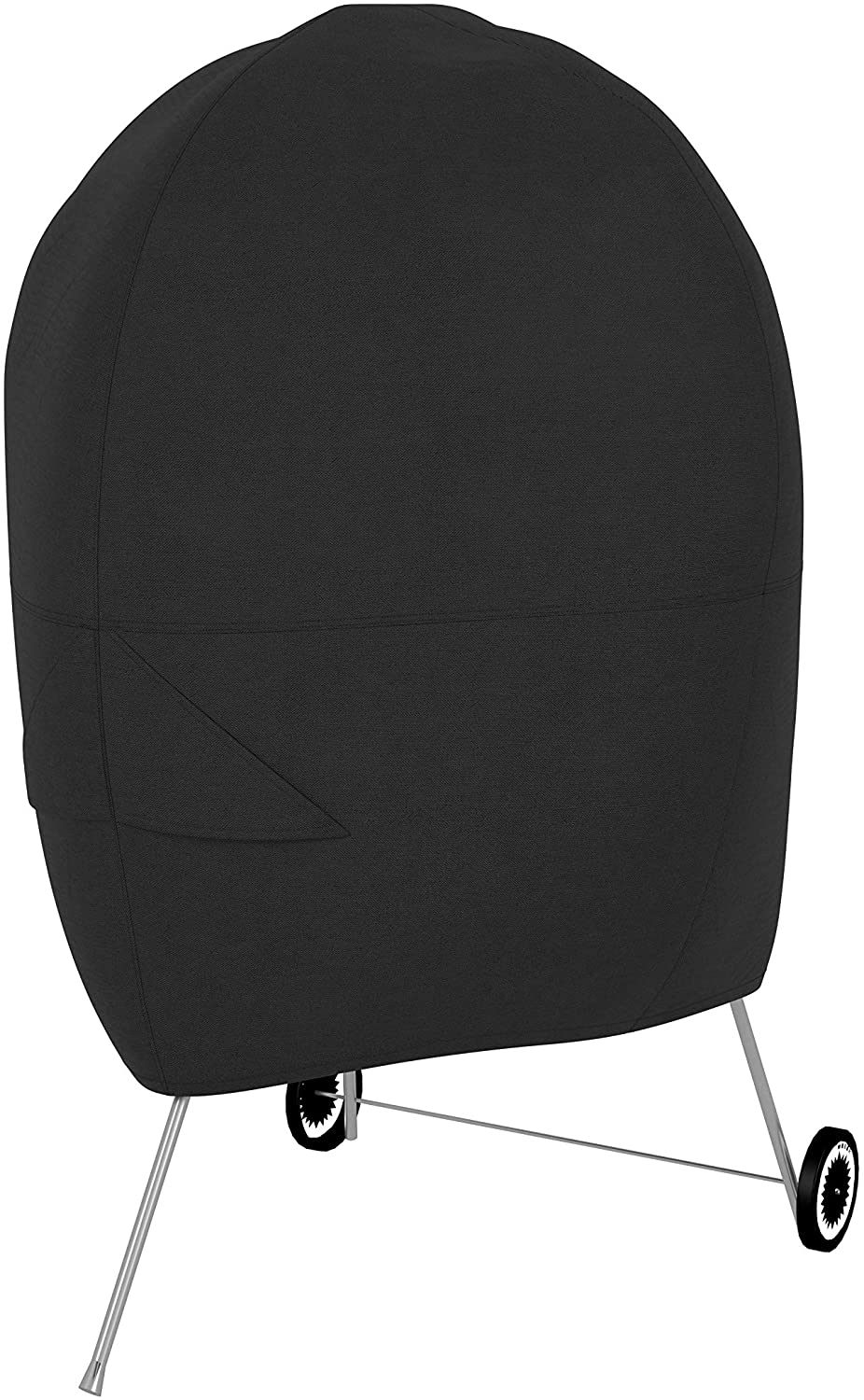 So, what if your grill isn't square? What if you bought a kettle-style charcoal grill? It can be pretty hard to find the right cover for kettle style charcoal grills, as most offers are for square-shaped grills.
But I have good news for you: the kettle cover from AmazonBasics was designed to tackle this exact problem.
According to the manufacturer, it fits most models from size 18.5" all the way to about size 26". In practice, I must admit that it fits nicely on small kettles and perfectly on medium-sized ones (22.5").
Sadly, though, I think it's a little too small for a Weber 26".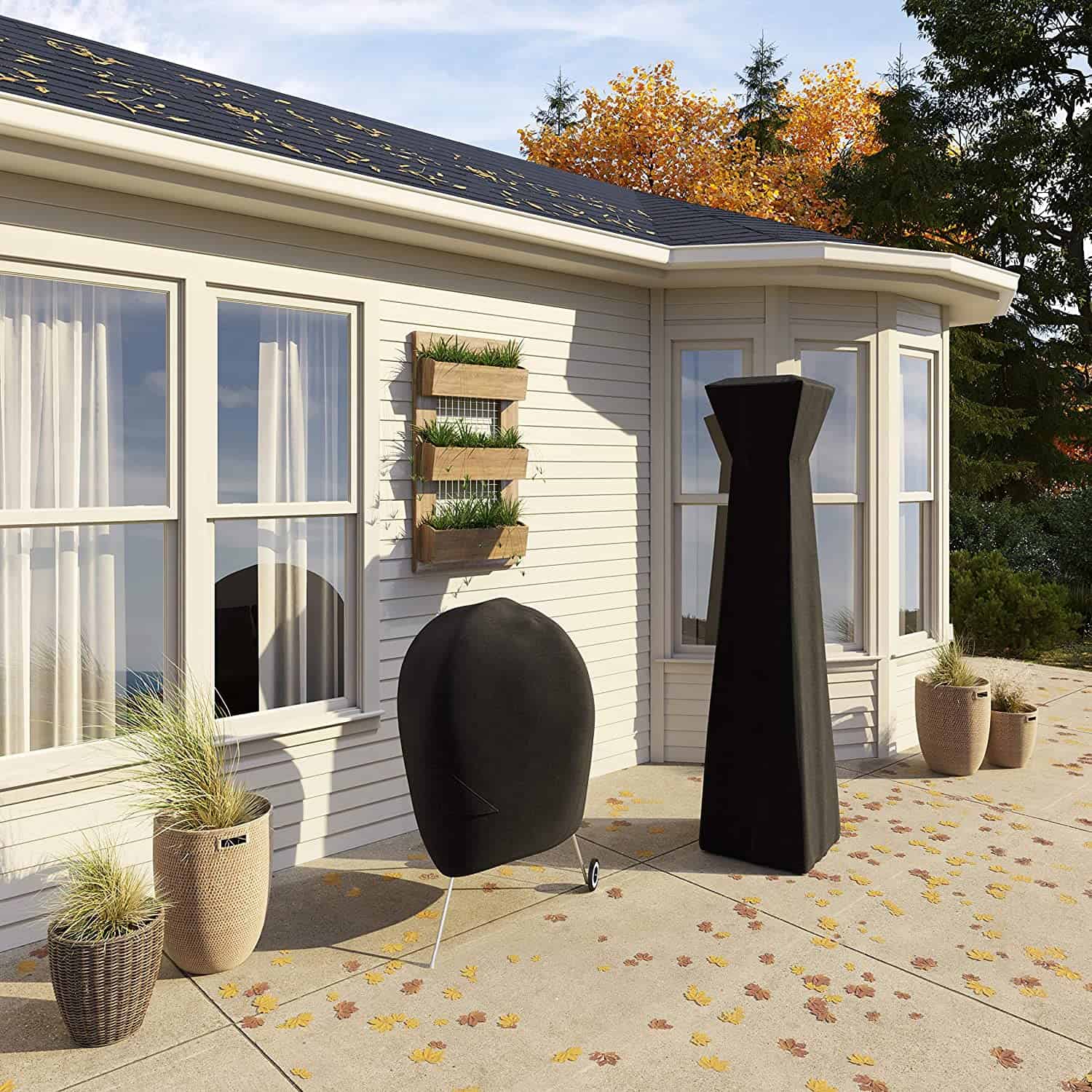 It is made of woven polyester which, just like the water-resistant padding, is characterized by good resistance to many external factors. It mostly protects from dust, rain, snow, strong wind, and even sun.
It comes with an elastic string which allows you to make the cover fit as well as it can. This prevents it from getting blown away by wind, and unwanted guests – insects and animals – from getting inside the grill, which might make a great home for them.
This grill cover also has air vents which play a very important role in preventing condensation and an accumulation of humidity. This is the number one enemy to every steel grill, so this is a genuinely nice addition.
Kettle grills are pretty affordable, and at the same time very durable, so plenty of people decide not to buy a cover. I used to think the same way, but now that there are cheaper grill covers available, I would highly recommend getting one.
The cost of such cover is about 10% of the purchase value of a new weber kettle 18.5" so I think that it's really worth having, and I am glad that a good cover can be bought at such a low price.
Pros
Size: Cover designed to fit most charcoal kettle-style grills (but in my opinion it's too small for the 26.5 inch kettle grill)
Material: Made of woven polyester fabric with water-resistant backing to minimize rain from seeping through
Straps: Elastic bungee cord keeps cover securely in place during breezy conditions or unexpected wind gusts
Waterproof: Yes
Cons
UV Protection: It is not fully UV resistant
Warranty: Manufacturer's warranty can be requested from customer service
Best heavy-duty grill cover: Grillman Premium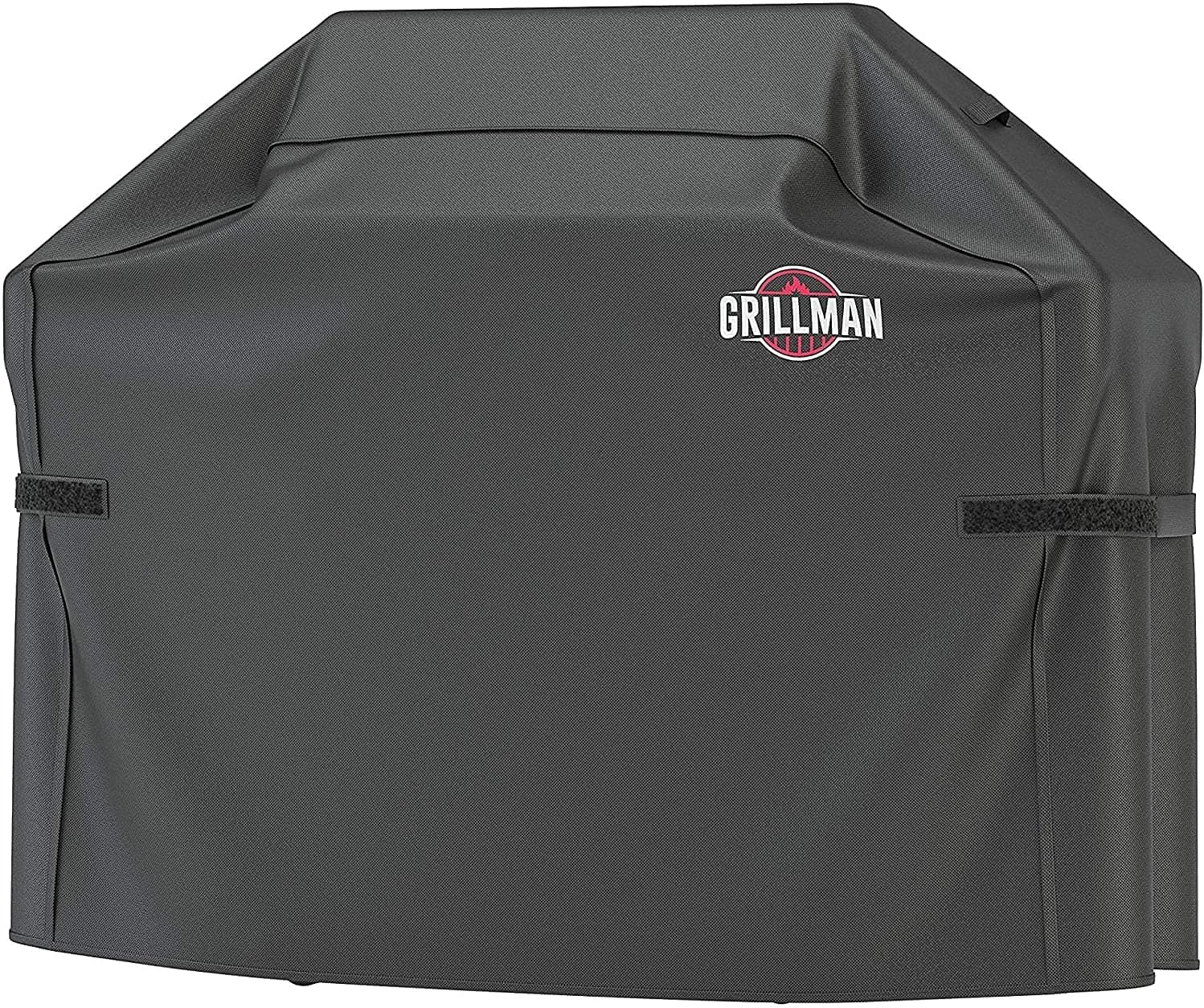 The Grillman BBQ cover is an excellent option for owners who want a heavy-duty product with a lifetime warranty.
It's also suitable for the serious grillers who own much bigger grills (three burner natural gas grills and above). It is available in several large sizes and fits many of the most popular grills on the market, up to 72" long.
The cover is made from heavy-duty PVC-lined Oxford material that is waterproof, UV-resistant, and tear-resistant. This means that this cover will take an absolute beating and keep coming back for more.
It also means that it should last a while longer than the other covers in this list.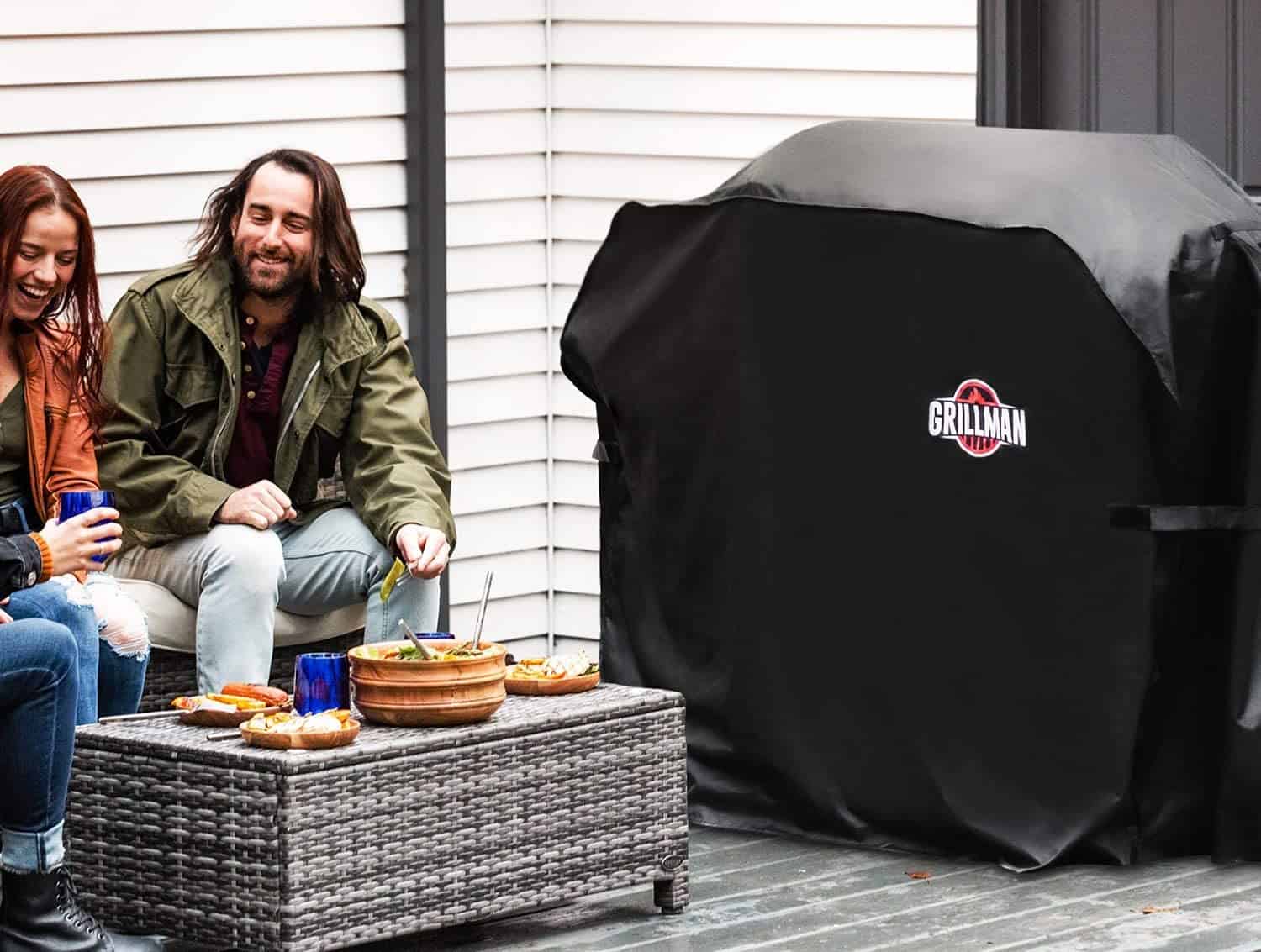 It is wind-resistant thanks to some hook and loop style straps that can be tightened for a secure fit, meaning that even the strongest wind won't blow the cover away.
This cover is easy to wash. Just rinse with water, then let it dry in the sun, and you'll keep the grill cover looking just as clean as the grill underneath.
Lastly, there's the warranty. It's good for a lifetime, so as long as you play the game the way that Grillman wants you to, you've got a grill cover forever. Good deal!
Pros
Size: Fits all popular grill brands. Grill cover dimensions are 58″ Length x 24″ Width x 48″ Height.
Material: Super heavy-duty material PVC-lined Oxford material that is waterproof
Straps: Never worry about your grill cover blowing away in strong winds thanks to the attached fabric hook and loop straps that can be tightened for a perfect fit
Waterproof: Yes
UV Protection: Fully UV resistant
Warranty: It's good for a lifetime, so as long as you play the game the way that Grillman wants you to, you've got a grill cover forever.
Cons
Price: On the expensive side
Best grill cover for extra-large grills: KingKong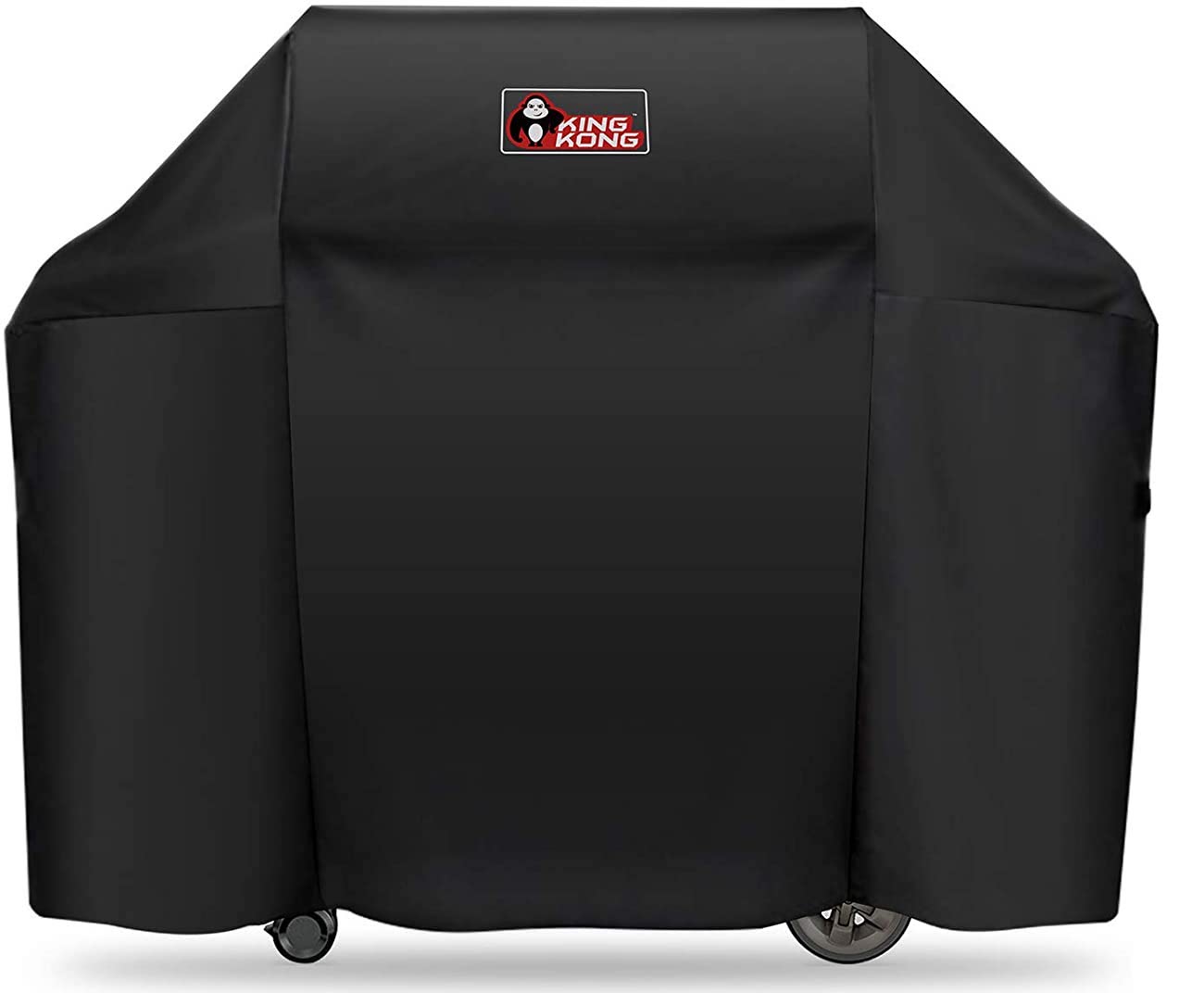 For the grill owner who has a large grill and wants to keep it pristine!
The KingKong Grill Cover stands out with its high quality, useful accessories, warranty and a relatively low price. These covers are available in all sizes from small (22.5") all the way up to large (65").
This cover is made from 600D polyester material and is characterized by good durability and resistance to basic external factors. You are guaranteed protection of the grill from rain, snow, dust, and UV radiation.
Of course, the sun will gradually have an impact on the cover, but for this kind of money the durability is excellent. The edges of the cover are bound, too, which helps to resist tearing.
I also really liked the wide straps that make it possible to securely hold the cover in place so that you don't have to worry about very strong winds blowing the cover off of the grill.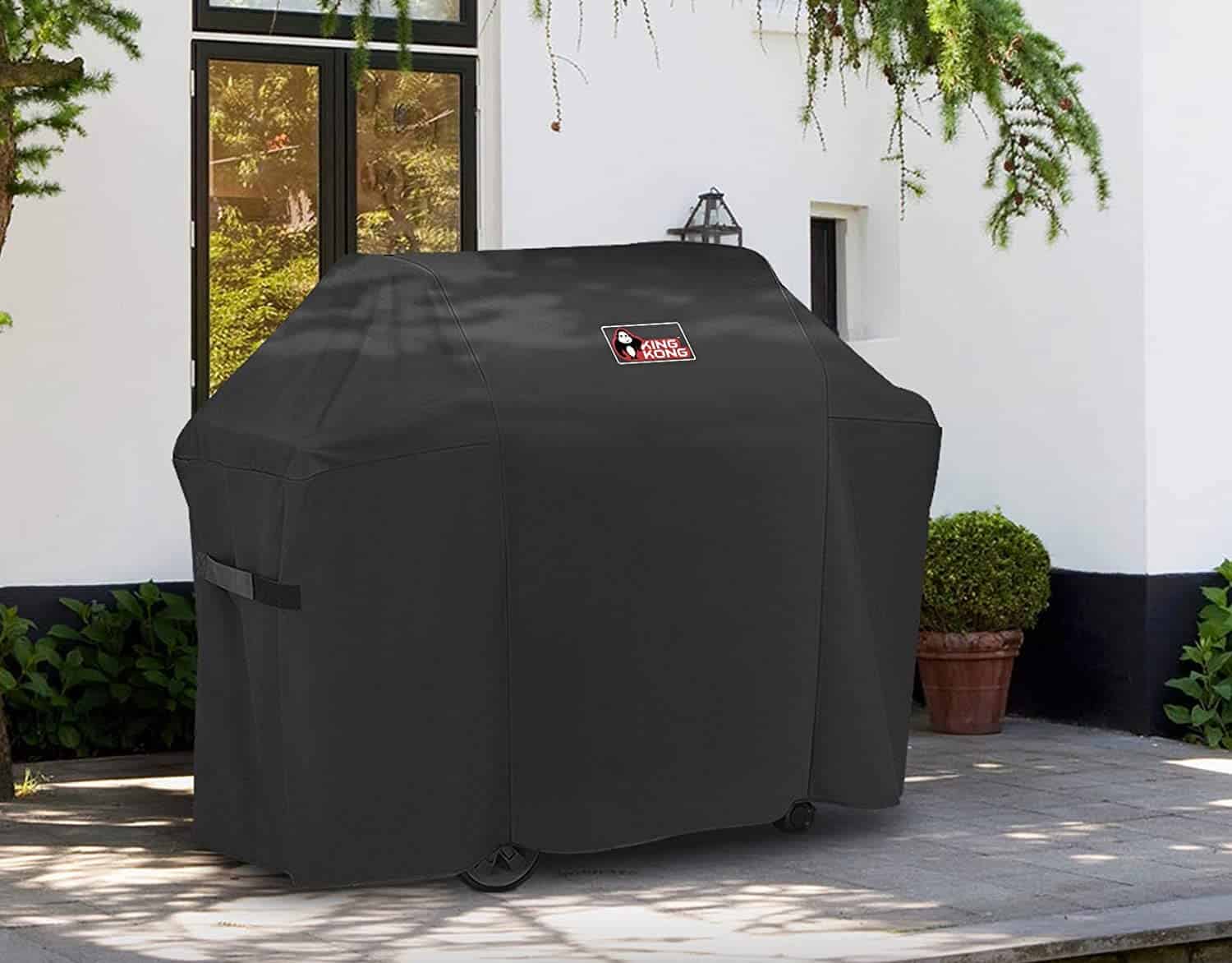 The cover also has air vents to keep the heat from getting stuck.
I think that one of the greatest advantages of this option, especially in this price range, is the three-year warranty period.
On top of that, you get several basic BBQ tools that come with the cover including a free grill brush, barbecue tongs, and meat thermometer.
Pros
Size: At 58L x 25W x 44.5H inch, the grill cover fits Genesis II 3 burner & Genesis 300 Series grills.
Material: Made of Premium heavy duty polyester fabric with breathable to support water resistant, UV resistant and rip resistant.
Straps: There are large Velcro straps on grill cover's two sides to provide a more fitted appearance
Waterproof: Yes
UV Protection: Fully UV resistant
Warranty: 3-Year warranty
Grill cover FAQ's
Why should I buy a grill cover?
If you own a grill that is worth several hundred dollars, it's a good idea to think about buying a cover. A good cover will help you keep the grill in perfect condition, which will make it last much longer.
The last thing you want is for your grill to corrode and need a replacement quickly.
A cover eliminates plenty of negative factors that have an impact on the construction of the grill. These are the sun, rain, snow, hail, wind, ice, humidity, dirt, dust, or even unwanted critters.
Each of those factors contributes to corrosion, makes colors fade, damages certain elements, and more.
Do I need a grill cover if I store my grill in the garage?
Even inside a garage, a cover is effective, as it successfully protects from dust and overall dirt.
So if you want your grill to stay in great condition for as long as possible it is necessary to buy a cover. It is one of the most effective ways to maintain the good condition of your grill.
I have a cheap grill. Do I really need a cover?
If you're buying a very cheap grill, then a quality cover might outlast the actual grill!
In such a situation, it will be better to simply buy a new grill after a few seasons.
If you care about looks and cleanliness, however, a cover is recommended regardless of the grill's value as this is the only way to achieve these things.
Conclusion
If you'd like to enjoy your grill as long as possible and minimize the clean-up before each cook-out, then a good grill cover is essential. Go for the Homitt if your grill is standard size and you want to make sure you get a good deal.
With great power comes great responsibility. Take good care of your grill and it will take care of you.
Read next: How to Clean a Weber Grill
Joost Nusselder, the founder of Lakeside Smokers is a content marketer, dad and loves trying out new food with BBQ Smoking (& Japanese food!) at the heart of his passion, and together with his team he's been creating in-depth blog articles since 2016 to help loyal readers with recipes and cooking tips.