I love creating free content full of tips for my readers, you. I don't accept paid sponsorships, my opinion is my own, but if you find my recommendations helpful and you end up buying something you like through one of my links, I could earn a commission at no extra cost to you.

Learn more

There are a lot of BBQ smokers and grills to choose from nowadays. So, if it is your first time buying one, I understand that the experience could be a bit difficult. At first, operating a smoker seems complicated, but if you use a beginner-friendly unit, you'll be up and running in no time! In this post, I listed seven of the best BBQ smokers for beginners to help you with your dilemma.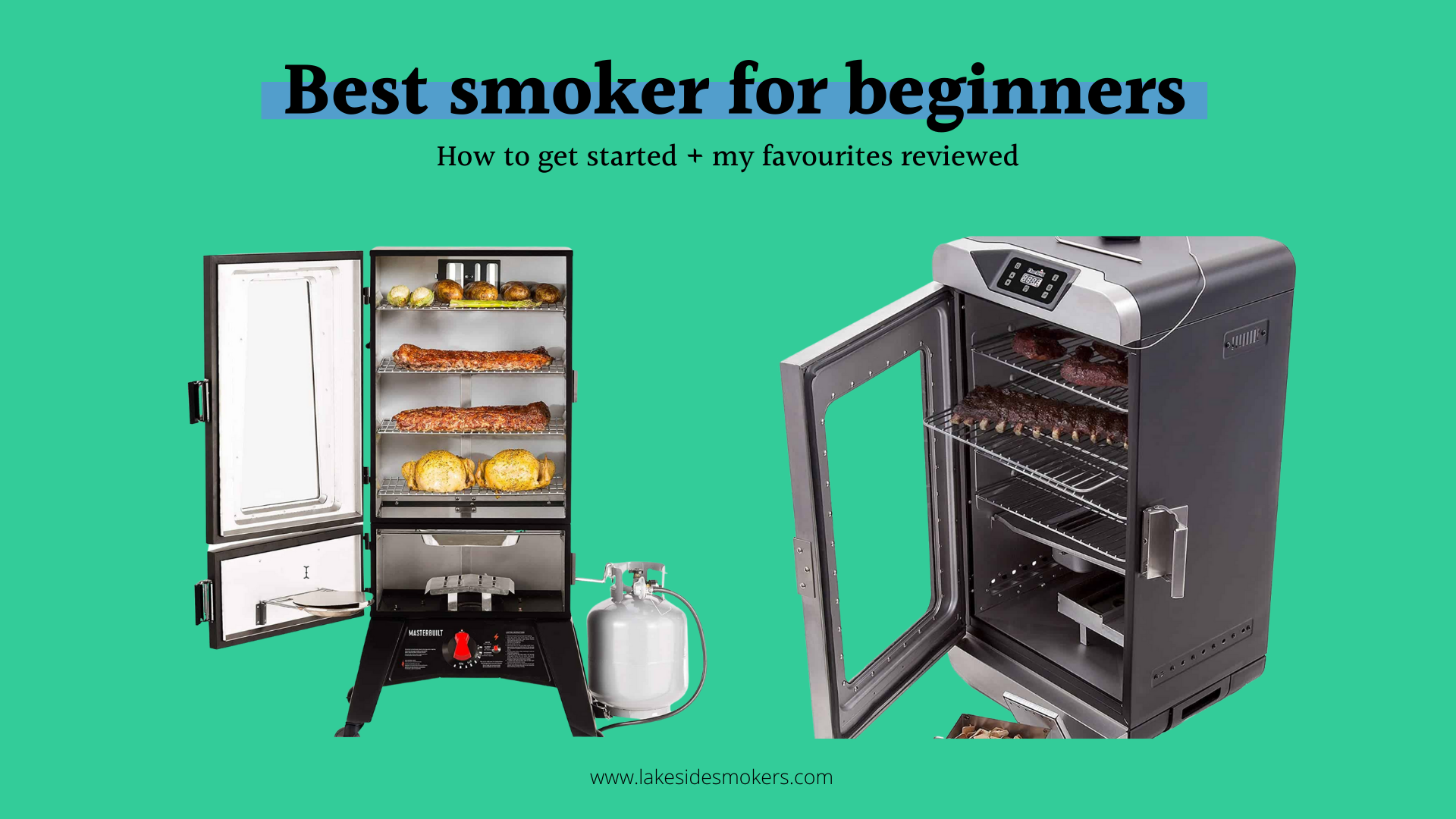 There are five main types of smokers: charcoal, offset, pellet, propane or gas, and electric smokers. The best smoker for a complete beginner is either an electric or a propane/gas smoker. That's because these smokers are "set it and leave it" devices and don't require much skill to operate. They are equipped with digital controls so you can set the desired temperature, and then there's no further monitoring needed while you cook low and slow. At most, you have to refill the wood chip tray to create aromatic wood smoke. Understand the pros and cons of each smoker. Compare their features, advantages, and disadvantages, before making your first purchase. If you are still confused about which one to choose, I also included some quick tips to help you make an informed decision. My favorite one when you get started is this Dyna-Glo Vertical Offset smoker. It has a lot of great features but really isn't all that expensive. Plus, a vertical smoker is very beginner-friendly. But first, let's take a look at your top options real quick:
Best smoker for beginners
Image 
Best value for money: Dyna-Glo Vertical Offset Smoker
Best cheap budget smoker for beginners: Royal Gourmet Charcoal Grill
Best Digital Electric smoker for beginners: Masterbuilt MB20071117
Mid-range BBQ Smoker: Realcook Steel Charcoal
Best horizontal smoker for beginners: Char-Broil American Gourmet
Best propane smoker for beginners: Cuisinart COS-244
Premium beginner-friendly smoker: Weber Smokey Mountain
Easiest to use electric smoker with remote control:

Char-Broil 17202004 Digital

Best propane smoker for beginners:

Masterbuilt MB20051316

Best budget electric smoker for beginners:

Masterbuilt MB20071117

Best barrel smoker for beginners: Pit barrel cooker
Best pellet smoker for beginners: Camp Chef SmokePro Deluxe
Where most people start: Weber Original Kettle
What to look for when buying a smoker

Before we dive into the best BBQ Smokers you can get, we need to discuss the things you should be on the lookout for. This will help you assess which one's the best for you and what makes each one a great choice for each particular situation.
Cost

As with most other items, smokers can vary in cost from as little as $50 to up to $10,000 or even more. If you're just getting started or won't be using it as much, it's better to start by using a small vertical smoker fueled by water, since they're the least expensive.
Fuel Type

BBQ Smokers can use many different materials as fuel. These include electricity, charcoal, wood pellets, propane and hardwood, each of them have their particular pros and cons, that we will discuss below: Electric smokers are extremely easy to use which makes them convenient. However, most of them fail to convey that authentic smoky flavor. Their main advantage is that the computer-controlled electric ones let you set it and forget, so the smoker stops as soon as your food is ready. No worries with it. Charcoal and wood smokers are the traditional ones and tend to give you that authentic smoky flavor when cooking. Some of the cheapest smokers use charcoal, but the most expensive ones tend to do so as well. Pellet BBQ smokers give you the best of both worlds since they're powered by electricity that lets them provide heat and smoke but the pellets give it that authentic smoky flavor. Lastly, propane smokers tend to heat up faster and much easier than electric smokers while still being easy to use.
Features

What you get out of your BBQ smoker and the price range needed to cover it aren't necessarily related, so you can get a great smoker with little expenditure and effort. The most important thing to consider in this sense is whether you want to be very involved in the process or not. Barbecuing and especially smoking are considered noble traditions where people sit by the fire and wait while they make great meals. Do you want to follow that tradition and be an active part of the process or do you want to just set everything and forget about it until it's done? If you choose the latter, make sure you get electronic ones with computer control features so they automate part of the process for you.
Size

To select which smoker size would work best for you, you need to consider who you'll be smoking meats and other foods for. The smaller units can smoke enough food for up to twenty people while the larger ones can make enough food to keep a party going all night. So if you only plan to smoke foods for your family on weekends and leisure days, a smaller smoker should be more than enough. If, on the other hand, you want to smoke for a large gathering, then you'll need much more space. The good thing is that most BBQ smokers will show how much food can be prepared.
Versatility

Many units out there can not only smoke but also grill, so if you want to be able to do both, these are the ones to look out for. The most common ones to offer this versatility are the charcoal units. However, many other units at lower prices might also offer this feature, just remember that this will require a fantastic design, so not every unit that promises it, can deliver.
Brands

Last but not least, remember that you might recognize the brand names but that doesn't mean they're the one for you. When looking into BBQ smokers, do some research on the companies that produce them. Generic smokers tend to offer no future support nor service so you'll end up stuck with a useless unit if it ends up failing. When you find one that catches your eye, make sure you browse the internet for reviews from both users and experts to get the best choice available. Now that we know what to look for when buying a new BBQ smoker, it's time to look into the different types of BBQ smokers that are available out in the market
Tips on How to Choose a BBQ Smoker

As you know by now, you have plenty of options when it comes to BBQ smokers. In this section, I will give you some quick tips on how to choose the right BBQ smoker for you. First, you need to know what type of smoker fits your needs. There are four types of smoker grill that you can choose from:
Pellet Smoker

A pellet smoker has a rod that quickly ignites when you turn it on and starts putting in wood pellets. Its smoking process is pretty much automated, so you do not have to spend a lot of time on monitoring its internal temperature.
Gas Smoker

A gas smoker, on the other hand, is the perfect choice if you do not want to attend to your meat as it is being smoked. It is convenient and can give your meat the classic BBQ taste.
Charcoal Smoker

Unlike the gas and electric smoker, there is a steeper learning curve for handling and setting the temperature of a charcoal smoker. However, the charcoal smoker is more affordable and can give your meat intense smokiness.
Electric Smoker

Last but not least is the electric smoker. As the name suggests, it is powered by electricity. If you are after ease-of-use, this is the best smoker for you. All you have to do is plug it, choose the right temperature, and wait for your meal to cook.
Other Factors to Consider when Buying a Smoker

You also need to consider the following factors when purchasing a smoker:
Capacity – always think about the size and capacity of the smoker that you need. How big or how small the unit should be, how much meat it can accommodate, or on what occasions you want to use it.
Budget – how much are you willing to spend for your smoker? Always keep in mind that expensive does not mean high-quality. Some good quality smokers and grills are affordable. You just have to look for the right brand and model.
Features – what specific features are you looking for? Do you need a movable smoker? A portable one? Do you want one with ash pan or one that you can operate easily?
What to look for in a smoker if you are a beginner

Pros are all about intense flavors and complex features. But, as a beginner, you need to keep it simple. It might not be worth investing in a thousand-dollar smoker until you know how to use one properly. Plus, it takes time to figure out what you like, what you don't, and what foods taste best when smoked. Before you decide on a smoker, consider the following factors. After all, some features are more important than others, and sifting through tons of information is tiring.
Heat retention

The most important feature of a smoker is how well it retains and distributes heat. If the smoker is not well insulated, it will leak heat, and the food won't be any good. Therefore, look for well-insulated smokers with tight-seal doors. If you're smoking a large brisket, it can take 12 hours, and you need a smoker that can maintain a constant temperature for many hours. Electric smokers are great because they distribute the heat upwards, and the temperature inside the device stays consistent.
Size & what foods can you smoke

Always consider how many people you plan to cook for. Are you cooking for a large group or just two or three people? Electric smokers come in small compact versions and large commercial sizes. Therefore, you need to think about how much food you want to smoke at once. If the smoker is too small, you'll need to batch cook. Also, consider what types of food you want to cook. If you're into large briskets and rib racks, you need a spacious smoker. A propane smoker is not ideal for long rib racks because most vertical propane smokers are narrow. If you only want to smoke a couple of chickens, you can do wonders with a smaller unit.
Fuel source

Some fuel is more expensive than others.
Electricity is a cheap fuel source and probably the most cost-effective in the long run.
Propane is more expensive and runs out pretty fast, so you have to keep refiling the propane tank.
Charcoal is cheap and cost-effective, but it takes some work the maintain it at the desired temperature.
Pellets are a high-energy fuel source, so they burn quite fast. During a long smoke, you might have to refill the pellet smoker several times. Therefore, pellets are the most expensive option.
It all comes down to how much you're willing to spend on smoking.
Price

Charcoal smokers are very cheap compared to pellet grills. Electric and propane units are available in various price ranges. The bottom line is that a more expensive unit will get you more features. But, if you're a beginner, you might not want to invest in costly smokers. The truth is, an affordable and mid-price smoker is perfect, and you can make delicious smoky foods.
Grill function

Do you want a smoker only? Or, do you want a hybrid cooker that is a smoker and grill combo? A grill is used for cooking food quickly on high heat, like burgers on a pellet grill. On the other hand, the smoker is used for cooking food using the low and slow cooking techniques. If you have an electric smoker, it's used for smoking only, not grilling at high temperatures. Grill and smoker combos are excellent for beginners because you can grill burgers and chicken wings when you feel like it or smoke ribs for 8 hours when you want. Therefore, these smokers are versatile and good value for the money.
Portability

This last feature is a deal-breaker for many. Some smokers have wheels, and others don't. If you need a large smoker and have a designated space for it on your deck, you don't really need wheels to move it around. However, if you want a small smoker that's portable too, then look for wheels.
Also read: 3 tips on how to make a great BBQ Smoker Centered Outdoor Kitchen
Top 7 Best BBQ Smokers for Beginners reviewed

Let's have a look at some good BBQ smokers.
Best value for money: Dyna-Glo Vertical Offset Smoker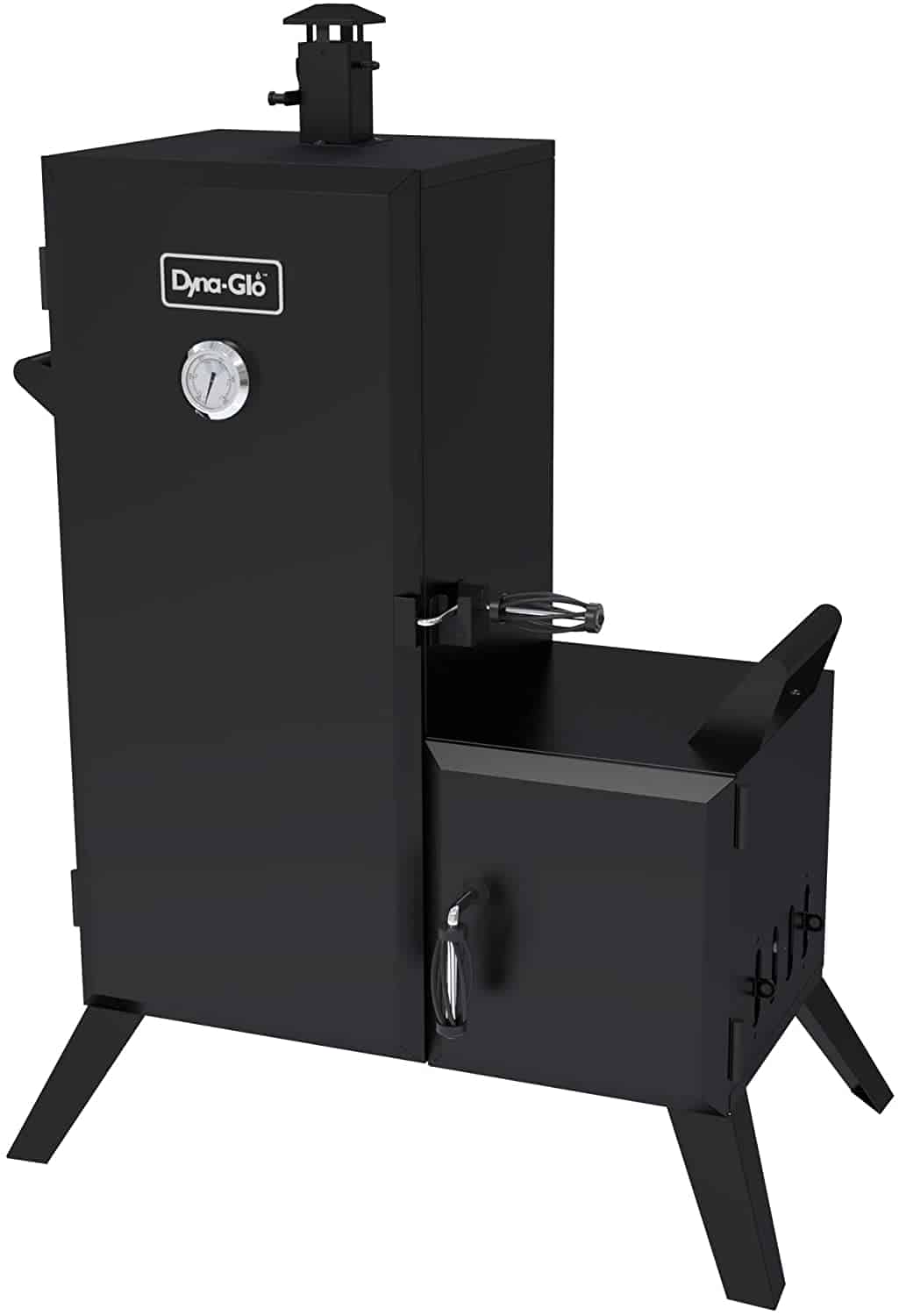 Pros
Adjustable smokestack
Adjustable damper
Removable ash pan
Removable firebox
Adjustable, removable racks
Cons
Heat retention issue when in cool climate due to thin metal
Check the latest prices here
Best cheap budget smoker for beginners: Royal Gourmet Charcoal Grill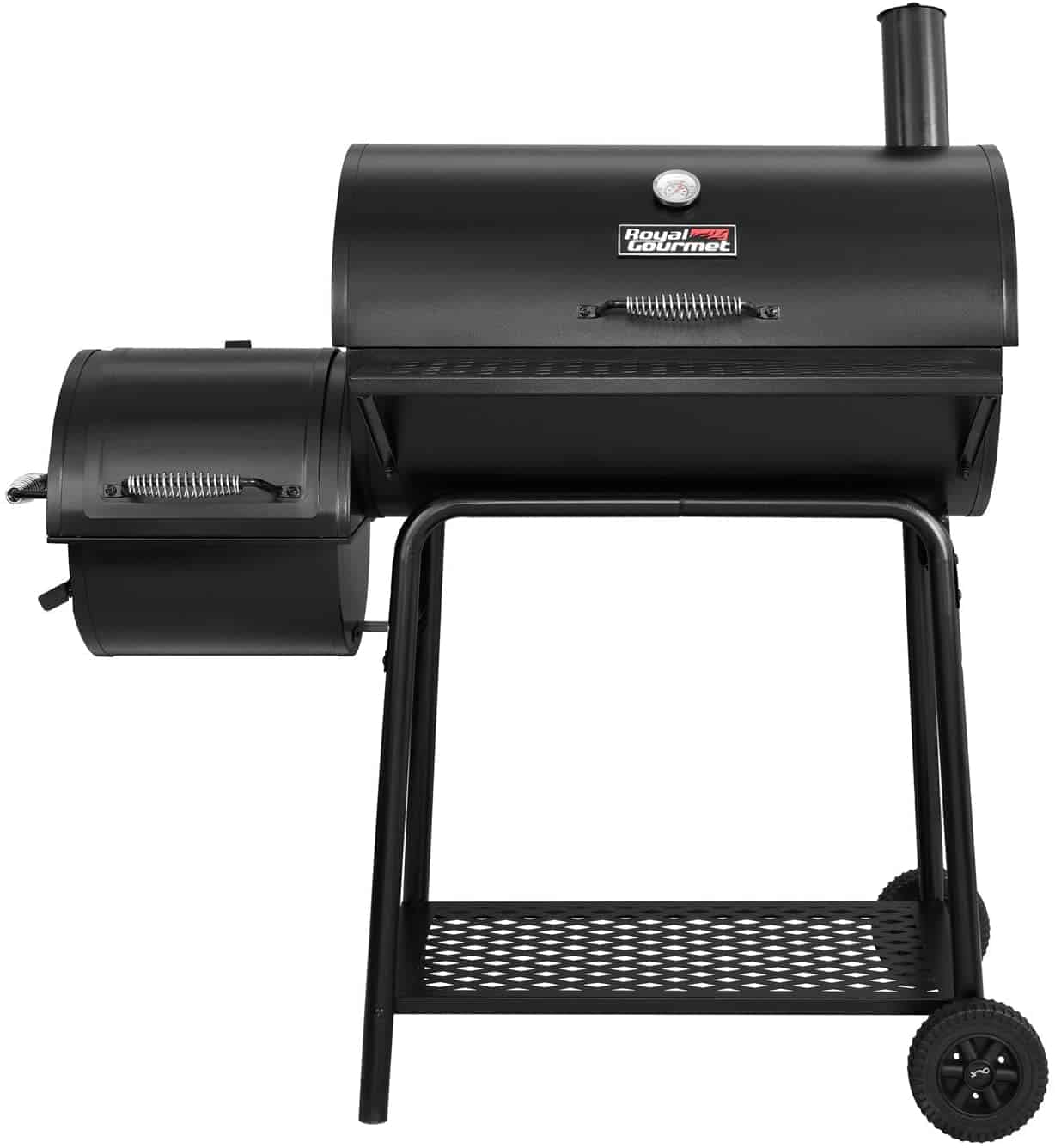 Pros
Affordable
Adjustable charcoal pan
Expanded metal shelf
Sturdy base
Cons
Small offset smoker box
Smoker box is hard to clean
Not suitable for large cut meats
It's available here on Amazon
Best Digital Electric smoker for beginners: Masterbuilt MB20071117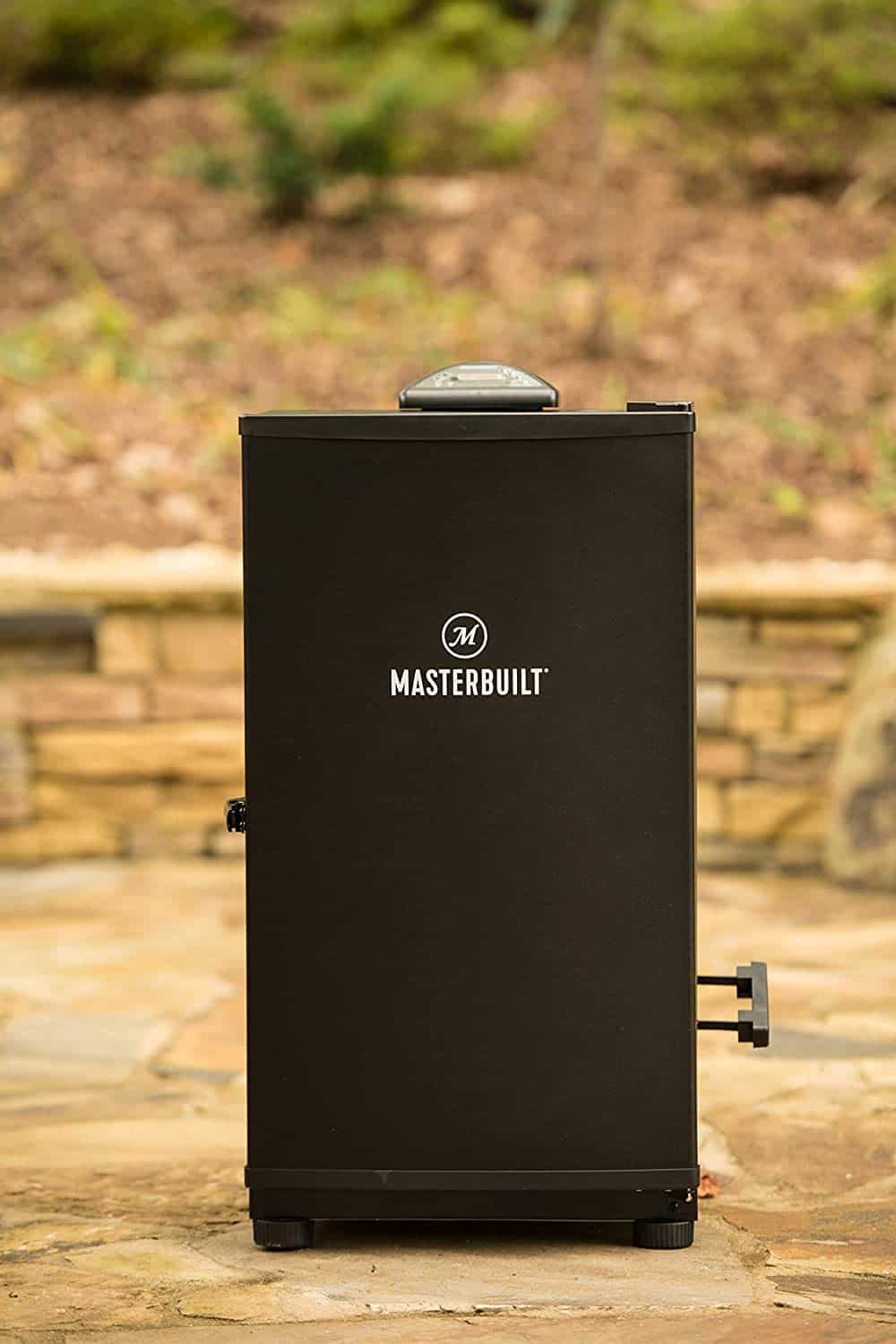 without opening its door. That will allow you to keep the heat within the grill box at your desired temperature. It also comes with temperature and time controllers for quick monitoring. Masterbuilt MB20071117 Digital Electric Smoker not only has a durable build, it also has enough space inside to grill or smoke your favorite meat. Its grilling and smoking chamber comes with four adjustable and removable racks that will enable you to cook for three to four persons at the same time. And because the racks are removable, you can easily adjust the space inside the chamber to accommodate large cuts of meat or poultry. Keeping the Masterbuilt MB20071117 clean is not a problem as well. There are two trays inside its grilling and smoking chamber. One is for collecting oil and grease, the other for collecting the ash from the wood chips. To summarize, here are the pros and cons of this grill and smoker:
Pros
Easy to operate
Easy to clean
Durable built
Cons
Issue with control panels readings under sunlight
Check prices and availability here
Mid-range BBQ Smoker: Realcook Steel Charcoal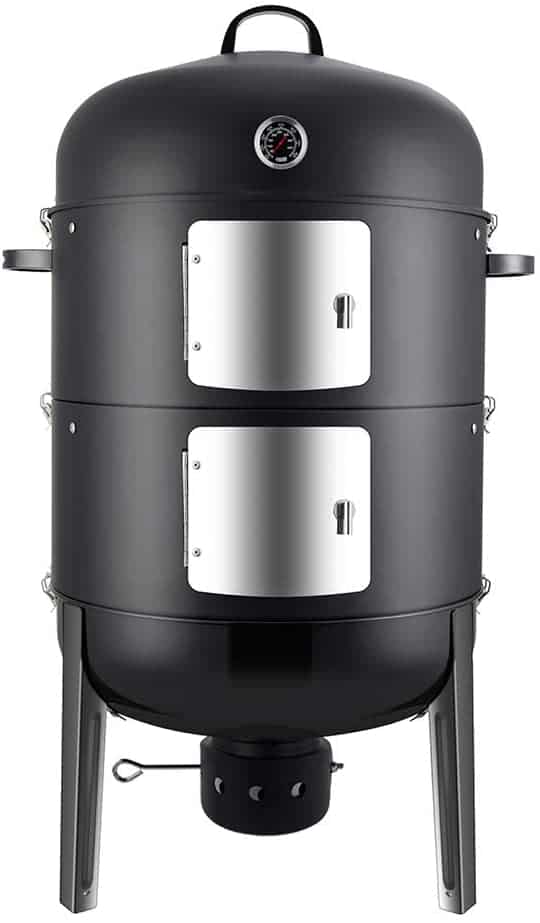 Pros
Multi-layer allows for different functionalities
Can be used as a firepit, griller, and smoker
Hooks in the lid
Dual access doors
Cons
Check the latest prices here
Best horizontal smoker for beginners: Char-Broil American Gourmet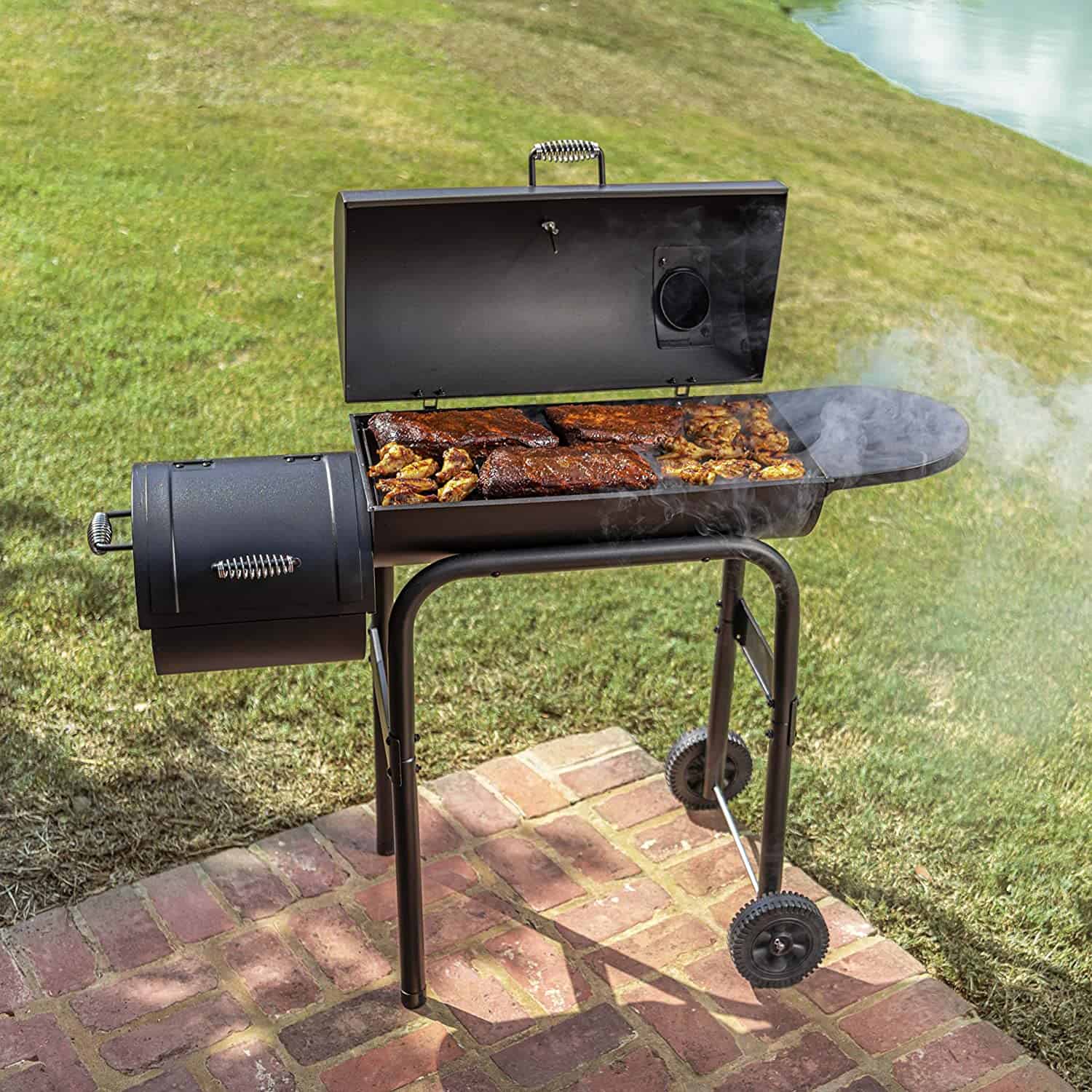 Pros
High-quality product
Better mobility
Multiple dampers for easy heat and smoke control
Wide-surfaced grilling and smoking area
Cons
Check it out here on Amazon
Best propane smoker for beginners: Cuisinart COS-244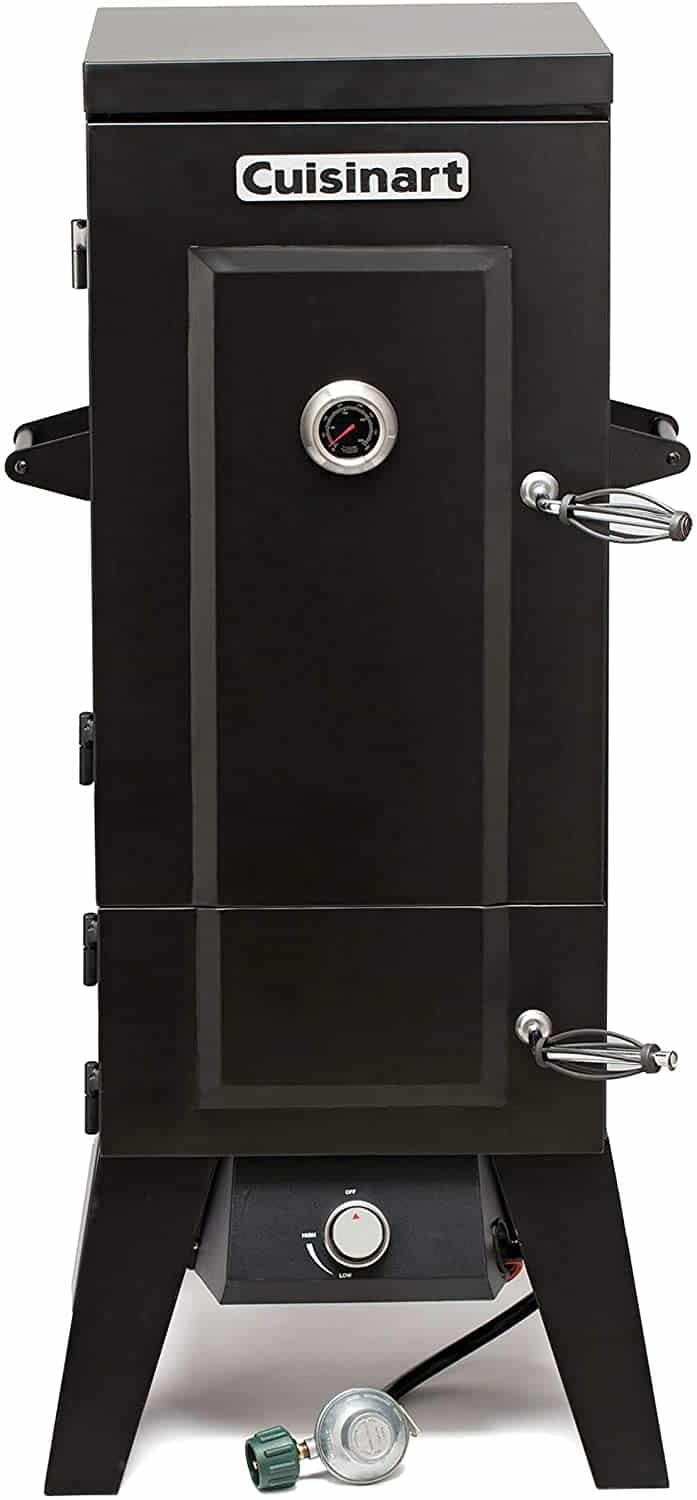 offset smokers. It has a sturdy frame and body, with a twist lock door for sealing the chamber. The smoking chamber measures 5.45-cubic feet and comes with four 14×14 inches racks. The grilling and smoking chamber is big enough to accommodate slabs of meat and poultry. If you want to smoke fresh link sausages, you just have to set the rack at the highest position and tie your sausages to them. The Cuisinart COS-244 Vertical Propane Smoker has a dripping pan for collecting oil, grease, and other liquid. There is also a wood chip tray that you can easily pull out for quick ash disposal. Its grates are also porcelain-coated so cleaning them is not a problem at all.
Pros
Removable liquid drip pan
Removable wood chip pan
Comes with a 40-inch hose and regulator
Cons
No natural gas conversion
Small grates
Check the latest prices here
To make the most out of your smoker, be sure to look at our recommendations for Best BBQ smoker accessories | 20 must-have smoking tools.
Premium beginner-friendly smoker: Weber Smokey Mountain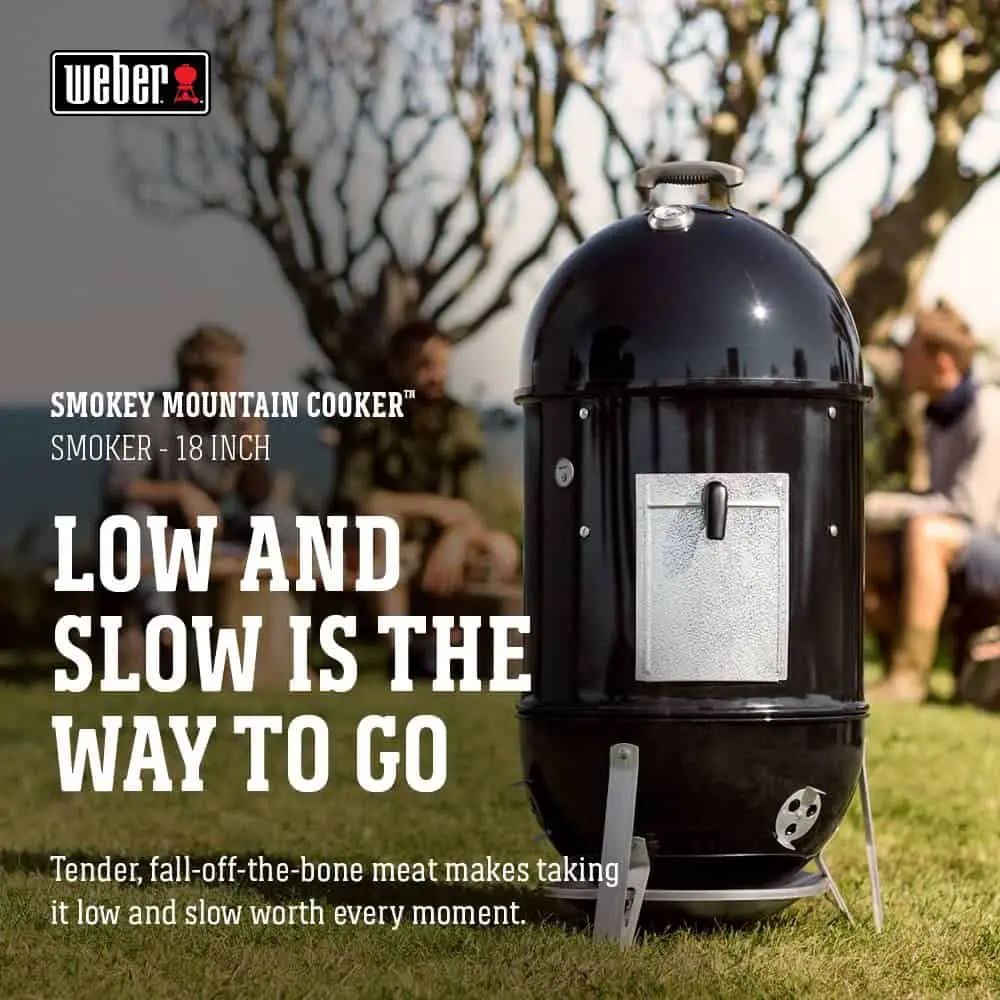 Weber Smokey Mountain (full review) Cooker and Charcoal Smoker is lightweight and easy to move around. It is a simple smoker without much to offer as far as automation is concerned. But that feature makes it user-friendly and easy-to-operate. In fact, because of its plain design, it is a favorite among BBQ competition participants. The Weber Smokey Mountain Cooker and Charcoal Smoker comes with a porcelain-enameled base, middle cooking section, and a lid. Its two cooking grates are made of stainless steel. There is also a water pan and a charcoal pan for refilling water, charcoal, or wood chip. The smoker's metal legs are rust resistant. It also has a built-in thermometer for monitoring internal temperature of the chamber. The Weber charcoal smoker has four aluminum dampers that will allow you to control the airflow and keep the temperature at your desired level.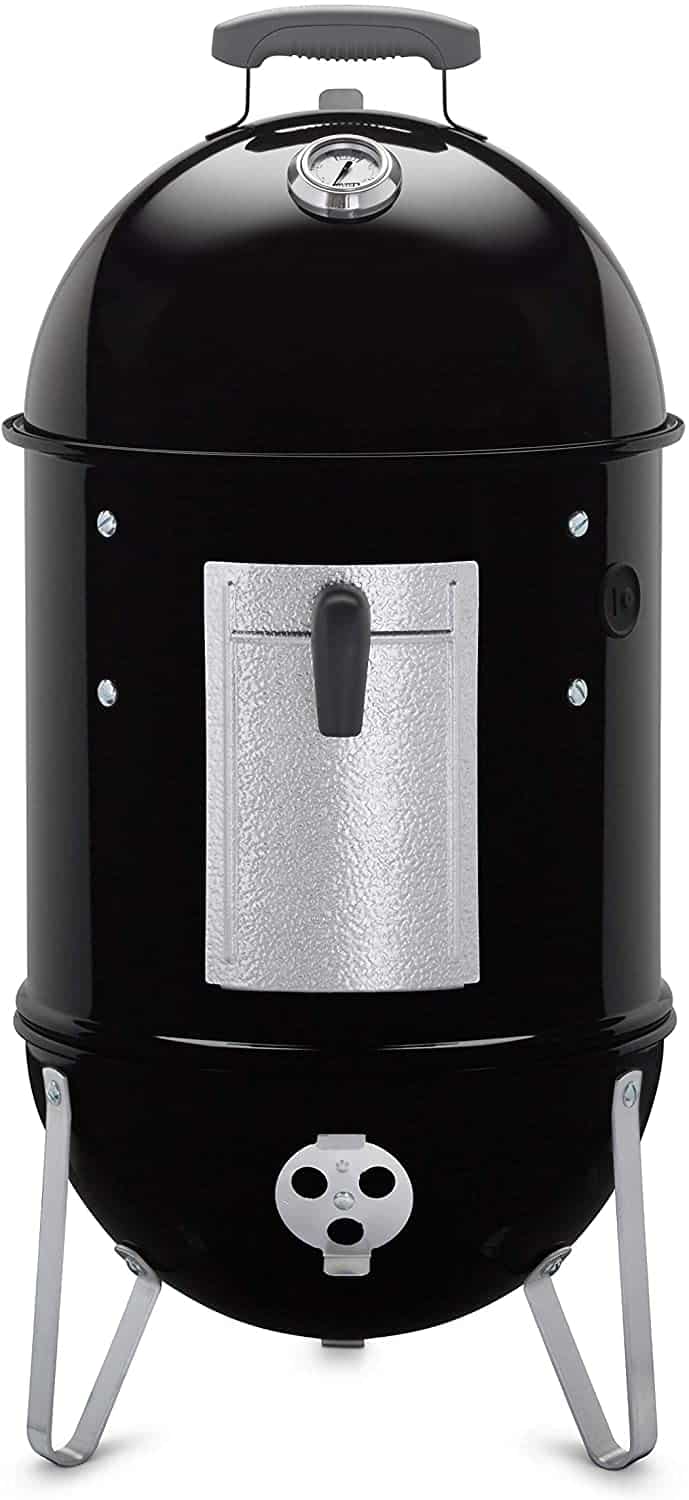 WSM is available in a few sizes, as of now I'm discussing and recommending you the universal medium size of 180-inch. At first glance it might not have that much space but inside you will find as many as two racks that can really fit a whole lot of food. Coming back to durability, Weber Smokey Mountain has been around since 1981 and at it keeps being improved since then. Today it's a perfect smoking tool built of high quality materials. It is so solid that at this price you can expect 10 years of full warranty from Weber and I have no doubts that in the right conditions this smoker can last for much longer. The water smoker design stabilizes temperature and makes it much easier to control which means that even those without much experience or complete beginners won't have much problem with this smoker. I'll just add that in hands of a very experienced person it is a powerful smoking tool. It is confirmed by this smoker's presence at numerous competitions where it often wins against those equipped with professional devices that cost much more. As a beginner, you can also expect a very large number of useful guides online thanks to this smoker's popularity.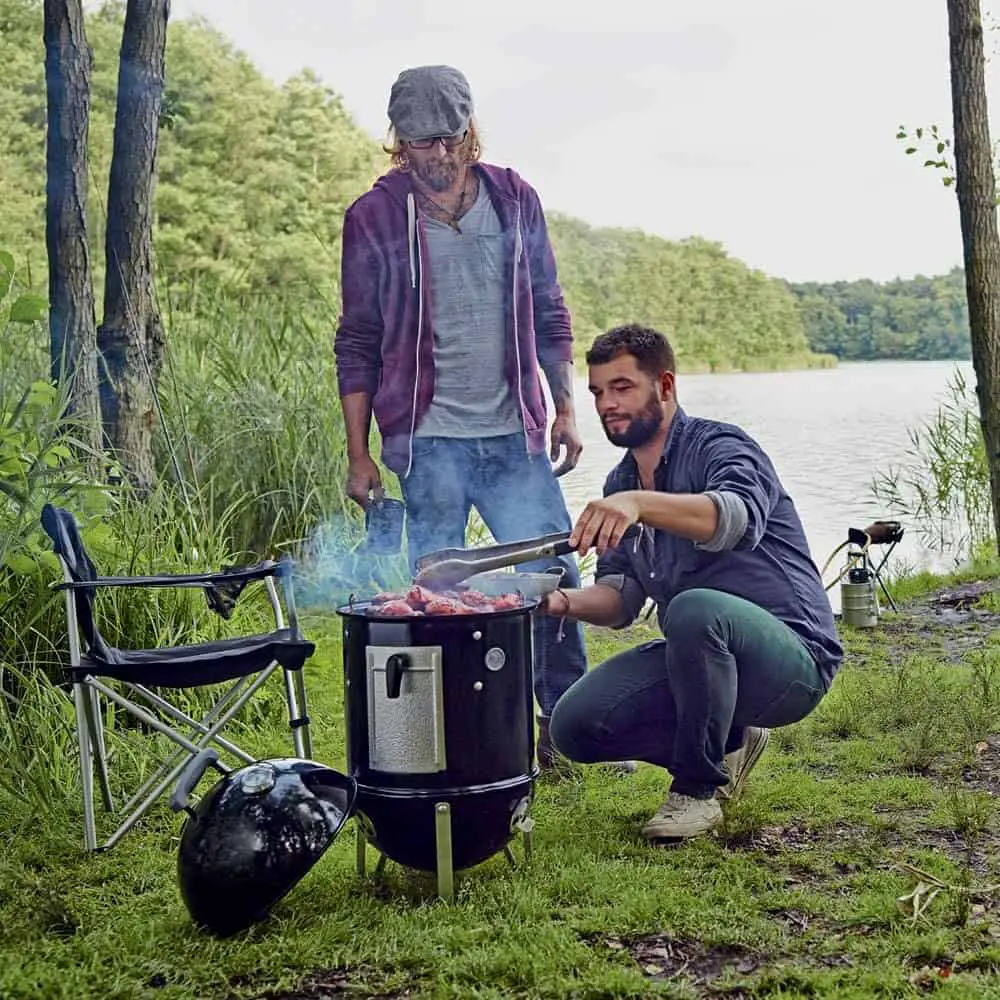 using a separate meat thermometer to check if the food is cooked. I included this charcoal smoker as a recommended unit for beginners because it is pretty easy to operate. That side-mounted fuel box makes it easy to control the temperature, even for newbies. Trustworthy brand, continuous support and improvement. Nice set of features that make it stand out. It's almost crazy to even think about changing a reliable and popular smoker such as Weber's Smokey Mountain Smoker, especially since Weber has taken the time to listen to us (the customers) and make the slight changes requested to this unit. They added a lid mounted thermometer, as well as a bottom mounted heat shield which is unobtrusive to the unit's functions but is very convenient for you. Before this change, you'd have to drill a hole and place your own thermometer or keep one next to the smoker and regularly open the lid to check on the temperature. With this new change, you can easily monitor the cooking temperature and the heat shield protects whatever surface you decide to place your BBQ smoker on. Overall, we got a highly improved WSM. Verdict: There's no beating the natural wood smokey flavor this smoker gets you, and it has a versatile and easy-to-use design. Check prices and availability here
Pros
Portability
Mobility
Easy access fuel door
Two-level smoking
Cons
No ash pan for quick disposal
Small size
Check availability here
Easiest to use electric smoker with remote control: Char-Broil 17202004 Digital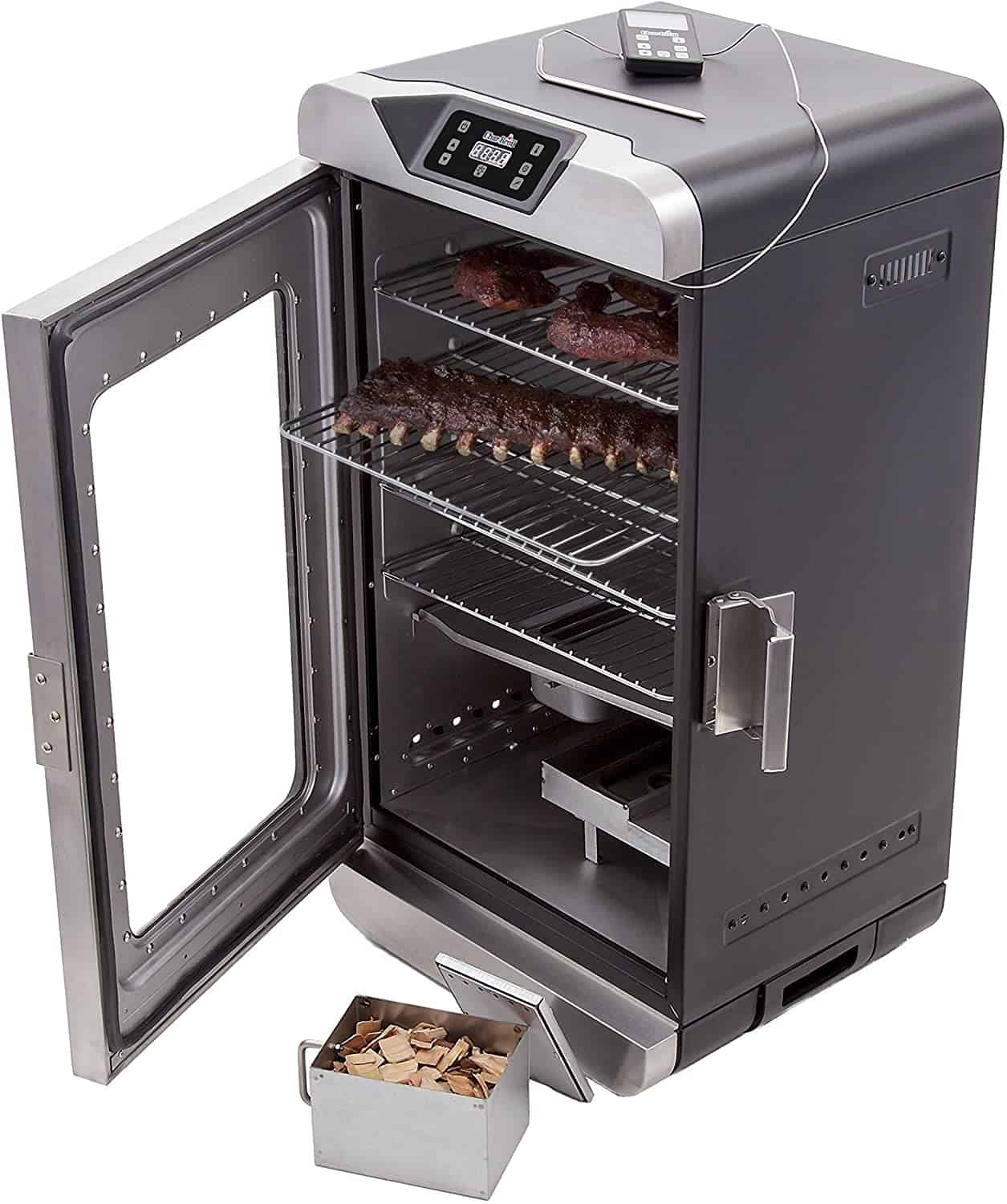 learn to use in minutes, then I recommend the Char-broil digital electric smoker. It is an affordable and easy-to-use smoker for any beginner. Therefore, it's my top pick for any first-timer because there are no complicated controls. Everything is digital, and you even get a remote control to monitor the temperature from a distance. Also, you have a glass door so that you can see the food smoke away. That's very exciting for any amateur!
Of course, glass doors need to be cleaned regularly. Here's how to do that the easy way
As I mentioned, this smoker has digital controls and all the features you need to smoke your favorite foods hassle-free. As long as you have a plug nearby, this smoker will smoke the meat using an 800 Watt heating element. There is a removable temperature gauge so you can see how hot it gets inside the cooker. As a result, anyone can easily see the temperature, so there is no chance to mess up the food! This ensures the food is cooked at a steady and constant temperature for perfectly smoked meat. Check out how to smoke a juicy tender brisket in a unit like this: The smoker has a vertical shape with four height-adjustable racks. Therefore, you can assemble the smoker's grates any way you like, depending on what food you're smoking. Once the food is done, the smoker has a warming feature to keep it warm. You can even take the smoker on the road because it has wheels, so it's easy to maneuver and portable.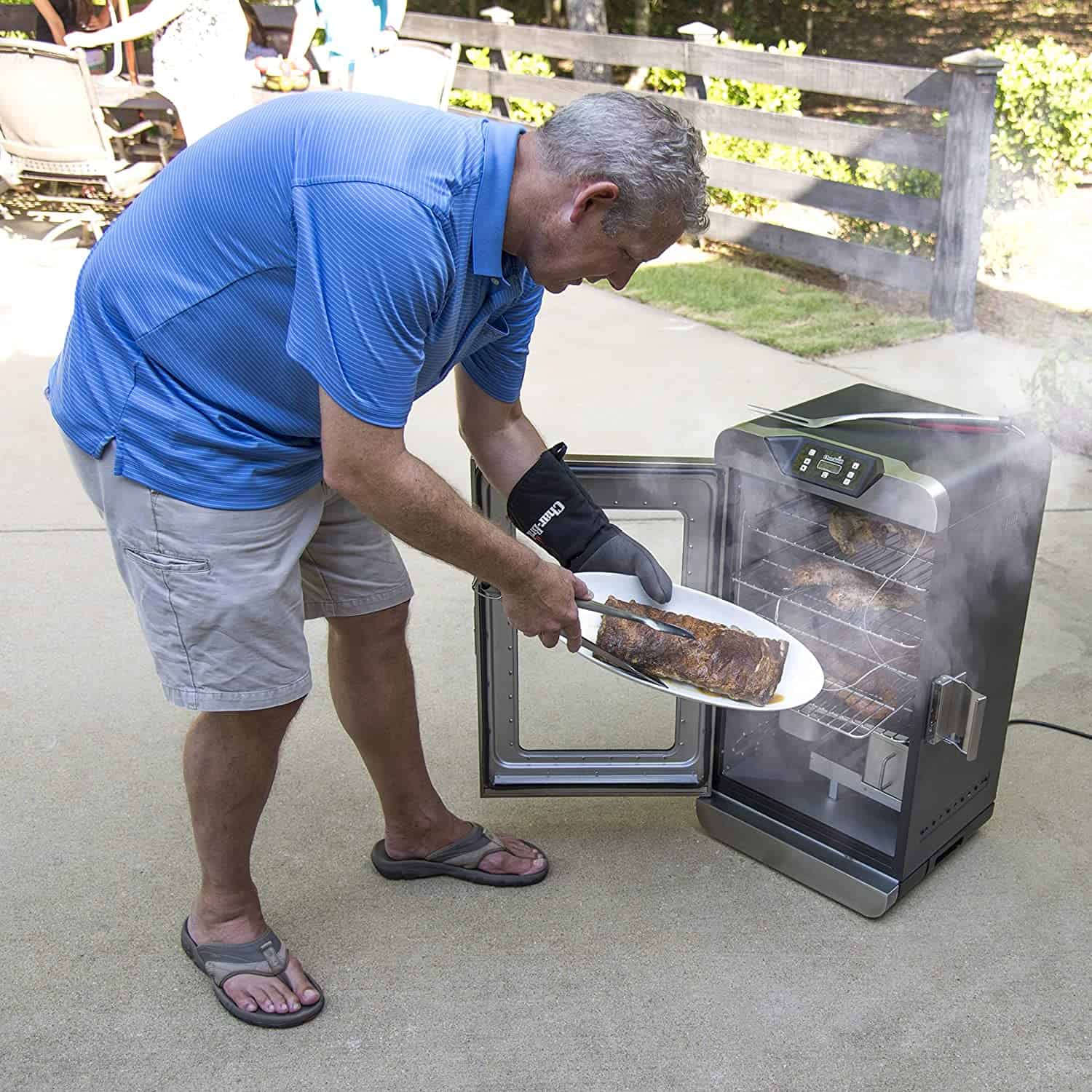 Verdict: This smoker runs like an advanced unit, but it's suitable for beginners, so it's a thumbs up from me!
Check prices and availability here
Best propane smoker for beginners: Masterbuilt MB20051316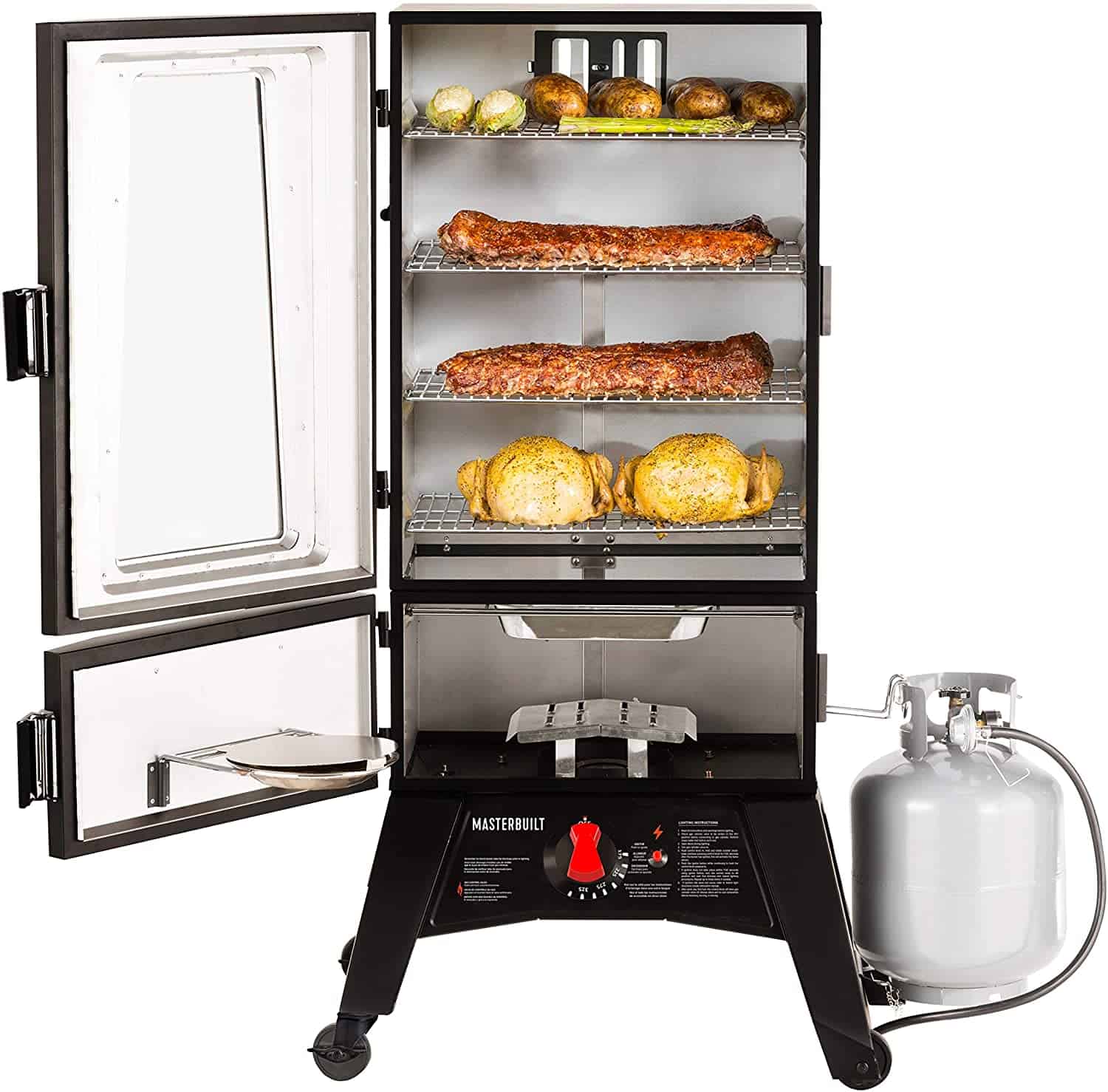 wood chips for that delicious smoky flavor.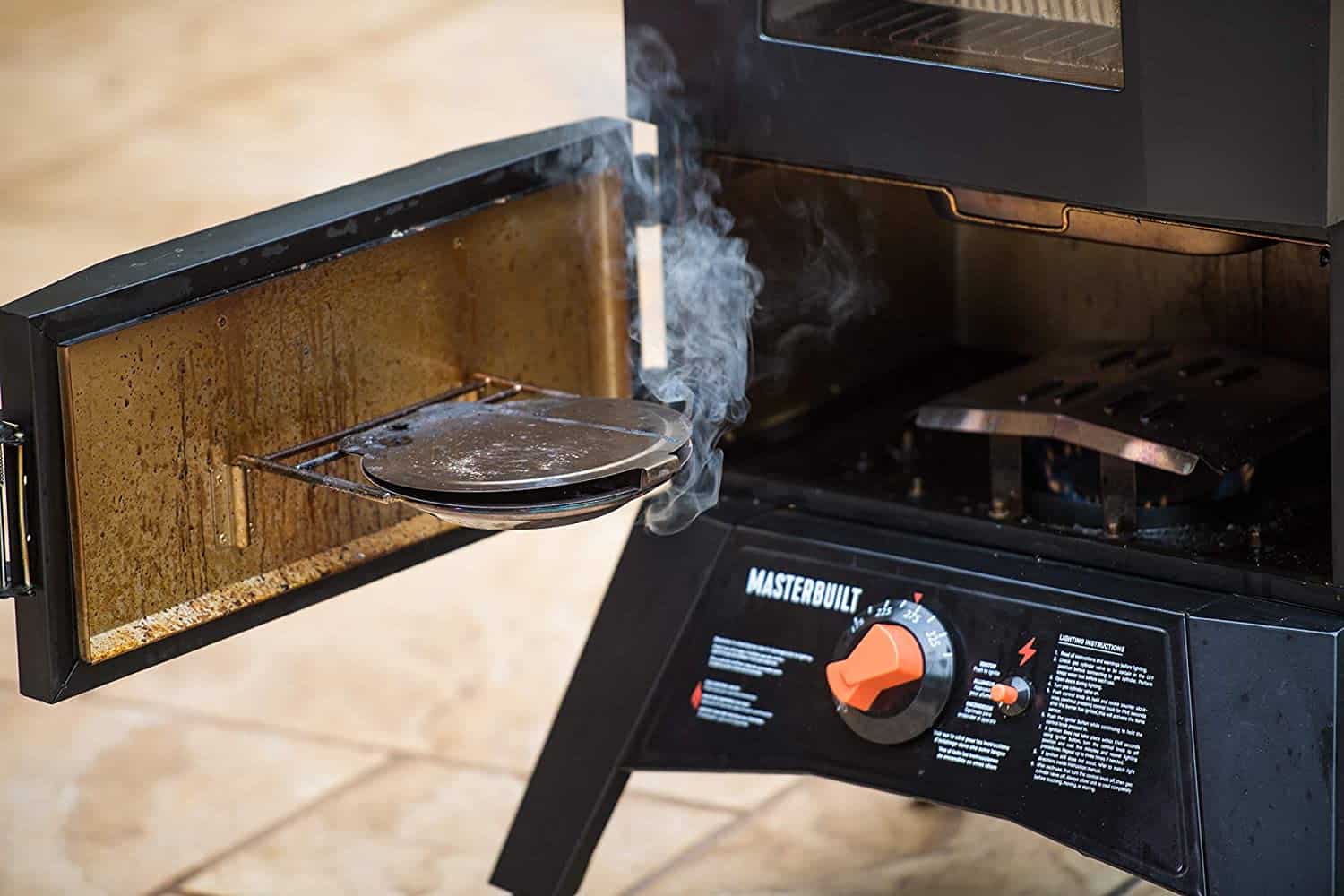 Verdict: Digital temperature control and effortless maneuverability makes this smoker beginner-friendly and delivers impressive flavor!
Check prices and availability here
Already hooked on gas BBQ smokers and looking to upgrade? Find the Best 2 Gas BBQ Smokers reviewed here + what to look out for when buying
Best budget electric smoker for beginners: Masterbuilt MB20071117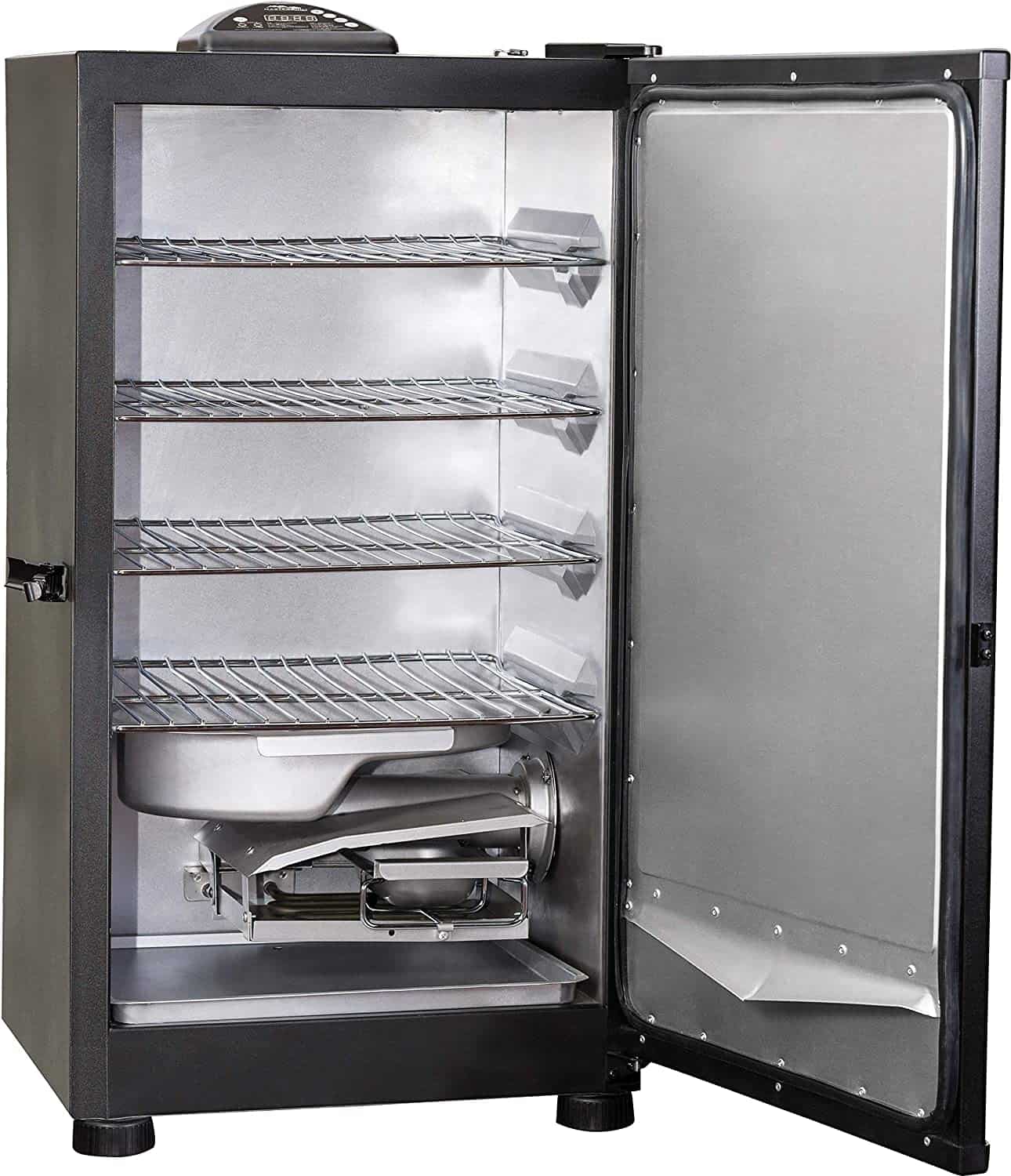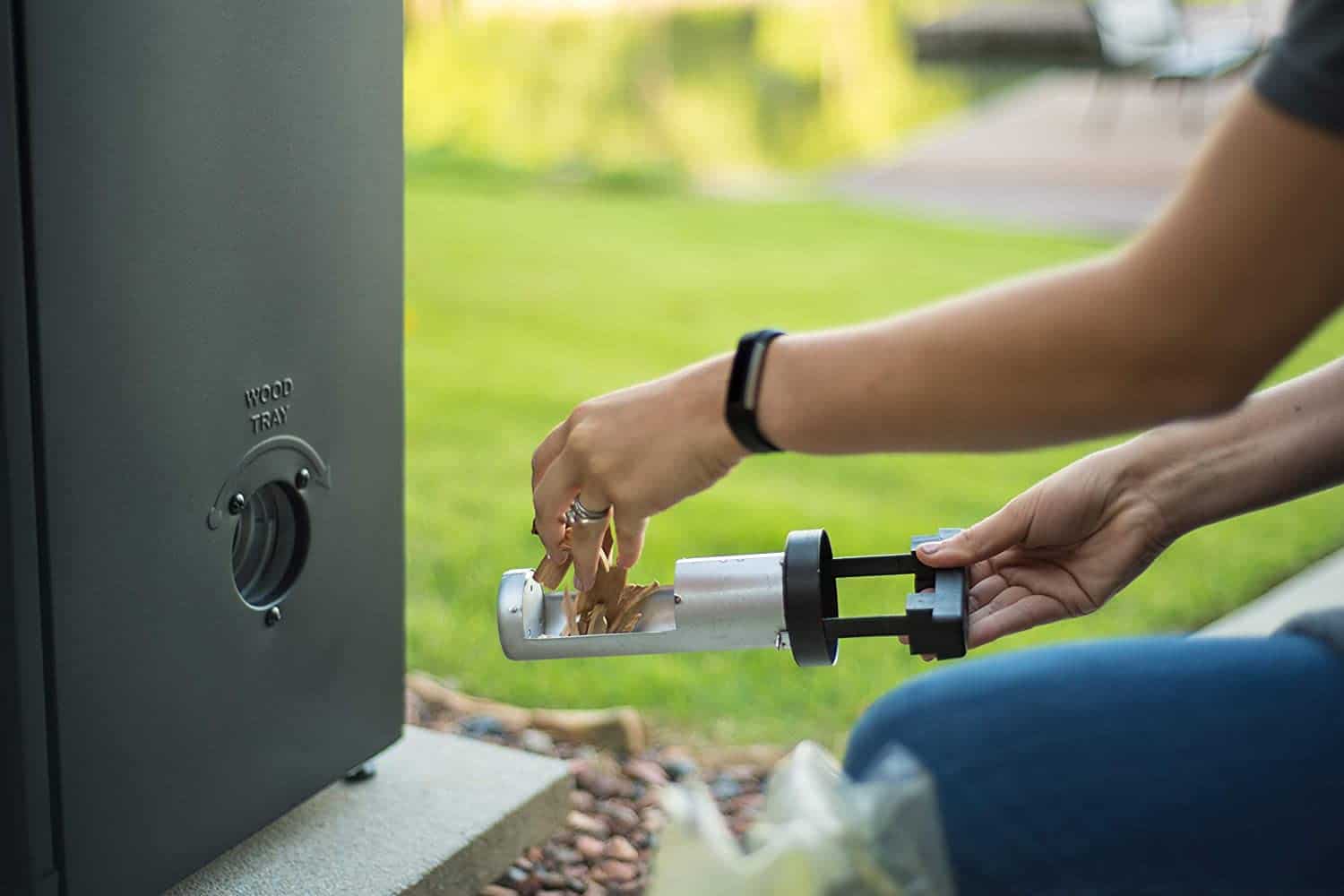 smoke cheese, pork, beef, fish, or whatever else you fancy. Just be sure to check on the wood chips as they burn a bit faster in this smoker because the tray is smaller. Verdict: This is a high-quality cooker at a low price with all the features a beginner needs! Check the latest prices here
Learn more about electric smokers in my Complete electric smokers guide: how to choose 1, AND use your pick!
Best barrel smoker for beginners: Pit barrel cooker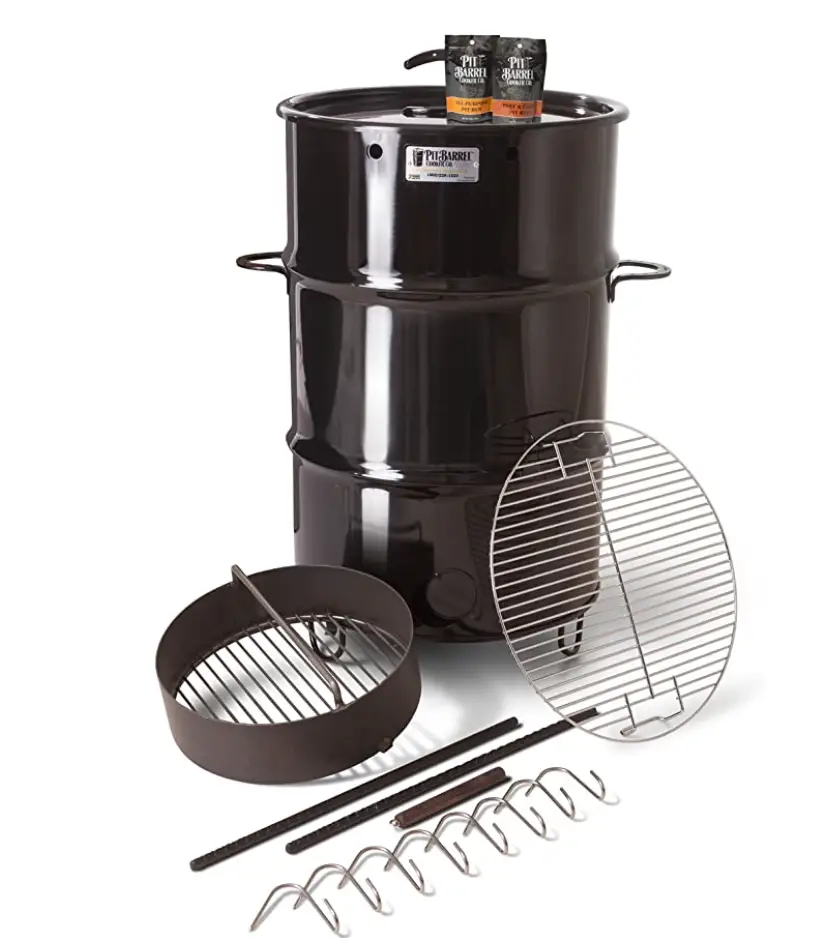 Pit Barrel Cooker is less versatile in this regard, on top of that PBC is hotter and differs a little in the cooking system. First and foremost, it doesn't have a water bowl, and the cooking system consists of hanging food on hooks. It works great when smoking big and long pieces of meat such as ribs. Also included are grill grates if for some reason you are going to need them. According to numerous experts, a hook system is better because the meat avoids contact with a hot rack, which allows it to cook more evenly. The PBC structure doesn't allow to achieve lower temperatures but when smoking, the temperature is stable, although slightly higher. Easier temperature control might be a deciding factor for a beginner. I also appreciate the hook system as well as the ability to use a rack for a whole chicken or turkey for example. No matter if you choose WSM or PBC, you are certainly going to be satisfied in terms of quality of workmanship and durability. Besides two significant differences ( hook cooking style and stable yet higher temperature ) both models are worth recommending. Check prices and availability here
Best pellet smoker for beginners: Camp Chef SmokePro Deluxe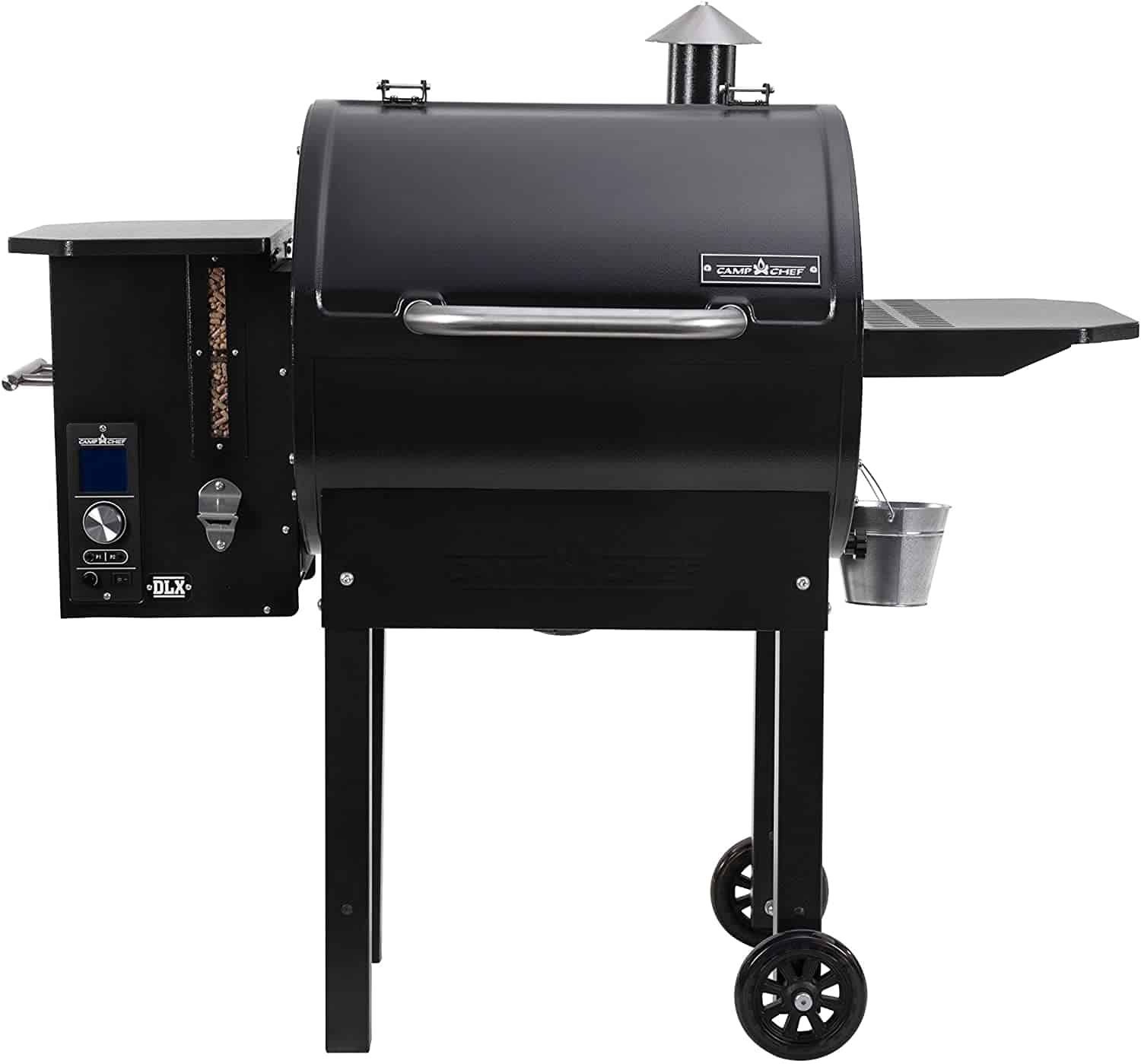 Check the latest prices here
Where most people start: Weber Original Kettle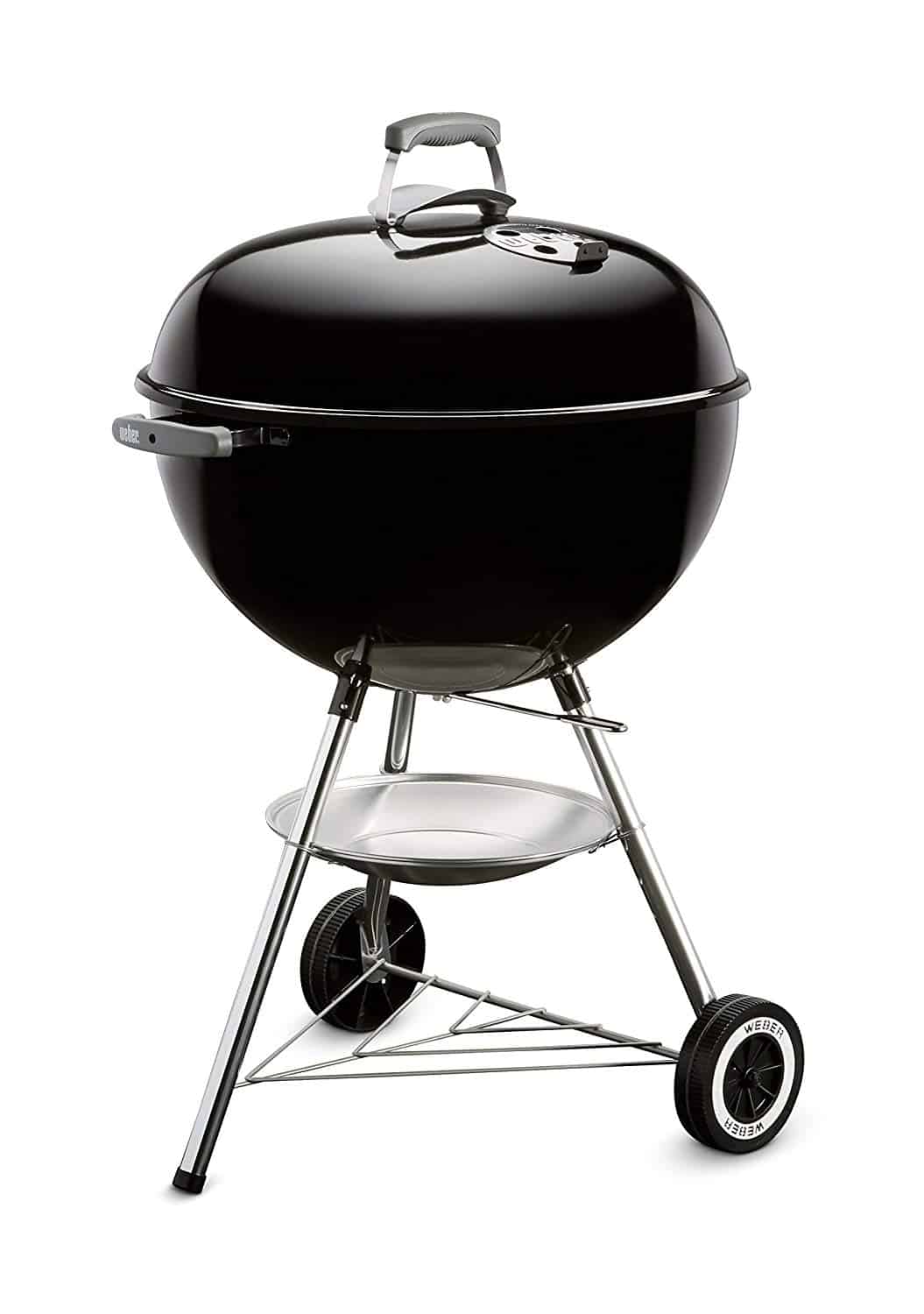 original weber premium kettle has a lot of space which, when used creatively and with briquettes put on it, allows to turn it into a great smoker. It is much harder to control temperature in it for many hours, though, but it is possible. Another advantage of this grill is its very huge popularity, which means you won't have any problems finding useful guides or videos that will show you in detail what to do step by step to prepare great barbecue. The last argument will be quality and durability, weber kettle was created a few decades ago. Ever since then, it keeps being upgraded all the time which makes it the best grill now in many regards. The manufacturer covers this model with 10 years of warranty, although I know for sure that well maintained models can easily lasts even a few times that long (of course I'm only talking about the structure, not the grill grates). Check the latest prices here
Do you only want smoking? Or grilling as well
Personally, I only recommend a combo grill in a situation where you have a very limited budget or you simply want to try your hand at smoking for the first time and you don't know if you'll like it. In such situation, a great solution is a kettle grill, like something from Weber. It is very cheap compared to typical smokers and works great both for smoking and for grilling. A dedicated smoker has a completely different type of structure, it is more airtight, designed only with smoking in mind. It comes with all the necessary features that make temperature control easier and increase the convenience of smoking. The same goes for a dedicated grill, its structure is completely different as well. That's why, whenever possible, I recommend buying a dedicated smoker for smoking and a separate dedicated grill for grilling.
Every type of smoker can make great barbecue but it takes the right skills to make this happen. This guide refers to several types of smokers where the source of heat is not only charcoal, but also 
propane
, electric or pellet. Each of them is different – it has its own upsides and downsides I can't tell you which one of them is the best as it all actually depends on the situation. Learn the key upsides and downsides of each of them and make your own decision on which of them fits your situation the best.
This type of smoker is associated with time-consuming smoking process that requires a lot of attention. Contrary to a popular belief, it is something that every smoking enthusiast loves, starting with getting the 
charcoal burning
, to temperature control, air flow, amount of fuel, and all the way to great results that come from your hard work and large amount of time spent.
Pros:
Charcoal gives food the best flavor
Smoking meat with charcoal gives better results when it comes to creating smoke ring bbq and bark
It requires a lot of attention and time which in a way is a lot of fun to many
Cons:
Sadly, they require the most time out of all types of smokers
Before you start cooking, you need to take into account the time to get the charcoal burning and then just as much to achieve the right temperature.
Without a doubt, a charcoal smoker is the best option if you want to learn everything related to smoking A to Z. Contrary to a popular belief, it is not that time-consuming, good models allow for very easy temperature control.
Convenience, speed and great results of smoking are the three most important aspects of this type of smoker. A great alternative to charcoal smokers when you don't have time or simply don't feel like controlling the entire process of smoking.
Pros:
Incredibly convenient and simple to use, even for beginners
It reaches the adequate temperature very fast, pretty much about a dozen minutes since getting started
You don't need to worry about the amount of fuel, air flow control or temperature, everything is taken care of by a system that adds more pellets in the furnace when needed.
Cons:
First and foremost, very high prices for a decent model
Pellet gives a slightly different flavor from charcoal, not everyone likes it
People came to love this type of smoker for its convenience, ease of use and great results. There is no denying that the ability to prepare great barbecue without much effort is something very encouraging to buy this type of smoker.
It is also advertised under the name pellet grill but in reality it is a dedicated smoker that isn't very good at grilling.
Just as convenient and fast as pellet smokers, but much cheaper. They are perfect when you're thinking about really long smoking as you don't have to worry about refueling and maintaining a fixed temperature.
Pros:
Convenience, speed and precision
You don't have to think about controlling temperature or fuel
They are versatile and capable of effective cold smoking ( if you buy the right accessories )
Cons:
Sadly, their biggest downside is being prone to malfunctions, electric elements are known for their problems. If any problem arises, in most cases it renders the smoker useless until repaired, which tends to cost a lot
Problems arise much more often and sooner especially if you buy a cheap electric smoker
The food flavor will never be as great as from a charcoal or even pellet smoker
A good choice for someone who doesn't like BBQ at all or is super lazy. A great choice for those who think of smoking things other than meat. Cold smoking gives plenty of opportunities, fish, cheese or sausages.
You actually won't learn anything about real smoking with that kind of smoker, to me its biggest advantage is mostly the cold smoking ability.
The main types of smokers

The truth is, it takes a little bit of trial and error to become a true pitmaster, regardless of the type of smoker you get. However, some smokers are easier to use than others. I want to break down the main types of smokers you can buy and provide a bit of information about each. Just because electrics are the easiest to use, it doesn't mean you can't start off with another kind of smoker. You can learn to use a charcoal grill to smoke after a few tries too, so it might be best if you want that authentic smokey wood barbecue flavor. Let's look at the various types of smokers:
Charcoal smokers

The charcoal smoker is the top smoker for true BBQ lovers. This type of smoker runs on charcoal as the fuel source. Most charcoal smokers have a traditional round, cylindrical, or barrel-like design. But, most double up as grills. One of the most popular charcoal smokers is the egg-shaped kamado-style unit, such as the Big Green Egg, a grill and smoker hybrid. The main advantage of charcoal smokers is that they provide that classic smokey wood flavor people love. No other fuel source can give meat such an intense smokey flavor. To create smoky aromas, you add wood chunks or wood chips to the smoker. The chips have various flavors, from mild and fruity like applewood to strong and bacon-y like hickory.
Learn more about the different woods to smoke with in this overview here.
Another advantage of charcoal smokers is that they are versatile. You can use them as grills to quickly cook some steak or as smokers to cook low and slow brisket. Also, you can cook more than just meat. So, you can smoke seafood, fish, cheese, nuts, vegetables, and even tofu. The biggest challenge with using a charcoal smoker is to get the right temperature and then maintain this temperature throughout the long cooking process. Even the pros struggle with flares and the smoker getting too hot. Therefore, as a beginner smoker, you'll struggle to operate this kind of smoker, and you might end up burning the food. Because you need to stay near the smoker at all times to control the temperature, I don't recommend charcoal smokers as your first-ever unit.
Propane or gas smokers

Consider propane and gas smokers as your second best choice for beginner smokers. Unlike charcoal smokers, where it's hard to control the temperature, the gas smokers are relatively easy to set up and maintain the ideal temperature. In fact, propane smokers are one of the most beloved smokers for those who like to smoke occasionally and beginners alike. Most non-experts prefer this type of unit for its ease of use. The whole process is simple: turn on the smoker, add wood chips, set the temperature, and put the meat on the grates. You don't have to keep checking because the temperature doesn't fluctuate much. Therefore, there usually aren't any flareups, and the meat is cooked to perfection. The end result is a delicious smoky flavor with no ashes. Another advantage of propane smokers is that they are easy to move around and compact, so they don't take up too much space. This is ideal if you have a small patio or backyard and don't want a chunky cooker. In terms of flavor, the propane smoker lies somewhere between the electric and the pellet or offset on the spectrum. Most propane smokers are affordable and long-lasting. However, consider the fuel source as the only disadvantage. Propane tanks are easy to find and buy, but they are quite costly compared to how much use you get out of one tank. Also, the tank can run out mid-smoking, so you need to have a backup nearby.
Electric smokers – Our top pick for beginners!

The electric smoker is king when it comes to beginner-friendly smokers. It's by far the easiest to use, and the best part is that you don't need to monitor the food as it cooks. Although not as popular as traditional pellet and charcoal smokers, electrics are a great option for the household. Since the electric smoker is a relatively new invention, it usually comes with all kinds of interesting upgrades and features such as WiFi and Bluetooth control. Therefore, you can set the temperature digitally, add wood chips, water, the food, and then control the smoker from your smartphone or remote control. It's definitely a fail-proof and convenient way to smoke, especially for beginners. By far, the best advantage of an electric smoker is that you set the temperature and leave it because it doesn't fluctuate at all. Therefore you can smoke at a consistent temperature for the preset time. This means more precise smoking and better food because there's less trial and error. Electric smokers come in all sizes, and some are even suitable for indoor smoking because they run solely on electricity. Thus, they are also cheap to operate. The only disadvantage of electric smokers is that they lack the depth of smoky flavor compared to the other smoker varieties. Sure, the food tastes smoky, but it's not quite like the charcoal smoked stuff.
Also read: Best electric smoker cookbooks | Recipe inspiration for all skill levels
Offset smokers

Offest smokers are another pitmaster favorite. They are versatile and capable of smoking and grilling, but they are heavy-duty, so they'll last you for many years. This type of smoker is called offset because of the way the hot air circulates inside the unit. Thus, the food cooks via indirect heat. The firebox is located at the side of the cooking chamber, hence the name "offset." As a result of this unique design, the smoke moves from the firebox to the chamber. Thus, the smoke is constant, and the meat cooks as a result of indirect heat. To use an offset smoker, you need to familiarize yourself with the various vents and dampers that trap and let the air out. So, when the temperature inside the cooking chamber gets too hot, you need to let some heat out. Thus, it's not as easy to use an electric or propane smoker. You still need to have some knowledge of temperature control, and you'll have to monitor the food while it smokes. But, if you're all about smoking large batches of meat, then the offset smoker is the best option because these have a large cooking area. As well, the flavor is fantastic because you add wood which infuses the meat with smoky aromas. However, chances are, if you want easy smoked meats, there's no need for complex cooking units. Until you learn to operate the dampers and vents, you'll have some difficulty with offset smokers.
Also check out my post on BBQ smoker baffle plates – how to use them and where to buy them
Pellet smokers

A pellet smoker is exactly what it sounds like: a smoker that uses tiny wood pellets as its fuel source. I would call this a medium-easy smoker to use as a beginner. It's not as tricky as the charcoal but more challenging than the electric. Since the smoker runs on high-energy pellets, you need to refill the pellets if you smoke for many hours. The advantage of this smoker is the flavor. The flavored wood pellets give your meat a deep smoky taste. Once you taste pellet-cooked foods, it's hard to forget the delicious aroma. It's no wonder this type of smoker is quickly growing in popularity across America. Just like propane smokers, the pellet one lights up and reaches the desired temperature quickly. So, you can set the preheat temperature and start smoking in minutes. Most models have digital temperature buttons so that you can control the heat from there. Thus, this type of smoker is an excellent compromise between a charcoal and electric smoker. Is it the best for beginners? Not really, but if you want to get an intense flavor, you can learn to use it in a matter of days. However, there is one big disadvantage to buying pellet smokers, and that's the hefty price tag. Most reputable models are more expensive than other types of smokers. Also, you'll have to plug it into an electrical outlet, so you can't smoke on the patio without a plug. But, if you have the budget for a pellet smoker like some of these reviewed here, it is an excellent investment, and it's quite simple to operate as long as you don't mind keeping an eye on the pellets. The smoker uses up quite a lot of pellets, but it gives amazing flavors.
What accessories do you need for your smoker?

Once you get a smoker, you'll realize you need some unique accessories as well. Now, there's no need to go overboard and grab everything but some of these tools are helpful.
Probe smoker thermometer

Most smokers are equipped with a built-in thermometer that shows you the temperature. This is extremely useful and handy. However, there is one problem: the thermometers are not always accurate, so you can end up ruining your meat. A true pitmaster knows that a separate probe thermometer is key to successful smoking. The fact is that you have to cook the food until it is fully cooked. Different foods have various cooking times, and the internal temperature must be exact. Therefore, you need an external temperature probe to poke into the food to check the internal temperature.
Check out my handy guide to various meats and how long to cook them.
Wood chips

If you want authentic BBQ flavor, then you must use wood chunks of wood chips. Most electric and propane smokers have wood chip trays, so you can add your favorite wood chip flavors. The whole point of slow smoking is to infuse the food with a smokey aroma, so having wood chips is an essential part of smoking. Dark meats pair well with strong woods like hickory, mesquite, and alder. Poultry and seafood taste amazing with fruit woods like apple and cherry chips. There are so many more wood chip varieties too, just check.
Heat-resistant gloves

Even though you're smoking on low heat, the truth is you can easily burn your hands. Always use heat-proof gloves to handle trays, food, and touch the smoker. I recommend getting a good pair of gloves to prevent burns or injury. The gloves I recommend have non-slip fingers, so you don't drop the food as you handle it. They're also easy to clean and very durable.
Knives and trimmers

Don't underestimate the utility of a good pair of meat knives. Most meats require some trimming and cutting, so you need to have a pair of smoker-friendly blades. With these, you can cut up the food to make it fit into the smoker. For example, a brisket-slicing knife can be very useful because it helps you remove fat and make the meat more tender. Long-blade knives are also good at cutting other meat cuts and even fish. Check out these best knives for smoking meat as well
The bottom line

Smoking food is the type of delicious backyard activity the whole family loves. When you're after the best easy-to-use smoker, look for vertical units with side-loading wood chip trays. If you're excited to watch the food smoke, get a glass door smoker. The main takeaway is that a great beginner-friendly smoker doesn't have to cost a fortune. An electric or propane smoker with digital controls is the best option for someone starting their BBQ journey. Once you get the hang of smoking delicious meat cuts (& more), there's no going back.
You have a smoker, but what to cook? Check out these Top 10 BBQ Smoker Recipes – From ribs to veggies
Joost Nusselder, the founder of Lakeside Smokers is a content marketer, dad and loves trying out new food with BBQ Smoking (& Japanese food!) at the heart of his passion, and together with his team he's been creating in-depth blog articles since 2016 to help loyal readers with recipes and cooking tips.