I love creating free content full of tips for my readers, you. I don't accept paid sponsorships, my opinion is my own, but if you find my recommendations helpful and you end up buying something you like through one of my links, I could earn a commission at no extra cost to you.
Learn more
When hosting backyard parties at home, one of those foods that will surely be included in the menu is smoked and grilled meats.
If you want to serve the most succulent steaks to your guests, then you should invest in the best smoker grill combo.
This device doubles as a smoker and a grill, allowing you to smoke and grill meats at the same time!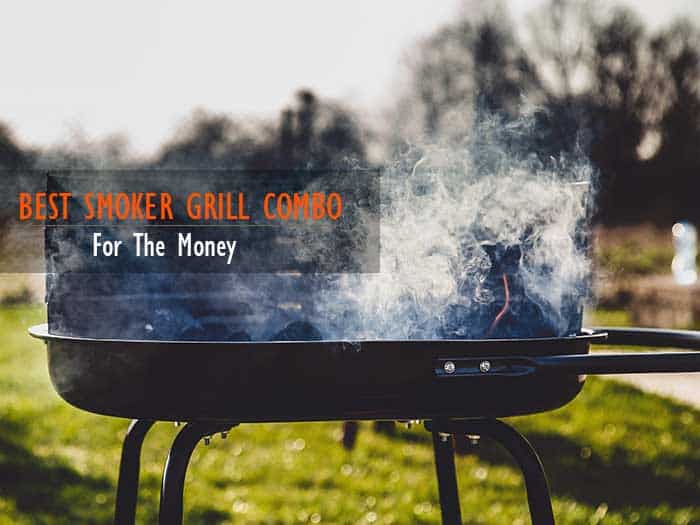 While you probably would not mind buying two cooking devices, a smoker, and a grill, this could actually take up a lot of space in your backyard and is not entirely practical. If you want a cooking device that can save you both time and money, the Smoker combo would be a great device to have. It also gives you the flexibility to choose the cooking method that you would prefer at a moment's notice. Thus, it's perfect for those who like to host last-minute parties.
But before you start shopping for the combo smoker grill , take the time to do your research and get to know this device even more. That way, you will be able to make the best decision when choosing the right one to buy. So check out this guide as we talk more about the grill combo.
What is a Smoker Grill Combo?
From the name itself, the combo grill smoker is basically a combination of a smoker and a grill. As such, it's a device that you can use for smoking and grilling meats at the same time. This dual cooking device serves two purposes, which makes it a very practical device to invest in. In fact, they are like the outdoor version of the multipurpose oven that you have in your kitchen.
The smoker can be powered by either charcoal or gas, just like a traditional grill. Some of the higher end models use a combination of wood and electricity. Most of the smoker grills come with two cooking chambers. One is in the form of a smoke box while the other is a separate grill where you grill your food.
As the heated smoke passes through the meat, it will start to cook slowly while absorbing the unique smoky flavor.
Things to Consider When Shopping for a Smoker Combo
Before you start shopping for a smoker grill, it's crucial that you take note of the most important things to consider when buying one.
Size
Think about the people for whom you will be cooking the meat. Will you be cooking for a big group? Are you cooking only for a few members of your household? If you're going to cook for a lot of people, then you better opt for the bigger sizes. That way, you can cook plenty of meat in one go, and your guests won't have to wait longer to be served.
Versatility
Is the device versatile enough? In order for you to get your money's worth, you should be able to purchase something that can smoke, grill, roast, and do a lot of things. Any device that doesn't offer at least two of these options is not considered a smoker grill.
Price
While the price may not be a factor for some people, it's an essential factor to consider when shopping for your smoker grill. Generally, the price of combo grills starts at $100 up to a thousand dollars and more, depending on the design, model, features, and brand.But remember that the most expensive ones are not really the best and the cheapest ones are not the worst. You need to also take into consideration the added features when factoring out the price. If you can afford the fancy ones, then go ahead and buy one.
Warranty
Eventually, your smoker grill could become faulty and might need replacement parts. So one of the things to keep in mind when buying one is whether the grill is covered with a warranty or not. Also, if certain parts need to be replaced, would you be able to easily source them?You can visit the website of the brand of the smoker grill that you plan on buying to find out more about this or get in touch with their customer support team.As for the warranty, it's usually a good idea to choose products that come with at least a year of warranty. One year should be enough time to test and see if the device is indeed durable.
Portability
Portability is an important consideration to think of. Would you prefer your smoker grill to have wheels or handles that you can easily move from one place to another? What about the dimensions and size? It's always important to choose the device that will fit into your backyard or any space in your home where you intend to place it.You need to also think of the added features, such as temperature control and additional vents or dampers that can easily control the flow of air and temperature, especially when smoking meat.
Durability
You also need to find out if the smoker grill you are buying is strong enough to withstand the constant heat and the daily wear and tear. This is especially true if you plan on using the device on a daily basis. What about the metal used in the exterior? Is it durable enough?Smoker grills made from heavy-duty stainless steel are the best choice for a backyard grill.Although, you should know that this too may rust eventually. Therefore, choose something that comes with a cover if you intend to leave the grill outdoors. Grills that have ceramics and powder coated paint on their exterior may be the best choice for outdoor use since they don't rust. However, these types of smoker grills are a bit fragile and could chip fairly easily.The legs of the smoker grills are another important component that you need to think about.It should have a base that's stable enough to ensure that it will not topple over as you cook the meat. Those that come with bulky and large wheels are great choices since they can be easily moved around in your backyard.
Combo Smoker Grill Benefits
The combo grill smoker are being marketed as "4-in-1" or "6-in-1" outdoor cooking devices. These devices can be used for smoking, grilling, roasting, broiling, and searing meats. The grill combo is indeed a truly versatile cooking device.
Those models that come with multiple chambers are a great choice. With this device, it has charcoal on one side and gas on the other side. Other models allow you to smoke and grill at the same time. There are also those that allow you to sear and roast or smoke and sear in only one unit.
Buying the combo smoker is a more practical option than buying two separate cooking devices. In fact, some of the high-end gas grills cost as much as the combo. You also need to think about the amount of space that the two cooking devices will occupy in your backyard, patio, or wherever you intend to place the device.
Choosing the Combo Smoker Grill
Sure, it's not easy to choose the combo smoker given the many choices available in the market, but the first step is to actually identify the difference between a smoker and a grill.
A grill is basically designed for cooking meat at a high temperature, somewhere between 275 and 700 degrees Fahrenheit, where the meat is directly placed over the heat. It's the device to use for cooking pork chops, burgers, steaks, and kebabs.
On the other hand, the smoker is designed mainly for low and slow cooking, which is somewhere between 175 and 250 degrees Fahrenheit. It's mainly used for breaking down tougher meats, such as pork butts, ribs, briskets, etc. Unlike grilling, smoking exposes the meat indirectly to the heat. The heat produced usually comes from the charcoal along with wood chunks or chips, providing a rich smoky flavor to the meat.
So you might ask why you need to have both a smoker and a grill? Any culinary expert will tell you that in order to produce the best tasting meat, you need to have both. Also, there's a certain type of meat that is best cooked on direct heat through the grill while other types of meats are best cooked on indirect heat through the smoker. A smoker grill combo is definitely a great investment for those who are fond of hosting backyard parties and would love to serve delicious meals to their guests.
Best smoker grill combos reviewed
So now that you know a bit of information about the smoker grill combo let's find out some of them available in the market now.
Oklahoma Joe's Longhorn Combo Grill and Smoker
This Oklahoma Joe's Longhorn combo grill and smoker is a great choice if you need a complete smoker grill that can do everything for you. It's a traditional smoker that also works as a grill and barbecue. Ideal for grilling burgers or steaks, this device can also be used to slow cook meats over charcoal.
Oklahoma Joe grill is built in a way that it resembles a tank, which ensures durability. Furthermore, the Oklahoma Joe smoker features heavy-duty steel and other durable components that are guaranteed to make this device last for a very long time. While this grill and smoker combo is really huge, using it is pretty straightforward and you can easily assemble it in a few minutes.
For those who need to cook for a huge crowd, this smoker grill is a great choice. It has a huge cooking area of 1,060 square inches, providing enough space for multiple steaks and meat to cook for a huge crowd of partygoers. This device comes with 3 burner tubes with 12,000 BTU plus an additional side burner. This means you won't lack the firepower and won't have any interruptions when cooking a huge amount of meat. If you plan on using the charcoal, the side burner is handy enough to use for lighting a chimney starter (you simply HAVE TO get one if you haven't got one already!).
Pros
Comes with cool touch handles made of steel, which allows for safe cooking
Durable construction made of carbon steel
Equipped with three compartments allowing for gas, charcoal cooking, and smoking to be done at the same time
Huge area for cooking
The lower shelf can be used for storing cooking tools, equipment, and charcoal
Sturdy cast iron grates
The side burner can also be used as a prep area
Cons
The silicone seals often need reinforcement
The wheels of this smoker grill are somewhat unstable and difficult to move
Char-Griller 5050 Duo Gas-and-Charcoal Grill
If you're looking for a griller that can be used for both charcoal and gas grilling, the Char Griller duo black dual function combo grill may be a great product to try. This is a small sized- griller that has three burners and can be used in either gas or charcoal cooking capabilities. Featuring a combination of the charcoal and gas grills mounted in a single frame, this is a great device that allows you to grill and smoke at the same time.
This unit is basically a combination of two Char-Griller units, the smaller version of their charcoal grill and the Grillin Pro Gas Grill. The grill option has almost 40,800 BTU and the porcelain-coated cast iron cooking grate is very durable and guaranteed to last for a long time. Although some of the parts and components of this smoker grill don't have the best quality, it's still a pretty decent griller to invest in.
The BTU output might be a bit low for its size. However, the barrel shape and thick steel body are well capable of heating a decent sized pot. However, the mounting is somewhat weak. Therefore, you cannot really put too much weight on it. But aside from this minor flaw, this is a pretty great choice for a low-cost gas charcoal grill.
When using the charcoal side of the grill, you'll have a barrel-shaped grill. Its cooking grates are made of high-quality cast iron, which allows for the excellent transfer of heat. Furthermore, the dual layer bottom preserves the heat well while protecting the grill's painted finish. You also have an option to add char griller smoker box allows you to use this grill as a smoker. Although this smoker is relatively small, it's roomy enough to accommodate all your grilling needs.
Pros
Ample sized warming area
Easy to clean
Features a 438 square inch charcoal and gas grill
Grates are made of cast iron
Cons
The adjustable grates are not that efficient when it comes to temperature control
The grill's 12,000 BTU side burner is a little bit weak
Check prices and availability here
PK Grills Charcoal Portable Combo
The Original PK grill smoker combo features a unique shape that resembles a capsule, allowing for the excellent flow of air, retention of heat, and temperature control. Ha ving a cooking surface of 300 square inches, this grill should be able to cook enough meat to serve to your guests. Furthermore, it's equipped with a side shelf made from aluminum and a bottom pray that's spacious enough to hold cooking condiments, utensils, and food.
The 4-point venting system of this smoker combo along with its unique capsule shape makes it ideal for both indirect and direct cooking, commonly known as the two-zone cooking. Furthermore, its 4-point system allows for the excellent flow of air inside the grill. Thus, it offers consistent heat to the charcoal and allows for the proper smoking of the meat. If you want a combo that's durable enough to handle the amount of grilling needed for a huge backyard party, then this is the best grill for you.
Pros
Features a unique capsule shape
Durable construction made of cast aluminum
Very portable
Cooking space is 300 square inches
Cons
A bit challenging to use when the lid is closed
Check prices and availability here
Z GRILLS ZPG-700D 2019 Upgrade Pellet Smoker Grill Combo
If you need a smoker grill combo that's easy to use, this device is worth checking out thanks to its high level of automation. With this device, you no longer have to stay beside the grill all throughout to ensure even heat, which makes your grilling experience less tedious. That's because this device features an extremely developed temperature regulation control, which delivers excellent performance.
The automation of this smoker grill is exceptionally designed that you can program it to cook your meat for a certain period of time while setting it to a particular temperature. You can also program the device to increase the temperature by 5 degrees every 10 minutes. This high level of automation makes grilling meat convenient and less time-consuming.
Pros
Covered with a 3-year warranty
Efficient built-in wheels make moving the device so easy
Features 8-in-1 cooking facilities
Features a smart smoke technology that you can simply set and forget
The cooking space is a whopping 513-square inch
Cons
Conclusion
From the list above, it's hard to choose the best smoker grill combo because all the products are really efficient in terms of smoking and grilling meat. However, the Oklahoma Joe's Smoker Grill Combo has everything that you need for more convenient grilling and smoking experience. This massive grill is made from heavy-duty materials that can withstand the daily wear and tear.
It's extremely easy to use and allows you to cook for a huge crowd in a reasonable amount of time, thanks to its spacious cooking space. Furthermore, this 3-in-1-smoker grill allows you to use gas or charcoal for cooking while also smoking meat at the same time!
Frequently Asked Questions
What is the Best Grill Smoker?
The best grill smoker is one that you can use for both grilling and smoking and has enough cooking space to accommodate your needs. It should also come with some added features that make grilling and smoking meat even more convenient.
Is There a Grill that is Both Gas and Charcoal?
Most of the hybrid grills come with similar features, which include two separate areas designed for gas grilling and charcoal grilling. The Pit Boss Memphis Ultimate 4-in-1 Gas and Charcoal Grill is a perfect example of this. Aside from grilling, it also allows you to smoke or cook meat indirectly.
What is a Smoker Grill Used For?
As the name suggests, smoker grills are used for smoking and grilling meats. It relies on low temperature when grilling food that's already loaded with a smoky flavor. This device allows people to cook meat in a controlled and smoky environment at a low temperature.
Joost Nusselder, the founder of Lakeside Smokers is a content marketer, dad and loves trying out new food with BBQ Smoking (& Japanese food!) at the heart of his passion, and together with his team he's been creating in-depth blog articles since 2016 to help loyal readers with recipes and cooking tips.