I love creating free content full of tips for my readers, you. I don't accept paid sponsorships, my opinion is my own, but if you find my recommendations helpful and you end up buying something you like through one of my links, I could earn a commission at no extra cost to you.
Learn more
Smoking food with wood requires you to pick the right wood type and size to acquire the best flavor.
For smoking eggs, many types of woods might do, such as cherry, alder, and maple. What is more important is the size.
You need to use wood chips for this or else your smoked hard-boiled eggs wouldn't taste so good.
Let's look at everything you'll need to know about smoking eggs with the right wood.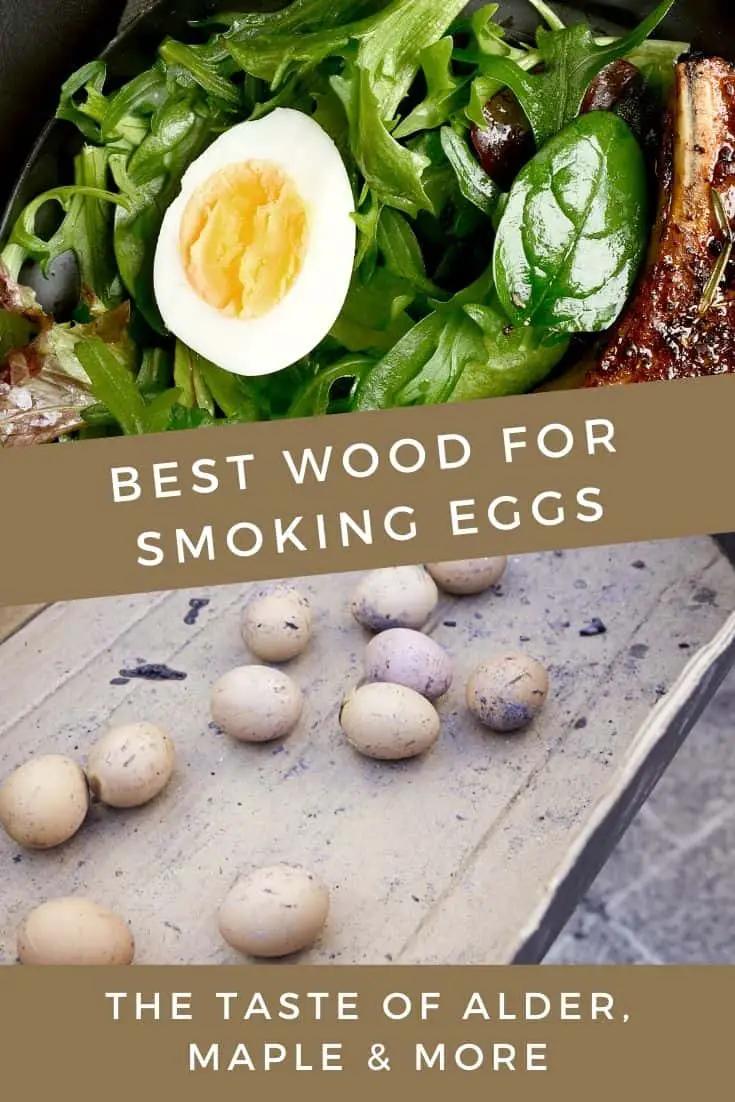 In this post we'll cover:
How to Smoke Eggs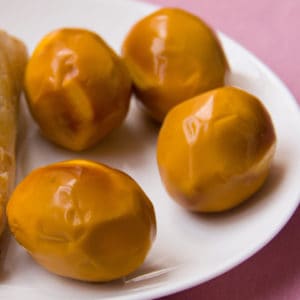 Smoked hard boiled eggs recipe
Smoking eggs is easy, but you should know some key techniques just to not ruin your dish. Here is how to do it right:
Instructions 
Put your eggs in boiling water and let them stay on the stove for about seven minutes.

Remove the eggs and put them in a large bowl filled with cold water. Let them soak for about 10 minutes.

Carefully peel off the shells from the boiled eggs.

Start your smoker with the wood chips of your choice. Preheat it at 110°C or 225°F.

Spray or wipe down your smoker trays with oil to avoid the eggs from sticking out on them.

Arrange the eggs on the trays. Give some spacing between eggs to allow the smokes to circulate well.

Put the tray inside the smoker and leave it be for about 30-45 minutes.

Take the eggs out of the smoker.
You can also directly put raw eggs on your smoker without boiling and peeling it first. Just arrange the raw eggs in the same instruction for the peeled and boiled eggs.
The only difference is that you need to let them smoke for about two hours instead of half an hour. Otherwise, the eggs would still be too runny.
The eggs would be all yellowish-brown after smoking. You will also notice the smokey smell and tastes from those eggs. These eggs are ready to eat as they are.
You can also prep the eggs, even more, to create other dishes, such as
deviled eggs with herbs and spices,
sliced smoked eggs inside a sandwich,
and salad bowl with chopped smoked eggs.
Smoking eggs is another method to elevate the taste of your hard-boiled eggs. But you have to use the right wood or else it would not be as delicious as expected.
After all, this method of cooking is worth trying.
Choosing Wood Size
Woods for smoking comes in three different sizes. And when it comes to smoking foods, size does matter. It matters a lot.
Chips
Wood chips are flakes and scraps. Their small size makes them burn very fast. Wood chips are cheap and widely available.
Chunks
Wood chunks are pieces of wood sized around two inches. They can burn for one or a few hours.
Logs
Logs are the large cut of wood. They can burn for long hours, making them the best option for offset smokers.
The larger the cuts, the longer they can burn. However, eggs only need a short time to cook. Using chunks, let alone logs, will make your eggs overburnt.
Hence, use only wood chips for smoking eggs. Chunks and logs are more suitable for meats, depending on the kind of meat you cook and how smoky you want to get them.
Choosing the wood type for smoking eggs
There are countless types of wood that people can use for smoking food. Each type delivers a different flavor to the food cooked.
Technically, you can use any wood type to smoke your eggs.
Especially because people usually have their own taste preferences, so the wood type you find gives the best flavor might not taste as good for someone else.
However, some types of wood are significantly more popular because the flavor seems to match perfectly. Mostly they are the type of wood with a light flavor.
Woods with heavier flavor mostly will be too intense for something as mild-flavored as eggs. Hence, you might want to avoid using such types of wood for smoking eggs.
Here are some of the best woods for smoking eggs:
Alder
Alder gives a subtle and sweet flavor. It will perfectly complement the eggs if you prepare your eggs for a simple and comforting meal.
This type of wood also works well for proteins with delicate flavors such as trout and salmon.
Maple
Maple has a light stench of smokiness and some bits of syrupy flavor. It will not be like your egg is caramelized with maple syrup, although the smell might resemble a little bit.
Eggs smoked with maple wood will taste uniquely savory. Other kinds of food that go well with maple wood are chicken and duck (which you can also use these woods for).
Cherry
Cherry wood tastes mild and fruity, giving a simple twist in the flavor of the eggs. Your smoked eggs also will develop some nice browning color.
This type of wood can pair with heavier-flavored woods like hickory for adding complexity to a heavier protein like brisket and turkey.
As a rule of thumb, any wood that goes well with poultry would make a great flavor for smoking eggs too. Especially the kind of poultry who had the eggs.
For example, if you want to smoke duck egg, find a wood type that you love using for smoking duck meat.
Also read: is Blackstone the right grill brand for me?
Joost Nusselder, the founder of Lakeside Smokers is a content marketer, dad and loves trying out new food with BBQ Smoking (& Japanese food!) at the heart of his passion, and together with his team he's been creating in-depth blog articles since 2016 to help loyal readers with recipes and cooking tips.