I love creating free content full of tips for my readers, you. I don't accept paid sponsorships, my opinion is my own, but if you find my recommendations helpful and you end up buying something you like through one of my links, I could earn a commission at no extra cost to you.
Learn more
Outdoor enthusiasts know how food cooked on the right griddle can be incredibly delicious. Having a griddle welcomes you to new outdoor adventures and methods of cooking. If you are reading this, you enjoyed on your way to finding the perfect outdoor grill for your backyards and camping adventures. These Blackstone Grill Reviews are meant to help food lovers find the perfect grill for a fun outdoor activity.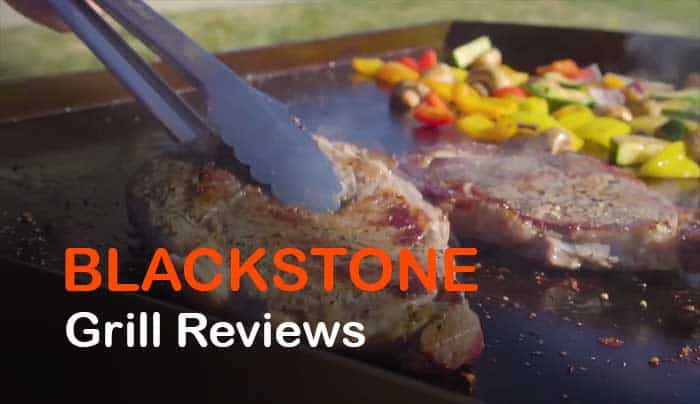 What is Blackstone?
Blackstone is a company that offers a square flat top grill also know griddle on the market. Blackstone griddle is a flagged ship grill from Blackstone products with welled build, reliable, versatile, and provide the best experience outdoor cooking the Blackstone become known and gain trust year after year. Now when you talk about griddle, the first thing that comes to mind is Blackstone.
To give you an overview of the product let me give you
Blackstone Grill Reviews What is Best Griddle for Outdoor Cooking in 2019 and Where to Buy Them
We have to drill down a little bit for the Blackstone products. Blackstone well knows for the griddle grill that we come here to talk about today. I have to separate the grill from Blackstone by type of grill, Blackstone tabletop, griddle, combo, charcoal. Let me give you some review from above I mentioned it for your decision to choose your outdoor griddle are worth your money and suit your family.
Here we go, i have to start with
Blackstone Griddle
The Blackstone griddle they offer who would love a large or small party, event, and activities without having to worry about your friend to never miss one.
Blackstone Griddle 36
The Blackstone griddle 36 is an upgrade of the 28 inch mode. Unlike the previous, it comes with 4 burners that are independently controlled. This means you have four cooking zones on the grill. The fantastic thing about the burners is that they work just like a regular stove would you can use all burners at once or tune on one of the burners.
This allows you to cook big and small meals depending on the occasion. The burners produce at 15,000 BTU each which totals up to 60,000 BTU. The Blackstone gas grill 36 inch uses propane. It is an excellent piece of equipment for people who love backyard cooking with friends and family. The griddle has 720 square inches of cooking surface.
The surface is fairly large and allows you to cook for multiple people. This grill size can definitely handle an outdoor grill or party and any other backyard event. The versatility of this grill is outstanding. You can cook tuna steak (like this one), eggs, salmon, turkey, burgers, veggies, pancakes, and fried rice. The cooking equipment for this grill can accommodate various foods.
The cooking temperature on all or some of the sections is adjustable. The temperature goes up to a flaming 500 Fahrenheit. However, it does not have a side burner which is perfect for warming up the sauces, but this is not a deal breaker. The cold rolled steel on the top was included to ensure heat retention while the grill is at work.
This griddle top is removable and therefore very easy to clean. The best way to create a nonstick surface on this grill is through some seasonings. The grill comes with griddle top, other accessories are optional. The windscreen, grid box, surround the table, and the protection cover is options.
This flat top grill, just like any other outdoor grill, is powered by liquid propane which allows for easy cleanup. This model does not have a kit for natural gas conversion. The Blackstone 36 inch grill cooking station has an adapter propane gas. You will need to buy the gas cylinder separately but this is no surprise.
It is built with a container that catches the grease during cooking.
The container is basically a grease tray which is removable and allows you to clean the grill easily. The bottom shelf on the Blackstone is meant for food preparation. For mobility, four caster wheels are added they also make it convenient for an outdoor appliance. Given that the grill market is flooded with other grill makes, the Blackstone has quite impressive features.
Pros
Easy to assemble
Large grill space
Durable and heavy
The griddle set up and clean up is fast and easy
Cons
The grease drainage is frustrating
Igniter life doesn't last long
Check prices and availability here
Blackstone Griddle 28″
If you are looking for a convenient and unique grill, Blackstone 28 griddle is the one. The design is totally different from the traditional grilling styles because of the flat top design. It features two stainless steel burners. Each burner packs a considerable amount of power under the cold black steel top that is flat and rolled. The original setting on the 28 Blackstone griddle is the grill surface and the two powerful burners that can be controlled independently.
The restaurant style cooking gives you extra room and a more accessible surface to work with. This grill allows you to cook Teppanyaki and hibachi techniques for a delicious meal. The durable powder coated steel base and high mobility will enable you to set up the grill in more than one place. The flat top of this grill uses steel burners with propane gas.
They produce up to 30,000 BTU of cooking power. This means that each burner produces up to 15,000 BTU this is very impressive, considering most grills have three or four burners and do not have the same cooking power on each burner. The H-style on the burners is convenient for cooking and heat distribution during cooking. The 470 square foot of the cooking surface is right enough for cooking a whole meal for the family.
You can probably prepare a meal for around 6 people on the grill. A cold rolled steel flat top is placed on top of the burner; it is easy to clean, especially when you compare this to individual grills. It is designed with one side shelf that gives you some extra space while you are cooking on the grill. The Blackstone 28 is 80 lbs, which is relatively light considering the heavy duty caster wheels and the flattened support struts.
The legs are easily foldable this makes storage and movement very easy, especially for traveling and cookouts. The grease trap on the Blackstone 28 inch griddle ensures the grease stays on the surface. This is just another convenient way to ensure the oil is cleaned off the grill. It is built for propane gas due to the distribution style. The electronic ignition system also contributes to the proper heat distribution on the gas.
Pros
The excellent surface area allows you to cook large meals
Griddle design give you a different flavor to your cooking
Cons
Check prices and availability here
Blackstone Table Top Griddle
Portable griddles are perfect for adventure lovers. They make it convenient for people to cook whenever they want. Portability is critical, and portable cooking equipment is on top of that list. Blackstone products combine outdoor gatherings and food to make the cooking experience and equipment convenient for everyone.
Blackstone Griddle 22
This grill comes with advanced features that make your outdoor activity more convenient. Blackstone created this grill to take portability to the next level. The size and handling of the Blackstone 22 griddle are perfect and allows you to cook multiple meals at once with the two burners. The grill is powdered with black coating, and this features works together with the stainless steel to ensure durability.
The 22 Blackstone griddle is made with 330 square inch grill. This space is enough to prepare meals for a medium sized group of people. The area is quite large for a small portable grill, which makes it impressive.
Another notable feature on this portable griddle is the adjustable burners. The burners are made in H-shape, which facilitates the even distribution of heat while you are cooking. It allows you to cook two completely different types of meals at the same time.
The built-in igniter on the Blackstone 22 inch griddle makes the lighting process much more comfortable. No worry about the stains on this grill once you finish cooking. The grease collector or channel and catch trays work to prevent any mess on the grill, making it very easy to clean. It has 24,000 BTU, which is excellent for such a small grill. All these features work well together to provide you with a trouble-free outdoor cookout.
Pros
The adjustable burners allow you to cook different meals together
The powder coated stainless steel construction makes it durable
The leveled surface makes cleaning easy
The cooking surface large
Cons
It is a little heavy for the portable
Blackstone Griddle 17″
This is the perfect solution for outdoor cooking and fun. You can use it anywhere to prepare a meal for a small gathering. It is convenient for any type of cooking appliance. This means you can carry it along during hunting, tailgating, camping, and other outdoor activities. The sturdy construction of the Blackstone 17 griddle prevents destruction from outside elements like water and rust.
Besides the grill, the burner is also made of stainless steel, which is pretty easy to clean. The H-shape on this grill distributes the heat evenly on the surface.
Most important features of the Blackstone 17 inch griddle is the convenience. It is average sized and weights an outstanding 25 pounds. This means it is easily portable and needs a tiny storage space. Not only its size, but other built n features make it convenient and easy to use.
For a smooth start, Blackstone griddle 17  with an electric igniter. Its primary energy source is a one pound propane bottle which also encourages portability and storage. All these properties make any task on the grill effortless.
When you are done the cooking, cleaning and winding up the grill is straightforward. The grease catcher allows for a natural and simple cleaning process as well as the storage system. The total cooking area on the grill is 260 square inches.
Pros
The electronic igniter makes starting easy
The H-shape ensures even heat distribution
Storage us easy
The black powder coating and stainless steel prevents rusting and permanent damage
Cons
Not great for larger gatherings
Check prices and availability here
Conclusion
If you are into grilling, especially outdoor grilling, I would recommend the Blackstone grills to you. There is nothing more joy that coming together with family and friend and starting up a grill a calm summer afternoon. Grills give you the ability to create new and delicious meals for family and friends during an outdoor excursion. Worth the money you have to spend for sure
Last and not least I give you the tips which come from FAQ about Blackstone grill right here below
What is Blackstone grill made of?
Blackstone grills are made of high-quality stainless steel, which is powder coated to prevent any rusting due to extreme temperatures. A griddle is a flat top cold rolled steel
Do you have to season a Blackstone griddle?
Yes, you should do season Blackstone griddle and here how to do it. Turn the grill to a high smoke point. Take some cooking oil and sparingly douse it on the preheated griddle until it is completely covered. Make sure you wipe the excess oil away. Get all the sides, the front, and corners of the surface. Make sure the oil heats up and the surface of the griddle changes in color. Apply a second layer before turning it off to let it cool.
How do I clean my Blackstone griddle
Using some oil, a metal scraper and some steam will help you clean the residue of the griddle after cooking. A small amount of water on a hot griddle will steam and loosen the food which you can scrape down. Make sure you put a thin layer of oil to prevent rusting.
How do you remove rust from Blackstone griddle
You will need a metal scraper, paper towels, grill stones, cooking oil and heat resistant gloves. With the gloves on, turn the high heat for 20 minutes to loosen the rust. While the griddle is cooling down, use your scraper to remove corrosion on the flattop.
Drip a few tablespoons of oil and grill it down with the stone. Wipe it with the paper towels and repeat the oil and stone technique until no rust is seen. Season it with a protective coating to prevent any more rust.
Joost Nusselder, the founder of Lakeside Smokers is a content marketer, dad and loves trying out new food with BBQ Smoking (& Japanese food!) at the heart of his passion, and together with his team he's been creating in-depth blog articles since 2016 to help loyal readers with recipes and cooking tips.