I love creating free content full of tips for my readers, you. I don't accept paid sponsorships, my opinion is my own, but if you find my recommendations helpful and you end up buying something you like through one of my links, I could earn a commission at no extra cost to you.
Learn more
A true BBQ isn't complete with hot dogs but have you cooked up smoked hot dogs?
It's the kind of food that you just can't get enough of and luckily, smoking hot dogs is super easy if you use the right smoke woods.
Smoked hot dogs don't require strongly flavored wood smoke because you want to be able to taste the natural flavors of the meat.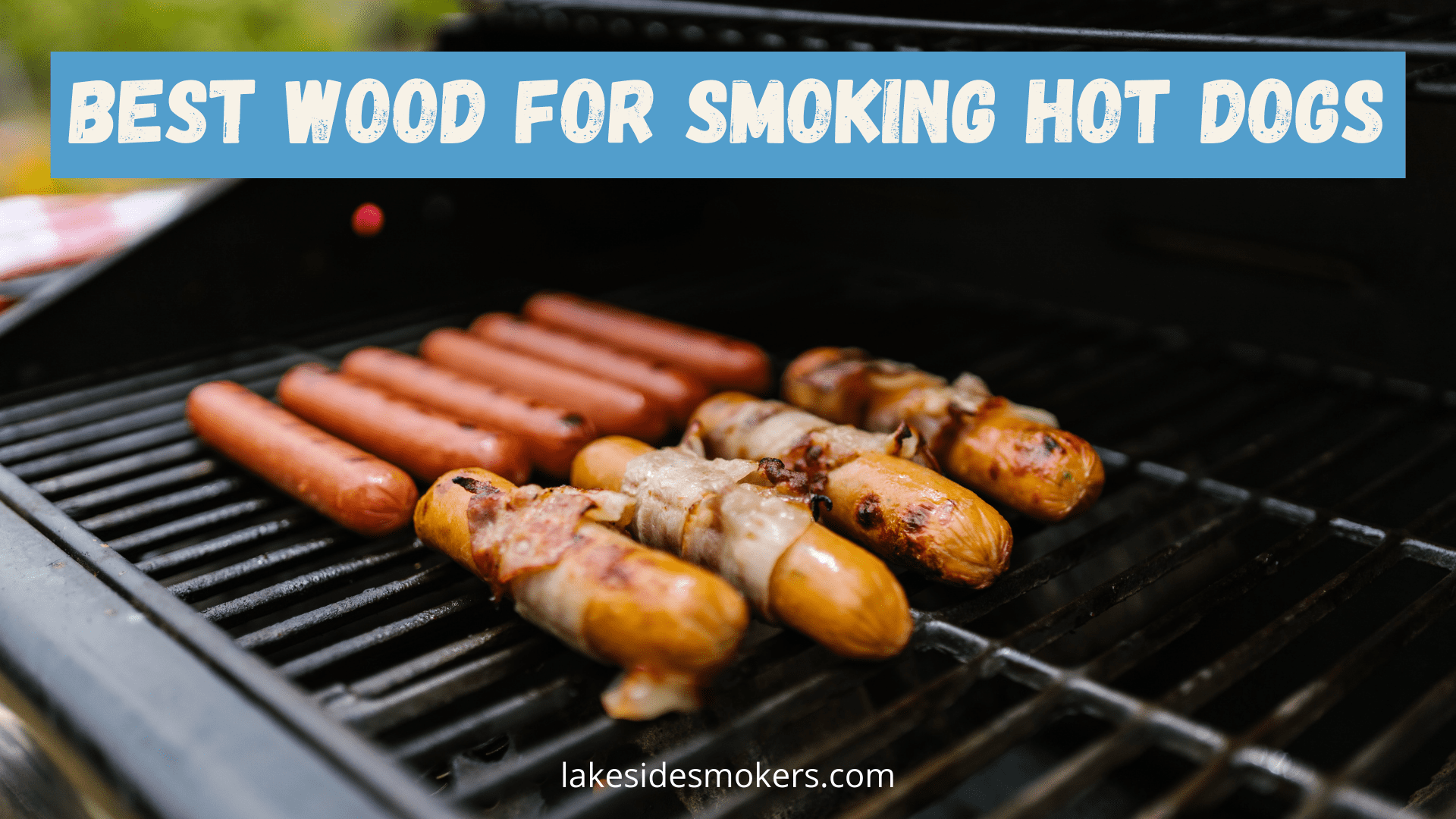 They are best smoked plain with mild woods and then you can add your favorite condiments like ketchup, mustard, relish, and mayo.
The best smoke woods for hot dogs are mild fruit woods such as apple and cherry or neutral wood like oak wood which has a hint of earthiness. These woods impart the hot dogs with a delicious yet subtle smoky flavor.
There are no rules though, so if you prefer a strong smoky taste, hickory won't let you down!
In this guide, I'll list the best woods for smoking hot dogs.
In this post we'll cover:
What wood flavors go well with hot dogs?
There are so many smoked hot dog recipe variations online but it depends on what kind of flavors you like.
Some people enjoy strong-flavored smoke woods like hickory and mesquite. Most hot dogs are already heavily flavored and have a strong taste of meat and condiments.
Adding wood chips with a heavy smoke flavor like hickory will give the hot dogs a very smoky strong flavor – think Southern and Texas-style BBQ.
It's best to avoid very strong woods like mesquite when smoking hot dogs but there are some people who swear by the bacony and strong flavor of hickory!
The good news is that hot dogs can take on all kinds of wood smoke.
But, the best way to maintain their natural aromas is to use mild smoke woods which add a light sweetness. All fruit woods are suitable when you smoke hot dogs.
Best wood for smoking hot dogs
For that juicy smokey taste, use the best wood for smoking hot dogs which includes fruit woods like applewood, cherry wood, and peach wood.
Applewood
mild flavor
sweet, fruity, mellow
Apple is the kind of mild smoke wood that goes with almost any type of meat. Therefore, it's also an excellent wood for smoked hot dogs.
It will impart the meat with a pleasant, sweet, and fruity taste. Most hot dogs are made of beef, pork, or poultry and apple wood works with all of them.
When smoking hot dogs with applewood, you should be aware that the smoky flavors will be quite mellow and subtle because applewood smoke takes longer to penetrate the meat than medium or strong woods.
Weber's apple wood chips are a great option for your electric smoker, gas, pellet smoker, and even the classic charcoal one.
Still trying to decide which smoker to buy? I have made an in-depth comparison between electric, gas and charcoal smokers here
Oak wood
mild to medium smokiness
earthy, subtle & smoky
Oak wood is a neutral but slightly earthy smoke wood that balances out the meaty flavors of your pork and beef hot dogs and the condiments.
It's a mild smoking wood compared to other hardwoods yet it's still got enough substance to feel like you're eating real BBQ.
If you're a fan of slow smoking, oak is one of the best woods to use because it slowly imparts the perfect amount of smoky aroma.
The oak smoke flavor profile gives hot dogs a unique taste. It's commonly used to smoke sausages and that makes it ideal for hot dogs too.
Oak is the kind of smoke wood that pairs well with stronger condiments and doesn't overpower the meat.
Yet, even if you put your favorite bbq sauce you will still taste the meatiness of the hot dog.
You can get oak chunks for the smoker on Amazon.
Cherry wood
mild to medium smoke
fruity, slightly sweet, imparts dark color
When it comes to versatile wood chips, cherry wood is at the top, up there with apple because it's a good smoke wood for most meats.
It imparts a pleasant fruity taste and a slight sweetness but it's not quite as sweet as apple.
If you like to mix woods, you can use cherry and a few oak wood chips mixed in there to give the hot dogs an earthy, rich flavor with hints of fruitiness.
When you use cherry wood in the smoker, the hot dogs will also take on a nice mahogany color so they'll look like they've just come from the grill.
Oklahoma Joe's cherry wood chips are a great budget-friendly option.
Peachwood
mild flavor
semi-sweet, fruity
If you haven't tried peach wood for smoking, you're missing out on an amazing fruitwood.
Peach has a mildly sweet and fruity smoke profile which is very suitable for hot dogs.
It's a good wood for smoking meats of all kinds but pork and beef can truly benefit from a fruity sweetness that doesn't overpower the natural aromas.
Peach wood leaves a pleasant aftertaste because it imparts a mild sweetness. This subtle smoke profile is more suitable for people who want a light smokiness that's semi-sweet but not earthy.
The fruitiness pairs well with hot dogs that are heavily seasoned or if you want to use lots of barbecue sauce, mayo, and other condiments.
You can get peach wood chips on Amazon.
Hickory wood
strong smoke profile
earthy, rich, bacon-like
Some pitmasters will advise against using hickory for hot dogs because it's a strong smoke wood and produces a heavy smoke profile.
Sure, this is partly true but some people love the taste of real bbq with that rich earthy smoke flavor. If you like strong flavors and that bacon-like aroma, you will love the taste of hickory-smoked hot dogs.
The hickory smoke wood flavors can best be described as rich, earthy, bacon-like. However, if you add too many wood chips or chunks you can overpower the meat and make it taste a bit pungent.
Since you smoke hot dogs for about an hour, it's best to use hickory wood sparingly.
The Mr. Bar-B-Q wood chips are very popular and they can be used soaked or unsoaked.
Pecan wood
medium smoke
earthy, slightly nutty
If you have some pecan wood around, you can use it to smoke hot dogs.
This wood burns quite slowly but it will penetrate the hot dogs directly and infuse them with a pleasant earthy and nutty flavor.
The thing about pecan is that it can become pungent if you use too much, so, like hickory, use it sparingly. Pecan and hickory are from the same tree family after all.
Pecan gives the meat a rather delicate smoke profile but it's still stronger and heavier than the fruitwoods.
Weber pecan wood chips are quite affordable on Amazon so give them a try!
Blending smoking woods
You can always blend smoke woods. The usual combo is one strong wood like hickory with a mild wood like apple, for example.
Then, you can also mix different fruit woods like apple + cherry or apple + peach to achieve a sweeter smoke profile.
For hot dogs, I recommend something like oak and apple, or apple and cherry. The cherry gives the hot dogs a nice dark mahogany color.
Another tasty combination is oak wood with its earthiness and the sweet hints of apple or peach.
Learn more about mixing smoke woods for a deeper flavor profile here
How long does it take to smoke hot dogs?
The rule with hot dogs is that there's no correct temperature for smoking but low to medium heat is best when smoking.
At a smoking temperature of 225 degrees F, it takes about 60 minutes to smoke the hot dogs.
It's best to allow the hot dogs to absorb that tasty wood smoke aroma. After an hour, your hot dogs will also have a darker crispy looking skin.
If you made spiral cuts, those will get crispy too. Here's how you spiralize hot dogs, it's fun!
When you make your hot dogs from scratch, you might want to smoke at low temperatures.
How long do you smoke homemade hot dogs?
Homemade hot dogs are probably the tastiest and healthiest of all because you know what goes inside the hot dog.
The best temperature to smoke hot dogs is about 150 degrees F. You need to add more smoking wood (wood chips, wood chunks, or wood pellets) along the way.
You can increase the temperatures slightly and smoke the meat until the internal temperature reaches 150 F. The total smoking time should be about 2 to 2.5 hours.
Which woods to avoid when smoking hot dogs
If you're familiar with smoking woods, you'll already know you need to avoid pine, fir, and any resinous conifers because their burning sap and terpenes are toxic.
Also, only use seasoned wood for smoking any food and never use greenwood (although some experts say you can). It will make the food taste bitter!
When it comes to smoked hot dogs, a wood like mesquite might be too overpowering. I would avoid it unless you're really keen on strong earthy smoke flavors.
Another wood to avoid is definitely walnut. This wood is too strong and imparts a bitter flavor.
Takeaway
Now that you know which woods to use to make smoked hot dogs, you can start planning your next BBQ gathering.
Besides the regular beef ribs and brisket, you can add hot dogs to the smoking process because the cooking time is relatively short.
Hmm, just imagine smoked smokey hot dogs with some chopped onions, your favorite BBQ sauce, mustard, relish, ketchup, and some cheese – it's a classic American BBQ and smoker meal.
Here's how much meat you should count on per person for a successful BBQ
Joost Nusselder, the founder of Lakeside Smokers is a content marketer, dad and loves trying out new food with BBQ Smoking (& Japanese food!) at the heart of his passion, and together with his team he's been creating in-depth blog articles since 2016 to help loyal readers with recipes and cooking tips.