I love creating free content full of tips for my readers, you. I don't accept paid sponsorships, my opinion is my own, but if you find my recommendations helpful and you end up buying something you like through one of my links, I could earn a commission at no extra cost to you.
Learn more
We all know that a barbeque isn't a successful event without a delicious BBQ sauce to go along with the grilled food. We all have our favorite BBQ sauce – our 'go-to' option that we love to share with friends and family.
But if you're looking to change up your sauce, or want to try something different every now and then, I've got some great options for you.
In the United States, the flavors of BBQ sauces vary according to their region. Some parts of Texas, for example, prefer tomato and mustard-based sauces.
Carolina grillers prefer a vinegar base, while the Kansas City residents usually prefer a sweet and spicy barbecue sauce with tomato and molasses as the base. Which is your favorite flavor combination?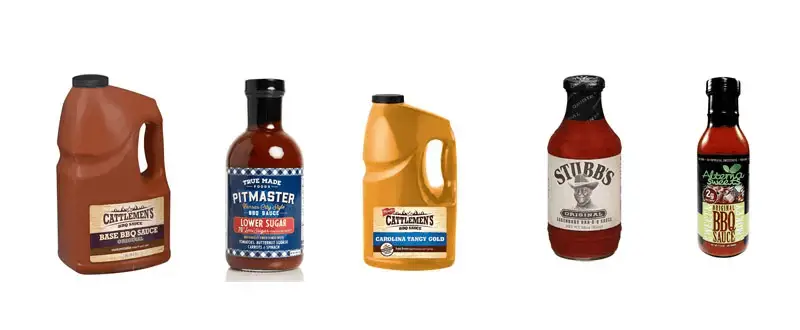 I love the tang and spice of Cattlemen's Carolina Tangy Gold BBQ sauce. The sauce gets a lot of flavor from turmeric, paprika, and salt, and is my top choice of sauce when I'm behind the grill.
How to use barbecue sauce
Using barbecue sauce may seem like a straightforward process, but here are some tips for newbie grillers:
Avoid applying the sauce too early during the grilling process. You don't want the sugars in the BBQ sauce to burn at extremely high temperatures. Apply it later to avoid a burnt flavor and an unpleasant, tough texture
The best time to apply the sauce is roughly 10 minutes before the food is done to ensure your meat caramelizes and imparts pleasant flavors
Don't apply too much or too little sauce. Use a sauce mop or a brush to spread the sauce evenly on your meat. Apply at least two coats, being careful not to exert excessive pressure on the meat
For low-and-slow cooking meats, avoid cooking directly on the flames. Use a covered grill and place your food between the sources of heat. Avoid lifting the lid every so often
Consider using a meat thermometer to enhance accuracy and safety during grilling
Your equipment should be in tip-top condition. For example, be sure the charcoal grill or smoker is clean to avoid excessive smoke and flare-ups
Talking about flavor, did you ever wonder why beer and barbecue mix so well?
The 8 best barbecue sauces reviewed
From the sauces I've reviewed below, I am sure that you will find one that makes your mouth water.
Best BBQ sauce overall: Cattlemen's Carolina Tangy Gold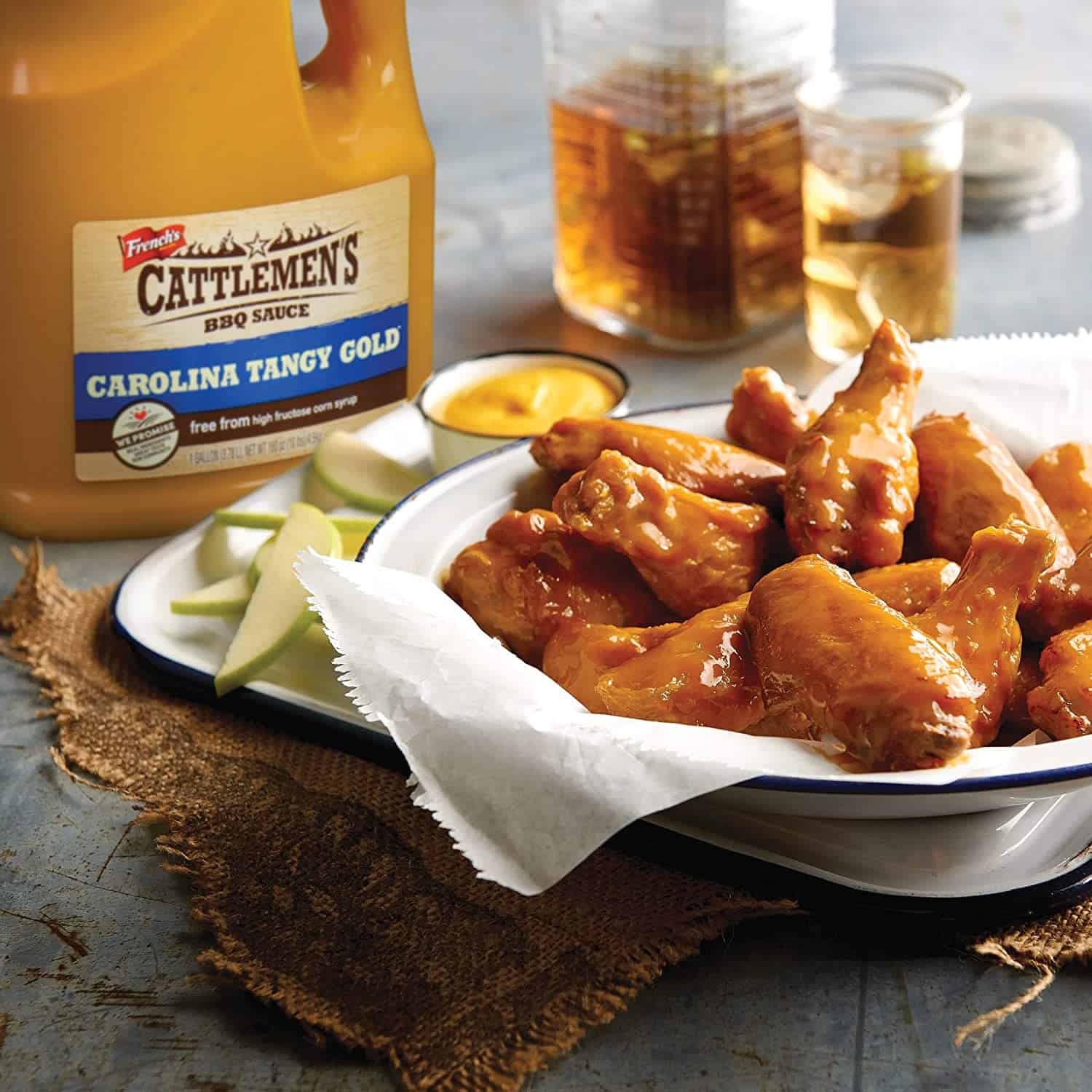 If you're looking for a delicious Carolina-style BBQ flavor, Cattlemen's Carolina Tangy Gold BBQ sauce is a great choice.
This BBQ sauce boasts a balanced blend of No. 1-grade mustard seed, apple cider vinegar, and aged cayenne peppers. The sauce gets a lot of flavor from turmeric, paprika, and salt.
The corn syrup and tomato paste give it body. It also contains flavorful oleoresin paprika, garlic powder, onion powder, celery seed, natural hickory smoke flavor, molasses, and just the right amount of spice.
Best 'taste of Texas' BBQ sauce: Stubb's Original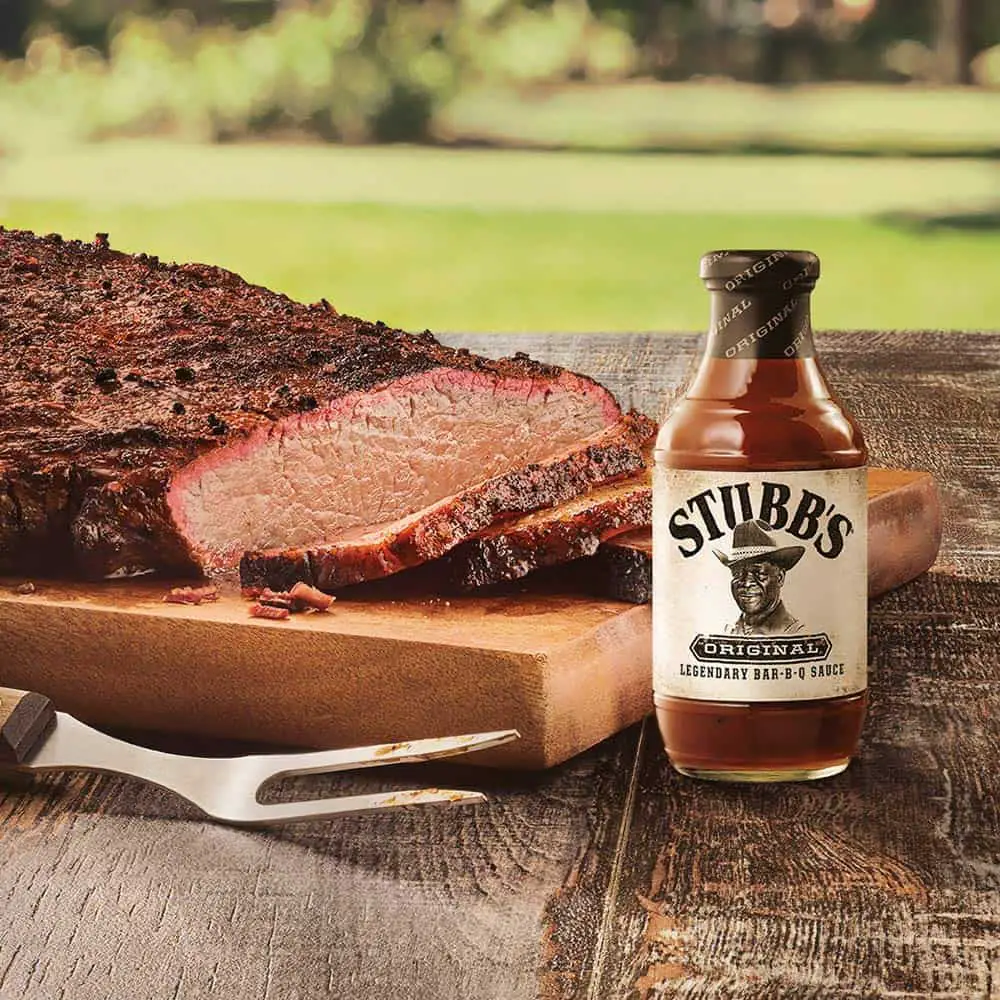 Looking to add the taste of Texas to your smoked pork chops, baby back ribs, or slow cooker pulled pork? Then Stubb's Original BBQ Sauce is what you're looking for.
This sauce uses premium ingredients, including vinegar, black pepper, tomato, and molasses, to deliver a robust flavor.
It is verified not to have GMOs and doesn't contain any high-fructose corn syrup. It derives its sweetness from brown sugar, molasses, and cane sugar.
What's more, Stubb's Original BBQ Sauce comes in a selection of flavors to suit your specific taste.
Here's how you make Beef and Pork Chili in the Natural Gas BBQ Smoker
Best health-conscious BBQ sauce: AlternaSweets Sweet & Smokey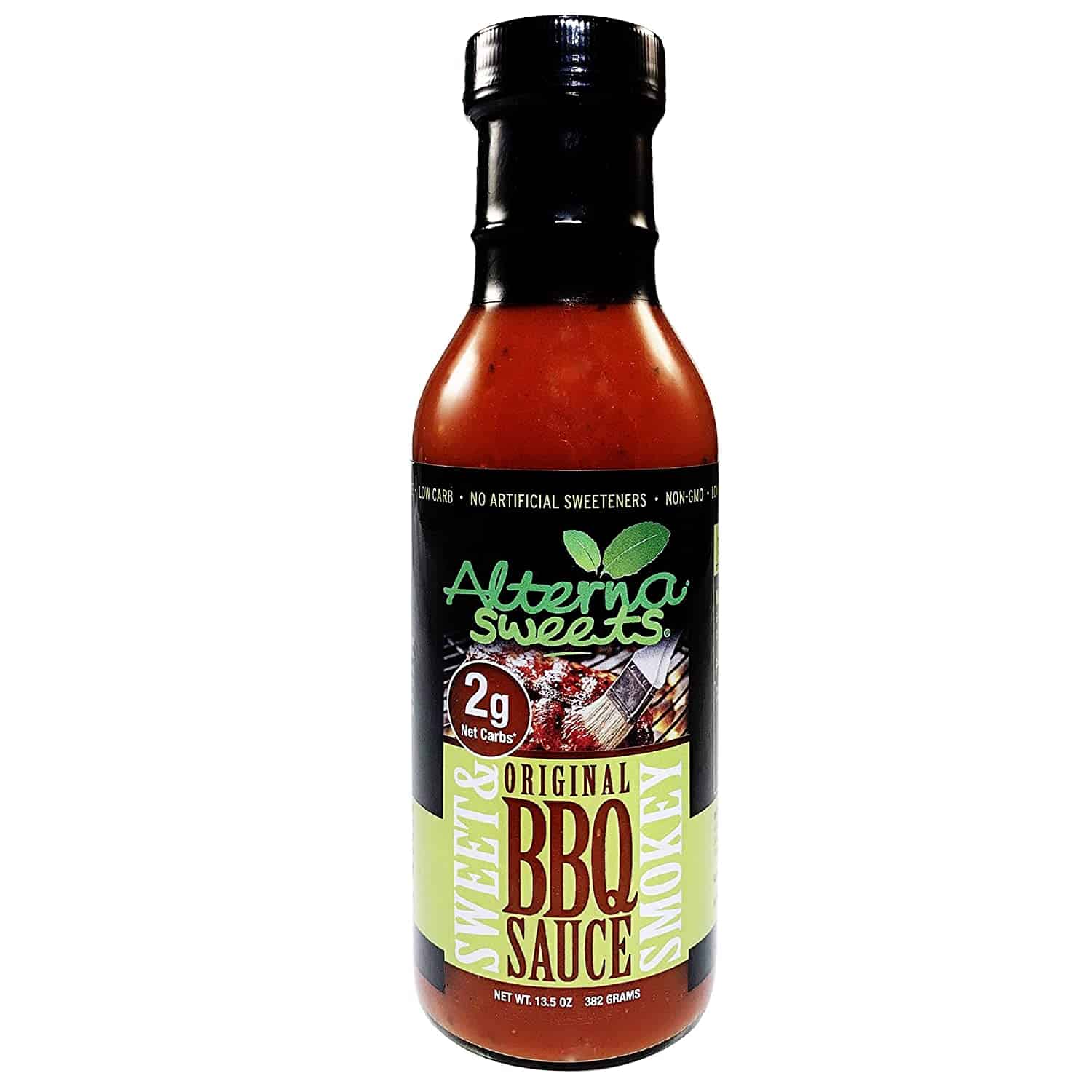 If you're looking for a healthy and flavorful substitute for sugary barbecue sauces, you can't go wrong with AlternaSweets Sweet & Smokey BBQ Sauce.
This BBQ sauce steers clear of traditional sweeteners such as sugar and molasses. It also doesn't use bad rep sweeteners such as high-fructose corn syrup.
The Sweet & Smokey BBQ sauce uses plant-extracted stevia as a sweetener. According to studies, stevia offers a range of health benefits.
A 2009 study revealed that stevioside and related compounds have anti-hypertensive, anti-hyperglycemic, anti-tumor, anti-inflammatory, diuretic, and anti-diarrheal properties.
This BBQ sauce is ideal for low-sugar diet plans, paleo, ketogenic eating, and other low-carb diet plans.
Other ingredients include tomato paste, garlic, paprika, onions, and red chili peppers for extra pizzazz. The butter, sea salt, natural liquid smoke, citric acid, spices, and natural flavors round out the ingredients.
True to its name, the sauce delivers a robust, smoky flavor.
Check prices and availability here
Is Smoking Food bad for you? Healthiest way to smoke your meat
Best BBQ sauce for marinades: Traeger Grills SAU039 Traeger 'Que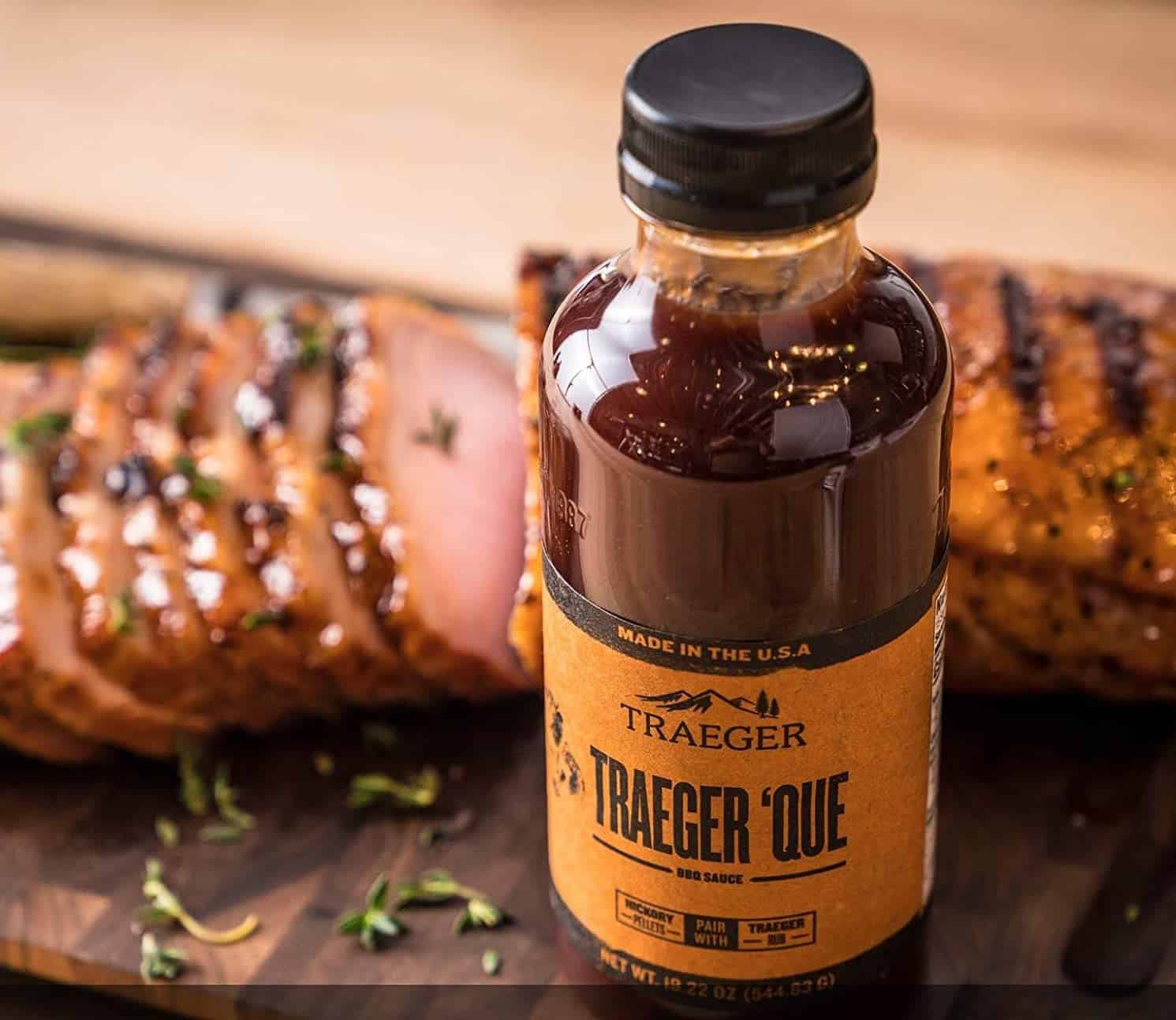 Traeger Grills Traeger 'Que BBQ Sauce delivers rich, bold flavors of buttery brown sugar, sweet molasses, tangy vinegar, mild acidity, and a touch of hickory smoke.
This amazing sauce is versatile and works best with poultry, beef, and pork. You can also use it as a marinade. Traeger 'Que BBQ Sauce comes in a 16-ounce bottle.
Best tasting low-sugar BBQ sauce: True Made Foods Kansas City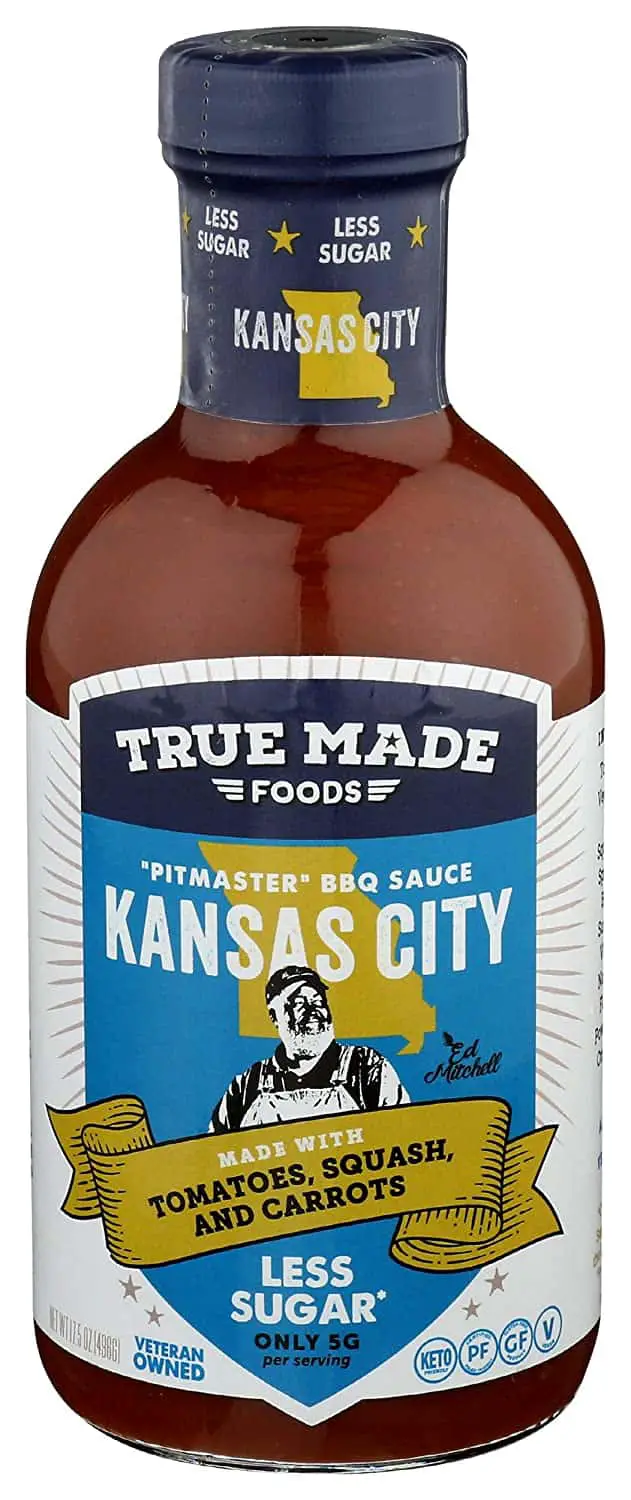 True Made Foods manufacture some of the best sauces and ketchup on the market. They sweeten their sauces naturally using a range of vegetables. They don't use processed sugars.
The Kansas City Vegetable BBQ Sauce is no exception. It has tomato puree, vegetable puree, distilled vinegar, and light brown cane sugar.
The garlic powder, onion powder, natural smoke flavor, allspice, and salt add traditional ingredients to the flavorful sauce.
According to True Made Foods, this BBQ sauce has 50 percent less sugar compared to major brands. What's more, it is GMO-free, allergen-friendly, and paleo-friendly.
The Kansas City Vegetable BBQ Sauce is an excellent choice if you're looking for a delicious Kansas-style BBQ Sauce.
Find the 7 best recipes for smoking vegetables here (+how to: smoked veggies)
Best basic BBQ sauce: Cattlemen's Original Base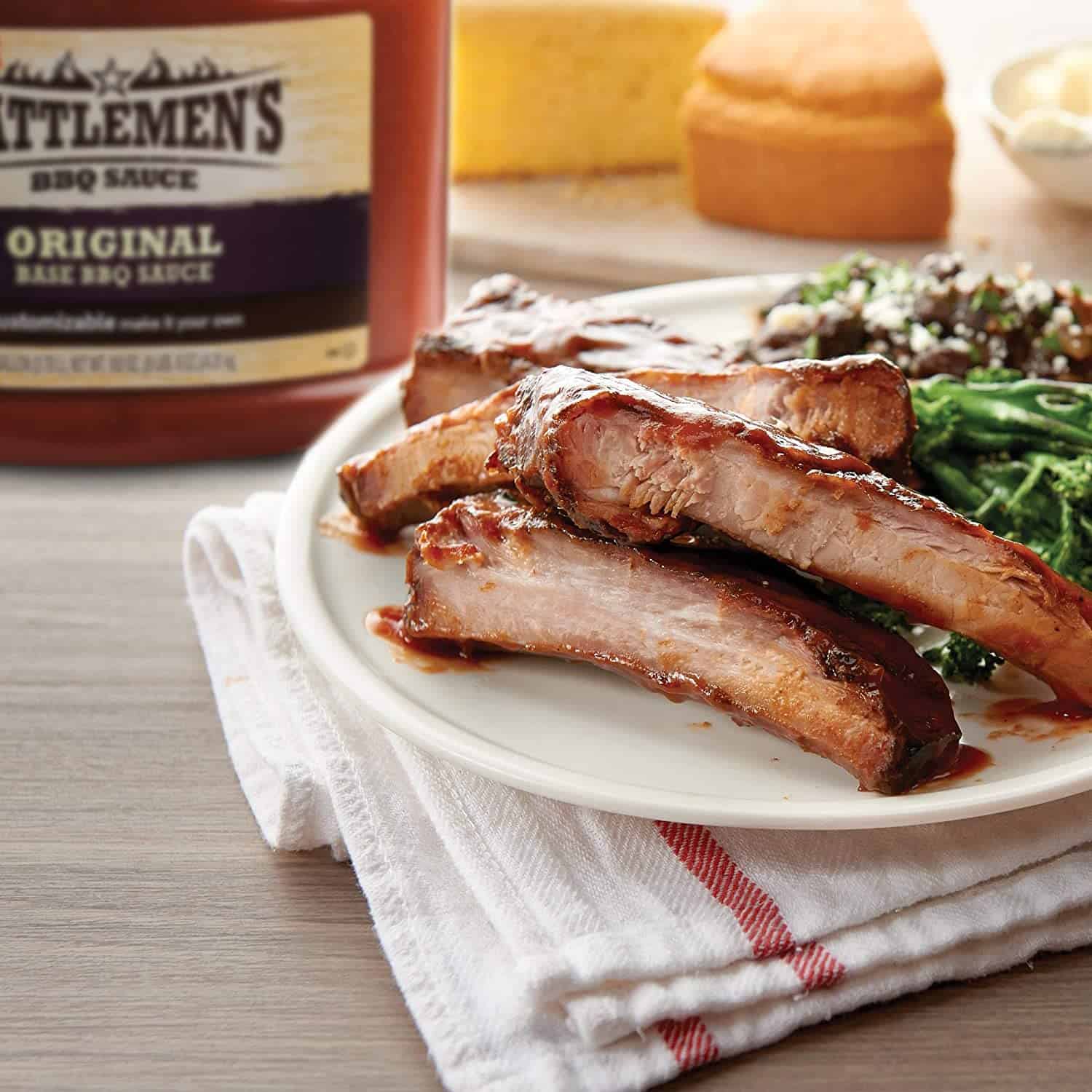 If you're looking to prepare a signature, homemade BBQ sauce, Cattlemen's Original Base BBQ Sauce is a great place to start. Use the sauce as a base for your own creative flavorings to save you time, money, and effort.
The smooth, strong, and tangy sauce also has a touch of garlic, while a balanced blend of spices enhances the sauce's traditional tomato flavor.
You can use Cattlemen's Original Base BBQ Sauce to be used straight from the bottle or as the base for a custom homemade sauce. The sauce works best with grilled chicken, seasoned pulled pork, and thick, juicy steaks.
Its ingredients include tomato paste, distilled vinegar, corn syrup, and high-fructose corn syrup. Further, it has mustard bran, onion powder, garlic powder, celery seed, sugar, salt, water, and natural flavors.
Best BBQ sauce collection: Stonewall Kitchen 4 Piece Classic Grille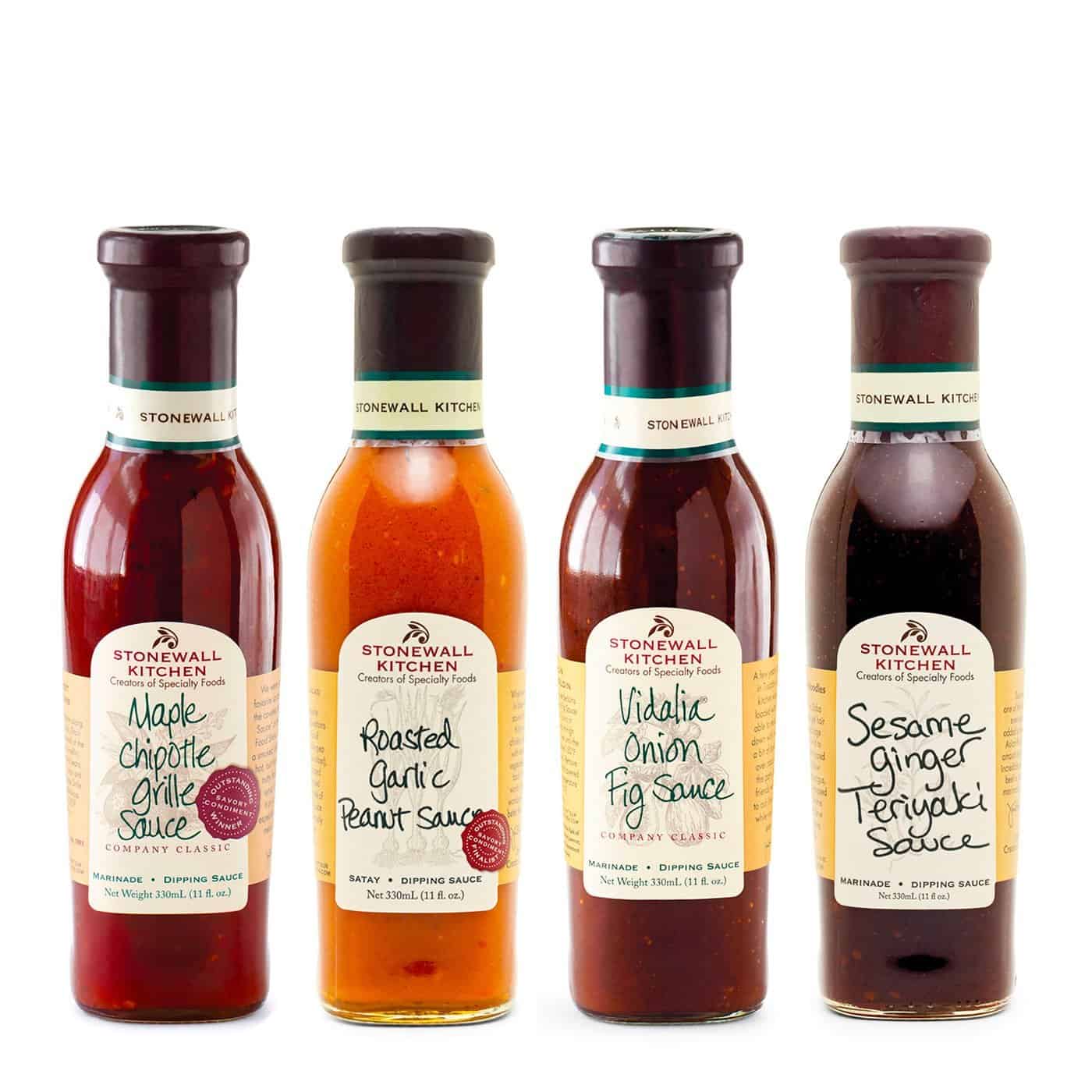 The perfect gift for a friend (or yourself!). If you love exploring various flavors, the Stonewall Kitchen 4-piece Sweet Grille Sauce Collection is the perfect option.
The set features four different sauces, which are perfectly crafted with premium ingredients to add a unique and spicy flavor to your favorite grilled meats and vegetables.
The four sauces are:
11-ounce Maple Chipotle Grille Sauce
11-ounce Roasted Garlic Peanut Sauce
11-ounce Vidalia Onion Fig Sauce
11-ounce Sesame Ginger Teriyaki Sauce
You can use this BBQ sauce set to marinate your foods or as part of an awesome dipping sauce arrangement. It is perfect for adding savory flavor to grilled meats and vegetables, stir fry dinners, and noodles.
The one and only: HP Original Sauce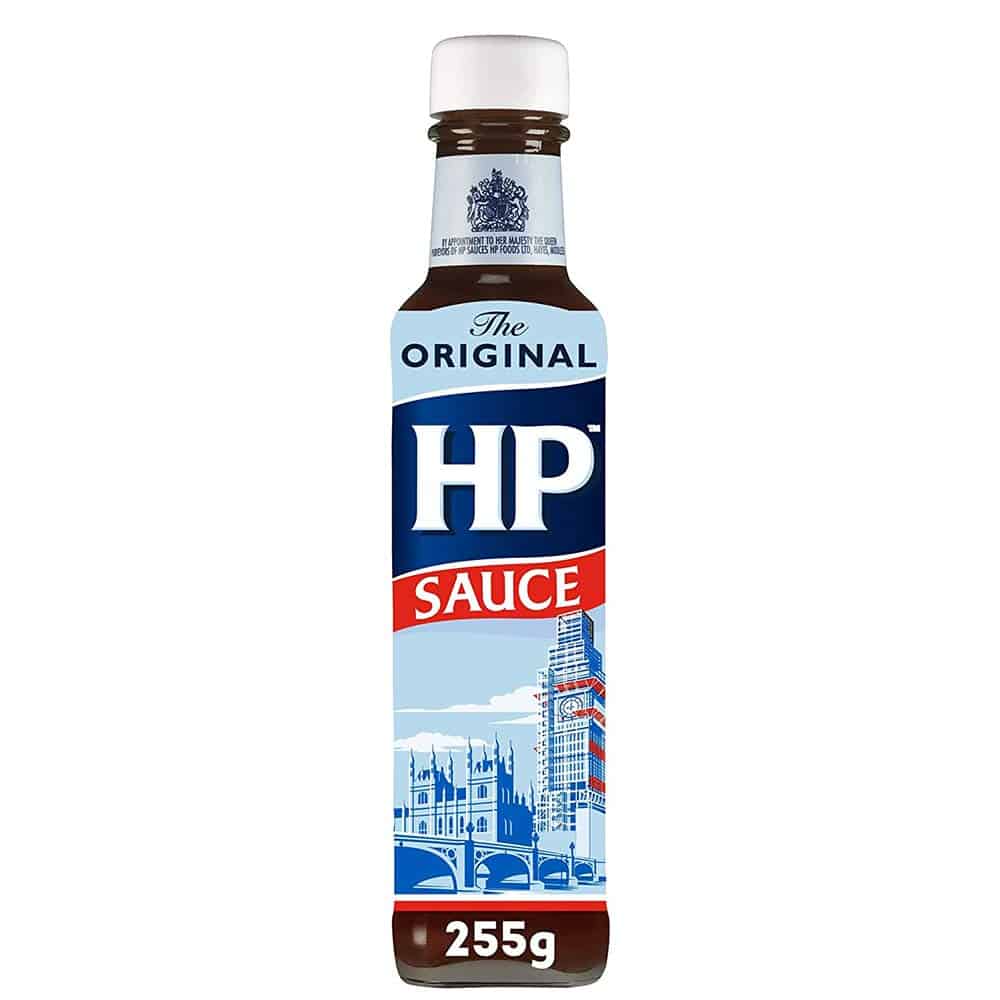 There's just nothing like it. HP Original brown sauce has set the standard for quality since 1899. This sauce delivers a distinctive flavor, thanks to its high-quality ingredients.
HP Original Sauce has malt vinegar, tomatoes, molasses, spirit vinegar, and glucose-fructose syrup. The dates, rye flour, and tamarind add distinction, and sugar, modified cornflour, flavorings, salt, and spices round out the list.
It has no artificial colors, no artificial flavors, and no artificial preservatives. This sauce is ideal for vegetarians and works well with casseroles, soups, and stews. It is also great on sandwiches and bacon.
FAQs about BBQ sauce
When is the best time to apply BBQ sauce?
There's nothing more mouthwatering than a rack of ribs dripping a savory barbecue sauce. However, to get those ribs cooked perfectly with an excellent coating of sauce requires tact.
According to BBQ connoisseurs, the best time to add sauce is about 10 minutes before the meat is ready. This ensures that the sauce gets enough heat to start to caramelize, but doesn't burn.
When it comes to ribs, however, there's no harm in applying sauce earlier in the grilling process. Many people love their ribs with a thicker BBQ sauce.
With ribs, you can use the sauce about 30 minutes before your ribs finish cooking. Apply a couple of thin coatings to create layers. The result will be a sticky, flavorful surface on your ribs.
Here's How to make smoked Baby Back Ribs on a pellet grill + 6 best Pellets
How much BBQ sauce should you use on ribs?
Don't over-sauce your meat – you don't want to disguise the meat flavor, just enhance it. Experts agree that one or two coats of sauce are enough.
Here are some rules to keep in mind:
For a full slab of spare ribs with the tips still intact, you should apply at least ¾ cup of a thick barbecue sauce on both sides
For a slab of St. Louis cut ribs, ½ cup of sauce should be enough
For a slab of baby back ribs, you'll need 1/3 cup of sauce
Also, it's a good idea to have at least ½ cup of BBQ sauce in a bowl on the table for people who may want more.
Remember to always sauce cut ribs before cutting them. Avoid saucing the cut sides. Learn more about grilling ribs here.
What is the most popular flavor of BBQ sauce?
While there are loads of variations on a few common ingredients, most people prefer a tomato-based barbeque sauce. If you're making your own at home, use some tomato ketchup as the base and work from there.
What are some of the most common ingredients in BBQ sauce?
While different manufacturers add their own 'flavors' to their sauces, there are several common ingredients in every BBQ sauce.
Most include tomato (in the form of tomato paste), vinegar, onion powder, mustard, and a sweetener (like sugar or molasses).
For the smokey flavor, you can buy liquid smoke in a bottle and add a few drops.
What is the difference between tomato ketchup and BBQ sauce?
Ketchup is a very basic tomato sauce (with the main component being tomato paste), and a little salt, sugar, and vinegar are added.
BBQ sauce is a more complex sauce and often includes tomato sauce as its base. See above for the additional ingredients that BBQ sauce includes.
Takeaway
Is your mouth watering yet? Mine certainly is. I can't wait to get a rack of baby-back ribs on the grill so I can taste that tangy sauce and enjoy the smoky smells of a delicious barbeque in the yard.
I am confident that you'll find your favorite BBQ sauce amongst this list – enjoy testing them out!
Also check out my roundup of the Best BBQ rubs | Get these top 5 favorites for the best flavor
Joost Nusselder, the founder of Lakeside Smokers is a content marketer, dad and loves trying out new food with BBQ Smoking (& Japanese food!) at the heart of his passion, and together with his team he's been creating in-depth blog articles since 2016 to help loyal readers with recipes and cooking tips.