I love creating free content full of tips for my readers, you. I don't accept paid sponsorships, my opinion is my own, but if you find my recommendations helpful and you end up buying something you like through one of my links, I could earn a commission at no extra cost to you.
Learn more
When the holidays come around, turkey is a dish that everyone likes to see at the table.
This year, why not give them something unusual by making smoked turkey?
The smokey flavor will give your meat a taste that sets your holiday apart. What's more, it will leave your oven open for preparing all those terrific sides.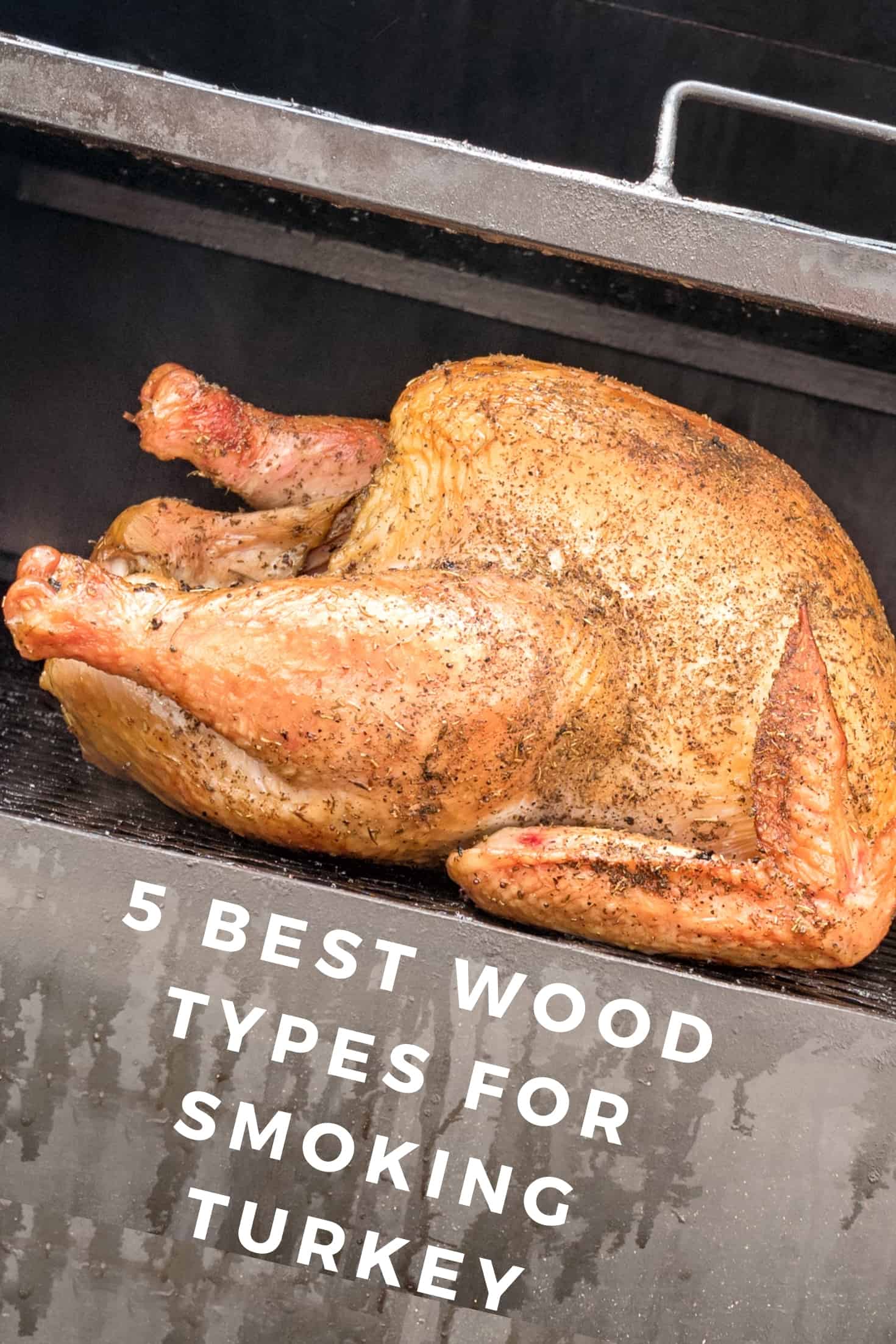 If you are thinking of smoking turkey for the holidays, or any occasion really, it starts with the right wood.
This article will review the best woods for smoking turkey, while providing some tips that will make your meat taste simply divine.
In this post we'll cover:
What are the Best Woods for Smoking Turkey?
When it comes to smoking meat, everyone has different tastes, but here are a few woods that most agree will give your turkey a terrific flavor.
Cherry Wood: Cherry will give your turkey a nice sweet taste that complements the meat perfectly. It also gives your bird a great red color that will help it stand out on a holiday table. If you want to up the smokey flavor, mix it with just a hint of hickory.
Pecan: Pecan also gives turkey a great, sweet flavor, but it is a lot more powerful than cherry. If you love sweet meats, pecan might be for you.
Maplewood: Maple will also give your meat a sweet taste but it is much more subtle than other sweet woods. It's great for adding a light flavor while letting the turkey shine through.
Applewood: Apple is another fruity wood that provides a subtle taste. Although it makes turkey taste great, it takes a long time to permeate the bird, so you run the risk of the turkey drying out.
Alder: Alder is known for being one of the milder smoking woods and it is therefore, terrific for turkey. It provides an earthy flavor and it is great for toning down more powerful woods.
What Woods are Not Recommended for Smoking Turkey?
Hickory: Hickory gives the turkey a very robust flavor that may overpower it. However, it can be good when cut with other woods.
Oak: Most will say that oak makes turkey meat overly smokey. However, red oak gives turkey a reddish color that makes it stand out on a dining room table.
Mesquite: Mesquite has a very strong taste that can easily overpower turkey and other types of white meat. If you use it, it's best to add a milder wood to balance the effects.
Tips for Smoking Turkey
Here are some things you will want to keep in mind when smoking your turkey.
Temperature and Cook Time
Turkey is not as high in fats as other meats. Therefore, it tends to dry out quickly.
To keep meat from drying out, it's best to keep your smoker at a low temperature of no more than 225 degrees.
The amount of time you smoke the meat for will vary depending on the size of the bird and what parts you are smoking. However, most recommend smoking your meat for half an hour for every pound of turkey.
Baste Your Turkey
It's a good idea to keep basting the meat with the juices at the bottom of the pan as you go. This will help keep the meat moist.
Spatchcock Your Turkey
Spatchcocking your turkey will make it heat up faster and it will help it absorb more flavor. To do this, take a pair of butcher shears and cut along the spine to remove the breastbone. This will allow the bird to lay flat.
Use Spices on Your Turkey
There are many spices that can be used to give your turkey a terrific flavor. Mix your favorite ones with vegetable oil to create a paste. Rub it on your turkey before cooking to elevate the taste.
Here is a recipe that will help you spice your turkey to the utmost deliciousness.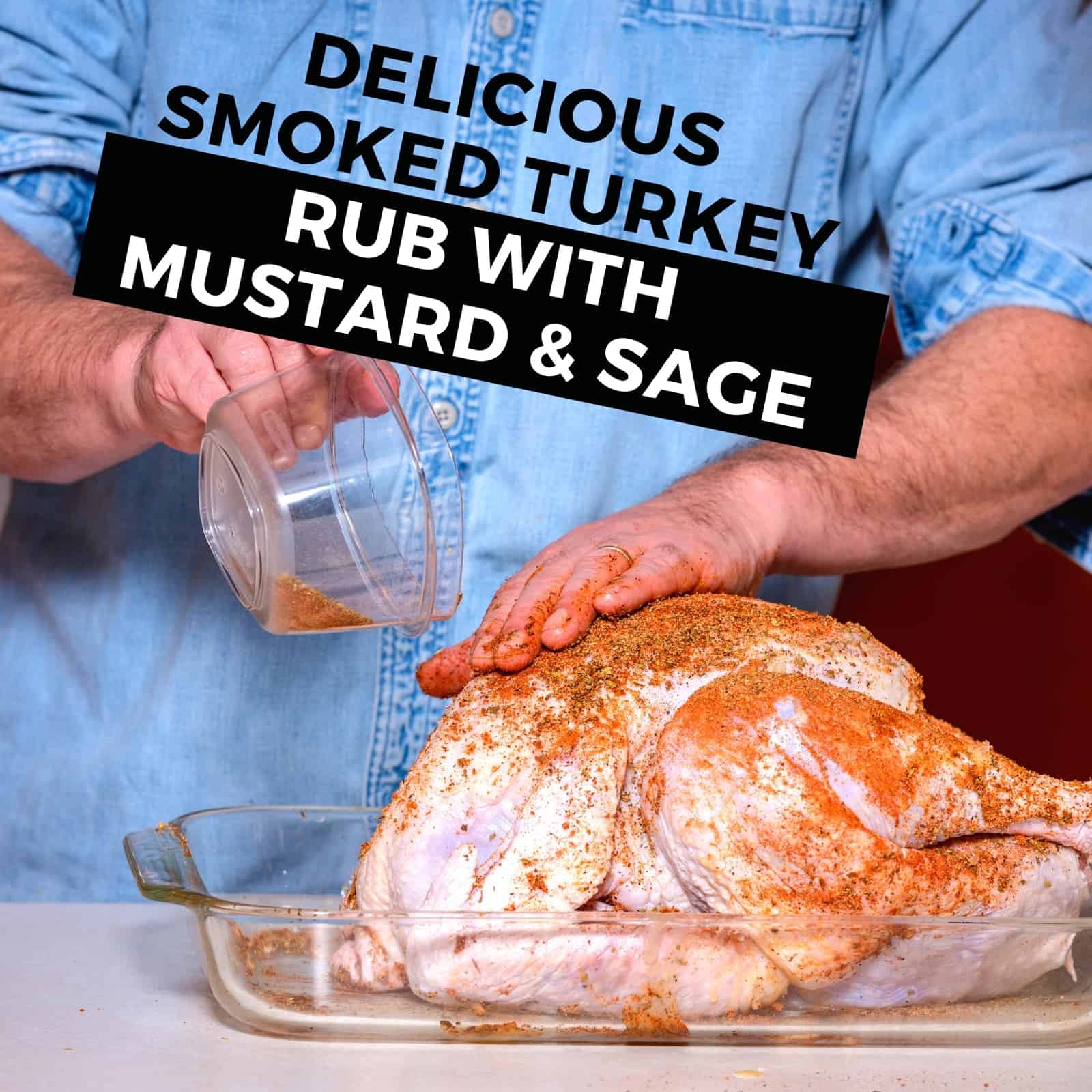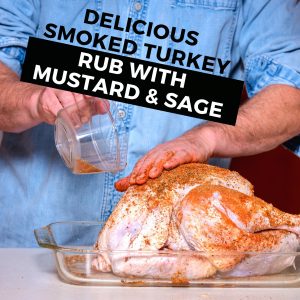 Smoked Turkey Rub Spice Mix with mustard & sage
Delicious spice mix to rub your turkey in, ready for smoking!
Ingredients  
Ingredients:
¼

cup

vegetable oil

2

tbsp.

onion powder

1

tbsp.

paprika

1

tbsp.

mustard powder

2

tsp.

garlic powder

2

tsp.

kosher salt

2

tsp.

white pepper

1

tsp.

powdered ginger

½

tsp.

powdered sage
Instructions 
Directions:
Mix ingredients to make a thick paste. Then use a gloved hand or basting brush to apply.
Brine the Turkey
Brining the turkey will help keep the meat moist. It requires a lot of preparation but it may be worth it.
The brine will need to be prepared the night before you cook so your turkey can sit in it overnight. The spices you use can vary according to taste but the brine must contain salt and water in a 1:1 ratio.
The turkey should brine for one hour per each pound of meat.
If you are looking for a delicious brine, here is a recipe that is recommended.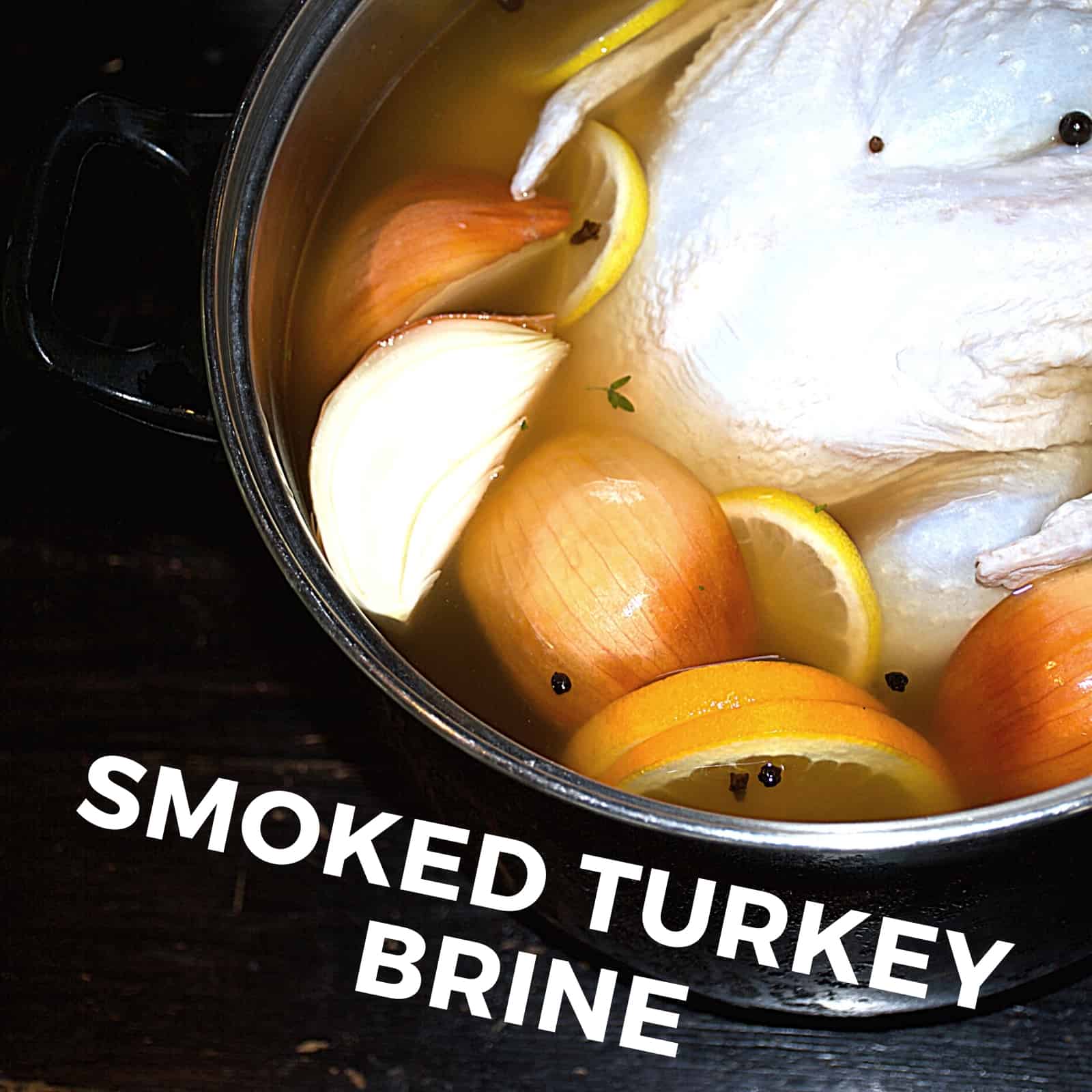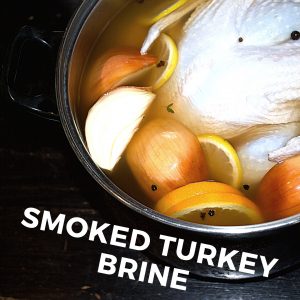 Smoked Turkey Brine
Delicious brine to use for marinating the turkey overnight before smoking it the next day.
Ingredients  
Ingredients:
2

gallons

ice water

2

cups

kosher salt

2

tbsp.

crushed rosemary

2

tbsp.

crushed sage

2

tbsp.

dried thyme

2/4

bay leaves

1

tbsp.

dried savory

1

tbsp.

mustard seed
Instructions 
Directions:
Combine all ingredients in a clean container and place your turkey inside. Let it sit in the fridge overnight. Afterwards you can dry your turkey and add some rub or cook as is.
Use a Digital Thermometer
When it comes to the temperature of your turkey, nothing will give you a reading more quickly and accurately than a digital thermometer. These thermometers are recommended above traditional dial thermometers or turkey poppers you might get from you butcher.
Fresh or Frozen
Buying a fresh chicken will save you from the hassle of defrosting. It will also taste a bit better than a frozen chicken.
However, if buying ahead of time saves you from the headache of rushing to the butcher last minute, don't stress about it too much. The turkey will taste great either way.
Put a Tray Under the Turkey
No, seriously.
Forgoing this step could mean you will end up cleaning your smoker for days after you cook your meal. For best results, fill the pan with onions, carrots, celeries, herbs and stock. They will permeate the bird to provide a great flavor.
Don't Stuff the Bird
Stuffing your turkey will keep the center from cooking while drying out its exterior. It's better to make stuffing separately that won't be soggy from being in the center of the bird.
Is Pink Meat Okay?
If there is a bit of pink meat on the inside of your turkey, it's nothing to worry about. The important thing is that it reaches an internal temperature of 165 degrees.
Do You Need to Let the Turkey Rest Before Serving?
Some people feel the turkey should rest for 30-45 minutes before it is served. The theory is that when the turkey sits, the juices will redistribute through the bird's muscles so the meat tastes moist.
However, more recently it has been found that juices do not actually redistribute when the bird sits. In fact, letting the bird sit can make the skin become dry and lose is crispness. Therefore, you are better off serving it hot.
Don't Keep Opening the Smoker
It may be tempting for cooks to keep opening their smokers to check how their turkey is doing. However, this will make the smoker lose heat and it will keep the turkey from cooking.
It is better to use a dual probe thermometer to keep track of your progress.
Keep the Weather in Mind
If you are cooking outdoors, keep in mind that cold temperatures will add to your cook time. It's also best to put your smoker somewhere where there's no wind. This will help keep the temperature consistent.
Don't Poison Your Guests
Nothing will ruin your Thanksgiving quite like poisoning your guests!
But seriously, raw meat can carry salmonella or campylobacter. Therefore, you must be careful to wash everything that comes into contact with the bird when it's raw including your hands and any counterspace.
Although some people believe that washing a turkey will minimize the risk of spreading disease, the opposite is actually true. This step will not reduce the bacteria; it will just spread it all over the kitchen.
However, once you get your bird to 165 degrees, you will not have to worry about bacteria. Some believe the bird must get to 180 degrees to be safe, but that is not necessary and it will only dry out your turkey.
Smoked Turkey Recipes
Now let's look at some turkey recipes that you can use to make a delicious meal.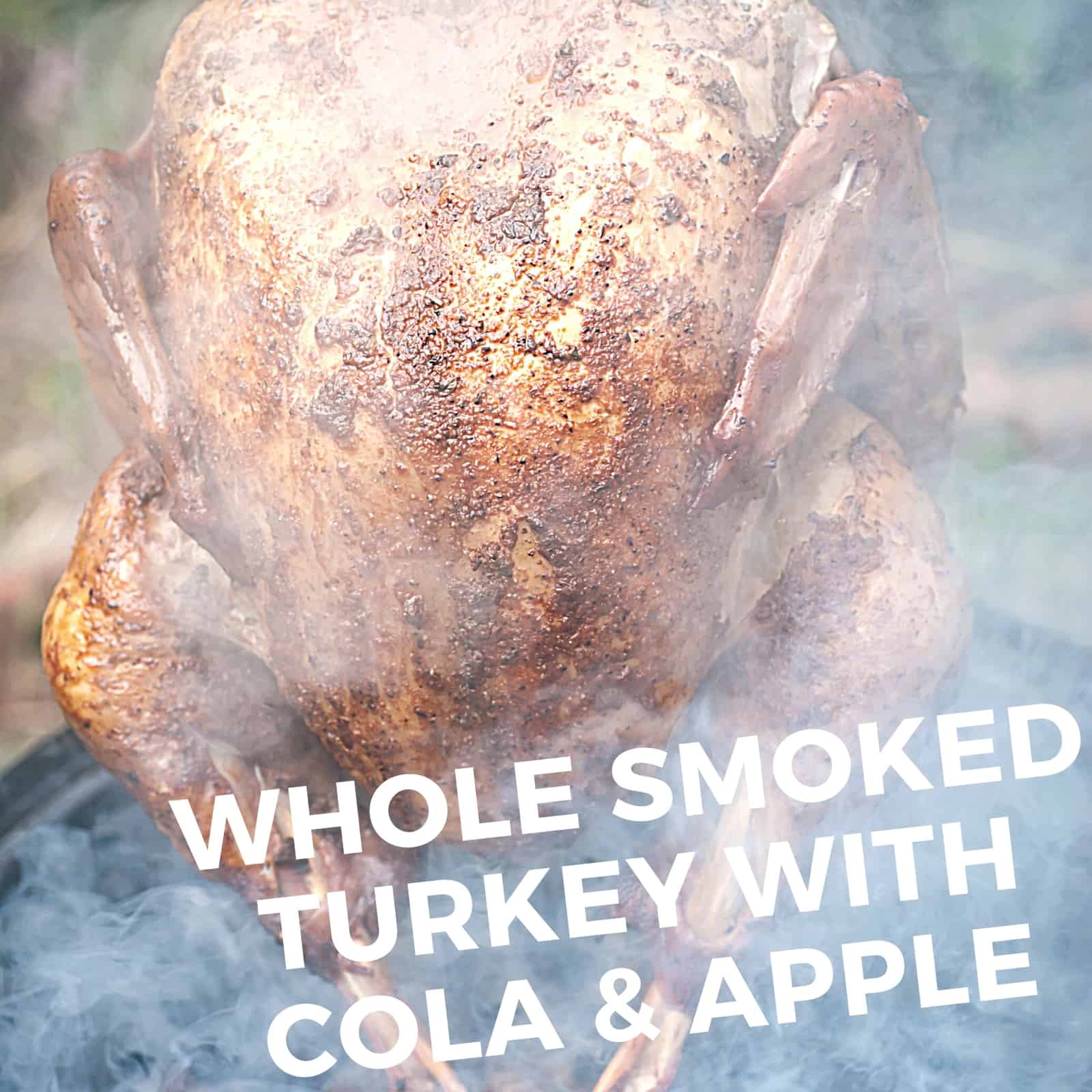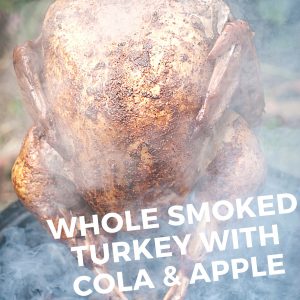 Whole Smoked Turkey with cola & apple
This recipe will make your turkey the star of your holiday table.
Ingredients  
Ingredients:
1

10 lb.

whole turkey

with neck and giblets removed

4

cloves

garlic

crushed

2

tbsp.

seasoned salt

½

cup

butter

2

12 fluid oz. cans

of a cola flavored beverage

1

apple

quartered

1

onion

quartered

1

tbsp.

garlic powder

1

tbsp.

salt

1

tbsp.

ground black pepper
Instructions 
Directions:
Preheat smoker to 225 degrees

Rinse turkey in cold water and pat dry. Rub garlic on the outside of the bird and sprinkle with salt. Place in a roasting pan. Fill turkey cavity with butter, cola, apple, onion, garlic powder, salt and pepper.

Smoke at 225 degrees for 10 hours or until the internal temperature reaches 180 degrees at the thick part of the thigh. Baste bird with juices at the bottom of the pan every 1 -2 hours.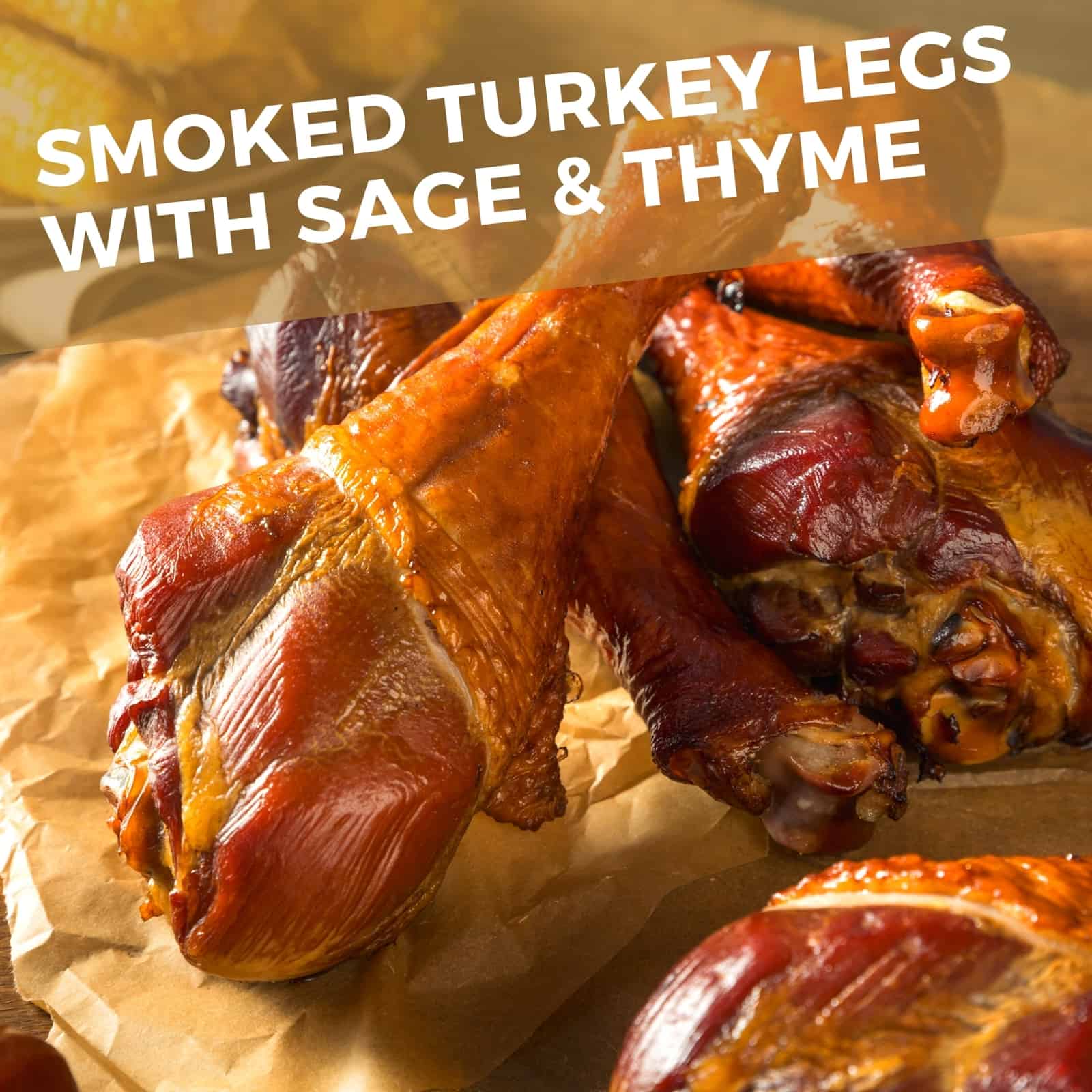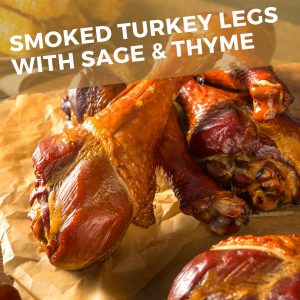 Smoked Turkey Legs with sage & thyme
Make this carnival snack in your home for some good, old-fashioned fun.
Ingredients  
Ingredients:
10

turkey legs

1

gallon

water

1

cup

salt

½

cup

brown sugar

3

tbsp.

garlic powder

3

tbsp.

onion powder

3

tbsp.

dried thyme

3

tbsp.

dried sage

1 ½

tbsp.

black pepper

1

tsp.

ground cloves

1

tsp.

ground allspice

1

tbsp.

paprika

1

tsp.

liquid smoke
Instructions 
Instructions:
Combine all ingredients except turkey legs in a large pot. Bring to a boil and let cool.

While ingredients are boiling and cooling, rinse turkey legs and set them aside in a large container. Then pour ingredients over the turkey legs until they are submerged. Cover and refrigerate overnight.

Preheat smoker to 300 degrees. When it reaches the desired temperature, place the turkey legs on the grill turning every so often.

Cook 3 ½ to 4 hours or until legs achieve a nice, dark smokey color.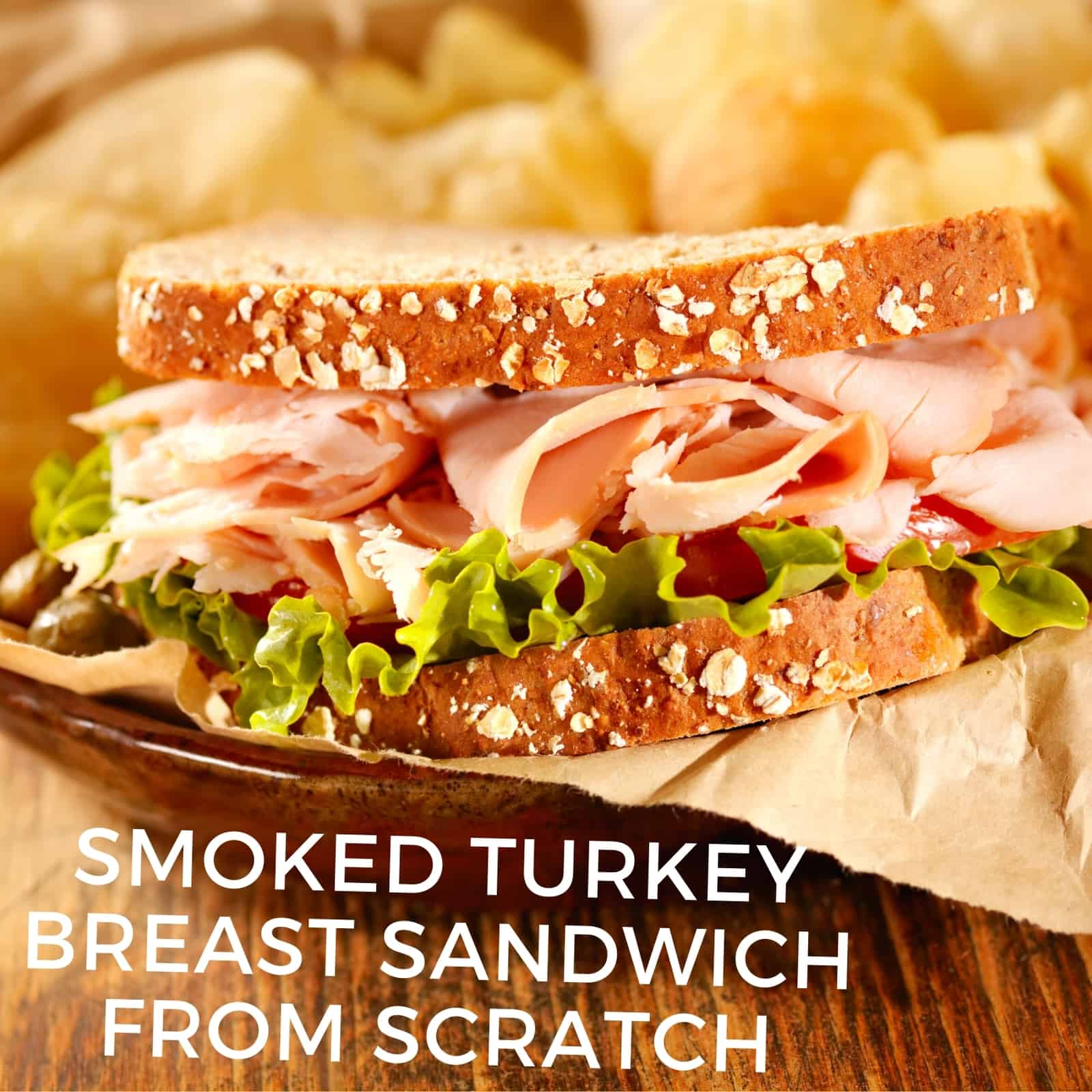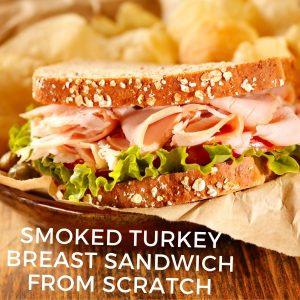 Smoked Turkey Breast sandwich from scratch
Smoked turkey breast is a great meal in and of itself and it can also make a delicious sandwich. Here's a recipe that will get your turkey breast tasting its best.
Ingredients  
For Rub:
1

tbsp.

chili powder

1

tbsp.

paprika

1

tbsp.

garlic salt

1

tbsp.

onion salt

1

tsp.

seasoning salt

1

tsp.

fresh ground pepper

¼

cup

room temperature butter
Turkey Injection Marinade
¼

cup

melted butter

¼

cup

oil

3

tbsp.

Worcestershire sauce

¼

cup

water

½

fresh lemon

juiced

1

tsp.

ground sage

1

tsp.

dried thyme

1

tsp.

garlic salt

1

tsp.

onion salt
Instructions 
Directions
Thaw turkey breast and pat dry.

Mix marinade ingredients and fill them into your syringe. Then inject into different parts of the turkey. Try to limit the number of holes you make while getting the marinade into as many parts of the turkey as possible.

Take soft or melted butter and rub over every part of the bird including the skin and cavity. Mix rub spices together and spread all over the bird as well.

Wrap turkey in plastic wrap and allow it to absorb flavors 1 – 24 hours, the longer the better.

Preheat smoker to 225. When it reaches the desired temperature, put turkey in breast side up. Insert probe and close lid. Allow smoker to go up to 350 degrees but no more than that. Internal temperature of the bird should reach 165.

Once it reaches that temperature, remove from smoker. Allow to sit for 20 minutes, then grill and carve.

Make thin slices and put them on your sandwich. Add a little mayo, some lettuce if you'd like. I like to put on some tomato slices as well and it goes great with a side of potato chips.
If you are looking to make a turkey meal that kicks it out of the park this holiday season, smoked turkey is the way to go. Your guests will enjoy the unique taste that sets it apart.
Which recipe will you use to provide a superior meal?
Also read: how long should you season wood before using it for smoking?
Joost Nusselder, the founder of Lakeside Smokers is a content marketer, dad and loves trying out new food with BBQ Smoking (& Japanese food!) at the heart of his passion, and together with his team he's been creating in-depth blog articles since 2016 to help loyal readers with recipes and cooking tips.